<! MP3 10/27/12 > <! pix 10/27/12 > <! icons 10/27/12 > <! UPDATES: 10/27/12 - reposted w/ adds >

---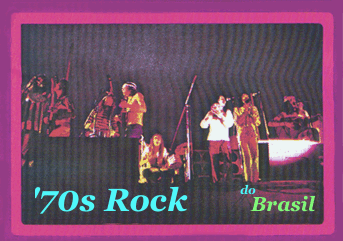 In the 1970s, Brazilian rock'n'roll followed along on several parallel paths, which only occasionally intersected. Many of the groups from the heavily commercialized, early-60s prefab jovem guarda teenybopper scene kept making albums well into the 1970s. Generally speaking, these continued along the pop cover-tunes path of their earlier work, or dipped even deeper into bland pop vocals, as with Roberto Carlos, the king of the scene. Many of the great tropicalia artists who pioneered psychedelic rock in Brazil moved on to become the superstars of the "MPB" scene, which also turned towards an increasingly-ornate pop direction; some -- like Jorge Ben -- delved into funk and soul-flavored groove music.
A handful of artists pursued (more or less) straight-ahead rock music... Many were inspired by the inroads made by the tropicalia movement, but keeping up with the times, they spun off in different directions. Ex-Mutante Rita Lee became something of a stadium rocker, and several prog bands flourished in the mid-'70s, while a few hardcore rockers and psychedelic bands also roamed the land. To be honest, I haven't heard all that many of these records... but as I check them out, I'll add my reviews to the Slipcue site.
---
Brazilian Rock: A | B | C | D | E | F | G | H | I | J | K | L | M | N | O | P | Q | R | S | T | U | V | W | X, Y & Z | Compilations
---
Related Styles: Jovem Guarda | Tropicalia | Disco, Funk & Soul | Other Brazilian Styles
---



Kali "Kali" (Som Da Gente, 1985)



<! 01 Spiralen (Teddy Burlochen) 02 Da tequila (Lea Freire) 03 Ubachuva (Renata Montanari) 04 Papai sabe tudo(Mariô Reboućas) 05 Pitu (Rique Pantoja) 06 Funk do tank (Renata Montanari) 07 Balada pras minas (Rui Salerne) 08 Upa, neguinho (Edu Lobo, G.Guarnieri) 09 Locomotiva (Renata Montanari) Arranged by Grupo Kali Mariô Reboućas - Piano, DX7, Poly800 Vera Figueiredo - Drums, Percussion Renata Montanari - guitar Gź Cortes - bass >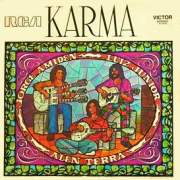 Karma "Karma" (RCA Victor, 1972)
A trippy hippie rock band formed by Jorge Amiden, a co-founder of the Brazilian prog powerhouse O Terco, who apparently had a Syd Barrett-like nervous collapse as a result of excessive LSD use... This mellow, spacey set is a great mix of gooey psychedelic sunshine-pop and noodly, proggish meanderings. A real time capsule, and actually one of the more listenable Brazilian records of its kind. The vocals are mostly by a female chorus, and mostly flower-power scat singing, without real lyrics. If any of this sounds appealing to you, by all means track this down and give it a try. It's groovy, daddy-o. Love the stained-glass artwork on the cover, too!

Karnak "Karnak" (Tinder, 1997)



An inventive, but cluttered, collision between rock'n'reggae-flavored Brazilian manguebeat and more global "world music" styles. Karnak improbably mixes Brazilian rock with Asian, Celtic, Hawaiian and Arabic styles, as well as the already-familiar African and Carribean highlife and soca styles that had suffused Bahian pop for decades now. Apparently, the band made quite a splash in the Brazilian scene (and I've heard they are amazing live), but this album still strikes me --even revisiting it years later -- as too densely constructed and too much a product of the studio, much like non-Brazilian bands such as Dissidenten or Zap Mama. It just doesn't have an organic, loose-enough feel. Or maybe it's just too noisy for my particular tastes. Other folks go ape over these guys, though, and anyone looking for something truly innovative and unique should at least give this disc a whirl. Plenty of guest stars on here, including Chico Science, Lulu Santos and others.


<! 130 x 130 >
Karnak "Universo Umbigo" (Velas, 1999)



Karnak "Estamos Adorando Tokio" (Net Records, 2000)


A cluttered, hyperactive world beat album, mixing rock, salsa, funk, ska, and less-definable Brazilian elements. It's all too jittery and unsubtle for me to latch onto. In fact, I'd say it's pretty awful; definitely a disappointment considering the creative potential heard on earlier albums.
Karnak "Os Piratas Do Karnak: 2 CDs Ao Vivo" (Tratore, 2003)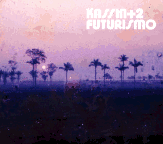 Kassin +2 "Futurismo" (Luaka Bop, 2008)



(Produced by Alexandre Kassin... +2)
This is the third (and possibly best) album by a trio of Brazil's most playful and innovative artists, avant-popsters Alexandre Kassin, Domenico Lancellotti and Moreno Veloso -- collectively known as the "+2". Each has has taken a turn "headlining" one album, and now it's Kassin's... Each of the +2-ers has made a mark for themselves working with various artists in the contemporary Brazilian pop scene, but Kassin may be cutting the largest swath, producing records for a wide variety of younger artists, including work with Bebel Gilberto, Thalma de Freitas and the Orquestra Imperial (which is more or less an expanded version of the +2 band...) and playing backup for Caetano Veloso and others. Here on his own "solo" album, Kassin fully explores the smooth, swank, easygoing Latin-pop-lounge vibe he's worked on elsewhere, and the results are simply yummy. Soft-salsa, samba, funk, dub, surf, rock and electronica all merge together with the delicious, all-encompassing ease that typifies the best of Brazilian pop. There's are wide variety of textures and tones, and all of it sounds alluring and fresh. One of the most subtle and subtly challenging Brazilian pop albums of recent vintage, the sound of a younger generation branching out and finding a global audience. Well worth checking out! (Note - the extended version features three bonus tracks co-produced with Sean O'Hagan (of The High Llamas) and John McEntire (of Tortoise). This trio of hipster lovefests are quite satisfying; they are also sung in English, giving them a distinctly separate, but not distracting feel from the rest of the album. )
Kassin +2 "Futurismo (Expanded Version)" (Luaka Bop, 2007)



With three extra tracks...!
Kassin "Sonhando Devagar" (Coqueiro Verde, 2011)

Kid Abelha -- see artist discography
Lilian Knapp - see artist profile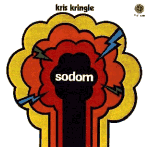 Kris Kringle "Sodom" (Beverly, 1971)
(Produced by Cesare Benvenuti)
One of those hippie-era rock oddities that keep popping up... This guy was the leader of an under-the-radar Sao Paulo-based band called the Clocks (also known as Memphis, as well as a half-dozen other names) who were a "grupo fantasma," one of those anonymous, studio-based groups put together by cheapie labels to capitalize on musical fads. In the case of the Clocks, it was a Brazilian label hoping to tap into the sunshine pop/post-teenybopper rock market. This album, sung in English, is sort of a soul-rock mix of Terry Jacks and Joe Cocker (indeed, Kringle's lurching, grungy soul cover of the Beatles' "Help" gives Cocker's "A Little Help From My Friends" a real run for the money...) Although I'm generally not that into Brazilian bands singing in English, it has to be said that the musical end of things is pretty strong, and several songs feature some pretty gnarly rock riffs... Not bad, but also not your usual brand of Brazilian rock.
---
Brazilian Rock - Letter "L"
---



Other Brazilian Styles
Main Brazil Index


---