<! MP3 10/27/12 > <! pix 10/27/12 > <! icons 10/27/12 > <! UPDATES: 10/27/12 - reposted w/ adds >

---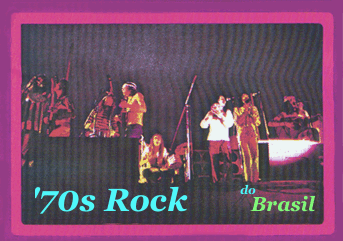 In the 1970s, Brazilian rock'n'roll followed along on several parallel paths, which only occasionally intersected. Many of the groups from the heavily commercialized, early-60s prefab jovem guarda teenybopper scene kept making albums well into the 1970s. Generally speaking, these continued along the pop cover-tunes path of their earlier work, or dipped even deeper into bland pop vocals, as with Roberto Carlos, the king of the scene. Many of the great tropicalia artists who pioneered psychedelic rock in Brazil moved on to become the superstars of the "MPB" scene, which also turned towards an increasingly-ornate pop direction; some -- like Jorge Ben -- delved into funk and soul-flavored groove music.
A handful of artists pursued (more or less) straight-ahead rock music... Many were inspired by the inroads made by the tropicalia movement, but keeping up with the times, they spun off in different directions. Ex-Mutante Rita Lee became something of a stadium rocker, and several prog bands flourished in the mid-'70s, while a few hardcore rockers and psychedelic bands also roamed the land. To be honest, I haven't heard all that many of these records... but as I check them out, I'll add my reviews to the Slipcue site.
---
Brazilian Rock: A | B | C | D | E | F | G | H | I | J | K | L | M | N | O | P | Q | R | S | T | U | V | W | X, Y & Z | Compilations
---
Related Styles: Jovem Guarda | Tropicalia | Disco, Funk & Soul | Other Brazilian Styles
---
Nacao Zumbi - see artist discography

Naire "Naire" (RGE/Fermata, 1974) (LP)


(Produced by J. Shapiro & Toninho Paladino, arrangements by Luiz Claudio Ramos)
Flowery soft-pop from one of the later entrants in the fabled Brazilian song competitions of yesteryear... Antonio Adolfo contributes sugary piano accompaniment, along with an all-star studio crew. Paulinho Tapajos co-wrote most of the music and sings two duets that bookend the album. In addition, florid vocal choruses and tweetling flutes a woven in as well. This is too gooey and occasionally bombastic for me, but on the positive side, it did sound different than a lot of what was going on at the time. If you want to mine deep into the reservoir of vintage Brazilian folk-rock, it seems like this disc might be of interest. My guilty pleasure on this one would have to be the song "Donzela," one of many written with Tapajos.
Nenhum De Nois - see artist discography

Bernardo Neto "Sumare" (1988)
An odd, wispy album, rather attenuated, wimpy MPB, along the same lines as Lo Borges or Beto Guedes, sort of a folkie-gone-synth-rocker kinda thing. I don't know much about this guy, other than this one record. It's mildly irritating in places, but mostly inoffensive and a bit windswept and wistful.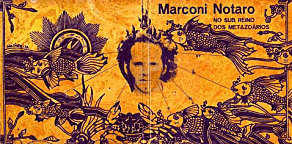 Marconi Notaro "No Sub Reino Dos Metazoarios" (1973)


Super-freakulent, electrified psychedelia spaceouts, weird stream-of-consciousness improv raga-rock, with plenty of fuzz, echo and distortion... Fans of early Tom Ze, Ze Ramalho, Os Mutantes, Lula Cortes, et. al. will probably dig this... Indeed, Cortes and Ramalho are on this album as well, originally issued as a private pressing from the trio's own label in Recife. The last track on the album is called "Ode A Satwa," in homage to their previous record, under the band name Satwa. Freaky and weird in a very good way. (Available through Time-Lag Records.)





Novos Baianos - see artist discography





Claudio Nucci - see artist discography


<! rock?? >


---
Brazilian Rock - Letter "O"
---



Other Brazilian Styles
Main Brazil Index


---