<! MP3 10/27/12 > <! pix 10/27/12 > <! icons 10/27/12 > <! UPDATES: 10/27/12 - reposted w/ adds >

---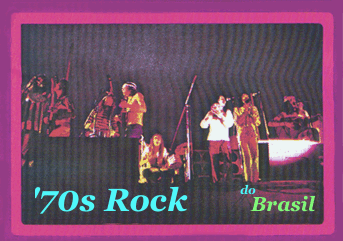 In the 1970s, Brazilian rock'n'roll followed along on several parallel paths, which only occasionally intersected. Many of the groups from the heavily commercialized, early-60s prefab jovem guarda teenybopper scene kept making albums well into the 1970s. Generally speaking, these continued along the pop cover-tunes path of their earlier work, or dipped even deeper into bland pop vocals, as with Roberto Carlos, the king of the scene. Many of the great tropicalia artists who pioneered psychedelic rock in Brazil moved on to become the superstars of the "MPB" scene, which also turned towards an increasingly-ornate pop direction; some -- like Jorge Ben -- delved into funk and soul-flavored groove music.
A handful of artists pursued (more or less) straight-ahead rock music... Many were inspired by the inroads made by the tropicalia movement, but keeping up with the times, they spun off in different directions. Ex-Mutante Rita Lee became something of a stadium rocker, and several prog bands flourished in the mid-'70s, while a few hardcore rockers and psychedelic bands also roamed the land. To be honest, I haven't heard all that many of these records... but as I check them out, I'll add my reviews to the Slipcue site.
---
Brazilian Rock: A | B | C | D | E | F | G | H | I | J | K | L | M | N | O | P | Q | R | S | T | U | V | W | X, Y & Z | Compilations
---
Related Styles: Jovem Guarda | Tropicalia | Disco, Funk & Soul | Other Brazilian Styles
---

Querosene Jacare "Fique Peixe" (Sony, 2002)


Generically produced, perfunctorily aggressive manguebeat, with note-heavy electric guitars and a monotonous funk-punk backbeat. You like the Red Hot Chili Peppers? Well, you might enjoy this, too. Or not. The opening numbers are the most repetitive; deeper into the album they loosen up a bit and get a little more "Brazilian," with a little Afro-Brazilian percussion (on "Sandalia De Dedo", etc.) and some old-fashioned funk-soul that's reminiscent of Tim Maia and that whole '70s crowd. I didn't care much for this disc, but I suppose it might have its attraction for a certain brand of rock fan. If I heard an English-language band playing like this, I'd think they were pretty lame.
Querosene Jacare "Voce Nao Sabe Da Missa Um Terco" (Sony, 2003)


Quintal De Clorofila "O Misterio Dos Quintais" (1983)


Noodly, spacey improvisational folk-rock jams... Basically, some latter-day weirdo-hippie s**t, sort of a more-modern version of Satwa, with some vocal tunes and a bit of a Tom Ze-esque regional flair. This is probably one for the Devendra Banhart crowd; didn't do a lot for me, though. Sorry; I'm just not into it.

Quinteto Ternura "Quinteto Ternura" (RCA, 1974)



The vitality these ex-Jovem Guarda teens showed earlier in their career (as Trio Ternura) is sadly absent on this, their final album. Despite the Jackson Five-style outfits worn on the cover, this is calculatedly light, perky, breezy pop, following in the path of bands such as The Association or Terry Jacks, rather than the soul and psychedelic music they dabbled in earlier. The most striking track is the Joni Mitchell-styled "Consegui Concluir"; they also cover Caetano Veloso's "Baby," but in as bland a fashion as possible. Disappointing. (See also: Trio Ternura.)
---
Brazilian Rock - Letter "R"
---



Other Brazilian Styles
Main Brazil Index


---