<! MP3 10/27/12 > <! pix 10/27/12 > <! icons 10/27/12 > <! UPDATES: 10/27/12 - reposted w/ adds >

---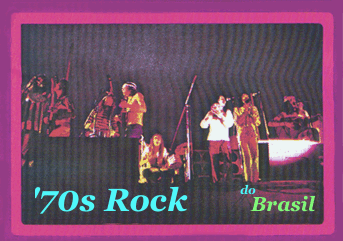 In the 1970s, Brazilian rock'n'roll followed along on several parallel paths, which only occasionally intersected. Many of the groups from the heavily commercialized, early-60s prefab jovem guarda teenybopper scene kept making albums well into the 1970s. Generally speaking, these continued along the pop cover-tunes path of their earlier work, or dipped even deeper into bland pop vocals, as with Roberto Carlos, the king of the scene. Many of the great tropicalia artists who pioneered psychedelic rock in Brazil moved on to become the superstars of the "MPB" scene, which also turned towards an increasingly-ornate pop direction; some -- like Jorge Ben -- delved into funk and soul-flavored groove music.
A handful of artists pursued (more or less) straight-ahead rock music... Many were inspired by the inroads made by the tropicalia movement, but keeping up with the times, they spun off in different directions. Ex-Mutante Rita Lee became something of a stadium rocker, and several prog bands flourished in the mid-'70s, while a few hardcore rockers and psychedelic bands also roamed the land. To be honest, I haven't heard all that many of these records... but as I check them out, I'll add my reviews to the Slipcue site.
---
Brazilian Rock: A | B | C | D | E | F | G | H | I | J | K | L | M | N | O | P | Q | R | S | T | U | V | W | X, Y & Z | Compilations
---
Related Styles: Jovem Guarda | Tropicalia | Disco, Funk & Soul | Other Brazilian Styles
---
Ze Ramalho - see artist discography
Raulzito - see Raul Seixas
Recordando O Vale Das Macas "As Criancas Da Nova Floresta" (GTA, 1977) (LP)


The lone album from this '70s Brazilian prog-rock band...
Recordando O Vale Das Macas "1977-1982" (Musea, 2002)


This is a straight reissue of the 1977 As Criancas Da Nova Floresta album, with a couple of bonus tracks drawn from a recording session in the early '80s.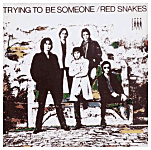 Red Snakes "Trying To Be Someone" (Equipe, 1970)
(Produced by Oswaldo Cadaxo) <! "realized by" >
I'm not a huge fan of English-language Brazilian rock albums -- I mean, where's the fun in that? Anyway, this disc has its moments, as well as its moments of tedium. Apparently this hard rock band, led by brothers Ronaldo and Renato Bakker, was one of the top rock groups in late-'60s Rio, but for whatever reason they "went English" when they got a chance to record, complete with half-cute local accents and struggling with their phrasing. There's some strong musicianship, particularly on their Cream-inspired heavy-rock riffs, and I kind of enjoy the softer stuff that's reminiscent of bands such as the Left Banke; less successful are their attempts at Small Faces-ish rock-soul, which get pretty clumsy. And overall? Doesn't do much for me. A groovy historical footnote, but there are other albums that are way more fun.
Nando Reis "Para Quando O Arco Iris Encontrar O Pote Do Ouro" (Warner-Brasil, 2000)


Nando Reis "Infernal" (Warner-Brasil, 2001)



Impassioned, pointedly noisy, hard rock from the bass player of the fabled BRock band, Titas. This is commercial stuff, trying its hardest to sound edgy and alternative. I don't really enjoy this kind of music when it's sung in English; the fact that it's a Brazilian album only slightly mitigates the irritating qualities. Mostly it's the cheesy, wanky, wailing electric guitars and the attempt to substitute kinetic energy in place of compositional strength that bugs me the most. Joe Satriani, Smashing Pumpkins... meet Mr. Nando Reis.
Nando Reis "12 De Janeiro" (Warner-Brasil, 2002)

Nando Reis "Com Vida" (Warner-Brasil, 2003)

Nando Reis "A Letra A" (Universal, 2003)


Nando Reis E Os Infernais "MTV Ao Vivo" (Universal-Brasil, 2005)

Nando Reis "Essencial De Nando Reis" (Warner-Brasil, 2002)


A best-of set covering his Warner years...


<! "Essencial" is in fact a re-packaged re-release of Nando Reis' first three solo albums >

Nando Reis "Sim E Nao" (Universal-Brasil, 2006)



A best-of set featuring Reis and his band, Os Infernais.
Nando Reis E Os Infernais "Luau MTV" (Universal-Brasil, 2007)

Nando Reis E Os Infernais "Luau MTV" (Universal-Brasil, 2007) (DVD) <! 2003 - same as other MTV? >

Sergio Reis - see artist discography
Renato E Seus Blue Caps - see artist discography
Ze Renato - see artist discography
Marku Ribas - see artist discography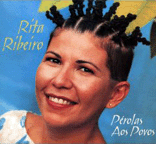 Rita Ribeiro "Perolas Aos Povos" (Putumayo/MZA, 2000)



Blessed with a warm, comforting voice reminiscent of the great Clara Nunes, Ribeiro is one of the new crop of so-called "neo-tropicalistas," blending bouncy pop-rock and reggae into an MPB style that is a bit milder (and less jittery) than the contemporary axe style from Bahia. Ribeiro excels when sticks to simpler arrangements (like on this album's opening track, "Banho Cheiroso," or the calypso-tinged "Mana Chica"), projecting a smiley, exuberant vocal vibe that recalls Nazarene Pereira's best work. However, leter this album strays into more belabored musical terrain -- for the most part it sounds just fine, but you feel such deliberate, cerebral, effort on the part of producer Mazzola that it's difficult to get as swept away by this album as you'd like. The underlying effect is more mechanical than rapturous... which is a pity, since Ribeiro really is a very appealing performer.
Rita Ribeiro "Rita Ribeiro" (Caravelas, 1997)


Rita Ribeiro "Comigo" (MZA, 2001)


Rita Ribeiro "Deixo-Me Ir Atras Do Fado" (Zona Musica, 2003)


Rita Ribeiro "Tecnomacumba" (Biscoito Fino, 2007)






<! http://cliquemusic.uol.com.br/artistas/rita-ribeiro.asp >


Ritchie - see artist discography




Os Ritmistas "Os Ritmistas" (Dubas, 2007)



(Produced by Dany Roland)
In this permutation of Brazil's innovative +2 collective, drummer Domenico Lancellotti teams up with electronicists Dany Roland and Stephane San Juan (along with other +2 usual suspect pals, such as vocalist Thalma De Freitas, bassist Kassin and guitarist Pedro Sa) This is one of the odder, darker outings in the group's ouvre: it starts out sweetly enough, with some understated updates of the classic Brazilian bossa nova sound and a few hints of the salsa-lounge leanings of De Freitas and Kassin's sometimes-goofy Orquestra Imperial. But midway through the tone becomes more sombre, the arrangements harden and the songs begin to get weirder and deliberately more challenging, entering into the "difficult listening" territory that is an offshoot of the ambient music scene. Which is not to say this isn't a rewarding album, in its own way, but it might not be quite what you expect if you've been tuned into the carefree retro-Latin poptronics of the previous +2-related albums. It's an unusual album, and not just for Brazil. Worth checking out.

Jose Roberto "...E Seus Sucessos" (Epic, 1968)


Fairly lightweight, late vintage jovem guarda teenpop. Taking his cues from scene leader Roberto Carlos, Jose Roberto sings soft, emotive, midtempo love songs, though unlike many of his JG contemporaries he seldom varies the tempo or his own vocal approach, and -- more remarkably -- none of the songs in his repertoire were covers of American or British pop tunes. The backing is generally lackluster, with lazy, Carlos-ian electric organ balanced by rhythm and guitars that only occasionally hint at a brighter, more psychedelic '60s pop sound. That being said, Roberto's music isn't offensive or offputting... it's perfectly fine for what it is, it just isn't very exciting.


<! producer not listed >

Jose Roberto "...E Seus Sucessos, v.2" (Epic, 1969)








Arnaud Rodrigues - see artist discography


<! rock - ???? >

Ze Rodrix "1st Acto" (Odeon, 1973)





<! Rodrix formerly in Momento Quatro, (1968) then Som Imaginario (1970) >

Ze Rodrix "Quem Sabe Sabe Nao Sabe Nao Precisa Saber" (Odeon, 1974)

Ze Rodrix "Soy Latino Americano" (EMI-Odeon, 1976)







Ze Rodrix "Quando Sera?" (EMI-Odeon, 1977)



<! The new artist today Jose Rodrigues Trindade, Ze Rodrix, well known to Loronixers by his participations on albums already released to our community, such as Momento Quatro and Som Imaginario. Ze Rodrix is one of the most important proponents of the Brazilian rock-rual style, mostly known by his participation on the most important group on the genre, the trio Sa, Rodrix & Guarabyra. Ze Rodrix is a multi instrumentalist with a solid music background, playing piano, sax, flute and accordion. His solo career started in 1973, lasting on 1979 with his last LP by RCA Victor. Since then, he is an active producer with other several different roles. Quando Sera? is perhaps is better-known album that you will need to hear several times until you get the whole of it. Do not let the first track 01 - Quando Sera cheats you, it was probably included to be a commercial success and take a special attention to track 04 - Devolve meus LPs, truly amazing. >

Ze Rodrix "Sempre Livre" (RCA Victor, 1979)





Ze Rodrix "Serie Retraos" (2003)



A best-of set...
Ze Rodrix "Serie Brasil A-Z" (EMI, 2007)


A 3-CD "bricked" set, collecting three original albums. <! 1st Acto , Quem Sabe Sabe Nao Sabe Nao Precisa Saber and xxxxxxxxxxxxx??? >
Angela Ro Ro - see artist discography

RPM "Revolucoes Por Minuto" (CBS-Epic, 1985)



(Produced by Luiz Carlos Maluly)
The debut album by new wave rock band RPM, who were one of Brazil's more credible commercial rock bands of the early '80s. Lead singer Paulo Ricardo went on to a successful solo career (which is kind of ironic, since his bellowing vocals are one of the least attractive things about this record...) The guitars are cool, though: jittery New Wave staccato with teeny hints of punky origins... Worth checking out if you're mining deep into Brazilian rock history -- I'd place this mostly as a curio, though; I couldn't really get into it as an album I'd want to listen to recreationally.
RPM "Radio Pirata Ao Vivo" (CBS-Epic, 1986)


RPM "Os Quatros Coiotes" (CBS-Epic, 1988) (LP)

RPM "MTV RPM 2002" (Universal, 2002)

Renato Russo - see artist discography

Mac Rybell "Mac Rybell" (Beverly, 1974)
Portuguese-language soft-psych sunshine pop tunes alternate with English-language songs of a similar calibre. I prefer the stuff in Portuguese, but it's all okay. A cute-sounding soft-pop record, on the fringes of the commercial brega pop sound -- a little gooey and lightweight, but overall pretty nice... Some songs are duds while others are sweet.
---
Brazilian Rock - Letter "S"
---



Other Brazilian Styles
Main Brazil Index


---