<! MP3 00/00/00 > <! pix > <! icons 00/00/00 > <! UPDATES: 10/23/12 - lots of adds > <! Wiki: The Brazilian punk rock scene was born in the late 1970s in Sčo Paulo and Brasília with Restos de Nada, AI-5, Joelho de Porco, Condutores de Cadáver, and Aborto Elétrico, among others. The first show was in 1978 in Sčo Paulo and the punk "boom" was when the 1980s began, with Inocentes, Cólera, Ratos de Porčo, Garotos Podres, Plebe Rude, Ignoze, Olho Seco, Mercenárias, Lobotomia, Ulster, Fogo Cruzado, Coquetel Molotov (from Rio de Janeiro), Replicantes (from Porto Alegre), Devotos (or Devotos do Ódio, from Recife), Beijo AA Forća (from Curitiba), and many others, mostly from Sčo Paulo. >

---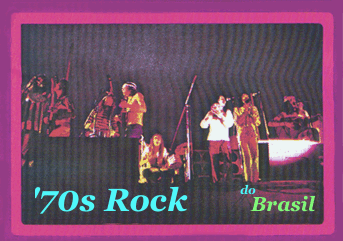 This section explores the world of Brazilian rock, from the late 1960s on... Picking up where the teen-scene jovem guarda left off, Brazilian rock went psychedelic with the wildly syncretic tropicalia movement, then branched out into soul and funk, the sleek, jazz-oriented MPB style and, in a few cases, into hard rock, American style. In the 1980s, punk, New Wave and hard rock coalesced into the BRock movement, homegrown rock'n'roll that gave power-chord hungry Brazilians some electric bands of their own. Since then, electronica and rap have come into the mix, as well as the chaotic creativity of manguebeat and Brazil's tiny, tenacious indie-rock scene. This is a quick overview of what I've heard (suggestions are welcome!) with more to come. Please note that some rock genres are explored in more depth in their own sections, linked to below... Enjoy!
---
Brazilian Rock: A | B | C | D | E | F | G | H | I | J | K | L | M | N | O | P | Q | R | S | T | U | V | W | X, Y & Z | Compilations
---
Related Styles: Jovem Guarda | Tropicalia | Disco, Funk & Soul | Other Brazilian Styles
---
A Bolha - see The Bubbles

Os Abutres "Os Abutres Atacam" (1968) <! Codil label? >
A totally enjoyable jovem guarda-era frat rock band, with some nice rave-ups and British Invasion-styled harmonies. Mostly, though, they have a peppy rockabilly-garage vibe that's in pleasant contrast to the swarms of jovem guarda pop stars who covered American rock, but never quite "got" it. These guys, however, definitely did "get" it. A fun record, with lots of twangy electric guitars. Very cute.

Antonio Adolfo E A Brazuca "Antonio Adolfo E A Brazuca" (EMI, 1971)


Jazz bandleader Antonio Adolfo went rock'n'roll on this wild, sometimes grating, psychedelic pop set from the Brazilian hippie-tropicalia era. The Brazuca band mixes the dense, flowery vocal harmonies of bands such as Grupo Manifesto and Sergio Mendes' Brazil 66 with chaotic, patience-testing contemporary psych styles from up North. This album is definitely not for everyone -- the quieter, more lyrical moments are largely upended by their challenging, jarring counterpoints. But for collectors interested in unusual and challenging world pop, this is definitely an album to seek out. (To check out Adolfo's other work, see my artist profile.)
Jerry Adriani - see artist discography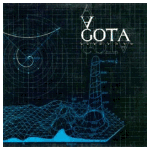 A Gota Suspensa "A Gota Suspensa" (Underground, 1983) (LP)


The independently-released debut album by the '80s new wave group Metro originally came out under the band name A Gota Suspensa, but is often considered the first "Metro" album... They changed their name after signing with a major label, though the original lineup remained intact for a few years. The original lead singer, Virginie, quit the band after they became successful and started to change their sound...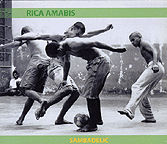 Rica Amabis "Sambadelic" (YBrazil?, 2000)



(Produced by Mauricio Tagliari)
Electronica and DJ mixing have taken firm root in Brazil, echoing the mix-and-match syncretism that inspired the tropicalia scene back in the late '60s. The classics of multiple genres -- including old tropicalia -- now provide rich fodder for remixes and radical reworkings, as this new disc demonstrates. Forro legend Luiz Gonzaga, funk pioneer Tim Maia, old-school sambista Ataulfo Alves and the classic "A Falsa Baiana" all wind up in the mix here, as singer Andrea Marquee and a slew of Paulista compatriots pitch in. Overall the drum'n'bass based mixing seems a little rigid, though even with the lack of flow there are some surprising moments. For those looking for more examples of contemporary mixing to join the few records to hit our shores -- such as Suba, Otto and Bebel Gilberto -- this disc is certainly worth checking out.
Arnaldo Antunes - see artist discography
Eduardo Araujo - see artist discography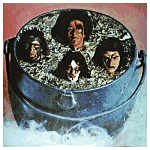 Assim Assado "Assim Assado" (CID, 1974)
Cluttered but credible glam-prog from a band that was so into the then-popular band Secos & Molhados that they named themselves after a Secos song, and their album cover was a parody of the Secos record where the glammed-up bandmembers heads are served up on silver platters: in the Assim Assado version, they are floating in an inelegant pot of stew (or some other kind of goop...) This disc is mostly a curio of the era -- the musical elements are similar, but the delivery is pretty clumsy, and it feels self-consciously derivative. Still, it is real-deal, old-school Brazilian weirdo-rock, and also notable for the participation of singer Miguel de Deus, formerly of the garage band Os Brazoes, a guy who later went on to record a solo album that was a major Brazilian funk gem. Anyway, this Assim album is worth checking out, just don't get your hopes up too high.


<! AUTORAMAS http://pt.wikipedia.org/wiki/Autoramas >

Ave Sangria "Ave Sangria" (Continental, 1975)
Another fascinating obscuro-oldie from the heady days of Brazil's freakiest, hippie-esque pop era... Apparently this Northeastern band had a reputation as sort of a glam act - wearing lipstick, etc., but what sticks out on the record itself is the mix of nordestino styles -- acoustic music with prominent bandolim and regional percussion, similar to what Quinteto Violado was doing at the same time -- and freaky acid rock, with fuzzy, noodly electric lead guitar and flights of crunchy distortion. Folks who like Lula Cortes should dig this too -- apparently the band had been taken under the wing of Cortes' Satwa collaborator, Lailson; Mutantes fans will also like the band's far-flung, schizophrenic start-and-stop meter shifting and stream-of-consciousness lyrical style. Definitely worth checking out!
---
Brazilian Rock - Letter "B"
---



Other Brazilian Styles
Main Brazil Index


---