<! cd = 03/20/06> <! MP3 09/12/08, 01/26/11, 03/11/12 - only one, 08/16/14 - a dozen adds > <! pix 11/18/09 > <! icons 01/26/11 > <! UPDATES: 09/12/08 08/16/14 - MP3s, links >

---
Brazilian rock-pop crooner Erasmo Carlos was in on the rock revolution from the very start. Playing rock'n'roll early as 1958, he was the singer of the Sputniks -- which transformed into The Snakes -- a legendary rock combo that also starred future soul star Tim Maia and Erasmo's longtime collaborator, Roberto Carlos. It was as Roberto Carlos' sidekick that Erasmo really made his mark, acting as the co-host of the Jovem Guarda TV show, which helped define the teen/youth scene of the 1960s. His own recording career started mid-decade in '65, and continued through to the next century. Here's a quick look at his career...
---
Discography - Best-Ofs
---
Erasmo Carlos "Perolas" (Som Livre, 2002)


Erasmo Carlos "Esquinas Do Tempo" (Som Livre, 2002)


This 4-CD set traces the career of teenybop popper Erasmo Carlos, one of the key songwriters and performers of the '60s jovem guarda scene. The set is programmed chronologically, and opens with a few rare Eddie Cochran-styled singles recorded by The Snakes, a band he formed in the late 1950s with future funk star Tim Maia. Later, Erasmo met Roberto Carlos (no relation), with whom he would co-host the popular "Jovem Guarda" television program, which set the pace for the so-called ie-ie-ie movement. The first two discs, which cover his work in the 1960s, are pretty solid, and surprisingly strong for the style. Discs 3 and 4 cover his work up through the mid-1990s. As you might imagine, these years were a bit less satisfying, but still the song selection is pretty solid, and a very good look at one of the important early figures in Brazilian rock. Recommended.
Erasmo Carlos "Mesmo Que Seja Eu" (Universal, 2003)


Erasmo Carlos's later work is gathered in this immense, 15-CD set, which I have to confess I'm a little afraid of. It picks up his story in 1971, skipping most of the teenybopper stuff, and plows through to the 1990s. Included are three special discs, one of rarities, another of duets with various guest artists and a third of songs sung in Spanish. For true fans only, I'd wager. (Although if the folks who control the RGE catalog wanted to (hint, hint) put out a box set of his earlier albums from the '60s, I'd be way into that...!!)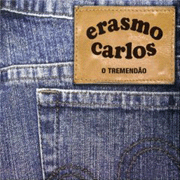 Erasmo Carlos "O Tremendao" (Universal, 2003)


Why... would you look at that? Just what I wanted: a swell, 6-CD box set reissuing Erasmo's first six albums on RGE, all in their entirety, with a few bonus tracks added just for fun. Albums include 1965's A Pescaria, Voce Me Acende, from 1966, Erasmo Carlos (1967), O Tremendao (1967), Erasmo (1968), and Erasmo Carlos E Os Tremendaos, from 1970. Cool beans... totally awesome! (See album reviews below.)
Erasmo Carlos "I Love MPB" (Universal, 2004)

Erasmo Carlos "A Arte De Erasmo Carlos" (Universal, 2006)





<! B000WMFPTM "Raridades" CD >

---
Discography
---

<! "Na Estrada" 1965? 2-CD set? B000O75IR4 >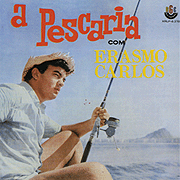 Erasmo Carlos "A Pescaria" (RGE, 1965)


(Produced by Benil Santos & Erasmo Carlos)
A delightful album, full of peppy rock'n'roll gems... He may have seemed like a big oaf next to his pal Roberto Carlos, but fans who wanted more rock and less ballads will dig Erasmo's no-nonsense approach. Each song on here is perky and fun, starting with "A Pescaria," one of Carlos's classics, and continuing through to "Beatlemania" and a nod towards Chuck Berry ("Dia De Escola"). Renato E Seus Bluecaps provide the backing, showing once again that they were one of the hottest, most capable bands on the jovem guarda scene.

Erasmo Carlos "Voce Me Acende" (RGE, 1966)



(Produced by Erasmo Carlos)
This opens with a cover of Ian Whitcomb's "You Turn Me On," then moves on to more homegrown Brazilian teenybopper rock, with contributions from Carlos Imperial... This time, the backing's by The Fevers, and while there is a distinct difference between them and the Blue Caps, they still gets fuzzed-out, electric and wild enough to make this one of the more noteworthy albums of the JG genre. Fun stuff!

Erasmo Carlos "Erasmo Carlos" (RGE, 1967)



(Produced by Manoel Barenbein & Julio Nagib)
Erasmo slows down and softens a bit here, which is kind of a shame, since he's much better on the uptempo stuff. Still, the opening track, "Cara Feia Pra Mim E Fome," is pretty wild sounding, with a forceful, innovative pop-psychedelic arrangement, and tracks such as the loungey "O Caderninho" and Carlos Imperial's "Brotinho Sem Juizo" (with backing by the bossa-jazz band, Som Tres) are also fun, as is a goofball cover of Donovan's "Mellow Yellow." Several of the best originals on here were written by guitarist Olmir ("Alemao") Stocker, whose work had a decidedly funky feel... There's a strong crosscurrent coming from the nascent "Black Rio" soul scene, led by soul-samba crooner Wilson Simonal -- Carlos isn't as at home with the style as with pure teenybopper rock, but the bands behind him can really cook. A few slow pop ballads drag the album down in the middle, but mostly it's pretty groovy. The Fevers, Os Wandecos and Roberto Carlos's RC-7 are among the backing bands; jazz bandleader Raul Da Souza sits in as well. Recommended!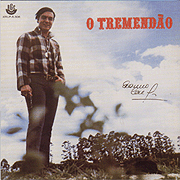 Erasmo Carlos "O Tremendao" (RGE, 1967)




(Produced by Manoel Barenbein)
With accompaniment by The Fevers, and by Carlos's band, Os Tremendoes...

Erasmo Carlos "Erasmo" (RGE, 1968)



(Produced by Julio Nagib & Jose Mauro Pires)
Soul singer Tim Maia sings on two tracks, the album's opener, "Baby Baby," and his own composition, "Nao Quero Nem Saber."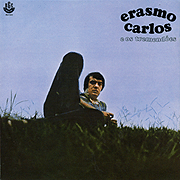 Erasmo Carlos "Erasmo Carlos E Os Tremendaos" (RGE, 1970)



(Produced by Erasmo Carlos)

Erasmo Carlos "Carlos, Erasmo" (Phonogram, 1971)


Erasmo Carlos "Sonhos E Memorias - 1941-1972" (Polydor, 1972)


A pleasantly moody, eclectic set, with a reflective, mature feel... Erasmo seems to have settled into a contemplative, relaxed mode that brings to mind the refined, folk-influenced pop of contemporary songwriters such as Harry Nilsson... And yet, he still hasn't yet succumbed to the tedium of the 1970s "brega" pop style that the jovem guarda movement devolved into -- his voice also has a youthful feel that is inviting and engaging. This album is a little lethargic, but in kind of a nice way. Definitely worth checking out.
Erasmo Carlos "1990: Projeto Salva Terra!" (Polydor, 1974)

Erasmo Carlos "Banda Dos Contentes" (Polydor, 1976)

Erasmo Carlos "Pelas Esquinas De Ipanema" (Polydor, 1978)

Erasmo Carlos/Various Artists "Convida" (Polydor, 1980) (LP)


Yechh. This all-star guest-fest gathers a lot of talent, and Erasmo himself sounds pretty lively, but the arrangements and instrumentation are hopelessly tacky and bland. Reall, about what you'd expect from the mainstream MPB establishment at the start of the 1980s... Features guest performances from all the usual suspects: Jorge Ben, Maria Bethania, Gal Costa, Gilberto Gil, Nara Leao, Rita Lee and Caetano Veloso, as well as Erasmo's old buddies Roberto Carlos and Wanderlea and some of the younger, then-popular bands such as A Cor Do Som and the disco-y As Freneticas. The standout tracks are from Bethania and Veloso who, despite the formulaic production, manage to sparkle through it all. Otherwise, this is all pretty cheesy, and can be skipped.


<! 01 - Sentado ą Beira do Caminho (Erasmo Carlos / Roberto Carlos) featuring Roberto Carlos 02 - Detalhes (Erasmo Carlos / Roberto Carlos) featuring Gal Costa 03 - Além do Horizonte (Erasmo Carlos / Roberto Carlos) featuring Tim Maia 04 - Mané Jočo (Erasmo Carlos / Roberto Carlos) featuring Gilberto Gil 05 - Minha Fama de Mau (Erasmo Carlos / Roberto Carlos) featuring Rita Lee 06 - Sou Uma Crianća Nčo Entendo Nada (Erasmo Carlos / Ghiaroni) featuring A Cor do Som 07 - Cavalgada (Erasmo Carlos / Roberto Carlos) featuring Maria BethČnia 08 - Quero Que Vá Tudo Pro Inferno (Erasmo Carlos / Roberto Carlos) featuring Caetano Veloso 09 - O Comilčo (Erasmo Carlos / Roberto Carlos) featuring Jorge Ben 10 - Café da Manhč (Erasmo Carlos / Roberto Carlos) featuring Nara Lečo 11 - Na Paz do Seu Sorriso (Erasmo Carlos / Roberto Carlos) featuring Wanderléa 12 - Se Vocź Pensa (Roberto Carlos) featuring As Frenéticas >

Erasmo Carlos "Convida, v.2" (Polydor, 1980)


Erasmo Carlos "Mulher" (Polydor, 1981)

Erasmo Carlos "Amar Pra Viver, Ou Morrir De Amor" (Polydor, 1982)

Erasmo Carlos "Buracao Negro" (Polydor, 1984)

Erasmo Carlos "Erasmo Carlos" (Polydor, 1985)





<! B000WMFPSI ? >

Erasmo Carlos "Abra Seus Olhos" (Polydor, 1986)

Erasmo Carlos "Apesar Do Tempo Claro" (Polydor, 1988)

Erasmo Carlos "Sou Uma Crianca -- Ao Vivo" (EMI-Odeon, 1989) (LP)

Erasmo Carlos "Homem Do Rua" (Sony, 1992)

Erasmo Carlos "E Preciso Saber Viver" (Polygram, 1996)

Erasmo Carlos "Ao Vivo" (Abril, 2001)


Erasmo Carlos "Pra Falar Do Amor" (Abril, 2001)


Erasmo Carlos "Santa Musica" (Indie, 2004)





<! B000WMFPTC "Erasmo E Amigos" 2007? CD >

Erasmo Carlos "Rock'n'Roll" (2005) <! 2009? >

Erasmo Carlos "Sexo" (Coquiero Verde, 2007) <! ~~2011 >


Erasmo Carlos "50 Anos De Estrada: Ao Vivo No Theatro Municipal" (Coquiero Verde, 2013)


Erasmo Carlos "Gigante Gentil" (Coquiero Verde, 2014)


---
Erasmo Carlos On Film
---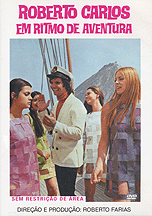 "Roberto Carlos Em Ritmo De Aventura" (DVD) (1967)


This frivolous, goofy teenybopper film is a little bit dull, but fun to watch anyway, if nothing else, for the fab '60s clothing, the Pop Art design, swinging bachelor pad decor, and also, of course, for a glimpse at Roberto Carlos during the height of his Jovem Guarda fame. The plot is pretty thin, a palpable pastiche of Hard Day's Night, Help! and the Monkees' similarly goofy TV show, with a bit of surrealist absurdism ala Luigi Pirandello thrown in for good measure. Roberto is repeatedly kidnapped, shot at and chased across Brazil's urban landscape; he even gets flown to New York, and returns via a NASA space launch... But the winsome pop idol takes it all in his stride, smiling and walking through each scenario with a good-natured grin. The music is great, if a bit repetitive... The opening track, "Eu Sou Terrivel," has a fun R&B beat, propelled by a punchy horn section and strong, catchy rhythm. (Apparently at the time, jazz trumpeter Raul Da Souza was in the RC-7, adding his punchy melodic senisbility to the mix.) Compared to other jovem guarda discs, this one has a really high hit ratio, including another funky, upbeat number, "E Tempo De Amar," written by Renato Barros of Renato e Seus Blue Caps. Best of all, though, are the shots of mid-1960s Rio and Sao Paulo, and of the screaming teenage audiences, as well as Roberto's inner cadre of go-go dancer-ish fans, a priceless glimpse at the pre-tropicalia rock scene. I'm sure there must also be video reels of old Jovem Guarda shows, but this fluffy escapist flick has got to be pretty similar in tone and style. The only weird note is how Establishment the film is, with the gratuitous inclusion of various arms of the Brazilian military (notably, the Army and Air Force...) in numerous "action" sequences. I'm sure that the sight of Roberto Carlos exclaiming, "that's groovy!" as he watches paratroopers floating to earth did little to endear him to the left-leaning militants of the anti-rock'n'roll bossa nova scene, who were at that time grappling with the fierce censorship of the newly-installed military regime. Still... that was then, this is now, and really, this is just a gloriously dumb pop culture toss-off... Hardly something to be taken too seriously, one way or the other. Roberto sure was cute, though!
"Roberto Carlos E O Diamante Cor Da Rosa" (DVD) (1970)
Fast-fading jovem guarda idols Roberto Carlos, Wanderlea and the Erasmo Carlos star in this paper-thin action comedy, wherein a hunt for long-lost Phonecian treasures lead our heros across the globe, and then back home to Brazil. Musically, this is disapointing -- the film starts with a sizzling soul number (an early Tim Maia song), but that is the only staged "live" performance in the film, the other numbers are either brought in as incidental music or in cheesy playback lip-synchs that have nothing to do with the plotline. Some kooky early '70s fashion (lots of big gold chains, leather vests, skintight jerseys and flared bell-bottoms) but less of a glimpse of the world itself. The film pingpongs from Tokyo to Jerusalem and then back to Rio, but most of the camera time is spent on our heroes, and they are stuck, frankly, a rather dull script... If you wanted to be charitable, you could see this as an absurdist romp, much like the Hong Kong films we know and love... or, alternately, you could just skip it. Other than the song at the start, there's little to recommend this film.
---
Links
---

<! KAPUT LINKS - 08/16/14 > <! Brazzil Magazine has a more sober presentation of Carlos' career and the JG scene... a very informative article from 1996. <! Planeta Rei is commercial website with information about both Roberto and Erasmo Carlos. It includes information about their film and television appearances, offers CDs for sale, and has an enormous year-by-year biography which covers both the "Jovem Guarda" years, and his subsequent career as a pop crooner cheezoid. (In Portuguese.) > <! An even more intense fan site (which I can't figure out the name of...) presents Carlos' life in a long, multi-page scrapbook format, including an extensive section on the Jovem Guarda years. Lotsa cool photos. >

---



---