<! MP3 05/24/10 > <! update 00/00/00 - add other Byrds-related? > <! outside 00/00/00 > <! pix 00/00/00 - some too small > <! icons 03/01/11 > <! Duck Baker Saul Broudy Bottle Hill >
---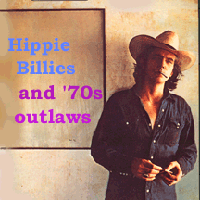 The "twangcore" and "Americana" boom of today owes a large debt to the shaggy twangers and no-hit wonders of yesteryear -- this section looks at the hippiebilly and stoner bands and a few odd, random artists from the 1960s, '70s and early '80s, back before there was anything called "alt-country." This page covers the letter "B."
---
HIPPIEBILLY & NO-HIT WONDERS:
A | B | C | D | E | F | G | H | I | J | K | L | M | N | O | P | Q | R | S | T | U, V &W | X, Y & Z | Comps | Hick Music Styles

---
Luke Baldwin "The Tattoo On My Chest" (Flying Fish) (LP)





<! Tom Ball And Kenny Sultan - BLUES? >
Marcia Ball "Circuit Queen" (Capitol Records, 1978) (LP)


Although she's now known as a blues player, early on pianist and singer Marcia Ball released her country-tinged debut, an interesting mix of Emmylou-ish country twang, countrypolitan, and a hint of the New Orleans-style blues she came to specialize in, further down the road. The hallmarks of Emmylou's "hot band" crew are easily heard, from the production style (and accompaniment by Emmylou cohorts such as Albert Lee, Buddy Emmons and Rodney Crowell) to some of the repertoire (including a version of Crowell's "Leaving Loiusiana In The Broad Daylight"). This album won't blow your mind, but it's an intriguing footnote to Ball's career, and dovetails nicely with other records of the era. Worth checking out.


<! produced by Brian Ahern ? >
Banana & The Bunch "Mid-Mountain Ranch" (Raccoon, 1972) (LP)


A truly groovy solo album by keyboardist Lowell "Banana" Levinger, an original member of the Youngbloods... Here, he indulges a passion for old-time music, ala The Carter Family, including a gorgeous version of "Ocean Of Diamonds." I think I still have a vinyl copy of this floating around somewhere; be great if the powers-that-be put it out in digital form someday... Levinger also cut an album under the name Noggins, but I haven't heard that one yet...

The Band "Songs From Big Pink" (Capitol, 1968)



Everyone knows about "The Band," right? Buncha scruffy bar-band locals picked out of nowhere to be "the band" backing Bob Dylan through his audacious early moves into electric rock. When Bob wrecked his motorcycle, nearly died, and then quit touring for a while, the time seemed ripe for these fellas -- Levon Helm, Rick Danko, Richard Manuel and the others -- to make a name for themselves. This is their debut album which many folks consider their best, and is certainly a landmark for the roots-rock movement. "The Weight" played interminably on FM radio throughout the 'Seventies, and their version of "I Shall Be Released" is also a plaintive classic.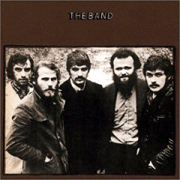 The Band "The Band" (Capitol, 1969)



Big Pink may be a critic's darling, but the group's biggest, most enduring (and most country) hits come from this, their second album. "Across The Great Divide," "Up On Cripple Creek," "Rag Mama Rag" and the unkillable radio hit, "The Night They Drove Old Dixie Down" are a pretty potent batch of tunes... and that's just the stuff on Side One of the original LP! This one's a real doozy. Highly recommended.

The Band "Stage Fright" (Capitol, 1970)



Well, I guess some Band fans don't care much for this album, but it's an old favorite of mine. There's a loose, disjointed poppiness about many of these songs, wed to a whistful sadness that makes it doubly appealing. The spasmodic, herky-jerky boogie riffs of "Time To Kill," "Just Another Whistlestop" and "Shape I'm In" have a slight guilty pleasure whiff about them, but the lyrics have a sincere sense of pathos which redeems these songs from being mere hippie frolicks. This disc is also definitely worth picking up!
The Band "Cahoots" (Capitol, 1971)


The Band "Rock Of Ages: The Band In Concert" (Capitol, 1972)



A live album
The Band "Moondog Matinee" (Capitol, 1973)



An album of 1950s/'60s rock and R&B cover tunes... Fun stuff and familiar territory for The Band itself, but to fans it may have felt like they were treading water a bit on this one...
The Band & Bob Dylan "Before The Flood" (Sony, 1974)


The Band "Northern Lights, Southern Cross" (Capitol, 1975)


The Band "Islands" (Capitol, 1977)



Their last studio album, released after the much-vaunted breakup concert that became known as "The Last Waltz." Apparently most folks in the know don't think too highly of this one, though I have to confess I've never heard it. When I do, though, I'll give you a full report!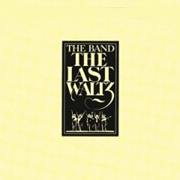 The Band/Various Artists "The Last Waltz" (Warner Brothers, 1978)


The Band/Various Artists "The Last Waltz" (Warner Brothers, 1978/2000) (big old box set)

The Band/Various Artists "The Last Waltz" (DVD) (MGM, 1978)









Moe Bandy -- see artist profile





Bobby Bare -- see artist profile


<! ELVIN BISHOP * The Elvin Bishop Group (1969) * Feel It! (1970) * Rock My Soul (1972) * Let It Flow (1974) * Juke Joint Jump (1975) * Struttin' My Stuff (1975) * Hometown Boy Makes Good! (1976) * Hog Heaven (1978) * Is You Is or Is You Ain't My Baby (1981) * Big Fun (1988) * Don't Let the Bossman Get You Down! (1991) * Ace in the Hole (1995) * The Skin I'm In (1998) * Party Till the Cows Come Home (2004) * Gettin' My Groove Back (2005) * The Blues Rolls On (2008) >
Elvin Bishop "Let It Flow" (Capricorn, 1974)



Our boy Elvin sure had an interesting career path... In the early 1960s he emerged as a hotshot whiteboy blues player, a founding member of the Butterfield Blues band, from where he launched his solo career in '68. Somewhere along the line, as the southern rock scene emerged and he got into that funky groove, Bishop got kind of weird and tweaky and made some of the goofiest hippie-blues-boogie-country-twang mashups ever recorded. This album, in particular, is a real gem, one of the kookier hippiebillie albums you'll ever hear, with several swell songs, including my faves, "Honey Babe" "Ground Hog," "Fishin'," and "Travellin' Shoes," all of which were staples on the legendary KFAT, Gilroy radio station. Elvin's third act was as a Top 40 star, when his 1976 single, "Fooled Around And Fell In Love," became an aitch-you-gee-eee, HUGE hit on rock radio (and doubtless paid the bills for many years to follow...) Afterwards, he went back to being a more-or-less straight blues dude... But if you want to hear him delve into country music, with his uniquely funky, humorous style, then definitely track this one down and bring it home. It's a great record.


<! B0000064TS OOP version >
Elvin Bishop "Juke Joint Jump" (Capricorn, 1975)

Elvin Bishop "Struttin' My Stuff" (Capricorn, 1976)

Elvin Bishop "Hog Heaven" (Capricorn, 1978)






<! tries to re-create the ballady pop of "Fooled Around" (on the album's languid opener, "It's A Feelin'," and other tracks...) It doesn't quite work, though, and this has a fish-out-of-water feel, with Bishop struggling to retain his inner hick... The drug-excess novelty song, "Midnight Creeper," is a gas -- definitely the album's highlight. >
Elvin Bishop "Red Dog Speaks" (Delta Groove, 2010)



A solid, funky set from roots music elder Elvin Bishop, one of those guys like Delbert McClinton whose work so casually interweaves country and blues that it's kinda silly trying to box him into any one category. Of course, he started out as a blues player, notably with the 1960's Paul Butterfield Blues Band, and he makes his living playing blues festivals and club gigs, but Bishop is no stranger to hillbilly twang or slash-and-burn Southern rock, and the fluidity with which he's combined these styles has been one of his trademarks over the years. Another trademark is the velvety, conversational tone of his guitar, a 1959 Gibson ES-345 named "Red Dog," which is the subject of the album's title track, a bluesy recitation in which Bishop's goofball vocal tones rise out of the aether, an old friend we're glad to hear from. It's great to hear him sounding so vigorous -- Bishop is almost seventy years old -- and so full of good humor, as always. Other album highlights include a thumping cover of Jimmy Cliff's "Many Rivers To Cross," re-imagined as a grinding blues anthem, and the comedic "Clean Livin'," in which Elvin recounts every ailment he's ever had (can't wait to put that in a playlist next to George Jones' "Nothing's Ever Hurt Me (Half As Bad As Losing You)") Nice record, definitely worth checking out!
Elvin Bishop "Sure Feels Good: The Best Of Elvin Bishop" (Universal, 1992)


Blue Ridge Rangers "Blue Ridge Rangers" (Fantasy, 1973)


Awesome!! After Creedence, John Fogerty got so fed up with the fratricidal aspect of actually being in a band, that he promptly went off and recorded an album all by himself -- played all the instruments, picked all the tunes, multitracked the album, and totally rocked out. This is the result, a masterful set of country oldies, covering artists such as Jimmie Rodgers, Webb Pierce and Melvin Endsley, all with a jocular, rolling bounce that can't help but win you over. Fun stuff!!


<! DON BOWMAN >


Tony Booth - see artist profile


<! Brave Belt - pre-BTO Randy Bachman country-rock band >


David Bromberg -- see artist profile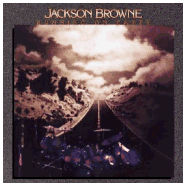 Jackson Browne "Running On Empty" (Elektra, 1977)



A not-so-guilty pleasure. Yeah, I know... it's long been fashionable to mock and deride Jackson Browne as a wimp, a cheeseball, or a '70s dino-rocker... But the fact is that this album remains one of the best country-rock records ever made, and when measured up against most of the alt.country acts of the '80s and '90s, this is indeed a superior product. A concept album about driving the long, lonesome highway and touring in a rock'n'roll band, this disc is packed with winning songs. It had several hits: the title track, "You Love The Thunder," his version of the doo-wop oldie, "Stay," given a modern, sardonic twist in the context of the weird, mutually parasitic relationship between rock stars and their fans. There are also a slew of great, non-hit country tunes, like "Nothin' But Time," "Shaky Town," and "The Road" that stack up quite well against anything the cowpunk and insurgent-altie crowd has come up with. Browne's road songs are as self-involved and navel-gazey as other songs of the genre, but he seems to have a self-awareness, and a willingness to explore the ickiness of situation that is lacking in many similar compositions. The sexism of the opening verse "Rosie" -- a song about a groupie -- is tempered by a deft humanization of the objectified girl, and by Browne's remarkable willingness to portray himself and his fame in an unfavorable light, either as honest autobiography, or as an Almost Famous-style character sketch. At any rate, I think this is a fine album, well worth checking out and listening to without the hipster blinders on: you might be surprised by how good it really is.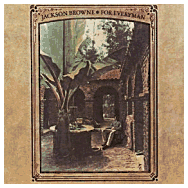 Jackson Browne "Jackson Browne (Saturate Before Using)" (Asylum, 1972)



Jackson Browne "For Everyman" (Asylum, 1973)



Jackson Browne "Late For The Sky" (Asylum, 1974)



I will concede, however, that these earlier albums are, by and large somewhat lugubrious and overinflated -- there are songs on them that I like, but many more that are, frankly, way overwritten and insufferable. Key to the development of the singer-songwriter/adult pop genre, but less fun from a country perspective. Of the three, I'd recommend For Everyman the most, just 'cuz the songs are catchier and more overtly "pop."
Norton Buffalo "Lovin' In The Valley Of The Moon/Desert Horizons" (Edsel, 1995)


A reissue of two classic albums from Norther California harmonica player/bandleader Norton Buffalo, 1977's Lovin' In The Valley Of The Moon and Desert Horizons, from 1978. At the time, Buffalo was gigging around with rock superstar Steve Miller, and was an in-demand session player - on these early solo albums he dips into country and blues and hippie funk; later on he'd zero in on the blues tunes, but I kinda like this folkie-funky stuff from the early days.





Jimmy Buffett - see artist discography


<! Billy Don Burns >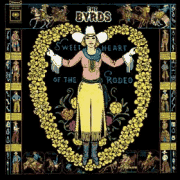 The Byrds "Sweetheart Of The Rodeo" (Columbia, 1968)



The first "official" country-rock album, though really, it was simply a masterful country album, recorded by a super-famous rock band. As the story goes, stonerbilly bad boy Gram Parsons more or less muscled his way into LA's then-ascendant folk-rock band, and swiftly remade them into Nudie suit-wearing space cowboy, hippie-billies... which is to say, into his band. Naturally, there was resentment within the group, and Parsons was eventually given the boot, but not before they made this wonderful, landmark album. Gram provided most of the arrangements and repertoire, including his own classic ballad, "Hickory Wind," as well as oldies such as the Louvin's "Christian Life." Because he was under contract to another label, though, the producers at Columbia stripped Parsons' vocal tracks off the album, and replaced them with lead vocals by Roger McGuinn and Chris Hillman. Recent CD reissues have gone back and (partially) re-created the album as it was originally recorded.
---

More '70s Oddball Country -- Letter "C"
---