<! cd = 12/03/11 > <! MP3 12/03/11 > <! update 00/00/00 > <! outside 00/00/00 > <! pix 00/00/00 > <! 208-pix: 00/00/00 > <! icons 12/03/11 >
---
Banjo picker J.D. Crowe was one of the leading lights of the 1970's "newgrass" scene, taking the New South band from triumph to triumph, shepherding numerous talents and collaborating with other top-flight pickers, young and old. Starting out as a teenager, Crowe apprenticed in the 1950's edition of Jimmy Martin's Sunny Mountain Boys, then set out on his own in a decade's long run as one of bluegrass music's most respected bandleaders. The core of his sound has been closely tied to Martin's canny mix of plangent mountain music and bluesy country, but he was also open to the poetic strains of the "progressive" bluegrass movement... Here's a quick look at his work.
---
Discography - Albums
---
Dan Brock & Louise Brock "Kentucky Songbag" (Donerail Records, 1968) (LP)


(Produced by Dan Brock)
This is one of the earliest examples of J. D. Crowe working as a bandleader, with Bobby Sloane and Doyle Lawson backing him up as Kentucky Mountain Boys, the nucleus of the band that would later be called The New South. It's a slightly odd album, with fairly staid folksong vocals by Dan and Louise Brock, who cite the esteemed John Jacob Niles as their main inspiration... Their singing is hardly bluegrass style, but the shared history of the music helps bridge the gap, although the Kentucky Mountain Boys keep mostly in the background, with Crowe's (or Lawson's) banjo being the most prominent instrument in the mix. They get to stretch out instrumentally on a couple of tracks on Side Two, but for the most part this is kind of a work-for-hire album. Nice set of Kentucky-related folklore, though, with a mix of standards and oldies from popular song (Stephen Foster, et. al.), gospel, and a few contemporary tunes like "Coal Tattoo." Definitely worth a spin!
J.D. Crowe & The Kentucky Mountain Boys "Bluegrass Holiday" (Lemco/Donerail, 1968)


J.D. Crowe "The Model Church" (Lemco, 1969)



This early, all-gospel album has been reissued a few times, most recently in 1994, by Rounder Records. (See below.)


<! The band's lineup at the time featured Larry Rice on mandolin, Bobby Slone on bass and future solo bluegrass star Doyle Lawson on guitar and lead vocals--although Rice handles lead vocal chores on "Goin' Up" and Crowe himself does a rare lead vocal on "Look for Me." >

J.D. Crowe "Ramblin' Boy" (Lemco, 1971) (LP)

J.D. Crowe & The New South "J.D. Crowe And The New South" (Starday, 1973)



The scrappy original line-up of the New South featured banjoist Crowe, along with the Rice brothers, Tony and Larry, backed up by studio hotshots Pig Robbins, Ray Eddington and others. The use of drums and pedal steel was an unconventional choice for a bunch of bluegrass whippersnappers to make, but these sessions were clearly made under the twin influences of the country-tinged progressive bluegrass of the Osborne Brothers and the hippie-billy honkytonk of Gram Parsons, whose "Christine's Tune" (aka "Devil In Disguise") is covered on the first half of this album. It's an uneasy mix at times, but certainly interesting to fans of these idols of the early newgrass scene. Rice sings one of his first Gordon Lightfoot covers ("Ten Degrees And Getting Colder"), and Crowe records several songs that would turn up later on various Rounder albums. More countrified than 'grassy, but still worth checking out. [Also released on CD as Bluegrass Evolution. ]
J.D. Crowe & The New South "J.D. Crowe And The New South" (Rounder, 1975)



The newgrass lads tightened up their sound and tweaked their repertoire, making this fab Rounder debut just as '70s bluegrass was really coming into its own. Ricky Skaggs has joined the band, along with dobro whiz Jerry Douglas and fiddler Bobby Sloane, all members in good standing of the "usual suspects" crew of the newborn bluegrass mafia. Tony Rice sings almost all the lead vocals, working out the smooth, smoky style that would crystallize on solo albums such as Manzanita and Tony Rice Sings Bluegrass. If you listen closely, there are a few rough edges here, particularly in the sometimes-stiff rhythm, but mostly this album is a delight. Great song selection, particularly the album's opener, "Old Home Place," which is one of my favorite tunes of the decade, some nice gospel stuff, and a pair of Gordon Lightfoot covers, one of Rice's great specialties. An early Rounder classic, and one that still stands up today!
J.D. Crowe & The New South "You Can Share My Blanket" (Rounder, 1977) (LP)

J.D. Crowe & The New South "Live In Japan" (Rounder, 1979)



Okay, so if you were J.D. Crowe, and you were about to go on a triumphant tour of Japan, playing for their unique brand of wildly appreciative fans, who would you pick to go as your back-up band? Well, Keith Whitley, Bobby Sloane, Jimmy Gaudreau and Steve Bryant are all good choices, and holy cow! that's who he took. The boys whiz through a solid set of crowd-pleasing favorites, sticking pretty close to their strengths. The sound quality is pretty good, with just a hint of amphitheater hall muffle, but mainly it sounds great. The album closes with the band hamming it up on a set of stereotyped commercial bluegrass, "The Ballad Of Jed Clampett," etc., as they goofily recreate an old Martha White radio show. You can pretty much stop the album when that comes on, and not miss much, at least if you've already heard hose old routines. On the whole, though, not much to complain about with this disc.
J.D. Crowe & The New South "My Home Ain't In The Hall Of Fame" (Rounder, 1979)



This is my favorite of the New South albums (though the rest are all good, too) and is one of the highwater marks of the '70s progressive bluegrass scene... It features a gorgeous version of the title track, Jonathan Edward's classsic alterna-country anthem, as well as upbeat versions of "Gone, Gone, Gone" and "My Window Faces The South." The band also included fiddler Bobby Sloane, bluegrass whizkid, Jimmy Gaudreau, and the late Keith Whitley (who soon afterwards went on to become a big Nashville Top 40 star). Lots of fun, and highly recommended.
J.D. Crowe & The New South "Somewhere Between" (Rounder, 1981) (LP)

J.D. Crowe & The New South "Straight Ahead" (Rounder, 1986)






<! Sam Bush on mandolin and Jerry Douglas on dobro. >

J.D. Crowe & The New South "Blackjack" (Rebel, 1987)


J.D. Crowe & The New South "The Model Church" (Rounder, 1994)






<! reissue of older album? >
J.D. Crowe & The New South "Flashback" (Rounder, 1994)



A nice, solid, late-model New South album, with a lineup that includes Don Rigsby on mandolin and tenor vocals, and guitarist Richard Bennett singing the lead, and sounding very much like a smoky-voiced Tony Rice. The song selection is typically strong, mainly progressive-style heart songs and a couple of gospel tunes and traditional numbers. Not as fiery as some of the earlier work, yet quite strong and quite pleasant.
J.D. Crowe & The New South "Come On Down To My World" (Rounder, 1999)


J. D. Crowe "Lefty's Old Guitar" (Rounder, 2006)



An absolutely delicious album of country-tinged truegrass that's perfectly faithful to the style created by Crowe's old mentor, Jimmy Martin. The ease, elegance and assurance with which Crowe (and the stellar new lineup of his New South band) deliver these soul-drenched story-songs is a thing of delight. Crowe's new lead singer, guitarist Rickey Wasson, has a rich, deep voice, full of conviction and admirable emotional range, and -- when he wants it -- that "old geezer" sound that so many of us love to hear along with our twang. Doubtless a few longtime fans will think back to the days when the late Keith Whitley was singing with the New South; this disc has that same smoothness and warmth. A sweet set of 'grassy ballads that drew me in from start to finish. Recommended!
---
Related Records
---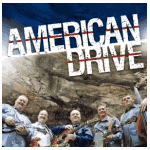 American Drive "American Drive" (Rural Rhythm, 2013)



When J.D. Crowe finally chose to retire (wow! what a career!!) the final lineup of the New South band decided to carry on, just under a new name. Like many long-running bluegrass outfits, the band has always had a fluid membership, so the final crew -- Matt DeSpain, Dwight McCall, Kyle Perkins, and Rickey Wasson -- were relatively new faces to begin with, but talented, for sure. Banjo plunker Josh Hymer was brought in to fill the gaps left by Crowe's departure, and longtime fans will be pleased by the continued allegiance to good old, tradition-oriented truegrass. J. D. certainly had a good run, and although be won't personally be shepherding new talent into the ranks, his legacy can clearly be heard in this bright new band. Nice stuff... Keep and eye and an ear out for their future work.
---
Links
---
---