<! MP3 05/28/10 > <! update 05/28/10 - expand Ozark Mountain Daredevils? too rock? > <! outside 00/00/00 > <! pix 00/00/00 > <! icons 12/23/10 > <! Orange Blossom Sound - see below Oily Rags - see below Gary Ogan & Bill Lamb "Portland" >
---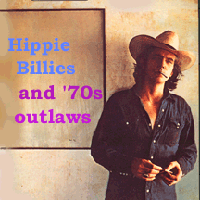 The "twangcore" and "Americana" boom of today owes a large debt to the shaggy twangers and no-hit wonders of yesteryear -- this section looks at the hippiebilly and stoner bands and a few odd, random artists from the 1960s, '70s and early '80s, back before there was anything called "alt-country." This page covers the letter "O."





---
HIPPIEBILLY & NO-HIT WONDERS:
A | B | C | D | E | F | G | H | I | J | K | L | M | N | O | P | Q | R | S | T | U | V | W | X, Y & Z | Comps | Hick Music Styles

---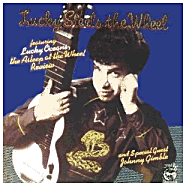 Lucky Oceans & The Asleep At The Wheel Revue "Lucky Steels The Wheel" (Blind Pig, 1982)



A nice solo album by Asleep At The Wheel's first steel player and co-founder Reuben "Lucky Oceans" Gosfield... It's a familiar mix of western-swing, swank, big-band-y R&B and instrumental tunes that spotlight his considerable skills as a pedal steel stylist. Texas fiddler Johnny Gimble adds some sweet licks as well, making this a mighty fine little record... Definitely worth tracking down!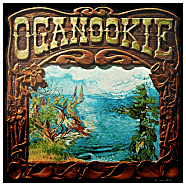 Oganookie "Oganookie: 1970-1973 -- Santa Cruz, California" (DSW, 1973) (LP)


(Produced by Oganookie)
A really cool album from the deepest days of California hippiedom... This Bay Area band was based in the wild backwoods of Santa Cruz, CA... Apparently they had some connection to a commune called the Oganookie Farm (at least that's what I'm guessing, since there's a song on here called, "Oganookie Farm Song...") and they played around reionally for several years. This album is mostly from a live recording they did at two long-defunct venues, the O. C. Inn and Chateau Liberte, and though the original sound quality from the board is pretty bad, the music is great, and it's a priceless document of the times. This is real stuff -- what mellow, talented hippie bands sounded like, in a fringe-leather, shaggy beard world. Side One of the album is more country-oriented, with an acoustic swing feel that's very reminiscent of Dan Hicks & His Hot Licks -- fiddler Bob Stern is the showcase player on several songs, including squeaky renditions of "Uncle Pen" and "Orange Blossom Special." On Side Two they delve more into the rock and roots sounds of the era, notably on "Blues Ain't Nothin' But A Bad Dream," which sounds a lot like The Band, and the longer, spacier "Song For A Child," which is very Dreadful Grate-ish. One track was recorded in a studio, "Your Woman Is Ugly," one of several original compositions by John C. Bowers, who I'm guessing was the band's lead vocalist. I'm sure the other guys in this band played music elsewhere, but the only guy I know about for sure is bassist/banjo picker George Stavis, who recorded an influential album of avant-garde banjo music a few years earlier on the Vanguard label. If you're looking for authentic, vintage hippie music that doesn't suck, try and track this one down.


<! "Oganookie" 1973 (Oganookie dsw-4154) Live recording of communal band playing modern bluegrass & rock with George Stavis, who had a solo LP on Vanguard and was in Federal Duck. Oganookie existed for years and its members collaborated with many name musicians, such as Jerry Miller of Moby Grape and Charlie Prichard of Conqueroo. >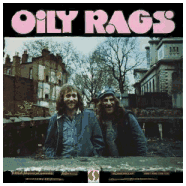 Oily Rags "Oily Rags" (RCA/Signature, 1974) (LP)


(Produced by Chas Hodges & Dave Peacock)
Funky roots music, UK style. Oily Rags featured bassist Dave Peacock and pianist Chas Hodges, who later recorded as the duo of Chas & Dave -- Hodges had previously been in the English rock band Heads Hands & Feet, with hotshot guitarist Albert Lee. (This album's opening track, "Come Up And See Me Anytime," resurfaced on Lee's 1979 album, Hiding, a nod towards his old pals...) This is a fun, bluesy, laid-back set, mixing original songs with tasty cover tunes such as "Time To Kill" by the Band, Lee Dorsey's "Holy Cow," Kris Kristofferson's "Jody And The Kid," and even the English music hall oldie, "Boiled Beef And Carrots," an anti-vegetarian anthem proclaiming the virtues of a traditional working-class diet. This entry hinted at the direction Chas & Dave would take with their funky, relaxed "rockney" style of pub rock blues, mixing Cockney humor with an American rural vibe. Before the Heads Hands band broke up in 1973, Hodges and other members had backed countrybilly legend Jerry Lee Lewis on a UK session, and Jerry Lee's signature sound often creeps into his piano style, as well as some richly authentic country touches... These guys really "got" American roots music, and played it to perfection, crafting a first album that was both subtle and stunning. Highly recommended!


<! Chas & Dave "Early Years: Country Pies Black Claws & Oily Rags" (Castle, 2007) B000U0TATM also made albums with Oliver Edward Nelson - B0044PGD8A and Teresa Brewer? > <! Long before they became just Chas & Dave, both Chas Hodges and Dave Peacock had more than paid their dues. Chas had enjoyed considerable success during the 60's as bassist in The Outlaws (he played on many of mad indie producer Joe Meek's biggest hits) and Cliff Bennett's Rebel Rousers, while Dave had served a long apprenticeship on the UK's nascent C&W circuit, with groups like Spike Island and The Tumbleweeds. The duo first teamed up in 1971 in the short-lived band Black Claw (where they famously cut the Country Pie LP for a budget label in one three-hour session). They finally got together as a duo full-time in 1973, following the demise of the highly-rated (but commercially unsuccessful) band Heads Hands & Feet. At first, they worked primarily as songwriters and session singers/players, booked by American producer Bob Thiele for a couple of 'In London'-type albums backing Teresa Brewer and Oliver Edward Nelson. Thiele was sufficiently impressed with the duo and cut an album with them, released only in Holland and the US. They were still working without a regular name, however, Thiele had been impressed with Chas's use of cockney rhyming slang - particularly, `oily rags' for fags ('but fags as in snout, not poofters' - Chas). So, the album was duly credited to Oily Rags. But in 1975, they finally adopted the Chas & Dave moniker and recorded their first LP, One Fing'n' Anuvver. This unique compilation also includes a couple of demos recorded around that time, which just missed the cut to appear on that debut. Castle 2007 > <! DANNY O'KEEFE >
Oklahoma "Oklahoma" (Capitol, 1976) (LP)


(Produced by Mark Lindsay & Terry Melcher)
This one's more in the consider-yourself-warned department... Despite the promisingly rural bandname, these Midwesterners were a pure '70s rock band, basically a generic electric guitar-keyboards-drum outfit, with glimmers of glam, bubblegum, Southern rock and a teeny, tiny trace of country-rock twang. They were surprisingly competent, but in a REO Speedwagon/Styx-ish kind of way, not in any kind of rough-and-ready bar-band style. Nothing on here to keep track of, really, at least from a twangfan's perpsective.


<! band included Ben Blakemore and Steve Crossley >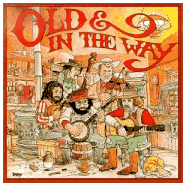 Old And In The Way "Old And In The Way" (Round, 1975)


An iconic album for early '70s bluegrass fans, and a big bridge from the world of acidhead hippies into the traditional folk scene. The gathering of David Grisman, Peter Rowan, old-time fiddle whiz Vassar Clements and the Grateful Dead's teddybear avatar, Jerry Garcia was news in and of itself -- the cover art by underground cartoonist Greg Irons was just icing on the cake, giving this disc ultimate counterculture status. The band itself wasn't together that long, and was a pretty informal gig to begin with. They were, as the saying goes, ragged but right -- a little haphazard when compared to the classic recordings of the bluegrass elders, but full of the right attitude. In some ways, it's actually kinda nice how loosey-goosey Old & In The Way were -- their relaxed, easygoing approach was a folk scene equivalent of the DIY punk explosion in rock. Doubtless many hundreds of fledgling pickers were encouraged to pick up an instrument after hearing this disc. Fun stuff, with nice versions of a couple of Rowan's best tunes, "Midnight Moonlight," and "Panama Red..."

Old And In The Way "That High Lonesone Sound" (Acoustic Disc, 1996)



Old And In The Way "Breakdown" (Acoustic Disc, 1997)



We're lucky that David Grisman is such a magpie... Poking around in his closets he came up with the material for these two excellent archival collections, which give a perfect, bird's eye view of Old & In The Way live and in action, during their all-too-brief prime. It's a shame the band wasn't able to stay together longer, just to see how much they would have tightened (or changed) their sound... But since Rowan and Grisman both went on to do some of the best work of their careers immediately after this, I guess we can't really be all that bummed. There's certainly little to complain about here... Again, the band is ragged but right; they may have been a little sloppy, but the music is still exciting. Recommended!


<! 146 x 144 >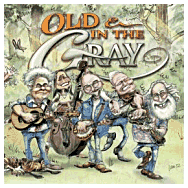 Old & In The Gray "Old & In The Gray" (Acoustic Disc, 2002)



A swell get-together of some of David Grisman's grizzled, goofy bluegrass buddies. The lineup includes Grisman, Peter Rowan, Vassar Clements and Herb Pedersen, along with young'un Bryn Bright. who plays a mighty fine bass. The vibe here is playful and relaxed, running through some old favorites and crowd pleasers... highlights include the album opener, "Good Old Boys" and the spine-tingling story-song, "The Flood," which details a river rising and a community rallying to meet the crisis. If you enjoyed Grisman's Retrograss album from a few years earlier, then you oughtta love this one, too!


<! Orange Blossom Sound "Bluegrass And Orange Blossoms" (Epic, 1969) (LP) B003XX8364 The Orange Blossom Sound were a British bluegrass group consisting of Ian McCann (acoustic & electric lead guitar-vocals), Charlie Gaisford (banjo-five string guitar-rhythm guitar), Michael Artes (string bass-electric bass guitar-vocals) and Roger Churchyard (mandolin-fiddle-rhythm guitar-vocals). They were discovered by Bob Dylan producer Bob Johnston who heard them at the London Palladium and was so impressed by their performance that he asked Mervyn Conn at Epic Records to sign the group, the result was this album, a mini masterpiece of the genre featuring some fine fiddle work by Churchyard complimented by the just as fine banjo playing of Gaisford. >
The Original Joplin Forte "Ain't Misbehavin' " (MCA-Shamley, 1968) (LP)


(Produced by George Fernandez)
Led by banjoist Dan Coats, this short-lived group apparently grew out of the Los Angeles/Southern California folk/bluegrass scene, with Coats taking a dip into the spaced-out songwriter ouvre, with a few whiffs of John Sebastian-esque psychedelic jugband added into the mix. In all honesty, this isn't a very successful record: although there's a superficial similarity to roots-music genre-bender John Hartford (kooky lyrics, lackadaisical banjo plunking, hippie iconography and even a cover of Hartford's chart-busting "Gentle On My Mind") there's little of Hartford's giddy stylistic flair and keen originality -- this seems forced and straining to succeed, rather than innovative and above the fray, and though he's a decent musician, Coats was a remarkably stiff, un-fluid singer. A genuine artifact of its time, for sure, although I imagine it's not really a record that many people would want to come back to just for pure listening pleasure... I could be wrong, though. It's certainly notable that Coats wrote all but four of the songs on here, so it includes a trove of unique -- if not electrifying -- material.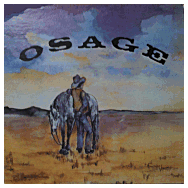 Osage "Greatest Hits" (Ragweed, 1980) (LP)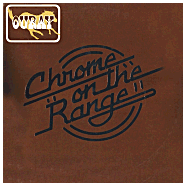 Ouray "Chrome On The Range" (Taxi, 1978) (LP)


(Produced by Ed Cherney & Ouray)
A pretty strong, commercially oriented country-rock record by a regionally successful band that was based in Chicago. They had a solid mix of softer, country-oriented material and slightly more aggressive '70s guitar rock, with some Southern rock touches such as Allmanesque twin guitars, and lots of chicken-pickin' licks, generally framed in a softer rock-pop sound. The vocals are particularly nice, with the quintet proving themselves adept at the same sort of airy, post-CSN&Y hippie rock harmonies heard in bands such as Poco and Firefall. I like their softer side, especially when the pedal steel takes the lead, though unfortunately they seem to have felt obliged to add a long guitar solo into every song, and that often kills the mood for me. Still, all in all, this is a record worth knowing about and maybe even tracking down if you're into this brand of '70s AOR. Not sure if any of these guys did anything else, but this seems like one of those great almost-coulda-made-it bands you find out about now and then. Great album title, too!


<! Steve Miller/CSN/Firefall Engineer Ð Ed Cherney Lead Vocals, Rhythm Guitar, Piano Ð Frank Pirucello Vocals, Bass Guitar Ð "Too Tall" Tom Peters Vocals, Drums, Percussion Ð Ted Rawlings Vocals, Lead Guitar Ð Hap Harriman Vocals, Pedal Steel Guitar, Guitar Ð Bo Pirucello >

The Outlaws "Hurry Sundown" (Arista, 1977)






<! Southern rock unit the Outlaws was formed in Tampa, FL in 1972 by singers/guitarists Hughie Thomasson and Henry Paul, bassist Frank O'Keefe, and drummer Monte Yoho. With the 1973 addition of guitarist Billy Jones, the lineup was complete, and after a year of intense touring the band became the first act signed to Arista under Clive Davis; the Outlaws' self-titled 1975 album spotlighted their Eagles-influenced harmonies and Allman Brothers-like guitar attack, yielding the Top 40 hit "There Goes Another Love Song." In the wake of 1977's Bill Szymczyk-produced Hurry Sundown, both Paul and O'Keefe exited, with guitarist Freddie Salem, bassist Harvey Dalton Arnold, and second drummer David Dix signing on for the 1978 concert set Bring It Back Alive and the studio effort Playin' to Win. Salem was the next to go, and the lineup shuffles continued when Arnold announced his departure following 1979's In the Eye of the Storm, with bassist Rick Cua recruited for the next year's Ghost Riders in the Sky, which netted a Top 40 entry with its title track, a rendition of the Vaughn Monroe favorite. Yoho left to rejoin Henry Paul soon after, and with the subsequent exit of Jones, only Thomasson remained from the original Outlaws roster -- not surprisingly, the group disbanded upon completing 1982's Los Hombres Malo. A year later Thomasson and Paul formed a new Outlaws lineup, adding guitarist Chris Hicks, bassist Barry Borden, and drummer Jeff Howell; after issuing 1986's Soldiers of Fortune, Paul again quit the band, with the remaining quartet returning in 1993 with Hittin' the Road. While Paul resurfaced in 1994 in the chart-topping contemporary country band Blackhawk, Thomasson later toured with the reformed Lynyrd Skynyrd while continuing to lead the Outlaws, releasing So-Low in 2000. Sadly, Jones and O'Keefe died within three weeks of one another in early 1985. ~ Jason Ankeny, All Music Guide >


The Ozark Mountain Daredevils - see artist discography




---
---