<! MP3 05/28/10 > <! outside 00/00/00 > <! pix 00/00/00 > <! icons 00/00/00 > <! states 06/07/16 > <! UPDATES: 12/02/13 - added Ruthie Quinlan 02/17/15 - no new adds, ASINs > <! Quiver - British(?) rock band with acoustic/twang influences - guitarist Tim Renwick also played banjo Quiver "Gone In The Morning" (Warner Brothers, 1972) (LP) (Produced by Chris Thomas & Bill Price) >
---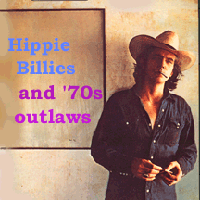 The "twangcore" and "Americana" boom of today owes a large debt to the shaggy twangers and no-hit wonders of yesteryear -- this section looks at the hippiebilly and stoner bands and a few odd, random artists from the 1960s, '70s and early '80s, back before there was anything called "alt-country." This page covers the letter "Q."





---
HIPPIEBILLY & NO-HIT WONDERS:
A | B | C | D | E | F | G | H | I | J | K | L | M | N | O | P | Q | R | S | T | U | V | W | X, Y & Z | Comps | Hick Music Styles

---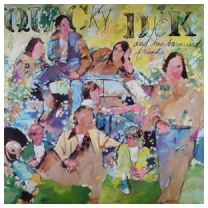 Quacky Duck & His Barnyard Friends "Media Push" (Warner Brothers, 1974)


(Produced by Stephan Galfas)
Awkward country(ish) rock from an East Coast band led by Danny and Daegal Bennett, sons of legendary pop crooner Tony Bennett. This is mostly clunky, cluttered stuff -- self-indulgent and not well-crafted, though I guess it has its moments. Based in Jersey, these guys had some regional success, but not surprisingly this odd, jokey album went nowhere on the charts, and the band quickly fizzled out. Perhaps the most notable member of the group was multi-instrumentalist David Mansfield, who later joined Bob Dylan's tour band, then co-founded the Alpha Band with T Bone Burnett, and became a prolific session musician. Meanwhile, the Bennett brothers went into more behind-the-scenes, out of the spotlight music business roles such as A&R and production. Overall, there's not much here that requires your attention: the title track generated mild controversy because of its gratuitous inclusion of various ethnic slurs, but it's not a terribly interesting song. Contrary to what you may have read elsewhere, twang martyr Gram Parsons is not credited as the album's producer, although they did add the dedication, "Our Love To Gram" on the back cover... Apparently they hung out with him in his waning days, but his influence isn't readily apparent. This disc is a footnote to East Coast country-rock, but not a compelling record.


<! also B008F0CEJC - LP ASIN >
Rooster Quantrell & The Border Raiders "Col. Buster Doss Presents..." (Stardust, 1998)


(Produced by Col. Buster Doss)
Apparently "Rooster Quantrell" was a made-up country music character conceived of by Nashville-based indie-twang/song-poem producer Col. Buster Doss, although I have seen Quantrell's name appear on other artists' albums, so that origin story may be a bit mythical. This CD came out in the 1990s, but the recordings may have been made much earlier; there are also a number of singles out under Quantrell's name.


<! "...There's some mystery about who compromises this band. Donald Bradley is rumored to be the singer." >
The Quinaimes Band "The Quinaimes Band" (Elektra, 1971)


(Produced by Zachary & Jac Holzman)



<! longhair rock, with Bill Keith and Richard Greene in the studio crew. - songs by Dylan, Bromberg, and even Utah Phillips "...US band formed and recorded their self titled album in New York City, musically the were a crossline between Byrds, Neil Young, Al Kooper, C. C. Revival and Steppenwolf. Members were Kenny Pine (Fugs), Danny Mansolino and Mike Rosa (from The Myddle Class), Dave Palmer as vocalist who also played with The Myddle Class, he may have had the biggest success as an early vocalist with Steely Dan. Jerry Burnham was band's fiddler he worked with acts like, The Strangers, James Taylor and the Flying Machine, Jake and the Family Jewels, The Fifth Ave. Band. Album included collaborations of some great session musicians such as Danny Kortchmar, Richard Greene among others." The Quinaimes Band *David Palmer - Vocals *Jerry Burnham - Bass, Fiddle, Vocals *Danny Mansolino - Keyboards, Organ, Piano, Vocals *Kenny Pine - Guitar, Vocals *Mike Rosa - Drums Guest Musicians *Richard Greene - Fiddle, Violin *Richard Grando - Saxophone *Allan "Jake" Jacobs - Guitar *Danny Kortchmar - Guitar *Daniel Ben Zebulon - Drums, Congas *Bill Keith - Pedal Steel Guitar >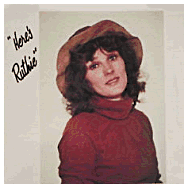 Ruthie Quinlan "Here's Ruthie" (Country Green Records, 197-?)
(Produced by Walter Haynes & Ruthie Quinlan)
An independently-released album from country singer Ruthie Quinlan, an Indiana native who headed to LA and Nashville to hit it big, although she eventually returned to the Midwest, reconnected with her religious faith, and devoted herself to gospel music. This secular-themed debut features a lot of original material, as well as four songs written by Lola Jean Dillon and a few obscuros from Sonny Throckmorton and Bobby Braddock. Plus, there's studio backing by Nashville session pros such as Fred Carter, Jr., Jerry Shook and pedal steel player Lloyd Green... quite a production! Anyone have more info about this artist?


<! - NO ASIN - 02/17/15 Ruthie Quinlan was a country singer based in Southern Indiana. Tracks include I Just Found a Ring; Back to Back; Wondering Where Your Next Kiss Will Come From; What Did You See In Me; Funny Deal; Daddy's Sugar; Daylight Strangers/Midnight Friends; and more. - also released single(s?) with Joe Anderson on Country Green - later became born again(?) - I think this is the same artist: B00004T2V7 >
Ruth & Bill Quinlan "Jesus Wept" (2000)


I think this is the same artist, years later, recording gospel music with her husband Bill...
Bill Quinn "Jim Reeves Revisited" (Hilltop Records, 1968-?) (LP)


A budget-label homage to the late country crooner, Jim Reeves... Mister Quinn was an Irish artist who recorded for the Dublin-based Demense label, and was apparently unrelated to the Bill Quinn from Texas who founded the Gold Star studios.


<! - #JS 6115 - same Bill Quinn from Texas who founded the Gold Star studios? - no - an Irish artist, recorded for Demense label in Dublin(?)(look up label info) - also (first edition?) on Hallmark Records: Bill Quinn "...Sings Jim Reeves Greatest Hits" (Hallmark Records, 1968) (LP) B00PMTT1UO - date per BB >

The Quinn Brothers "A Bushel Of Charley Pride Hits" (Pickwick/Hilltop Records, 1972) (LP)


I couldn't tell you for the life of me, who these here Quinn Brothers were, although it's possible -- since this is a Hilltop LP -- that this also includes singer Bill Quinn (from above) who recorded for Pickwick a few years earlier. Or not. Anyway, this is a cheapo-label set of "soundalike" cover songs, including hits like "Does My Ring Hurt Your Finger," "Is Anybody Goin' To San Antone" and "Kiss An Angel Good Morning." Originally it was meant to appeal to folks who would be fooled into thinking it was really a Charley Pride album, and unlikely to make those folks very happy. But now, decades later, it's just another old, prefab countrypolitan album, and can be taken at face value.


<! - tracks: Kiss An Angel Good Morning I'm Just Me (I'm So) Afraid Of Losing You Again Is Anybody Goin' To San Antone Wonder Could I Live There Anymore Does My Ring Hurt Your Finger The Easy Part's Over The Day The World Stood Still I Know One >
Donnie Quinn "Reno Junction" (Big K Records, 1979) (LP)
(Produced by Charlie Kellogg & D. J. Brundridge)



<! - arrangements by Terry Swope and Jeff Littrell - each wrote a song on here, as did Brundridge http://kclawrencevinyl.blogspot.com/2015/01/donnie-quinn-reno-junction-big-k-1979.html - CAT# 39863 - no ASIN 06/15/15 "...Generally, Big K Records was putting out regional country albums, but this doesn't quite fit the bill. It's basically an Elvis Presley impersonation album, there's even a tribute tune. That probably sounds worse than it actually is, but that's the best description for it. Donnie Quinn was apparently a teenager obsessed with the King. Of course, with that comes a healthy dose of country influences, from rockabilly to the straight early Nashville sound, but it's all filtered through Elvis Presley. The album also features the work of Terry Swope on guitar, who apparently like Quinn, was also obsessed with Elvis as he pens some of the tunes. Again, though, it's not a terrible thing, a bit strange, but not terrible. The ballads don't need to be here, they showcase Quinn with his snarled lip vocals, just trying to channel some Elvis magic. But, it's no better than what Andy Kaufman was doing as a joke. When the band gets going on their "comeback" style Elvis-tunes, it's pretty enjoyable. There's some horns here and there, Donnie channels the best of sweaty, soul-driven, black, leather-suit, Elvis. It's no From Elvis in Memphis, but it's highlights aren't bad, just no where near as fulfilling as the real thing." >
Bill Quisenberry "Sings Country" (Custom Fidelity, 1972-?) (LP)


(Produced by Burton A. Decker)
This one's got quite a story behind it... I'm fairly sure this is the same Bill Quisenberry who later took over a Nashville talent agency and became David Allan Coe's booking agent during the 1990s and early 2000s. Decades earlier, he was in the orbit of one of LA's fabled custom labels, not only recording his own album but also doing session work playing guitar on other records, such as Maxi Maxwell's Interstate 40 LP, which came out around the same time. More than half the songs on Quisenberry's record are his own originals: "Heart Of A Fool," "Fool's Gold," "When A Jester Loves A Queen," "A Girl Like You," "Sound Of The Wind," and "Alone." See any sort of pattern here? The forlorn ballads are paired with then-tempory hits such as "Is Anybody Going To San Antone," "Help Me Make It Through The Night," and "Maria," as well as a nice thumping oldie, "Pick Me Up On Your Way Down." The liner notes are a little fuzzy on where Quisenberry was from, but it sounds like at the time he was working somewhere on California's Central Coast -- the album was recorded in Hollywood, and producer Burton A. Decker mentions something about seeing Quisenberry play a show "75 miles up the coast." Somewhere between then and the Clinton presidency, Quisenberry opted for the business side of things, and started working behind a telephone rather than a microphone... As far as I know, this was his only record.


<! - #CFS-3042 - also played guitar on the Maxi Maxwell "Interstate 40" album (#CFS-3073) same guy?? http://www.nytimes.com/2000/09/04/arts/songwriter-s-racist-songs-from-1980-s-haunt-him.html "...Coe's manager, Bill Quisenberry, of Talent Group Intercontinental Inc., of Lebanon, Tenn." - took the agency over in 1992, Coe's agent from 1991(?) through at least 2002: Bill Quisenberry President Talent Group Intercontinental Inc Musical Production Services 4555 Hickory Ridge Rd, Lebanon, TN 37087 (615) 449-7818 >

Jack Quist "Texas Bound" (Oscar Records, 1980) (LP)
(Produced by George Mallard & Jack Quist)



<! - all songs written by Jack Quist - outlaw-ish - songs include stuff like "Can't Get Enough Cocaine" - recorded in Salt Lake City, Utah - reissued on MP3 = B000HW2ONM LK review from mersh "This appears to be a collection of his early work, including the single "Surfin' Hermosa Beach," a bar-band song with a raucous, garage rock sound than might fit more in the alt-country or hippiebilly categories... Some good, pure honky-tonk stuff, too... I guess this guy was a real jack of all trades, and must have been in a few rock bands, too, in his younger days." >
Jack Quist "Where Does Love Go" (Grudge Records, 1989)


(Produced by Earl Richards)
Hailing from Utah, singer Jack Quist has tried his hand at a wide range of country styles, including a stint as a Johnny Cash impersonator. This is his best and most focussed album, with the strongest commercial feel. It's a decently produced, laid-back album with a strong stylistic debt to mid-'80s Merle Haggard... All the songs are originals and they're all pretty good. He's backed by a talented Nashville studio crew including Harold Bradley, Ray Edenton and Pete Wade -- they don't completely knock it out of the park, but they don't overdo it, either. If you're a Merle fan, this is definitely worth checking out.
Jack Quist "Dear Mom" (Grudge Records, 1996)





<! Rob Quist > <! second article is about him and the Montana Band in The Spokesman-Review 05/06/88 - apparently the Montana Band (not with Quist as a member - he left in 1984) - died in a plane crash on July 4, 1987 - played with Larry Groce in the late '70s https://en.wikipedia.org/wiki/Rob_Quist >

---
---