<! MP3 04/17/11 > <! outside 00/00/00 > <! pix 00/00/00 > <! icons 03/01/11 > <! states 04/29/16 > <! UPDATES: 05/10: ADD Dr. John! 01/23/14 - added Delaney & Bonnie page as part of major update 01/22/15 - major eB update - lots of no-review adds, research 04/29/16 - migrated to states, with some unidentified > <! Double Mountain Boys "A Tribute To Hank Williams" (DMR Records) (LP) - #DMR-1105 - Chubby Wise on fiddle Double Mountain Boys "All Time Favorites" (Scotty Records) (LP) - #A001-848 - from Fort Worth, Texas - liner notes talk about bluegrass - songs also encompass pre-grass sentimental stuff JJ Dickens added to ILLINOIS? Don Dodd "...And The Western Fenders" (LP) - from Minnesota - Dodd sings lead, as as does Marion Bond; steel guitar by Dave Olson - #DDD 1 Richard Dobson "In Texas Last December" (Buttermilk Records, 1977) (LP) B005LJF49M - liner notes by Townes Van Zandt: "There is no such thing as a best songwriter. My favourite best songwriters are David Olney, B.W McTell, P. La Farge and R. Dobson... Richard, please get them to spell my name right." - Townes Van Zandt Desperados - Nebraska band - see below - also YouTube link to CD reissuing their two albums: https://www.youtube.com/watch?v=PxspBYf6Tv8&list=PLKax454eSzNpEuwSYF_AOyb0MiqhS6rt3 Bob Duncan "Show Me Yours" (Frontline Records, 1978) (LP) B00JKQFGCM (Produced by Bob Duncan & Don Lee) - tax scam album? - country? song titles seem to imply but no info on musicians, etc - liner notes by Steve Stone say that Duncan was a demo singer for their label Dyan And Parker "Where Do We Go From Here" (Kitten Little Productions, 1981) (LP) (Produced by Gary Heil) - looks pretty folkie, with horns, flute, tuba, also pedal steel - no ASIN 08/01/16 Don & The Sidewinders "Don & The Sidewinders" (xxxxxx, xxxxx) (LP) - country?? - #CLP-32996 - no ASIN 08/01/16 Discovery "Take Me Away" (Fox Records, 1979) (LP) - Country Rock Bluegrass - from Leesburg, Virginia - no ASIN 02/28/17 - "VERY OBSCURE 1979 LP PRODUCED IN WASHINGTON DC. BAND OR STUDIO WROTE TEST PRESSING ON A STOCK COPY. PROBABLY ONLY WAY IT CAME IN SMALL QUANTITIES." The Diamondback Rattlers "Diamondback Rattlers" (QCA Records, 1979) (LP) - Mercey Brothers label?? or is this a MB album? - bluegrass?? yes - 1980-?) - no ASIN 02/28/17 Dennis & Cree "The Nashville Sounds Of Dennis & Cree" (D&C Records) (LP) B004B727IG Dennis & Cree "The Country Side Of Dennis & Cree" (D&C Records) (LP) - #1004 (??) - several songs on Denree Publishing SEVERAL albums on AM The Dalton Gang "Family And Friends, v. II" (Harvest Records, 1984) (LP) B008AJK1X4 - from Ohio? - also B006EPFVJU (LP) Daniel "Daniel" (Adonda Records) (LP) B00V1YWV2Y - #LDW-91680 Kenny Davis "Texas Yearbook" (Fairydust Records, 1982-?) (LP) - no ASIN 08/02/16 - a country comedy album Slim Dossey "Reflections" (Slim Dossey Enterprises, xxxx) (LP) (Produced by Bert Frilot & Lonnie Wright) - from Hayden Lake, Idaho - all Slim Dossey originals - no date visible - no ASIN 02/28/17 Dusty "Half 'N' Half" (Hiltop Records, 1970-?) (LP) - #HT-3003 - from San Diego(?) - only his first name/nickname is given - no last name Side One is a live recording (at the August, 1970 show?) with backing from Jim Hudson on trumpet or bass... Side Two is a studio set, with covers of CCR's "Lodi," "If I Were A Carpenter," Mr. Bojangles" and "Get Back." - liner notes talk about his August 30, 1970 show at Boom Trenchard's Flare Path - a supper club named after the British airman credited with creating the RAF. The restaurant had a long, chequered history, dating back to the war era -- the building was packed with aviation memorabilia, including a bunch of stuff related to local hero Charles Lindberg and served mainly seafood. It was a popular dive bar in the '70s, most notably as the meeting place of two ex-Navy guys who were busted as spies located at the edge of the Lindberg air field. - liner notes by Red Campbell - Mono LP(!) A1 Proud Mary A2 Jet Plane A3 Summertime A4 Everybody's Talkin A5 Bottle Of Wine same guy?: Jim & Kathie Hudson - J&K Hammered Dulcimers 310 E. Chicago Blvd. Britton MI 49229 517/451-8259 - In addition to selling hammered dulcimers, and supplies, Jim also performs and records, and is a great story teller. I've seen him go through a 20 minute set at a dulcimer festival, with an encore, and no one realized until much later that he had never played a note. He also has a recording studio. E-mail to Jim Hudson for more info. jim@lni.net https://www.sandiegoreader.com/news/2016/apr/13/radar-food-without-tsa-hassle/ "...The return of eating and drinking to the Pacific Highway location would repeat history. In the 1970s, the popular World War I motif watering hole Boom Trenchard's Flare Path served as a discreet rendezvous for old Navy buddies Jerry A. Whitworth and John A. Walker Jr., convicted in the 1980s of spying for the Soviet Union. Then, in December 1989, a Gulfstream G-3 executive jet revving for takeoff on the nearby tarmac blew out a giant plate-glass window in what had been renamed the Copacabana, sending eight patrons to hospitals with minor injuries. According to an account in the Los Angeles Times, "At least one piece of glass was propelled with such force that it embedded in a wall 15 feet away from the window, witnesses said." The building was subsequently demolished and the area, now designated for the new park, became a parking lot." Okay, talking about restaurants at air fields made me remember. Help me please everyone. There was a really nice restaurant for a long time on the far east side of Lindbergh Field. The food was great, but the view was even better. All glass facing the runway. Can you remember the name anyone? I think it may have been a two story building. Pretty large restaurant. Diva, you are going to know this, right off. Thanks, L Reply re: LindyN DiningDiva Oct 22, 2014 08:44 AM Yes, there was a big old restaurant on the runway at Lindbergh. It's more or less right about where the Jimsair complex is now. I want to say it was the 94th Aero Squardron before the moved to Kearny Mesa but I don't think that's right. Hi, I thought I remembered it was two story. Maybe the rest. was on top and the bar was on the first floor? Or the other way around? I don't remember there being any entertainment? Reply re: dockhl deckape Nov 3, 2014 10:15 AM Yes, at least two levels. I remember the downstairs bar was called the Bomb Shelter. Reply re: deckape s SanDiegoChow Mar 17, 2016 08:55 AM Yes. Then Tuxedo Charlie's and then Copacabana. >
---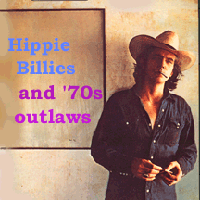 The modern-day "twangcore" and "Americana" boom owes a large debt to the shaggy twangers and no-hit wonders of yesteryear -- this section looks at the hippiebilly and stoner bands and a few odd, random artists from the 1960s, '70s and early '80s, back before there was anything called "alt-country." This page covers the letter "D."
---
HIPPIEBILLY & NO-HIT WONDERS:
A | B | C | D | E | F | G | H | I | J | K | L | M | N | O | P | Q | R | S | T | U | V | W | X, Y & Z | Comps | Hick Music Styles

---
Arthur D "Rocky Mountain Water" (Tad Records, 1975) (LP)
(Produced by Tommy Downs)
Not sure to tell you about this one... It says Mr. D was from "the north country," which I guess maybe means Canada, though this album was recorded in Nashville, although not entirely with the A-list usual suspects. Some players I recognize -- Willie Rainsford on piano, Leo Jackson guitar, Jim Baker playing steel -- but many of the pickers are more obscure, possibly from D's own band.


<! - no ASIN 05/12/15 >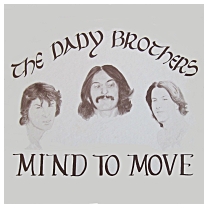 The Dady Brothers "Mind To Move" (Emanon, 1979) (LP)


A bluegrass/twang band from upstate New York, playing mostly originals written by John Dady, including "Elaine," "Minstrel Man," "Hitchhiker's Lament," "Mind To Move" and "Lonesome Ugly Me," which was co-written with Michael Pavone, who also wrote one called "Nogales." The cover tunes range from bluegrass oldies such as "Way Downtown" to a Nick Gravenites blues tune ("Theme From Steelyard Blues").


<! This album was recorded in Rochester, NY. >

Ted Daigle & His Musicmen "Twelve Million Memories" (Excellent Recording Company, 1966) (LP)
(Produced by Alex Sherman)
Best known as a Canadian rockabilly pioneer, Ted Daigle "went country" for this mid-'Sixties outing, covering a dozen classic country songs, picking one hit for each year from 1955-66, including oldies such as "White Sports Coat And A Pink Carnation," "Walk On By," "I've Got A Tiger By The Tail" and "King Of The Road." The backing band includes Gilbert Glazier and Neil Flanz on guitars, Paul Rusachuk on bass and Byron Stever on drums. Daigle also covers "BJ the DJ," which was a hit for Stonewall Jackson in '64, writing how he could identify with the song since he was working as a deejay at radio station CKOY, Ottawa when he cut this album. Twang on!


<! - Ontario, Canada label - no ASIN 01/16/17 >
Paige Daily "First Paige" (Benson Sound, 1982) <! '83? >
(Produced by Larry R. Benson)
A vanity album pressed for Laverne, Oklahoma's Paige Daily, winner of the state's 1982 Teen Miss Talent pageant... She sings country standards like "Tennessee Waltz," "Song For The Common Man" and "Your Cheatin' Heart" as well as contemporary stuff such as "Lookin' For Love," "On The Road Again" and -- of course -- "You're The Reason God Made Oklahoma." Plus, I was delighted to see her cover Dick Feller's "Some Days Are Diamonds," though I suppose that was because John Denver had just recorded his version of the song.


<! - no ASIN 01/18/15 - Oklahoma Teen Miss Talent" pageant winner - Liner notes by Paige Herself "I Love You All!" and an address you can write her in Laverne, OK... Selections are: "SOME DAYS ARE DIAMONDS, LOOKIN' FOR LOVE, COULD I HAVE THIS DANCE, OLD FLAME, ON THE ROAD AGAIN, SING FOR THE COMMON MAN, YOU'RE THE REASON GOD MADE OKLAHOMA, SURROUND ME WITH LOVE, TENNESSEE WALTZ, YOUR CHEATIN' HEART" - 1982 Teen Beauty Pageant Winner PAIGE DAILY Oklahoma LP 1st PAIGE >
Pat Dailey "Whiskey Morning" (Olympia Records, 1978) (LP)


(Produced by Danny Sheridan & Boris Menart)
Midwesterner Pat Dailey moved from state to state for years, singing in bars and clubs in numerous cities throughout the 1960s and '70s, before landing a decades-long gig at a place called the Beer Barrel Saloon in Put-In-Bay, Ohio. In the early '80s he met Shel Silverstein, and together they collaborated on several songs. This was Dailey's first album, recorded around the time of his more or less permanent relocation to Ohio... The sessions were recorded in Hollywood with a studio crew packed with country-rock luminaries such as Danny Sheridan (bass), Al Perkins (pedal steel and dobro), Gib Gilbeau on fiddle and various others in the LA twang scene.


<! R (Danny Sheridan from Eli Radish) 1. Whiskey Morning 2. Things Change 3. Put-in-Bay 4. 5. Travelin' Guitar Man 6. Born to Boogie 7. Give Me A Ride 8. Friendly Bob 9. The North of California '59 10. I'm Hungry http://www.patdailey.com/about.php >
Coy Daily "Country Fiddling" (Trac Records) (LP)


Fiddler Coy Daily was an Okie who came out west in 1940, playing professionally in some western swing bands before settling down in Salida, California, right next to Modesto. In 1974, Daily and fellow fiddler Vern Keathly along with guitarist Nellie O'Neal won the music competition at the Auburn State Fair, giving them the impetus to record a lovely all-instrumental album for the Fresno-based Trac label. Daily followed up that success with this "solo" set, which featured backing by his son Ron Daily, on bass as well as guitar picker Les Davis and pianist Don Hyland (here spelled "Heiland") on piano. This record includes an original tune called "Kiowa Special," in honor of his childhood home in Kiowa County, Oklahoma.


<! - #SA-101-32 - his home address listed as Salida, California - no date, or producer info visible - listed as 1983 on a sales site, but no verification >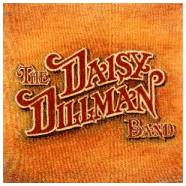 The Daisy Dillman Band "The Daisy Dillman Band" (United Artists, 1978) (LP)


(Produced by John Pete)
An exemplary hippie twang album by one of the handful of regional DIY bands to score a nationwide, major label contract in the late '70s. Formed in 1976, this Minnesota-based band named jokingly themselves after their bassist's great-grandmother, Daisy Ellen Dillman -- the name stuck and they built up a solid regional following which led to this album, as well as various gigs opening for folks such as Jerry Jeff Walker, Asleep At The Wheel and The Amazing Rhythm Aces (who all get shout-outs on the liner notes...) This album is a very strong recording, blending Poco-delic longhair twang with Marshall Tucker-esque Southern-pop, made even more impressive for the wealth of original material and the fact that the band really played all the music itself -- no Nashville superpickers called into the studio for this one! I remember hearing these guys, or at least hearing their name a lot, on the late, lamented, legendary KFAT radio station in the late '70s, though listening back to the album, I have to say none of the tracks stand out as "the hit" -- some of those KFAT classics stick with you, but I guess some don't. Still, it's a pretty solid record, and if you're looking into '70s longhair country and Southern rock, you don't want to miss this one!


<! Side 1: Turn my head, Hoedown, Darlin' Companion, Flyin' Solo, Mexican Nights Side 2: It doesn't matter any more, Learn to fly, just a lady, border bound >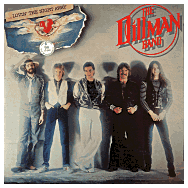 The (Daisy) Dillman Band "Lovin' The Night Away" (RCA, 1981) (LP)


(Produced by Rick Hall)
Oh, dear. Well, whatever country twang they started out with in the '70s had completely evaporated by the time this record came out. The Dillman Band went pop, or at least tried to, with this glossy set of eclectic soft rock, which ranged from moderately rockin' bar-band type stuff, to tunes with mild Latin and Caribbean influences. The only song that really seems at all country-flavored is "Roll Like A Stone," which sounds like a Poco outtake, but otherwise, this was a fairly bland rock-pop outing, and one that sounded several years out of date, more suited to '77-'79 AOR rather than the post-punk, pre-MTV landscape of the early '80s. I guess this album yielded a Top 50 single, though a second album recorded for RCA got shelved. Oh, well.
Dakota "The Captain And The Outlaw" (Front Range, 1982) (LP)


There were a few bands that called themselves "Dakota," including some that weren't from the Dakotas at all... Apparently these guys were from Colorado, and not to be confused with the soft-rock group from Pennsylvania that was led by Jerry Hludzik and Bill Kelly that put out an album a couple of years earlier. Anyway, this album includes some interesting folk-oriented country-rock covers, including three John Stewart songs, a version of Ian Tyson's "Someday Soon," and a version of "Greenback Dollar."


<! - Colorado-privat-press of excellent Country-Folk-Rock piece w/steel, fiddle, electric/acoustic guitars...; killer version of Hoyt Axton's "greenback dollar", Ian Tyson's "someday soon", 3 John Stewart covers; full-bodied production - #101 Not sure if this is the same band with Jerry Hludzik and Bill Kelly: Dakota "Dakota" (Columbia, 1980) (LP) B008D6Y586 >
Dakota "All Kinds Of Country" (1984) (LP)
(Produced by Don Garvin & Joe Bougher)
Led by singer and keyboardist Joe Bougher, this band named Dakota was from New Brighton, Pennsylvania, a northern suburb of Pittsburgh, near the Ohio border. All the songs were Joe Bougher originals, though for the life of me I couldn't find any more information abut this band, other than the record itself.


<! no ASIN - 08/10/08 - #NR-15870 - recorded in - booking contact is Bougher - 412 area code # - Mike DiVito, John Wilson, David Paul, also steel guitar by ---------? >
Dakota Outlaws/Bob Marty "Southern Comfort" (Self-released) (LP)
Singer Bob Marty couldn't quite decide who should be listed as the artist on this one... Should it be under his name, or under the "band" name Dakota Outlaws, with the distinction being that's what he called the act when he was performing with his wife, Dee, who also plays bass. As it turned out, he lists it both ways, with "Dakota Outlaws" emblazoned on the front cover, and "Bob Marty" persisting on the back and inner label. According to the liner notes, Marty worked as a traveling performer doing the "supper club trail" in the upper plains states, where he met Dee, who was a native North Dakotan. They settled down in Minot, ND and played together as a duo, cutting this album at some point in the late '70s. The repertoire is all cover songs, tilting heavily towards the contemporary 'Seventies "outlaw" sound -- songs like "Whiskey River," "Put Another Log On The Fire," "I Don't Think Hank Done It This Way" and "I Can Get Off On You." Your basic Waylon & Willie stuff...


<! - no ASIN 05/01/15 - Bob Marty was originally from Missouri >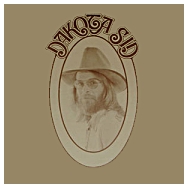 Dakota Sid "Dakota Sid" (Lost Dog, 1977) (LP)


Although originally from North Dakota, Sid Clifford headed for out west in the 'Sixties, making the scene in Haight Ashbury for a few years before moving to the calmer, more relaxed rural confines of Grass Valley, California. This album is mostly-solo acoustic folkie singer-songwriter stuff, with a blues-ish, Woody Guthrie-esque tinge. Nothing spectacular here, though there are some mildly intriguing mementos of hippiedom in some of the lyrics, including a song memorializing a housecat ("Flowers For Moses") lost on a cross-country trip, and some less sympathetic portrayals, such as "Sad Situation," a judgmental portrait of a woman in distress... I guess Sid Clifford was representative of a bazillion longhaired, whiteboy folkies still pickin' and singing in the '70s... just he managed to make a few records. Worth checking out if you're super-into obscuro stuff, though honestly I didn't find it that distinctive or compelling -- also, more of a straight folk record than what I normally prefer.


<! http://www.dakotasid.com/ >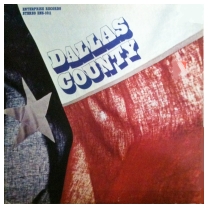 Dallas County "Dallas County" (Stax/Enterprise, 1971) (LP)


(Produced by Don Nix)
Meh. Just consider this one a warning. Yeah, yeah, I know: you see the words "Dallas County" and you figure it's just gotta be some cool major-label country-rock missing link... But, no. It's just excruciatingly mediocre white soul-horn band stuff, with an underlay of early '70s sunshine pop. The whole thing seems pretty uninspired: the horn charts are bland and repetitive, the vocals by Sammy Jaramillo are emotive, but unmoving. It's sort of like a Three Dog Night outtakes album straight outta Texas... Maybe some fans of the genre will find this rewarding, but twangfans can safely steer clear of this disc. Nothing to see here.


<! >

Jimmy Dallas "Jimmy Dallas" (Kansa Records, 1978) (LP)



<! - #KA-611 - no ASIN 08/27/17 - Drinking Champagne / One Way Ticket to the Blues 7" single on Triune label produced by Billy Walker & Darrell Glenn - same sessions? - earlier(?) single on KCMO-based Westport label B00414FKYM https://www.discogs.com/artist/1212228-Jimmy-Dallas "...Jimmy Dallas was a longtime part of the Kansas City music scene, beginning in the early '50s. He was born on July 26, 1927. Dallas was a member of Kansas City Missouri's "Cowtown Jubilee", a live stage show much in the style of the "Brush Creek Follies", only less popular. He made his first recordings in 1955 for the local Westport label, cutting straight country music. In 1959, he hosted the Jimmy Dallas Show on KMBC-TV with guest appearances by other country artists such as The Country Stylers, Cherokee Johnnie, and Mary Bee. Around the same time he also worked as a DJ on KANS in Kansas City. In 1960, a promotional 45 was cut by the Decca label. The following years saw him working around Dallas, Texas often as a DJ but also as a live act. During the 1970s, he recorded several singles for local labels and had also an LP issued. Jimmy Dallas died on September 28, 2004" >

Lenny Dallas " Drinking Champagne" (Kansa Records, 19--?) (LP)



<! - # KA-651 Drinking Champagne; I Need A Good Woman Bad; I'll Be A Better Man; One Way Ticket To The Blues; I Wound Easy; All I Ever Needed; This Is Where It Was All The Time; How Can I Survive Tomorrow; Just Look Around; Brand New Pair Of Walking Shoes; South Succitash >

Lenny Dallas "The Best Of Me" (Kansa Records, 1987-?) (LP)



<! - #KA-652 I'll Try Anything Twice; Nashville In The Rain; When I'm Good And Lonely (I'm Too Lonely To Be Good); Two Steps Away With My heart; Go Ahead And Love Her, I Did; Do What You Gotta Do; Where I Want To be; We Are All But Children; Out Of Sight, Out Of Mind; You'll Lose Her Yet; The Best Of Me; I Turn To You; Double Shot >

Lenny Dallas "Just Too Hot To Handle" (K-Ark Records, 198-?) (LP)
(Produced by John Capps & Jack Logan)
I'm not sure where this fella was from, but he had a strong band backing him in the studio, including guitar picker Gene Breeden, Doug Jernigan playing pedal steel, bassist Roy Huskey Jr., and Vassar Clements on fiddle... Not bad! This early '80s offering includes a cover of John Anderson's 1982 hit, "Swingin'," along with Onie Wheeler's "Might As Well Hang My Britches Up," and some original material, with one tune written by Dallas, "Crazy Me."


<! - #5051 - no ASIN 06/26/17 - 1994 newspaper listing has him doing a showcase gig at Doug Comer's cafe, in Nashville >
Bob Dalton "...And The Dalton Gang" (RPM, 1969) (LP)
A lesser-known country singer from Downington, Pennsylvania, Bob Dalton landed one song hit the charts -- barely. "Mama, Call Me Home" came out in 1970 on Mega Records, and peaked at #73... and I think that was about all she wrote for these fellas. This album has a lot of contemporary cover songs -- "Act Naturally," "The Auctioneer," "Mama Tried," etc.


<! - from Downington, PA - looks 1968-69-ish - date per YT - no ASIN 06/22/15 - Mega single produced by Jim Malloy. No producer credit seen on this album. >
Allen Wayne Damron "Live At The Kerrville Folk Festival" (Kerrville, 1973)
(Produced by Rod Kennedy & Pedro Gutierrez)
One of the twenty or so albums by Texas folk elder/cowboy poet Allen Wayne Damron (1939-2005) who co-owned the Chequered Flag, one of Austin's first folk clubs, and who was instrumental in starting the Kerrville Folk Festival. Damron co-founded the Chequered Flag in 1967, and on the opening night of the club he sang a version of "Mr. Bojangles," becoming the first artist -- ever -- to record the future classic by Jerry Jeff Walker. This set is, I admit, ironically just a bit too "folkie" for me, although Damron does cover a couple of Michael Murphey songs, including a rambling rendition of "Fort Worth, I Love You," which is peppered with Texas in-jokes, and a worst-song-ever contest -- stuff that went over big with the crowd of a thousand eager folk fans.


<! - no ASIN 01/18/15 > <! born 3/1/39 in Raymondville, TX. (1939-2005) Damron earned an associate arts degree in drama at Lon Morris College in Tyler, where he first performed professionally at 18. Damron also earned a bachelor of arts in psychology from the University of Texas in 1962. "Carol Hedin & Allen Damron: Two for the Show," his first of more than 20 albums, was released that same year. 06/10/16 - LK found a copy of the 1967(?) single: Allen Damron "Sings The Songs Of Jerry Jeff Walker" for a buck(!) >
Allen Wayne Damron "The Old Campaigner" (BF Deal, 1976) (LP)
This album includes the songs "Kansas Legend" and "Berkeley Woman," a combo that was enough to get my attention...


<! - no ASIN 01/18/15 >

Allen Wayne Damron "Texas In His Ways" (PSG, 1981) (LP)
Mostly recorded live at the Lock, Stock And Barrell, in Austin, Texas...


<! - no ASIN 01/18/15 >

Allen Wayne Damron "Country" (Bright Side Records, 1982) (LP)
(Produced by Hugh Sparks)




Allen Wayne Damron "Sweeping Up Dreams" (Canadian River, 1985) (LP)





<! - year extrapolated from cat# - >


Charlie Daniels Band -- see artist profile





Bill & Taffy Danoff - see artist discography




The Danville Junction Boys "Layin' Tracks" (Clockwerke Records, 1977) (LP)
(Produced by Russell J. Peotter & Tom Rowe)
Recorded in Auburn, Maine, this album features bluegrass and old-timey music with a New England flair... The group included fiddler Fred Carpenter, who later moved to Nashville to open his own music shop and found work as an in-demand session player for a wide variety of musicians. The other guys in the band included Ron Gallant, Gregory Hanson, Bruce Hobart and Mark Larlee, playing a diverse, lively repertoire.


<! - no ASIN 09/19/16 >
Ward Darby "(Meet Ward Darby With Nicky, Steve And Gene As They Go) Up Country" (Lemco) (LP)
(Produced by Cecil Jones)



<! - #LLP-620 - sounds like it was more rock-oriented - they cover Freddie Hart's "Easy Lovin' " - Darby seems to have made at least two other albums - no ASIN 06/17/15 >
Ward Darby "World Of The Night People" (1978) (LP)
(Produced by Ward Darby, Bobby Ernspiker & Cecil Jones)
A weird amalgam of Southern rock and disco-y AOR, with kind of a hopeful nod towards the world of Lynyrd Skynyrd. This is actually more of a 6-song EP, with two versions of the song, "Gunslinger," which is kind of a straightforward (if somewhat sluggish) boogie-rock/southern booze tune. There's also some outright disco-pop ("World Of The Night People") and an odd jazz-ish instrumental ("Midnight Mystery.") Mostly, this kind of seems like a misfire, though maybe it felt different if you were there back then. Didn't really wow me, but you can see what he was aiming for...


<! Tracks 1-4 recorded at A&M Studios (Louisville, KY), engineered by Bobby Ernspiker. Track 5 recorded at Lemco Sound Studio (Lexington, KY), engineered by Cecil Jones. Ward Darby - Guitar and Lead Vocals Ed Moody - Keyboards and Vocals Steve "Outlaw" Smothers - Bass and Vocals Clyde Foley - Guitar Ric McClure - Drums and Vocals Joyce and Will Kelso - Background Vocals on "World of the Night People" and "Shackles and Chains". >
Ward Darby "Electric Country" (2011)
(Produced by Ward Darby)
This twangy epitaph closes out Darby's early country career... It's an odds-and-ends collection of four tracks recorded in 1982, when Darby was working a gig in Florida, and a couple of other tracks he cut in 1988, while back in Kentucky. Two songs, "Truck Drivin' Women" and "Melinda," were released as a single. Years later, Darby headed back to the studio as an evangelical Christian country artist, and has self released several albums of that material.


<! https://warddarby.bandcamp.com/ >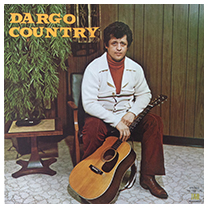 Dargo "Dargo Country" (Tad Records, 1973) (LP)
(Produced by Tommy Downs & Jack Eubanks)
For some reason, for a while, rodeo rider P. C. Dargo only wanted to go by one name -- ala Cher -- but he still left his initials in the songwriting credits... And copious credits they were, with this set of all-original material... as well as the charming, self-deprecating sidenote that Dargo "admits he is not a Caruso or a Jim Reeves" but that he can still "hold your attention." Then again, I bet Jim Reeves couldn't have gone eight seconds on a bronco, so maybe we can just call it even.


<! - Philip Charles Dargo - from Muncie, Indiana(???) - no ASIN 04/25/16 >
Phil Dargo "Shadows" (Tad Records, 1975) (LP)
(Produced by Tommy Downs)



<! - no ASIN 04/25/16 - same record?? same liner notes, apparently Private label 1975 album printed in Madison, Tennessee (a suburb of Nashville). Excellent line up of musicians playing on this, including JACK EUBANKS on dobro and lead guitar, JOHNNY GIMBLE on fiddle, JIM BAKER, BOBBY SEYMORE, STU BASORE on steel guitar, D.J. FONTANA on drums plus more. >

Phil Dargo "California Road" (Guinness Records, 1977) (LP)


Once again, these songs are mostly originals, with a two tracks written by Billy Rufus, a froggy voiced dude who also had an album out on the Guinness label around the same time.


<! >


Donna Darlene -- see artist profile





Johnny Darrell -- see artist profile




Bobby Darren & The Drifters "Country Classics" (Sentry Records, 1976-?) (LP)
Not to be confused with the pop crooner Bobby Darin, this fella was a straight-up country picker from Kaukauna, Wisconsin, near Green Bay. He's backed on this album by his pals Ed Vanderhoot (rhythm guitar) and John Gottschalk (bass) on a set of country standards peppered with a few newer tunes such as Moe Bandy's 1975 hit, "Bandy The Rodeo Clown" and "Bed Of Roses," by the Statler Brothers. Apparently he made his way to Nashville in the late '70s, though I'm not sure how long he stayed there or what kind of gigs he landed.


<! - no ASIN 11/16/16 http://bobbydarrencountrymusicshow.com/band_bio/ bobbydarrenfans@yahoo.com - also recorded a single: Bobby Darren & The Drifters "The Door/Orange Blossom Special" (KL Records) (7") B006S6ES1C - #KS-138-A/B - recorded at KL Audio Recorders in Hubertus, Wisconsin >


Chris Darrow -- see artist profile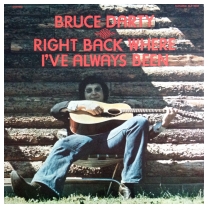 Bruce Darty "Right Back Where I've Always Been" (Ripcord Records, 1976) (LP)


(Produced by Gene Breeden)
A nice one! Robust honkytonk music in a set that's mostly cover tunes -- songs by Hank Williams, Lefty Frizzell, Johnny Horton and Waylon Jennings, done in an updated but still rootsy 'Seventies country style. Darty (his name is really spelled "Daugherty") is a good singer, with a deep voice and a major Merle Haggard influence... There are also two originals on here, the lovelorn title track, "Right Back Where I've Always Been," which sounds like a demo for a Merle Haggard album, and on Side Two the more novelty-oriented "You're The Only Weed (In The Garden Of My Heart)", which is a less successful song, but still nice to have original material on an album like this. As far as I know, this album and the single which accompanied it are the only records that Darty recorded... Anyone know for sure? Strong, uptempo accompaniment by Gene Breeden and his crew, which included Danny Breeden and Ripcord Records VP Ellis Miller on bass and guitar. Fun stuff! (BTW - I'm only guessing at the release date: Darty covers "It's All In The Movies," which was a Merle Haggard hit in '76, so the album could have come out later than that... As always, any additional info would be welcome.)


<! - #1033 LP - year?? - Washington state-? >
Ray Daves "Country Music...The Way You Like It!" (Moon Records, 1973) (LP)
Mr. Daves was a singer from Dubuque, Iowa who used to play at a club in Ames called the Mark II Lounge... Or at least he played there a few weeks in the fall of 1973, according to some old newspaper stories. Other than that, I got absolutely nothing on this guy.


<! - no ASIN 01/18/15 >
Merle David "Zak-Tone Records Presents..." (Zak-Tone Records, 1973) (LP)
(Produced by Charlie Taylor)
Texas fiddler Merle David played with numerous honkytonk and western swing bands from the early 1950s onward, recording at least two solo albums and one with the Fort Worth-area locals band, The Country Drifters. On this early 'Seventies offering he overdubs the fiddle parts, but gets backing from a few pals, incluing Jerry Abbott on piano, Bobby Green on dobro and Bruce Whitaker on bass.


<! - no ASIN 05/29/16 "...produced and directed by Charlie Taylor with special assistance from W.H. "Egghead" Perry. The recording was done at Delta Studios in Fort Worth, Texas with John Patterson engineering the session and over dubbing some terrifice guitar picking'. Merle Played all three fiddle parts plus steel guitar - Gary Moore on drums, Bobby Green on Dorbro. Jerry Abbott does piano and Bruce Whitaker picks bass." >
Merle David "The Country-Jazz Moods Of Merle David" (Priority Records, 1980) (LP)
(Produced by Johnny Case, David Hearne & Gary Carpenter)
A jazzy solo set, with backing from John Case (piano), Jerry Case (bass) and Ron Thayer (drums). According to the liner notes, David was working in Tommy Allsup's band at the time he recorded this jazzy solo set...


<! - no ASIN 05/29/16 - with John Case (piano), Jerry Case (bass) and Ron Thayer (drums) >
Nathan David "...Sings Prairie Tales" (True Recordings, 1977) (LP)


(Produced by Nathan David & Larry Hetland)



<! - recorded in Nashville, but not a "usual suspects" album - includes pedal steel, keyboards and flute - no bio info 04/20/15, 04/25/16 - Leon Everett sat in as an assistant engineer - recorded in Fargo, ND, actually! >
Debbie Lynn Davidson "I Want To Be A Country Singer" (Cornucopia Records, 1978-?) (LP)
All freckles and bangs, young Ms. Davidson looks to have been about ten years old when she recorded this album... She was a kid from from Columbia Crossroads, Pennsylvania who was recruited to sing an album that was half gospel, half secular, including songs such as "I Want To Be A Country Singer," "Country Fever," "Everybody's Looking For Love" and "I'm Just A Little Girl Looking For A Big Boy." Apparently this album was recorded following an appearance on the Hee Haw TV show, although I couldn't quite track down when that episode aired, nor when this album came out. According tot eh local papers, she did some local shows and took place in a few regional talent shows between from 1976-77, under the name Debbie Davidson, and was apparently a cast member of the Bob and Dean McNett country music show.


<! - she looks about ten years old - no ASIN 05/12/15 - #8061N11 A1 I Want To Be A Country Singer A2 Gentle Shepherd A3 Don't Start Something You Can't Finish A4 Country Fever A5 Everybody's Looking For Love A6 Leave A Bone For Nippo B1 I Want To See The Sunshine In Your Smile B2 Heavenly Rain B3 I'm Just A Little Girl Looking For A Big Boy B4 Mama Worries B5 Christmas Is B6 Stay Away From My Daddy B7 How Far Is Heaven? April 19, 1976 show notice: "Debbie Davidson with the Bob and Dean McNett Show" and September 3, 1977: "...Debbie Davidson travels to Memphis this coming week to enter a country music talent contest by request of the officials of the contest held in Pittsburgh where Debbie was first runnerup. This is the finals. Debbie also will appear in West-field for a CB Coffee Break Sept. 17 with Chris Douglas and on Sept. 18 at the same place with Kels Lominson." >
Dianne Davidson "Backwoods Woman" (Janus, 1972) (LP)





<! This is one of the greatest Country Rock albums of all time - I kid you not. Sadly, Janus Records closed in the early seventies - this came out in 1971, and Dianne wasn't heard of again until the eighties. The album starts with 'Delta Dawn' the Tanya Tucker standard but Dianne's vocal is better and includes some searing slide guitar from Mac Gayden. Also worthy of note is Elton John's 'Country Comfort' with some sterling work from Weldon Myrick on Steel Guitar. In fact all the playing on this album, by Area Code 615, is exemplary. > <! http://www.diannedavidson.com - Chess/Janus/GRT - "Born in West Tennessee" >
Dianne Davidson "Mountain Mama" (Janus, 1973) (LP)





<! Tracklist A1 Mountain Mama A2 Brand New Tennessee Waltz A3 Something Fine A4 I Want To Lay Down Beside You B1 Carey B2 When My Room Gets Dark Again B3 Song For Adam B4 Ain't Gonna Be Treated This Way Credits Backing Vocals - Tracy Nelson Mastered By - Robert Ludwig* Performer, Lead Vocals, Acoustic Guitar - Dianne Davidson >
Dianne Davidson "Breaking All The Rules" (Second Wave, 1988)

Monte Davidson "Love Country" (MCL Records, 1977-?)



<! <! - #G-1377 - date per cat# ? - all originals; one song, "Pictures And Things," was co-written with Brenda Libby - liner notes by Larry Taylor - no info on studio, location, musicians, producer - one song on here, "Bury Me Halfway Between," also issued as a single on Nashville indie, Delta Records, produced by Ken Galloway https://www.newspapers.com/newspage/139174484/ St. Louis Post-Dispatch, Feb. 1, 1980: "...Wild Times At The Chase By Dick Richmond Of the Post-Dispatch Staff i J WILD TIMES CORRAL CHASE-PARK PLAZA i for those of us who remember the Zodiac Room atop the Chase-Park Plaza Hotel when it was a place for long gons and black ties waltzing together to sweet music, there have been a few changes made. The circular bar is still there. And so is that spectacular view to Forest Park. The room in fact has been redecorated, and probably looks as good or better than it ever has. put there is a change in atmosphere. The Zodiac Room has become the Wild Times Corral, featuring country music. Goodbye to long gowns, black ties and sweet music. Howdy to tight jeans, shirts open at the collar and Hank Williams. The Wild West has taken over. Well, it's not all that wild, and it doesn't really resemble the West except in posh spas. But Harold Koplar is not one to let thechangin' times pass him by. Wild Times Crew Monte Davidson (center) and his Love Country Band; Make-Believe Ballroom. Remember Marty's Make-Believe Ballroom? I asked Koplar if he knew where Driscoll was, and the hotel man replied that musician was playing country tunes . these days and would be back at the Chase in the Wild Times in six weeks. No cover, no minimum. PLAYBOY The Playboy doesn't use many big-name performers any more either. However, if you can't get a big name, you get a big performer. Tommy Riggs, who tips the scales at probably 300 pounds, is about as big and funny as they come. He opened the show I caught with "Why Not Take All of Me?" Then asked the audience how many were first-timers for his act. There was a lot of applause. "I thought so," he said. "I thought I saw the fear of God on some of faces when I bounced up on stage." He was wearing a yellow tuxedo. "If you have a body this big, you can't hide it. You have to decorate it. I Kitty's doesn't serve booze, and the Wild Times does. Figure that one out. At any rate, the room is still elegant. It's all in how it's perceived. We are living in a more casual time, and country music fits that time. Playing there is Monte Davidson and the Love Country Band. Davidson has been at the Chase before. For Koplar, however, he has played mostly at the Lodge of the Four Seasons. The music he performed while I was there at the opening last night was of the hard country variety, the kind one might hear in SALOONS in Texas. The waitresses sing and dance. So a visit Is an event. Also appearing was a talented singer songwriter by the name of Brenda Libby. She performed a couple of her own songs, and then did Erroll Garner's "Misty." That's an amazing song ; it fits everywhere. As I was chatting with Koplar, I remembered a wonderful trumpet player by the name of Phil Driscoll, who for years played the Chase-Park Plaza's basement room. That was before the Crazy Horse, and Marty's... >
Monte Davidson & The Wild Bunch "Wanted" (AudioLoft, 197--?)
An "outlaw" band from Missouri, recording at the fabled AudioLoft custom label in Mack's Creek, MO. They do some oldies -- real oldies -- like "Wabash Cannonball," "El Paso," and "Will The Circle Be Unbroken," along with more modern, Waylon-esque material such as "Are You Sure Hank Done It This Way" and "Just Call Us Outlaws," and even a version of Rodney Crowell's "Ain't Livin' Long Like This." Monte Davidson was an Ozarks regular since the early 1960s, and led the house band at the Lodge Of The Four Seasons, in Lake Of The Ozarks, Missouri, basically in Branson territory. He also toured regionally, did Vegas, and eventually retired the band sometime in the 1980s. I'm not sure who else was in his band, although the steel and lead guitar was by a guy named Charlie Hill... Fans of Waylon Jennings and/or Jerry Lee Lewis might like this one... fake-live audience "cheering" and all.


<! - no ASIN 01/18/15 #BOC-LPS-2011 Macks Creek, Missouri vanity label. Tracks: Wabash Cannonball; Will the Circle Be Unbroken; Just Call Us Outlaws; To Daddy; El Paso; Bury Me Halfway Between; Ain't Livin' Long Like This; Rodeo Bum; Are You Sure Hank Done It This Way; and Cajun Fiddle. http://krcgtv.com/news/local/lake-of-the-ozarks-music-legend-attracts-younger-audience http://www.lisalongsings.com/#!-about-lisa/c10fk : "...In the early 80's, Lisa auditioned and was successfully hired as a drummer for the "Wild Bunch" band, a house band that performed down in the Wild Time Saloon for a show called "Monte Davidson & Gomer The Bull" at the Lodge of the Four Seasons, Lake of the Ozarks, MO . Monte Davidson's show was a popular show for those visiting the Lake of the Ozarks area. Before his retirement, Monte took his Wild Bunch Band on his touring bus out west and opened a show for the cajun fiddle player, singer and songwriter from Louisiana, Doug Kershaw. " > <! Biscuit Davis? Biscuit Davis "Playing On The Moon" (Flying Dutchman) (LP) B004XOMIJK Gary "Biscuit" Davis - banjo player(?) - also in band, WIld Oats - B001CMPROO (CD) - sounds like fairly awful pop/folk psychedelia >
Art Davis "A Cowboy And His Music" (White Hat, 1975) (LP)
(Produced by Danny Hogan & Jim Rorie)
In 1935, Texas-born Art Davis was tapped by Gene Autry to play fiddle in his band -- Autry was on his way to Hollywood, and soon so was Davis, who wound up performing in numerous Autry films, as well as in a string of short features with Bill Boyd. World War Two interrupted his music career, and after the war he demobbed to Tulsa, Oklahoma where he and his brother Jay formed a band, playing in the vibrant western swing scene as Bob Wills and his brothers. The Davis Brothers also hosted a radio program on KTUL, Tulsa and toured widely, including numerous shows in Las Vegas. (The album below is a souvenir of their Vegas days...) Art Davis later went into TV, hosting local shows in Tulsa and Orlando, Florida, though eventually he retired from the music business. This album is a laid-back homage to the music of his youth, leaning mostly on honkytonk and western swing, though peppered with a few sentimental oldies such as Autry's "Silver Haired Daddy Of Mine" and various fiddle tunes. He's backed by a band of locals, presumably from Memphis where this album was recorded, with Jerry Ward on bass and guitar, Beecher Stuckey playing fiddle, and Billy Herbert on harmonica.


<! - engineered by Danny Hogan >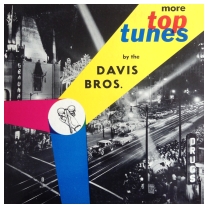 The Davis Brothers "More Top Tunes By The Davis Brothers" (Jamaka Records) (LP)
By the time they cut this album, veteran country players Art and Jay Davis had settled into a Vegas act where they sounded like Homer & Jethro, or perhaps they were more in the Eddie Lang & Joe Venuti mold, playing Tin Pan Alley standards and a few country oldies as a simple, stripped-down string-band duo. The mandolin plays lead, with modest accompaniment by the other brother on guitar. One of them sings as well, in a laid-back, old-man kind of voice. The Davis duo was apparently considered popular enough -- and country enough -- to share billing with headliner Judy Lynn during her run at the Golden Nugget in Las Vegas. They also apparently played the Wagon Wheel honkytonk, which is where they were playing when they autographed the copy that I picked up. The album itself is super-generic, with no art at all on the back, and I'm pretty sure it's one of those vanity albums from a "custom" label that recycled the same album art for various clients. (The picture is of Grumman's Theater in LA, so go figure...) There also no liner notes, so I dunno who played what, or when this was recorded -- mid 1960s? -- so this one's basically a mystery record. I wouldn't recommend this ultra-obscuro album for the casual twangfan, but for folks who are tapped into the "sweet band" big-band style and the world of sentimental oldies, this certainly has its charms.


<! - no ASIN 09/29/15 >

The Dale Davis Show "It's Gonna Be A Happy Day" (Dale Davis Productions, 1976-?) (LP)


(Produced by Dave Davis)
Moore, Oklahoma's Dale and Becky Davis led this compact band, joined by guitarist Gary Biel, Claudia Corley and Ziggy Fearn... They covered some pop/rock stuff, but also a bunch of country tunes such as "Wasted Days And Wasted Nights," "For The Good Times" and "I'm Not Lisa." This was one of those custom-made albums with a preprinted cover - not a lot of info about when it was recorded, but it must have around 1975-76, judging from the song selection. The title track, "It's Gonna Be A Happy Day," was a Dale Davis original which later became a chart entry for Jack Paris, who cracked into the very bottom of the Country Top 100 in 1978.


<! - Not sure if any of the songs were originals -- there were no composer credits on the inner or outer labels. - "music note" cover - GIF available - Gary Biel professional profile: http://www.schreiner.edu/spotlights/faculty_profiles/biel.aspx - Jack Paris single on NSD label >

Gene Davis "My Kind Of World" (Toppa Records, 1964) (LP)



<! date? > <! he also recorded a TON of singles on indie labels, as well as for Challenge >

Gene Davis "Livin' And Lovin' " (Toppa Records, 1974) (LP)





Gene Davis "All Together" (Toppa Records, 1974) (LP)





<! LINERS: "Toppa Records # 5671 Stereo - All Together by Gene Davis & The Star Routers - original pressing - excellent West Coast Country LP w/ nice Steel Guitar - Here's some info I found online about Gene: "Gene was the bandleader of the Palomino club house band from 1959 to 1966, although he was Roger Miller's bandleader through 1966-1967, Gene continued to lead a group around the clubs in the Valley, MO and San Diego through the 1970s into the 1980s. He was part of the California music scene in the 1950s, playing a role in the local rockabilly and country scene and appearing on shows like Cal's Corral and Star route. Anyone unaware of Gene's cred, over the years he has used regulars, stand-ins and sidemen like Carl West, Carl Walden, Jerry Inman, Jimmy Snyder, Jay Dee Maness, Don Holiman, Bobby Durham, James Burton, Mel Taylor, Clyde Griffin, Jimmy Campbell, Johnny Meeks, Delaney Bramlett, Archie Francis, Johnny Carver, Norm Raleigh, Red Rhodes, Frank Arnett, Sneaky Pete Kleinow, Peaches Price, Roy Aldridge, Randy Davis, Johnny Davis, Jerry Cole, Don Lee, Jan Curtis Skugstadt, Blackie Taylor, Glen D Hardin, Speedy West and many others of note." >
Gene Davis "Livin' And Lovin' " (OL, 1982) (LP)
(Produced by James Burton & Randy Davis)



<! - Buck Owens-ish honkytonker - wow! he's good! - w/James Burton & the Gentry Sisters > <! - what does "OL" really stand for? I just got the initials from the cat# Gene Davis "Lovin' & Hurtin' " -- I think that title is wrong -- - no ASIN >
Gene Davis "Let's Coast Awhile" (Hydra, 2010)





<! Toppa T-5670 My Kind Of World: Night Club Romeo; I'll Call You; Hold On To Your Memories; When He Lets Her Forget; Stand Up And Smile; Have A Big Cry; That First Mistake; A 100 Years From Now; One Love To Give; Theres A World Out There; I Think I'd Better Take You Home – ca 64 B009M4YQ8C - LP Toppa T-5671 All Together: Haulin Steel; I Need Help; I'm Trying; The Promise I Made; My Wife I'll Keep; The Way That She Loves; Face To Face; I'll Cry Tomorrow; Letter To A Trucker's Wife; It's Alright; I've Lost Her To Him; I Destroyed In Short Night – ca 74 OL OLR-LP-101 Lovin' and Hurtin': Oh Those Texas Women; Lord My God Forgive Me; A Livin' Hell; I Destroyed In One Short Night (What It Took Me Years To Build); Let's Build Us A Heaven; Fiddle Rag; It May Be Tonight; I'm Tryin'; When The Time Comes To Go, You'll Know; Love Unfulfilled At Home – 82 (w. Gentry Singers) GVC GVC-490 Country Style: Oh Those Texas Women; I Need Help; I Gotta Finish That Dream; When The Time Comes To Go, You'll Know; Letter To A Trucker's Wife; A Livin' Hell; Hold On To Your Memories; Have A Big Cry; It May Be Tonight; I'm Tryin' – 88 (cassette) B003XLTS4M - CD Hydra [GER] BCK 27143 Let's Coast Awhile: Cruisin' For A Bruisin'; Tomorrow's Heartaches; Satan's Daughter; Ride; Itsy Witsy Bitsy Me; Let's Coast Awhile; Drownin' All My Sorrows; Latch On; Full Time Baby; Take It And Git; Curfew; No Rockin' And Rollin'; Thanks; I've Had It, I'm Through; Facts Of Life; Bad Bad; Let's Have A Party; Matchbox; Rockin' Blues; Muleskinner Blues; I've Got Five Dollars And It's A Saturday Night; Take A Good Look; I'll Tell Her Tomorrow; Easy Come Easy Go; My Usual Way; Hobo Boy; When He Let's Her Forget; Haulin' Steel; Fiddle Rag; Oh Those Texas Women - 10 >
Hank Davis "Crazy Living" (Relaxed Rabbit, 1984) (LP)
Like many early rockabilly also-rans, in the 1970s Hank Davis settled into the comforting arms of the European retro scene. But even as his old singles found their way onto various reissue records, he kept writing and recording music, new stuff as well as remakes of oldies. This gentle, relaxed DIY set has some nice, unhurried stuff on it. Whether you call it "demos" or "lo-fi," this record is positioned cheerfully and resolutely outside of the pop and/or country mainstream -- it's a personal record, made just because he likes to make music, and it makes up for its lack of polish and propulsiveness with a quiet, heartfelt simplicity and self-assurance: Hank Davis doesn't have to make the record you want him to make, he'll make the record he wants to make. In the liner notes, Davis acknowledges the troubles he's had trying to make a career out of music, but he seems pretty philosophical about it, and content to make an album that's just good enough, not perfect or mind-blowing or a big chartbuster. There are country touches -- pedal steel by Minnie Winston and Rod Braganza, along with mellow acoustic guitar and unfussy vocals. Interesting to hear rockabilly songs laid out at such as slow pace, the bare bones of the style revealed without the amplified wham-bam of electric guitars... Roots music critic Colin Escott contributes comments as well, though Davis's are more revealing and insightful.


<! - born in New York - "bio" saying he was born in Arkansas is a spoof written by Colin Escott http://www.rockabilly.nl/artists/hankdavis.htm >
Hubert Davis & The Season Travelers "Harvest" (RHD Records, 1977) (LP)


(Produced by Tom Behrens)
This bluegrass-based band was led by North Carolinian banjo plunker Hubert Davis, an alumnus of the 'Fifties-era Bill Monroe band who modeled his playing on new Earl Scruggs style, and was one of the banjoists brought in to fill the gap when Flatt & Scruggs went solo. Much later, Davis got a full-time gig playing at a local club in Nashville called the Wind In The Willows, where he mostly played straight-up, traditional old stuff. This outlaw-era album is packed with standards like "Roll On Buddy," "Rocky Top," "Wabash Cannonball," and "Orange Blossom Special" -- there are also some cross-genre covers, like Kris Kristofferson's "Me And Bobby McGee," and western swing's "Faded Love." In the band at the time was a young mandolin picker named Mike Compton, who would later help co-found the Nashville Bluegrass Band, and worked with John Hartford throughout the 1990s. Although the Season Travelers, like most bands, had a fair amount of turnover, Davis kept the band running for decades, and recorded several other albums during this era.


<! - #001 - with Rubye Davis (guitar, vocal), Richard Hoffman (fiddle) Gene Bush (dobro), Mike Compton (mandolin), Shelby Jean Davis (bass) Songs include: Roll On Buddy, Me & Bobby McGee, Blue Eyes Crying In The Rain, Rocky Top, Wabash Cannonball, Foggy Mountain Breakdown, Life's Railway To Heaven, Fox On The Run, Faded Love, Orange Blossom Special, Blue Moon Of Kentucky, I'll Be Back With My Darling, Will The Circle Be Unbroken. Recorded several albums: http://hubertdavisandtheseasontravelers.com/ >

Jesse Ed Davis "Jesse Davis!" (Atco, 1971)



(Produced by Jesse Davis)
One of the premier roots-rock session players of the 1970s, guitarist Jesse Ed Davis (1944-1988) was born in Oklahoma and made his way out of the local music scene when he landed a spot in country star Conway Twitty's tour band in the mid-'60s. Davis later hooked up with roots auteur Leon Russell and became part of the studio session scene, playing on dozens of hippie-era rock and pop classics... He played on the first three Taj Mahaj albums, as well as backing ex-Byrd Gene Clark on some of his early solo albums, and on various post-Beatles solo records by George Harrison, John Lennon and Ringo Starr, as well as session work for Jackson Browne, Eric Clapton, Ry Cooder, Steve Miller and many others. Davis recorded three records of his own, and collaborated with fellow Oklahoman Roger Tillison on Tillison's self-titled debut.
Jesse Ed Davis "Ululu" (Atco, 1972) (CD)


(Produced by Jesse Davis & Albhy Galuten)

Jesse Ed Davis "Keep Me Coming" (Epic, 1973)



(Produced by Jesse Davis & Larry Hirsch)



<! - Oklahoman, Native American - died of a drug overdose (1944-1988) - more of a rock thing, but still... - INFO IN ARCHIVAL - >

Kenny Davis "Texas Yearbook" (Fairydust Records) (LP)
Couldn't find any info about this one online... Apparently it's a mix of country music and comedy, though where Mr. Davis was from and who's playing with him remains a mystery for now.


<! - #4141 - no ASIN 03/28/17 COUNTRY AND COMEDY......SONGS INCLUDE: TEXAS COOKIN; SCOTCH AND SODA; CARESS ME PRETTY MUSIC; THE WAY I AM; WHERE ARE ALL THE GIRLS others >
LeRoy Davis "For All My Friends" (L-V-K/Wakefield Records, 197--?)
(Produced by Sandy LaMont)
This one's really pretty much what it says -- LeRoy Davis was just some guy from Phoenix who cut an album because his friends told him he really should someday, and so one day he did. I'm sure he gave everyone a copy, too. He's not great, but he's not bad -- he's just a humble, average guy singing country standards such as "Crying Time Again," "Release Me," "Born To Lose," "Jambalaya," etc. No originals on here, but that's okay... that's not what this record is about. No info on the backing band, but I doubt they were major players... I also kinda doubt that Davis had a regular band of his own, but who knows? He gives a shout-out to the Rim Cafe in Pine, Arizona, and that's the only other clue to this disc's provenance.


<! - no ASIN >
Link Davis "Cajun Crawdaddy" (Mercury, 1969) (LP)


(Produced by Frank Morin)
Although Texas-born Cajun country player Link Davis had been around forever -- his first recording session was in 1937 with a western swing band called the Crystal Spring Ramblers -- this was actually the first full album he recorded under his own name. Davis had played in a variety of styles on a number of instruments -- country fiddler or rock'n'roll saxophone, he excelled at everything, but by the time this disc came out his career had run out of steam. These sessions were recorded a few years earlier, but Texas legend Doug Sahm took the tapes to his label and persuaded to put out an album. It's a nice, simple, down-homey set, with country, cajun and a little bit of blues, with Davis playing some fine fiddle and a small combo backing him that includes hillbilly old-timer Wiley Barkdull playing piano. A nice record!
Marty Davis "I'm Happy Every Day I Live... But These Nights Are Killing Me" (Ripcord)


(Produced by Ray Eldred)
Marty Davis was a real-life Oregon cowpoke, a longtime fixture on the Pacific Northwest scene who served his time playing casinos in Vegas and Reno, toured with the rock-pop-oldies group The Diamonds, and later in life refashioned himself from a barroom balladeer into a western-style cowboy singer. This album is yet another disc without a release date from the Ripcord label, recorded some time in the late 1970s. It's all cover tunes, although the title track was co-written by Rose Maddox (who wrote the liner notes) along with her sister, Alta Troxel. Maybe Davis was in Rose's band at the time? Who knows? At any rate: portrait of a working musician -- Medford, Oregon, 1970-something.


<! - no ASIN 01/18/15 - #1018 Marty sang bass and traveled the world with the legendary 50's group, The Diamonds (22 million records sold, "Little Darlin'") >

Marty Davis "Country Feelings" (Marvan) (LP)


(Produced by Cliffie Stone)
More cover tunes, mostly. Notable, though, are Carol Chase and Susie Allanson singing backup vocals, who both went on to become charting Country artists...




Marty Davis "Marty" (Marvan) (LP)



<! Recorded at Gene Breeden's Studio in Vancouver, WA; Stereo, 12" 33 1/3 rpm Vinyl Record Album LP Number Unknown. Larry Murphy on Fiddle, Violin, and Guitar. TRACKS: Sunny Day; Diggy Liggy Lo; Flowers for the Lady; Boogie Fiddle; Pioneers Medley: Way Out There/Tumblin' Tumbleweed/Cool Water; This Time, Lord; Sweet Little 16; Beginning Again; You Don't Bring Me Flowers; Down the Road to Daddy's Dreams. >

Rhett Davis "Rhett Davis" (Bowen Arrow/Arrow Records, 1982-?) (LP)
(Produced by Jimmy Bowen & Rhett Davis)



<! - COUNTRY?? - single re-released on Cherish Records - Weldon Myrick, Stu Basore play steel - also some orchestral instruments, horns - Troy Seals - cover of "Macarthur Park", other songs sound more country, like "Meet Me In Atlanta" and "Fireplaces And Brandy" - Davis also released a couple of singles on Capitol, circa 1973 >

Rhett Davis "For My Friends" (Aquarian Records) (LP)



<! this seems to be the same album, reissued: Songs include Jody, crying, long legged woman, I dont lover her anymore, fireplaces and brandy, reach out, I am the eable, you scared the love right out of me, meet me in atlanta, Ill help someone fall in love tonight and macarthur park. >

Roland Davis "Lost But Not Forgotten" (Wilson Ranch Records, 1982) (LP)
(Produced by Bert Winston)
Archaic, old-school hillbilly music, played in the old-fashioned way. In the 1930s, guitarist Roland Davis traveled with various Texas stringbands, but by the time producer Bert Winston caught up with him, Davis had shifted gears and settled down to be a rancher in the Texas hill country near Kerrville... Backing him on this retrodelic set are piano plunker John Vorhes, fiddler John Shattenberg, singer Bobbi Pruneda and Rich Price on pedal steel.


<! http://www.westernswing.net/davis/Roland.htm >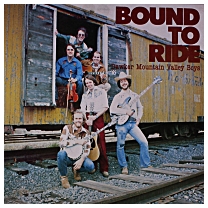 The Dawker Mountain Valley Boys "Bound To Ride" (Deck Hill Records, 1976) (LP)





<! - 208 available - Dawker Mountain is apparently fictional - bluegrass(?) >
Joe Dawn "Capitol Of The State I'm In" (Nod Records, 1975) (LP)


(Produced by Don Ho)
Singer and ukulele player Joe Dawn was a member of Hawaiian bandleader Don Ho's stage show during the 1970s, and brought a novel country sound to the groups pop vocals/hapa haole repertoire. On this album he sings country-folk material such as John Denver's "Sunshine On My Shoulders" and "Take me Home Country Roads," as well as some honkytonk oldies by Lefty Frizzell, Merle Haggard and Hank Williams, as well as a couple of tunes that showcased his yodeling abilities. Steel guitar legend Jerry Byrd was one of the session musicians.


<! Capitol of the State I'm in Yodel Medley Columbia Stockade Blues/Cattle Call/She Taught Me How to Yodel Long Gone Lonesome Blues Jambalaya Today I Started Loving You Again Mom and Dad's Waltz Swiss Lullaby Take me Home Country Roads Sunshine On My Shoulders Green Green Grass of Home >
Julie Dawn "What About That" (JD Music Records, 198--?) (LP)
(Produced by David Johnson & Travis Wammack)
Dunno much about this Florida gal, though my curiousity was piqued by seeing twangbar whiz Travis Wammack on board as her producer... Also among the studio crew were Muscle Shoals regulars Ava Aldridge and Sue Richards singing backup, rootsy vocalists who both had modest solo careers themselves. Gotta admit, though, this one wasn't as twangy (or as satisfying) as I had hoped... Ms. Dawn seems to have been aiming for more of a rock/roots pop sound, and while a country vibe flutters through a few tunes, this is more of a rock kinda thing, with an occasionally muddled feel. Maybe of more interest to fans of the Southern roots/pop/R&B scene?


<! - no ASIN 06/18/16 - 1980s-? - not wild about her voice. >

Stormy Dawson "Stormy Dawson" (Cherish Records, 1973) (LP)
(Produced by Dan Hoffman)
I couldn't find much info about this guy, though he seems to have been kicking around for a while, having recorded a single on an tiny indie label back in 1971, and then this album, a couple of years later. This seems to have been a songwriters' showcase album for the Nashville-based Sunbury/Dunbar publishing company (aka Sunbar), with a little bit of help from "DJ Dan" Hoffman, a longtime fixture on the Nashville scene who worked at both Sunbar and the Cherish label. There are a bunch of songs from staff writer Glen Goza, and just one tune credited to Stormy Dawson, the song "Tear In Her Eye," which closes the album. Googling around, there have been several Stormy Dawsons at various times; no idea whether they are all related or not.


<! #CS-12184 - recorded in Nashville A1 Sincerely Yours (Alpaw) A2 The Difference Between Love And Marriage (Goza/Dunbar) A3 Nothing To Do With Love (Goza/Dunbar) A4 I Still Love You The Same Way (Hoffman/Morgan/Dunbar) A5 The Lady On My Mind (Goza/White/Dunbar) B1 I Wouldn't Change A Thing (Kennedy/Lewis) B2 The Man Who Wrote The Song (Goza/Dunbar) B3 Act Naturally B4 Truck Drivin' Man B5 Tear In Her Eye (Dawson) - 1984? - no ASIN 02/10/15 Sunbury/Dunbar - a company started in 1973 - Dan Hoffman left Sunbar in 1974 to work at Cherish Records; in '73 he recorded the single "String," a tribute to Stringbean and helped organize a tribute with the cast of Hee Haw (per BB 12/01/73) DAN HOFFMAN OBIT - 12/28/2005: "Dan HOFFMAN Davidson Age 70 December 28, 2005 Entertainer. Dead at age 70 of Nashville, TN. December 28, 2005. Daniel D. Hoffman, better known to many fans across the country as DJ Dan, died of lung cancer on Wednesday in Nashville, TN. Mr. Hoffman, whose low, velvety, friendly voice made him a mainstay to radio listeners wherever he went, became the 1 deejay in Nashville during his long tenure at WKDA. More than a deejay, however, his boundless energy and talent landed him roles in stage plays, films and in national and regional commercials. He made commercial recordings as a singer. He was a songwriter who had numerous chart records and awards. In his later years, Mr. Hoffman became a business executive with RCA Corp.'s SunburyDunbar Publishing Companies before forming his own publishing companies. Mr. Hoffman was born in Joplin, Missouri to his parents, Bernard Hoffman and Lillian Johnston Hoffman. He graduated from high school at Boy's Town, where he was a soloist with the Boy's Town Choir. As a member of the choir, he performed at Carnegie Hall and on the TV shows of Ed Sullivan, Kate Smith and Arthur Godfrey. He studied acting at Montana State University under the tutelage of the late Carroll O'Connor. Mike Dunbar? the bassist? http://www.mikedunbarmusic.com Recorded a single for (New Jersey - per BB) (North Carolina? label) Granite Records in 1971: Dream A Little Longer/Love On The Rocks > <! Charlie Day "Charlie Day" (HWD, 1984) (EP) - four-song EP from Austin, Texas country dude >

Herb Day "A Touch Of Gold" (Windjammer Records, 197--?) (LP)



<! - sealed, no producer credit, no musician credits, date - Record Man sale - 11/05/16 $1.00 >
Jimmy Day & His Buddies "...Salute Don Helms" (Texas Musik, 1980) (LP)


A solo set by a consummate sideman. Steel guitar pro Jimmy Day was an Alabama native who played on the "Louisiana Hayride" as a kid, and backed many of the giants of the 1950's honkytonk era during a stint in Nashville. Later, Day settled in Texas and was a stalwart of the '70s Lone Star scene. This album was a tribute to Don Helms, the legendary steel player in Hank Williams' band, with sympathetic backing by several "buddies": Buddy Emmons and Buddy Spicher, and drummer Buddy Harmon. Heh, heh. Anyway, if you're a country instrumental fan, you're gonna want to check this one out.


<! - German label - http://www.findagrave.com/cgi-bin/fg.cgi?page=gr&GRid=25159054 : "Birth: Jan. 9, 1934 Tuscaloosa Tuscaloosa County Alabama, USA Death: Jan. 22, 1999 Houston Harris County Texas, USA Jimmy Day was a Steel Players, Steel Player. He is credited with giving the E9th Nashville Sound and the C6th Texas Swing on Steel Guitar its sound as much as anyone. Even Buddy Emmons, one of Jimmy's lifelong friends and co-creator of those steel sound agrees. Jerry Byrd considered by many the all time greatest of steel guitarists once told me at the International Steel Guitar Convention at St. Louis, Missouri "Listen how quiet the crowd gets when Jimmy plays!" I turned and in a crowd of about 3,000 people it was so quiet you could have heard a pin fall on the carpet. Pretty quiet wouldn't say. Jimmy Day started as a mere teenager playing music in the South, places like the famous Louisiana Hayride, Shreveport, Louisiana and Nashville, Tennessee where he played steel guitar and backed up people like Hank Williams Sr, Jim Reeves, Ray Price, Webb Pierce, Willie Nelson and many others, including even a young Elvis Presley. By the time of his passing, Jimmy had recorded with the Who's Who of Country, Pop, even Rock singers and groups. From Alabama to Louisiana to Nashville to Texas and the World, Jimmy Day played it all. Musician, Steel guitarist. James Clayton "Jimmy" Day, died from heart failure after a battle with cancer. Day was a member of the International Steel Guitar Hall of Fame, the Texas Steel Guitar Hall of Fame, and the Texas Western Swing Hall of Fame. Day recorded with many country artists such as Webb Pierce, Willie Nelson, Charlie Walker, Ray Price, and many others." ALSO: Jimmy Day "Golden Steel Guitar Hits" (Philips, 1962) (LP) > <! Daybreak "Limited Edition" (Baldwin Sound Productions, 1979) (LP) - Christian album from Holtwood, PA - any twang? >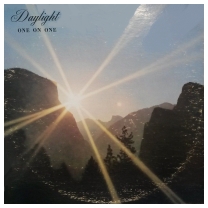 Daylight "One On One" (Hi Lo Records And Tapes, 1980) (LP)
(Produced by Lee Farmer)
This group, anchored by singer/songwriter Ron Moore and pianist Lee Farmer, was the backup band for T. G. Sheppard. This album features a bunch of usual suspects session players, though all the songs were written by guys in the band. Though somewhat rock-oriented, the album closes with a track called "I'm Just Country."


<! - country? yeah - - no ASIN 04/04/15 >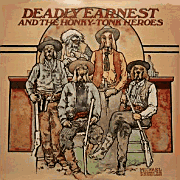 Deadly Earnest & The Honky Tonk Heroes "...The Honky Tonk Heroes" (Wheeler, 1979) (LP)


(Produced by Danny Sheridan)
Midwest indiebilly pioneer Denny (Deadly) Earnest was Cleveland, Ohio's answer to Jerry Jeff Walker, and this classic album has several of his best, funniest Jerry Jeff-style songs. After playing in regional groups such as Sheffield Rush, Earnest formed this rootsy country band in 1975, playing locally for the better part of a decade until decamping to Wyoming. My favorite tunes are the delightfully snarky "Don't Make Me Laugh (While I'm Drinkin')" and "Leavin' For Texas," with "Restless Me," a song about roving eyes in a committed relationship, coming in a close third. This is a very DIY, slightly uneven album, but it has moments of pure brilliance and always manages to float to the top of my "keepers" pile for music of this particular vintage. I think there are two editions of this album, his self-released version on Wheeler Records, and a second pressing that came out on Mike Nesmith's nationally-distributed Pacific Arts label, one reason that so many folks got a chance to hear this obscuro local hero. Apparently he's made a bunch of records over the years under the Denny Earnest monicker, but the "deadly" trio are pretty fun stuff.


<! formerly in the bands Target and Sheffield Rush >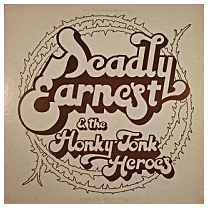 Deadly Earnest & The Honky Tonk Heroes "II" (Wheeler, 1980) (LP)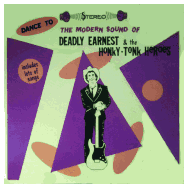 Deadly Earnest & The Honky Tonk Heroes "The Modern Sound Of..." (Wheeler, 1982) (LP)


(Produced by "Bo Deadly" and Jay Vecchio)
A disappointing followup to the first two albums, though there are some nice moments, and lots of nice ideas. I think the main problem is with the production, which is kind of static and muted -- not a lot of jolt comes through from the performances, although he wrote some good songs. I'm also not that into his duets partner, Robin Stratton (who also sings solo on some tracks) a gal with an okay, but not great, voice and generally distracts from his strengths as a performer. It has to be said, he still sounds an awful lot like Jerry Jeff, and the more he does, the better he sounds, like on "Time To Get Paid," a comedy song about singing for tips in dive bars, and probably the highlight of the album. Also of interest is "The Kid's Song," a rather serious, surprisingly feminist song about a woman trapped in an unhappy marriage who can't quite figure out how to make the single-income parent thing work out, so she stays "a mother to her children, then a mother to him." This is worth checking out if you liked his earlier albums, but don't get your hopes up too high. (By the way, Earnest, if you're out there, my copy still has the insert for the free Prairie Wonders 45... Any chance you still have one laying around?)


<! FISHIN' SONG, OLD DREAMS, LET'S CALL IT EVEN, RIGHT STUFF, IT DON'T MATTER, ROCK IT BILLY, LET'S GO LET'S SKOAL, TIME TO GET PAID, TENNESSEE HIGHWAY, KID'S SONG, HEART TO SPEND > <! Denny Earnest & The Hot String Trio "Atomic Bar & Grill" > <! http://www.dennyearnest.com It was like getting a letter from a long lost friend when the CD Atomic Bar & Grill by the Hot String Trio arrived in the mailbox last week. Two thirds of the trio is made up of Denny "Deadly" Earnest and Kenny "KD" Jones, who both were part of Deadly Earnest and the Honky Tonk Heroes, a popular Northern Ohio band from that time in the 70s and early 80s when country and rock music collided. But they were never a Lynyrd Skynyrd or Marshall Tucker cover band, but featured there own original material that was more on the Bob Wills side of country music. At the time, they were one of the only Cleveland-based bands that had, at least for a while, a real national record deal with Mike Nesmith's Pacific Arts Records. But then MTV came along, country rock faded from the airwaves, local bands like Flatbush and Buckeye Biscuit drifted apart, and Deadly packed up and moved out west, to that wide open cowboy land that he had spent years writing and singing songs about. There are 13 tracks on Atomic Bar & Grill, 12 new songs plus "Stray Cat's Home," a cut from the 1980 album Deadly II that features Ernest in a bluesy duet with country Diva Starr Smith. The new songs all have a swing beat to them, and feature Earnest on vocals and guitar; Jones on fiddle; and Bill Watson on upright bass. Also featured on several tunes is New Orleans swing clarinetist Jim Frigio. With titles like "Wake Up and Smell the Coffee," "Bartender Lou," "Hot String Swing," and "One Day at a Time," Earnest still shows that he can write a tune and play the guitar, and still loves that part of the country where the Great Plains meets the Rocky Mountains. The CD also features Jones's fiddle playing, and why he still ranks up there with the Johnny Gimbles of the world. >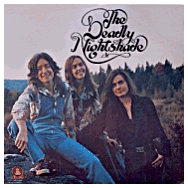 The Deadly Nightshade "The Deadly Nightshade" (RCA-Phantom, 1975) (LP)


I dutifully wondered about The Deadly Nightshade for years -- decades, actually -- wondering if they were really country at all, and whether they were perhaps as good as they sounded on paper. One of the first all-woman rock bands to score a major-label contract, they had a distinctly feminist political stance, which was sometimes reflected in their lyrics... I gotta say, though: their vocals as well as the overall vibe of this album is pretty iffy. I just don't think they were that good, or at least not that fun to listen to. Historically important, sure, but music I'd come back to for listening pleasure? Not so much. Originally formed in Massachusetts during the 1960s as "The Moppets," the band went through a few lineup changes, calling themselves Ariel for a while, and finally settled on The Deadly Nightshade, playing regularly through the 'Seventies, with reunions for years to come.
The Deadly Nightshade "F&W" (RCA-Phantom, 1976) (LP)


(Produced by Joel Diamond & Charlie Calello)
Although the album title holds out a promise of country music inside, this is in essence a fairly dreadful '70s rock album, with some irritating, artsy passages. There are a couple of twang tunes, to be sure, notably the bluesy "Murphy's Bar" and "Show Me The Way Back Home," which lurches into some challenging (and I mean that in a good way) gallumphing, pre-punk rhythmic passages. Mostly, though, this is an album that you probably wouldn't want to put on while you had company over... It's pretty shrill and taxing. Their three-part gal harmonies recall the Roches, but the aggressive, looking-for-a-new-sound rock riffs are a little hard to take. True devotees of '70s experimentalism will want to check this out, but twangfans can pass.
Al Dean & The All Stars "From Texas To Nashville" (Kik-R, 19--?) (LP)


Bandleader and fiddler Al Dean hailed from Freer, Texas, a tiny town in the South end of the state near Laredo... In the 'Sixties he recorded a popular version of the barndance classic, "Cotton Eyed Joe," and became a fixture on the Texas country scene for decades to come. The All Stars band played mostly instrumental music, and simply portrayed themselves as a no-nonsense dance band -- twangy, sure, but it's all about the dancefloor for these folks. They recorded part of this album in Nashville, though as time went by the group became more and more resolutely local... Along for the ride with Dean was his wife, Maxine, whose two brothers were also original members of the band.


<! - #10004 >

Al Dean & The All Stars "Kick'n With..." (Kik-R, 19--?) (LP)





<! - #10012 >

Al Dean & The All Stars "Mr. Cotton Eyed Joe: Al Dean Plays For Urban Cowboys" (Kik-R, 1981-?) (LP)


(Produced by Al Dean)
The so-called "urban cowboy" era, defined by the John Travola movie of the same name, proved a fertile opportunity for Al Dean and his band, who found plenty of work playing the now-trendy dancehalls of the LOne Star State. Although you'd imagine from the album's title that there'd be some new tunes by Mickey Gilley and whatnot, this all-instrumental set sticks to the oldies that the All Stars knew so well, jaunty versions of tunes like "San Antonio Rose," "Fraulein," "Together Again" and "Silver Threads And Golden Needles," with a healthy streak of cajun-style sawing in the mix. And of course there's a lively version of "Cotton Eyed Joe" to kick things off... It's not an innovative album by any means, but it sure sounds swell nonetheless -- cheerful, richly melodic and sure to get your toes a-tapping.


<! - #10013 >

Al Dean & The All Stars "T For Texas" (Kik-R, 198--?) (LP)



<! - #10014 >

Al Dean & The All Stars "Texico" (Kik-R, 198--?) (LP) #10015





<! - #10014 >

Al Dean "Texas Our Texas" (Kik-R, 1986) (LP)
An all instrumental album, made in celebration of the Texas sesquicentennial, 1836-1986.


<! - #10016 > <! AL DEAN - from the South Texas town of Freer, Texas Al Dean & The All Stars "xxxxxxxxxxxxx" (Kik-R, xxxxx) (LP) Al Dean & The All Stars "xxxxxxxxxxxxx" (Kik-R, xxxxx) (LP) Al Dean & The All Stars "xxxxxxxxxxxxx" (Kik-R, xxxxx) (LP) Al Dean & The All Stars "Kick'n With..." (Kik-R, xxxxx) (LP) #10012 - 1967? B0048A5300 (LP) Al Dean & The All Stars "Mr. Cotton Eyed Joe: Al Dean Plays For Urban Cowboys" (Kik-R, 1981-?) (LP) B004146UK0 - #10013 (Produced by Al Dean) Al Dean & The All Stars "T For Texas" (Kik-R, xxxxx) (LP) #10014 Al Dean & The All Stars "Texico" (Kik-R, xxxxx) (LP) #10015 B00BFL4XOC Al Dean "Texas Our Texas" (Kik-R, 1986) (LP) #10016 Al Dean "From Texas To Nashville" (Kik-R, xxxx) (LP) B003XXD120 Al Dean "Plays For Urban Cowboys" (Paid, xxxxx) (LP) B00PLAK71G (MP3) B002N8THOW >
Benny Dean "I'd Rather Be Blind (In My Eyes Than In My Soul)" (Erin Records, 1975) (LP)
(Produced by Rudy Calicutt & Bob Ysbeck)
Virginia-born Benny Dean had a pretty melodramatic life story, as described on the liner notes of this album. A former family-band gospel singer, Dean lost his path and went blind after going to prison for car theft -- he found God again, but still wound up singing secular music. I'm not sure, but chances are this was his only album.


<! - - from Virginia; album recorded in Maryland >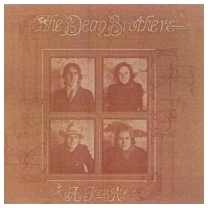 The Dean Brothers "As They Are" (Pilgrim Records, 1976) (LP & MP3)



This family band hailed from Skaneateles, New York and played in a variety of regional garage bands and pop-rock acts, dating back to their highschool years, when the British Invasion swept through Ithaca and environs. On this album, they mostly played a mix of '70s soft pop, power-pop and cosmic folk/rock, with a notable debt to bands like the Byrds and the Hollies. But there is also a country vibe, especially on the bouncy twang tune, "Who Loves You" and a couple of other tracks with pedal steel. This was the band's only album, recorded while they were basically breaking up (and soon to reform with a different lineup...) Not as much of a "country" record as others in this survey, but still worth having on the radar.


<! - #32179 - no ASIN 08/30/15 - Private folk rock with some West Coast moves, by Ithaca, NY collective. - "Who Loves You" (great song!) >
Carl Dean (Hoppe) "Up To Date Country Music" (Rite Records) (LP)
Country and rockabilly, served up in a Jerry Lee Lewis-ish style by Midwestern piano pounder Carl Dean Hoppe. The tracks on this album were re-released on an album by the retrobilly White Label album, Carl Dean And His Piano, along with a handful of live tracks (which are not included here...)


<! - #32179 - no ASIN 08/30/15 Bobbie McGee Jenny Jenny Jenny Bad Bad Leroy Brown Big Blue Diamond Yum Yum Little Queeny Someday We'll Look Back Knock 3 Times Lovin On Back Streets Tossin' And Turnin' Milwaukee Here I Come Country Road - from Illinois(?) http://thatsallritemama.blogspot.com/2009/09/carl-dean-up-to-date-country-music.html "...I realize it's now been four years since the above comments were posted and the we have now lost Carl, but this is the first website I was directed to after a Google search of Carl Dean Hoppe. Carl was a family friend and I was introduced to Carl and came to know him fairly well when he would visit my dad's gas station in Murphysboro. I am a historian and teacher with several published local history articles, and I am very interested in writing a biography of Carl Dean and am looking for some resources. I remember Carl's stories about his exploits and playing with some of rock 'n' roll's early greats that I would love to share. If anyone, especially family members, could please contact me I would be greatly appreciative. My email address is michaelctow AT hotmail DOT com. Thank you very much." same guy who's on the Rockabilly LP - "CARL DEAN And HIS PIANO" (White Label) Milwaukee Here I Come/Knock 3 Times/Little Queeny/Yum Yum/Jenny Jenny/Bobbie McGee/ Time/Cotton gin Mill/Wait Till The Sun Comes Down/What's I Say/Down The Line/Miss Ann/ go Go Go/I'll Pack My Things And Go/Another Skid Row Joe/When The Next Round's Bought Carl Dean "Up To Date Country Music" (Rite Records, 1974) - ultra-generic DIY LP - Jerry Lee Lewis-alike - no ASIN 02/14/15 Carl Dean (real name Carl Dean Hoppe) learned to play guitar from his father at a very early age but preferred the piano. In the late fifties he performed several shows with Jerry Lee Lewis. In the early sixties the Donna and Russell label (#508 in the Atlanta, Georgia NRC custom series) paired two Carl Dean self-penned songs : "Wait Till The Sun Comes Down" and "I'll Pack My Things And Go" >
Jonny Deane "Big Time Dreamer" (Shrimp Music, 1981-?) (LP)
(Produced by Mike Shrimpf)
Nice album recorded by a guy who looks kinda middle-aged and gray-haired on the cover, but with a nice voice and a vocal style that reminds me of Hoyt Axton. I'm not sure where Jonny Deane was from, but this album was recorded at Mike Shrimpf's studio in Hendersonville, Tennessee, with some lesser-known studio musicians, including Shrimpf himself playing keyboards. The repertoire is mostly originals, including several by Shrimpf and some guys attached to his publishing company -- Archie Drew, Ron Saucier and Jonny Deane -- and perhaps most interesting, two songs by future superstar Steve Wariner, "He'll Be The One" and "Labor Of Love." Wariner had recorded his first album a few years earlier, but seems to have been in Mike Shrimpf's orbit for a while before he had his first big hit, which came later in '81, so this is still a glimmer of his early years. At any rate, I kinda liked this album -- it's solid but unpretentious, soulful but unassuming. Definitely worth a spin!


<! #SM-1102 - From Hendersonville, Tennessee - no ASIN 02/10/15 - includes several songs by label owner Mike Shrimpf, a couple written by Steve Warniner and a guy named Randy Houser(!?) on drums. Mike Shrimpf plays piano (was he the same Mike Shrimpf who went into politcs? no.) - LK wrote Shrimpf 02/01/15 but got no reply - no release date on label but original songs c.1981 > <! Mike Deasy "Letters To My Head" (Capitol) (LP) - country?? >

Bobby Dee "Six Weeks In Alaska" (Eagle Records) (LP)
I'm not sure what the Alaska connection is here -- singer Bobby Dee was a Native American from Idaho, and the Eagle label was from Montana. Anyway, he seems to have been in the thick of it, countrywise: musicians include pedal steel player Lloyd Green, guitar picker Gene Breeden, The Hardin Trio and neotrad honkytonker David Frizzell, who co-wrote one of the songs on here, "Hold The Past Against Me."


<! - see pix - no ASIN 07/29/15 >
Kathy Dee "DEE Lightful" (BW Records, 1963) (LP)


The Midwest's Kathleen Mae Potts, aka Kathy Dee, enjoyed modest success with a pair of singles issued by United Artists -- her debut was the 1963 hit, "Unkind Words," which rose to #18 on the charts, although the followup, "Don't Leave Me Lonely Too Long," was perhaps a flop, peaking at #44, and was her last chart entry. Although regional success, starting at a very young age, Kathy Dee suffered from diabetes and was eventually felled by the disease in 1968, when she suffered a stroke and slipped into a fatal coma. Born in West Virginia, Dee was managed by an Ohio impressario, Quentin Welty, whose regionally-based BW Records label released several dozen singles in various musical styles, including a number of country recordings. This included Kathy Dee's early singles, which were licensed to United Artists where they found a national audience. This album features a dozen other songs recorded for BW (though sadly, not her hits) and was reissued on a budget label, as seen below. Her style was similar to that of Sue Thompson, an odd mix of country ballads and girl group-ish pop - not quite gritty honkytonk, but she had some twang in there, for sure, Definitely worth a spin!
Kathy Dee "Teardrops In My Heart" (Guest Star Records, 1964) (LP)


This LP was basically a budget reissue of the BW album above, with ten tracks instead of twelve. The two songs that were left off this album are "Go On Home" and "Funny How Time Slips Away," with all the other songs being the same. As of this writing, all her recordings, including her UA singles, remain unissued in digital form.


<! http://www.the-daily-record.com/obituaries/2006/11/22/quentin-welty http://brightdaysahead.hubpages.com/hub/my-personal-star-that-never-stopped-shining >
Deep South "Deep South" (NSD Records, 1985-?) (LP)



<! - #NSD 10 - recorded in Nashville - no ASIN-(?) 03/12/16 - too many hits under band name, nothing with "NSD" >


Delaney & Bonnie -- see artist profile



Ethel Delaney "Heeeere's Ethel!" (Ohio Records, 1976-?) (LP)
A veteran performer of many decades and eras of country music history, Ohio's Ethel Delaney (1927-2005) started her professional career in 1934 at age eight, singing on Wheeling, West Virginia's WWVA radio station, and went on to become one of America's most famous female yodelers. Not sure when these albums came out -- looks like the early-to-mid '70s(?) and the middle-aged Ms. Delaney was clearly still plugging away with a tour bus of her own, emblazoned with the name of her band, the Buckeye Strings. She eventually moved to Las Vegas in the 1990s, but continued to perform for years, giving her last public performance in 2004(!) seventy years after she first took the stage.


<! - looks like a lot of original material - #OLP-67502 - band called the Buckeye Strings(?) - from Hudson, Ohio "...Ethel Delaney [1926-2005] was a gifted Ohio-born hillbilly yodeler known as the "Swiss Miss Yodeler." She made a number of recordings with the legendary Jordanaires. This one has the yodels sped up to give them a leprechaun-on-Mars feeling." http://obits.reviewjournal.com/obituaries/lvrj/obituary.aspx?n=ethel-delaney&pid=142004132 : "...Ethel P. Delaney, 78, formerly of Ohio, and a 15 year resident of Las Vegas, passed away Friday, Feb. 25, 2005, following a six year courageous battle with auto-immune hepatitis. She held a lifetime membership status in the American Federation of Musicians, the Country Music Association, the Western Music Association and the Reunion of Professional Entertainers (ROPE). She was also a member of The Order of Eastern Star and a BMI Songwriter. Ethel was regarded world wide in the music industry as being one of the greatest female yodelers of all time, her entertaining career beginning in 1934, at the age of eight at Radio Station WWVA, Wheeling, W.Va., with her final performance on Sept. 5, 2004, at Missouri Valley, Iowa, during the 29th National Old Time Country Music Festival, where she was inducted into "Americas Old Time Country Music Hall of Fame". She will be deeply and sadly missed by her family, friends, and fans. Ethel is survived by her husband of over 50 years, Russell T. Delaney; daughter, Sandra S. Delaney of Las Vegas; son, Russell T. Delaney Jr., and loving daughter-in-law, Mary of Laguna Nigel, Calif. " >

Ethel Delaney "...And Her Buckeye Strings" (Ohio Records, 1976-?) (LP)


This one includes covers of oldies like "I Want To Be A Cowboy's Sweetheart" and "Steel Guitar Rag" along with more contemporary hits such as Bobby G. Rice's 1973 hit, "You Lay So Easy On My Mind," Charley Pride's "We Cound," and Charlie Rich's "Behind Closed Doors." Also featured is "A Bottle, A Blond And A Barroom," which appears to be an original...


<! - #OHLP-67803 1 Tiny Bubbles 2 Behind Closed Doors - 1973 3 We Could - 1974 hit for Pride 4 A Bottle, A Blond And A Barroom 5 You Lay So Easy On My Mind - Bobby G. Rice song from 1973 6 Cowboy's Sweetheart 7 Wheels 8 Movin' On 9 Somewhere My Love 10 Ramblin' Man 11 Steel Guitar Rag >
Deliverance "Memories" (NRP Records, 1975-?) (LP)
(Produced by Les Ladd)
An utterly charming, completely amateurish album by a spunky '70s band from Wilton, Iowa... The lead singers were Darryl Gilbert and Sonya Gilbert, with Mr. Gilbert playing lead and Sonya Gilbert on rhythm guitar, along with bassist Kay Seebeck, pianist David Barnes, and a guy named Glenn Ray playing steel on a few tracks. Although as late as 2012, Darryl Gilbert and Deliverance were included on a local radio station's list of Iowa country bands, it's hard to imagine this band -- particularly in this early incarnation -- being much of a bar-band powerhouse. And that's what's great about this record: it's clearly a labor of love from some folks who were playing and singing for fun, and while they were kinda sloppy and poorly produced, they were real and sincere and really into what they were doing, and this is actually one of the more enjoyable "private" country records I've picked up, certainly one of these albums I'm more likely to listen to just for fun. They cover a few obvious hits -- "Good Hearted Woman," "Proud Mary," and "Help Me Make It Through The Night" -- along with a few originals written by Mr Gilbert and other members of the band: "Memories," "Raindrops" and a gospel number called "He." The album was recorded at Tom T. Hall's Toy Box studio in Nashville, while the photos on the back cover show the band performing at the Moose Lodge, in Muscatine, Iowa.


<! - Darryl and Sonya married? - # NR-7502 as late as 2012, Darryl Gilbert was listed on a local radio station's list of Iowa bands: Deliverance--Eastern Iowa, Country, Blues & Classic Rock; Darryl Gilbert, Wilton, IA 52778; 563-320-2185; e-mail (bigds@netins.net) http://965kisscountry.iheart.com/articles/kiss-country-band-list-451168/kiss-country-bands-9743138/#ixzz467gqhB2v >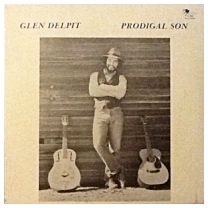 Glen Delpit "Prodigal Son" (Swallow, 1985) (LP)
(Produced by Glen Delpit & Bill Bixler)
A nice acoustic retro-blues set from one of Fresno, California's finer post-hippie pickers... Features a lot of oldies covers such as "Bourgeois Blues," with Delpit playing dobro and regular six-string guitars... I believe that the album's co-producer, Bill Bixler, was once the owner of a club called The Wild Blue Yonder, which was one of Fresno's few cool rock clubs in the early '80s...


<! 11/17/15 - B0071ZUAUW LP ASIN defunct >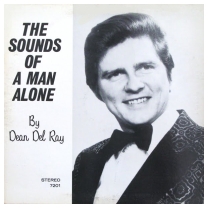 Dean Del Ray "The Sounds Of A Man Alone" (Del Ray Enterprises) (LP)
(Produced by Howard Stewart & Dean Del Ray)
I'm pretty sure this is not the same Dean Delray who went from a career in 1990s jam band/hard rock into a career as a standup comedian... This Dean Del Ray, a lounge singer was from Clarksburg, West Virginia who was singing at the Sheraton Hotel when he cut this album in the early 1970s. It's mostly a bunch of oldies, stuff like "Chantilly Lace" and "Proud Mary," but also some country songs, such as "Four Walls," "For The Good Times" and "Muleskinner Blues." I'm guessing around 1972 on this one...?


<! - there's another(?) younger Dean Del Ray - B00004TVC7 - no ASIN 05/12/15 - #7201 - 1972-?? >
The Delta Sisters "Music From The Old Timey Motel" (Rooster Records, 1981) (LP)


(Produced by Stephen Schneider & Walton Amey)
Old-timey tunes, bluegrass and cajun tunes played by the California-based acoustic duo of Frannie Leopold and Jeanie McLerie, with a slew of cool guest musicians, including Gene Parsons, Sue Draheim, Jody Stecher, and Eric & Suzie Thompson. Nice stuff from the west Coast contingent!


<! >
Larry Denham & The Cowboy Ramblers "I've Sang The Blues So Long" (Adler Records) (LP)
(Produced by Stan Louden)
Kentucky native Larry Denham played in and around Louisville for several decades, cutting uptempo, rockabilly-tinged singles as a teen before settling into a more robust honkytonk baritone style. As heard on this album, his appreciation for classic country ran deep: the LP showcases four Hank Williams oldies, along with a slew of Denham originals, with Denham's vocals evoking Hank, Jr. to a surprising degree. He's backed here by several locals, including Dennis Beard on drums, bassist Larry Karr, and a well-respected steel guitarist named Boogie Sherrard, a fellow Kentuckian who had toured with Ray Price in the early '60s. The artwork is super-DIY, with a plain white back cover, and little info about Denham or his band, and alas does not include a release date. (Note: there seem to be a number of musically-inclined Larry Denhams listed online, and I'm not sure how or if they are all connected. A piano player named Larry Denham did session work with a few mainstream country musicians in the early 'Sixties as well as a stint with the Plainsmen southern gospel group from 1962-64, and there's also a steel player by the same name who was an old-timer playing local venues such as the "Bardstown Opry" and the "Shepardsville Country Music Show" at least as late as 2015. The same guy? Relatives? Anyone out there who might be able to help sort it all out?)


<! - #ARP-9639/40 - no ASIN 11/27/16 - found at Amoeba https://www.discogs.com/Larry-Denhan-And-His-Ramblin-Cowboys-Ive-Sang-The-Blues-So-Long/release/8256000 same guy?? http://www.legacy.com/obituaries/louisville/obituary.aspx?page=lifestory&pid=20030296 Larry Denham (1946?-2006) age sixty - survived by his sister, Sheila - when younger cut at least one single: Larry Denham "Prisoner For A Son" (McGuire Records) (7") - not(?) the same Larry Denham who was in the Plainsmen southern gospel group? (pianist from 1962-1964) - Boogie Sherrard (1932-2013) >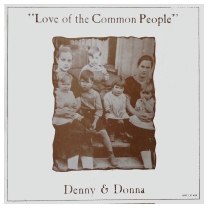 Denny & Donna "Love Of The Common People" (Musicountry Records, 1973)
(Produced by John Stoecker & Ron Jeffreys)
A country-pop duo from Rock Valley, Iowa, singing some original material written by Donna Chapel Wrede, as well as covers of Eddy Raven, Jan Crutchfield and the Bee Gees... Donna Wrede had a family background in the music business, having performed along with her father, Don Chapel, in Tammy Wynette's road show. She was the stronger of the two singers, an emotive vocalist who belts it out sometimes, and has a pronounced Wynette-ish streak as well. She contributes three tunes to this album: "It's Time For Us To Fall In Love Again," "My Heart Feels Right At Home" and "More Love For You," which she had previously released as a single in 1973. (Footnote: Years later, Donna Wrede recorded a semi-infamous single, "Johnny Doesn't Live Here Anymore," a topical song based on a missing child case, and continued to write and perform original material through the early '80s, singing with her husband Denny, who became a highschool basketball coach and math teacher... So they were indeed regular folks, in case you wondered.) I think this was their only album, though she seems to have recorded a few singles as well, including a lot of gospel material. To be honest, this isn't the greatest country record ever, but they really put their hearts into it, and that counts for something.


<! - no ASIN 01/07/15 - recorded in Nashville at the Polyfox studios - "More Love For You" 7" came out in 1973, also on Musicountry - item about a concert in an Iowa paper from 1983 said they had been playing together nine years > <! http://ourstage.com/profile/ahwkyqvidtad/songs >
Clyde And Marie Denny & The Drifting Kentuckians "Monticello" (Country Star, Inc., 1977) (LP)
(Produced by Gordon Reid & Carmine Lombardo)
Independent bluegrass with a country-ish fling... Most of the songs are Denny originals, though the Dennys get the trad stamp of approval, with old-timer Carl Story providing laudatory liner notes. The label was from Franklin, Pennsylvania, and I imagine the Dennys lived there as well, or at least nearby.


<! - no ASIN 05/12/15, 07/29/15 - single on Blake Records: B00F4JL2NG >
Walt Denny "Twelve All Original Country And Gospel Songs" (Breeze Records, 1975) (LP)
(Produced by J. P. Bowman)
A Kentucky native who moved to the Midwest as a teen, singer Walt Denny was a self-described hardcore alcoholic and born-again Christian who tried to make it big in music in the 1940s and '50s and found himself down and out and literally drunk in the gutter, at the mercy of his addiction. Back in '56 he got religion and turned his life around, and though he was an ardent Christian, this album is divided between secular songs (on Side One) and religious material (on Side Two) all of which Denny wrote himself. Backing him is a small band that included Frazier Moss on fiddle and Elton Davis on dobro, along with some other local, rural Tennessee pickers from outside of Nashville's orbit. (Frazier Moss also recorded a couple of albums of his own, reviewed on this site as well...) Definitely a little more rough-edged and more country-oriented than your standard-issue Southern Gospel album!


<! - no ASIN 11/10/16 - recorded in Tennessee - was he living there at the time? - entire album recorded November 22, 1975 >
Jeannie Denver "Yorkshire Rose" (Westwood Records, 1975) (LP)


(Produced by Dusty Gordon, David Whitely & Kelvin Henderson)
One of the most UK's popular country singers of the 1970s, Yorkshire-born Jeannie Denver was a pub singer who "went country" in 1973, joining Kelvin Henderson's band where she quickly stole the show and became a showcase performer. She went solo in '75, recruiting several members of Henderson's ensemble to form the JD Band, including her husband, hotshot guitarist Stewart Barnes. This was her first album, and it leaned heavily on cover songs and current hits such as "Delta Dawn," "Field Of Stone," "Jolene," and "For The Good Times," with obvious nods to American "girl" singers such as Dolly Parton and Tanya Tucker.


<! - #WRS-072 http://www.alancackett.com/jeannie-denver - pub singer who "went country" in the early 'Seventies 1978 review: "...Jeannie was born at Bolton Woods, near Bradford, on October 11, 1945... It was not until 1973 that she turned seriously to country music, and since then she has never looked back... Local musicians Allan Holmes and Stewart Barnes (Jeannie's husband) joined Kelvin Henderson's Country Band which was based in Bristol and early in 1974 Jeannie joined the line-up as featured girl vocalist. With Kelvin and the band she toured with Slim Whitman during his lengthy tour in the winter of 1974 and had the unenviable task of preceding the star himself... (went solo in 1975) The Jeannie Denver Band took to the road in April and consisted of lead guitarist Stewart Barnes and drummer Allan Holmes from Kelvin Henderson's Band along with bass guitarist Stephen Hughes, who had previously worked with Jeannie and the other two around the clubs in Yorkshire. To coincide with her new found star status came the release of her first album, YORKSHIRE ROSE on the Westwood label. guitar work of Stewart Barnes >
Jeannie Denver/Various Artists "The Music Festival Show" (Westwood Records, 1975) (LP)
(Produced by Gordon Davies & Mike Naylor)
Here, the up-and-coming Denver shares billing with several of her bandmembers and labelmates, British twangsters such as Nick Carter, Lee Williams and steel guitarist Slim Pickins, all packed by her own group, the JD Band.


<! - #WRS-072 >
Jeannie Denver "Queen Of The Silver Dollar" (Westwood Records, 1975) (LP)



<! - #WRS-094 >
Jeannie Denver & Slim Pickens "At The Spur And Saddle" (Westwood Records, 1976) (LP)
Recorded live at the Welsh country music venue, The Spur And Saddle.


<! - #WRS-105 "...JEANNIE DENVER AND SLIM PICKENS AT THE SPUR AND SADDLE was made at one of the top country music clubs in Wales. This album gave a fair indication of a Jeannie Denver Show as fiddle player, steel guitarist and comedian Slim Pickens often appears on her shows up and down the country." >
Jeannie Denver "With Love" (Westwood Records, 1978) (LP)
(Produced by Gordon Davies & Bob Whitely)



<! - #WRS-128 - Discogs incorrectly says 1980 - article above was published in June, 1978, mentions this album "...This month sees the release of her fourth album for the label, WITH LOVE, another collection of sweet country ballads, up-tempo tunes and gospel songs all given the pleasant and very distinctive Jeannie Denver treatment." >


John Denver -- see artist profile





The Desert Rose Band -- see artist profile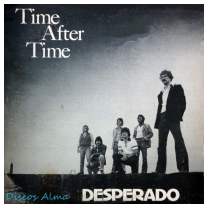 Desperado "Time After Time" (Ruff Records, 1978) (LP)
(Produced by Hott Soup Productions)
This band from Garland, Texas was different than the East Coasters below... To give you a sense of where they were coming from, they covered both the Eagles and Atlanta Rhythm Section, and had both banjo and saxophone in the band. Ah, the Seventies!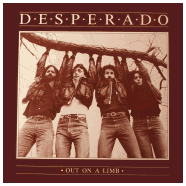 Desperado "Out On A Limb" (PCI Records, 1982) (LP)


(Produced by Stephen Schneider & Walton Amey)
This semi-shaggy, Levi's-clad band from upstate New York didn't have a lot of ooomph as country twangsters, but as soft-pop/country-rock act, they had their charm. Their male-female vocal mix included several songs with the spotlight on Carolee Goodgold, who seems to have been a big Linda Ronstadt fan, mimicking Ronstadt's vocals and musical approach, as opposed to Emmylou Harris, who was the other big female country-rock icon of the era. Desperado seems to have been aiming for a mix of indie-twang and hopeful commercial success as a pop act, but the style of music harkened back to pre-disco AOR of a half-dozen years earlier. This has its moments, and is a genuine slice of '70s(ish) DIY, but it didn't really wow me.


<! Desperado "Desperado" LP Mint- Private MN 70's Rock Country AOR Catalog #: BE 605 with Keith Allison (b), Dave Salyer(g), Dan Baggot (d) and Din Pastino (p, sax) >
The Desperados "Desperado" (Rio Records, 1980)
Hoo-boy. Desperado... Desperados... Desperadoes... Man, I bet there were an awful lot of bar bands who used that name. Anyway, I'll try and sort it all out... might take a while. This band, with Jim Tomlinson on pedal steel and Ted Scanlon singing lead vocals, was from Mesilla Park and Las Cruces, New Mexico, and had some jazzy stuff going on with their twang... The material was all cover tunes, so I figure they were a working band, though apparently none of the members was a songwriter. Founded in 1976, The Desperados became known as one of the most diehard western swing bands in the Southwest and have continued on for decades, helmed by Scanlon, but with a constantly evolving group of collaborators. One this first album, the lineup also included Carroll Gilley (piano), Bob Faris (fiddle), Pete Warner (drums) and Dale Baker (saxophone and flute.) The material is all cover songs, but they chose from the best, so you get a real chance to hear their chops.


<! - PRIVATE '80 COUNTRY Jazz Boogie New Mexico - from Mesilla Park, New Mexico - band with Jim Tomlinson (pedal steel), Ted Scanlon (lead vocals), Carroll Gilley (piano), Bob Faris (fiddle), Pete Warner (drums), Dale Baker (saxophone and flute) - liner notes say this was the band's first album - all cover tunes > <! https://www.facebook.com/pages/Ted-Scanlon-The-Desperados/149695615056279?sk=info&tab=page_info http://zoom.host-care.com/~grahamle/desperadosroots.htm in 2007 Scanlon got into some weird legal trouble: http://www.lcsun-news.com/news/ci_5736322 The Desperados "Take Two" (xxxxxxx, xxxxxx) The Desperados "Till The Cows Come Home" (Rio Records, 1994) The Desperados "Hooked On Ray" (Rio Records, xxxxxxx) The Desperados "Roots And Branches" (2004) Grammy Nominated The Desperados "Lucky 7" (xxxxxxx, 2009) - no ASIN >

The Desperados "II" (Pollyfox Studios, 197--?) (LP)


(Produced by Frank Green)
This no-nonsense country band from eastern Nebraska was led by Don Rogert, a businessman from Waterloo who was also active in state politics during the '70s. The Desperados headed to Nashville to record at least two albums, both of which are quite good -- not dazzling, but solidly performed and well produced, and packed with well-chosen material. The core group included Rogert on guitar, along with fiddler Jerry Cook and a fine dobro picker named Max Cooley, who also played in several bluegrass bands. They had a distinctly old-fashioned, down-to-earth traditional country sensibility, playing lots of oldies and a few contemporary hits. This album seems to be an early-to-mid-'70s release, with songs including include "Six Days On The Road," "The Key Is In The Mailbox" "I'm A Survivor" and "Daisy A Day." These two albums were reissued together on CD, though I'm not sure where you could find a copy.


<! - recorded at Pollyfox Studios, in Nashville - band included Jerry Cook (fiddle), Max Cooley (dobro), Ron Taylor and Don Rogert (guitar) of Waterloo, Nebraska - his wife Lois Rogert (1926-2001) is listed as the band's manager >

The Desperados "In Nashville" (1978-?) (LP)
(Produced by David Shipley)
This album features a larger band and smoother production, and seems to be from around 1978-79... The more recent songs include "Couple More Years" (recorded by both Dr. Hook and Waylon Jennings in 1976) and "You're The One" (a big hit for the Oak Ridge Boys in 1977 and '78.) I'm not sure how much longer the band was together after this... any info is welcome!


<! >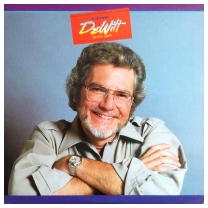 Lew DeWitt "On My Own" (Compleat, 1985) (LP)


(Produced by Lew DeWitt & Chip Young)
It took me a while to warm to this one, but after a couple of listens, it got under my skin... Lew DeWitt (1938-1990) was best known as a member of the Statler Brothers band, singing tenor vocals until he retired in '83 due to poor health. He's also the author of their earliest (and arguably best) big hit, 1965's "Flowers On The Wall," which he reprises here in a slightly less robust but still satisfying rendition. Many of the songs here share the forlorn, nebbishy heartbreak of "Flowers," as well as the world-weary wisdom of middle age, verging on old-timerness. Like I say, this album grows on you and though his voice sounds a bit thin, DeWitt's emotional commitment to the material comes through with attentive listening. There is one weird, note, though, on the end-time-ish "Show Me Someone Making Plans To Leave," which declaims all kinds of global violence and kookiness - it's sort of a goofy folk/protest number that doesn't quite hold together, and doesn't match the tone of the rest fo the record... But it iss interesting. Anyway, this album is a nice footnote to an illustrious career, and a must-hear for fans of the original Statler Brothers lineup.
Lew DeWitt "Here To Stay" (Compleat, 1986) (LP)



<! no ASIN 01/26/15 >

Ray Dexter "Alligator River" (Lucky Records) (LP)
The first album by English country crooner Ray Dexter, a Hertfordshire lad who got into "cowboy" music and recorded a string of well-regarded albums, notably packed with original material. Like many Brits of his generation, Dexter started out playing in skiffle bands in the late 1950s, though unlike the other kids of that era, he didn't get swept up into Beatlemania and Merseybeat, but rather dug deeper into the American roots traditions of the folk-oriented music of the skiffle scene. Apparently he was backed on this album by a band called the Dynamoes, which included guitarist Albert Lee (who would later make his own mark in the country world, both as a member of the British band Heads Hands & Feet, and perhaps more significantly as a member of the Emmylou Harris Hot Band...)


<! - first album, per 1973 article "his first LP "Aligator River". This album was backed by The Dynamoes and also featured legendary guitarist Albert Lee. >

Ray Dexter "Country Seasons" (Philips/Pine Ridge) (LP)



<! - second album, per 1973 article - THIRD by other article >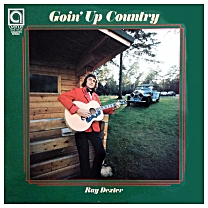 Ray Dexter "Goin' Up Country" (Avenue Records, 1972) (LP)
(Produced by Gordon Smith)
An odd, but also rather compelling release from this British country-folk artist. This was his third album and showcases fewer of his original songs, in favor of covers of classics such as "Four Walls," "Faded Love," a funky-cool version of "Solitary Man" a nice reading of "Before The Next Teardrop Falls," and a languid rendition of Neil Young's "Birds." Some songs feature spoken introductions -- with an English accent, immediately dropped when he starts to sing in a Merle Haggard-meets-Jim Reeves rural drawl. The album's three originals are all winners: "Nebraska Sunrise" was re-released as a single in the United States, and "Mississippi Messenger" has perhaps the album's most unique arrangements, and "Your Lovin' Man," while not as distinctive is still a nice solid country ballad. This album was apparently a big hit, sessing several hundred thousand copies -- the biggest selling British country record of its time. Unfortunatley, the liner notes don't include information about the backup band, but this was a pretty solid effort throughout. Worth tracking down!


<! - no ASIN 07/29/15 http://www.alancackett.com/ray-dexter https://www.google.com/search?q=ray+dexter+singer&ie=utf-8&oe=utf-8 http://www.last.fm/music/Ray+Dexter/+wiki born in Hoddesdon, Hertfordshire >

Ray Dexter "From Midnight Through 3AM" (Decca/Emerald Gem, 1974) (LP)





<! also country?: Ray Dexter "The Ray Dexter Sound Show, Act 1" (Sweet Folk And All, 197-?) (LP) B0055TM2AM >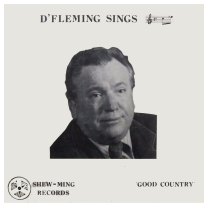 D'Fleming "...Sings Good Country" (Shew-Ming Records, 1977) (CD-R & MP3)



(Produced by Harold Lee & Al Gore)
An Alaskan singer with all original material, including some (but not all) gospel, and one song co-written with Don Bergstrom. To be honest, his vocals ain't all that, but he does throw himself into it with great gusto. Looks like he went to Nashville to cut this album, and the band behind him sounds pretty sharp. Among the studio players were steel players Jim Baker and Little Roy Wiggins, along with some backup harmonies by the "Bach-Ahp Singers."


<! - >
Dyan Diamond "In The Dark" (MCA, 1978) (LP)





<! rockabilly/new wave - apparently good >

Dichotomy "Muddy Waters Presents Dichotomy's Last Album" (KBK/Earth City Sound Studios, 1985) (LP)
A Saint Louis, Missouri bar band that was together from about 1970-85. They worked as the house band at a place called Burnham's St. Louis Opera, and then at the Muddy Waters bar up until the club closed in 1985. This commemorative set includes covers of country songs like "East Bound And Down," "Red Neck Mother" and "The Gambler".


<! - related to Willow Creek band? - no ASIN 04/20/15 - #MK-97-857 http://www.stlmusicyesterdays.com/Dichotomy.htm "...House Band at Burnham's and then Muddy Waters. LK: I think they may have also been connected to another St. Louis group called the Willow Creek Band, though maybe they were just pals... >

J. J. Dickens "Teardrops On The Rocks" (1980-?) (LP)
Born in Hennessy, Oklahoma and raised on a ranch in Arizona, singer J. J. Dickens made his way up north in the early 1960s, settling in Chicago where he formed a multiracial country band puckishly called the Barrier Breakers, as it was unusual back then for African-Americans to play country music, especially in Illinois. In 1970 he moved out past the 'burbs to the tiny town of Utica where he played small bars and clubs in neighboring towns, such as the City Limits Inn, the Pink Cloud and the Diamond Horseshoe in Oglesby, which was owned by his wife Norma. Dickens also landed a gig playing at Hugh Hefner's Playboy Clubs, though most of his work was local. Dickens died in 2005, though he was performing with his band as late as 2004. As far as I know, this was his only album, though he also cut at least a couple of singles, including one with the Barrier Breakers, recorded around 1970, and another one for FMC in '72 -- both singles highlighted his own original materal.


<! - African-American country sings - #NR-9980 - no ASIN 08/15/16 d.2005 - birthdate is a secret(!) - title track is a Jim Reeves song - unable to find label, date w/ online search good obit article: http://www.mywebtimes.com/news/local/county-singer-songwriter-j-j-dickens-dies/article_b9948b93-6f65-5632-a234-cd408d4ec8a1.html http://www.geocities.ws/jj_dickens/Bio.html also recorded singles: J. J. Dickens & The Barrier Breakers (Mountain Records Of Colorado, 1970) (7") - #1055 A: "I Want The Whole World To Love You" (c. J. J. Dickens) B: "It's Not You're Fault" (c. ) J. J. Dickens (FMC/Farrell Merritt Corporation, 1972) (7") B00U7X9MYK - #N-1272 A: "Someone's Loving You" (c. J. J. Dickens) B: "Now That You're Gone" (c. J. J. Dickens) >


Jim Dickinson - see artist profile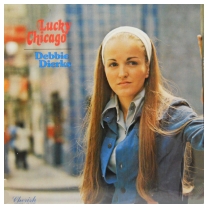 Debbie Dierks "Lucky Chicago" (Cherish Records, 1973) (LP)
(Produced by Dan Hoffman)
Originally hailing from Kansas, Debbie Dierks made her way to Nashville in the early '70s to try and make it big in Music City. In addition to several singles for the Kansa label, and at age nineteen singer she cut this excellent album for Cherish Records, a side project of radio DJ Dan Hoffman. He produced the record and provided several songs he'd written himself along with other compositions by songwriters in his orbit. It's pure perky, early '70s Nashville pop with bouncy little melodies and just enough twang to make it fun, featuring pedal steel by Bubba Seymour and fiddles by Buddy Spicher. Dierks's plainspoken girl-next-door vocals recall girl-groupish country gals such as Skeeter Davis and Jody Miller -- very pleasant overall. Unfortunately, like many Nashville indies of this era, Cherish was really more of a vehicle for promoting songs rather than artists, and Dierks was simply a vehicle to deliver their hopeful hits. However, she was able to record one song of her own, "Daddy's Little Girl," a heartfelt remembrance of her own father, who had passed away before the family moved to Tennessee. All too quickly, her country career foundered and by '74 she signed with the Christian-oriented Dove label, setting out on a different musical path. Decades later, recording under her married name, Debbie Dierks Montgomery remains a religious singer and has long since moved back to the heartland, living and working in the Kansas City suburbs. This is a fun record, though, if you can manage to track it down!


<! Cherish #12182 - nineteen years old when she recorded this album - several songs by Dan Hoffman, also Glen Goza - pedal steel by Bubba Seymour; fiddles by Buddy Spicher - no ASIN 02/25/15 - signed to Dove (Christian label?) in May, 1974 - her mother and aunt were radio stars in the 1930s -- Irene and Orlene Crouse, aka "Kit & Kay" : http://de.wikipedia.org/wiki/Kit_and_Kay http://hillbilly-music.com/groups/story/index.php?groupid=14654 - she also recorded some singles for the Kansa label (was this her own label??) (it was in Nashville) "I'm Coming Down With Something b/w Reach for Me" #KA-617 "Love's Easy Touch /I'll Be After You" #KA-618 "Married In Las Vegas (Divorced In Mexico) /------------" #KA-605 - later Debbie Dierks Montgomery(?) - Christian singer: Debbie Montgomery "According to Thy Will" (2003) http://www.cdbaby.com/cd/dmontgomery web: http://www.rapidroadtoreading.com http://cdbaby.com/cd/dmontgomery http://www.robertmontgomeryhomes.com >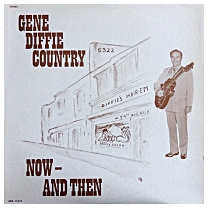 Gene Diffie "Country Now And Then" (ARA, 1975--?) (LP)
A charming album by an old-school honkytonker from Phoenix, Arizona. Songwriter Gene Diffie led various bands through much of the 1950s, '60s and '70s, and had one of those odd, thin voices that were popular in the fifties (a cross between Hank Snow and Ernest Tubb) which at first may be offputting, but really grows on you after a while... At the point when he made this album, there were several longhairs in his band, which included steel player Art Hawkins and Clint Diffie on keyboards. This album is mostly original material, with four songs written by Gene Diffie, two by Stan Bennett, and three more by Slim Forbes, a veteran performer of "western" cowboy bands. Honestly? It's great stuff. The cover art is intriguing: there's a drawing of him standing outside of "Diffie's Hair-Em," a hair salon that he presumably owned... (And FYI, apparently the Arizona Diffies were not direct relations of '90s top forty star Joe Diffie, who grew up in Oklahoma and Texas...)


<! - no ASIN 02/25/15 - #ARA-11375 - (?) address 5322 N. 59th Avenue - address may actually have been in glendale, AZ Diffie cut a 78(!) on the Fleet label in Hollywood: Gene Diffie & The Canyon Trail Riders "Please! Please! Please!/Is It A Sin" - dunno the year "a Tommy Tomlinson production" - concert listed 04/23/59 Arizona Republic, and through the '60s and '70s - Slim Forbes from The Western Gentlemen Of Reata Pass >
The Dave Dighton Band "The Green Green Grass Of Home" (Double D) (LP)


A youthful country covers band from Iowa, combining honkytonk oldies and pop hits of the days... Not sure when this one came out, but the Dighton Band must have been fairly popular... They put out several albums over a span of years.


<! - Santa Domingo*Ranger's Waltz*South*The Key's in the Mailbox and many more! >
The Dave Dighton Band "Wanna Dance? Follow Us!" (UA Recording) (LP)


This one's admirably heavy on honky tonk tunes, songs like "Crazy Arms," "Release Me" and "There Goes My Everything," as well as pop hits such as "Tijuana Taxi" and "Games People Play," and even the Mills Brothers' oldie, "Cab Driver" (which they may have gotten from the Hank Thompson version, since they also cover Thompson's "Squaws Along The Yukon," so obviously they were fans...


<! SIDE ONE games people play there goes my everything release me somewhere my love all i have to offer you is me SIDE TWO squaws along the yukon wildwood flower crazy arms cab driver the wrong side of the world tijuana taxi >

The Dave Dighton Band "Country Clover" (LP)





<! - vinyl LP private press Sealed [Iowa] - covers, some polka type stuff - no ASIN 02/25/15 >

Carl Dillard & Frank Martin "If The Phone Should Ring" (Mark V Records, 19--?) (LP)
(Produced by Bill Huffman & Jeff Clark)
A couple of old dudes from South Carolina, backed by a band called the Rhythm Masters. Dillard plays piano, Martin sings, and between them they wrote five of the ten songs on this album. A real mystery disc here... any info would be welcome!


<! - five of ten songs written by them - no ASIN 03/07/17 >


The Dillards - see artist discography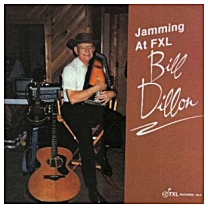 Bill Dillon "Jamming At FXL" (1984) (LP)
(Produced by Frank X. Locanto)
An old-timer who played bluegrass and hillbilly music in 1950s bands with the likes of Tex Logan, Joe Val, and the Lilly Brothers, Bill Dillon was originally from Boston, but like many musicians from that era, he moved around a lot, taking work wherever he could find it. After several years working in Huntsville, Alabama, he quit show businesss and moved to Florida, where he worked as an engineer for IBM and other companies. He recorded this album in Sunrise, Florida, playing mandolin, autoharp and guitar, with accompaniment by the Lane Brothers, a bluegrass duo who he had worked with back in the early '50s.


<! - no ASIN 04/20/15 >

Bruce Dillon "To Everyone Who Has A Song" (Little Wonder Records, 1978) (LP)
(Produced by Mitch Hennes, Gary Loisso & Garry Elghammer)
This album from from New Lebanon, Ohio's Bruce Dillon is a little questionable... Yes, there's pedal steel in the mix (played by Tommy Furlong) but also brass, flutes and an overall profusion of orchestral instruments, pushing this into an ornate folk-pop direction... However, Dillon did shows opening for stars such as Brenda Lee and Hank Thompson, and wrote some country-themed material, so there is some legit crossover there... Indeed one of Dillon's ten originals on here is called "Crossover," appropriately enough.


<! - - no ASIN 04/20/15 - band includes Tommy Furlong on pedal steel, and John Frigo on fiddle - also a Bill Dinwiddie in the brass section - any relation? >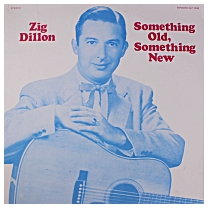 Zig Dillon "Something Old, Something New" (Ripcord) (LP)


Midwest honkytonker Allan "Zig" Dillon was, I believe, originally from Kansas City, where he recorded a string of rockabilly-tinged singles in the early 1960s for the ultra-obscuro R Records label. This album comes from much later in his career, probably in the mid-to late-1970s. About half the songs are originals - including "There'll Be No Color Line In Heaven"; some of his earlier recordings have been anthologized on rockabilly and hillbilly bop collections, notably on Redita Records' fab KANSAS CITY COUNTRY ROCKERS collection.


<! - #SLP-1040 - originally from Kansas City(?) (b. 1923? ) Zig Dillon "Something Old, Something New" (Ripchord, 1979) (LP) B00H33VY0W (?? - 6/7/79 date written on LP cover ) originally from Kentucky(?) - had played with ET, Porter Wagoner, Red Foley (???) LK draft: Honkytonker Allan "Zig" Dillon was, I believe, originally from Kentucky, and in his heyday, Dillon worked with headliners such as Ernest Tubb, Porter Wagoner and Red Foley, though as a solo artist, his main stomping ground was Kansas City, where he recorded a string of rockabilly-tinged singles in the early 1960s for the ultra-obscuro R Records label. >

Carol Dills & The Rainy Mountain Boys "Sings Country Favorites" (NAME Records, 1983) (LP)
(Produced by Dave A. Huber)



<! - NAME means New Age Musical Enterprises - from Seattle - all covers except for two originals: "Killing Time" and "A Place Nearer To Heaven" - originally from Oklahoma - was this a Seattle record, or just released on a Seattle label? - no ASIN 02/10/15 >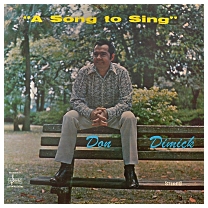 Don Dimick "A Song To Sing" (Sahara Records, 1972-?) (LP)
Dimick recorded on a Savannah, Georgia label... This album includes covers of "Crying Time," "Release Me," and "By The Time I Get To Phoenix," etc., as well as the title track, which was written by Buddy Alan suggesting some sort of connection to Buck Owens...


<! - no ASIN 11/18/15 - #SR-272-572 - 1972? - title track written by Buddy Alan - was he in Buck Owens' sphere of influence? >

Don Dimick "The Wonder Of It All" (Emerald Records) (LP)

Michael Dinner "The Great Pretender" (Fantasy, 1974) (LP)





<! (country??) had steel guitar on it - Herb Pedersen, Linda Ronstadt, David Lindley, Gail Davies, Ronee Blakely - >

Michael Dinner "Tom Thumb The Dreamer" (Fantasy, 1976) (LP)


(Produced by Keith Olsen)



<! Bill Champlin : Organ & Background vocals Michael Dinner : Guitar & Vocals David Foster : Keyboards Dee Murray : Bass & Background vocals Nigel Olsson : Drums & Background vocals Waddy Wachtel : Guitar & Background vocals >

The Diplomats "Gary Davis' Mackinaw Music Show Presents..." (Mackinaw Music Show, 1975-?) (LP)


Dunno why Michigan bandleader Gary Davis sometimes called his group Mackinaw Music Show and sometimes The Diplomats, but whatever. Seems to be the same folks, though, including Kirsty Davis, who also released an album of her own. There's no date on the album, but I'm guessing '75 based on the catalog number and the set list, which is heavy on early-to-mid-'Seventies, including covers of "Behind Closed Doors," "Paper Roses," "Tie A Yellow Ribbon," "Country Roads" and "Delta Dawn."


<! - #LPS-275 >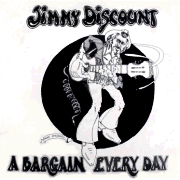 Jimmy Discount "A Bargain Every Day" (Original Intent, 1975) (LP)


(Produced by Don Boomer & James Conroy)
An independently-produced California country album from James ("Jimmy Discount") Conroy, a singer from Torrance who was said to be one of the original investors in the legendary freeform hippie-country radio station, KFAT. This is a very unpolished, DIY album, crudely produced with a rock'n'roll undercurrent, and Discount's love of twang often at odds with an unsurpressible urge to ham it up. He sings with an exaggerated drawl, not unlike many modern "twangcore" bands who take country more as a joke than as a calling... Although I'd say this album, even with its surplus of novelty songs, has an underlying sincerity -- and a historical value -- that makes it worth checking out. Some nice picking, too, with backup musicians that included hot pedal steel from J.B Crabtree (who once played with the Sweethearts Of The Rodeo) and producer/drummer Don Boomer, who had once been a lineup of the psych-rock band The Seeds, along with the Libbea brothers, bassist Gary and mandolin player Steve, who had been in an early 70s bluegrass band with Alison Brown and Vince Gill. So, some interesting side players here, even if the album itself is a little bit funky.


<! also, session drummer Gary Ferguson and duet vocals by children's book author Carol Ann Morrow > <! Conroy later in Swingshift >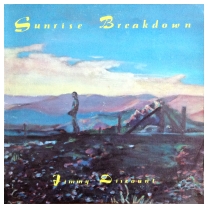 Jimmy Discount "Sunrise Breakdown" (MAOWN Records, 1978) (LP)


(Produced by James Conroy)
Rootsy, eclectic California country-meets-soft-rock, sort of in the same mode as folks like Norton Buffalo... The twangier tunes are fine, but the more "serious" pop songs -- stuff like "Poison Heart" and "Too Soon" -- are kind of dreadful, even though you can tell that they were where he was really focussing his major creative mojo. The album itself has the feel of a would-be magnum opus, sort of a Copperfields Dillards-meets-Seals & Crofts kinda thing, with some excellent picking surrounded by some truly questionable songwriting. Unfortunately my copy of this album didn't include any liner notes, but there were clearly some really good country players sitting in on these sessions, particularly the pedal steel player, who really lights up several of these songs. Wonder who they were!


<! Jimmy Discount ...and the Swing Shift Jimmy Discount "Sunrise Breakdown" (No Label) (LP) B0040ZDO2W Jimmy Discount "A Bargain Every Day" (Original Intent) (LP) B00411DLVY "...drummer/keyboardist Phil Bunch...sustained several years playing a country & western repertoire with Jimmy Discount, where his bandmate was future country superstar Vince Gill..." >

Dixie Line Band "Everything It Takes" (1984) (LP)


A pop/honkytonk band from Bowling Green, Kentucky comprised of local musicians who had previously worked in road band led by stars such as Bobby Bare, Willie Nelson and Jerry Jeff Walker. Around 1980, they formed their own band for local gigs, and recorded this lone album in '84.


<! ... Guitars and vocals Tommy Johnson, Drums and vocals Bones Kaelin, Violin and vocals Chris Carmichael and Steel Guitar and vocals Danny Dodson. According to an article in the Bowling Green Daily News, the bandmembers had toured with various country stars such as Bobby Bare, Willie Nelson, Ronnie Sessions and Jerry Jeff Walker, forming their own band around 1980. > <! Dixie Melody Boys "More Than Just Good Ole Boys" (Benson/Lifeline, xxxxxxxx) (LP) (Produced by Herman Harper & Russell Easter, Jr.) - Southern gospel - >
Benny Dixon & The Rebels "Deep Country Feeling" (Studio 5) (LP)


(Produced by Anthony J. Nathe) <! Nathen? >
Indie country from New Brighton, Minnesota... Mostly covers of songs such as "Folsom Prison" and "Okie From Muskogee," although the first track, "Mr. Blue," was written by Benny Dixon.


<! - year? one song is original "Mr. Blue," while others are covers of songs such as "Folsom Prison" and "Okie From Muskogee," as well as more obscure numbers. But I think there's only one original track on here. >

Rob Dixon & The Lost Cowboy Band "Live At The Crystal Chandelier" (Texas Records, 1983) (LP)


(Produced by Rob Dixon)



<! - no ASIN 03/17/15 - some later albums(?) on CD - same guy?? - mostly (cool) covers - a couple of originals by Ernie Rowell (not in the band) - David Griffin (steel guitar), Rob Landrum (bass), Tim Harris (harmonica), Jim Aspero (drums), Steve Payne (piano) >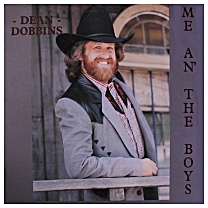 Dean Dobbins "Me An' The Boys" (Dob Records, 1989) (LP)


(Produced by Colin Cameron & Bob Gothar) <! ? >
Indie twang from Northridge, California... I'm not sure if this is the same Dean Dobbins who also wrote children's books... Anyone out there know for sure?


<! - looks like all originals - looks good! - same guy as children's book author? - 208 loaded 11/11/15 - but no review yet > <! Doctor Corn's Bluegrass Remedy "Live" (Grassroots Music, 1977) (LP) - #GR 004 > <! Doctor Fry's Texas Medicine "Doctor Fry's Texas Medicine" (Night Train Records, 1984) (LP) B00L5T3IRW (Produced by Clifford Fry & Kurt Zech) - songs written by Clifford Fry, Doug Sharp and Randy LeBlanc - from Houston, Texas - I think Fry was a university professor >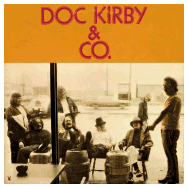 Doc Kirby & Co. "Doc Kirby & Co." (Playboy, 1973)


Good'n'greasy, weird, unruly, swampy Southern rock with some good, hard riffs, rough edges and a good sense of humor. This is more of a rock/boogie record, but there's also a definite element of twang... Fans of Joe Cocker might like this, particularly with the growling, uneven vocals. From Mississippi, apparently...


<! 01. High On Lovin' 02. John B. Stetson Hat 03. Oh What A Night 04. Meet Me In Mexico 05. Sing Lottie Sing 06. Feel the Heat Coming On 07. Mississippi Delta 08. Where The Rio De Rosa Flows 09. Working Good Dog 10. Atlanta Sashay > <! Joe Cocker-ish vocals > <! Dr. John >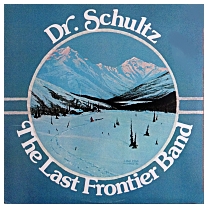 Dr. Schultz "The Last Frontier Band" (Frozenstif, 1979)


(Produced by John Speer)
From the far-flung boundaries of the continental United States comes one of Alaska's trailblazing folk/Americana bands. The "doctor" would be banjo picker and vocalist Don Schultz, a founding member of the band, accompanying the other lead singer, Dana Cox, who went on to record a solo album of her own. Although bluegrass-friendly, the group had more of a mainstream hippie-folk sound, particularly Cox's Joan Baez-ish vocals. I'm not that into straight-up folk music, although these folks did have some weirdo-eclectic touches than earn them a spot in the hippiebilly hall of fame. They came down to California to record this album, and a few Bay Area locals helped on the sessions, most notably pedal steel player Joe Goldmark, who plays on a tune or two.


<! "...Don Schultz, Loren Arment, Goodwin Trent, Dana Cox, and Kathryn Cox were the artist that made up this groundbreaking Alaskan folk band from the 1970's. Don Schultz's impeccable banjo carried many of their tunes, along with the lilting voice of Dana Cox and the superb harmonies of Loren, Kathryn, and Goodwin. The producer, John Speer, did a remarkable job of arranging and recording the music along with Don Schultz. The Last Frontier Band is and was the first band to really set the bar for Alaskan recording artists, and I have yet to see an album of its caliber since. Except of course, Dana Cox's solo album from the 1980's." >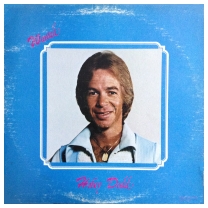 Hobey Dodd "Wanted" (Kard, 1979) (LP)


(Produced by Cam Mullins)
A generally dreadful set of silky-smooth countrypolitan ballads, though punctuated by a couple of mysteriously funky numbers where Dodd is backed by a banjo and loosens up a little to let a little blues into his phrasing. It may be that he was actually a fairly rootsy singer who just got trapped in the wrong recording session, but overall this is a pretty dreary, corny album. Oh, well. Dodd was being groomed for the Top 40, but didn't get very far.


<! Tracks: I Was Only Passing Through, Cold Day In July, You Never Cross My Mind, I Won't Get Over Losing You, Don't Waste Your Love On Me, Walkin' This Highway, Country Lullabies, I'll Be Your Badman, After All, As Long As We Can >

John Dodd & Members Of The Milano Opry "Texas Fiddling" (ACR) (LP)
(Produced by Don Robertson)
This Lone Star "opry" broadcast weekly from radio station KMIL, in Cameron, Texas, as well as staging a monthly Saturday Night "jamboree" in Milano. Dodd's son, Greg plays guitar on this album...


<! - no ASIN 02/28/17 >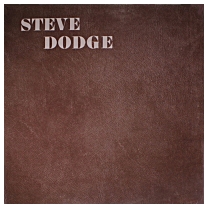 Steve Dodge "Steve Dodge" (Cactus Records, 1980) (LP)


(Produced by Steve Dodge)
Independent twang from Phoenix, Arizona, with all original songs, except for a couple of tasty cover tunes, one of Johnny Horton's "North To Alaska" as well as Guy Clark's "Rita Ballou."


<! - pedal steel by Randy Nabors - not all songs by Dodge (see pix) >
Dogtooth Violet "Dogtooth Violet" (Dogtooth, 1976)


(Produced by Dogtooth Violet & Jeffs Wells)
One of Houston, Texas's premier 1970s country-rock bands, albeit with a strong folkie strain... Apparently they were offered a record contract by Huey P. Meaux, but chose to release their own indie album instead... This record was the only one they released, and after the band split up its members went into various other bands...


<! http://dogtooth-violet.com/ - 01/18/15 - no content on website - 1975-?? http://musiccitytexas.org/wordpress/?page_id=1109 : "...In 1973 Bob Oldreive, helped form Houston's seminal country rock band Dogtooth Violet. Their high energy shows garnered a large regional following and soon they were opening for the likes of Willie Nelson, Waylon Jennings and Merle Haggard. Legendary producer Huey Meaux (Freddy Fender, BJ Thomas) offered them a recording contract but the band declined and disbanded after only one self produced album. Bob went on to play with other Houston acts, most notably Caught in the Act and Hickory." >
Andy Doll/Various Artists "Pop Nashville Sounds And Folk Favorites" (AD Records, 195--?) (LP)
Born in Wisconsin, guitar picker Andy Doll (1919-1984) was a pioneering Midwestern rocker with a strong regional following. He formed his first band in the early 'Fifties, before the advent of rock'n'roll, and later set up his own studio in Oelwein, Iowa, where he produced his own records, as well as sessions for other musicians. Although he's best remembered as a rockabilly singer, like a lot of the original rockers he started out country and often went back to the well, as on this album. The first side of the LP is just Doll and his band, while Side Two features a number of guest performers, including future radio celebrity Red Blanchard. Doll fostered local talents such as Bobby Hankins and steel guitarist Lefty Schrage (who went on to form their own band in the late '60s) Andy Doll kept his band together until 1969, then became a deejay on the local country station, KOEL, and for a while owned and operated a local music venue, the Coliseum Ballroom. Apparently there were also a number of special promo records sent out to Doll's fan club up until the mid-1960s.


<! 1950s AD 1002 LP Iowa Private Press - Doll pictured playing a double-necked guitar, ala Joe Maphis - no ASIN 02/10/15 http://www.rocky-52.net/chanteursd/doll_a.htm http://hubcitymusic.cloudmurphy.com/andy-doll-band/ Andy Doll "On Stage" (AD Records, xxxxx) (LP) Andy Doll "Country Capers" (AD Records, xxxxx) (LP) 'On Stage' contains 12 variety tunes, 6 of which were done by Guest Stars that the band has worked with. 'Country Capers' contains 12 tunes that came out in Europe and England. http://www.findagrave.com/cgi-bin/fg.cgi?page=gr&GRid=115692744 "...Birth: 1919 Crawford County Wisconsin, USA Death: Oct. 3, 1984 Iowa, USA Andy was born to Albert and Evelyn 'Degnan' Doll. He was raised on Wauzeka ridge, Crawford County Wis., with siblings; Paul, Lawrence, Marie, Dorothy and Irene. Survivors are his wife , daughters, a son, grandson, brothers and sisters. Funeral services were Saturday in Sacred Heart Catholic church in Oelwein. Burial was in Woodlawn cemetery. To some Midwestern music lovers growing up in the late 1950's, Andy Doll was a familiar name. Doll, his 7 man band, and 17 instruments traveled throughout the Midwest, playing in hundreds of ballrooms. Andy was known for his musical hits that included 'Goodbye Mary Anne', 'Highway to Heaven', 'The Banjo Waltz' and 'The Hot Chicken Polka'. Dolls band ranked second in a national western dance band poll conducted by the National Ballroom Operators Assoc. in 1959. His band finished second to Hank Thompson. He led his band through 1969, then worked as a disc jockey at Oelwein radio station KOEL, where he owned the Coliseum Ballroom. Vera Burkhalter of Prairie du Chien, Wis served as the president of the Andy Doll Fan Club, formed in 1957. She recalls that club members sent out records and promoted the band until 1965. According to Prairie du Chien Postmaster Clement 'Clem' Wachuta, Andy grew up in Crawford County, Wis on a farm on Wauzeka Ridge. Wachuta, a trumpet player, played with the first Doll band, assembled after WW II. With Wachuta on trumpet and Doll on guitar and sometimes clarinet, Doll's Swingtet made the rounds, playing often in the Prairie du Chien area. They often played at dances in Wauzeka, Boscobel and Gays Mills, Wis. It was during this time that Doll also taught school in Crawford County. He moved to Oelwein in 1952 and formed another band. One of Doll's albums, called 'On Stage' lists the members of his band and various guests who played on it. Band members were Chet 'Daddyo' Bradley, Clarence 'Chuck' Cherrier, Lefty Schrage and Larry Smith. Other members were Carlos Freymiller, Ike Thurn, Bobby Hankins, Bill Reints, and Harv Frederick. One side of the album featured guest performers: Mark Bee of Nashville singing an Andy Doll tune, "Tellin' You Johnny"; Donald 'Red' Blanchard, winner of many awards for his comedy and emcee of WGN's National TV Barn Dance in Chicago; Pewee King, who helped produce part of the Nashville sessions; Redd Stewart, co-writer with King on tunes such as 'Tennessee Waltz'; Gen Jay of Louisville, who sang another Doll tune, 'Have I Lived'; and Bob Hersom, who led the three-clarinet section of the band. (From family records.)" >


Johnny Dollar -- see artist profile



Peso Dollar "The Highway Man" (Ranch Records) (LP)


(Produced by Ray Sanders & Billy Williams)
Phoenix, Arizona's country-singing cop, W. O. "Peso" Dollar was a Highway Patrolman by day and honkytonker by night, leading his band, The Counterfeit Bills, throughout the 1950s and '60s and '70s. The next-gen denominations, son Mark Dollar and Amanda Dollar, led an "all-star" version of the band for a couple of decades, working as the house band for the Rustler's Rooste nightclub since the early 1990s. I'm not sure when this LP came out, but I believe Peso Dollar also cut some singles back in the rockabilly era, some of which have turned up on a "hillbilly bop" collection or two. I think this may have been his first album, as they go out of their way in the liner notes to explain how he was both a police officer and professional entertainer... The repertoire is heavy on western (cowboy) songs, stuff like "Cool Water," "Streets Of Laredo," "Tumbling Tumbleweeds," "Bad Brahma Bull," "Strawberry Roan" and "Ghost Riders In The Sky." No info on the musicians who were backing him, alas.


<! >
Peso Dollar "...Sings Cowboy Country" (Ranch Records) (LP)
This album also includes a bunch of western oldies, along with a few originals, including two by Peso Dollar and two by Ray Sanders.


<! - the same Peso Dollar who was on a Hillbilly Bop compilation? B00005A7P3 - no ASIN 05/12/15 http://www.livemusicearth.com/view_details_event.asp?IDget=2514&name=Phoenix : "...The Peso Dollar Band was formed by my father Peso Dollar in the early 1950's originally called the Peso Dollar and the Counterfeit Bills, we have worked, recorded and performed with some of the greatest artists and musicians in the world. Peso worked for the Arizona Department of Public Safety the Highway Patrol back then for 23 years and ran for sheriff of Maricopa County in 1978. He also was a spokesman for Bobby Unser and the N.K. Hurst Hambeen Co. Of Indiana, helping to make them the number selling bean soup in the USA. We now call the band the Peso Dollar Bandstand All-Stars because after 50 years of playing music we have been through a few musicians, each of them an All-Star in their own right. We have opened shows and performed with such artist as Roy Rogers, Rex Allen, Gene Autry, Jerry Lee Lewis, Eddie Raven, Vince Gill, Juice Newton, Don Henly, Joe Maphis, Eddie Adcock and many, many more. We have performed shows all over America and Canada from royalty to presidents, fro the Queen Mary to the Jackass Inn, and we have done all this while maintaining a steady gig for the last 21 years at the Rustler's Rooste in Phoenix, Arizona." >
Peso Dollar "...Sings Trail Rider Songs" (Ranch Records) (LP)



<! >
Peso Dollar "Arizona... A Little Bit North Of Old Mexico" (Cimmeron Records) (LP)



<! - #378791 - mostly honkytonk covers: "Pick Me Up On Your Way Down" - return address in Phoenix >
Don & Charlotte "My Little Corner Of The World" (Interstate) (LP)
(Produced by Don West & Tim Sprowl)
This New Hampshire duo featured singer-guitarist Don West and "girl" singer Charlotte (whose last name isn't mentioned in the liner notes), who were from Manchester and Londonderry, NH, respectively. Some songs are sung as duets, others as solo... They performed together for several years before this album came out, and their repertoire included a lot of early '70s countrypolitan hits -- stuff like Donna Fargo's "Funny Face," Conway Twitty's "You've Never Been This Far Before," "By The Time I Get To Phoenix," "Let Me Be There," and of course a couple of Marie Osmond hits. So... early '70s? 1973? Something like that?


<! - they look pretty "square" - is "Don" also Don West? late '70s??? Produced by from New Hampshire - all cover songs, some solo, some duets "Comments: Don & Charlotte are a country duo from New Hampshire - Don was born in Manchester and Charlotte from Londonderry. The album was produced at Diamond B Sound Studios in Farmington, NH. The liner notes, written by country musician Gene Hooper of Machias, Maine, tells us "Don & Charlotte have been singing together for the past six years. This album is their first recording and shows the versatility of both artists along with their love of country music...as you listen to this album you will sense the sincerity of both as they sing happy and sad songs." >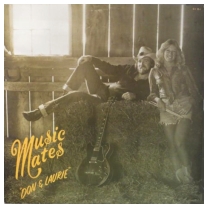 Don & Laurie "The Music Mates" (RJ Recording) (LP)
A (very!) 'Seventies private pressing country album from Hoffman Estates, Illinois... On the album cover, he looks like a John Anderson-esque longhaired dude, while she's in cutoffs and cowboy boots...


<! - #R/J DL-1 - no ASIN 03/04/15 >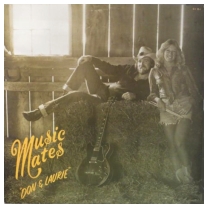 The Don & Tony Show "The Don And Tony Show" (QCA/Capitol Star Artist Records, 1970-?) (LP)
(Produced by Dave Wetzel & Bill Dengler)
Back in 1960, singers Donnie Lee Bailes and Tony Starr formed a duo, later expanding into the eight-person ensemble which made this record... They spotlighted a child performer named Junior Thomas, who sings on a tune or two, sandwiched between Don and Tony, who take turns singing lead on the other songs, including a version of "Before The Next Teardrop Falls." Amid a slew of classic country covers, there's one original, "Why Do You Roam," written by Tony Starr... they also cover "Help Me Make It Through The Night," dating this album to at least 1970. I'm not sure how long this group stayed together, but Bailes was still doing shows in Rochester, New York as late as the mid-1990s, fronting a band called the Cannonball Express -- quite a career!


<! - no ASIN 08/01/16 - was this the same Tony Starr who recorded with Buck Starr in Florida? doubtful. - "Before The Next Teardrop Falls" first charted by Duane Dee in 1968 - "Help Me Make It Through The Night" from 1970 >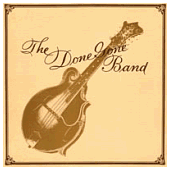 The Done Gone Band "The Done Gone Band" (Police Records, 1979) (LP)


(Produced by Max Berueffy)
This Mill Valley, California combo was pretty much a straight-up local bluegrass band, but they gained some notoriety for their cover of the Grateful Dead's "Friend Of The Devil" -- another "KFAT classic," if I recall correctly. It's a nice record. The thing I like about it is the mellow feel of their delivery... they aren't a fusion band, but rather choose to play traditional (and progressive) bluegrass without all the drag-racing pyrotechnics thta most hardcore 'grass bands go for. Also, there's a wealth of original material on here, with four songs from singer Don Humphries and a sizzling instrumental called "Old Red Mandolin," written by Tom Bekney. A nice, unassuming set of relaxed but rootsy picking.


<! 170 x 170 >

Dorothy (Freyberger) "Everybody's Mother Swings Heavy" (Studio 5, 19--?) (LP)
Like Cher and Nico, Minneapolis native Dorothy Freyberger (1921-2010) simply went by her first name, but fans also knew her by her nickname, "Everybody's Mother." She made her name as a frequent performer at the Minnesota State Fair and other local/regional events, as well as appearances on radio and TV. Her repertoire included pop and country oldies and covers of contemporary hits. Mrs. Freyberger occasionally worked with Sherwin Linton, another legendarily persistent, under-the-radar regional performer. This was the first of two albums she recorded -- not sure of the year, but I'm guessing these are both early '70s releases.


<! - #S5-9031 ~ 12573 - no ASIN 01/30/17 A1 Bill Baily 2:55 A2 Somsbody Loves You 2:57 A3 Tiny Bubbles 3:26 A4 Put Your Arms Around Me Honey 2:05 A5 Somebody Else Is Taking My Place 3:34 A6 You'd Be Surprised 2:41 B1 Hey, Look Me Over 2:10 B2 Some Of These Days 3:24 B3 Please Release Me 2:25 B4 Carolina In The Morning 3:05 B5 A Good Man Is Hard To Find 2:48 B6 Hey Ladi >

Dorothy (Freyberger) "Everybody's Mother Goes Country" (Studio 5, 19--?) (LP)



<! - #S5-7132 - no ASIN 01/30/17 "...Studio 5 Recordings, Box 644, Minneapolis, Minn, 55440. This is also her fan club address" A1 Big Momma 2:43 A2 Your Cheating Heart 1:52 A3 He's Got The Whole World In His Hands 2:24 A4 Crying Time 2:13 A5 Frankie & Johnny 3:08 B1 Harper Valley P.T.A. 3:11 B2 Too Old To Cut The Mustard 2:28 B3 Big Fat Gal 1:22 B4 First Thing Every Morning 2:17 B5 When The Saints Go Marching In - MN Private Press - born in Minneapolis - living in Hudson, Iowa(?) when she died... http://www.legacy.com/obituaries/twincities/obituary.aspx?n=dorothy-agnes-freyberger&pid=141184385 (1921-2010) >

Slim Dortch "Below The Dixie Line" (Kennett Sound/Lightning Ball Records, 19--?) (LP)
(Produced by Joe Keene)
A Tennessee native who started playing guitar when he was twelve, Henry Pierce "Slim" Dortch (1921-2000) moved across the nation chasing various radio gigs, such as the "Breakfast Time Frolic," on WJJD, Chicago, or the "Saddle Mountain Roundup" in far-distant Dallas, where he played with musicians such as Fiddlin' Arthur Smith and singer Ray Whitley. He's best known among rockabilly enthusiasts for his 'Sixties sizzler, "Big Boy Rock," which has a driving hillbilly soul-beat sound, perhaps not surprising for an uber-indie Memphis single, back in 1964. There is some really wicked twang-bar guitar on that platter, but even more impressive is the vigor with which the forty-plus years old Dortch really grinds into some sweaty, bluesy 'billy vocals. Anyway, this album came out years later and was recorded in Mack's Creek, Missouri with a small local band that included James Prince on lead guitar and steel, Lee Barnes on bass, Jeff Bost on drums, and Dortch singing ten of his own original songs. Mr. Dortch eventually settled down in Poplar Bluff, MO, where he passed away at age 78.


<! - no ASIN 08/16/16 > <! Slim Dossey "Reflections" (Slim Dossey Enterprises, xxxx) (LP) (Produced by Slim Dossey & Randy Bishop) - from Hayden Lake, Idaho - more folkie/singer songwriter - possibly solo acoustic >

Dotson, Lee & Middleton "Something Old, Something New" (Young Country Productions) (LP)
(Produced by Rick Sparks)
This Dallas-based Texas trio -- Dana Dotson, Pat Lee and John Middleton -- wrote about half the songs on this album, rounding things out with a medley of bluegrass standards and more contemporary tunes from Dan Fogleberg, Larry Gatlin and Michael Murphey, as well as a version of "Y'All Come Back Saloon," an early 1977 hit for the Oak Ridge Boys. Producer Rick Sparks also kicks in on several instruments, notably banjo, dobro and pedal steel, and other musicians chim in as well... I'm not sure if the "Young Country" studio had any connection to the band led by Randy Brooks, or if that was just a phrase and an idea that was in the air at the time. There's no date on the album, but I'm guessing at least 1978, possibly as late as 1980-81, judging from the band's photo: some major aviator glasses action!


<! - 70's Country Folk Bluegrass - Young Country MS 1001 - no ASIN 06/09/15 < >
Dottie Lou "...Sings One More Memory" (Oxboro Records) (LP)
(Produced by Gene Norell)
Fun stuff. Although she was an inconsistent singer, Bruno, Minnesota's own Dottie Lou Bolme exudes enthusiasm and real rural charm, evoking stars such as Lynn Anderson and Loretta Lynn, though she also tackles some tonier countrypolitan ballads such as "Drinking Champagne" and "There Must Be A Way," in addition to uptempo novelty numbers like "Little Arrows," "You Know Where You Can Go" and a version of Liz Anderson's "Ride Ride Ride." The liner notes identify her band The Tumbleweeds as a trio -- with Dottie Lou on piano, bass and vocals, Gene Norell on rhythm guitar and Toby Berndt playing lead -- but there's also some really swell pedal steel throughout with some fairly wild licks (though, sadly, no indication of who's playing...) There are also several original songs, including a few credited to the Newkeys Music publishing company, which represented Gene Norell along with Tom T. Hall, whose "Now I Lay Me Down To Cry," which is also spotlighted on this album. Great, honest album by some real-deal Great Lakes locals.


<! - last name Bolme (married name?) - local loser says 1969 - #OX-2020 https://www.facebook.com/public/Dottie-Lou-Bolme >

Double Gage "Live From The Cattle Baron" (Cattle Baron, 1980) (LP)
(Produced by Chris Terrance & Bob Martin)
This semi-shaggy Fresno-area bar band featured brothers Jim Gage and Jack Gage (hence the punny spelling of the group's name), along with lead guitarist John Hampton and bassist Hal Lee. The album was recorded live at the Cattle Baron steakhouse in Clovis, California back in October, 1979, with the band playing a mix of '70s rock hits and country covers such as "Family Tradition" by Hank Williams, Jr.


<! - no ASIN 03/17/15 - #CB-1000A/B >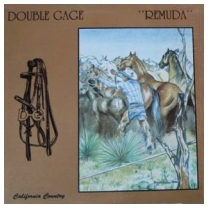 Double Gage "Remuda" (California Country, 1982) (LP)

Joe Dougherty "Rollin' On Down The Road" (Winged Victory, 1980) (LP)


(Produced by Joe Dougherty & Peter Mercure)
Self-released country stuff from Marietta, Georgia, near Atlanta... The liner notes say it's a mix of "country, rock, gospel and blues"


<! - private Atlanta country - looks promising! - liner notes say a mix of "country, rock, gospel and blues" - no ASIN 01/01/15 >

Bob Douglas "Fiddles Old Time Gospel Music" (197--?) (LP)
(Produced by Bill Trigg)
A Chattanooga local, Bob Douglas was a championship fiddler who took the Tennessee Valley Fiddle King title in 1969-70, in both the junior and the senior divisions. Here he plays some gospel oldies -- real chestnuts such as "Just A Closer Walk With Thee" and "Where Could I Go, But To The Lord" -- but with a full country band behind him, including piano and electric guitars. Bill Wilson plays dobro, with Dan Hatchett on banjo, and Colman Emberton playing lead. This was, I believe, his first album, recorded shortly after winning the Tennessee Valley competitions.


<! - #KPT-1011 - no ASIN 01/30/17 - from Tennessee - album recorded in Fayetteville; Douglas's address is in Chattanooga >

Bob Douglas "...Presents Waldens Ridge: Old Time Dance Tunes From Sequatchie Valley" (Tennvale-Collation) (LP)





<! Bob Douglas (fiddle), Coleman Emberton (lead guitar), John Sanders (rhythm guitar), Bill Trigg (bass) A1 Rye Straw A2 Hop Light Ladies A3 Waldens Ridge A4 Highland Waltz A5 Jordans A Hard Road To Travel A6 Monday Morning Blues A7 Ragtime Annie A8 Sequatchie Valley B1 Jenny In The Cotton Patch B2 Wink The Other Eye B3 Muddy Road To Ducktown B4 Mountain City Waltz B5 Cockleburr B6 Smoke Behind The Clouds B7 Old Molly Hare B8 Shady Grove >


Tony Douglas -- see artist profile



Jim Doval "Pardon Me Fer Starin' (But I Think I Love You)" (DBI Records, 198--?) (LP)


(Produced & Arranged by Jim Doval)
Turns out this is a pretty terrible record, but it has a really great back-story. Jim Doval (aka Sandoval) was the driving force behind the super-awesome garage-soul group, The Gauchos, a truly killer band from Fresno, California that was one of the most prominent latino rock groups of the 1960s. Fronted by the smouldering, seductive Sandoval, the Gauchos landed a regular gig on the Shindig teenpop TV show, but the group imploded in 1966 after failing to get onto the Ed Sullivan show. Later, Jim Doval retrenched and retooled himself as a lounge singer -- this disc is a memento of that era (with liner notes where Doval thanks the staff at the Gold Dust West, in Reno, Nevada, where he landed a gig as the casino's entertainment director...) I was drawn, like a moth to a flame, to the album's title track, which just had to be a country song... and it kind of is, in a Jimmy Buffett/Margaritaville kind of way. That song is okay, but the rest of the record quickly devolves into tepid, downtempo lounge-singer ballads. Only one twangtune, and then it gets really, really cheesy and low-energy. Side Two shows a little more life, with Doval delving into Latin pop stylings and a little bit of R&B, ending up with the perky "Uptown Caballero." Nonetheless, the much hoped-for country-rock record failed to materialize here. His other solo stuff seems to be more blues-oriented. Oh, well... I tried!!


<! "Uptown Caballero" originally a Gauchos song? >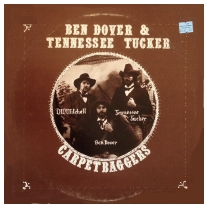 Ben Dover & Tennessee Tucker "Carpetbaggers" (Road Apple, 1977) (LP)


(Produced by Rick Snyder)
Despite the jokey band name (Ben... Dover... get it? get it??) the Atlanta, Georgia duo of Rick Snyder and Pat Coletta made some great, soft-edged Southern rock/country rock, as heard on this self-released debut record, which I believe was their first (and only?) release. Apparently the group was quite popular in the late '70s, and their approach was pretty straightforward, with a nice mix of rock guitars and country steel. The album is packed with great material, and not the parade of crass jokes you might imagine. The uncredited backing band was quite strong, and though this has the unpolished production sound of an uber-indie album, the arrangements and performances are high caliber, basically at the same level as the bands they were emulating. Fans of the various Capricorn label bands, or of groups such as the Marshall Tucker Band and the Outlaws will probably love this record; there's also a hint of soft-rock artists like Jim Croce, as heard on tracks like "Gypsy." All in all, a very strong indie album, worth tracking down and deserving of reissue.


<! Tom Sawyer Productions, Atlanta, GA Formed in 1977 in Atlanta, GA. Rick Snyder and Pat Coletta became "Ben Dover and Tennessee Tucker". Originally playing exclusively at P.O.E.T.S. Corner in Buckhead they rose to prominence as one of Atlanta's premier musical groups with lines at the door every night and standing room only shows. >
Dixie Dover "Haunting Memories" (Twileen Records, 1979) (LP)
(Produced by Clyde Varner & Tommy Strong)
Hailing from Birmingham, Alabama, singer-songwriter Dixie Dover wrote most of these songs herself, with one co-written with producer Clyde "Josh" Varner... The set includes her songs "Truck Driver's Dream," as well as "He's Living In Your House (But He's Sleeping In MIne)." Recorded in Nashville, this album has an all-pro studio crew, with folks like DJ Fontana, Willie Rainsfield, Dale Sellars


<! - no ASIN 02/10/15 - no info online 05/15 >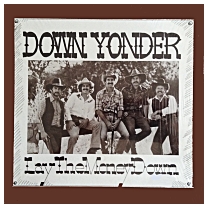 Down Yonder "Lay The Money Down" (1980) (LP)
(Produced by Joey Garcia)
A pleasantly twangy, amateurish SoCal country bar-band from Ramona, California... Tom Boston was a the main vocalist, with a few tunes each by bassist Steve Bisbikis and mandolin picker Larry Weddle, with Bisbikis contributing one of the album's handful of original songs, a rambling hippiebilly tune called "Arkansas." Other originals include "To Love That Kind Of A Woman" by Ray Borras and a couple of songs by Cal Roberts, "Lay The Money Down" and "Bright Neon Lights" -- these guys must have been friends of the band, although neither Borras or Roberts perform on the album, or are mentioned in the liner notes. Anyway, nice stuff from SoCal - not an earthshaking album, but charming and sincere.


<! no ASIN - 08/2014. Also no info yet > <! Larry Weddle became a math teacher in Poway, CA (???) - same Ray Borras who became a fishing guru? >
Down Yonder Band "Where's Adrian, Missouri?" (Tuff-Stuff Records) (LP)
I'm gonna make a couple of guesses here... One, this isn't the same band as the California band above and, two, they probably played at one of thoe many Branson-esque venues that populated Missouri back in the '70s and and early '80s. It might take me a while to track down the particulars on this one, though... And by the way? Adrian -- population tiny -- is located in Bates County, on the very Western end of the state, just South of KC.


<! - #TS-DYB-1 - no ASIN 08/25/15 - no info online >

Jimmy Doyle & Patsy Gayle "...And The Arkansas River Bottom Band" (Music City Records) (LP)
Jimmy Doyle Brewer was an Arkansas native who ran his own nightclub in North Little Rock for several decades. In the early 1950's, after a hitch in the Navy, Brewer headed out to the West Coast and landed a gig at the Corral Club in San Jose, California, where he stayed for several years. He later worked in Las Vegas and Reno, Nevada, eventually coming home to Arkansas where he opened his bar and hosted a local-access TV show. He met his wife, Patsy Gayle, in 1974 when she started singing at his club. I'm not sure how many records they made -- there are also a fair number of singles floating around -- but they played together and hosted live shows through many years and phases of country styles.


<! - no ASIN 08/01/16 http://www.arktimes.com/arkansas/the-story-of-jimmy-doyles-country-club/Content?oid=3504586 - 45 of "Good Time Truck Drivin' Man" on Music City label, c. 1975 - only lists Doyle as artist, not Patsy Gayle A darker side of their story came in 2011 when the Brewer's son was shot and killed by their daughter-in-law in a domestic dispute... >
Barry Drake "Happy Landing" (Capitol, 1971) (LP)


(Produced by Terry Knight)
I was drawn to this album by the presence of a couple of country-bluegrass twangsters in the credits, fiddler Kenny Kosek and Bill Keith (usually a banjo whiz, but here playing pedal steel) However, as a potential country-rock nugget, this record turned out to be a bit of a dud. A dud in general, I guess, although hardcore '70s soft-pop devotees might be able to look past Drake's thin voice and the overall derivative nature of the demi-psychedelic, Emitt Rhodes-ish pop-orchestral arrangements and enjoy this as a period piece. It's not awful, by any means, just resolutely mediocre. A couple of tunes have some twang to them, but nothing to write home about, really. Perhaps the most interesting thing about Barry Drake was his second act in rock'n'roll, in which he established himself as an official expert in all things rock, becoming a popular lecturer on the college circuit for folks who want his insights into several generations of rock and pop culture... To which this was his first personal contribution.
Barry Drake "Roadsongs" (Catskill Mountain Records, 1977) (LP)


(Produced by Barry Drake)
This album, self-recorded in a home studio up in the Catskills, mainly features Drake multitracked on a variety of instruments, with minimal help from other musicians on a few of the songs. Drake seems to have found a more comfortable stylistic niche for himself, playing in roughly the same mode as Paul Siebel, basically singer-songwriter folk, with an awareness of pop and blues in the mix. Some songs are interesting, like the album's opener, "Troubadours," where he talks about how he's dropped out and headed for the country while his music business friends are still doing their stuff out in the rat race... (My ear was caught when he name-dropped Loudon Wainwright III, who at the time was riding high on the cult success of his infamous novelty song "Dead Skunk"...) On Side Two, he lapses into a more distinctly John Denver-ish style, light, blithe folk-pop with pretty clear-cut melodies. Although Drake remains a fairly underwhelming performer, and many of the songs seem contrived -- particularly the character sketches of hobos and proud unbowed Confederate soldiers -- this is still a strong, authentic effort for the DIY folk scene of the time, derivative to be sure, but I think also a cohesive realization of Drake's artistic vision... If you're into obscuro-folk outings, this one's certainly worth a spin.
Barry Drake "Solo Survivor" (Catskill Mountain Records, 1982) (LP)


(Produced by Barry Drake)



<! Drake plays all the instruments >
Eddy Drake "Country Sounds Of Eddy Drake Today!" (Newhall Records, 1970) (LP)


(Produced by Cliffie Stone)
A lesser-known California honky-tonker, singer Eddy (aka "Eddie") Drake was born in Kentucky, but made his way out West after joining the Marine Corps, and settled into the Southern California scene, working with folks such as producer Cliffie Stone and the husband-wife duo of Johnny and Janie Mosby. His first solo recordings date back to 1959, where he sounded like a mix of Buck Owens, Wynn Stewart and Ray Price; by the time this LP came out, he was channeling the mojo of Waylon Jennings and Jerry Lee Lewis. Although Drake never really broke through as a solo artist, he did host his own television show for several years, and recorded numerous indie singles in addition to this lone full-length LP. He had a lot of studio firepower behind him for these sessions, including Earl Ball on piano, pickers Phil Baugh, James Burton and Al Casey on guitar, and some nice, choppy steel guitar courtesy of Carl Walden, an ex-rockabilly picker who did a lot of West Coast session work. The set includes a couple of originals credited to Eddy Drake, "I Had A Dream Last Night" and "Call Me In The Morning," as well as one called "As Tear Drops Fall," written by J. Dobbs and H. Coffman, which was from the same publishing company, Mixer Music. Nice stuff, with plenty of twang!


<! - NLPS-1970 THIS ALBUM: Eddy Drake (Eddy Drake [vcl], Phil Baugh [gt], James Burton [gt], Al Casey [gt], Glenn Keener [gt], Carl Walden [steel/harmonica], Red Wootten/ Donney Ray [bass], Sam Goldstein/ Sandy Bagono [drums], Earl Ball/ Clyde Griffin [keyboards]. Eddie Downs [hmny vcl]. Producer: Cliffie Stone) - recorded a bunch of indie singles, dating back to 1959's "I'll Leave The Front Door Open" - 1961's "Key To My Heart" produced by Johnny & Jonie Mosby - was he in their band? - b. 1940 - Carl Walden on steel - sounds like the same steel player as on his early singles(??) http://bb.steelguitarforum.com/viewtopic.php?p=887197&sid=0d2136acf0217574316ff45287d6b3f8 >
C. D. Draper "The Most Successful Failure In The World" (Curtain Call Records, 1965) (LP)
C. Dean Draper was a country singer from Englewood, Colorado who started his own label in the mid-1960s and released a number of novelty singles, such as "I'm The Only Hippie In Muskogee" and "The Most Successful Failure In The World" while playing gigs at a venues such as Earl's Toll Gate Tavern and Marvelous Merv's in Denver. He tried to bust out of the regional scene, but his biggest splash came when Buck Owens recorded one of his songs, "California Oakie," in 1976. He also produced some albums by other local artists...


<! no ASIN 01/18/15 >
C. D. Draper & The Outriders "Bright Lights, Blues And Lonely Memories" (Curtain Call Records, 1974-?) (LP)





<! - no artist listed on Amazon - send them info? >

(Hank Williams Original) Drifting Cowboys Band "Classic Instrumentals" (Delta Records, 1981) (LP)



<! - #DLP-1114 - no ASIN 06/22/17 >

(Hank Williams Original) Drifting Cowboys Band "One More Time Around" (Delta Records, 1983) (LP)





<! - #DLP-1146 per: https://rocky-52.net/chanteursd/drifting_cowboys_band.htm Drifting Cowboys Band "We Remember Hank Williams" (MGM Records, 1969) (LP) Drifting Cowboys Band "The Best Of Hank Williams Drifting Cowboys Band" (Westwood, 1977) (LP) Drifting Cowboys Band & Jim Owen "A Song For Us All: A Salute To Hank Williams" (Epic Records, 1977) (LP) Drifting Cowboys Band "The Best Of Hank Williams Drifting Cowboys Band" (Boll Weevil Records, 1979) (LP) - radio airshots? Drifting Cowboys Band "Tribute To Hank Williams" (Standing Stone Records, 1979) (LP) Drifting Cowboys Band "Sing Along With..." (Look Records, 198-?) (LP) (Hank Williams Original) Drifting Cowboys Band "Classic Instrumentals" (Delta Records, 1981) (LP) (Hank Williams Original) Drifting Cowboys Band "One More Time Around" (Delta Records, 1983) (LP) Drifting Cowboys Band "Hank Williams Instrumentals" (Landmark Records, 2000) (LP) (reissue of Delta LP ) >

Dry Creek "Live And Kickin' " (Widget Records, 1978) (LP)


(Produced by Terry Skinner & Dry Creek)
These guys were the house band for a place called Johnny's Club, in Iron City, Tennessee... The set list includes covers of "Waltz Across Texas," "Hell Yes I Cheated," "Sweet Home Alabama," and a Hank Williams medley...


<! - #W-10021 - artists listed by name, but not by instrument >
Dusty Drapes & The Dusters "Dusty Drapes & The Dusters" (Columbia, 1974) (LP)
This was a group of (formerly longhaired) hippies from Boulder, Colorado who "went country" in the early '70s as a way to stand out from the crowd in the rock-oriented live music scene. Dusty Drapes was the cowboy alter-ego of bandleader Steve Swenson, who in 1972 came up with the idea of the guys in the band cutting their hair short and wearing matching polyester suits, as if they were a standard-issue country bar band. At first it was just a gag, but as they got better and dug deeper into hillbilly twang, the Dusters morphed into a capable western swing band, and got more serious about their twang. They were a band seemingly right on the edge of fame -- including this brief major-label fling with Columbia Records -- but eventually like most great local bands, they had to call it quits. Founding member Dan McCorison had some success in Nashville and LA, and recorded a commercial country album for MCA; guitarist and Americana icon Junior Brown was apparently in a late edition of the band, though I don't think he ever recorded with them. The Dusters remained a popular group up until the early '80s, and have played a lot of reunion shows over the years...
Dusty Drapes & The Dusters "Dusty Drapes & The Dusters" (Too Cow Records, 1981) (LP)


(Produced by Jim Mason)
This was their second LP, also known as the "red album..."


<! - from Longmont, Colorado, c. 1972-80 - Steve Swenson, aka frontman Dusty Drapes, along with Dan McCorison, Eugene Smith, Lonesome Rolan and Rick Schmidt, others - Junior Brown was in a late edition of the band (on this album??) - also recorded a single for Columbia Records, "Hackensack" http://www.dailycamera.com/entertainment/ci_24225311/dusty-drapes-and-dusters-legendary-boulder-band-playing-again http://www.westword.com/music/when-country-wasnt-cool-5065966 http://www.danmccorison.com http://cocktailstevie.com/biography.html >

Lee Dresser & The Krazy Kats "Beat Out My Love" (Fury Records) (CD & MP3)



This reissue label collection gathers over thirty tracks by Kansas City rocker Lee Dresser (1941-2014) and multi-instrumentalist who formed a high school band called the Krazy Kats in 1957 and scored a few regional hits before getting drafted and sent to Vietnam. When he came back to the States, Dresser headed for LA and fell into steady session work as a harmonica player, backing pop and country stars throughout the late '60s and '70s. The Krazy Kats got back together in 1980, and Dresser moved back to KCMO to play with them full-time a few years later, playing with the band up until he passed away from leukemia in 2014. This compilation mainly features his early stuff from the late 'Fifties and early 'Sixties -- lively, Jerry Lee Lewis-inspired (though sometimes kinda surfy) rockabilly, including unreleased demos and the band's best known song, "Beat Out My Love," a mildly naughty song which is frequently anthologized on rockabilly reissues. There's also some stuff the Krazy Kats recorded after they got back together... It's not very innovative, but it sure is fun!


<! - RIP 1941-2014, d. from leukemia >

Lee Dresser "El Camino Real" (Amos Records, 1969) (LP)


(Produced by Jimmy Bowen)



<! - #AAS 7003 - Bowen-? - also, year-? >

Lee Dresser "To Touch The Wind" (Bella Linda Records, 1975) (LP)


(Produced by Doug Gilmore & Doug Decker, Dennis Bachmann & Ivan Fisher)
This country-flavored album shows Dresser fully entrenched in the LA music scene, backed by an impressive studio made up of some of the elite pickers in the West Coast country-rock and bluegrass scenes, including Larry McNeely, Dan Crary, Glen D. Hardin, along with steel players Al Perkins and Red Rhodes. Dresser plays banjo, guitar and harmonica and wrote all but two of the songs -- the exceptions were the title track, "To Touch The Wind" and "Wilderness Family," which were both apparently from a 1975 feature film called "The Adventures Of The Wilderness Family."


<! >

Lee Dresser "The Hero" (Air International Records, 1983) (LP)


(Produced by Mark Sherrill)
This later album was recorded in Nashville with session players such as Hargus Robbins and Bobby Thompson, as well as several less well-known players


<! - also Hank Str., (sp?) http://www.kansascity.com/entertainment/ent-columns-blogs/back-to-rockville/article346967/Lee-Dresser-of-the-Krazy-Kats-has-died.html "...after college and a stint in the U.S. Army, where he served in Vietnam, Dresser found work as a musician in Los Angeles, performing with Dolly Parton, Merle Haggard and others, and released a solo album." http://www.allmusic.com/artist/lee-dresser-mn0000274705/biography "...Relocating to Los Angeles, after receiving his honorary discharge, Dresser found employment as a guitarist and harmonica player for Danny Thomas, Dolly Parton, Merle Haggard and the Oak Ridge Boys. Signing with Capitol, he recorded several singles in the early-1970s and represented the United States in the World Popular Song Festival, in Tokyo, in 1972. His vocals were heard on the soundtrack of 1975 film, The Adventures Of The Wilderness Family, and during the Country Bear Jamboree show at Disney World. His songs were covered by Pat Boone, Bobby Sherman, the Osmonds, Trini Lopez and Ray Price." >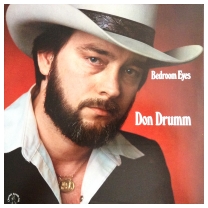 Don Drumm "Bedroom Eyes" (Churchill Records, 1978) (LP)


(Produced by Bob Millsap)
A really nice set of independently-produced 'Seventies style honkytonk pop, from New England-born singer Don Drumm. He wasn't any great shakes as a vocalist, but this is a fine set of songs, with plainly-arranged, straightforward accompaniment. I enjoyed it quite a bit. Most of the songs were written by his pal, Ray Hillburn, who sings backup along with the Cates Sisters, who were making a go of it themselves on Ovation Records around the same time. Side One of the album is packed with Hillburn songs, including a couple that hit the Top 40 ("Bedroom Eyes" and "Just Another Rhinestone") while Side Two has a wimpier, poppier sound, finishing up with the only track written by Drumm, "You'd Be Beautiful (In A Children's Book)" which is actually a better song than the title implies. Highlights include "Brother, I'm Glad She Found Me" and "Sad Songs" (again, written by Ray Hillburn) and their cover of Chips Moman's outlaw anthem, "Luckenbach, Texas." This is swell record, a modest late-'70s gem that reminds me of Bill Phillip's "comeback" album of the same era. Worth looking for.




Alan Dryman "The Alan Dryman Show -- Live" (Juke Box Records/United Image) (LP)
(Produced by Bert Frilot & Lonnie Wright)
A country music impressionist... The liner notes say he was born in North Carolina and started performing while living out in San Diego, California. Dryman had moved to Houston, Texas by the time this live album was recorded. His impersonations include Johnny Cash, Marty Robbins, Merle Haggard, Hank Snow and Ernest Tubb, as well as a more "pop" personalities such as Dean Martin and Elvis Presley.


<! - #LP-5000 - no ASIN 04/25/16 >
Duane & The Country Squires "Swingin' Country" (1973-?) (LP)
No solid info on this one yet, but if anyone's got the 411, I'm all ears. The album includes songs such as "Truck Drivin' Woman" (a 1968 hit for Norma Jean) and the Connie Francis oldie, "My Heart Has A Mind Of Its Own" as well as several other cover songs, like Merle Haggard's "Swinging Doors" and "Pass Me By." I'm guessing at the release date of 1973, based on the inclusion of "Funny Face," which was a big song for Donna Fargo in '72.


<! - no ASIN 04/14/15 - was there a female singer in this band? An awful lot of songs here that were originally recorded by gals >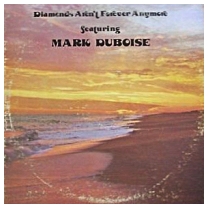 Mark Duboise "Diamonds Aren't Forever Anymore" (Duboise Records, 1978) (LP)
(Produced by Don Cartee & Alan Cartee)
I can't tell you much about this one, other than that Mr. Duboise appears to have been from Alabama, and was one of the many way-off-the-radar artists who recorded an album through what I've started calling "the beach label," a vanity/custom service that recycled the same photograph for numerous LPs. Anyway, the liner notes say this one was recorded in Muscle Shoals, Alabama and the backing musicians are an interesting lot: Lenny LeBlanc, who had a few modest pop hits under his belt, is the bass player, while Jerry Wallace plays rhythm and lead guitar, with Doug Jernigan on pedal steel and Tim Henson tickling the ivories... The backup singers include Ava Aldridge and Sue Richards, two country second-stringers from Alabama who had a few hits in the '70s. Apparently all the songs on here were originals (except for a cover of "Green Green Grass Of Home"), all written by producer Alan Cartee, who was kind of a jack-of-all-trades -- songwriter, engineer, etc. -- who later opened a successful sound studio in Nashville.


<! - no ASIN 03/17/15 - from Alabama - songs copyrighted 1978: She don't care who holds her (when she turns out the lights) Date of Publication: April 28, 1978 Date of Creation: 1977 Title: She don't care who holds her (when she turns out the lights) / M. Duboise [i.e. words & music Mark Duboise] Appears in: Diamonds aren't forever anymore. : 1 sound disc : 33 1/3 rpm, stereo. ; 12 in. ; side 2, band 1 Copyright Claimant: Alan Cartee Music Read more: http://www.copyrightencyclopedia.com/she-dont-care-about-me-not-being-what-the-ideal-man-should-2/#ixzz3UfKLXoh9 >
J. E. Dudgeon "Look Ahead..." (1982) (LP)



<! - no ASIN 07/15/15 - #BbM 101 Richard Baker: Mandolin John Bryant: Backing Vocals J.E. Dudgeon: Lead Vocals, Acoustic Guitar Michael Bogdan: Guitar, Bass, Keyboards, Drums Dan Bemi: Harmonica Ken Drost: Pedal Steel Mark Matker: Violin Mike Miles: Banjo Joe Ott: Bass, Engineer Bob Sheldon: Drums Theresa Dixon: Backing Vocals Deb Grahm: Backing Vocals Barb Lakomiak: Backing Vocals >
Bill Dudley "Nashville Moves North" (Paragon, 1968-?) (LP)
Although he was born in Missouri, honkytonker Bill Dudley only hung around Nashville for a few years before sensing that he might have more opportunities up North in Canada. Earlier, Dudley had cut some singles for Capitol Records, but he had to hoof it up to Toronto to get out a full album. This is packed with low-tech twang -- simple arrangements that match his plainspoken vocals. Authorship of most of the songs is credited to Dudley, but many are just thinly-disguised ripoffs of better-known Nashville hits (such as "Poor Poor Me," which is a shameless lift of Don Gibson's "Lonesome Me") while several others, like "Oh Please Mr. Conductor" and "I'm Just Here To Get My Baby Out Of Jail" are hillbilly chestnuts that Dudley didn't even try to gussy up into "new" versions. Like a lot of Canadian artists, he pulls out the regional pride card on the album's opener, "My Nova Scotia Home" (a Hank Snow oldie) while he also makes a brazenly direct appeal for radio airplay with "Top Ten In Heaven," a recitation tune that's kind of like Tex Ritter's "Hillbilly Heaven," except that instead of naming country musicians, he lists a bunch of country deejays -- by name -- in the lyrics of the song. Not very original, obviously, but a fun record nonetheless.


<! - no ASIN 03/26/15 - no date or producer info >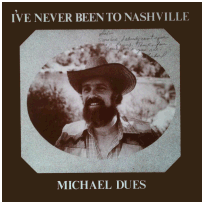 Michael Dues "I've Never Been To Nashville" (Copperwood, 1979)



(Produced by Brian Cutler)
A thoughtful, craftsmanlike album from this Sacramento-area songwriter. A nice mix of country and folk, with a local bluegrass band, The South Loomis Quickstep Band, providing a lot of the musical backing. Many of the songs are a bit dense thematically, but overall it's a very listenable album, particularly the more country-sounding, pedal steel-driven numbers. Many songs explore loneliness and romantic yearning, and may cut a little closer to the bone than is entirely comfortable, but overall this holds up well. I'm a sucker for country novelty songs, so "The Great Composer" (about a guy who can't write good country songs anymore because he's too happily in love) is a highlight, as well as the title track, "I've Never Been To Nashville," about a songwriter who stays home rather than seeking fame and fortune in the big city. I'm assuming this one was fairly autobiographical, and while Dues shows a lot of talent, maybe he was too square-peggy for Music City -- but the music he left behind sure sounds nice! I think he recorded a few other albums as well, though I haven't tracked them down yet...


<! Much of the music is beautifully played by members of the South Loomis Quickstep Band... Michael Dues "Being Human" (Dream Theme, 2009) B0032IYKCG Michael Dues "Distance Is A State Of Mind" (xxxxxxxxxxx, xxxxxxx) B0010770XM 1. THE SHE'S ON MY MIND AGAIN WALTZ 2. OKLAHOMA LONELY 3. THAT WAS JUST THE WHISKEY TALKIN MARTHA 4. HUNGRY HEART BLUES 5. OCTOBER WIND 6. HER NAME IS COLORADO 7. MISSING TEXAS 8. SOUL TAKER 9. SAFER TO PRETEND 10. THAT'S NOT THE MAN I AM 11. BACK IN KENTUCKY 12. I FIND YOU 13. WHERE TO FIND ME http://whenintime.com/tl/discography/Michael_Dues >
Duke And The Drivers "Cruisin' " (ABC, 1975) (LP)


(Produced by Eddie Kramer)

Duke And The Drivers "Rollin' On" (ABC, 1976) (LP)


(Produced by Deke Richards)
Fake hippie country from a Boston-based longhair boogie band... Actually, it's not country at all, more like latter-day whiteboy boogie rock/R&B, along the lines of the Blues Brothers, but for some reason the band chose to record in anonymity, with the cover art looking like a parody of the CB-trucker fad that was then current in the country charts... Doesn't have much to do with the music on the album, though, which is pretty spazzy and unremarkable. I guess if I'd been really drunk or doing a lot of coke back in the '70s, this would seem like fun music to party to, but several decades later, it doesn't seem like much to cheer about. Note to country fans: don't fall for the packaging -- this ain't got no twang.


<! 144 x 144 >

The Dumplin' Valley Boys "Welcome To Dumplin' Valley" (xxx) (LP)
(Produced by Elmer Cole & Jim Stabile)
I'm not sure if "Dumplin' Valley" is an entirely real place, but there is a Dumplin' Valley Road a few miles out of Knoxville, Tennessee, and apparently that was the stomping grounds of this amiable country gospel band. They were cowboy hatted twangsters who played with steel guitar and an all-gospel repertoire that includes a half-album's worth of original compositions by Kyla Rowland, and one by Eulalia Martin, neither of who were in the band, but I imagine they were friends or relations...


<! - date, label name, cat# nv - from Great Smoky Mountains - no ASIN 07/02/17 - though there is a single listed at B00UPAVKTU "from the album "What A Blessing!" >

Gary Dunbar "Lonely Song" (North Country, 1977)
(Produced by Gary Dunbar)
Kind of folkie sounding, but with pedal steel, and country-themed lyrics... This record has an odd origin, tracing back to a Grand Rapids, Michigan rock band called Band X, who "went country" and changed their name to North Country in 1971. Dunbar was a friend of the band who kind of inherited their name, and a couple of guys from the original group -- Jay Fortier and Roger Tarczon -- backed him on this record...


<! - #7101N1 "...Gary plays piano,bass,synthesizer,acoustic guitar and his brother Dave handles the drums & sister Debbie engineers...also some loungy soft-prog,introspective folk/rock,a couple of country rockin' tunes... "Another Lonesome Highway Song" , "Tired Cowboy" , "Sweet Sadness" - no ASIN 02/14/15 - from Michigan: http://www.grandrapidsrocks.com/bands/band_x.php http://www.westmichmusichystericalsociety.com/band/ ... changed name with Roger Harcourt as songwriter, Jay Fortier and Roger Tarczon leading band. For a while future Hee-Haw actor Misty Rowe sang with the band (c. 1970) Band ended in '72. "...Following the break up, Roger Harcourt recorded two solo solo albums. The first of these, "And The Horse You Rode In On", contained the song "North Country", which featured musicians from Band X. In 1975, the former members of Band X put together a loose collection of musicians who played under the moniker of Wooden Nickel. They performed mostly cover tunes at wedding receptions, anniversaries, or other gigs that became available." >
Billy Duncan "Loving You" (Ludwig Sound) (LP)
(Produced by Tommy Melder)
This guy was from Texas, had Randy Cornor playing guitar on this album, and seems to have written a bunch of original material as well... Other than that, I haven't found out much about the where, when or how of this record. Any info is welcome!


<! - #LS-416 >

Johnny Dunn "Sweet Lies" (F & L Records, 1980-?) (LP)
(Produced by Hank Strzelecki)
Studio professional Hank Strzelecki was the driving force behind this album, arranging and producing the sessions, playing bass and contributing a couple of his own songs. In addition, he provides two tunes by writers using Strzelecki's publishing company, including one by Donald Vince, a friend of Johnny Dunn's who set the singer up with Strzelecki... There are also three songs written by Sid Linard, who was riding the wave of his anti-Iranian novelty songs, "A Message To Khomeni," which thankfully was not covered here. He's backed by an all-star studio crew: Tommy Allsup, Phil Baugh, Buddy Emmons, Lloyd Green, Hargus Robbins, Dave Kirby, Buddy Spicher... alla them guys. The liner notes mention Dunn flying down from "the windy city," so I guess he was from Chicago... anyone know for sure?


<! - no ASIN 08/05/16 - #F&L 1000/80-102 - also issued on Vulcan Records #VR-1000 - same Johnny Dunn who sang Northern soul on Veep, Hull labels??? >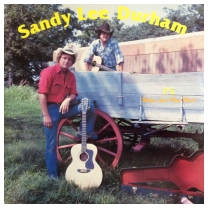 Sandy Lee Durham "PS: Better Late Than Never" (Ameritone, 1981) (LP)


(Produced by Sandy Lee Durham)
Usually on these "private press" records the back-story is a mystery and half the fun is imagining what circumstances were involved when it was made... Here, though, Southern California songwriter Sandy Lee Durham puts it all out there, writing in the liner notes about how he bought two one-way tickets to Nashville for himself and his pal, Fred Cardenas, and headed for Harold Shedd's studio to cut this humble album... The studio crew dutifully made space for Cardenas to add some sometimes-clumsy guitar licks, and Durham himself has a nice, regular-guy voice -- this is a real, live vanity record made by a couple of guys who just wanted to make a record and be able to say they did it... Durham also writes in the liner notes about God and prayer, not in the usual unctuous style of modern-day evangelicals, but rather as a guy who acknowledges his own weaknesses and shortcomings, as a mark of his own frailty and need for love and acceptance. Equally touching is how he writes with great conviction about how he made a real connection with the Nashville studio pickers, and how he was sure they would remember working with him. Who knows? Maybe he's right. (He even includes the lyrics to a song he wrote for Harold Shedd and the Music Mill musicians, though sadly didn't record on this album...) Half the songs are Durham's originals, including a sweet, folkie song dedicated to his son, and there's also an instrumental by Cardenas... The rest of the songs are covers of songs by Jimmy Buffett, Jim Croce and Kris Kristofferson, as well as a nice version of "Peaceful Easy Feeling" by the Eagles. I'm a pretty cynical guy, I guess, but I did honestly find myself charmed by this unpretentious, self-made album... Like a lot of other musicians, Durham and Cardenas bought another pair of one-way tickets back home, but it's nice they made it to Nashville and made the record they wanted to make.


<! - no date on the album, though 7/12/80 date is given to several songs - two pix uploaded - both look blurry 11/18/15 >
Duster "Live At Weninger's Post House" (Brothers Records, 1979) (LP)
(Produced by Duster)
A Canadian band from Kelowna, British Columbia, playing mainly covers, with some trucker songs in the mix...


<! - no ASIN 04/20/15 >
Dusty Chaps "Honky Tonk Music" (Bandoleer, 1975) (LP)





<! Dusty Chaps "Honky Tonk Music" (Bandoleer, 1975) (LP) B001HPSENM This is their first lp in 1975, NOT 1977. The label is Bandoleer. Tracks are: THE KISS OF THE HOPS; DRUNKEN MISTAKE; NO DAMN GOOD; THE HOOCHIE COOCHIE MAN'S BEEN HOOCHIE COOED; HONKY TONK MUSIC; ROUNDER; BACK IN THE WOODS; HEAT STROKE; INVISIBLE MAN; JUKE JOINT DADDY; TOO MANY PRETTY WOMEN; FAST SONG >

Dusty Chaps "Honky Tonk Music" (Capitol, 1977) (LP)

Dusty Chaps "Domino Joe" (Capitol, 1978) (LP)





<! Shep Cooke plays on this album >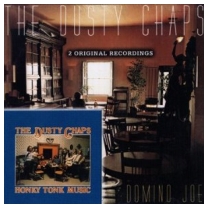 Dusty Chaps "Honky Tonk Music/Domino Joe" (Zyx, 2008)


A CD reissue of two '70s albums from this dimly-remembered, novelty-oriented hippiebilly outfit, Tucson, Arizona's answer to the Lost Gonzo Band... I used to hear a bunch of these songs on the legendary FM freeform station, KFAT -- "Don't Haul Bricks On 66," "Honky Tonk Music," "Too Many Pretty Woman (To Love Just One)" "Keep Your Hands Off Her Stranger," "Chile Today, Hot Tamale" -- and while the lead singer still isn't the most robust vocalist you'll ever hear, this is certainly a singular batch of songs, stuff that only these guys could have come up with, or pulled off so well. Worth checking out, but probably mostly as a nostalgia trip for folks who remember these guys from 'way back when.
Dusty Road "Dusty Road" (Thunderbird Recording, 197--?) (LP)
This country-rock trio from Burford, Ontario played plenty of original material written by bandmembers Brian J. Callahan, Leslie Childs and John K. Gulley, including Gulley's "Canadian Cowboy," and one called "Country Pickin' Man," by picker Fred McKenna, who penned the liner notes. Dunno if they made any other albums, though, or exactly when this one came out, though Mr. McKenna passed away in 1977.


<! - #TBR-1025 - early '80s(?) no date on jacket or disc - no ASIN 08/01/16 - Fred McKenna passed away in 1977, so this must be earlier than that >

Jerry Dycke "Memphis Country" (Aries Records) (LP)


Singer Gerald Dyche (aka Jerry Dyke, or Jerry Dycke) was a kid from Auburn, Kansas -- near Topeka. As a teen he appeared on the Brush Creek Follies hillbilly variety show in Kansas City, and tried his hand at both country and pop material at the start of his career. He cut his first single in 1958 while still in college, recording a couple of songs written by local deejay Bob Bobo and went on to record sporadically over the years. In the late '60s he recorded at Sun Records, and during the '70s and early '80s cut several records for the Nashville indie, Churchill Records, grazing the back end of the Top 100 a couple of times in 1980-81. Although he was born in the Midwest, Dycke moved to Fort Myers and became known as a Florida-based artist.


<! - #ALP 1001 Tracks: You went out of your way (to walk on me) -- Sittin' and thinkin' -- By the time I get to Phoenix -- A time for you and me -- How come every time I itch (I wind up scratching you) -- Will the circle be unbroken -- The train never stops (in our town) -- Green green grass of home -- A habit I can't break -- Billy Lee's country band -- A little more, a little less -- Things. - worked with Terri Gibbs' producer, Jerry Gillespie, circa 1982, when signed to Churchill http://www.jerrydycke.com/discography.html - big article in Emporia Gazette, 1958: http://www.garagehangover.com/country/us/kansas/ 01/01/17 - LK emailed GVD - he wrote back 01/02/17 :-) >
Jerry Dycke "I Never Said Good-Bye" (Aries, 1980) (LP)
(Produced by Ed Penny, Charlie Bragg & Jim Williamson)
This album was recorded in Nashville, with studio pros such as Hargus 'Pig' Robbins and Charlie McCoy in the band. The album features four songs written by producer Ed Penny, while Jerry Dycke contributes one original song of his own, "Daddy Played Harmonica," which turned out to be one of his two entries into the Billboard charts. (The other song, "Beethoven Was Before My Time," is not included on this album, and may have come out only as a single...)


<! - #ALP 1002 - no ASIN 03/27/15 - date per BB charts - engineered by Charlie Bragg, Jim Williamson A1 I Never Said Good-bye 4:05 A2 My Shoes Keep Walking Back To You 2:47 A3 Oh,Pretty Woman 2:57 A4 There's Nobody Home On The Range Anymore 4:03 A5 Daddy Played Harmonica 2:43 B1 She's Gonna Love Me 3:38 B2 Someone Who Believes In Me 2:09 B3 Who's Gonna Love Me Now 2:53 B4 Midnight Flyer 2:52 B5 Where Do You Go >

Connie Dycus "Let Ole Lonesome In" (Country's Finest Disc Records, 1972) (LP)
(Produced by Wayne Raney, Harry Glenn, Rose Maddox)
Originally from down south, Connie Dycus grew up in Arkansas but moved up north to Flint, Michigan where he was a country deejay and hosted his own TV show, while also working a day job at a General Motors factory... Dycus was a first-generation rockabilly/rock'n'roll star, recording tracks with Jim Minor and as a solo artist -- in 1958, he cut a single for Mercury Records, "Rock-a-Bye-Baby Rock"/"Mind If I Cry" and recorded steadily through the early '60s, releasing singles on a variety of small local labels, including Wayne Raney's Rimrock Records. Raney also produced this early 'Seventies LP, which was partly made up of late 'Sixties recordings. Dycus wrote ten of the twelve songs on here, and covers the Merle Travis oldie, "Dark As A Dungeon," which was also released as a single on Rimrock. Dycus eventually moved back to Arkansas, and passed away later in life.


<! - no ASIN 09/28/15 >
Bob Dylan "John Wesley Harding" (Columbia, 1967)



(Produced by Bob Johnston)
It's pretty hard -- and maybe a little silly -- to try and pin down when Dylan "started" playing country music, since he's always been such an eclectic and innovative songwriter, and there's never been as much distance between "folk" and "country" as many people think. Anyway, this album is notable for some session cut in Nashville with session players such as Pete Drake and Charlie McCoy, and while it's hardly "a country record," the twang is definitely there. People love this record, though personally I never need to hear "All Along the Watchtower" again, in any version, and as a country fan, I find Nashville Skyline (below) to be an infinitely more satisfying album.


<! Bob Dylan – guitar, harmonica, piano, keyboards, vocals Additional musicians Kenneth A. Buttrey – Drums Pete Drake – pedal steel guitar Charlie McCoy – bass guitar >
Bob Dylan "Nashville Skyline" (Columbia, 1969)



(Produced by Bob Johnston)
Dylan seems to have liked being in Nashville, and he went back to record another album there, arguably better and more concise -- a real gem. This album boasts several classic tracks, notably "Lay Lady Lay" and the sublime "Girl From The North Country," which features harmony vocals by Johnny Cash, an establishment rebel who championed Dylan's songs at a time when conservative Nashville viewed him as a leftie longhair, and certainly not a source of good songs. Their duet isn't musically cohesive, but it has a beautiful, joyful feel and was certainly historic, with Cash annointing Dylan with country cred and Dylan bringing the Man In Black to the attention of the hippie hipoisie. Backed by several of the same studio pickers as John Wesley Harding, Dylan seems in really good mood -- relaxed, open-hearted, playful -- and the studio pickers sound happy to let their hair down and play some funky riffs for the rock god... It's certainly one of my favorite Dylan albums, and not just because of the twang factor... Recommended!


<! Kenneth A. Buttrey – drums Johnny Cash – vocals Fred Carter, Jr. - guitar Charlie Daniels – bass guitar, guitar Pete Drake – pedal steel guitar Marshall Grant – bass guitar on "Girl from North Country" W.S. Holland – drums on "Girl from North Country" Charlie McCoy – guitar, harmonica Bob Wilson – organ, piano Bob Wootton – electric guitar on "Girl from North Country" >
Bob Dylan "Bootleg Series, v.10 -- Another Self Portrait: 1969-1971" (Columbia Legacy, 1970/2013)



Much reviled, but better than those old hippie-era critics thought it was... I tend to think of Bob Dylan's oft-reviled 1970 Self Portrait album as one of the first records he did where he wasn't trying so hard to prove a point, where he just let go of the rock star thing and followed his own interests as a music fan, rather than as a much-parsed, groundbreaking iconic innovator. That impression is borne out by the release of the tenth volume in his self-curated "Bootleg" series, where outtakes and demos from those sessions reveal just how deeply he was getting into reconnecting with his simpler folkie roots. There are alternate versions of songs that appeared on the album, as well as a number of tracks that were recorded at the same time, but not included in the final 2-LP set. A lot of these are straight-up folk songs, chestnuts like "Pretty Saro" and "Railroad Bill," as well as a demo version of the old murder ballad, "Little Sadie," which did make it onto the album, albeit in souped-up form. What I hear in these sessions is Dylan the flashy, genre-busting songsmith going back to the well, relaxing a little, taking the time to actually enjoy the kind of music that originally inspired his love of folk music, and using that experience to propel himself forward. Many of these tracks are just Dylan and acoustic guitarist David Bromberg farting around and jamming, alternating between goofiness and sincerity, but palpably having fun with the music. You can sense, as well, that while he's pickin' and singin' these old-fashioned hootenanny tunes, Dylan's subconscious mind is moving along a little further down the line; while he relaxes and takes the pressure off, the familiar old melodies quietly open up new creative paths -- you can also sense that Bromberg knew this as well, and was just there to give Dylan the kind of unfussy, unhurried accompaniment he needed at the time. It's a fascinating aural document: Self Portrait was panned at the time, and though it's retroactively gained a loyal following, it still remains one of his lesser albums. For my money, these demos and outtakes supersede the studio album, revealing the richer emotional undercurrent to a record that many perceived as a pointed rejection of fame and the expectations pressed upon Dylan by his critics and his fans. These sessions show something else: a musician rejecting the pressures of celebrity so that he could simply enjoy music again.
Bob Dylan "Blood On The Tracks" (Columbia, 1975)



(Produced by Bob Dylan)
This is my number one, all-time, mostest favorite Bob Dylan record ever, an immensely rewarding album that keeps standing the test of time, again and again and again. Dylan is fully committed to this set -- he's vibrant, intense, alive, playful and acidic, and concise in a way he hadn't been in years. The disc is packed with classics and indeed there isn't a bad song on here, although some songs, like "Simple Twist Of Fate," "Shelter From The Storm" and "Buckets Of Rain," grow easier on the ears as time goes by... Twangfans will note the talents of Buddy Cage, Peter Ostroushko and Eric Weissberg on here, amid a phalanx of talented players, all completely on the same wavelength as Dylan and working in harmony to give this record its cohesive, perfect feel. Highly, highly recormmended.
---
---