<! MP3 05/29/10 > <! outside 00/00/00 > <! pix 00/00/00 > <! icons 00/00/00 > <! states 00/00/00 > <! UPDATES: 05/29/10 - could use more reviews, expansion 01/01/14 - major section expansion 12/15/14 - added all eB with full info, ASINs 02/12/15 - checked more ASINs - ready to add > <! The Leonard Wahl Show "In The Badlands Of North Dakota" (Chmielewski Records) (LP) - from Sturgeon Lake, Minnesota - country? - no info on set list on EB listing "...THE LEONARD WAHL SHOW in the Badlands North Dakota LP, private Country/Lounge record out of Sturgeon Lake, MN on the Chmielewski Records label" John Walker "The Dr.'s Smooth Country Blues" (Century Recording, 197--?) (LP) B004HMUINQ - Private Press Lincoln NE - acoustic blues, but with an awful lot of "country" instruments -- mandolin, fiddle, dobro and pedal steel - produced (??) by Dick Spencer - #KM-1808 The Elliott Walter Band "xxxxxx" (Jam Records, 1984) (Produced by Jerrell Elliott, Clark Walter & Scott Landon) - no ASIN 01/26/16 - IFFY-? - FILE UNDER E Florence Warner "Florence Warner" (Epic Records, 1973-?) (LP) (Produced by Glenn Spreen & Norbert Putnam) - twang? folk? pop? - a couple of songs written by Bryon Warner on here - her husband? - musicians not listed ; she thanks Art Garfunkel in the liner notes, so maybe he helped get her sign? Doug Watters "After Awhile" (Paragon) (LP) - Canada - #ALS-156 The Weary Brothers "The Best Of The Weary Brothers" (19--?) (LP) B007TNPNSK - #001 - named after the Georgia criminals? https://books.google.com/books?id=x2lKCAAAQBAJ&pg=PA393&lpg=PA393&dq=%22Weary+Brothers%22&source=bl&ots=GNV6weKoYi&sig=q-3pjjCZzSYle2dqEnnnATX9TOU&hl=en&sa=X&ved=0ahUKEwidsaWjysLYAhXCQCYKHQiUA4cQ6AEISzAH#v=onepage&q=%22Weary%20Brothers%22&f=false - there's an alt-country band with the name now - started around 2011 Steve Weichert "Steve Weichert" (Barky Records) (LP) "...Released on the local Norman Oklahoma, Barky label (#SW-1001)and this is an original first pressing. Cuts include "Storm", "Stranded", "My Sweet Germane", "Wind It Up", "Blonde Over Blue", "Blue Bandana", "High Plains Drifter" - twang? or more freak-folk? The Weil Brothers "Country Life" (xxxxxxxx) (LP) - no ASIN 01/05/18 Tiny Wellman "Just T And The TWB" (Rome Records, 1984-?) (LP) (Produced by Jack Casey) - #RLP-1184 - 1984(?) - from Grove City, Ohio CANADA - NOT LOCALS Carmen Westfall "Talk Around Town" (Reba Records, 1989) (LP) (Produced by David C. Burt, Bob Doidge & Carmen Westfall) - #RR33-1000 - from Toronto, Ontario - band includes Kim Deschamps (dobro, steel) - covers a Kix Brooks song Travis Wetzel "Confederate Soldiers" (MRC Records, 19--?) (LP) B003XX8CZ6 - #MRC-5072 - Country Bluegrass FIDDLE Mark Wheeler "Mark Wheeler" (MBM Records, 1988) (LP) (Produced by Steve Easter & Kent Morris) - Christian country - label from Smyrna, Georgia - "the Marksmen" address in Murraysville, Georgia - no ASIN 01/12/17 - #MBM-1004 Cece Whitaker "Heartland" (LP) B004142V6C - gospel? - 12" EP OOP mid-80's country-rock private-press EOP Mack White "Lonely In The Crowd" (Commercial Records) (LP) B005S0VBBY - country?? - #CDC-A782 John Whitehawk "It Shows On Your Face" (Little Darlin' Records, 19--?) (LP) Chris Whitely & Caitlin Hanford "Lovin In Advance" (Troubadour Records, 1981) (LP) B00JXPBMAA - from Ontario, Canada Bobby Whitlock "Bobby Whitlock" (Capricorn, 1975) (LP) B00BXN14VM - B00BXN14VM is 2013 reissue Bobby Whitlock "One Of A Kind" (Capricorn, 1975) (LP) - B0196S7L58 - CD reissue Gus Whyburd "My Children, My Wife" (Warner Brothers, 1973) (LP) - #WBC-1222 - from South Africa(!) - original material - liner notes by Gerry Bosman, apparently a South African deejay(?) who got Whyburd into the studio - musicians not listed/nv Bobby Williams "From The Heart" (xxxxxx, xxxxx) (LP) - no ASIN 01/26/16 Jerry Williams "Jerry Williams" (Spindizzy Records, 197--?) (LP) - longhair hippie dude - "blues rock country" twang??? - bc nv Willie Williams "Too Hot To Handle" (Premium Records, 1985) (LP) (Produced by Chuck Richardson, Ken White & A. V. Mittelstedt) - from Texarkana, Arkansas - recorded in Texarkana, TX and in Houston - original material (all?) Willie & The Sound Of The Ozarks "Please Set Him Free" (Ozark Records) (LP) - #OLP-1008 - no ASIN 01/16/18 - all songs written by William M. Gibbs - duo of Willie & Clyde, from Northwest Arkansas - album pressed by Rimrock - no producer, musician info - Clyde's last name not given - is Willie this guy? : https://www.healthcare4ppl.com/physician/arkansas/searcy/william-m-gibbs-1518920693.html "Dr. William M Gibbs III is a General Surgery Specialist in Searcy, Arkansas. He graduated with honors from University Of Arkansas College Of Medicine in 1977. Having more than 40 years of diverse experiences, especially in GENERAL SURGERY, Dr. William M Gibbs affiliates with White County Medical Center, and cooperates with other doctors and specialists in many medical groups including White River Health System Inc, White County Medical Center. Call Dr. William M Gibbs on phone number (501) 278-2808 for more information and advice or to book an appointment." NO OR: http://www.tributes.com/obituary/show/William-M.-Gibbs-88587027 William M. Gibbs (1921-2010) Heber Springs, Arkansas OR: https://www.findagrave.com/memorial/23993725 William M. Gibbs (1944-2005) - this might be him - maybe the doctor is is son(??) Chuck Willis "...And Friends" (CWA Records) (LP) (Produced by Johnny Elgin) - I'm not sure if this is all really Willis, or if this is actually some kind of comp - songs appear to be mostly cover tunes (no composer credits) - several tracks credited to Willis (as vocalist-?) others to Jimmie Clark, Elsa Sommers and Sam McGuire - bio on back says Willis was born in Indiana, but went on to radio and TV jobs in Ohio and Kansas, most notably a TV show on KTVH, called "Chuck Willis And The Country Brothers Jamboree" Winamill Music Band "Matchbox Woman" - private LP Windmill '75 folk rock country - hippie folkie stuff from Guerneville, California - some country/roots elements, though also stuff like saxophone and clavinet, mostly NON country - all(?) originals by Deborah Factor and Gary Scott, pedal steel by Hugh Smith, fiddle by Paul Ellis, - pix grabbed 02/03/16 Dick Woods "Woods Country, Volume One" (Mountain Records) (LP) - from Colorado(?) - folkie? - no ASIN 10/01/17 Wyokie "Sundance Sunday Mornin' " (Clique Productions) (LP) - Songs include Teach Your Children, The Green Door, Louisiana Saturday Night and Sail Away. IFFY: The Wheelers "The Wheelers" (Claremont Records, 1976) (LP) (Produced by Andy Watermann) - mainly lounge - recorded in Lake Geneva, Wisconsin - Cindy and Jerry L. Wheeler - he plays (among other instruments) something called a "concert spectrum synthesizer", which kind of takes them out of the running as a twang band. Also there's the repertoire: covers of '70s hits by Morris Alpert ("Feelings", of course), Mac Davis, Neil Diamond, the Bee Gees and Neil Sedaka. They do cover Kris Kristofferson's "For The Good Times," and came up with their own arrangement of "Shenandoah," but that's hardly what I'd call an opry jamboree hootenanny's worth of twang. The album also includes some original material written by Jerry Wheeler, including "Mid City Blues," "Lullaby," and "Sunny Day." Wadsworth Mansion - Michigan Harry Slaughter, Sweet Mark, - country rock?? Fred Walker "Rural Route Three" (xxxxxx) (LP) (Produced by Fred Walker, Wayne Hilton & Fred Cameron) - gospel album, but with country backing, also a kids' choir from Hendersonville, TN - Walker was from Michigan - Cameron was engineer David Wingo & Tom Conner "Movin' " (Philwood Records, 1974) (LP) (Produced by Johnny Phillips) - #001 - more of a folkie/folk-rock thing? - recorded at Sun Studios - it's just David Wingo on piano, keyboards and "acoustical" guitar, with Tom Conner also playing "acoustical", as well as plugging in and play lead, as well as some banjo and bass. Along for the ride is a third guy, drummer Rick Ferguson kinda wondering why they didn't just pick an actual band name, instead of making him "that other guy." - if it's the same guy, David Wingo wound up doing a a lot of soundtrack work >
---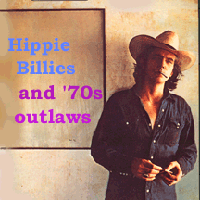 The "twangcore" and "Americana" boom of today owes a large debt to the shaggy twangers and no-hit wonders of yesteryear -- this section looks at the hippiebilly and stoner bands and a few odd, random artists from the 1960s, '70s and early '80s, back before there was anything called "alt-country." This page covers the letter "W"





---
HIPPIEBILLY & NO-HIT WONDERS:
A | B | C | D | E | F | G | H | I | J | K | L | M | N | O | P | Q | R | S | T | U | V | W | X, Y & Z | Comps | Hick Music Styles

---



Jerry Waddel "...And The Right Lane" (Christy Records) (LP)
(Produced by Wayne Gailey)
This amateur album from Albuquerque, New Mexico features mostly cover tunes, stuff like "Country Roads," "Okie From Muskogee," "Green Green Grass Of Home," and a few rock oldies like "Rip It Up" and "Johnny B. Goode." There's also one original, "Mama," which he wrote for his mom. Waddel's band included Dean Smith (bass), Larry Grubbs (organ), Rodney Ross (drums) with pedal steel by Wayne Gailey, who helped produce the album as well.


<! - no ASIN 11/19/16 - later made a blues album(?) > <! Waddington Family - Idaho gospel group on Ripcord >

June Wade And The Country Congregation "Pick Hits" (Calvary Records) (LP)


(Produced by Hugh Davies)
This Southern California country-gospel combo started in the early 1970s, with guitarist Larry Brown backing two married couples -- Dale and June Wade, and Sharon and Tracy Dartt, with the original lineup recording this debut album. Genuinely twangy, the Country Congregation was from Apple Valley, California, a tiny desert town near San Bernardino which remained their home base for more than a decade. This album came out on an independent gospel label in Fresno, although the sessions were recorded at the Capitol studios in LA, with J. D. Maness playing pedal steel... (Heck, they even got Pat Boone to write their liner notes!) The country/countrypolitan vibe is pretty strong on here, with some great musicianship from the studio crew, particularly the pedal steel. Recommended!


<! - from Victorville, California, in Apple Valley, San Bernardino County, - Fresno record label, sessions recorded at the Capitol studios in LA - J. D. Maness plays pedal steel - Pat Boone added brief comments for the liners - band formed around 1974(?) - their daughter, Dawn Brown, sang with the band at some point, and also married Larry Brown http://www.darttmusic.com/bio.html - says Tracy Dartt and Sharon Dartt co-founded the band with Larry Brown and the Wades, stayed with the band for about a year, circa 1974(?) >

June Wade And The Country Congregation "Think On These..." (Manna Records, 1978) (LP)





<! - #MS-2055 - originally on Cam Records - (?? Oklahoma label-?) >

June Wade And The Country Congregation "Meetin' Time At Calvary" (Manna Records, 1978) (LP)


(Produced by Dale Wade)



<! - #MS-2058 >

June Wade And The Country Congregation "Live Thru Love" (Foxfire Records, 1980) (LP)


(Produced by Dale Wade & Terry Dwyer)
Recorded live in Victorville, California, at the "Western Desert Gospel Sing," an event founded by the Wades in 1979 which was both an annual festival and an ongoinging local gospel jam session...


<! "...One mans dream now holiday reality 15,000 expected for gospel concert at W fairgrounds C V : By ELLEN GONZALEZ Sun Staff Writer VICTORVILLE "Western Desert Gospel Sing," a day-long festival of Christian music, "just started as a dream" two years ago, organizer Dale Wade said. But when dozens of gospel groups and individual singers, three network television crews, and 40 media correspondents and Republican presidential candidate Ronald Reagan congregate at the San Bernardino County Fairgrounds Monday, Wade's dream will become a reality. "I was hoping it would go big," he said. "But I didn't think it would go this big this fast." Wade, manager of June Wade and the Country Congregation, a gospel group based in Apple Valley, developed the idea of having an old-fashioned country concert as a Memorial Day activity the whole family could enjoy. Last year, 6,000 to 8,000 turned out to listen; this year, he expects a crowd of 15,000. Wade said he's having to turn away gospel groups that want to perform Monday, and has a long list of stand-by performers. Christian churches of all denominations are busing or flying in members to take part in the event, including congregations from Texas, Washington and Florida. Wade agrees that "of course, a lot of it has to do with Reagan." "But the biggest draw is Christ and Christianity. People now a days are looking to get back to God." He and a group of 35 volunteers have worked since Monday to prepare the fairgrounds, building temporary stages, painting posters, installing lights. Secret Service agents also arrived this week to scout the fair area to make advance preparations for Reagan's security. Wade said he first contacted Reagan in December about the appearence. Then he began writing letters and making phone calls to politicians in Washington in an attempt to secure the former gov-enor for Memorial Day. "We knew he (Reagan) was a Christian." And, Wade said, "He has some of our albums." National Director of Senior Citizens Phil Guarino is also scheduled to appear. Proceeds from the sing will go to the Wade ministry group and to ministry organizations throughout Victor Valley. Activities will Include two performances of "The Great Triumph," by the Hi-Desert Christian Players at 1 p.m. and at 4 p.m. at the Stage Five theater. In addition, continuous puppet shows and clown performances will be staged for children. Performers will include The Californians, Glendora; The Crownsmen, El Monte; The Regents, South Gate; Visionheirs and Debbie, Wilcox, Ariz.; Spirit, San Dimas; Denice McAteer, Staff photo talk over plans for Memorial Day Western Desert Gospel Sing at fairgrounds. Dale Wade (left) and Larry Brown, a tenor in the June Wade Country Congregation gospel group, City; Gospel Light Singers, San-tee; The Liberators, Indio; Sound Experience, Salinas; Crossroads Choir, Downey; Jerry Roark, Diamond Bar; Witness, El Cajon; The Butlers, Bloomington; Country Gospel Express, Ontario; Kathy Linden, Lancaster; Rodriguez Singing Family, Selma; The Sunshine Sisters, Anaheim and the Harrisons, Ontario. " >

June Wade And The Country Congregation "Rise Again" (Manna Records, 1978) (LP)


(Produced by Dale Wade & Hal Spencer)



<! - #MS-2056 - several other albums - not sure if the others are as twangy as this one >


Norman Wade - see artist discography




Randy Wade "The Only Known Recordings Of..." (Busch Country, 1979) (LP)
An indiebilly outing from Tampa, Florida... This album features some original material, including "The Country's Going Country" "You Stepped On My Heart."


<! - no ASIN 02/12/15 - #BC-1001 >
Randy Wade "Tell The Mirror" (NPW Entertainment, 1999)


I'm not 100% sure, but I think is the same guy, just twenty years later... A pretty commercial-sounding, Top Forty-ish good-ole-boy album, along the lines of Travis Tritt, or folks like that...
Willis Wade "Introducing Mr. Versatile -- The Fabulous Willis Wade" (Ruby Jean Records, 1969) (LP)


Multi-instrumentalist Willis Wade led this Nashville-based band throughout the 1960s, notably doing several rounds on the USO tour circuit in Europe and Asia. This late-'Sixties edition of the band included bassist Jackie Lynn (also on vocals), Bob Cox (piano), Ray Salter (drums, bass, guitar and fiddle) and Eddie Weil (bass and drums). Also worth mention is singer Linda Vaughn, who the liner notes identify as "vocalist and dancer" and "short, but cute as she can be." Aw, shucks, that old-fashioned Southern sexism was so darn adorable!


<! - #RJLP-1001 - producer not listed - date not on LP >

Stan Wagganer "Heartbreak Mountain" (Grass Fire Records, 1977-?) (LP)
(Produced by Greg Calloway, Delbert McKinnon, John Daugherty & Myron Smith)
Multi-instrumentalist Stan Wagganer was a child prodigy who started playing real gigs when he was just seven, moving through a succession of regional bands and local "opry" venues, including Lee Mace's Ozark Opry, where he had was working when this album was made. The material is mostly standards, bluegrass fiddle tunes and the like, although co-producer Myron Smith plays pedal steel on the sessions.


<! - #38057 - liner notes say it was recorded in 1976, though mention one member being in the band for two years after leaving the military in 1975 - no ASIN 06/24/17 >
The Waggoners "The Waggoners" (Lemco Records, 1973-?) (LP)
(Produced by Cecil Jones)
Originally from Bloomington, Indiana, guitarist Charlie Waggoner started out in country music in 1952, playing on radio and backing various stars... By 1969, he'd started his own band along with his wife, singer-guitarist Roxanne Waggoner, working at Holiday Inns and clubs, as well as opening for bigger artists. They were hosting their own TV show out of Knoxville at the time this LP came out; backing them are bassist Tony Wayne and drummer Larry Clifton. The Waggoners moved around a lot -- during the "Urban Cowboy" years they were working a steady gig in Daytona Beach, Florida, though they eventually moved back to Indiana. Years later, in the 1990s, the Waggoners co-founded a sing-out religious service they called the Country-Gospel Music Church, which was held at various venues in Nashville, often with older stars of the Opry dropping in to sing a hymn or two. Towards the decade's end, they relocated the "Church" to a venue near Gnaw Bone, Indiana, where they continued the tradition.


<! - #Lemco-616 / 730942 - no ASIN 09/02/16 http://www.hillbilly-music.com/artists/story/index.php?id=13179 (no info) "...KLAK Rocky Mountain Jamboree" The Columbus, Indiana Republic, Mat 27, 2000 https://www.newspapers.com/newspage/148346400 also http://www.ourbrowncounty.com/1107s2.htm www.countrygospelmusicchurch.com - site expired in 2016 Daytona Beach Morning Journal - Oct 24, 1980: - mentions that they had a new album out, doesn't give title - playing a gig at the Neon Cowboy club, in Daytona Beach, Florida >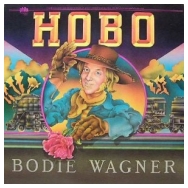 Bodie Wagner "Hobo" (Philo, 1975) (LP)


(Produced by Bodie Wagner & Michael Couture)
Folk troubadour Bodie Wagner hailed from Ohio but he traveled across the country, performing with likeminded artists such as his brother, Pop Wagner, or with hobo poet Utah Phillips, who contributed the liner notes for this album. Wagner's latter-day rail-riding, Woodie Guthrie-esque , world-wise rambling-man folkie persona can feel a little precious -- particularly on songs such as "I'd Like To Say I'm Proud" (written from the point of view of a noble, working-class trucker) -- but this album's gentle spirit will win you over, especially with the exquisite pedal steel and dobro accompaniment by Martin Grosswendt and Wagner's own delicate fingerpicking guitar work. His brother Pop sings on one track, the uptempo "Chugga Tramp," while Jim Ringer chimes in on the chorus of "I've Been On The Road," one of several excellent songs in this strong set of all-original material. There are a couple of children's songs, numerous nods to the working class, while on the topically-themed "America," Wagner marks the end of the Vietnam War with a declamatory song which both passes judgment on the war's planners but also affirms the growing apolitical spirit of the post-Watergate era, declaring that foreign wars and other global crises are "so far from me, so far from in my heart" that he can't worry about them anymore. It's probably the most interesting song on the album (though hardly the most enjoyable) and while one can understand the fatigue people felt after the big struggles of the 'Sixties were finally over, the message is a little muddled. Overall, a nice record, though you have to be willing to get into the coffeehouse folk-singer thing to appreciate its musical side.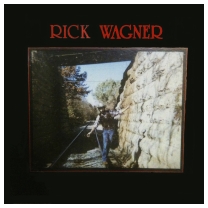 Rick Wagner "Where'd The Whistle Go?" (Vetco, 1981) (LP)


(Produced by Rick Wagner & Dave Gordon)
One of the Vetco bluegrass label's rare forays into non-bluegrass, folkie/novelty territory... This one's a little too folk-scene for me, though it is a nice record, with contributions from labelmates Dave & Kay Gordon, who had success with their comedic Vetco "hits," recorded around the same time. There's some nice old-timey banjo plunking and flowery arrangements with cello and viola, novelty tunes such as "Nothing Rhymes With Chimes," and the John Prine-ish "A Good Fire" that don't quite stick, but are okay. The instrumentals kind of remind me of Jay Ungar, so not quite hippiebilly twang, but hardly strictly bluegrass, either.




The Wagon Wheel "Introduction To Wagon Wheel" (Wagon Wheel Recordings, 196--?) (LP)
(Produced by Don Franklin)
This album was an interesting combination of country twang and the more static confines of the square dance sound. The Wagon Wheel label was started by caller Don Franklin, a well-known figure in the Denver, Colorado square dance scene... This album may be of interest to country fans because the core of the band was drawn from the Texas-based dixieland/twang band known as the Levee Singers, with music director Smokey Montgomery and hotshot guitarist Ronnie Dawson, a pioneering rockabilly star who settled into a mellower mode during the late '60s. Also on board are Fort Worth, TX bass player Ken Cobb and guitar picker Bill Hudson, backing Franklin and two other callers... There are some actual songs on here, though many tracks were more made for dancing. Franklin owned the label up until 1981, when he sold it to one of his engineers, who took the label into a broader direction, getting more overt country material into the mix.


<! - #WW-1001 - no ASIN 01/21/17 - 9500 West 53rd Avenue - Arvada, Colorado >

The Wagonmasters "Campfire Favorites" (Omega Records, 1960-?) (LP)


Originally from North Texas near Amarillo, fiddler Billy Beeman (1927-2011) and guitarist Bobby Beeman (1929-1994) started out in a family band with their sister Shirley. While they were just kids, they made their way to Southern California in the late 1930s where they performed several times at the newly-expanded Knott's Berry Farm amusement park. In 1954, the brothers were hired full-time to form the core of the Wagonmasters, the house band for the park's Ghost Town hoedowns. The band's long residency lasted through most of the 'Sixties, when they are said to have played over nine thousand shows total. They also produced a series of dude ranch souvenir records full of cowboy/western ballads, folk tunes and country covers. On this first album, the group consisted of the Beeman brothers and Bill's wife Rachel Beeman, as well as bassist Eldon Eklund and Harvey Walker on banjo. I'm not sure when this album came out, though I'm guessing 1960-61, since it includes a cover of Marty Robbins' big hit, "El Paso," along with a slew of cowboy songs and a few bluegrass-ish tunes as well. There's also a playful dash of zippy acoustic swing on "Boysenberry Boogie," an instrumental number that underscores the Beemans' admiration for the brother duo of Hugh and Karl Farr. After the Wagonmasters broke up in 1968, the Beemans started a new group called the Lobo Rangers and hosted an annual event called the Beeman Bash, at Billy Beeman's spread in Placentia, California. The brothers were also central figures in the foundation of the Western Music Association, which celebrates cowboy music and poetry. In addition to these old LPs, Billy Beeman wrote a self-published autobiography, Chronicles Of An Old Fiddler and recorded an album with the Lobo Rangers in 1991...


<! - #B-1001 - producer, musicians not listed - LK purchased autographed copy 01/06/17 in Sacramento http://www.vernjackson.com/ http://saloonpiano.com/discography.html >

The Wagonmasters "Folk Favorites" (Omega Records) (LP)





<! - #B-1005(?) >

The Wagonmasters "More Folk Favorites" (Omega Records, 1964-?) (LP)


They really go full-bore folk revival on this one, singing in a Weavers-meet-Kingston Trio hootenanny mode... This is mostly straight-up bland, middle-class singalong folk (as you might expect from a mom'n'pop venue like Knott's Berry Farm...) There are a few traces of twang -- a version of Marty Robbins' "Devil Woman," a quick little bluegrass breakdown -- though for the most part this is less "western" oriented than some of theie other albums... Not bad, per se, but not all that country.


<! - #B-1007 - Wallace Parker painting on front cover - includes "Devil Woman" (1962) "Blowing In The Wind" (August, 1963) and "Little Bitty Tear" (Burl Ives, 1961) >

The Wagonmasters "The Last Frontier" (Omega Records) (LP)





<! >

The Wagonmasters "Wagoncamp Favorites" (Omega Records) (LP)





<! - #B-1009 > <! http://www.thewagonmasters.com/ http://www.thewagonmasters.com/prod03.htm is kaput "... Billy Beeman is tops as a fiddler and is now in the Western Music Association's Hall of Fame. Dave Bourne now hits the keyboard most often and is at many music festivals throughout southern California. Harvey Walker continues to strum a magnificent bango and guitar, while vocalist Eldon Ecklon is retired in Arizona. Beautiful Rachel Beeman passed away a number of years ago. " "...Dee Willam, Harvey Walker, The Beeman brothers, and my dad Vern Jackson..." LANDON JACKSON "...I have no memories of the Wagonmasters of Knott's Berry Farm. My memories go back further, to when the Beeman family, Bill, Bobby, Don, Shirley, Mom & Dad lived on Model Street in the Love Field area of Dallas,Texas. The family band, Shirley & the Beeman Brothers were just getting started good. "Little" Shirley with her "HUGE" bass fiddle. " - Vandell (Patterson) Brown "...Go on utube and listen to Dave Bourne talk about those wonder times. Dave has also written a terrific coffee table book about the old days of Knotts Berry Farm." Bobby Beeman (xxxx-1994) http://articles.latimes.com/1994-04-20/local/me-48057_1_bobby-beeman http://www.bobnolan-sop.net/Reflections/Reflections%20htms/Billy%20Beeman.htm https://www.inmaricopa.com/maricopas-singing-cowboy-eldon-eklund-appearing-at-stagecoach-days/ >

The Wagon Wheelers "Wagon Wheelers" (Moon Records, 198--?) (LP)


Bluegrass and oldies from this all-covers band out of Brooklyn Center, Minnesota. A mix of '40/'50s-era standards such as "Ashes Of Love," "Faded Love," "Release Me" and "She Taught Me How To Yodel," as wella s (slightly) more modern material such as Doug Kershaw's "Diggy Liggy Lo" and Willie Nelson's "Funny How Time Slips Away," and even a smidge of western swing in there as well. Not entirely sure when this came out, though it looks early '80s -- they cover "Old Flames (Can't Hold A Candle To You)", which was a hit fo Joe Sun in '78 and an even bigger hit for Dolly Parton in 1980.


<! SIDE ONE: Ashes of Love Release Me Crying My Heart Out Over You Old Flames Rollin' In My Sweet Baby's Arms SIDE TWO: She Taught Me How To Yodel Funny How Time Slips Away Diggy Liggy Lo Faded Love Orange Blossom Special >

Dale Wagoner "Kentucky Style Steel" (Mid-Land Records, 1975-?) (LP)


(Produced by DeWitt Scott & Rusty Thornhill)
Steel player Dale Wagoner started out in bluegrass and western swing, playing first with Pee Wee King, then Jim & Jesse McReynolds, before getting into the orbit of Nashville, touring with or doing session wirk for stars such as Susan Raye and Connie Smith. Then he headed back home to the greater Cinncinnati area, where he played mostly local shows... At the time this album was made, Wagoner was holding down a gig at the Boulevard nightclub in Springdale, Ohio. The backing band on this album all seems ot be locals, including Clyde Marcum on lead guitar, Ernie Vaughn playing bass, Jim Geyer on piano, Bill Tirey on drums and Bobby Mackey adding rhythm guitar. Not sure how "Kentucky style" sounds different from any other kind of steel guitar, but hey, a little branding never hurt anyone...


<! - #MD-DW-10005 > <! THE LEONARD WAHL SHOW in the Badlands North Dakota LP, private Country/Lounge record out of Sturgeon Lake, MN on the Chmielewski Records label. - no ASIN 02/24/16 - polka band, methinks >
Wahoo Revue "Band Xing" (Avanti, 1976) (LP)
(Produced by Rod Abernathy) <! ?name? >
This North Carolina band was really more of a bluegrass act, but since they cover "Friend Of The Devil" (as well as Cat Stevens' "Father And Son") I suppose they should be mentioned as part of the "country-rock" side of the 'Seventies indiebilly scene...


<! - weak vocals, mediocre picking - you can "see" the gears turning - no ASIN 01/17/15 >

Wahoo Revue "Campus Bluegrass" (Leather Records, 1978) (LP)

Loudon Wainwright III - see artist discography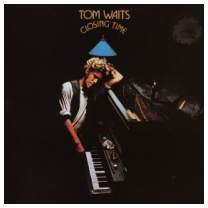 Tom Waits "Closing Time" (Asylum, 1973)



(Produced by Jerry Yester)
Although I suppose most folks would place alt-balladeer Tom Waits more in the "jazz" world, he certainly had an affinity with and connections to the early '70s country-rock scene. A SoCal native, Waits moved to LA in his early 20s, landing a regular gig at the Troubadour nightclub while living in the same neighborhood as many of the singer-songwriters who shaped the pop sound of the 'Seventies. His debut album has a strong acoustic feel, anchored by Waits' piano, with light, sparse, intimate backing that includes cello, trumpet, a modest rhythm sction and acoustic guitars. Notable among the backing musicians is Arizona oddball Shep Cooke, who had toured with Linda Ronstadt and was still trying to make it in LA, and adds a nice country shading to many of these songs. This record's a real classic, bridging the worlds of country-rock and erudite jazz while showing the tremendous stylistic breadth and power of the early '70s music world, and setting the stage for Wait's future career. There aren't many completely perfect albums in the world -- this is one of them.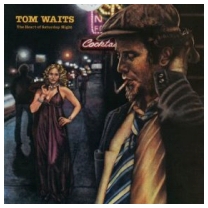 Tom Waits "The Heart Of Saturday Night" (Asylum, 1974)



(Produced by Bones Howe)
Another early classic. Although those of us with "greatest hits" ears mainly concentrate on this album's title track, all of these songs are rich and resonant, fine examples of Wait's uncanny ability to recraft jazz and blues, and great opportunities to hear him crooning in his youth. Great band behind him, too, obviously having a lot of fun.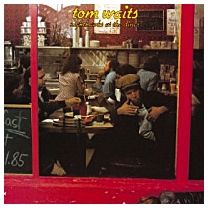 Tom Waits "Nighthawks At The Diner" (Asylum, 1975)



(Produced by Bones Howe)
Another classic. Although not really a live concert album (it was recorded in the studio with a small live audience) this certainly reflects what Wait's live shows were like at the time, and the amazing finesse he had has an entertainer. A hefty chunk of the album is taken up with his wry, rambling, personable introductions, and he sets a cozy tone that shows just how charming and charismatic he was as a young man. The album opens with some classics, the comedic "Emotional Weather Report" and the bleary-eyed "Eggs And Sausage," working steadily through a repertoire of Bukowskian boho ballads... For country fans (and kitsch-heads alike) the highlight may be his majestic cover of the old Red Sovine hit, "Phantom 309," a corny yet eternally satisfying recitation song about a haunted semi-truck... Waits, the prematurely world-weary poet of desolation, invests a tremendous amount of emotion and sincerity into his version of this cornball novelty song, and it's fair to say that this is the definitive, ultimate version of this song (with apologies to Red Sovine fans...) This album is a great document of Waits' early career, but it's also just a darn fine record.
Tom Waits "Small Change" (Asylum, 1976)



(Produced by Bones Howe)
One of his best and best-known albums, this disc delves deep into the Bukowskian mythos of strip clubs, petty crime, heavy drinking, and skating by on the edge of society. Another classic album, with memoriable songs such as "Step Right Up," "Invitation To The Blues," "I Can't Wait To Get Off Work (And See My Baby)," and the grim title song, "Small Change (Got Rained on with His Own .38)." The bleary-eyed romaniticism of his earlier work is replaced by a finely-crafted cynicism and painfully pure disillusionment... Although an undercurrent of self-conciousness and faux-boho posturing, these songs are so good it's easy to let go of your nagging doubts about Wait's whole boho-lowlife schtick. (Don't get me wrong: I'm a Tom Waits fan, at least up to a certain point, but it's also possible to peek behind the curtain and glimpse the Mighty Oz...) Anyway, this one's another highly rewarding, must-have record. A classic.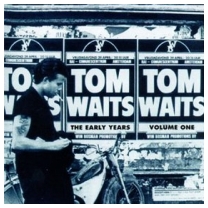 Tom Waits "The Early Years, v.1" (Bizarre, 1991)



(Produced by Robert Duffey)
If you're into the country-tinged, folkie feel of Waits' first album, these archival albums of his earliest recordings will come as a real treat. Sweet, stripped-down demos of classic Waits compositions and other works-in-progress, recorded before he hooked up with the Asylum label. Even with the flood of Waits-ian material available in the world, this stuff stands out.
Tom Waits "The Early Years, v.2" (Bizarre, 1993)



(Produced by Robert Duffey)

Elva Hare Walker "Piano Lady: The Queen Of The D-104" (Ross Sound Records, 197--?) (LP)


(Produced by Woodring M. Fryer & Elva Hare Walker)
Country and country gospel, played on the piano and the Hammond D-104 organ... Elva Hare Walker (1933-2011) was from Henderson, Kentucky, where she played in her local church, and where she recorded this album. She was backed by the Ross family -- Jack Ross (bass) Dave Ross (rhythm guitar) and Clyde Ross on vocals -- along with Steve Cobb on lead guitar and Danny Miles on drums. About half the tracks are gospel songs, including Dottie Rambo's "Build My Mansion Next Door To Jesus," Ed Burnett's "The Night I Talked To The Lord On My CB Radio," and the old-time classic, "Turn Your Radio On." She also plays secular stuff, like "I Can't Stop Loving You," "Release Me" and "Your Cheating Heart."


<! - #A-114 >

Fred Walker "Rural Route Three" (Superior Sound Studio) (LP)


(Produced by Fred Walker, Wayne Hilton & Fred Shelton)
A gospel album, recorded in Nashville with a studio crew that included Terry McMillan, Tony Brown (piano) Fred Newell (guitar) with plenty of original material... Mr. Walker was apparently from South Bend, Indiana; as far as I know this was his only album.


<! - #RR-105 A1 (Prelude) The Crayon Box 4:20 A2 You Were On His Mind 3:04 A3 Then Jesus Came 3:40 A4 (Prelude) The Outlaw 3:50 A5 My Desire 2:25 B1 Life's Railway To Heaven 3:16 B2 Questions 3:38 B3 That's Enough 2:35 B4 Exactly What I Need 2:28 B5 'Tis So Sweet >


Jerry Jeff Walker - see artist discography




Jimmy Walker "Swamp Country" (Swamper Records, 1966) (LP)
(Produced by Billy Grammer, Guy McColsky and Bill Brock)
Hailing from Waycross, Georgia, Jimmy Walker penned eight out of twelve songs on this album, which is rounded out with other songs by Billy Grammer, Harlan Howard, and Sheb Wooley, who wrote the title track. Walker also released several singles, and did work on some films shot at the Okefenokee Swamp Park, including the lead track on this album, a song called "Swamp Country" from a 1966 movie of the same name.


<! - #LPM-177 - no ASIN 12/14/16 - Chet Atkins wrote the liner notes - same guy who wrote "Detour"??? - same guy on all these?: http://countrydiscography.blogspot.com/2011/06/jimmy-walker.html https://en.wikipedia.org/wiki/Ernest_E._%22Jimmy%22_Walker >

John Walker "An Okie Boy" (Candy Apple Records, 1993) (LP)


A picker and songwriter from Lincoln, Nebraska playing acoustic folk and folk-blues, with a blend of original tunes and stuff from folks like Brownie McGhee. Includes Pete Blakeslee on dobro and Steve Hanson on guitar...


<! - no date or producer info >
Sammy Walker "Song For Patty" (Folkways, 1975)



'70s singer-songwriter Sammy Walker was originally from Georgia but moved up North and became a NYC folkie and protege of folk legend Phil Ochs. This was his first album, and shows him perhaps a little to much under Och's philosophical sway, penning the strident title track about Patty Hearst and her violent sojourn with the radical-Left SLA; political material defines much of the rest of this album -- along with the inflammatory album art -- but nothing else stands out quite as starkly as that, with the closest runner-up being "A Simple Hour Operation," a quiet weeper about reproductive health issues. The benign ghosts of Woody Guthrie and Bob Dylan cast long shadows on this earnest-folkie debut, with Ochs himself singing harmony on a couple of tunes and producing the record. Like Ochs, Walker branched out stylistically, and his next two records on the Warner label were much lusher and more expansive... though this stark acoustic set has some surprises as well.
Sammy Walker "Sammy Walker" (Warner Brothers, 1976)






<! - James Burton on dobro >
Sammy Walker "Blue Ridge Mountain Skyline" (Warner Brothers, 1977)






<! w/ Chris Darrow playing lap steel, dobro, mandolin ~~ Brian Garofalo on bass - any relation?? >
Sammy Walker "Songs From Woody's Pen" (Folkways, 1979)


Sammy Walker "Misfit Scarecrow" (Ramseur, 2008)






<! Sammy Walker "Old Time Southern Dream" (Brambus, xxxxx) 1. Not Just Another Fad 2. Guns and Guns and Guns 3. Old Time Southern Dream 4. Catskill Mountain Sugar Maple Queen 5. You've Got to Walk That Lonesome Valley 6. Lee the Weaver 7. Rakestraw Wood 8. For My Dad 9. Oh, Had I a Golden Thread 10. Death of the Old Sequoia 11. There But for Fortune 12. The Seed of Life Sammy Walker "Live In Concert" (Brambus, xxxxxx) - rare OOP Italy 1989 >
Bobbie Joe Walls "Just A Little Caring" (Hurshey Records, 1973-?) (LP)
(Produced by Hurshel Wiginton)
Fairly dreadful, decidedly obscure early '70s countrypolitan from a Nashville local... Ms. Walls played Music City lounge shows for many years, crooning and playing piano at venues such as the Embers nightclub and the Piccadilly Room in the late '60s and similar gigs throughout the '70s. I suppose this album was her shot at the bigtime, with a studio crew that included elite studio pros such as Harold Bradley, Grady Martin, Pete Wade, Buddy Harman, David Briggs and the Nashville Edition providing backing vocals. The big-budget production added up to a syrupy stew of pop-vocals excess, with some modest "country" touches, but overall a schmaltzy, bombastic sound more reminiscent of Diahann Carroll or Edie Gorme than Lynn Anderson or Loretta Lynn. It wasn't out of synch with the styles of the times, but in this case the music didn't age well. Alas. There's some original stuff -- songwriter's demos, no doubt -- as well as sovers of hits like "Country Roads," "The Night They Drove Old Dixie Down," and "Help Me Make It Through The Night" (on the country side) and "Bridge Over Troubled Water" and "Candy Man" (from the pop charts). This slick-looking, professionally produced record was released on the uber-indie Hurshey label, which was founded by session singer and Hee-Haw regular Hurshel Wigniton of the Nashville Edition (who even copied the Hershey chocolate label for its logo, doubtless raising a few eyebrows in the legal profession...) I think it was was the only album released by this Music City insider.


<! - no ASIN 07/29/16 - #SHR-73-1 >
David Walsh "On A Roll" (Charta Records) (LP)
(Produced by Charlie Fields, John Eberle & Jim Tarbutton)



<! - #CHLP-13120 - 208 available - no date visible - where'd 1980 come from?? - liners say this was his first album; from Florida - Ocala/Inverness area (near Gainesville) - Fields listed as producer, the other guys were "engineers" - This album is packed with original material -- half the songs were written by Walsh, including one co-written with producer Charlie Fields. Other songwriters include Charles Cash and Larry York, who shared the Jay Dee Music publisher with Fields and Walsh, and a couple of other writers, such as Buddy Cannon and Bobby Springfield >
David Walsh "Somewhere In Canada" (Charta Records, 1988) (LP)
(Produced by Charlie Field)



<! - #CHLP-13120 >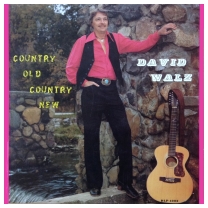 David Walz "Country Old, Country New" (DaJu Records, 1980) (LP)
(Produced by Judy Wyllie)
A very private, very indie, DIY country set from a deep baritone singer out of Plymouth, Michigan. The record is packed with original material, along with a couple of Kris Kristofferson covers and some oldies like "Thunder Road" and "Ghost Riders In The Sky." Walz was, in some ways, an imperfect singer, but he's also plausibly in the Dave Dudley/Ernie Ford style of deep-toned country crooners. Although he's usually a little too schmaltzy for my tastes, this album does have one real gem on it, the novelty number "Half An Hour Later," a jaunty, genuinely lustful little song about a guy who really likes having, um, special snuggle time with his loyal, loving wife, who gets him up early before the kids have breakfast and is waiting for him when he gets back home from work. Great novelty song, with an uptempo bounce that suits Walz's voice.


<! - no ASIN 08/12/15 "Great novelty song, and certainly deserving of inclusion in that "Locals Only" collection that's coming out someday soon..." >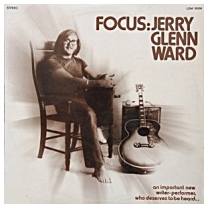 Jerry Glenn Ward "Focus" (Mega, 1972) (LP)


(Produced by Larry Rogers)
This lazy, dreamy set of cosmic Southern swamp-folk seems like an odd match for the usually commercially-oriented Mega label, but it sure is a nice dose of noodly '70s introspective songwriting, a cross between Tom Rush and Tony Joe White, perhaps? My eye was caught by liner notes that include country pickers such as Tommy Allsup, Lloyd Green, Buddy Spicher and Bobby Thompson, and backup singer Ginger Holladay, but despite the wealth of talent on these sessions, it's possible that this album was never actually released for sale, since all the copies out there seem to be promos. Maybe Ward was given a recording "deal" as part of a songwriting contract, or maybe Mega pressed a few copies but buried the album once they realized it had no real hit potential? Regardless, it's the kind of moody, unusual album that folk-freak fans can really get into, although there is a strong rural vibe as well, with the Arkansas-born Ward in sort of the same mode as the more experimental Southern rockers on the Capricorn label, just with more languid, stripped-down acoustic arrangements. Some interesting lyrics, as well, including the slightly sad seediness of "Whatever Your Name Is," about picking up one-night stands while out on the road. There's speculation that this might be the same Jerry Ward who played bass in Jerry Jaye's band, and that seems likely since they were both from Alabama, and Ward plays both bass and guitar on this album, and also because Jerry Jaye was signed with Mega Records in the early '70s. Anyone know more about this album?


<! Jerry Glenn Ward might also have been the Jerry Ward who played with Jerry Jaye's (Hi Records artist, blue-eyed soul, etc) Jayewalkers: Tommy Baker-Bass 1967-68 / Jerry Ward-Bass/ Bobby Neal-Lead Guitar / Carl Fry-Drums-1967-68 / Roger Frey-Drums / Ben Jack-Steel Guitar / Robby Turner- Steel Guitar. moved to:(?) Tacoma, WA Ferndale, WA Port Orchard, WA Bothell, WA was he the same guy who played in Merle Haggard's band? JERRY WARD (aka HOWARD LOWE) (bass, 1965–69) Little is known about Jerry Ward, the first official bass player of the Strangers, except that his real name was Howard Lowe—and that Merle refers to him as "that dang crazy guy!" Nonetheless, Ward was the bassist on nearly all the sessions between December 1965 and February 1969, except for a period when Haggard's childhood friend Leon Copeland filled in. Ward was the bassist on the first instrumental Strangers LP, and he wrote many songs, including "Mary's Mine" for Merle and "Best Part of Me" and "Don't Tell Me" for Bonnie Owens. That last was covered instrumentally by the Strangers. >
Kenny Ward "My Favorites" (United Audio, 196--?) (LP)
A native of Selving, Ohio, Kenny Ward covers country standards by Hank Williams, Hank Thompson, Ernest Tubb, Faron Young and Johnny Cash. Includes a version of "Folsom Prison Blues." From somewhere in the early- to mid-1960s.


<! - 1960s private press HILLBILLY Country Western Lp "...the legendary "United Audio" label out of Youngstown, Ohio." - no ASIN 10/10/15 >

Pudge Warfield "Pudge's Wild And Wonderful Flat-Top" (Alear Records) (LP)
This one's more in the bluegrass camp, but I'm a sucker for a goofy nickname... and c'mon... Pudge Warfield? And his manager, Big John Hougk? Can't help myself. Musically, this is pretty standard stuff, with pretty solid picking... Warfield is joined by Scott Brannon on rhythm guitar, banjoist Roger Dayley, Sam Glynn on mandolin, and Warren Reeder picking some mighty fancy dobro. A talented flatpicker, Mr. Warfield was from Martinsburg, West Virginia, and performed regionally, including numerous gigs in Maryland and environs.


<! - no ASIN 11/12/17 - bluegrass(?) - with "Big John Hougk, Manager" >

The Warhorse Band "Live In Lubbock" (Caballo De Guerra Records, 1981) (LP)


(Produced by Wally Meyers & Don Wise)



<! - #LP-21881 - band includes Debbie Blakely (piano), Wally Meyers (steel), Terry McBride (bass) Steve Williams (vocals, guitar), Jimmy Blakely (fiddle) Don Wise (saxophone, flute) >
Kelly Warren "Little Richie Records Presents..." (Little Richie, 1977) (LP)


(Produced by Little Richie Johnson)
Singer Kelly Warren grew up in Lamesa, Texas and was a contestant in statewide beauty pageants, going back to when she was eight years old, when she won the "Little Miss Lamesa" competition. She first went into the studio to record country music in 1976, recording a single with an all-star Nashville crew, and returned the following year to cut this album with backing by pros such as Lloyd Green, Charlie McCoy, Hargus Robbins, Buddy Spicher, Kelso Herston, et. al. It's a pretty rootsy, twangy record, notably packed with original material -- although there's nothing written by Warren herself, there is one track penned by producer/label owner Little Richie Johnson, along with several songs by composers signed to his publishing house. Things didn't really click for Warren on the charts, and she later moved into gospel music.


<! - #LR-SLP-1014 - not bad - pretty rural sounding, twangy, simple production, lo-rent '60s commerical country sound - "distributed by Sounds Of Music, Belen, NM" - single was "Living For You, Dying For Him" Side 1 : Turn back the hands on the clock / I'm sorry baby / Easy touch soft hearted me / I remember the good times / Little angel Side 2 : Walking in the footsteps of a fool / Ain't that something / I'm gonna change the world with a song / Living for you dying for him / Here comes my sunshine > <! SHORTY WARREN - from the East Coast Smokey Warren "...And His Country Music Revue" (Yale Records, 196-?) (LP) - #YALE-250 - label from Elizabeth, New Jersey - with his brother Shorty Warren on bass, steel guitarist Harvey Reynolds, Canadian guitar picker Jerry Hatton, and gal singer Dottie Mae. They each have spotlight tracks >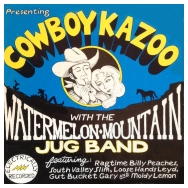 The Watermelon Mountain Jug Band "Cowboy Kazoo" (Cowboy Kazoo, 1975) (LP)
(Produced by The Watermelon Mountain Jug Band)
This amiable, plangent, novelty-oriented stringband from Albuquerque, NM was sort of a cross between Jim Kweskin, Tom Lehrer and Doug Sahm -- and they plow through a fun set of uptempo tunes, including a remake of the classic, "Drop Kick Me, Jesus" (which was a cult hit for Bobby Bare in 1976.) It's credited here to lead singer Jeff Burrows, but everyone else in the world says it was written by Paul Craft, though Burrows can claim credit for refashioning it as a high-school sports chant, like Country Joe's "Fixin' To Die Rag." They also pay homage to the Texas outlaw's big Fourth of July bash, on "Willie Nelson's Picnic," so if you're keeping a list of songs that namecheck Willie (and who isn't?) then here's a good one to keep in mind. All in all, this is a nice record, though less overtly country than a lot of the other albums listed here.


<! "Drop Kick Me, Jesus" written by Paul Craft? > <! Well, now I know where the song "Drop Kick Me, Jesus" comes from -- it was a cult hit for Bobby Bare in 1976, but is credited here to Jeff Burrows, the lead singer of this good-natured Albuquerque, NM jug band. In its original incarnation, "Drop Kick Me" was arranged as sort of a high-school sports chant, like Country Joe's "Fixin' To Die Rag." >
The Watermelon Mountain Jug Band "Tickle Tunes" (Cowboy Kazoo, 1978) (LP)





<! AM review: "In August of 1978, Maxie Anderson, Ben Abruzzo, and Larry Newman became the first people to successfully cross the Atlantic ocean in a gas filled balloon (from Presque Isle, Maine, USA to Miserey near Paris, France). The historic event was commemorated by the Watermelon Mountain Jug Band with the song "Double Eagle" which is found on their 'Tickle Tunes' album. More than 30 years later, that song (including the lyrics, the vocals, and the banjo/guitar riffs) stay in my mind. The members of the band (now down to four instead of five) created an American gem with that song. " > <! SEVERAL OTHER ALBUMS LISTED ON AM >
The Watermelon Mountain Jug Band "Kids Like Us" (Cowboy Kazoo) (LP)

Sneezy Waters & The Excellent Band "You've Got Sawdust On The Floor Of Your Heart" (Sneezy Waters, 1978)
(Produced by Sneezy Waters & Ted Gerow)
Canadian singer-songwriter Peter Hodgson took on the stage name of Sneezy Waters in the early 1970s, after playing in rock bands for several years and busking on the streets of Ottawa... He's best known for his role in the stage play "Hank Williams: The Show He Never Gave," where he portrayed Hank Sr. giving the fabled New Year's Eve show that never happened... Here, on his first solo album, Waters delivers a truly odd and unruly selection of hippie-era indie twang, with a strong folkie tendency, some honky-tonk parodies and a smidgen of soft, fusion-y jazz. His voice isn't particularly appealing -- whether because of his own limitation, or because he was parodying the genre, I'm not sure -- but some of the songs are curiously resonant, particularly on the album's second side. The title track, a hard-country novelty song, is kind of fun... Not sure I'd really recommend this one, but if you're digging deep into '70s alt-country, you might want to check it out.


<! 160 x 160 >
Sneezy Waters "Sings Hank Williams" (Borealis, 1981/1999)



Hey, I've never heard of him, either, but this is kind of a fun amateur-hour countrifying... Sneezy doesn't have the world's most amazing voice, but he has a friendly tone, and seems to be enjoying himself on these relaxed, rollicking renditions of a dozen old Hank, Sr. tunes, with a fine band backing him up. Originally released in 1981. Enjoyable!


<! 144 x 144 >

Vic Waters "Living This Kind Of Life" (Silver Jingle, 1978) (LP)


(Produced by Jerry Michael & Vic Waters)



<! - with Troy Seals, Weldon Myrick, Buddy Spicher - Nashville label >

Chuck Watkins "Chuck Watkins Ozark Jubilee: Country Music Family Style" (??) (LP)



<! - no ASIN 07/17/15 >

Robbie Watkins "Collection #1" (Hobo Records, 1977) (LP)
(Produced by Kyle Lehning & Billy Sherrill)
A feller from Baltimore, Maryland who went down to Nashville to record this set at Jack Clement's studio with backing by some old pros...


<! - no ASIN 06/17/15 - #HBS-100. >

Brad Watson "Brad Watson" (197-?) (LP)
(Produced by John Mayfield)
In the mid-1970s, singer-picker Brad Watson really threw himself into the country-rock scene in Dallas, Texas, playing in and recording with several local bands... He sang lead for the group Kansas Rain, helped form Rosewood Junction with Jim Underwood, and may have done gigs with friends in the Dallas band called Young Country. These guys all played together up at Harold's Club, in Reno, Nevada, and intersected with each other for several years -- the husband-wife duo of guitarist Rick Sparks and singer Cheryl Sparks (of Young Country) helped anchor this album, along with bassist Jim Thiele. The set includes covers of country-rock and country-pop radio hits such as "Tequila Sunrise," "Old '55," "The Gambler" and "Me And My Uncle," along with some original material. In addition to this album and the bands mentioned above, Watson also apparently played with the Kansas City-area country-grass group, the O'Rourk Brothers, on one of their later albums.


<! - no ASIN 01/30/18 - Rick Sparks (steel guitar); Jim Thiele (bass), Cheryl Sparks (vocals) - recorded at Sumet-Bernet Sound Studios in Dallas, Texas - was he also in Young Country? >

Lloyd Watts "Leaving Caroline" (Adonda Records, 197-?) (LP)


(Produced by Don Fowler & Jack Logan)



<! - #AD-LW-007 >

Wayne & Glenn "Wayne And Glenn" (Lemco Records, 197--?) (LP)
(Produced by Cecil Jones)
I couldn't find much info about these shaggy-lookin' fellas -- guitarist Wayne Davis and bass player Glenn Little -- though I believe they played in bar bands in and around Lexington, Kentucky for most of the 1970s... They looked like rockers, though they recorded on the bluegrass-y Lemco label, and there is a song called "It Don't Look Like A Honky Tonk In Here," as well as one called "Dixie," so there's definitely some twang in the mix as well. Anybody know much about these two?


<! - #056 - no ASIN 07/06/17 - Wayne Davis (lead guitar) and Glenn Little (bass) - looks kind of https://www.linkedin.com/in/glenn-little-b90031a1 House Band Musician Lexington Night Clubs January 1971 – June 2011 (40 years 6 months) Same Glenn Little? https://www.facebook.com/pg/funkabilly/about/ funkabillyky@gmail.com >
Bobby Wayne "Big Guitar" (Jerden Records, 1964) (MP3)


A pioneering rockabilly artist from the Pacific Northwest, Spokane, Washington's Bobby Wayne recorded his first single back in 1955, and crossed freely between country and rock for a few years before settling on a country career. He was known both as a singer and as a guitarist, and in the post-rockabilly, surfy early 'Sixties, Wayne released a string of singles for the Jerden label, twangy instrumentals in the Duane Eddy style, many of which were collected on this mid-'60s LP. It's not totally sizzling or terribly innovative, but these are good, solid, workmanlike rock instrumentals, certainly worth a spin if you like the style. From here, Wayne went onto gigs with Freddie Hart's Heartbeats, with Wynn Stewart and with Merle Haggard's Strangers, as well as a hippie-era position in the house band of the Palomino nightclub in LA, along with steel player Red Rhodes.


<! OTHER ALBUMS: ? - 'BALLAD OF THE APPALOOSA" - Dec 1966 Black Lightning/Wild Fire/Albino/The blizzard/The Red Headed Stranger/ Comanche, The Brave Horse/Ballad Of The Appaloosa/Mustang/Buckskin/ Outlaw/Tennessee Stud/Show Boat. ? RECORDS nn - " DIRECT FROM NASHVILLE" - ca 1970 747/Sunshine Of My Mind/Girl In My Past/Public Enemy #1/Restless River/ Coffee In The Morning/Foot In The Door/Twelfth Of May/Thirteen Miles To Birmingham + other tracks. Note: This was a "road album" >

Bobby Wayne "Sings Appaloosa, Volume One" (Appaloosa Records, 196--?) (LP)
Another mystery record, with no release date or recording info... A lot of instrumentals, many with country-sounding titles, and most of them credited to Bobby Wayne. The liner notes mention that the "title" track, "Appaloosa," was written by Wayne for a 1966 Disney film called "Run, Appaloosa, Run," which starred cowboy singer Rex Allen. He was obviously trying to capitalize on that gig, what with the label name and all, so maybe this album was from around '67 or '68(?)


<! - #CRE-1287 >
Bobby Wayne "Big In Vegas" (Crown Records, 1970) (LP)


In his youth Bobby Wayne was compared to both Elvis Presley and Johnny Cash, although on this album his vocals often seem tremulous and uneven, and it took me a while to place the comparison: he sounds a lot like Wynn Stewart, albeit with funkier, more low-rent musical backing. As with many of the Crown albums, this includes a lot of original material, made even more distinctive by Bobby Wayne's wobbly singing. Definitely worth a spin, though a little goofy overall.


<! - B000S552EQ - MP3 >

Bobby Wayne & The Country Gentlemen "Songs Made Famous By Johnny Cash" (Contessa Records, 197--?) (LP)
No idea when this one came out, but from the looks of it, I'd guess the early 'Seventies, maybe around 1971 or so. It seems highly likely that it's also a reissue of earlier material.


<! - #CONTESSA 15022 >
Bobby Wayne "Outlaw" (Picadilly Records, 1981) (LP)


The tail end of Bobby Wayne's long run as a cheapo-label workhorse... Actually, this early '80s release seems to be a song-for-song reissue of a western-themed album that came out around 1966, called Ballad Of The Appaloosa, though in the Willie & Waylon era, tacking on an "outlaw" reference couldn't hurt.


<! http://www.rockabillyhall.com/bobbywayne.html To contact Bobby Wayne, e-mail: Appaloosasong@AOL.com BOBBY WAYNE (guitar, 1970–73) Born Robert Wayne Edrington in Oklahoma, Bobby Wayne moved to California in 1947, where he established what would become a long history in California country music. He played with various groups starting in the late 1950s, then met Dennis Hromek, with whom he started a group called the Smith Brothers, based out of the Modesto area, in the early 1960s. Bobby and Dennis Hromek, in the minds of many historians, have more or less been thought of as a pair, as they traveled together from group to group. Around 1965 Freddie Hart offered the Smith Brothers a road gig as his band the Heartbeats. They toured with Hart until the bookings dwindled, then joined Wynn Stewart in 1966, becoming members of his road band the Tourists. The first session Bobby Wayne recorded with Stewart resulted in the smash hit "It's Such a Pretty World Today," the biggest of his career. Bobby would record many sessions with Stewart in 1966 and 1967 and even recorded an unreleased instrumental called "Spittin' Guitar," showing his lead guitar prowess, which was eventually released on Bear Family's Wynn Stewart box set. The Tourists eventually wound up joining Buck Owens's roadshow and recording with Dick Curless, without Wynn. When that fizzled out, the pair of Bobby Wayne and Dennis Hromek split up for a while, with Bobby forming Bobby T. Adams and the Common People at the Nashville Nevada Club in Las Vegas, and Hromek joining the Palomino house band, Red Rhodes and the Detours, in North Hollywood. Bobby eventually moved back to Los Angeles and joined the Palomino house band, where he recorded on the Red Rhodes and the Detours Live at the Palomino LP for Happy Tiger records. The entire band, except Bobby, quit the Palomino to tour behind the record. Bobby re-formed the house band with Tony Booth and remained there for a short while until Dennis Hromek and Biff Adams, who were both members of the Palomino house band that were now playing with Merle Haggard and the Strangers, got Bobby to join the Strangers in early 1970. Bobby remained a solid core member of the Strangers for three years and played on many hits, including "Daddy Frank (The Guitar Man)," "Carolyn," "Grandma Harp," "If We Make It Through December," and the album The Fightin' Side Of Me—"Live" in Philadelphia. His contributions to the final four Strangers solo albums were many, in addition to singing and writing several songs (including "Harold's Super Service," "Just Sit Down and Cry," "Repeat Performance," and "Sing a Happy Song"). Capitol Records had enough faith in Bobby to release a few of these vocals on singles bearing his own name. The pair of Bobby Wayne and Dennis Hromek became known for some legendarily wild behavior, and as a result they were released from the Strangers in 1973, breaking up what is considered by many to be one of the classic incarnations of the group. >
Denny Wayne "...And Texas Fever" (Longhorn Records, 1981) (LP) (LP)
In the late '70s and early '80s, New Jersey-based pianist and singer Denny Wayne -- aka Dennis Wible -- led an East Coast honkytonk country band called Texas Fever which was regionally popular, particularly in the Lehigh Valley area, as well as at the Lone Star Cafe in NYC. This album is packed with cover songs, mostly outlaw-y, Waylon-esque type stuff. This edition of the band included Steve Anderson on lead guitar, Walt Lapp on bass and Terry Reiss on drums, as well as a gal simply called "Anita" adding some vocals. Wayne played piano, fiddle and guitar, and sang lead on about half the album, while letting Anita and Anderson sing lead on three tracks each. The Longhorn label was out of Humble, Texas, though I'm not sure if Wayne had relocated to the Lone Star State for a while, or just went there to cut this record. Wayne was known regionally for hosting countless live shows and for encouraging other local artists, while working a day job as a bus driver in his later years. He also recorded a couple of live albums, Denny Wayne And Texas Fever Live and Still Kickin', though I haven't been able to track any info about the where-and-when of those releases.


<! http://articles.mcall.com/2014-07-18/entertainment/mc-denny-wayne-alburtis-country-tribute-20140718_1_tribute-show-alburtis-park-texas-fever "...Wayne, who was born in Allentown as Dennis Wible" - mostly (all?) covers - no ASIN 10/22/15 - from Lehigh Valley area - New Jersey (b. xxxxx-2014) age 67 http://blogs.mcall.com/lehighvalleymusic/2014/07/denny-wayne-local-country-music-favorite-to-be-remembered-at-summer-concert.html "... Wayne was a pianist, guitarist and vocalist for Texas Fever, and several band members through the years went on to form their own acts." > <! NANCY WAYNE >

Neil Wayne & Jenni Blocker "Two For The Road" (Safari Records, 1977) (LP)


(Produced by Charles Fields & Johnny Howard)
A trip to Nashville resulted in this album by South Dakotans Jenni Blocker and Neil Bagaus (aka Neil Wayne) who had previously been in an amateur band called the Suns Of The West, which played several county fair-type events and talent contests but never really cracked into the professional country scene. The Suns recorded an album in 1974, though as far as I know, these were the only two records they made...


<! - #SF-NM-1006 TRACKS: ONCE UPON A TIME; I DO, I DO, I DO; SAN ANTONIO STROLL; HEART TO HEART TALK; SWEET SOMEONE; I NEVER GET TIRED (Of Lovin' You); SUMMER WINE; HEY GOOD LOOKIN'; BLUE EYES CRYING IN THE RAIN; WE SHOULD BE TOGETHER >

Tony Wayne & The Corpus Christians "The Country Soul Of..." (Barre Records) (LP)
Well, shucks, I would have thought with an album title like this and a band name like that, this would be a pretty hip-sounding set of old-school gospel twang... Not so! Turns out this is solidly secular honkytonk record from a veteran Texas country picker whose full name was Tony Wayne Guion. The liner notes are informative, but perhaps not completely reliable... For example, Guion says that he had a band called the Cherokees that included an as-yet undiscovered Ray Price (Price started his Cherokee Cowboys in 1953, recruiting many members of Hank Williams' old band... possibly Tony Wayne was a member at some point?) More significant is his claim to have "made" several rockabilly singles which were actually recorded by a younger guy named Alvis Wayne... and this is where things get a little sticky. Alvis, whose full name was Alvis Wayne Samford, was no relation to Tony Wayne, although when he was a teenager he went on tour in Guion's band. He -- Alvis -- also cut several rockabilly sizzlers on Westport Records, a Kansas City-based label that Guion had previously recorded for... Tony Wayne set the deal up and wrote the songs and sent the tapes to the label, although he sort of fudged the details and told people it was his band playing on the songs, while Samford says it was a different group altogether. Anyway. That was all a long time ago, right? Somewhere along the way Tony Wayne got a day job as a Texas cop, working at various times as a deputy sheriff, a baliff, and (according to the liner notes) as a chief of police. Eventually he moved into doing construction work, which is what he was doing when he cut this album. Not a lot of details here about the record itself, unfortunately... The backing musicians aren't named except for steel player Gary Bickham, who gets a solo number showcasing his work... The album includes a few classics by Floyd Tillman and Bob Wills, but is mostly packed with original songs credited to Tony Wayne, such as "Hurtin' Deep Inside," "I Got Tight Last Night" and "Vacation In Texas."


<! - born in Rule, Texas - Barre label in Victoria, Texas - steel guitar by Gary Bickham - no ASIN 12/20/16 Alvis Wayne (1937-2013) Alvis Wayne Samford - was in Tony Wayne's band http://www.rockabillyhall.com/AlvisWayne.html "...Alvis was performing locally in Honky Tonks and nightclubs for little more than beer money when a local musician approached him called Anthony (Tony) Wayne Guion who had a group called the Rhythm Wranglers. "My mom and dad were not very happy about me going out on the road, but I had an opportunity to do so with a band, which was the only thing I ever wanted to do. As I said they weren't very happy about it at all and we talked about it for several days but I just had to go and they eventually went along with it all and didn't hold me back." Unfortunately, not a lot is known about Anthony (Tony) Wayne Guion and the Rhythm Wranglers except that he led a four piece band consisting of drums, bass, lead guitar and Tony himself on rhythm and vocals. In 1957 he cut his one and only release on Westport Records called 'Many Ways'/'Together Forever' (Westport 134). So in early 1956 Alvis set out on his first ever tour down through South Texas but he was to soon realise that life on the road was not very glamorous after all. The band stayed in three or four regular places at that time that had been previously booked by Guion. Accommodation was sparse with nothing more than a dressing room with a bed and a wash basin. At that time Alvis was singing mostly country music with a smattering of Rock'n'Roll from the likes of Elvis and Jerry Lee, but mainly just country that was popular at that time. Life on the road was to prove a real disappointment. The band never earned much money and even went without food on some occasions. Tired, hungry and totally disillusioned, the band decided to call it a day and head back home to Corpus Christi." >

WB & The Western Union "Thanks, Grand Ledge" (MPI Records, 1984) (LP)
(Produced by Mark Miller & Steve Curran)
Honky-tonk twang by W. B. Vaughn, of Grand Ledge, Michigan, who recorded this album as a demo set... Not a lot of info about these folks, who definitely looked like rowdy, hard-livin' good old boys... The band included Rick Bellant (on guitar), Barb Morse (piano), and Mel Sharrah (drums), with Vaughn singing lead, writing the songs, and booking all the shows. This album -- which included original songs such as "Good Ole Boy From Grand Ledge MI," "Hard Gamblin' Man," Just A Thought Of You" and "Tribute To Christ Jesus" -- got some radio airplay, but it was strictly a local phenomenon. A couple of years later they were playing some gigs at a place called the Hayloft Saloon, on the other side of Lansing, and by 1988 the group had broken up, with Vaughn doing a few solo gigs over the years. Vaughn, who struggled for years with multiple sclerosis, passed away in 2011.


<! - #MPI-8837 - no ASIN 04/21/18 - year? https://www.youtube.com/watch?v=9299DB8ID1A >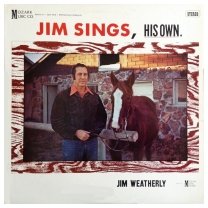 Jim Weatherly "Sings His Own" (Ozark Music Company, 197-?) (LP)
This was not the same Jim Weatherly who wrote "Midnight Train To Georgia," just in case you're wondering, but rather a guy from Springfield, Missouri who had a gig in the early days of Branson. This album was a souvenir of Weatherly's show, recorded with his band, the Ozark Music Makers, which included Mike Bried, Arnie Arnold and Wendell Daniel, with harmony vocals by Sharon Stoddard. The repertoire includes original songs such as "Blonde Hair On My White Coat," "It's Not Fair To Say You Love Me," "Out Of Sight, Out Of Mind" and "A Fall From Here (Will Surely Hurt)," and it's all pretty good! Weatherly's music had a nice, rough, old-school hillbilly feel to it, reminding me of Bill Carlisle in a way, with a rambunctious, see-what-works approach that put some of the sponteneity and fun back into country music. Or, in his case, kept it alive. Real-deal old-fashioned twang that was totally out of synch with what was happening in Nashville, and pretty enjoyable as a result.


<! - label in Springfield, MO - 1969? or 1973-? >
Cowboy Weaver/Various Artists "Volume One" (Freestate Records, 197--?) (LP)


Lloyd "Cowboy" Weaver was a long-running local television host on station KTVT-11, in Dallas/Fort Worth who comes off as a clunky but authentic vocalist, showing a heavy debt to fellow Texan Ernest Tubb -- in my book, you could certainly do worse. This delightfully low-rent "live" album is structured as a stitched-together faux concert, complete with super-fake canned applause and painfully abrupt editing. It features Lloyd Weaver's grown-up son(?) and business manager Tommy Weaver, along with a slew of side performers, many of whom I'd imagine were pay-to-play guests of the Weavers. Their Sunset Ranch show ran on local television from the 1960s through the early '90s and had some affiliation with country promoter Dewey Groom, who sponsored a regular segment on the program. Lloyd Weaver had deep roots in the Lone Star honkytonk scene, recording a handful of singles in the late 1940s and early '50s, though his roughly-assembled TV show seems to be remembered mostly as a kitschy local phenomenon, and this album may give give a glimpse into that history. Not all the vocals that great, though the picking by the Pals Of The Saddle house band are pretty solid and consistently twangy, particularly steel player Gary Hogue, who brings a lot of ooompf to the production. There's a mystery track by the Callahan Brothers, an old-timey vocal duo whose best work dated back to the 1930s and '40s; it's a vintage recording of "Maple On The Hill" with tape hiss that clearly dates it to an earlier era, probably something Dewey Groom had laying around in the can. There are also several novelty-tinged songs featuring off-key teen and pre-teen kiddie singers, which would seem just kind of negligible if it weren't for the grotesque coda of Mr. Weaver's career: he was arrested in 1997 on child molestation charges, following an investigation of allegations that Cowboy Weaver had promised some young boy that he'd make him a star someday and, well, you know the rest. Ew. Still, the music on this album ain't bad, even if the man behind it was.


<! http://countrydiscoghraphy2.blogspot.com/2014/07/lloyd-weaver.html - Praguefrank only has early 78s in discography: maybe send him info about later singles and LP? https://www.allmusic.com/album/cowboy-weaver-and-the-pals-of-the-saddle-mw0000969351 http://phorum.dallashistory.org/read.php?2,78403,83753 >
J. C. Weaver "Volume One" (Wild Turkey Music, 1977) (LP)





<! "...Contains six nationally charted singles" ...supposedly... - year(??) >

J. C. Weaver "J. C. Weaver" (Wild Turkey Music, 1978) (LP)
(Produced by Billy James)



<! - from Clearwater, Florida - with some songs written by June and Jack Walker - great '70s album art! - no ASIN 02/12/15 >
Paul Webb "...And Young Country" (Masa Recording Company, 1976-?) (LP)
This Detroit-area twangband featured brothers Paul and Danny Webb on drums and bass, along with steel player Jerry Nagle and lead guitar Hank Van Vleet. Paul Webb, who was a distant cousin of Loretta Lynn, led this band for many years, from at least 1974-91, according to local newspaper listings. He wrote three songs on this album, including one co-written with Van Vleet; they also cover Bob Dylan, Waylon Jennings and Mel Street, to give you a sense of where they're coming from. Webb's son also became a musician, performing under the name Mike Shane, first working in his dad's band, and then as a solo performer in Nashville. They may have also run a nightclub at one point: in the early '90s, there were some shows at a place in Ypsilanti, called "Shane's."


<! - #760909 - band together at least from 1974-91 Contact Info Paul Webb 1-615-300-5015 > <! Phil Webb & Roger Thomas "Sing It: Sweet Country For You" (Sandi Records, 1984) (LP) (Produced by Bob Angel) - #NR-15260 (Nashville Record Productions custom label) - label address is Killarney, Florida - most songs written by Bob Angel - two songs are by Johnny Selph: "Memories Of The Past" and "Watch The Watchers" - all but two tracks feature lead vocals by Phil Webb; were the Roger Thomas songs previously released as a single? ("North Carolina Is My Home" and "They Are Fallen Angels") (nope, doesn't look like it) - Nashville band includes Sonny Garrish on steel guitar and dobro; Greg Gailbraith on electric lead; Willie Rainsford playing piano; Mark Casstevens on rhythm guitar and banjo, among others >
Susan Webb "Bye, Bye Pretty Baby" (ABC-Anchor, 1975) (LP)


With Gib Guilbeau, Herb Pedersen, Albert Lee...


<! Jim Webb's sister, apparently >
Red Dog Weber "...And Custer's Last Band" (Big Horn Records, 1978) (LP) <! year?? >


(Produced by Lee Burch & Rue Barclay)
A kooky little gift from Hollywood here... An economist by trade and a Buckeye by birth, Ohioan J. Allan Weber played his way through pretty much every bar or barn you could imagine between Cleveland and LA, and became best known for his shows at the World Champion Chili Cookoff in Terlingua, Texas... He also made his mark with numerous TV appearances, playing the "boombass," a rhythm instrument of his own design. Weber is joined on this album by veteran Nashville fiddler Harold Hensley, as well as guitarist Gene Ridgeway, an Oklahoma western swing bandleader who carved a niche in the Los Angeles entertainment industry, as well as Lee Burch (a Southen California music and movie producer who also did studio work as a guitarist) and western/cowboy music singer Hal Southern, who also worked in the TV industry. They play oldies and standards, along with 'Seventies hits such as "Tie A Yellow Ribbon" and "Bad, Bad Leroy Brown," and few originals written by members of the band, including "Power Up Your Chili" and "Custer's Last Band."


<! - #BH-0069 >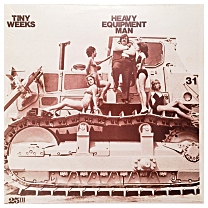 Tiny Weeks "Heavy Equipment Man" (25th Records, 1979) (LP)
(Produced by Phil Nelson)



<! - no ASIN 10/21/15 - from North Carolina/Virginia - novelty songs - country?? - liner notes from a local country DJ, steel guitar listed >


Eric Weissberg - see artist discography




Rusty Wellington "Yes, It's Me Again" (Arzee Records, 19--?) (LP)
(Produced by Lucky Steel & Tony Schmidt)



<! - #RZ-1002 - no ASIN 05/08/18 - thoug there is a BACM cd: B079NCNRQ9 - from Maine(?) grew up in Montreal, apparently was on the radio at age ten - Lucky Steel aka Lucky Taylor(?) wrote liner notes, produced the album - Rex Zario's label EB: "Arzee Records 12-inch 33 RPM LP # RZ-1002 is "Yes, It's Me Again" by Rusty Wellington." It is undated, but probably late 1960's or early 1970's. Rusty Wellington (1925-1986) was both a singer and a songwriter, mostly in the plain old country genre, but also, as demonstrated on this album, occasionally crossing over into rockabilly. In one way or another he was associated with Tex Ritter, Hank Williams, Sr., Hank Snow and Bill Haley. The sleeve notes are by Rusty's "personal friend and manager" Lucky Steel, who was also a country/rockabilly singer in the 1950's. Side 1: Yes, It's Me Again; Bottle Full of the Blues; Poor Little Me; I Do; Mine Alone; I'm All Better Now. Side 2: Why'd You Put Me Down; So in Love; I Stand Convicted; Packed in Maine; Since I Got You off My Mind; She's Still Number One. >

Wells Fargo "Wells Fargo" (Brut Sound, Inc., 1974) (LP)
This was a progressive bluegrass band from Virginia which showcased a bunch of country and country-rock tunes in their repertoire... The band included Dan Lambert on guitar, Stafford Markham (banjo), Garland Alderman (mandolin), Bob Brown (bass), Smiley Hobbs (fiddle), and Speedy Price playing fiddle and drums. I'm not 100% certain, but I think Dan Lambert also recorded some "new acoustic" style guitar instrumental albums later in the decade. The repertoire on this album includes covers of hits such as "Good Time Charlie," "I'll Be Your Baby Tonight," "Bad Bad Leroy Brown," and "What's Your Mama's Name."


<! - #NR-5109 - label from Annandale, Virginia - producer not listed - was "May You Never Be Alone" a John Martyn cover? http://www.danlambertguitar.com/ - same guy? LK emailed 05/18 same group??: Wells Fargo "Lost Highway" (Razzo Records, 19--?) (LP) B01L9BV54I - no, don't think so >
John Wells "Moods" (Nashville International, 1977) (LP)
(Produced by Ron Coats & Reggie Churchwell)



<! - engineered by: Jim Cotton, David Jones, Jerry Shook - Russ Hicks and Charlie Vaughn - steel guitar - #NI-77-515 - 1977 release? - no ASIN 09/24/15 >
Michael Wendling & John Hanson "There's Something About The Arco Desert" (Sheepeater, 1975) (LP)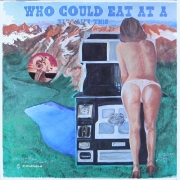 Michael Wendling "Who Could Eat At A Time Like This?" (Sheepeater, 1977) (LP)


Despite the blechhy album art, there's some nice music on here. (The cover features a garish softcore-porn painting of a nearly-naked woman standing in front of an old wood-burning stove, with her backside towards us, in a not-so-subtle pose, the Idaho mountains in the background... I'm sure the boys in the band thought this looked great at the time, but it sure makes it hard to have this record out around company or the kids...) Anyway, this guy seems to have been from the Pacific Northwest somewhere, or possibly Idaho, where the label was from, and he was a pretty good banjo picker and guitarist -- the record starts off with the bluegrassy "Hamilton County Breakdown," and moves into some spacy, cosmic folk-twang ballads and then a bunch of tracks with loop-de-looping, Leo Kottke-style guitar riffs, with subtle accompaniment on pedal steel. If you're into Kottke's hypnotic/repetitive style, this is an excelent example of his influence on other pickers, and a surprisingly well-produced indie album. Worth a spin!
Michael Wendling "31 Of Mike's Favorites On Two Discs (With Skips) From The Vinyl Era" (2013)


This appears to be a straight reissue of three albums by Wendling, including the two listed above... And I guess, based on the album title, it was mastered straight off the old LPs rather than master tapes. Now that's old school!




Wes & The Plainsmen "Live" (1981-?) (LP)
These guys hailed from Kenosha, Wisconsin and played regularly around Chicago for several years. Led by singer Wes Cox, the band was together at least as early as 1973, but this album seems to be from around 1980-81 or so, judging from the covers of Rodney Crowell's "Ain't Livin' Long Like This" and "Elvira," which were in vogue around then... The band included Bob Fenrich (drums), Drexel Hurley (bass), Vern Markee (electric guitar) and Pam Williams (vocals) -- bass player Drexel Hurley (1930-2012) worked for American Motors in Kenosha; he seems to have retired to Texas later in life.


<! - #LLP 101 Wes Cox (vocals, rhythm guitar), Drexel Hurley (bass), Vern Markee (electric guitar), Bob Fenrich (drums) and Pam Williams (vocals) - no date, geo info - no producer or label name - mentions of the band in the Kenosha News newspaper July 26-28, 1973 - Aug. 22, 2012 obit of bassist Drexel Hurley: http://www.djournal.com/obituaries/obituaries-aug/article_824ef58b-55b3-5e10-88fc-d20c28af4f84.html "PALACIOS, Texas - Drexel Hurley passed away at the age of 81 in Palacios, Texas, on June 12, 2012. He was born on December 18, 1930, to the late Roy and Bertha Parish Hurley. He was born and raised in Monroe County, and was a long time resident of Amory prior to his passing. Drexel moved to northern Illinois as a young adult to make a living and raise a family. He and Mary Jean settled in Zion, Illinois. Drexel was a long-time employee of American Motors, and worked at the Lakefront plant in Kenosha, Wisconsin. He was active in youth sports, coaching baseball for several years as a member of the Zion Athletic Club. Drexel played bass guitar professionally from his early adulthood until retirement. He was a member of "Wes & the Plainsmen" for many years. This popular country & western band played throughout the Chicago area most every weekend at clubs and weddings. Additionally, Drexel was asked on many occasions to play backup for famous entertainers at events in the Chicago area. Survivors include his wife, Mary Jean Hurley of Palacios, Texas; a daughter, Linda Faro (Danny) of Plymouth, Indiana; three sons, Tim Hurley (Janet) of Bay City, Texas, Terry Hurley (Sandy) of Russell, Ill., and Tony Hurley (Mike) of Seattle, Washington; two sisters, Claudeen Pannell of Brooksville, and Pat Dixon of Sun City West, Arizona; a brother, David Hurley of Amory; six grandchildren, eight great-grandchildren, and two great-great grandchildren" https://archive.org/stream/AntiochNews01301974/1974-01-30_djvu.txt "... >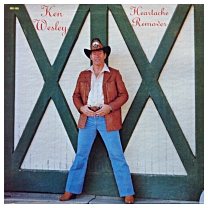 Ken Wesley "Heartache Remover" (Gene Breeden Studios, 1979-?) (LP)


(Produced by Gene Breeden & Chad Heasley)
The songs on this album were all written by honkytonker Ken Wesley, with backing by a studio band that included Gene Breeden on guitar, Terry Crisp on steel and Bruce Watkins on fiddle and bass. I couldn't find much info about Wesley online, other than that these songs were composed and copywritten between 1977-79, and that his full name was Franklin Kenneth Wesley. A few of his tunes were covered by other artists, notably "Oh Lousiana," which was apparently recorded by Jim & Jesse in the 1980s, and Oregon's Jerry Bradley (another singer in Gene Breeden's orbit) included a couple of Wesley's songs on his album Once More For The Good Times: "Whatever We Had" and "We Never Ran Out Of Love" (which are also on this album...) If anyone out there knows more about Ken Wesley, I'm all ears!


<! - one song called "Lousiana" - was he from there? or from Denham Springs TX? Franklin Kenneth Wesley, whose pseud. is Ken Wesley. - songs written/copyrighted 1977-79 - his song "Oh Lousiana" was apparently covered by Jim & Jesse in the 1980s(?) >

West "West" (Columbia, 1968) (LP)
(Produced by Bob Johnston)





West "Bridges" (Columbia, 1969) (LP)


(Produced by Bob Johnston)



<! recorded in Nashville - bandmembers: Ron Cornelius, Joe Davis, Mike Stewart, Lloyd Perata, Bob Claire, Jon Sagen - a lot of originals (?) includes a version of John Stewart's "July You're A Woman", Dylan, Dave Dudley Cornelius also recorded an obscure solo album: Ron Cornelius "Tin Luck" (Polydor, 1971) (LP) B005DYM11O >
Jim West "Wild Country" (Gemini Records, 1972) (LP)
(Produced by B. Anthony Palmer)



<! - no ASIN 05/25/15 - #GM-2008 - British country band: "East Anglian country band" Backing Vocals – Barbara Maezey (tracks: A1-B6), Norma Cathrow (tracks: A1-B6) Bass Guitar – Mike Crowe (tracks: A1-B6) Drums – Phil Sargeant (tracks: A1-B6) Lead Guitar – Joe Williams (tracks: A1-B6) Lead Vocals – Jim West (14) (tracks: A1-B6) Pedal Steel Guitar – Terry Packham (tracks: A1-B6) Producer – B.Anthony Palmer (tracks: A1-B6) Rhythm Guitar – Jim West (14) (tracks: A1-B6) A1 Wild Country A2 Crystal Chandaliers A3 There Goes A Fool A4 There Are Times A5 Four In The Morning A6 Break My Mind B1 Let Me Love Again B2 Sing Me Back Home B3 Tupelo Mississippi B4 The Thorns On The Vine Can Be Cruel B5 I Love You Because B6 Kansas City >
Jim West & The Texans "If I'd Left It Up To You" (Gemini Records, 197-?) (LP)



<! - no ASIN 05/25/15 - #GM-2013 - Discogs says 1971, but other LP contradicts that A1 My Shoes Keep Walking Back To You A2 The Light In The Sky A3 Man In The Shadows A4 Quarter Past Blues Time A5 Truck Drivin' Man B1 If I'd Left It Up To You B2 You're Mine Pretty Girl All Mine B3 Without Youe Sweet Lips On Mine B4 My Heart Skips A Beat B5 Love Me All The Way >
Jim West "Good Things Goin' Down" (Home Comfort Records, 1977) (LP)


(Produced by Cliffie Stone)
A truly stunning set of hardcore honky tonk music, urgently in need of reissue. This all-original album by Oregon songwriter Jim West features several absolutely devastating cheating songs, real doozies like "Her Arms Were Always Warm" and "Another Night Of Cheatin'," as well as gems such as the album's forlorn closer, "Leavin' Kind." All the songs on here were written by West, with production by West Coast old-timer Cliffie Stone, and session help from rock-solid pickers like J. D. Maness, Gene Breeden and Billy Walker... West is a superior songwriter who sounds an awful lot like the young Merle Haggard... Fans of Dale Watson are gonna want to track this one down!


<! - from Oregon - J. D. Maness, Gene Breeden and Billy Walker play on here - all songs written by West: Now I' Just Bummin Around, California Girl, I Know YOu Cheated, Hollywood Cowboy, Her Arms Were Always Warm, Austin Lady, Another Night, Gypsy Sally, Turn Me On and Leavin' Kind. >
Judy West "Judy Judy Judy" (K & M Records, 1970-?) (LP)


A pianist as well as singer, West played pop as well as country, covering material by Dallas Frazier and Bob Montgomery, as well as Dexter Shaffer's "Nashville Wives," which she released as a single on the Starday label. An aspiring songwriter, West composed two songs on this album, "Give Me Love" and "Just A Bend In The Road," and worked at various songmills in Nashville. On this album, she recieved testimonials from country crooners Eddy Arnold and Gene Autry, as well as from pop-Dixieland bandleader Pete Fountain, whose band she worked in during the late '60s. The material on this album was recorded over several years, with the tracks on Side Two tilting towards 'Sixties pop-vocals material, including international material from Tom Jobim and Charles Trenet. The later sessions date to early 1970, when she had shifted into more country material. Apparently she also had a regular gig at a place called the Nashville City Club, where she was playing around the time this album was released; Ms. West later opened a piano-bar/nightclub of her own where she performed and hosted other musicians.


<! - #K&M-2670 As Long As I Love, Tomorrow I'm Gonna Have A Talk., Nashville Wives, Watchin' My World Walk Away, Just A Bend Of The Road, Yes I Know That I'm Alive, Too Close For Comfort, What's New, Give Me Love, Corcovado, I Wish You Love & When Your Lover Has Gone Autobiography: B001GQNLXA - was she also on Melody Ranch shows, or is that someone else? - apparently retired to Mesa, Arizona, where she played piano at the Fellowship Square retiredment community(? unable to confirm) "Judy West's" club mentioned in 1980 Tennesseean entertainment listings https://www.newspapers.com/newspage/112134571/ https://www.facebook.com/thenashvilleiwishiknew/photos/pb.127158557348428.-2207520000.1464975089./557745590956387/?type=3&theater https://www.facebook.com/pages/Judy-West-at-the-Piano-Bar/398546996939077 https://www.discogs.com/artist/4130877-Judy-West "...Judy West was a Starday recording artist, while working in the publishing department of Starday & King Records. She also was a pianist at the Nashville City Club where she typically played nightly. After departing Starday, she signed with, publisher-arranger, Bill Walker as a songwriter." >
Sam West IV "Country By..." (Little Richie Records) (LP)



<! - #LR-SLP-1003 - no ASIN 08/14/15 >
Wayne West "Streets Of Laredo" (Sand Records, 1967-?) (LP)
Western/hillbilly singer Wayne West was a member of the Southern California band called the Frontiersmen, a group with a fluid membership that also included a fella named Highpocket Busse, and songwriter Hal Southern. They backed Eddie Dean and gal singer Joannie Hall, and recorded numerous singles and albums for Sage & Sand as well as other indie labels. I'm not sure, but he may also be the same Wayne West who recorded some square dance records, although where and when I really can't say...


<! - #LPC-44 - no ASIN 04/03/18 - - later did some square dance records(??) >
Ken Westberry "Ken Westberry" (Crackerbox Records, 1975-?) (LP)


Originally from Miami, songwriter Ken Westberry was a rock-solid Nashviller when he recorded this album on his own independent Crackerbox label... Best known as the composer of Gene Watson's 1975 hit, "Love In The Hot Afternoon" (along with about five hundred other songs), Westberry was a former rockabilly teen who found his niche in Nashville, working with his pal Charlie McCoy in the early '60s, before McCoy had cracked into the Music City elite. Admittedly, Westberry wasn't the world's greatest singer, but he sounded okay -- kind of a cross between Bill Anderson and George Jones, if you can imagine that -- and he carries these songs well. Westberry wrote or co-wrote all the tunes on here, with some interesting songwriting partners, including Mel Tillis, ex-con Harlan Sanders, Hal Harbour on a couple of tunes, and some other guys as well. The backing is pretty good -- presumably by his band, The Memory Makers, playing in a solidly uptempo, mid-1970s Top Forty-ish style. One of the highlights is a topical song, sort of an anti-Austin anthem called "Don't Come To Texas," where he warns all the would-be outlaws of the era that they gotta have a fiddle in their band if they want to sound like Bob Wills, and generally gives the longhair crowd a good-natured ribbing. All in all, this is a strong set for an off-the-radar vanity pressing, and it's possible the cheerful-sounding Westberry just missed the wave for his brand of country by a year or two, like so many folks back then. A few years later he released a couple of singles on the Doorknob label, though nothing charted, and a couple of other albums are out there, though I haven't heard them. Anyway, this disc is definitely worth checking out, despite the goofy-looking, swingerdelic cover art.


<! http://countrydiscography.blogspot.com/2011/09/kent-westberry.html Ken Westberry "Ken Westberry" (Crackerbox Records, 197-?) (LP) Ken Westberry "...The Memory Makers" (197-?) (LP) - different song list Ken Westberry "Songwriter" (197-?) (LP) Ken Westberry "Songwriter" (2007-?) (LP) 1978 single: "If The Whole World Was An Ashtray" https://grantgrieves.wordpress.com/this-is-my-story/ Crackerbox was Westberry's own label - released singles by Grant Grieves and others http://translate.google.com/translate?hl=en&sl=de&u=http://de.wikipedia.org/wiki/Kent_Westberry&prev=search http://en.wikipedia.org/wiki/Love_in_the_Hot_Afternoon > <! Billy Western "...Comes To Nashville And Makes Some Records With Little Roy Wiggins" (Empire Records) (LP) (produced by Billy Western & Doyle Grisham) - #16675 - 1975? - with Doyle Grisham, Shorty Grisham - older, sentimental country classics such as "Waltz Across Texas," "Old Shep," "Silver Haired Daddy" and "Don't Rob Another Man's Castle" >
Western Boogie Express "Western Boogie Express" (Tell International, 197--?) (LP)


(Produced by Jerry Merritt, Larry Merritt & Robin Beck)
It would be really difficult not to be totally charmed by this raw, amateurish, enthusaiastic set of '60s/'70s cover tunes. I didn't even try. This four-piece band from Yakima, Washington was made up of two married couples: Shannon and Gary Robinson, and Mitzi and Donaldson, with a little additional piano plunking by producer Larry Merritt. They cover pop, country and Motown oldies, stuff like Bob Seger's "Old Time Rock'N'Roll," Bonnie Tyler's "It's A Heartache," "Take It Easy" by the Eagles, and Hank Strzelecki's oft-covered comedic ditty, "Long Tall Texan." The sessions were crudely produced and the musicianship is hardly waht you'd call slick, but that's definitely a plus in this case... Some unexpectedly tough-toned, fuzzed-out electric guitar zings up a tune or two, almost placing this in the same category of naifish power-pop by '80s/'90s bands like the Flatmates or the Fastbacks. The guys are the very epitome of "just plain folks" musicians, true amateurs singing songs that are just plain fun to sing, and giving it their all, in their own loveably un-commercial way. Dig it.


<! - ordered on AM 07/18/16 - #LP-Tell-401 >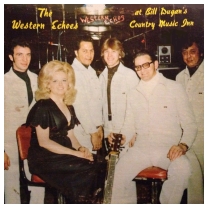 The Western Echoes "...At Bill Dugan's Country Music Inn" (Stone Records, 1976-?) (LP)
(Produced by Bill Dugan & Bill Haskins)
Dugan's was a country music joint that opened back in 1973 in Northern Illinois -- in a little town called Half Day, near Chicago. It catered to twangfans who didn't want to drive all the way to the big city to get see a show... The Western Echoes was the house band, with musicians drawn from throughout the upper Great Lakes region, Tennessee and the upper Midwest... The featured singers were Jack Weber, who had apparently been in a few bands before this, along with Libby Sheperd and her husband, Tennessee steel player Jim Shepard... There's no date on the disc, but they cover Joe Stampley's 1975 hit, "Roll On Big Mama," so between that and the groovy feathered hair on the kid in the back row, I'm guessing this came out in '76 or thereabouts.


<! - no ASIN 04/15/15 http://bb.steelguitarforum.com/viewtopic.php?p=1203500&sid=3f2c834592f7cef7519d94eb15fd36e4 >
The Western Echos "Live At The Nashville Room: London, England" (Map Records, 1971) (LP)
(Produced by Steve Vaughan & Roy Mullins)
Strange but true: this British country-covers band is actually a completely different group from the Chicago-area ensemble listed above. Go figure. The repertoire is more oldies and hillbilly oriented, with chestnuts like "Kawliga" and "Bury Me Beneath The Willow," and a few more modern tunes such as "Together Again" and "Okie From Muskogee."


<! - #TMC-LP-002 >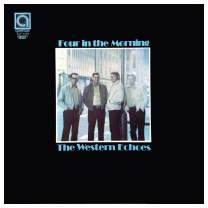 The Western Echos "Four In The Morning" (Avenue Records, 1972) (LP)
(Produced by Gordon Smith)
I guess I'd file these country-lovin' Brits under "well meaning..." Although objectively the overall impact of this album is underwhelming, they clearly had a strong appreciation for authentic country music, both in their choice of repertoire (Louvin Brothers, Ray Price, Webb Pierce) and in their simple, back-to-basics approach, with spare arrangements centered around Ken Pierce's steel guitar and some sweet licks on bandleader Roy Mullins' mandolin. There are several contending influences at play -- straightahead old-school honkytonk, tempered by a bluegrass-ish flair, particuarly on the Jim & Jesse-influenced mandolin riffs, and a western-folkie strand as well. Where they fall flat is both on the vocals and on the overall delivery -- you can really hear them trying to hit their marks, and it sounds very effortful, in that we-only-have-a-little-bit-of-studio-time way that sometimes impacts these indie albums. Okay, so they sounded a little stiff, but so what? I guess there's no way to know how much looser they were live (or even how frequently they played) but perhaps one can read between the lines on the damned-by-faint-praise liner notes from British country critic Bryan Chalker, who goes out of his way to underscore that he hasn't even listened to the record, and had only seen the band play once, noting their "rough edges," as well as their rugged sponteneity. Harsh. On three tracks, they bring in a ringer, vocalist Pete Sayers, who has a smooth, folkie tone, and closes the album with a version of "Hobo's Lullaby." On balance, though, I'd say this is worth checking out, at least if you're into the more obscure threads of where country music crept into the English musical landscape.


<! - #AVE-0123 >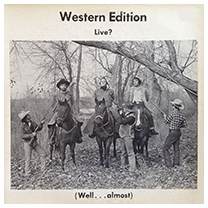 Western Edition "Live? Well...Almost" (Wested Records, 1975) (LP)
(Produced by Ron Mason & Western Edition)
A live set by a twangy trio from Boise, Idaho... The band included singer-guitarist Don Hughes, bassist Jerry Long and drummer Joe Miller, working through a set that included rock and pop material like "Kansas City," "Play Me" and "Rock Me Gently," as well as country tunes such as "Before The Next Teardrop Falls" and "Brown Eyed Handsome Man." There's also an original tune, "Grow Old With You," written by the album's engineer, Ron Mason. The show was recorded in July of 1975 at a place called the Hi Ho Club, in Boise.


<! - no ASIN 10/30/16 >
The Western Gentlemen "The Western Gentlemen Of Reata Pass" (Rodeo Records) (LP)


(Produced by Jack Miller, Buck Coghlan & The Western Gentlemen)
Formed in 1966, this Arizona trio was made up of bassist Harold "Buck" Coghlan, fiddler Willard E. "Slim" Forbes, and singer-guitarist Jon E. Severson (aka Johnny Dakota) who was originally from the Dakotas. At the time they cut this album, they were apparently holding down a regular gig at the Reata Pass Steak House, near Scottsdale, specializing in western (cowboy) songs, along with a dash of Willie Nelson, Roger Miller and Dallas Frazier, and one song written by Severson, "Broken Dreams." All three bandmembers had long histories playing various gigs, including Johnny Dakota's stint on the Sun Valley Barn Dance show in Minneapolis, and Slim Forbes' days playing with Marty Robbins, before Robbins split for Nashville.


<! Western Union "Branding Iron" (xxxxxxx, 1982) (LP) - 06/15/15: couldn't track this one down - search terms too broad w/o label name Western Union "Country Music" (Hansa Records, 19--?) (LP) - Hansa, Ariola #202 454 - 315 Western Union "Live" (Hansa Records, 1983) (LP) B00KRHIDQY - different band than above - Hansa - German label - band also German?? bunch of cover tunes (AM) Western Union "Barrooms, Bedrooms And Bad, Bad Boys" (Extra Records, 1986) (LP) B003B6AI3Y Western Union "Greatest Hits Live" (Extra Records, 1987) (LP) - label? >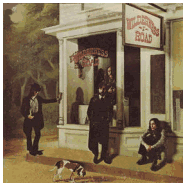 The Westerners/Various Artists "A Few Of The Wild Bunch" (Wild West Recordings) (LP)


(Produced by Larry Jack)
This one's a little hard to decipher, but I think the deal is that this is a collection of several artists all individually backed by a band called the Westerners. The singers are Larry Jack, Bill Kramer, Marv Lindner and Skip Stanley... The album was released on a label from Brea, California (near Anaheim) and I'm guessing the guys were working at a club in the area when they cut this disc. Marv Lindner may be familiar to squaredance fans -- he was a popular figure on the Southern California "calling" scene and cut some records back in the '70s. Skip Stanley is fondly remembered for the Sputnik-era joke-a-billy single, "Satellite Baby."


<! "THE WILD WEST/ RECORDING DANCE" from Brea, Southern California... Featuring "A Few Of The Wild Bunch"... With Music by "The Westerners"... WW5-2...Produced by Larry Jack, With ... Fun cover with lots of photos of the Wild West/ Wild Bunch in action... Tracks: "THAT SONG IS DRIVING ME CRAZY, ROLL TRUCK ROLL, HASH, ALL SHOOK UP, WHEN MY WOMAN BEGINS, I'VE GOT YOU, SOMETIME THING, HASH, SAINTS, MOCKINGBIRD HILL" Marv Lindner - Jewish? same guy that's buried in Ohio? (1929-2002) >

Wet Behind The Ears "Wet Behind The Ears" (American Investment Company, 1980) (LP)


(Produced by Andy Waterman)
A fairly dreadful country/folk/rock crossover album by an ambitious band from La Crosse, Wisconsin. They covered some interesting tunes, stuff like Peter Rowan's "Midnight Moonlight" and Gram Parson's "Luxury Liner" alongside a few gooey originals that teeter between sort-of countryish and disasterously fusionistic. The main problem I have here is with the vocals by Karen Deutsch, who has too much of a Joan Baez/Judy Collins folkie hangover for my tastes, but also on a few songs they get into a florid fiddle-rock sound reminiscent of It's A Beautiful Day. Not my cup of tea, although I'm sure there are others out there who might dig it.


<! >

Wheatfield "Wheatfield" (Oval Records, 1980) (CD & MP3)



(Produced by Norton Buffalo & Jim Gaines)
An eclectic, though largely rock and boogie-blues oriented band from Modesto, California... Their country side asserts itself towards the end of the album, after a series of rollicking electric guitar-and-piano based roots rocker songs. Will Hobbs, Paul Douglas, Pete Wolfe, Kenny Sawyer and Kerry Canfield, with several original songs written by Hobbs, a couple more by John Powell, and a version of Michael Dinner's "Promised Land."


<! > <! - "...Country Rock" - Oval Records the same as UK producer Charlie Gillette's label, which also helped launch Dire Straits and Ian Dury? NO. >

Whiskers And Lace "Whiskers And Lace" (Rain Tree Studios, 1979) (LP)
(Produced by Jerry Miller & Whiskers And Lace)
A bluegrass-flavored acoustic twangband from Alexandria, Pennsylvania whose repertoire included bluegrass, jazz standards and even a version of Rodney Crowell's "Song For The Life." The trio included Kevin Curry (guitar, fiddle and mandolin), Galla Higginbotham (guitar and bass), George Higginbotham (banjo and bass).


<! - #RTP-004 - no ASIN 08/16/16 - bluegrass(?) band >

Whiskey Creek Old Time String Band "On The Rocks" (Farmers Record Co., 1978) (LP)


Mostly stringband twang from this Fresno, California old-timey band, though they do include one song called "Country Music Life."


<! 5650 E. Garrett Avenue, Fresno California >

Whiskey Creek Old Time String Band "Hoedown Boogie!" (Grasshopper Productions, 1980) (LP)

Whiskey Dreams "100% Proof Music" (GOS Records, 1980) (LP)



<! no ASIN 02/24/15 > <! "IL country rock a la Charlie Daniels..." >

Whiskey Ridge "Liquid Luxury" (Chokecherry Records) (LP)
(Produced by Lewis Marten Peterson)
A Canadian country-rock trio from Swift Current, Saskatchewan, Whiskey Ridge featured lead singer R. C. Hummel, Brian Wiebe on bass, and Marty Nelson on drums. The album includes songs by J. J. Cale ("Call Me The Breeze" and "Tulsa Time"), Bob Dylan, The Eagles ("Peaceful Easy Feeling"), Merle Haggard ("Silver Wings") and Waylon Jennings ("Rainy Day Woman") as well as a couple of songs that were probably originals by the band, though there are no songwriter credits...


<! - no ASIN 03/12/16 - from Canada(?) they thank the people of Swift Current - #CH-10002 same band?: Whiskey Ridge "Movin' On" (Garnette Records) (LP) B0071OUK8U >

Whiskey River "Whiskey River" (Northland, 1978) (LP)





<! 1. Dacotah 2. Calico Eyes 3. Hickory Maiden 4. Tryin' To Get You Off My Mind 5. Rainbow In the Rain 6. Long Time Gone 7. When I Was a Cowboy-Northern Town 8. Cheyenne Lady 9. Streetwise Paulette Carlson sings on some tracks Dale Linggs - pedal steel, Darrell Fadness - banjo, Larry Fadness - vocals, Pete McCartney - fiddle DUNNO IF THIS IS TRUE: LK: Apparently Paulette Carson -- future lead singer of the "young country" Top 40 band Highway 101 -- sang with this band on a few tracks of this album, >

Whiskey River "Whiskey River" (1981) (LP)


(Produced by Randy Scruggs)



<! About half the songs are originals, the other half covers. Nice version of Waylon's "Rainy Day Woman". And lots of fiddlin' about.. Southern Rock with the emphasis on Country Pickin'. Whiskey River - Whiskey River (1981) Whiskey River was a Country Rock band with some Southern Rock and Outlaw influences. They released two independent albums, of which this is their second. It's a very nice record which should appeal to fans of later Charlie Daniels records and the Earl Scruggs Revue. This album was produced by Randy Scruggs, and he does a wonderful job. All songs, I think, appear to be originals and are well written and executed. Nothing too heavy going on here, but it's nice steady rockin' all along. WR's Northland LP - B009B1ZNS8 - not sure which album was on what label >

Whiskey River "In Concert" (Whiskey River Productions, 197-?) (LP)
(Produced by Bobby Humphrey & A. Svenson)
This band from Rapid City, North Dakota was not related to the Minnesota band above... This Whiskey River had their own radio show for a couple of years on station KIMM and play all cover tunes on this album, pretty standard stuff, including two medleys of music by Merle Haggard and Don Williams. I think the first track, "Band's Gonna Do It Again" is probably a reworking of the Charlie Daniels hit... The band consisted of Mike Crawford, Bobby Humphrey, Don McLaughlin, Laurie Payseno and "Stringbean" Svenson. They may have had a couple of records before this, though I haven't tracked them down yet.


<! - "audio" by K. Swan and W. Copeland - #WRP-003 - no ASIN 12/17/16 >

The Whiskey River Band "Blended Whiskey" (Noteworthy Records, 1982) (LP)


(Produced by Tim Hale & The Whiskey River Band)



<! - a band from Fond Du Lac, Wisconsin - including Scott Strondell (drums, vocals), Jim Peronto (bass), Mike Soffa (pedal steel, lead guitar), Al Blau (piano, guitar) - all original material, most songs written by the bandmembers >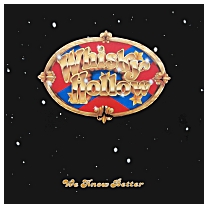 Whisky Hollow "We Know Better" (Shotgun Music Corporation, 1983) (LP)
(Produced by Steve Beach)
Recorded and produced in Ontario, Canada, this album includes three songs written by lead singer Lew Wilde ("Barroom Devil," "Mason Dixon Line" and "Heart Of Dixie") along with one by lead guitar Guy Wilkes ("Keep On Tryin'") and a cover of Jerry Jeff Walker's "Mr. Bojangles." Also in the band are fiddler R. J. Nellzy, Pat Brousseau on bass, and Joe Allain on pedal steel.


<! - "Whisky" (sic) - no ASIN 11/22/15 - with >

Jim Whitaker "Ode To The Farmer: America Is Depending On Him" (Boyd Records, 1979) (LP)


(Produced by Bobby Boyd & Tommy Strong)
Years before Willie came up with Farm Aid, these Oklahoma locals paid tribute to the challenges and forclosures facing American farmers. Veteran arranger Cliff Parman was on board for this agricultural odyssey, with songs composed by Jimmy J. Parman and friends: Kenneth Forsythe, Lyle McPheeters, Carol A. Pleasants, and Robin Roberts. Includes songs like the title track, as well as "Legends Never Die," "Farmer's Lament, "The Sale" and "The Biggest Hog Fry." Only in OK!


<! - #XXV-1-1979 - Oklahoma City, Oklahoma label - arrangements by Cliff Parman >

Lillimae Whitaker & The Dixie Gospelaires "Jesus Has Called Me" (Rural Rhythm Records, 19--?) (LP)





<! - not to be confused with the nearby Gospelaires vocal group from Dayton, Ohio who recorded on the Peacock label >

Lillimae Whitaker & The Dixie Gospelaires "There's A Big Wheel" (Rome Recordings/Gloryland Records, 1974-?) (LP)


(Produced by Jack Casey)
Straightforward bluegrass gospel, with several originals as well as covers of old standards, and a couple of contemporary tunes by John Duffy and J. D. Crowe. Lillimae Hardy Whitaker is joined by her husband, mandolin picker Charlie Whitaker, along with a pretty straightforward assortment of traditional instruments -- bass, banjo, fiddle and dobro. This was recorded at the Rome Studios, in Columbus, Ohio; Mrs. Whitaker (1939-2014) lived in Kenton, Ohio, a little to the north. The Whitakers founded the Dixie Gospelaires in 1959, along with banjo player Noah Hollon, who helped anchor the band for several decades. Charlier Whitaker took a hiatus in the early '80s to tour with Bill Monroe(!) and the Gospelaires disbanded for about a decade, reforming in 1995, with Whitaker's youngest son Jeff joining as the band's lead guitarist.


<! - #GSP-1149 ~ 741259 - originals published by New Rome Music-BMI >

Bill White "Reaching Out" (Angelus Records, 19--?) (LP)
(Produced by Wesley Tuttle, Sr.)
Dunno much about this evangelical gospel singer, although my attention was drawn to country-rocker Red Rhodes playing pedal steel on the album, along with Wesley Tuttle Jr. playing piano, Jay Lacy on guitar and Don Whaley on bass. Lacy and Whaley seem to have done a lot of session work together: Whaley was in the '70s rock band, Honk and also played with Ray Sanders, Ian Matthews, Rusty Weir, Rodney Crowell, and others. Jay Lacy joined him in Matthews and Weir's band; he also played with Hoyt Axton, Michael Nesmith, and appeared on Red Rhodes' landmark album, "Velvet Hammer," as well as Garland Frady's "Pure Country" LP. No indication of where Mr. White was from, or where he pastored, but he sure had a high-powered crew backing him for this album.


<! - #WR-5091 - no ASIN 02/23/18, saw a f'ed up up copy at Rasputins, took pix - no ASIN 05/29/18 - 1970s? or '60s? >

Bill White "Wanted Man" (Bejay Records, 1983) (LP)
(Produced by David Matthews)
It seems likely that this is a totally different guy than the gospel singer listed above... but don't quote me on that. This set was recorded in Fort Smith, Alabama with Rex Bell (keyboards), Skip Marshall (bass), Bill Flash (lead guitar), Tom Ware (fiddle), and studio owner Ben Jack on dobro and steel guitar. There are several songs credited to T. Cerney, along with various collaborators (C. Craig, A. Roberts, B. Martin, et.al.)


<! - #BJ-5583 - no ASIN 05/30/18 - Matthews engineer - xxxxx (fiddle and banjo) (unable to read the name) >

Bob White "Steel Trek" (Longhorn/Mid Land Records, 1984) (LP)


(Produced by Ben Jack)
A pedal steel instrumentals album, recorded at Ben Jack's BeJay Studios in Van Buren, Arkansas...


<! - Label On the Record Says Longhorn Label -- but cover says Mid Land records >


Buck White & The Whites -- see artist discography



White Cloud "White Cloud" (Good Medicine, 1972) (LP)


Perhaps best known as a rock music songwriter and record producer, Thomas Jefferson Kaye worked with big-name acts such as the Kingsmen, the Shirelles and later with artists on the edge of the country-rock scene, such as Loudon Wainwright III and ex-Byrd Gene Clark. He also recorded as an artist himself, releasing a few albums under his own name, though White Cloud was his first band to make a record, with one of the more distinctly country-oriented albums. Fiddler Kenny Kosek and multi-instrumentalist Eric Weissberg were in the band, playing gigs with Kaye on the East Coast before cutting this lone album... The following year, he released a couple of more rock-oriented records under his own name.


<! - West Coast Country-Folk-Rock album feat. Thomas Jefferson Kaye, Charlie Brown, Eric Weissberg...; ...guitars, fiddle, dobro, steel, strong voc-treats w/ female leads! incl. Dr. John's "qualified" https://en.wikipedia.org/wiki/Thomas_Jefferson_Kaye >
Danny White "Country Boy" (Grand Prix, 1987) (LP)


Seriously: why should Terry Bradshaw have all the fun, when it comes to country-singing NFL pros? Danny White, late '70s punter and early '80s quarterback for the Dallas Cowboys, tried his hand at singin' a few country tunes, including (yet another) version of Mickey Newbury's "American Trilogy," and a cover of "Let It Be Me." Ride, 'em, Cowboy!


<! American Trilogy Country Boy Let It Be me I Dreamed Of You You're A Part Of Me You Got Me By The Heart Sweet Life Then You Can Tell Me Goodbye >

Don White "Shades Of White" (Summit Records, 1974-?) (LP)
(Produced by Kenny Hanks)
A set of country ballads and pop standards, done country(politan) style by a middle-aged Midwesterner... The Summit label was in Poplar Bluffs, Missouri, though I'm not sure if that's where Mr. White was from... One clue is a delaration on the front of the album: "Don Endorses Clyde's Chapparal Club, Home Of The Finest Food And Entertainment," a joint in Caruthersville, a tiny town about fifty miles away, way down in the southernmost tip of the state... So that seems more likely to have been his stomping grounds -- indeed, there was a Don White who was the country clerk for neighboring Stoddard County... so who knows? Anyway, he mostly played old ballads like "Stardust" and "Pennies In The Rain," though there were some genuine country numbers as well: Willie Nelson's "Night Life," Don Gibson's "Sweet Dreams," a Hank Williams oldie. The repertoire is pretty old, but I'd guess from the look of things that this was pressed in the mid- to late-'70s.


<! RARE PRIVATE TWANGY COUNTRY LP - DON WHITE - SHADES OF WHITE -SUMMIT 003 - no ASIN 06/14/15 http://www.bradshawfh.com/fh/obituaries/obituary.cfm?o_id=3017294&fh_id=14110 "...Cleta is mourned by her husband the former Stoddard County Clerk Don White" >

Herold White "I Remember Love" (Music City Records, 1974-?) (LP)



<! (Nashville, TN private pressing), 196? (MC-HW-10-14-74) - no ASIN 04/05/15 - date per cat # >

Herold White "Memories Along The Coast Of Maine" (Alpine Records, 1975-?) (LP)



<! - #NLP-3475 - liner notes by Marvin Wainwright - no musicians listed - Maine misspelled on inner label: "Main" - lots of classic country covers: like "Folsom Prison Blues" and "Cannonball Yodel" - no address; no mention of where he was from, other than "New England" - yodeler >

Johnnie White "Party Time Again/Two Old Maids" (B&J Records, 19--?) (LP)
(Produced by Jerry Adams)
The liner notes inform us that singer Johnnie White (1925-2013) was born in Arkansas, grew up in Memphis, and worked all over the country, particularly in the upper Midwest... This album appears to have been made while he was headquartered in South Dakota and playing at his own clubs in Sioux Falls and Minneapolis. As with many self-released records, this was partly intended to advertise Mr. White's abilities as a performer (so that he could get more gigs) and frames him as a triple-threat artist. Side One is an extended comedy skit called "Two Old Maids," an example of the blue humor he shared in some of the rougher venues; Side Two showcases his musical talent, with three vocal tunes (oldies such as "Cattle Call" and "Born To Lose") along with three instrumental numbers, including "Sleepwalk" and "Caravan." He was working with several local musicians who don't seem to have recorded elsewhere: the band includes Johnnie White on bass and steel guitar, former garage rocker Doug Neste on lead guitar, Jo Anne Marie (piano and organ) and Cecil Sweet (banjo, drums and saxophone). There's no date on the record, but I'd guess late '60s, maybe even as late as 1970-72. Mr. White toured widely throughout the Midwest, also doing local radio and TV programs on a varity of stations; in the late '70s he moved out to California, and performed in LA up through the end of the 1980s. The "Two Old Maids" skit was also released as a double-7" "party record" sometime in the early 'Seventies.


<! - #ALBUM-1 - no date - http://www.wasecamusic.com/history.html Doug Neste was a guitarist from the Great Lakes region - label was from White Bear, Minnesota, https://www.discogs.com/Johnnie-White-Two-Old-Maids/release/9178084 "...1925 - 2013 Johnnie was the owner and featured performer at the Little Nashville Club in North Hollywood, CA from 1977 to 1989, when he retired finishing over 60 years in the music and entertainment business. Johnnie owned businesses in Sioux Falls, SD (The Club Cabana, The Peppermint Stick, John's Bar and Steak House, and the Corral Bar) as well as in Minneapolis, MN (also, the Little Nashville Club). Johnnie and his band toured throughout the Midwest, Montana, and Canada. Johnnie and his "Rhythm Riders" later to be known as the "Sons of the West" and then finally as "The Johnnie White Show" were also the featured performers on radio stations WNAX in Yankton and KSOO in Sioux Falls, SD and also on television stations KVTV in Sioux City, IA and KELO, KPLO, and KDLO in Sioux Falls, SD during the 1950's and 60's. In 2010, Johnnie became the first inductee in the South Dakota Country Music Hall of Fame. >

Johnny White "Memories" (Alpine Records, 1975-?) (LP)
(Produced by Jerry Adams)
Not to be confused with South Dakota's Johnnie White, this fella was from East Boston, Massachusetts, a songwriter and veteran performer of the New England hillbilly scene who was professionally billed as "the Yankee Yodeler." From a French-Canadian immigrant family, White's real name was Jean LeBlanc, and he started out in a duo with his brother -- The LeBlanc Brothers -- though by the time he began to record, White had adopted his Anglicized stage name. He was a practitioner of the ancient art of yodeling, tackling such classics as "Cannonball Yodel" as well as mainstream oldies as "Folsom Prison Blues." Alas, there are no song credits, although I think most of these tracks were Johnny White originals... Also no info on the album's producer, or the backing musicians, though 'Fifties country star Marvin Rainwater contributes liner notes.


<! - #NLP-3475 - "date" per cat #(???) - writes his own songs (with a couple of covers...) - no info on musicians, producer, etc. No date. - mentioned in the book, "Yankee Twang" >

Mack White "Let Me Be Your Friend" (Commercial Records, 1977) (LP)


(Produced by Mack White, Don Powell & Finley Duncan)
It took Georgia-born Floridian Mack White a long time to put this record out... Working for Nashville's Wesley Rose, he released a string of reasonably successful singles, with nine songs charting on Billboard between 1973-77, including three that cracked the Top 40. This album gathers those singles and a few other songs, including four Mack White originals as well as two by the writing team of DeWayne Orender & Don Powell, and several others represented by the Acuff-Rose publishing company... There's even a version of Fred Rose's "Blue Eyes Crying In The Rain." No info on the studio musicians, but it's a good bet there were a lot of "usual suspect" Nashvillers there... White sustained his momentum for a while, but slowly slid into the Back Forty and then off the radar.


<! - liner notes by Sid Wood and Wesley Rose - Wood's liner notes say White was from Western Florida; AM reviewer says Georgia >

Mack White "Lonely In The Crowd" (Commercial Records, 1982) (LP)





<! - #782 #CDC-A782/131314 - also recorded a bunch of singles (possibly early rockabilly?) and one on Playboy Records - big write-up in AM review: >
Mike White & The Sliter Brothers "Live At Jamboree, USA" (JAM-USA Records, 1977) (LP)
(Produced by Jimmy Brightman & Ron Grayson)
A longhair band from upstate New York that had a pretty strong local following and played on the Jamboree USA TV show for much of the group's seven-year hisory... The band's teenage steel player, Buck Reid (who was not on this album), was later recruited by country star John Anderson in the early '80s to be part of his band, leading to a long career as a highly successful touring musician.


<! Ron Sliter (2nd lead guitar), Rich Sliter (bass), Kip Kappessen (drums) - year? - longhairs doing a Branson-type gig - possibly early '80s? - from Watertown, NY(??) - on label stated : a division of Screen Gems Radio; many if not all of this release have B-Side label printed by mistake also on the A-Side A1 Silver Ghost – Sterling Whipple A2 One Of These Days A3 Walk On Out (Of My Mind) – Lane A4 Tumbleweeds A5 Louisiana Man B1 Casey's Last Ride – Kris Kristofferson B2 Texas Bar (In Houston) B3 The Crowd B4 Rollin' In My Sweet Baby's Arms B5 Yellow Rose Of Texas >
Mike White "Mike White" (MW Records, 1980-?) (LP)
Although this was billed as a solo album, he was still working with the Sliter Brothers -- four songs are credited to the Sliters, alongside several covers songs and (perhaps) another original or two...


<! - date per cat# - #SO-17079/SO-17080 >

Robert White & The Candy Mountain Boys "Thousand Tons Of Coal" (Ranger R Records, 1969) (LP)
(Produced by Forrest Green)
A prolific recording artist with singles bating back to the late 1950s, Michigan's Robert LaVaughn White (1925-2002) cut his first full LP in the late '60s, working with local producer Forrest Green. A festival favorite during the 'Sixties and 'Seventies, White had a particularly strong following in the Great Lakes area and upper Midwest.


<! - #LPS-402 - no ASIN 05/30/18 >

Robert White & The Candy Mountain Boys "Poverty/A Eye For A Eye" (Ranger R Records, 1970-?) (LP)
(Produced by Forrest Green)
This disc comes from the early 'Seventies, an era when it was in vogue to give country albums two titles -- usually of two songs they hoped would be hits. (I also love that the article "an" isn't used before "eye"... not THAT'S country...!) Recorded at the Forrest Green Studios in Clio, Michigan, though it was mastered and pressed by the Rimrock label, in Concord, Arkansas. As with his previous album, this is a lively mix of bluegrass, country, secular and gospel material, with a lot of original material.


<! - #RLP-407 - no ASIN 05/30/18 - no date on album, jacket - Forrest Green's liner notes say this was their second LP on the Ranger label Side 1: POVERTY ONE WAY TRAIN FORT WORTH JAIL I'LL RECEIVE A NEW HOME BLACK MOUNTAIN RAG Side 2: A EYE FOR A EYE BRING US TOGETHER AGAIN SHE HAS FORGOTTEN I'M GLAD HE CAME HOW FALL DID I FALL LORD >

Robert White & The Candy Mountain Boys "In The Savior's Hands" (Ranger R Records, 197--?) (LP)
(Produced by Forrest Green)
This was an all-gospel album, with a wealth of original material, as well as some off-the-beaten path material by evangelical country songwriters such as Bud Chambers. Along with heartfelt standards such as "Working On A Building" and "Heavenly Light Shining On Me," Mr. White had an ear for novelty material such as "Out Lord's Space Ship" and "God's Tax Free Plan." Alas no info on who the boys in the band were, though they included guys on banjo, mandolin and guitar. White continues recording and performing for several decades, releasing numerous singles and LPs for Atteiram, Old Homestead and other labels.


<! - #RLP-408 >
The White Sisters "Stepping On The Clouds" (Ripcord/Charter Records, 197--?) (LP)
(Produced by Ellis Miller)
The White Sisters -- Barbara, Janice and Jayne -- were a gospel trio from Yuba City, California and were members of the Pastor First Baptist Church in nearby Biggs. They made the trek up to Washington state to record at Gene Breeden's Ripcord Studios, singing strictly gospel material, with a couple of songs written by Janice White, "Never Has A Man" and "Troubles Will Soon Be Over." Although I'm not sure how country this album is overall, they also included a version of Larry Gatlin's "It Must Have Rained In Heaven."


<! - #SLP-1050 - no ASIN 07/30/16 >
The White Sisters "Happy Meeting" (Ripcord/Charter Records, 197--?) (LP)
(Produced by Gene Breeden & Blaine Allen)
This album includes two songs, "Smile" and "Happy Meeting," both written by Janice White and published by Ripcord.


<! - #SLP-1054 - no ASIN 07/30/16 >
Tony White "Good Ole Country Music" (RCA-Canada, 1977) (LP)
(Produced by Larry Kunkel)



<! - #KXL1-0248 - no ASIN 05/13/18 - Canadian country, recorded in Calgary Larry Kunkel (guitar), Lloyd Kunkel (bass), Ron Barnes (piano), Jim Pepperdine (drums), John Burg (steel guitar, dobro), Terry Kruger (banjo), others... >


Tony Joe White - see artist discography




Jerry & Judie Whitener "Putting It All Together" (J & J Records, 197--?) (LP)
This husband-wife duo from from Rochelle, Illinois traveled widely as evangelical preachers, also recording a bunch of records -- unruly, surprisingly twangy stuff with a pronounced hillbilly feel, reminiscent of Wilma Lee & Stoney Cooper, along with a little fancy, Chet Atkins-y guitar. This album looks to me like it was an early-1970s offering -- they refer in the liner notes to fans who liked their older records, and say they made this album as a way to recapture the feel of those earlier recordings, so I think this may have been the first of a string of LPs they self-released in the 'Seventies, with a couple of others listed below. They really harkened back to an earlier era, with an assertive rhythm section and steel guitar propelling them through jubilee and hymnal material -- definitely not a snoozy, organ-led church music set here! I'd love to have more information about them, if anyone out there can help...


<! - no ASIN 08/17/16 - #6105N3 >

Jerry & Judie Whitener "Life Is Worth Living" (J & J Records, 19--?) (LP)



<! - no ASIN 08/17/16 >

Jerry & Judie Whitener "That Same Road" (J & J Records, 1975) (LP)



<! - no ASIN 08/17/16 - date per message board entry, someone who owns the record >
Whitewater "Springtime In The White Clouds" (American Heritage Music Corporation, 1973) (LP)


(Produced by Don Cedarstrom)
I think this one was more of a folkie thing... This Idaho group featured Michael Wendling on guitar, a picker whose solo work fit more into the "new acoustic" style, as pioneered by Leo Kottke...




White Water Junction "White Water Junction" (198-?) (LP)
(Produced by Jack Gilmer)
This commercially-oriented band from Calhoun, Georgia formed in 1978 and played together through the early '80s. Multi-instrumentalist Travis Stephens was their main songwriter, with additional material provided by steel guitarist Sammy Watkins, bassist Kenny Seabolt and Deborah Pearson. They played regional gigs at nightclubs in Chattanooga and Atlanta, opening for Nashville stars such as Charley Pride, and despite this album's funky, lo-tech artwork, they were aiming at a very glossy, contemporary, Top 40 pop-country sound. Not sure when this record came out, but I'm guessing around or after 1983, when apparently they were at their peak. It certainly has the airy, synthy sound of the times.


<! - #WWJ 1001 - no ASIN 08/03/16 - band formed in 1978 - might have had a second album as well(?) - Travis Stephens main songwriter/multi-instrumentalist/fiddle, mandolin - Sammy Watkins, steel guitar - Kenny Seabolt, bass - Jerry Brumbelow, vocals (only) - John Buckner, banjo - written up in the Bartow Press, 11/02/83: https://news.google.com/newspapers?nid=398&dat=19831102&id=jLcEAAAAIBAJ&sjid=Pj4DAAAAIBAJ&pg=6630,529397&hl=en >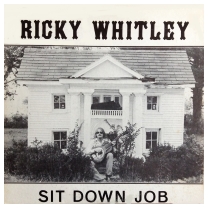 Ricky Whitley "Sit Down Job" (Major Label, 1976) (LP)


(Produced by Stan Dacus & Ricky Whitley)
A fun, raggedly album with a wealth of original material from this Atlanta, Georgia twang-auteur... There's a lot of stylistic variety on here, with Whitley hammering out a sizzling jump blues tune at the start, then sliding into some more relaxed acoustic twang as the album goes on. In an odd way, he kind of reminds me of much later artists such as Drive By Truckers and Ryan Bingham, kind of a post-modern redneck hipster vibe, with songs about drinking and hanging out, and a definite Southern feel. Except for one song about someone acting like a monkey (which while not actually racist, still has some uncomfortable undertones...) this is pretty strong material -- laid-back, but soulful and sincere, and definitely worth a spin. Of interest to fans of older, more traditional twang, in the liner notes Whitley dedicates the album to Thomas P. Darby, of the Depression-era bluegrass/old-timey duo Darby & Tarleton, who he says was his uncle(!) Now those are some real country music roots!


<! - "country rock" (?) >

Benny Whitten & Kathleen Tod "First Time Around" (Solid Sound, Inc., 1975) (LP)
(Produced by Benny Whitten, Jimmy Payne & Bill Holmes)
This indie album from a Kansas City duo was recorded in Nashville with Doyle Grisham playing steel guitar at the helm of an otherwise obscure pickup band. This is a solidly country-oriented record, featuring covers of early 'Seventies countrypolitan and country-pop hits such as "Country Roads," "Grandma's Feather Bed," "If You Love Me," "Let Me Be There," and "Tie A Yellow Ribbon." There are also four originals written by Benny Whitten: "I Could, But I Won't," "I Love You More Each Day," "My Road" and "Turn Away." The vocals aren't earthshaking, but they are committed and sincere, and the material is consistently engaging and enjoyable -- a pretty strong effort for follks at this level of the industry. Their second album, Whitten & Tod, was more of a disco/funk/AOR thing, with covers of Top Forty hits such as "You Make Me Feel Like Dancing," "Car Wash" and "You Don't Have To Be A Star." Benny Whitten and Kathleen Tod were a husband-wife duo, though they might not have been married at the time this first album was recorded.


<! - at KC store 09/12/15 - no ASIN 09/18/15 - purchased 03/10/17 in KCMO Solid Sound Inc. P.O. Box 11454 K.C. Mo. 64112 Earlier(?) album, "Whitten & Tod" was apparently a disco/funk/AOR record #W&T-701 >
Whole Wheat 100% "Whole Wheat 100%" (CNR, 1977) (LP)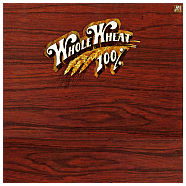 Whole Wheat 100% "Ice, Fire & Desire" (AVI, 1978) (LP)


(Produced by James Pike)
This one's actually here more as a buzzkill alert: I've seen this band mentioned as a country-rock outfit, and maybe they were on their first album, but this one's definitely a slick soft-rock/disco-funk set, sort of like a cross between Atlanta Rhythm Section and Little River Band. Not much twang, though: well, there are a couple of songs with a teeny bit of CSN-ish vocal harmonies, and the very last track, "Heart Of The Mountain," is indeed a straight-ahead country-rock song... sounds just like America's "Horse With No Name." But if you're looking for a lost country nugget, this disc isn't going to do the trick.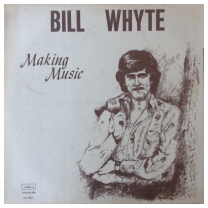 Bill Whyte "Making Music" (Calico, 1975) (LP)
(Produced by Royce Kendall & Jeannie Kendall)
Well, first off, he had the Kendalls on board to produce his album, so that's a pretty good sign... Missouri native Bill Whyte started out playing in high school bands and made his way to Nashville to cut this album, which is packed with strong original material. It's mostly your basic hippiebilly '70s cosmic country, with witty lyrics and plenty of bouncy, loose-limbed twang... Fans of New Riders Of The Purple Sage and similar bands might have fun with this one as well. Whyte stuck around in Nashville and worked as a radio deejay at WSM, briefly relocating to Cincinnati, then moved back to settle permanently in Nashville where he held down a longterm gig at WSM. Later on he refashioned himself into a country comedy artist, and has recorded and performed extensively under that persona, and has also had considerable success as a songwriter, placing songs with Top Forty artists of a calibre such as Rebecca Lynn Howard, Craig Morgan and Joe Nichols. It all started here, though, and this is a pretty good record... worth tracking down!


<! - St Louis label http://www.billwhytecomedy.com/index.htm?id=12678 "...Bill is also a serious songwriter and has written with hit writers and artists like Keith Anderson, Billy Dean, Linda Davis, Craig Morgan, Jim McBride, Brady Seals, Karen Taylor Good, Lisa Shaffer, Wil Nance, Steve Dean, Michael Peterson, Bobby Tomberlin, Jerry Salley, Rebecca Lynn Howard and many others. He's also co wrote the title track for the Joe Nichol's CD "Crickets". > <! Bill Whyte "Off The Wall" (Whyte Trash Music, 2005) - live album, country comedy - same guy? >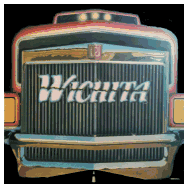 Wichita "Wichita" (Hush Records, 1978) (LP)


(Produced by Garrie Thompson & Don Baskin)
This was an excellent country-rock and outlaw covers band from Sunnyvale, California... Even though the the repertoire is all cover songs, the performances are quite vibrant and accomplished, and the joyful feeling the band put into this record is completely infectious. It's too bad these guys didn't write more original material -- they were clearly a top-flight twang band with lots of experience playing live. Anyone out there have more information about this group? I'd love to hear more of their story...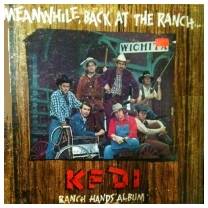 The Wichita Linemen "Meanwhile, Back At The Ranch" (High Fidelity Recording Studios, 1972) (LP)
(Produced by Don Powell)
Named after the big Glen Campbell hit, the Wichita Linemen was a "house band" at the powerful AM/FM radio station, KFDI, Wichita, which was one of the most influential country music outlets in the Midwest. Formed by a couple of DJs and their friends, the group started in 1969 and recorded several LPs as well as a number of commemorative 7" singles. They toured regionally for over three decades until disbanding in the year 2000. The core members included singer Don Walton and steel guitarist Don Powell; their stage show also apparently included old-school cornpone humor of the Hee Haw variety; this album is notable for the original material, including a lot of comedic songs, including several written by Mike Oatman, Terry Burford and Don Walton. I gotta say, though, that despite the band's pedigree and long-lived duration, this debut LP isn't really all that great. This edition of the band included lead singer Don Powell, drummer Robin Harris, guitar picker Carl Hendricks, and 21-year old bassist Greg Stevens... several of the singers are flat-out not very good, and the guitar pickers tend to go a little note-happy... Probably the best singer in the group was Terry Burford, who sings lead on a couple of tunes, though he struggles to find a groove inside the clunky rhythms of the band. As with the performances, the songwriting is also rather iffy. In general, editing seems to have been a problem on this project, although they do tackle the sessions with gusto, and for those of you out there who are into so-bad-it's-good Schadenfreude, this disc would be rather rewarding. Worth a spin, just to satisfy your curiousity, but don't get your hopes up too high.


<! The Wichita Linemen formed in October 1969, and played their first dance in November 1969 at the NCO Club, McConnell AFB in Wichita, Kansas. During their 30 year career of playing dances and shows (mostly in Kansas), they averaged over 200 performances per year, playing from Wichita, north to Nebraska, south thru Oklahoma, east to Kentucky and Tennessee, and as far west as Los Angeles. In the beginning, there were two disc jockeys in the band from KFDI Radio Station in Wichita; Don Powell, (steel guitar) and Don Walton, (vocals). In addition Greg Stevens (bass guitar, banjo, saxophone, keyboards, harmonica, and fiddle), Carl Hendricks (lead guitar), and Robin Harris (drums) rounded out the band. All members were vocalists. This was the original group that played night clubs in the Wichita area. In the ensuing years, keyboards and fiddles would be added, and various other great musicians would pass through their ranks. Their last dance and show was New Year's Eve, 2000 in Ruidoso, New Mexico with the Charlie Daniels Band. >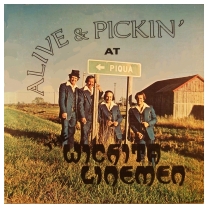 The Wichita Linemen "Alive And Pickin' At Piqua" (LP)
Piqua, Kansas is a teeny-tiny little town about a hundred miles east of Wichita, perhaps best known as the birthplace of silent film comedian Buster Keaton. I dunno if the Linemen actually played there or recorded this album there, but the name does have a certain tang to it...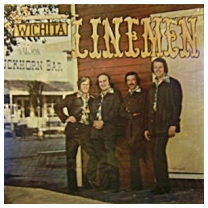 The Wichita Linemen "The Wichita Linemen" (Linemen Records) (LP)


I'm not sure how many albums the Linemen wound up making (or singles -- there were quite a few of those as well, along with a few other commemorative projects commisioned by KFDI that the band also took part in...) Anyway, there were at least three LPs, not to be confused with the two recorded by the British band (below) that used the same name.


<! I think I feel A Good Love Coming On, Paint Me A Rainbow, But I Do, Personality, Tommy, My Mothers Eyes, Lavender, Where Were You, They Ain't Got Nothin' Like You, Lifetime Girl, Momma Don't Allow No Music, Mandy > <! ALSO: Various Artists(?) "TAKING PRIDE IN WICHITA" (KFDI/Impact Broadcast Marketing Inc., 1989) (LP) "Taking Pride In Wichita" - mentions "The Ranch Hands" - nickname for the DJs(?) A1 Taking Pride In Wichita Written-By – D. Gillon*, S. Hogin* A2 In The Beginning Written-By – J. Christopher*, S. Hogin* A3 This Town Written-By – T. Polk* A4 We've Got A Dream Written-By – D. Gillon*, J. Christopher B1 Celebrate Wichita Written-By – J. Christopher*, S. Hogin* B2 Love Your Lady Written-By – J. Christopher*, S. Hogin* B3 Hometown Skyline Written-By – C. Mann*, D. Gillon*, K. DeLaney* B4 Wichita Says Home Written-By – Andrew Gore http://www.radiouseonly.com/ >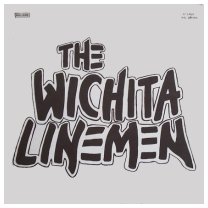 The Wichita Linemen (UK) "The Wichita Linemen" (Hillside, 1975) (LP)
This appears to be an English country band that had the same idea for a bandname as the guys who were actually from Wichita... A little confusing, sure, but the world's a crazy place!


<! is this the same group?? > <! Down down down came the world / Take me / Everybody's reaching out for someone / Sundown / Alberta bound / Let it be me / Thing-amejig // Side 2 : Thumbing my way back to Denver / My little log cabin / Legend in my time / My old Kentucky home / Yes Virginia / Keep on the sunny side / Ramblin' man >
The Wichita Linemen (UK) "Lightning Bar" (Hillside, 1977) (LP)






Lewie Wickham - see artist discography





Rusty Wier - see artist discography




Ray Wilburn & Jerry Moore "Communication With Ray Wilburn And Jerry Moore" (KSS-Kennett Sound Studios) (LP)
(Produced by Joe Keene)
Nice Chet Atkins-y guitar instrumentals from a couple of Missouri locals, guitarist Ray Wilburn and bassist Jerry Moore, with modest backing by drummer Jamie Holmes. Wilburn and Holmes were from Saint Charles and Hazelwood, MO, in the suburbs of north Saint Louis, and although I doubt they played music professionally, they were both fine pickers. Side One of the album is secular, while Side Two spotlights gospel standards such as "I Am A Pilgrim," "Lonesome Valley," and "Just A Closer Walk With Thee." Classic country guitarists such as Chet Atkins and Merle Travis are echoed in the performances and repertoire... This isn't a groundbreaking record, but it sure sounds sweet.


<! - # KSS-LP-7103 - no ASIN 09/20/16 (????) - couldn't access this page - permissions https://s3.amazonaws.com/...net/.../ddc5e0025deec869cd8e57d9f15c2db6.pdf?...contacting Ray Wilburn of 7532 East. 54th Street, Tulsa, Okla. 74145, ... Official dedication of the Jerry Moore. >
Wildcountry "Wildcountry" (LSI Records, 1976) (LP)


(Produced by Wildcountry)
Behold, the band that would become known as Alabama. Cousins Jeff Cook, Teddy Gentry and Randy Owen all hailed from Fort Payne, Alabama, in the northern end of the state near Huntsville. They formed a band in the early '70s and plugged away for several years playing theme parks and local bars before rustling up the cash to self-produce this album. It's packed with original material, including four songs written by the band's first drummer, John Vartanian, and others by the guys who would go onto Top Forty fame. Here's where it all began...


<! - #LSI-275 >
Wild Country "Wild Country" (Mico Records, 1978-?) (LP)
(Produced by Vic Ames & J. Centinario)
Brothers Jerry and Larry Sullivan started their own band back in the early 1960s while living in Vincennes, Indiana... Years later, like so many other starry-eyed hopefuls they headed out for Nashville and, while plugging away in Music City, recorded this album. Somewhere along the line they hooked up with fiddler Jack Little, a longtime veteran of the Porter Wagoner show, as well as drummer Vic Thomas, who was also from their hometown, but had made his way to Nashville way back in '61, landing a gig with singer Nat Stuckey. This album features two Larry Sullivan originals, "Little Faces Have Big Ears" and "You're On Your Way Out," along with covers of contemporary tunes by Larry Gatlin ("Sweet Becky Walker"), David Allan Coe ("Just In Time To Watch Love Die") and early '70s staples such as "Proud Mary" and Mickey Newberry's patriotic medley, "American Trilogy." There's no date on this album, but judging from the set list and the way the guys look, I'd guess it came out around 1978-79.


<! - #MR-2000 "Sweet Becky Walker" - 1973 "Just In Time To Watch Love Die" - 1977 Tattoo album >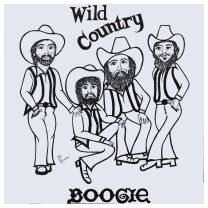 Wild Country "Boogie" (Bull Records) (LP)
(Produced by Verne Leeper & Matt Frazier)
A shaggy country quartet from Columbus, Kansas, down in the Southeast corner of the state, near Joplin, Missouri. No date on the album, but I'd guess it's early '80s, like 1981-83, just from how Alabama-esque/Oak Ridge Boys-y they look in the photos. In technical terms, this is a pretty crudely made record, though mostly just regarding the production values. The band itself was surprisingly good, and songwriter Verne A. Leeper had an ambitious agenda -- a small-town kid, for sure, but he had a taste for country-rock and pop that was sophisticated and diverse. Some songs are pretty straightforward melodic twang, while others have more of a confessional, introverted quality. For example, "How Many Times" is a broken-hearted bummer song that has the definite feel of a spiral-bound notebook highschool poetry, but even so there's something compelling about the singer's abject, rueful misery as he wonders aloud, how many times did you spend the night over at my place... and where are you now? Another one of those odd, imperfect gems that float up out of the ocean of self-released records. Not a classic, but it has its charms. Decades later, Leeper was still living in Columbus, and performing occasionally as the leader of the Verne Leeper Band.


<! - no ASIN 01/10/16 - Verne A. Leeper later formed the Verne Leeper Band muzikmanvern@yahoo.com - LKay emailed Leeper 01/18/16 to ask about this album >
Walt Wilder "Ode To Country Music" (Homa Records, 1974) (LP)


(Produced by Randy Sherman)
An early album on the regional Oklahoma City-based Homa label, with a slew of original material written by Oklahoma native Earl Walter Rodden (aka Walt Wilder, 1936-2013) as well as by his collaborators, Rocky Craig and Gene Crysler. There's also one cover song, a version of Cowboy Copas' "Signed, Sealed And Delivered." The liner notes say that Wilder mostly worked doing construction and iron work, but that he also owned a club... Sadly, it doesn't say which club (or clubs) he owned, nor who the musicians are playing on this album... Wilder, who was also a Vietnam veteran, kicked around in Nashville in the late '60s and hung out with Gene Crysler, who was a fairly successful Music City songwriter, and they worked on some tunes together. Wilder wrote some earlier songs including "Plastic Roses" and "Oklahoma City Okie," though neither were reprised on this album.


<! - #SV-1003 - Crysler's publishing seems to be the same as Cowboy Copas: cover of "Signed Sealed Delivered" is to Central Songs as well - is this a typo, or was Crysler an old-timer? - Billboard Nov 9, 1974 writeup/ad (reprints LP liner notes - not informative) - also mentioned in article on Oklahoma City music scene: https://books.google.com/books?id=rQcEAAAAMBAJ&pg=PA20&lpg=PA20&dq=%22Walt+Wilder%22++oklahoma&source=bl&ots=LAX5w0mOs1&sig=FCr0QoUtyfsND78vv1HUWcrBvTU&hl=en&sa=X&ved=0ahUKEwj106yq043RAhVDKiYKHUANCnk4ChDoAQgtMAY#v=onepage&q=%22Walt%20Wilder%22%20%20oklahoma&f=false http://newsok.com/article/2375387 "Oklahoman" newspaper November 15, 1991: "...WALT WILDER, Edmond songwriter and singer, was awarded a gold medal and certificate in creative arts recently at the 10th Anniversary of the National Veterans Creative Arts Festival held in Des Moines, Iowa. Wilder received the award for "The Great American Eagle," a patriotic country song he wrote and performed. He was one of 64 veterans who appeared at the festival. The festival is based on the role recreational therapy can play in a Veterans' Hospital patient's rehabilitation. Wilder is a Vietnam veteran." http://www.legacy.com/obituaries/postbulletin/obituary.aspx?n=earl-rodden&pid=167032717&fhid=10790 OBIT - real name Earl Walter Rodden (1936-2013) January 6, 1936 - September 15, 2013 OKLAHOMA CITY Earl Walter Rodden, 77, better known as Walt Wilder, passed from this life September 15th, 2013 in Oklahoma City. He was born in Taloga, OK on January 6th, 1936 to Doc and Frieda Rodden. Walt was a member of the Ironworker's Union and had a hand in building several landmark buildings in the OKC Metro Area. More important to him was his love of traditional country music and he was a lifetime member of the Nashville Songwriter's Association. As a Country Music Association (CMA) member, Walt worked with many legends in the 50+ year career in the music industry. He had a song in his heart, a guitar in his hands and a smile on his face right up till the end. Walt was preceded in death by his parents, sisters Peggy Phipps, Judy Stafford, Betty Ege, and Leona Halak. He is survived by his wife, Carol Rodden of the home, sister, Twyla Marshall of San Diego, CA, son, David Spradlin of Moore, OK, daughter, Rhonda Perry of OKC, grandchildren and great-children. - also released several singles: Walt Wilder "Chicago's 7"/"Chicago's Old Town" (Phil's Records) (7") - Oklahoma City label, "7" co-written with Tom Greco - #1025 Walt Wilder "I Love The Girl (On The Centerfold Of Playboy Magazine)"/"Ode To A Bear" (Homa) (7") - #SV-4509 (Produced by Don Johnson) 1220 Walt Wilder "Oklahoma City Okie"/"Sing Her Back To Me"(Homa Records) (7") 1222 Walt Wilder "Big Birch Tree"/"Country Soul" (Homa Records) (7") Walt Wilder & Randall Graham "Super Number Two" (CMM Records, 197--?) (LP) (Produced by Ralph Davis, Kevin McManus & Walt Wilder) - "...with Sherman Crysler" - Nashville label, usual suspects in tow - Willie Rainsfield, Jerry Shook, Leon Rhodes, etc - Gene Crysler, David Allan Coe contribute liner notes - Wilder apparently hung out in Nashville in the '60s, at Tootsies, etc - #NRF-LP-744 ~ CMM 12306 >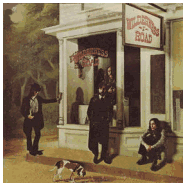 Wilderness Road "Wilderness Road" (Columbia, 1971) (LP)


(Produced by Jack Richardson)
A satirical agit-pop band of the hippie era, Wilderness Road included alumni of Chicago's fabled Second City comedy troupe (which later fed into the early Saturday Night Live TV show...) and on their first album they devoted themselves almost entirely to lampooning country music as a way to rip on evangelical fundamentalism. The "revival" music here is a broad swipe at Christian tent preachers and the perceived gullibility of their flocks... It's a worthy target for parody, I suppose, but about as subtle as a twelve-foot, flaming red hammer with air-horns attached... Mostly, though, I just didn't like their mockery of county music, per se, since as you may have noticed, I kind of like country music and find many counterculture attacks on it (like this one) to be frequently facile and off-base. But, whatever. Musically, this was pretty accomplished, with some hot picking and a few dips into Arthur Brown-ish semi-prog that let listeners in on the joke. Fans of the Fugs, or of old National Lampoon records and Firesign Theater might get off on this as well. I found it a little too grating.
Wilderness Road "Sold For The Prevention Of Disease Only" (Reprise, 1973)


Judging from their Spinal Tap-ish glam-metal costumes, I'm guessing that the focus of this album was rock parody and not more hick mockery... But I could be wrong. Maybe one day I'll find, out and let you know...
Wildfire "In The Weave" (Prime Time Records, 1980) (LP)
(Produced by Rod Shively)
There's a lot of original material here by this band from Rocky Mount, Virginia... The group featured banjo-and-guitar player Steve Shively, singer Barbara James, steel guitarists Joey Macray and Jerry Martin, fiddler Kathy Kuhn, pianist Fair Robey, and others... They cover country tunes by Toy Caldwell, David Allan Coe, and even Stephen Foster's "Hard Times," although about half the songs are credited to various bandmembers, all using the same Fairystone Publishing Company. These include Steve Shively's "Heaven Bound" and "Take A Break," "Kindred Spirit," by Barbara James, and a couple by singer-guitarist Charlie Robertson: "Mountain Willie" and "Katie Lou." They thoughtfully noted that this album was recorded over the winter, from November, 1979 to March, 1980.


<! - no ASIN 02/16/16 >
Wild Oats "Country + Blue Grass" (Alshire Records, 1971) (LP)
(Produced by Ron LeGrand)
Although this Southern California band had a relatively ignominious beginning playing day-job shows at the Disneyland and Knotts Berry Farm amusement parks, their lone album features a wealth of original material, most of it written by lead singer Ron LeGrand. The music is solidly in the cosmic country style of the hippie-era Dillards and Byrds, with drifting, airy vocals and equally fluid arrangements, centered on the willowy pedal steel. It's worth noting that the steel player was a gal named Kathy Turner -- dunno if she did music else musically, but her spacy style compares favorably to other early-'Seventies hippie steel players who were reinventing the wheel at the time. The band probably just played generic bluegrass at their park gigs, as reflected in a trio of instrumentals, including a version of "Orange Blossom Special" where fiddler Bill Cunningham interpolates the melody with that of "Malaguena." Although clearly derivative of other early country-rock records, this album holds its own -- if you liked the Easy Rider soundtrack, you'll wanna check this one out.


<! PICK: "The Next Glass" - #S-5235 - no ASIN 05/20/16 A1 Orange Blossom Special A2 Those Days Will Never Fave A3 Denver Girls And Denver Talk (Colorado Rain) A4 Wild Oats A5 Regrets Are All I Have A6 Home Is Where The Heart Is B1 The Wild Side Of Life B2 Memories Of Love B3 Secondhand Sundown Queen B4 Grandfather Mountain B5 The Next Glass B6 Rainbows In My Mind Credits Bass – Mel Durham Drums – Gary Woods Fiddle – Bill Cunningham Guitar, Lead Vocals – Steve Stambaugh Pedal Steel Guitar – Kathy Turner Vocals, Banjo, Guitar – Ron LeGrand steel player Kathy Turner apparently in two other, later bands - Catch and Red Pony https://www.discogs.com/artist/3553986-Kathy-Turner - Catch - rock/soul band recorded live (same Kathy Turner?? only credited as lead vocalist) - same with Red Pony - not sure it's the same gal >

Wild Oats/Homer And The Barnstormers "Flaming Banjos/Blue Grass Banjos" (Alshire Records) (LP)


This cheapo twofer combines two separate albums by different bands on the Alshire label... It seems to include all the material from the Wild Oats LP, even though it misleadingly pitches it as a bluegrass-only album.


<! >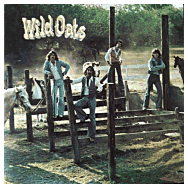 Wild Oats "Wild Oats" (TK Productions/Clouds, 1977) (LP)


(Produced by Howard Smiley, Michael Laskow & Ray Martinez)
Meh. The first side of this album sounds pretty much like wimpy, mainstream country-rock/AOR, and reminded me of the band Firefall more than anything else (which turns out to be because Firefall members Larry Burnett and Rick Roberts are singing harmony...) It's all okay, unexciting but inoffensive. But then on Side Two everything goes sideways and most of the songs are actively irritating, worst of all is the first track, "Friendship," which just one big, gooey, poorly-written, self-indulgent trainwreck of a '70s song. The main man in this band was a guy named Marc Levy, who had the kind of thin, gangly voice that's hard to take seriously at this level, but might have been endearing on a private-pressing indie album. I dunno. If you're really, really into '70s country-rock you might want to check this out, but I couldn't find any reason to hang onto this disc.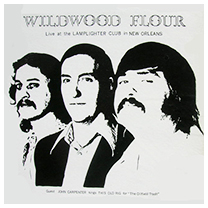 Wildwood Flour "Live At The Lamplighter Club" (Akashic Records, 1973-?) (LP)
The country-folk trio of Ken Blake, Cappy Lyons and Ronnie Routh played gigs in and around New Orleans for much of the early 1970s, including a stint at the Lamplighters Club, where they recorded this live album. The set was all cover songs, including contemporary hits such as "Country Road," "Snowbird," "For The Good Times" and "The Theme To MASH." They also sang oldies, like "Ghost Riders In The Sky" and "You Are My Sunshine," as well as some slightly more alternative songs, such as John Stewart's "July, You're A Woman." The liner notes say they were all three songwriters, though sadly none of their own original material made it onto this album.


<! >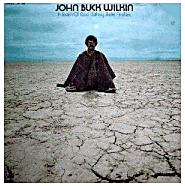 John Buck Wilkin "In Search Of Food, Clothing, Shelter And Sex" (Liberty, 1969) (LP) <! year?? >


(Produced by Don Tweedy)
Despite the extremely promising album title and the presence of a bunch of Muscle Shoals and Music City heavyweights (Larry Butler, Norbert Putman, Kenny Buttrey, John Lovell, et. al.) and country-sounding song titles like "The Nashville Sun" and "Boy Of The Country," this isn't quite as twangy as one might hope. Mostly it's a flowery, poetical pop-orchestral outing of the late-'60s variety, albeit a very good one. What makes this album noteworthy is that John Wilkin was the son of legendary country songwriter Marijohn Wilkin, and he pays tribute to her with a version of her song "Long Black Veil." He also sings a couple of Kris Kristofferson songs (Kris was one of his mom's many Nashville proteges) including one, "Apocalypse 1969," that he co-wrote along with Kristofferson... Overall, this is a very solemn (though not particularly gloomy) spiritually-inclined folk-psych outing... I think he really, really wanted to me taken seriously as an artist and all that... Anyway, if you're into fancy, experimental '60s pop, you might want to give this one a whirl.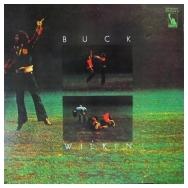 John Buck Wilkin "Buck" (United Artists, 1970) (LP) <! year?? >


Oh, and the other interesting fact about this guy was that, as "Bucky" Wilkin, he was the lead singer and frontman for the mid-'60s surf-pop band Ronny And The Daytonas, who had a Top Ten hit... Apparently his mom had him performing on Opry-style country shows as a little kid in the '50s, so he'd been at this whole music business thing a while. Anyway, I guess these two albums were his only solo outings... I'm curious to hear this one as well, although it also looks like it's not very country.
The Wilkinson Brothers "Ozark Mountain Breakdown" (American Artists Records, 19--) (LP)



<! - #AAS-1523-LP - no ASIN 07/20/17 >
The Wilkinson Brothers "Just Plain Gospel" (American Artists Records, 19--) (LP)
(Produced by Larry Wilkinson, David Dombrowski & Winnie Swaim)



<! - #AAS-1564-LP - no ASIN 07/20/17 - a lot of modern gospel material, including music by the Rambos and the Hemphills, Larry Gatlin's "Light At The End Of The Darkness" and Bob Ferguson's "Wings Of A Dove." >
The Wilkinson Brothers "Take Two" (American Artists Records, 19--) (LP)
(Produced by Larry Wilkinson & David Dombrowski)
This album features Larry, Gary and Charlie Wilkinson on vocals, with Gary playing bass, Ralph Loew on fiddle and banjo, Gene Mulvaney on pedal steel, And Corporon on drums, and Richard Rankin on guitar. They cover some country classic by Merle Haggard, Red Simpson and Leon McAuliffe, along with more contemporary hits such as "The Rose" and 'Seventies stuff like "The Devil Went Down To Georgia" and the Eagles' "Take It To The Limit."


<! - #AAS-1596-LP - no ASIN 07/20/17 - any relation to the Wilkinsons pop-country duo c. 2000? Larry Dale Wilkinson (1949-2013) http://dailyjournalonline.com/news/local/obituaries/larry-dale-wilkinson/article_c9651b74-7259-11e2-ba4c-001a4bcf887a.html "...BRANSON — Services are scheduled for February 15 for Larry Dale Wilkinson, Branson. He passed away at his home in Branson, February 6. He was born January 31, 1949 in Bonne Terre, Mo. He started singing Gospel Music with his brothers in a group called 'the Chapelairs' before joining the Air Force in 1968. Following his military service, Larry was co-owner and funeral director of Sparks Funeral Home in Bonne Terre, and he continued singing Gospel Music with the Galations Trio. He began working as an officer with the Bonne Terre Police Force, and was soon promoted to Chief of Police in 1976. In 1977, Larry, and his brothers Charlie and Gary, formed the Wilkinson Brothers Band. The Wilkinson Brothers moved to Branson, MO where they opened up the sixth theater in town on West Hwy. 76. They performed at the theater from 1981-1986, and produced recordings of their music. After closing the theater, Larry worked for the Dollar General Corporation in the Real Estate division. He was a member of Faith Lutheran Church, Branson, and had served as President of the Congregation. Sign up to get each day's obituaries sent to your email inbox Larry's illnesses began with strokes in 2002. He was preceded in death by his parents Everett and Mary Wilkinson of Farmington, Mo., and brother Charlie Wilkinson of Farmington. He is survived by wife Sandy Schaefer Wilkinson of Branson, and two sons Doug Wilkinson of Bonne Terre, Mo. and Kristofer Wilkinson of Branson; his brother Bob and wife LaVerra (Honey)Wilkinson of Festus, Mo.; sister Sherma Dean McCarty of Cape Girardeau, Mo., and brother Gary Wilkinson and wife Cheryl of Branson, plus many nieces and nephews" ---------------------------------- Gary Wayne Wilkinson (1950-2016) obit: http://www.hometowndailynews.com/2016/10/11/gary-wayne-wilkinson/ "...He was born on November 27, 1950 in Farmington, Missouri the son of Everett and Mary Wilson Wilkinson. Gary was a musician and was a member of the Wilkinson Brothers Band that performed in Branson from 1981 until 1986. He was a U.S. Air Force veteran serving in the Viet Nam War. He was united in marriage to Cheryl Meadows on January 24, 1985 in Forsyth, Missouri. Survivors are his wife; Cheryl Wilkinson of the home. A daughter, Kelly Miller of Farmington, Missouri and two grandchildren, Riley & Olivia Miller of Farmington, Missouri. Gary was preceded in death by his parents, three brothers, Larry Wilkinson, Charlie Wilkinson and Robert Wilkinson and a sister Sherma McCarty" ---------------------------------- Bob Wilkinson (1930-2013): "...Robert Raymond Wilkinson, age 82, entered into rest Saturday, April 6, 2013 at his Festus residence. He was born December 14, 1930, in Flat River, Missouri, to the late Everett and Mary (Wilson) Wilkinson. He had owned and operated a dairy farm for several years and had retired from the St Louis General Motors Plant; he was a member of Aulsbury Baptist Church in Bonne Terre. In earlier years he taught music to his brothers, Gary, Larry and Charlie who later was associated with the Wilkinson Brothers Show in Branson. Survived by his loving family which includes his wife of 63 years, Lavera (Kidd) Wilkinson; sons; Terry Wilkinson of Festus and Dennis "Denny" (Cheryl) Wilkinson of Winfield; daughters: Pamela (Walter) Burgess of Arnold and Mary Dettenmeier of Pevely; brother, Gary (Cheryl) Wilkinson of Branson; sister, Sherma McCarty of Jackson; sister-in-laws: Ella Mae Wilkinson of St Mary and Sandy Wilkinson of Branson; grandchildren: Tara (Scott) Dormeyer, Robby (Jodie) Wilkinson, Tim Wilkinson, Mandy Wilkinson, Brandon Burgess, Daniel (Kaycie) and Brittany Dettenmeier; great grandchildren: Hailey Wilkinson, Carter and Camden Dormeyer and Ona Lea Smith. In addition to his parents he is preceded in death by brothers: Charlie Wilkinson and Larry Wilkinson; and daughter-in-law, Tammy Wilkinson" ---------------------------------- steel player, Gerry Mulvaney: http://www.grandcountry.com/shows/gene-mulvaney "...Steel Guitar, Banjo, Lead Guitar, Acoustic Guitar & Musical Director Gene, who serves as the Musical Director for the Rhinestone Mafia, has been a part of the Branson entertainment scene for more than 30 years. Originally from Kinmundy, Illinois, music has played an important role in Gene's life almost from the beginning. He learned to play drums and ended up performing in his father's band at 8 years old and by the time he was 12, Gene was playing lead guitar. It would be another four years before Branson's premier steel guitar player took up the instrument at 16. Once he heard a steel guitarist opening for The Wilkinson Brothers, Gene decided to focus on the steel guitar at 18. After an interesting experience performing with Country Music Legend Mickey Gilley, Gene landed a job with The Wilkinson Brothers and eventually made his way to Branson in 1981. Throughout the last 30-plus years, he's performed in shows like Country Tonite, The Lowe Family, Ferlin Huskey, Ray Stevens, Splinter Middleton and many more." > <! Leslie Lynn Wille "Only You" (xxxxx) (LP) (Produced by David Eberle & Leslie Wille) - #TAT-9179 - from Saint Paul, Minnesota - looks like more of a folkie/spiritual thing, probably NOT country - maybe tuck it into the MN pages >
Billie Jo Williams "Country Music Will Always Stay In My Heart" (Farview Records) (LP)


(Produced by Tony Farr & Doyle Grisham)
Pedal steel player Tony Farr helmed this '70s session, with guitar picker Doyle Grisham listed as engineer...


<! - #F-1004 - late(?) 1970s- ? >
Buddy Williams "My Way" (DOC Records, 1978-?) (LP)
(Produced by Bill Nash & Bert Frilot)
In the early 1960s, singer Buddy Williams was in a pop vocals band called the Epics, which had a couple of regional hits on the East Coast but basically fizzled out, despite being signed to a major label. While in college at the University of Texas, he found work as a backup singer at the ACA Records studio, and got into the orbit of Bill Nash, who produces and performs on this album, as well as contributing two songs, "Come Back To Me, Girl" and "Tender Love." Most of the other songs are covers of pop and country hits, stuff like "Country Roads Take Me Home," "Tie A Yellow Ribbon" and "Me And Bobby McGee." Williams apparently did a lot of lounge singing gigs around Houston as well as out of state.


<! - no ASIN 07/07/15 - #13087 - Frilot was the engineer >


Chickie Williams - see artist discography



David Williams "Cowboy Time" (Trapdoor Records, 1985) (LP)


An all-original set by a fella from DeKalb, Illinois...


<! 1984-? - #YKW-202 > <! Dickie Williams "Red Negligee, White Whiskey And Blue Lights" (Bad Records, 1985) (LP) - label from Decatur, Georgia - single was "It's The Same Motel" 45-1003 BLUES artist >


Doc Williams - see artist discography



Gary Williams "The Gospel Singer" (Gospel Time Records, 1975) (LP)


A charmingly clunky and utterly sincere gospel album by Spokane, Washington's surprisingly prolific Gary Williams, who kicked off his career in the late 1950s as a secular honkytonk singer but got religion sometime in the mid-'60s and stuck to Jesus ever since. I love this album because of its combination of plainspoken, guileless, true-believer fundamentalism, which is perfectly complimented by his musical rough edges. Every song lyric is all, "Jesus, Jesus, Jesus..." until he gets to "The Devil," where we go over to the Dark Side for a while. If you like your country gospel plain and simple, Gary Williams is your man!


<! - #GRT-1004 http://countrydiscography.blogspot.com/2012/08/gary-williams.html > <! ALSO: Gary Williams "10 Year Anniversary Album" (Gospel Times Records) #GTR 1002 >
Gene Williams & The Country Junction Band "Memphis Country" (Cowboy Carl Records, 1980) (LP)

Hank Williams, Jr. - see artist discography
Mentor Williams "Feelings" (MCA Records, 1973) (LP)


(Produced by Troy Seals & Mentor Williams)
A rootsy recording session by 'Seventies songwriter and record producer Mentor Williams, who is perhaps best known for writing the song, "Drift Away," which was a Pop hit for Dobie Gray in 1973 and also hit the Country Top Ten the same year as the title track of Narvel Felts' debut album. Williams was the brother of AOR star Paul Williams, and later became the life partner of Lynn Anderson. He's backed on this album by a Nashville studio crew that included David Briggs, Dave Kirby and Weldon Myrick, along with other "usual suspect" superpickers.


<! https://en.wikipedia.org/wiki/Mentor_Williams "...an American songwriter and producer. He is best known for writing "Drift Away", a middle-of-the-road playlist classic performed by Dobie Gray in 1973. He is the brother of songwriter Paul Williams." "...Williams built a home overlooking Taos, New Mexico, which he shared with country music singer Lynn Anderson; the two were in a long-term relationship from the 1980s until her death in 2015." >

Merle Williams (Pork'A Lot Records, 1978-?) (LP)



<! - #Pork 781144 - from Dayton, Ohio - looks like all original material - back cover too blurry to read :-/ - Ohio Renegade Country Pork - no ASIN 07/28/16 >
Mike Williams "The Radio Show" (A B.F. Deal Production, 1975) (LP)





<! - with Dennis Coats - Colorado artist / Texas connection >
Mike Williams "Free Man, Happy Man" (B.F. Deal, 1977) (LP)


(Produced by Lars Lundahl & Chet Himes)



<! - he had moved to Austin by this time >
Mike Williams "Comin Atcha" (B.F. Deal, 1979) (LP)


Fans of Texas folk-twang goddess Nanci Griffith may be familiar with Mike Williams's uber-indie BF Deal label, as her first solo album came out on BFD in 1978... Mike Williams produced, played guitar and sang backup vocals on her folk-tinged debut, and Nanci returns the favor here, singing a few sweet notes on Comin' Atcha.


<! - Nanci Griffith sings backup https://en.wikipedia.org/wiki/B.F._Deal_Records >
Pete Williams "Sings Old Country Favorites" (Pee Wee Records) (LP)





<! - 208 loaded 11/15/15 - no info online re date, producer, etc https://www.google.com/search?q=Pete+Williams++%22Sings+Old+Country+Favorites%22+&ie=utf-8&oe=utf-8 >
Rex Williams "Good Time Friends" (Bear Creek, 1980) (LP)


(Produced by Dick Weissman)
Well, John Denver certainly didn't have a lock on Colorado country, as this amiable, eclectic indie acoustic album demonstrates... Not sure what Williams' story was, but he had lots of high-powered friends, including former '60s folkie and banjo guru Dick Weissman as well as bluegrasser Tim O'Brien, who at the time was still in the Boulder-based Hot Rize band. The vibe on this album is pretty mellow, but also shows wide stylistic range, spanning soft, folkie country-rock, novelty twang such as "Hurry Back," wistful romantic material and a bit of soft-rock AOR in the style of David Gates, et. al. and a bit of pastoral, back-to-nature hippiebilly, as on the title track and "Just Fishin'," which the liner notes say was featured in a film called Ventana (which I can't find any additional information about...) Anyway, this isn't a great record, but it is a nice, simple set, and a fine example of laid-back, easygoing musicmaking among family and friends, and a nice window into the Colorado indie-twang scene of the time.
Terry Williams "Magic Bottle Of Wine" (197--??) (LP)





<! - from Arkansas(?) - no label name - no date(?) >
Tommy Williams "Forever Fiddlin' " (Murray Records, 198-?) (LP)


(Produced by Tommy Williams, Gene Breeden & Terry Crisp)
A solo set by Tommy Williams, a Floridian fiddler who did a lot of Nashville session work, but is best known as a cast member on the Hee Haw TV show... Williams is backed by an a-ist studio crew, including pianist Hargus Robbins, Bobby Thompson on banjo and guitar, drummer Buddy Harmon, and Bud Ham on bass. The set list is all old-school, public domain fiddling standards, stuff like "Cotton Eyed Joe," "Bile Them Cabbage Down," although some of the tunes are relatively obscure, such as "Snow Flake Reel" and "Bitter Creek." No date on this one, but it looks early '80s, possibly late '70s.


<! - #MR-5500 - ADD TO HEE HAW PAGES - if they get created. :-) > <! The Woodland Valley Singers "The Last Round Up" (Diplomat Records, 196-?) (LP) - #DS-2410 - mostly western cowboy tunes like "Big Rock Candy Mountain," "Sweet Betsy From Pike," "Cattle Call" and "Blue Tail Fly" - anonymous(?) band - reissue of "Western Favorites" (#3034) >
Tuffy Williams "Tuffy" (Tuff Stuff Records, 1982) (LP)


Piano-based countrypolitan from Independence, Missouri -- mostly all-original material, with just a couple of cover tunes.


<! http://kclawrencevinyl.blogspot.com/2014/08/tuffy-williams-tuffy-tuff-stuff-records.html "...Some pretty boring private press country going on here. Looking at the cover, I was hoping for cheeseball. lounge stuff at best. And, while this does have a plethora of long winded, piano based ballads that could easily grace a lounge album, it's all pretty boring. Had it been a bunch of covers, I would have passed. But, Tuffy of Independence, MO, pens most his tracks, of the ten featured tracks, all but two are his own. With private press stuff, that's what I look for; originals. You never know what you might come across. If you got the means and desire to put out a record on your own, there's usually at least one good track. With this, maybe there is a standout track, but I'm not hearing it. There is a song about fishing and stuff; it's got a guitar solo, or, there's some good piano runs on the cover of "Bad Moon Rising," maybe those are the money shots, I don't know. The country is MOR, the ballads you can skip. To its benefit, it is far more routed in traditional country that what Nashville was doing in the 1980's. Tuffy's piano gives slight western swing feel, so it's not a total train wreck." >
Williams World "Flash-In-The-Pan" (Viking Recordings, 1974-?) (LP)


(Produced by Wade R. Williams)
A family band from Denver, Colorado, led by mom and pop, Carol and Ralph Williams, but showcasing their thirteen-year old daughter Pam Williams, who played the banjo and wrote several of the songs on this album, including "World's A Battle Ground," which was co-written with her older sister Tammy. Mostly bluegrass standards, as well as covers of "Ghost Riders In The Sky" and Kris Kristofferson's "Sunday Morning Coming Down."


<! - #5472 (1972??) >
Willis/Carlan/Quinn "Tin Roof" (Sun Records, 1980) (LP)


(Produced by John Hall)
This Florida band included the trio of Danny Willis, Karen Carlan and Mike Quinn... hence the name... Although this is sometimes described as a bluegrass album, I'd peg it more "country" or country-pop. And yeah, they do country-rock covers of bluegrass standards like "Uncle Pen" and "Rocky Top," but also some new stuff that reminds me of Jonathan Edwards, as well as a couple of truly dreadful soft-rock tunes. On balance, though, this is worth checking into if you're into '70s-style country rock. Not mindblowing, but solidly in that tradition. It's also been reissued on MP3 as part of the Shelby Singleton back-catalog.


<! - Bluegrass Country Folk - #1023 - Florida-based bluegrass trio >
Clay Willis & The Traveling Band "Recognition" (JED Records) (LP)





<! - I thought this looked Christian, but I think it's actually secular - picture of him at the Opry >
Leonard R. Willis "Everybody Lies To Linda" (Valentino, 1977) (LP)


A set of all-original material, recorded on a Nashville indie label...


<! Songs include hallelujah, everybody lies to linda, look whos singing the blues, betty lou mcclain, cajun tune, they make it so good, too far to walk for a camel, talkin to myself, I thing I found it and I will lighten your load. May have been a San Antonio, Texas firefighter(????) http://www.safppa.org/index_htm_files/GRAPEVINE%20July%202012%20FINAL.pdf > <! - #11007 - seemes to have been same label - same numbering, just changed it to Tangerine - below - Tangerine may have been a "tax scam" label >
Leonard R. Willis "She Won't Stay Long Enough For Breakfast" (Tangerine, 1977) (LP)





<! - #11008 - some defunct link said something about "tax scam folk"(??) >
The Vic Willis Trio "Stars Of The Grand Ole Opry" (First Generation, 1981) (LP)


(Produced by Pete Drake)
Well, you gotta give the old guy credit for trying to keep up with the times... John "Vic" Willis was a surviving member of the Willis Brothers, a second-string honkytonk/pop band whose heyday was in the 1950s and '60s, and who had been Opry members since the late '40s. After one brother died and another retired in the '70s, Vic Willis decided to go it alone and recruited Curtis Young and C. W. Mitchell to round out a vocal trio... They're backed here by Pete Drake's studio crew, including Hargus Robbins on piano, a bunch of usual suspect guitatists, Pete Drake and Jimmy Crawford on steel, and Vic Willis chugging away on accordion. The accordion is the sole reminder of his 1940s origins; the rest of the record has a contemporary late '70s/early '80s feel, with glossy arrangements and slick-sounding production, and songs by writers such as Rick Beresford and Hapgood Hardy. Includes a nice version of Dave Kirby's "Colorado," alongside covers of recent hits such as "Old Flames Can't Hold A Candle To You" and "If I Said You Had A Beautiful Body." Willis seems to have been aiming at a Bellamy Brothers-style harmony vocals sound, and on a few tunes the trio sounds pretty strong, although when the other guys drop into the background, you can hear the creakiness in his voice. No worries, though: it's not a mind-blowing record, but it is a pretty credible effort for an old-timer of his era.


<! A1 I Couldn't Live Without Your Love A2 A Woman Like You A3 Especially You A4 Old Flames Can't Hold A Candle To You A5 If I Said You Had A Beautiful Body (Would You Hold It Against Me) B1 American Trilogy B2 Shenandoah B3 Colorado B4 Last Cheater's Waltz B5 The Homecoming >
Willow "Willow" (20th Century Records, 1973) (LP)


(Produced by Don Black & Dennis King)
Seventies soft-rock with some country influences... I've seen mentions that this trio was originally from the San Francisco Bay Area, but haven't been able to completely confirm it yet.


<! - #T-420 - includes a song called "Seattle" >
Willow "Branching Out" (20th Century Records, 1974) (LP)


(Produced by Don Black & Dennis King)
This one's definitely worth knowing about if you're a fan of 'Seventies soft-rock... The trio of Kevin Dolan, Barry Fitzgerald and William McSweeney took their cues from Crosby Stills & Nash, playing a far-flung, eclectic mix of country-rock, soft-psych sunshine pop and shiny AOR, sounding quite a bit like contemporary bands such as America and Poco. This album's kind of a mixed bag -- some tracks are really nice and hold up well over the years, although when the band aims for a more rugged rock-pop sound, the songs feel slightly brittle and the album begins to feel more scattershot. Still, the mellow tunes are nice and well-produced with lots of bright harmonies and sonic texture -- this disc could definitley be considered a lost gem of the era, though twangfans may have to work at it a little to hear the country influences.


<! - #T-450 http://www.vine-yl.com/willow.html http://grapher-music.blogspot.com/2013/03/willow-branching-out-1974-20th-century.html https://www.reverbnation.com/branchingout "...Bio: Willow is a band that made two albums with 20th Century Fox back in 1973, Willow and Branching out. We thought it would be fun to see how our songs are received today." - another album as "William & Barry" (?) >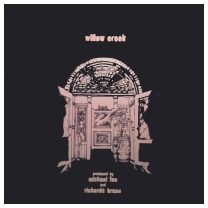 Willow Creek "Willow Creek" (Arm Records, 1979) (LP)


(Produced by Michael Fee & Richards Bruno)
Aw, phooey. You figure with a name like Willow Creek, these guys would at least pick a little bluegrass, but as it turns out they were basically an amateur, acoustic-oriented soft-rock band. I suppose there's a reasonable case to be made placing them into the '70s "country rock" sound, but only in the same way you might also include bands like America or Firefall. There are some pop-rock covers -- of the Beatles, Neil Diamond and the Isley Brothers -- as well as the "Sunshine Medley" which mashes up Jimmie Davis and Jonathan Edwards, and a little country stuff from the Jimmie Rodgers and Carter Family catalogs that closes out the album. There are also four original songs by singer Michael Fee, who was clearly the leading force in this band. This didn't really wow me, but it's yet another example of "just plain folks" making their own music, back in simpler times. Several tracks were recorded live at Burnham's Opera House, a bar in St. Louis, Missouri where Fee had previously led the house band, then called the Bushwackers.


<! the band Dichotomy also played at Burnhams >
Bill Wilson "Songs From The Catalog Of Sonobeat Music Company" (Sonobeat, 1969) (LP)
(Produced by Bill Josey Sr. & Rim Kelly)
Midwestern singer-songwriter Bill Wilson was a Vietnam veteran, still enlisted in the Air Force when he made his way to Austin, Texas and recorded this set for the Sonobeat micro-label, run by Bill Josey and his son, Rim Kelly. The abum was a songwriter's demo, with only a hundred copies pressed, and most of these passed along to music business types. Eventually it paid off: Wilson did get signed to Columbia and cut the album Ever Changing Minstrel (reviewed below) although he eventually returned to his home in Indiana after a stint in Nashville, and settled into local-legend status. The Sonobeat record remains one of the more elusive items in the folk-freak pantheon, still in need of reissue nearly fifty years after its release... It's a solid set, just Wilson and his guitar, intoning with a very serious, brooding, thoughtul folkie urgency, recalling earlier acoustic pioneers such as Tim Hardin and Tom Rush. Before cutting his Columbia LP, Wilson worked on a few equally obscure Sonopress projects -- playing guitar on records by Herman Nelson and Mariani, as well as one album with his own group from Bloomington, the Pleasant Street Band.


<! - no ASIN 10/30/16 - d. November 25, 1993, 46 years old "Peace Of Mind" "Summer Morning" "Janie" "All Alone" "Death Row Blues" http://www.sonobeatrecords.com/wilson-bill.html "...After completing his tour of duty in the Air Force, Wilson returns to native Indiana, settling in Bloomington, where in 1972 he joins The Pleasant Street Band. He brings the band to Austin that year to record an album at Sonobeat." http://www.billwilsonmusic.net/ http://musicalfamilytree.com/band/bill_wilson Pleasant Street Band - no ASIN 10/30/16 >
Bill Wilson "Ever Changing Minstrel" (Columbia/Tompkins Square, 1973)


(Produced by Bob Johnston)
This is an Americana/folk-freak "lost gem" that really lives up to the hype... Bill Wilson, an Indiana unknown who recorded one lone album for Columbia Records in 1973, was a distinctive artist whose legacy was lost for four decades, since the distribution on the original album was so poor that it practically became a mirage. He's backed on this set of driving, hypnotic originals by a top studio crew under the direction of veteran producer Bob Johnston, a set punctuated by funky bass lines, soaring vocal choruses and slippery Southern rock guitars, but most of all by his own insistent acoustic guitar and half-chanted vocals. There's a definite "hippie" vibe to this album -- cosmic, spaced-out, prophetic lyrics and a searing, solipsistic urgency -- with a richly textured, eclectic early '70s sound. Perched halfway between Tony Joe White's swampy blues raps and the outlaw folk of Townes Van Zandt, Wilson had a knack for crafting sinuous, alluring refrains, choruslike verses which he would repeat over and over like liturgical chants. Indeed, several songs on here have religious themes, notably "Father Let Your Light Shine Down," a perky, soulful song that could have made it into the country gospel canon, had Wilson gotten a little more exposure. Other gems include the wind-blown folk tune "Rebecca," and "Black Cat Blues," a chain-gang ballad worthy of Robert Pete Williams. Wilson is an artist who's difficult to pin down stylistically, evoking Jerry Reed, Tom Rush and James Talley among others, and he definitely embodies the spirit of early '70s experimentation. If any of this piques your curiosity, by all means pick this up -- it's albums like this that reissue labels were made for.
Bill Wilson "Talking To Stars" (Bar-B-Q, 1976) (LP)


(Produced by Mark Bingham & Mark Hood)
Following the flaming fizzle of his major-label debut, Williams settled back into Midwestern life, recording this equally odd album in Bloomington, with what I assume was a largely local band. (BBQ label owner Mark Bingham was another record industry refugee who came back to Indiana after a stint in LA and helped record a number of odd, obscure artists in the '70s and '80... The liner notes list a "Mac MacNally" singing backup on one track, who I assume is a teenage Mac McAnally, future Nashville songwriter; I was too lazy to look up all the other folks...) Anyway, this starts out on a similar note to his '73 album, a folkie-twang set with a spiritual undercurrent -- touches of disco, both mocking and sincere, lick around the edges of a few songs, and the lyrics seem more concerned with romance than before. On Side Two, he gets into a heavily cosmic folkie vibe, reminiscent of Tim Hardin, Fred Neil and Tim Buckley, and that's groovy if that's what you're looking for... A personal, searching album and an intriguing slice of '70s DIY Americana, but far less country twang overall.
Bill Wilson "Made In The USA" (Redbud, 1980) (LP)


(Produced by Bill Wilson & Michael Ebert)
There are still some groovy touches here -- odd, personal lyrics, unusual arrangements -- though now Wilson seems to be all but a solo performer, thrumming away on the guitar and filling the void with his impassioned vocals. He compensates by coming up with surprising sonic textures and processing his guitar sounds in a Leo Kottke-esque way. Wilson had definitely become a voice in the wilderness and had fully embraced that role -- of all his albums, this is probably the least accessible or immediately appealing, but if you work at it a little bit, it has its rewards.


<! Side One Made in the USA 2:37 TWO TON TONY 4:05 Melody Man 3:40 Brown Bag Blues 3:09 Just Us Two 4:28 Side Two Skid-Row Rodeo 3:48 Time to Spend 3:06 Indianasong 3:03 Medicine Man 4:55 Stardust Train 3:09 > <! Bill Wilson "Other Days So Unusual" (xxxxxxxxxx, xxxxxxx) B00004TCWQ - same guy???? friends of bill wilson "surface tension" (2009) B002IEXX5U Bill Wilson "Traction in the Rain" (xxxxxxx, xxxxx) traction, or tractor? >
Dennis William Wilson "One Of Those People" (Elektra, 1979) (LP) <! year?? >


Songwriter Dennis William Wilson (by the way, not the same guy as the late Beach Boy, who died in 1983...) was also a session picker who popped up on several albums throughout the '70s...


<! Hulen Wilson - from Ohio >

Jerry Wilson "Going Home!" (ADA Records, 19--?) (LP)





<! - #ADA-1002 - gospel album, mostly his originals - mentions one song having won a gospel music award in 1979 - from Boise, Idaho; born October 14, 1953 - musicians not listed, recorded at Ripcord Studios in Vancouver, WA SAME GUY? http://www.blindpigandtheacorn.com/ https://www.folkschool.org/event.php?event_id=167&remind=true "... The Blind Pig Gang Jerry Wilson and his son Paul keep alive their talented family's tradition of homemade music making. Jerry's tenor singing and rhythm guitar were featured on many recordings by the Wilson Brothers with brother Ray. Paul Wilson's lead vocals and intricate guitar style perfectly complement his father's clear harmonies. The Wilsons sing a wide variety of country, folk and gospel songs. Jerry's daughter Tipper plays bass with the group along with several Wilson cousins on mandolin and guitar. Granddaughters Katie and Corie Pressley will also add some vocals and maybe a bit of clogging - LK: it's like hearing Hank Snow and Mac Wiseman singing duets in 1937 - (?was in a brother duo, with Ray Wilson?) > <! ALT: http://sonsofbill.com/ > <! BLUEGRASS: The Wilson Brothers "Sacred Songs In The Stanley Tradition" (Old Homestead, 1974) (LP) B01BZFCBUU - #90028 - absolutely charming, unabashed yet self-affacing liner notes - with Joe Isaacs (banjo and baritone vocals), Vernon Bowling (lead and rhythm guitar), Ron Tomason (mandolin), Kenny Bussel (fiddle), with Neal Brackett and Herman Chriss on bass. - album online: https://www.youtube.com/watch?v=CIpmpPEE-k8 The Wilson Brothers "Lonesome Old Home" (Vetco Records) (CD) B00AG8I8FA 1. Lonesome Old Home 2. Let Me Rest At The Top Of The Mountain 3. Time Is Winding Up 4. How Much I Owe 5. They Won't Believe 6. Pale Horse And His Rider 7. Heavenly Highway 8. Everybody Will Be Happy Over There 9. Got Him On My Mind Linda Wilson, on Amazon: "...This was the most popular of The Wilson Brothers' CD's and it is easy to see why. Ed Hamilton and his wife wrote the song "Lonesome Old Home" for The Wilson Brothers and Russell Wilson did the music. I'm sure everyone can relate to the feeling in this song and I never get tired of hearing it. So happy to have this CD and I know now they are very hard to find since Russell Wilson's death in 2013. If you can find a copy, you will be happy to have all the wonderful songs on it to enjoy for years to come." - title track was covered by Ralph Stanley(?) http://wilsonbluegrass.com/biography.html "... Curnie and Russell performed their lonesome bluegrass sound for twenty four years. They recorded six albums. Among the many songs written by Russell were: Rejoice With Mom and Dad; This Lost Sinner's Prayer; What More Do You Need; Life's Other Side (also recorded by Ralph Stanley); and The Stanley's Will Sing Again. Russell and Curnie also composed the music for Ed Hamilton' s "Lonesome Old Home" which became IBMA's 1998 song of the year. Among those musicians that joined the recording sessions of The Wilson Brothers and The Bluegrass Harvesters are: Larry Sparks; Joe Isaacs; Ron Thomason and Scotty Sparks. Due to poor health, The Wilson Brothers last public appearance was in 1984. Since then Russell has appeared on The Cumberland Highlanders nationally televised bluegrass show since 1998. In 1999/2000 Ralph Stanley teams up with Russell on the "Cumberland Mountain Home" CD when they sing "The Stanley's Will Sing Again" and "Lost Sinner's Prayer" while brother, Curnie, joins them to sing "Harbor of Love". Russell has had the opportunity to sing both tenor and lead with Ralph Stanley. Russell is now working on a new CD for Crosscut Records that should be completed in the summer of 2002. Sammy Adkins and the Sandy Hook Mt. Boys are helping Russell with this project. Several of the songs were written by Russell and are being recorded for the first time." The Wilson Brothers & The Bluegrass Harvesters "Preach The Word" (Old Homestead, 1977) (LP) B01LYBMBF9 (Produced by John W. Morris) - #70016 - Curney Wilson (lead vocals, guitar) and Russell Wilson (tenor vocals, bass), of Kentucky - Curney Wilson (b. Feb. 22, 1943) in Jackson, Kentucky, lived in Glencoe, Kentucky - Russell Wilson (b. May 7, 1945, in Dayton Ohio, d. 2013) lived in Dayton, Ohio - w/ Lonnie Bolin (b. March 6, 1923, was in a duo called the Bolin Brothers) (lead guitar, bass vocals) - Denver Jones (banjo, baritone vocals) The Wilson Brothers "My Ride Is Coming" (Old Homestead, 1979) (LP) - #OHS-70026 Banjo – Denver Jones Bass – Bill Napier (2) Bass, Tenor Vocals – Russell Wilson (3) Fiddle – Buddy Griffin Guitar, Lead Vocals – Curnie Wilson Lead Guitar, Bass Vocals – Lonnie Bolin Mandolin – Larry Polley Rhythm Guitar – Dana Cup The Wilson Brothers "Time To Pray" (1984) (CD) B000E1EFM4 "...The Wilson Brothers' last album, recorded in 1984, is one of my all time favorites. They have a style similar to the Stanley Brothes, but in my opinion, they have a much smoother sound and know how to create beautiful music. Being a close friend of the Wilson Brothers, they are not only great musicians, but wonderful gentlemen. If you like mountain gospel, you need this album in your collection. The cross picking guitar on this album is the best I've ever heard done by Curnie Lee Wilson. Don't pass this one up!" Banjo, Baritone Vocals – Denver Jones Bass, Tenor Vocals – Russell Wilson (3) Fiddle – Buddy Griffin Guitar, Lead Vocals – Curnie Wilson Lead Guitar – Curnie Wilson, Jr. Mandolin – Glenn Lehman https://www.meaningfulfunerals.net/obituary/1944473?fh_id=10640 "...Russell Lee Wilson, 67, of Science Hill, Kentucky, passed away Monday, February 4, 2013 He was born in Dayton, Ohio on May 7, 1945, son of the late Ruben R. and Nellie Grae Smith Wilson. He was a member of Science Hill Christian Church. Russell was a member of the Wilson Brothers Bluegrass Gospel Band of Glencoe, KY. The Wilson Brothers were the first to be honored in Gallatin County with a music award for outstanding performance. He was also a member of the Cumberland Highlander TV Show. He was also a song writer and recording artist. He is survived by his wife, Linda Leigh Wilson, whom he married on January 30, 1992, one son, Steven & (Amy) Sefton of Hanover, MN, one daughter, Natalie Wilson Patterson of Fort Payne, AL, two brothers, Curnie Samuel & (Marie) Wilson of Glencoe, KY and Kenneth Ray Wilson & (Marlene) of Florence, KY, one sister, Barbara Jean & (Perry) Lewis of Dry Ridge, KY and five grandchildren, Erin Sefton, Emily Sefton, Leah Newman, Gladstone Patterson and Maggie Patterson. https://www.youtube.com/watch?v=YgdsXin-C2I >
Larry Jon Wilson "New Beginnings" (Monument, 1975)


(Produced by Rob Galbraith & Bruce Dees)
An alluring debut from this Americana auteur, a growling, smoky Southern spiritualist with a funky, swampy feel similar to Tony Joe White, with an echo of Bill Withers' brand of wistful, meditative nostalgia. (He also has the same rich Georgia drawl as Jerry Reed; on a tune or two you could almost mistake the two for one another...) This idiosyncratic album didn't dent the charts, but it has a bunch of songs on it that became staples of '70s freeform radio: I remember hearing "The Truth Ain't In You" and "Broomstraw Philosophers And Scuppernong Wine" on KFAT, lo those many years ago. Most of the musicians seems to be from the Muscle Shoals side of the tracks, though country sessionman Lloyd Green plays steel on several tracks. This record's a real find and one of the decade's true classics; a one-of-a-kinder, for sure. (Reissued on CD along with his second album, reviewed below.)
Larry Jon Wilson "Let Me Sing My Songs" (Monument, 1976)


(Produced by Rob Galbraith & Bruce Dees)
His second album has a much more disciplined, streamlined, more overtly pop-folk sound -- still bluesy but less Tony Joe White, more Fred Neil, if not quite Gordon Lightfoot. It's not quite as much fun, but it did yield Wilson's lone entry into the Country charts, the mellow "I Think I Feel A Hitchhike Comin' On," which didn't go very high, but did make it into the back end of the Top 100. The country element is even more in the background, though Weldon Myrick sits in as a session player, adding a few licks on the dobro. This isn't as striking a record as New Beginnings, but still worth a spin, particularly if you're drawn to Wilson as an auteur artist.


<! IMG is terrible, fiddled with from poor source >

Larry Jon Wilson "Loose Change" (Monument, 1977) (LP)

Larry Jon Wilson "The Sojourner" (Monument, 1979) (LP)

Larry Jon Wilson "Larry Jon Wilson" (Sony-BMG/Drag City, 2008)


Larry Jon Wilson "New Beginnings/Let Me Sing My Songs" (Omni, 2011)


A swell twofer reissue, with Wilson's first two albums sandwiched together. I wonder if they'll reissue the other two Monument albums as well...(?)


<! Larry Jon Wilson (1940-2010) Larry Jon Wilson "New Beginnings" (Monument, 1975) B004VWXUKA Larry Jon Wilson "Let Me Sing My Songs" (Monument, 1976) B004VWXUKA Larry Jon Wilson "Loose Change" (Monument, 1977) (LP) B004Y1NIUA Larry Jon Wilson "The Sojourner" (Monument, 1979) (LP) B005N1TWSW Larry Jon Wilson "Larry Jon Wilson" (Sony-BMG/Drag City, 2008) B002ASVYRI B002E6M4VQ >

Mura Wilson "From Here To Nashville" (Page One Records, 1969) (LP)



<! - no ASIN 06/24/15 01 Wild Side Of Life 02 Lennon And McCartney 03 Will The Angels Play Their Harps For Me 04 Need Someone To Love 05 Bridle Hangin' On The Wall 06 It Makes No Difference Now 07 From Here To Nashville 08 Red River Valley 09 Tennessee Waltz 10 Near You 11 Silver Haired Daddy Of Mine 12 Waitin' For A Letter From You >
Page Wilson "Road Tired, Wired And Ready" (Signal Mountain, 1983) (LP) <! year?? >


A stalwart of Richmond, Virginia's country scene, singer Page Wilson and his band Reckless Abandon released a couple of albums in the '80s, with Wilson later slipping into a long career as a local radio DJ. This debut album has some pretty solid, hard-country honkytonk on it, nice stuff about drinking and dreaming of lost loves and heartache... Ultimately, Wilson's story was pretty sad: he had a hard time making ends meet in his later years and when he started having health problems, things really fell apart because he didn't have health insurance and couldn't get the care he needed. In 2011, he was found dead in his home, after having suffered from various medical problems... a tragedy, really. But he left some good music behind!


<! lengthy obits: http://www.northofthejames.com/page-wilson-into-the-blue http://www.styleweekly.com/richmond/page-wilson-found-dead/Content?oid=1442285 http://www.pagewilson.com/Bio.html >
Page Wilson "Best Of The Situation" (Signal Mountain, 1985) (LP)

Page Wilson "Bridge Of Love" (Plan 9 Records, 1999)


A live album...
Smokey Wilson "Country Music Boogieman" (Expression Studios. 197-?) (LP)
(Produced by Dick Knight)
This late-'70s album was recorded in Las Vegas by Lone Star honkytonker Smokey Wilson (not to be confused with the West Coast bluesman of the same name) along with his band, Texas Highway, which toured the Southwest and the Rockies in theie heyday. It's all original material, kind of a perky blend of twang and rock, with a hint of R&B in the mix. Wilson, who settled down in Cuero, Texas, has recorded several albums later in life -- during the CD era -- but I think this was his only album from his '70s outlaw days.


<! - no ASIN 10/03/15 - recorded several other albums, in the 2000s: http://www.mytexasmusic.com/smokeywilson/smokeywilson.html http://www.countryworldnews.com/news-archives/SCTX/2001/SC0809_singer.php "...Smokey Wilson, singer, songwriter and Texas livestock investigator of Cuero. By day, Wilson says he is the only livestock investigator left in the state who works for the Texas Animal Health Commission, appointed by the Governor to oversee the state livestock industry. For the last 20 years, he's watched for animals without proper paperwork trying to enter Texas, along with tracking disease in the animals." >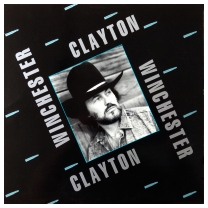 Clayton Winchester "Clayton Winchester" (Talon International, 1988) (LP) <! also B007XZR3WS >


(Produced by Bob Tubert & John Kelton)
A pop-country hopeful from Isleton, California (near Sacramento) singer Clayton Winchester wasn't bad, although some of these songs get a little florid, particularly on the more ballad-y end of the spectrum. Winchester kinda reminds me of Moe Bandy -- he's working in a slick but rootsy style, with a hard-country/honkytonk undercurrent that was a little at odds with the high-tech sound coming out of Nashville at the time. But a lot of these tunes may catch your ear, and it's an interesting song selection. Winchester only wrote one of the tracks, "Good As Any Man," which closes the album -- in addition there are a couple of songs provided by Linda Darell and several more credited to producer Bob Tubert. I suppose this may have been one of those songwriter showcase albums that they make in Nashville -- sort of a glorified demo tape -- but it's nice that this guy got a chance to put himself on wax. Perhaps the most notable feature is that an up-and-coming Shelby Lynne sings back-up on a few tunes, just one year before her own debut in '89.





Jesse Winchester - see artist discography


<! THE WINTERS BROTHERS "...Dennis and Donnie Winters were born in southern Florida then moved to the hills of Tennessee at a very young age. They are third generation of musicians. Grandfather "Pop" Winters band, "The Southern Strollers", were performing and recording in the late 40's. Their father Don Winters, Sr., had a successful career on his own with recordings on RCA and DECA Records. He was also a part of The Marty Robbins Show and spent 23 years with Marty. Soon after the Allman Brothers hit the scene Dennis and Donnie began to experiment with the new southern sound. They formed the Winters Brothers Band and their future looked bright. They developed a following in the South and along the East Coast. Their self-titled debut album, released by in 1976 by ATCO/Atlantic Records, was produced by Taz Di Gregorio (of the Charlie Daniels Band). The singles Sang Her Love Songs and Smokey Mountain Log Cabin Jones both had regional success. The songs rounding out the album are I Cant Help It, Shotgun Blues, Devil After My Soul, Misty Mountain Morning, Old Stories, Sweet Dream Lady, Dream Ride and Laredo. Lady Fate was not kind to the WBB though. They were slated to join Lynyrd Skynyrd's 1977 tour but the Skynyrd plane crash changed both band's destiny. The tour would have exposed the WBB to a nation-wide audience and perhaps they would have had a different history. Their second album, Coast to Coast (produced by Paul Hornsby) was held back by the record company as the emergence of disco reared its head and southern rock fell out of favor. It was eventually released independently. The songs are Love Living This Way, A Gun Don't Mind, Call It Off, All I Want To Do, Lies, Lies, Pedal to the Metal, Homegrown, Hold on Baby, Misery in My Soul, Carolina and Don't Give Up on Love. Toy Caldwell plays steel guitar on A Gun Don't Mind. Coast to Coast will soon be available at the band's site. The band did appear on several Volunteer Jam albums. Sang Her Love Songs was featured on the 1978 Volunteer Jam III and IV double album and Rich Kids was on Volunteer Jam VI, released in 1980. A third album, Keep On Runnin', was a five-song mini-LP released in 1985 by Star Track Records (based in Nashville). In addition to the title track, the songs are Jailer-Jailer, You're Breaking My Heart, Ice Cold Love and Pedal to the Metal. ---------------------- Country singer Don Winters dies Monday, August 19, 2002 Country music singer Don Winters, 73, lost his battle against cancer early Saturday morning. Winters, born in Tampa, Fla, began his music career singing with his father's band, Pop Winters and the Southern Strollers in the late 1940's. Moving to Nashville in the 1950's, he started his solo career singing around town. He eventually went to work with Webb Pierce and continued his solo career recording on the RCA and Decca labels. Country legend, Marty Robbins approached Winters in 1960 and persuaded him to join him as part of his band. Winters became a lifelong friend of Robbins, as well as his road manager and featured artist on all of Robbins http://swampland.com/articles/view/title:dennis_winters - interview http://www.tuckerhead.com/winters_brothers_band.htm >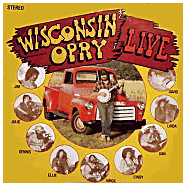 Wisconsin Opry "Live Country Music Show: Wisconsin Dells' Newest Family Attraction" (1979?) (LP)
(Produced by Jim Lake & Kent Kesterson)
A souvenir album from the Wisconsin Dells tourist attraction which in the late 1970s added a country music show to its entertainment menu... The band on this first album included three lead vocalists, Jerry Beschta, Julie Keller and Ellie Peters who take turns singing on a mix of classic oldies and newer tunes, including some hip and mildly surprising modern selections. Keller takes a pass at a cover of the old George Jones hit, "He Thinks I Still Care" and Emmylou Harris's "Boulder To Birmingham, while Peters closes the album out with a version of "The South's Gonna Do It Again." I think these folks were fairly young musicians who were probably happy to have the gig -- apparently they traveled to Missouri to record the album at the KBK/Earth City studios in Saint Louis.


<! - no ASIN 08/24/16 - #MK97-351 >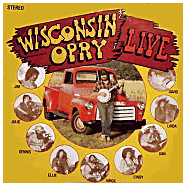 Wisconsin Opry "Live" (1979?) (LP)
(Produced by Bill Schulenberg)
As on the first album, the musicians at the Dells seem to have been allowed to play stuff they liked, and made some pretty hip selections: they cover several songs that Emmylou Harris recorded in the late '70s, along with some Hank Williams, a version of "Aint Nobody Here But Us Chickens" (which I'm guessing they got off the Asleep At The Wheel version, not from Louis Jordan) as well as "Crazy," and... wait for it... wait..... wait... "Viola, An American Dream," which was a huge hit for Starland Vocal Band, but it also technically a Rodney Crowell song. The only distinctive track, really, is the novelty tune, "400 Hogs," which is sort of a shout-out to the 4H crowd. No release date on the record, but I'm guessing 1979, or maybe '80, based on the set list. Nothing special here, really, but I guess if you were at the Dells back then, possibly working as a candystriper, this might be a nice whiff of Dairyland nostalgia.


<! - no ASIN 10/06/15, 08/24/16 > <! Wisconsin Opry "Gospel" (???? year-label ) (cassette) B001QVBQW8 >
Wisconsin Opry "Live Country Music Show, v.3" (1985-?) (LP)



<! - no ASIN 08/16/16 - date per autograph on LP - mostly the same musicians as on the first album - the Beschtas seem to have left the band, though. - band included Cindy Dickenson (lead vocals), Virgil Dickinson (banjo), Bill Herrewig (steel guitar), Julie Keller (lead vocals), Ellie Peters (lead vocals), Mike Powers (lead vocals, piano), Dennis Reifsteck (fiddle & bass), Dan Soma (vocals and guitar) - a bunch of oldies, such as "Send Me The Pillow That You Dream On," "Walking After Midnight" also newer stuff like "All The Gold In California" and "Thank God And Greyhound You're Gone" >

Jeff Wise & Darren Fay "Redneck Rock" (Charter Records, 1975) (LP)


(Produced by Ellis Miller) <! and Ray-? >
Darren Fay and Jeff Wise were buddies from Southern California who hoofed it up to Vancouver, Washington to party down and cut a record at Ripcord Studios, with owner-engineer Gene Breeden adding electric guitar and pedal steel to a track or two, his son Danny Breeden on drums, Ellis Miller on bass, and of course, Fay and Wise strummin' guitars and singin' up a storm. There's also some guy named Mark who adds fiddle, flute, or saxophone -- as well as vocals -- to all but two tracks, and you can totally just hear those two guitar dudes, being all, "Oh, man, dude! You know we would put your name on the cover, too, just... like, y'know... you're not on those two tracks!" And Mark was all, "Well, can't we just come up with a band name?" Not like he's pissed, or anything. Anyway, these two (or is it three?) longhaired guys were just about as 1975 as you could get... Dig those shirts, dig that chest hair, and how do you stay that thin?? The dudes returned home, with Jeff Wise being considered an "unofficial mayor" of his hometown of Harbison Caynon, a rural community outside of San Diego where he grew up... As far as I know, this was their only album.


<! - #SLP-1040 - Ripcord spinoff label; recorded at - engineers: Ray ___________ (they left it blank!) and Ellis Miller >
Jennifer Wise "Just Jennifer" (BOC/Audioloft, 197--?) (LP)


(Produced by B. J. Carnahan)
Although she's pals with producer B. J. Carnahan -- who was pals with Johnny Cash -- this album has far less twang to it than you'd expect from inside the orbit of the Macks Creek, Missouri mom-n-pop indie scene... Basically, this is a fairly generic, low-energy set of wispy folk-pop, crooned by Ms. Wise in a Karen Carpenter-esque milkiness. She wrote most of the songs on here, including two co-written with Carnahan. She also covers "Welcome To My World," David Mallett's "Garden Song" (aka "Inch By Inch," most famously recorded by Pete Seeger) and the Hank Williams oldie, "I'm So Lonesome I Could Cry," which is the most country-sounding track on the record. The album was arranged by Brad Edwards, who presumably also plays on the sessions (no musician credits, alas...) Not much to get worked up about on this one, though I did like the pedal steel on the Hank song.


<! - #BOC-LPS-2007 >

Cal Witham & Bonnie Witham "...Sing The Gospel Country Style" (Bolt Records, 19--?) (LP)
(Produced by Buzz Whittica, Buck Carney & Richard Nevue)
The old-time country duo of Cal & Bonnie started out as a secular act, but went gospel later in life, with Mr. Witham becoming an ordained Baptist minister, in Hanson, Mass. This album is mostly packed with standards, including a patriotic medley performed by John Phipps on the Wurlitzer organ. Producer Buck Carney plays dobro and guitar, and was apparently the co-owner of Bolt Records, which gives its address as the Lone Star Ranch, in Reeds Ferry, New Hampshire.


<! - #BLP-10001 - no ASIN 10/23/17 - Nevue (? name? blurry) was the engineer - didn't fully research this >
Al 'Porky' Witherow "Are You Satisfied?" (Cerylaine Records, 197--?) (LP)
(Produced by Al Curven)
Born in York, Pennsylvania, Alfred "Porky" Witherow (1935-2004) was a child musical prodigy in the 1940s, and while in his teens he toured with Bob Hope's USO show during the Korean War. Settling down in Vails Gate, New York, he cut a few singles and recorded some self-released albums but seems to have retired from music sometime in the 1970s, eventually moving to Florida, where he passed away in 2004. As far as I know, this was his first full album, recorded while Witherow was a regular on the WWVA "Jamboree" show.


<! - #CLPS-5001 - no ASIN 12/14/16 >
Al 'Porky' Witherow "Singing Everybody's Favorites" (Arctic Records, 1974) (LP)


(Produced by Al Witherow)



<! - #CSLP-1001 - recorded in Lafayette, Tennessee - liner mentions his drummer, Ron Burke of Buffalo, NY, who wrote one of the album's originals, "There'll Be A Time For Tomorrow" - most of the tracks are cover songs - this is NOT his first LP; liners say "once again we present..." >

Al 'Porky' Witherow & Birdie Lee "Duo Dynamite" (Arctic Records, 1974) (LP)


(Produced by Loryn Atwell)
Originally from West Virginia, "Miss Birdie Lee" was living in upstate New York when she joined singer Al Witherow's group, the Country Mystery, learning to play bass in order to fill an open slot in the band. On this album they mostly sang duets in a kind of old-school style reminiscent of country duos like Carl Butler & Pearl or the Mosbys, and less like the slicker-sounding stars of the day, such as Conway and Loretta. The band included Lee's husband Dallas Eugene on drums, bassist Roger Ray, fiddler June Eikard ("Canada's Lady Of The Fiddle"!), pianist Wayne Sexton, Dee Woodmore on lead guitar and Buddy Gregory playing pedal steel. The musical backing is also a little rough around the edges, in a way that I find appealing -- there was genuine twang in here, as well as a degree of amateurism that's kind of appealing, particuarly given the direction country was headed in at the time... Definitely worth a spin!


<! http://www.birdieleemusic.com - cat# not visible - not sure about year - pix w/ liners http://www.hillbilly-music.com/artists/story/index.php?id=14939 (1935-2004) obit: Citrus County Chronicle; Crystal River, FL; May 16, 2004; "Voice called home: Alfred "Porky" Witherow" Al 'Porky' Witherow "Are You Satisfied" (Cherylaine Records) (LP) - #CLPS5001 >

Ken Withington "Don't Try To Stop Me" (Focus Records, 1974) (LP)
Australian-born gospel singer Ken Withington (1945-1997) billed himself as "the singer from down under," though he emigrated to the US and became a citizen in 1977, eventually settling down in Kern County, California, performing both locally and on the national stage, including appearances at the Grando Ole Opry. Before his move to America, Withington also recorded in Australia, including this early '70s LP.


<! - Australian release >

Ken Withington "He's Risen" (JCL/Jesus Christ Is Lord) (LP)


(Produced by Clyde Beavers)
After moving to the States, Withington became one of the clients for Nashville songwriter Clyde Beavers' gospel-oriented JCL label, which produced Southern Gospel records in the late 1970s. Withington still had some twang to him, though, as seen in his inclusion of several Hank Williams songs...


<! - late '70s(?) album with - aka "The Singing Australian" - several albums, all gospel http://www.findagrave.com/cgi-bin/fg.cgi?page=gr&GRid=17208427 (1945-1997) >

Ken Withington "I Thank You God" (JCL/Jesus Christ Is Lord) (LP)
(Produced by Clyde Beavers)






Kate Wolf - see artist discography



Allen Wolfe "So Hard To Believe" (Press Records, 1973) (LP)
(Produced by Bud Billings)
An aspiring songwriter from Fort Myers, Florida, Allen Wolfe took time out from his day job as a barber to self-release this album, which is packed with his own compositions... The testimonial liner notes are by Billie Jo Spears, who says she met him at a Florida "jam session..." The backup musicians are simply listed as the "Oak String Band," though no individual pickers are named.


<! - no ASIN 06/10/15 >

Dean Wolfe & The Second Chapter "The Best Part Of..." (Sunset Records, 1973-?) (LP)
A local country-rocker from Indianapolis, Indiana who started out way back in the rockabilly era and got more and more country as time went on. Wolfe had kind of a Roy Orbison-ish vibe... and some truly crazy-looking hair (was it a wig...??) He recorded some early rock'n'roll singes, dating back at least to 1961, and throughout the decade led a band called the Redmen that played gigs in Indianapolis throughout the mid- to late-1960s... I suppose name of this "new" group from the early 'Seventies is what the whole "second chapter" thing refers to -- maybe he broke up the band for a while, and this was a reunion or something? Anyway, they covered pop-chart twangtunes such as Ricky Nelson's "Garden Party" and America's "Horse With No Name," which suggest a post-'72 date for this disc. At the time he recorded these sessions, Wolfe was working exclusively for a couple of Holiday Inn motels on I-70 with a band that included Keith Payne playing organ, drummer Don Jesse, and Harry Neidigh on bass. There was also some original material


<! - # S-107 - no ASIN 09/26/16 - a Sunset 7" came up, though - also Bobby Mercer LP, though not sure if he was in the band - "The Best Part" was a single on the Nuggett label NR-1067 - Terre Haute Tribune April 2, 1977 show notice: "...Holiday Inn - Dean Wolfe and the Second Chapter until Saturday, April 2" Indianapolis Star, December 19, 1965: "...dance to the beat of DEAN WOLFE and His Redmen" July 20, 1966: "...LISTEN lo the Music ol DEAN WOLFE & REDMEN" Harry Neidigh (1935-2014) "Horse With No Name" (1971) "Garden Party" (1972) >

Jimmy Wolford "The Hatfields And The McCoys" (Wolf Records, 1976) (LP)
A concept album about the fabled Hatfield and McCoy feud...


<! - #WO-1000 - no ASIN 02/12/15 >

Austin Wood "...Swings Cross Country" (Sure Records, 1961-?) (LP)
The first LP by Missouri bandleader Austin Wood, who was one of the early musicians to set up shop in the Lake Of The Ozarks resort area. With a career dating back to 1948, Wood cut numerous singles in the 1940s and '50s and ran a venue near the Bagnell Dam originally called Austin's Nashville Opry. His Opry was booking major national stars well into the late '60s, when the name was changed to the Austin Wood Auditorium. He also held regional gigs on radio station KTTN as well as on KOMU-TV in nearby Columbia, both as a DJ and performer. His band, the Missouri Swingsters, recorded a variety of styles, including western swing, honky tonk and even some Bill Haley-esque rock'n'roll. As far as I know he only recorded two full albums, though many of his singles have been gathered on a couple of uber-collector best-ofs, including the CDR below...


<! - #Sure 001 >

Austin Wood "Songs To Remember" (Sure Records, 1966-?) (LP)



<! - #Sure 002 - no ASIN 06/25/16 - also single(s?) on Sure - was this his own label? >

Austin Wood "...And His Missouri Swingsters" (BACM) (CD)





<! http://www.therolladailynews.com/article/20150612/NEWS/150619537 book: "Moonlight Serenade To City Lights: Rare Images Of Bands and Orchestras From The Dance Hall Era In Missouri" (2015) 1935806882 >

Billy Wood "Just What I Had In Mind" (Music City Records, 1979-?) (LP)
(Produced by Curly Chalker & Jack Logan)
This has some of the most forthcoming liner notes I've ever seen for this kind of album... Wood describes how he'd spent the last twenty-plus years playing with his band, The Virginians, and that having hit the ripe old age of 42 and moving to New Jersey, he realized he was just plain tired of going out on tour and of all the hassles of playing live. So, he decided to make an album, mostly just for himself and his wife Lynn, to remember the good times he had playing in a country band. The disc is packed with cover tunes, including versions of "Today I Started Loving You Again," Eddie Rabbitt's "Two Dollars In The Juke Box," "Whiskey River," "Behind Closed Doors," and the like.


<! - #MC-BW-121179 - no ASIN 09/12/16 Side One: Two Dollars In The Juke Box, Behind Closed Doors, Ramblin' Man, I Don't Wanta Cry, Lord You Gave Me A Mountain. Side Two: Today I Started Loving You Again, Just What I Had In Mind, Whiskey River, Johnny B. Goode, Statue Of A Fool. >

Bob Wood "Reflections Of My Mind" (MRC/Major Recording Company, 1974-?) (LP)
No biographical info about this guy, although he recorded for John Major's MRC label, located in Waynesboro, Virginia, and may have been backed by the house band. The repertoire is packed with contemporary, early '70s hits as well as country oldies -- "Country Roads," Tom T. Hall's "Old Dogs And Children And Watermelon Wine," Gene McClellan's "Put Your Hand In The Hand," along with Rex Griffin's "Last Letter" and Marty Robbins' "You Gave Me A Mountain." Three tracks are credited to Bob Wood, through his own BeniBob publishing company: "Love Meant For Me," "Through The Eyes Of A Fool" and the title track, "Reflections Of My Mind"; "Honey Hole," by Bennie Caudill, may also have been original to this album.


<! - #MRLP-2190 A1 Reflections Of My Mind 3:05 A2 Old Dogs And Children And Watermelon Wine 3:58 A3 These Hands 3:01 A4 The Last Letter 3:47 A5 Put Your Hand In The Hand 3:01 B1 Country Roads 2:23 B2 You Gave Me A Mountain 4:15 B3 Love Meant For Me 1:59 B4 Honey Hole 2:15 B5 Through The Eyes Of A Fool >

E. Zane Wood & Kathy Leech "Dance To Your Favorite Bullshit And Country Dysko Songs" (Magic Records, 1980) (LP)
(Produced by Kathy Leech & J. Mattazano) <! name? >
An ultra-obscuro set from Southern California... Although the album title was pretty tongue-in-cheek, the song selection is solid, with country-rockin' covers of J. J. Cale's "Living On Tulsa Time," "Lookin' For Love," and a couple of tunes from the Emmylou Harris catalog, Chuck Berry's "C'Est La Vie" and Rodney Crowell's "Ain't Livin' Long Like This." They also trot their way through oldies like "Cotton Eyed Joe," "Rocky Top" and "Under The Double Eagle." Not a lot of info about this duo, though Wood apparently released at least one single under his own name, back in the early '70s, a thing for MGM that may have been more rock-oriented material.


<! - #L-3179 - recorded and mixed at Natural Sound Studios in Santee, California - Wood also released a 7" single under his own name in 1973, on the MGM label: https://www.discogs.com/E-Zane-Wood-You-Deserve-A-Good-Man-Move-Fast/release/9765216 >
Little Joe Wood "With Alot Of Help From My Friends" (Sound 80 Studios, 1977-?) (LP)


(Produced by Cal Hand & Tony Matlock)
Dunno much about this low-key country-rock/folk outing from Minnesota... Wood covers some hits and oldies, as well as some original material -- his pals included pedal steel player Cal Hand, who plays on the album and co-produces, though the other players seem pretty obscure. Anyone know more about this guy?


<! - #S80-890-37745 - 1977-?? - a lot of copies floating around 12/15 >
Nancy Wood "Imagine That" (Lovelight Music, 1984) (LP)
(Produced by Byron Hill & Nancy Wood)
This double LP set collects work by Bremen, Germany's Renate Hildebrandt (aka Renate Kern) a European pop singer who "went country" in the early '80s in an effort to bump-start her flagging career. This was her second album working with Nashville songwriter-producer Byron Hill, and she sings a lot of his material as well as songs by fairly obscure writers such as Red Lane and Ava Aldridge, along with a couple by Marc Molen, who was affiliated with the Lovelight label, and I suspect was a German country artist as well. Although these tracks seldom really catch fire, it's a pretty solid set overall, with backing by a ton of Nashville studio pros: Sonny Garrish, Doyle Grisham, Fred Newell, Buddy Spicher, Chip Young and the like. Wood sings with a convincingly American accent, though she often seems a bit too controlled -- I imagine she sounded looser when singing auf Deutsch. Anyway, this is okay stuff, a little slick, but twangy enough for a spin or two. She also recorded an album under her German stage name -- Renate Kern -- in 1981, also with Byron Hill on board as producer.


<! - no ASIN 11/10/15 though there are a lot of other MP3 and LP releases on AM http://www.byronhillmusic.com/detailed-bio/ - Kern hung herself in the early 1990s: https://translate.google.com/translate?hl=en&sl=de&u=https://de.wikipedia.org/wiki/Renate_Kern&prev=search Albums/collections as Nancy Wood: 1983: Imagine That (Lovelight) [2] 1984: On the Road (only on MC; Lovelight) 1985: Loneliness Is Just A Point of View (Lovelight) 1990: Wildflowers (Lovelight) 1990: Songs of the road (MCP Records) (only in Austria in convenience stores) >

Windy Wood & The Sons Of The West "Kings' Row: A Gallery Of Western Swing Masterpieces From The Reigns Of Bob Wills And Spade Cooley" (Rimstone, 1981) (LP)


Wow... there's an album title for you!! R. T. "Windy" Wood was a Texas-born western swing bandleader who played and recorded extensively over the decades, including a couple of singles way back in the 1950s, and several tape-only albums during the 'Seventies era of 8-tracks and cassettes. Wood, who passed away in 2004 at the age of eighty, was just a kid when guys like Milton Brown, Bob Wills, Leon McAuliffe and Spade Cooley were defining the western swing genre, but he learned fast and took up the baton, working with a number of veterans of old Bob Wills bands, as well as welcoming revivalists such as Ray Benson and Asleep At The Wheel. He recorded over a dozen albums, though only a handful originally came out on vinyl. Wood lived in Claude, Texas near the Panhandle until finally retiring to nearby Amarillo when he needed to move into town... But he was playing music right up to the end, mostly free shows for old-timers in rest homes and retirement communities who still enjoyed the old-time sounds.
Windy Wood "The Bob Wills Connection" (Rimstone, 1981) (LP)

Windy Wood "Classic Sound Of Western Swing" (Rimstone, 1983) (LP)

Windy Wood "West Texas Swing" (Sundown Records, 1986) (LP)





<! OBIT: http://amarillo.com/stories/2004/09/02/obi_windy.shtml#.WDSF9FvibN8 "...R.T. "Windy" Wood, 84, of Amarillo, formerly of Claude, died Monday, Aug. 30, 2004" PROFILE: http://amarillo.com/stories/2003/08/10/fea_woodstill.shtml#.WDSGbVvibN8 http://countrydiscography.blogspot.com/2010/08/windy-wood.html "...compilled from following sources: W.W. self published biography "My Fifty Years In Western Swing" (1990), John Ingman's "A.O.K. Record Labels Of West Texas & New Mexico", "Western Swing & Swinging Western, A Discography Of LPS, CDS, & CASSETTES Early 50s to present" by Georg Hunkel 1999" >
John Woodruff "Country Soul" (Woodcock, 1982) (LP)


(Produced by Brian Webster)



<! - from California(?) - covers "Willin'," "Rose Colored Glasses" - original "My Last Beer" "Single Man" - no bio info online - 02/28/15 >

Austin Woods "Swings Cross Country" (Sure Records, 1965) (LP)
A popular country deejay and musician in the Midwestern Ozarks, bandleader Austin Woods started his professional career in 1941 as a member of Saint Louis, Missouri's "Big Old Fashioned Barn Dance" show, moving several years later to a long-running gig as a radio host on KTTR in Rolla, MO. The station's general manager, Luther W. Martin, wrote the album's liner notes, attesting to Woods' longevity in the regional country scene. Though Woods had cut numerous 78s during the 'Forties and 'Fifties, this LP marked the occasion of him opening his own musical venue, Austin's Nashville Opry, near Bagwell Dam on the Lake Of The Ozarks. Unfortunately, there's no info included about where the album was recorded or with which musicians backing him up -- the from cover shows Woods posed next to his personal tour bus, which advertises his band, the Missouri Swingsters... Whether those guys are backing him on this album, I can't say for sure.


<! - LP-101 ( SoN #135-- ) >

Austin Woods "...And His Missouri Swingsters" (BACM, 2012-?) (CD)


A CDR collection of Austin Woods' early recordings from the 1940s and '50s, including some original material as well as plenty of cover tunes, ranging from honkytonk to western swing...


<! Tracks :- Truck Driver's Night Run Blues ~ It's My Heart that Knows ~ Farewell Blues ~ When My Baby Comes Home ~ I Will Still Remember While You Try To Forget ~ Don't Bring Your Broken Heart To Me ~ Baby How Come ~ Give Me A Little More Time ~ Tellin' My Troubles To My Old Guitar ~ Everybody's Sweetheart To You ~ Grey Eagle ~ A Purpose And A Plan ~ Faded Love ~ What They're Saying In The Old Home Town ~ Cold Cold War With You ~ I Just Kneel Down And Pray ~ Teardrops On My Old Guitar ~ I Live For You ~ Maiden's Prayer ~ There's A Big Rock in The Road ~ Night Train To Memphis ~ So Let's Rock ~ Headin' Home ~ You Can Play Your Little Game Around The Corner ~ Somebody Else's Troubles ~ Sweet Temptation. >

Bob Woods "The Bob Woods Show" (Union Station/MCR Records & Tapes, 1974) (LP)
(Produced by Dale McCoy & Jim Spence)
Not to be confused with the California-based songwriter, Bob Woods (below), Oklahoma bandleader Bob Woods (d. 2001) and his wife Carolyn owned a music store called Del City Music, which he opened in 1962. His band, which included his wife and two daughters, headlined a Vegas show at the Golden Nugget for several years in the late '60s and early '70s. On this album, he's backed by a vocal trio called The Parrish Sisters and a Waylon Jennings lookalike guitarist nicknamed "Tex" -- presumably the gals in the trio also included his kids, Lisa and Pam(?) Anyway, the disc is packed with current pop-country covers, stuff like "Bad, Bad Leroy Brown," "Behind Closed Doors," "Tie A Yellow Ribbon" and even "Mama Don't Dance," by Loggins & Messina, as well as original material, including "I Let You" and "Why Couldn't Tomorrow Be Yesterday," both written by Joe Salathiel, who also cut a single with the Parrish Sisters with one of his songs on it. After several years in Vegas, Woods settled back down in Oklahoma City, where he played local shows and supported regional artists through his work as president and founder of the Oklahoma Country Music Association, and as owner of the Woodside Records label. One of the musicians he promoted was fiddler Byron Berline, who he worked with in the early '60s.


<! - # - no ASIN 01/03/18 http://newsok.com/article/2728977 - died Feb. 1, 2001 at age 64, unable to find birthyear... >
Bob Woods "Hillbilly Cadillac" (Bennett-House Records, 1982) (LP)


(Produced by Marley Monson & Bob Hudson)
An indie outing from a California roots-rocker who crossed rockabilly and country twang... In the early '70s, Woods played western swing in a Sacramento-based band called Tokpela, and he blends some hillbilly swing in, along with trucker twang, bar-band R&B and hillbilly boogie. Good songs, decent picking, kind of an iffy singer, but still cool in the way his musical mix anticipates the hillbilly retro of "Americana" scene bands such as Big Sandy & The Fly-Rite Boys, et. al. Woods plays lead guitar, and is backed by a wide cast of players, including pedal steel players Pat Finney and Dave Wren, Jerry McKinney on saxophone, Rex Coomes on fiddle and various harmonizers and backup singers. Nice energetic set, with most songs written by Bob Woods, three by Kevin Blackie Ferrell and a stripped-down rave-up rendition of Carl Perkins' "Soul Beat." Give 'er a spin!


<! "...Bob Woods started playing music in 1971 with the Sacramento-based western swing band Tokpela. Since then he's shared the stage with The Surfaris, Tiny Moore, Bill Kirchen, Albert Lee, Ramblin' Jack Elliot, Pete Grant, Gene Parsons, Billy Joe Shaver, Kate Gaffney, and others. Woods has released six, original albums: Hillbilly Cadillac (vinyl), The Night We Stole the Last Steam Engine, Don't Forget the Trains, Almost Live, Railroad Money, and most recently in 2011, This Town. He is currently writing and recording both his seventh album, Playin' The Blues, and his eighth album, SwampBillys" Bob Woods "Hillbilly Cadillac" (1982) (LP) B00IZTDF64 Bob Woods "The Night We Stole The Last Steam Engine" (xxxxxxxxx, 1998) Bob Woods "Don't Forget the Trains" (xxxxxxxxx, xxxxxxxx) B00003ZAHT B000S5AYAI Bob Woods "Almost Live" (xxxxxxxxx, xxxxxxxx) Bob Woods "Railroad Money" (xxxxxxxxx, xxxxxxxx) B0034C24GE B003B7O028 w/ Gene Parsons Bob Woods "This Town" (xxxxxxxxx, 2011) B004Y6CXDI B004YFBBLY >

Bob Woods "Don't Forget The Trains"


Bob Woods Trio "Railroad Money"



With Gene Parsons...
Lori Lee Woods "In Nashville" (Flash Records, 1972) (LP)


(Produced by Eddie Miller)
As a teenager, Missouri native Lori Woods was in a KCMO-area all-girl band called The Hurricane Girls, where she played several instruments. In 1971 she went country and set out on her own, recording a single for the K-Ark label, and then fell into the orbit of producer Eddie Miller, who helped record this album. This appears to have been a Nashville publishing demo album, with Miller contributing two songs on Side One -- "Release Me" and "Climbing The Walls" -- along with a couple by R. Williams ("All Or Nothing" and "Be What You Want To Be"), one by Tom Ghent ("Till Sunrise"), and covers of "Rocky Top" and "Crazy Arms." Ms. Woods also got to record three of her own songs, "Best Thing," "Charley Baby" and "Charleston," which were all tucked away at the end of Side Two. Sadly, there's no info on the recording date or the musicians involved, but I'm guessing 1972, as that was the year she earned a mention in Billboard as an up-and-coming new artist.


<! - no ASIN 10/08/15 - # NR-2608 - LK couldn't track down copyright info, etc about "R. Williams" - date per http://rateyourmusic.com/artist/lori_lee_woods Track List: Release Me Rocky Top Climbing the Walls Crazy Arms Be What You Want To Be Till Sunrise All Or Nothing Charleston Best Thing Charley Baby >

Lori Lee Woods "Touch Me (If You Care)" (Legs Records, 1981) (LP)
(Produced by Col. David Mathes)




Steve Woods & The Slingshot Band "Highway Bound" (Mercury, 1981) (LP)


(Produced by Larry Butler & Billy Sherrill)
A pretty dull album that never came close to the charts, although I'm not sure why -- it's not that different than other stuff that did well at the time. Sort of a Johnny Lee-meets-The Oak Ridge Boys vibe here, with uninspired though competent backing by a band that included fiddler/guitarist Steve Hill, a talented veteran of the Texas twang scene who later went on to work with Chris Hillman and the Desert Rose Band. This album's a dud, though, mostly because of the singer. My guess is once they had it in the can and realized it was a stiff, the label just 86-ed the promotions and let it die a quiet death. If you really, really are into the mellower end of the early '80s country sound, you could check this out, but there's certainly better stuff out there.
Woodstock Mountains Revue "Music Among Friends" (Rounder Records, 1972) (LP)


This free-floating alamgamation of folkies, post-folkies, bluegrassers and wandering roots musicians included such luminaries as Pat Alger, Eric Andersen, Larry Campbell, John Herald, banjo whiz Bill Keith, jugband pop star John Sebastian, and brothers Artie & Happy Traum... to name a few! Sometimes also called "Mud Acres," the group was sort of a fraternal lodge for mellow, super-talented acoustic musicians -- they were neighbors in upstate New York, and over the course of the years released several albums, all of which are packed with resonant little goodies...


<! "...Larry Campbell was also a member of The Woodstock Mountains Revue, a unique folk group that featured Artie & Happy Traum, Pat Alger, Jim Rooney, Bill Keith, John Herald, Eric Andersen and John Sebastian.[1] The Revue recorded 5 classic albums for Rounder Records and is widely considered one of the premier folk groups of all time." >

Woodstock Mountains Revue "Music From Mud Acres" (Rounder Records, 1974) (CD & MP3)


Woodstock Mountains Revue "More Music From Mud Acres" (Rounder Records, 1977) (LP)

Woodstock Mountains Revue "Pretty Lucky" (Rounder Records, 1978) (LP)

Woodstock Mountains Revue "Back To Mud Acres" (Rounder Records, 1981) (LP)





<! The Workin' Man's Band "Dead Ahead" (Redeye Productions, 198-?) (LP) - no ASIN 11/18/17 alt title? "Dead Ahead/Thunder" - OH! it's a single: https://www.discogs.com/Workin-Mans-Band-Dead-Ahead/release/10320188 "...racin' Country-Rock splendour w/excellent steel-pedal work 'n guitar leads on title-track; flip-side is out-west renegade lone-drifter galore w/haunting moods and again this whailin' steel-pedal" >

Jack Worthington "The Jack Worthington Show" (NWI Records, 1973) (LP)
(Produced by David Mathew)
Hailing from Portland, Oregon, truck driver Jack Worthington went from singing along to old Hank Williams songs to forming a band called the Gearjammers, anchored by lead guitarist Bob Saloum and steel player Ron Stephens. He seems to have been a rather democratically inclined fellow, singing lead on only three of the tracks, while sharing the spotlight with Dick Carson, Dave Eberly, Linda Pullen, Jimmy Walker and other locals... The repertoire is all oldies and standards, stuff like "Six Days On The Road," "Wild Side Of Life," "Truck Driving Man" and "Little Ole Wine Drinker Me," as well as a couple of more pop/jazz oriented tunes such as "Harlem Nocturne" and "Yakety Sax." Seems like a pretty good-natured, unpretentious get-together all around... According to some reports, Mr. Worthington remained in Oregon and was still playing shows at local cafes and other venues near Coos Bay, as late as 2015... any info is of course always welcome!


<! - #NWI-23812-1 - no ASIN 10/05/17 (?:) http://eagle.thedalleschronicle.com/community/obituaries/2010_obits/02/obits_02-12-10_arthur_pullen.shtml Jack Worthington jackw@egr.up.edu (probably a different guy?) obit? https://groups.google.com/forum/#!topic/alt.obituaries/3MEkChC0dh0 YT: Taken from 'The Jack Worthington Show' album of 1973, Jack Worthington no longer drives truck but still performs frequently at Jitterbug -n-Java in Reedsport, Oregon and is available for autographs and photo's for fan who never forget. >

The Wray Brothers Band "Cowboy Sangers" (CIS Northwest, 1982) (LP)


(Produced by Larry Messick & Dave Mathew)
This album is notable as the launching pad for the career of 1990s Top Forty star Collin Raye, an Arkansas native whose birth name was Floyd Elliot Wray. He was going by the name Bubba Wray at the time, and had apparently moved to Portland, Oregon with his brother Scott, who he performed with up until the decade's end. Though they started out as indie artists, the Wrays also took a fling at Nashville, recording a few singles for Mercury Records in the late '80s. This early album looks super-twangy and ultra-indie, but it's mostly pretty slick sounding, with a heavy debt towards the Eagles/ They do make a few nods at Asleep At The Wheel-style western swing and Johnny Cash-ish hillbilly twang (on the album's one cover song, a version of Jimmie Skinner's "Doin' My Time") but the smooth sound Raye would excel at a decade later is readily detected on this disc. The album's many originals include "Briars In Her Britches," "Country Sangers," "Country By-God Music," with Scott Wray being the main songwriter. It's country (poppy country) with a few goofy instruments in the mix -- Moog, synths, orchestra bells, woodblocks -- as well as a banjo and pedal steel, but it's also a solid album, a cut above most records made at this level. No surprise that Collin Raye made it big in Nashville, though one wonders why the brothers didn't make it as a duo.


<! - Portland, Oregon - eb listing claims this is Collin Raye, wp confirms >
Vernon Wray "Wasted" (Vermillion Records, 1972)


A stunning ultra-indie release from Vernon Wray, the older brother of rock guitar pioneer Link Wray, who in the early 1970s dropped out for a while and moved to Tucson, Arizona, where he recorded and self-released two intense and deeply personal albums. The second record, Wasted, was originally only pressed in a few hundred copies, which he sold at local gigs. It's a remarkable album, and a real find for hardcore fans of hippie-era country, with Wray (backed by his brothers) churning through mournful, contemplative, moody folk and tough, rugged country gems -- it's a real outsider-art album, and a compelling, cohesive statement by an artist with a truly singular vision. There's little of the brash, post-rockabilly proto-grunge of the Wraymen recordings, though the same level of intensity is there, just in a seemingly quieter mode. Highly recommended.
B. J. Wright "B. J. Wright's First Album" (NSD/Soundwaves, 1980) (LP)


(Produced by Ronnie McDowell, Joe Gibson & Noel Gibson)
B. J. Wright was from Portland, Tennessee and recorded this album in Nashville, with Top Forty star Ronnie McDowell as his patron -- McDowell co-produced the album, wrote the liner notes, and contributes one song ("You Loved The Devil Out Of Me.") About half the songs are B. J. Wright originals, and I'm just gonna go out on a limb and say that the song, "J.R." was related to the Dallas TV show. This album seems to have taken a long time to put together, with sessions at four different studios and contributions from a variety of studio musicians, probably over a series of sessions.


<! - also: B007G7616M - NSD label - #SWS-3305 - with "I've Got A Right To Be Wrong" and "Love The Devil Right Out Of Me" >
The Wright Brothers Overland Stage Company "Cornfield Cowboys" (Wright & Perry Record Company, 1975) (LP)

Jerry Wright "My Kind Of Country" (Raboulliet Records) (LP)


From Simonton, Texas...


<! - no date on bc - late '70s AT LEAST - possibly early '80s, from artwork >


John Lincoln Wright - see artist discography


<! Lynn Wright "From The Rockies" (Prestige Records) (LP) - no ASIN 12/20/15 - country?? - old?? - I think this was him: "...Bach to Bluegrass is the most recent release from the WV duo of pianist Lynn Wright and fiddler Adam DeGraff. The album's eclectic sound is quite similar to that of their wonderful Or Something Like That! – a mix of bluegrass, jazz, celtic, and classical." >
T. Z. Wright "T. Z. Wright" (1977) (LP)
Singer-songwriter T. Z. Wright originally hails from Oklahoma, but was living in New Mexico when he cut this album, leading the house band at a place called the Motherlode, in Red River... This album features a bunch of original material, and some swell pedal steel guitar throughout... He even kinda reminds me of Dick Feller!


<! - sounds GOOD - like Dick Feller, with great pedal steel guitar - from Texas? New Mexico? - #TZW-3000 - no ASIN 08/18/16 - no label name visible - has other albums: https://www.reverbnation.com/tzwright: Time frame - roughly 1972 to present: Multi-instrumentalist, singer-songwriter, plus other activities necessary to obtain legal tender. New Mexico resident, Northwest Oklahoma resident, banker, arts council executive, compulsive attender of various music festivals. Member of the Woody Guthrie Folk Festival House Band since 2003. Released an LP of original music and led the first house band at The Motherlode in Red River N.M. mid-1970's. Latest recording project "Don't Let Go" released 2014, includes 14 original songs in a variety of genres, produced by Terry "Buffalo" Ware with guest appearances by Mary Reynolds, Louise Goldberg, Bob Livingston, Michael McCarty, Marlin Butcher, Jim Hoke, Bob French, Joe Baxter, Susan Holmes, Daniel Foulks, Susan Herndon, Greg Standridge, and John Egenes" >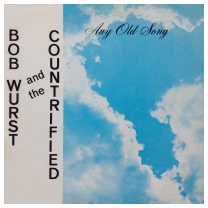 Bob Wurst & The Countrified "Any Old Song" (New Image) (LP)
This Toledo, Ohio band featured lead vocals by Bob Wurst, with backing by his peeps, Jerry Lavender, Rick Spitler and Mark Hall (a group which, one might assume, had more than its fair share of teasing during their grade school days...) Anyway, this is solidly mediocre bar-band material: they play some rootsy stuff, songs like "Tulsa Time," "Take This Job And Shove It," and "The Auctioneer," as well as plenty of scary '70s pop songs, such as "You Needed Me" and "Three Times A Lady" -- whatever was popular at the time. So, eek, maybe just a little. The vocals and the picking are both a little wobbly, but like many of these kinds of records, it's a true portrait of a working band, "real folks," way beneath the Nashville radar. These guys also apparently toured with fellow Ohio twangster Gary Shope, who was a popular regional entertainer, but doesn't seem to have recorded any albums himself. Wurst also recorded an album with the Toledo band, Buckeye, with songwriter Roger Ball.


<! - # 105512 - no date or address http://americanretro.net/bobwurst.com/biography/ - no ASIN 03/14/15, 03/06/17 "...the staff band at Buck Lake Ranch" > <! Bob Wurst "Follow That Dream" (2000) (CD) B00005V4SM 1. Follow That Dream 2. Still Loving You 3. You Gave Me A Mountain 4. Pretty Woman 5. Rawhide 6. Touch of the Masters Hand 7. 16 Tons 8. What A Wonderful Life 9. Are You Lonesome Tonight 10. After All She's Still A Woman 11. Ghostriders in the Sky 12. Crazy >
Billy Wyatt "On Dreams Alone" (Manaoa) (LP)



<! - no ASIN 09/19/15 - Private Pacific Northwest Country - "Manada" records?? - Buck Owens famed studio in Bakersfield, California, and Fireside in Nashville Billy Wyatt "When A Cowboy Dreams At Night" (xxxxxxxxx, 1998) (LP) - year? - recorded at Soundsmith in Nashville - no ASIN 09/19/15 Billy cut his On Dreams Alone CD at b. 1950 - wrote a Waylon Jennings tribute called "Ol' Waylon" >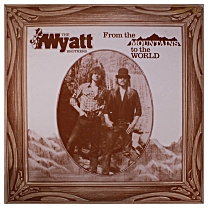 The Wyatt Brothers "From The Mountains To The World" (Wyatt Records, 1983) (LP)



<! - no ASIN 01/10/16 - #FW-22779 >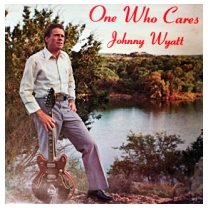 Johnny Wyatt "One Who Cares" (Hill Country Records, 1976) (LP)
Bandleader Johnny Wyatt was a regional performer who played throughout the South and Southwest, eventually hanging his hat in Trinidad, Colorado which was his center of operations for most of the '70s. Later in the decade he also recorded a couple of singles on his own label, Wyatt Records, eventually retiring in Las Vegas. I believe this was his only LP. (Thanks to the great regional blog, Pueblo City Limits for info on this artist.)


<! - no ASIN 11/15/15 http://www.pueblocitylimits.com/2009/11/johnny-wyatt.html He led the house band at Martha Lee's lounge in the Best Western motel," >
Lee Wyatt "Candlelight" (NSD/AMI Records, 197-?) (LP)


(Produced by Skip McQuinn & Jim Prater)
This is one of those albums that's found itself in the crosshairs of the Hipstertown irony police, mocked online and elsewhere for its supposedly goofy album art. I couldn't find any info about Lee Wyatt and his wife June, the couple that wrote most of the songs on this album, but I assume it's her picture on the front cover that has 'em all laughing: Like, omigod! who could possibly put some old lady on their album cover?!? Personally, I think it's kind of sweet. Regardless of the music within, Mr. Wyatt's earnest affection for his wife is plain as day, and well, maybe some people just can't handle something that straightforward and sincere. Whatevs. Anyway, this album was singled out for teasing in the book Enjoy The Experience, and has echoed around online ever since. If you ask me, though, maybe a better target would be the music within, particularly tunes with such lofty titles as "Mistaken Words," "You Walk Through My Soul" and "You Change With A Cough." He also covers a few country classics, such as George Morgan's "Hello Pretty Lady," Jimmie Rodgers' "T For Texas" and Stonewall Jackson's "Don't Be Angry." If anyone out there has info about this aborable old couple, feel free to get in touch -- I'm all ears!


<! - #AMI-200 - recorded in Nashville - NSD affiliated label - June Leigh Wyatt(? not sure about middle name, extapolating from publishing credits) - maybe "Leigh" was HIS name?? - featured in the "Enjoy The Experience" book 1938265041 - most songs originals by Wyatt & Wyatt (Lee Wyatt and his wife, June) - possibly her obit, from Jackson, Mississippi, (d.2007) http://www.legacy.com/obituaries/clarionledger/obituary.aspx?n=june-e-wyatt&pid=92869336 "...Preceding her in death are her ... husband, Lee Wyatt, Jr." less likely: http://stevensmortuary.net/tribute/details/268/Leondis-Wyatt/obituary.html (1924-2009) (Indianapolis) A1 Candlelight A2 Hello Pretty Lady A3 Cold Lonely Feeling A4 You Change With A Cough A5 You Walk Through My Soul B1 Mistaken Words B2 T For Texas B3 In Search Of You B4 Don't Be Angry B5 Let's Turn Time Around - Skip McQuinn obit: http://www.legacy.com/obituaries/tennessean/obituary.aspx?pid=153973329 >
Wyld Oats "Stage One" (1979) (LP)
This was a band from Schaumburg, Illinois... Other than that I don't have much info on them.


<! - #Z-123079 - female singer? - no ASIN 02/12/15 >

Wynn & John "Live At The Casa Nova" (Casa Nova Records, 197--?) (LP)
This mustachioed disco-era duo may actually have been a trio -- there's some unidentified gal pictured singing with them on the back cover -- but regardless, they seem to have been the house band for a while at the Casa Nova nightclub in Ypsilanti, Michigan sometime in the early-to-mid 1970s. They cover popular country standards such as "Country Roads," "Rocky Mountain High" and "Okie From Muskogee," as well as straight-up pop songs like "I Believe In Music," "Alone Again (Naturally)" and even a version of "Ebb Tide." So, they were a working band in the true bar-music tradition, playing what folks wanted to hear while slouched over their beers... Anyone out there know more about these guys?


<! (Produced by Mike K______ and Dick Curtis) - #CN-202 - no ASIN 08/17/16 >
Ron Wynne "From The Heart" (Jetisson Productions, 1983) (LP)
(Produced by Larry Prater & Fred Martin)
This Colorado honkytonker includes two of his own songs, "You Call The Shots" and "The Only One," along with covers of classics by Willie Nelson, Terry Fell, Hank Cochran and others...


<! - 1983 mentioned in liners - not sure of the exact date - '84 maybe? - no ASIN 04/23/15 >
Gail Wynters "A Girl For All Seasons" (Hickory, 1967) (LP)


(Produced by Wesley Rose) <! arrangements by Ray Stevens >
Wow - what a weird record. I mean, it's on the Hickory label, and it's got this groovy, Mod cover art... I saw several country songs listed on the credits, along with a few '60s pop vocal hits, and Ray Stevens of all people doing the arrangements, so I thought, okay I'll bite. But there ain't no twang on this thang: Ms. Wynters, born Nancy Gail Shivel, was a preacher's daughter from rural Kentucky who developed a love of jazz and blues vocals... Here, styles herself as a white-girl soul singer, ala Dusty Springfield, and the arrangements are lavish, baroque '60s pop with a heavy dose of bluesy Northern Soul... Hardly what you'd expect on old Roy Acuff's label! Wynters frequently slides into a low, growling Shirley Bassey/Eartha Kitt mode, and while there are some "country" songs on here, they are bent out of recognition into big, brassy pop numbers -- probably the weirdest song on here is the brassy, overwrought arrangement of the Louvin Brothers' sweet, demure ballad, "When I Stop Dreaming." But even as a devoted obscuro-twang fan, I just couldn't find a rationale for hanging on to this one... I guess, though, this wasn't just some weird vanity record -- Wynters recorded for several labels and made a modest reputation for herself as a jazz-standards stylist. This album appears to have been just a matter of circumstance, with Wesley Rose willing to test the waters for more pop-oriented material, and although this was her first album, it's the only one that has any tangential conenction to country or Nashville.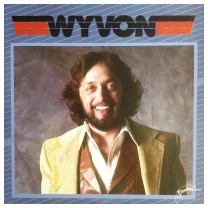 Wyvon "Wyvon" (Gervasi Records, 1983) (LP)
(Produced by Jerry Shook)
This Texas honkytonk crooner's full name is Wyvon Alexander, and this record is pretty darn good. Robust, soulful, and packed with original material, this is a nice mix of hard-edged barroom ballads and smoother commercial country. This might appeal to fans of Ed Bruce, Vern Gosdin or Waylon Jennings -- kind of in that general territory. Definitely worth a spin!


<! no ASIN 02/22/15 - purch in Sacto > <! ("Frustration") "...was Wyvon's first single, reaching #90 in 1981), this song's still relevant! I don't really know much about Wyvon, he had 7 charted singles between 1981 and 1984 and apparently toured with Merle Haggard around that time." >

---
---