<! MP3 05/29/10 > <! outside 00/00/00 > <! pix 00/00/00 > <! icons 00/00/00 > <! states 00/00/00 > <! UPDATES: 05/29/10 - could use more reviews, expansion 01/01/14 - major section expansion 12/15/14 - added all eB with full info, ASINs 05/31/18 - cleared the deck > <! Ulysses Hardware "Buffalo Grass" (Aspen Records, 1976) (LP) B004FKYA7K - all songs written by brothers Mick and Tony Bessire, with the trio rounded out by Kent Smothers - recorded at Applewood Studios in Golden, Colorado - twang???? or rock? described as "country rock" online - #AP-1301 - no bio info on G 05/31/18, no YT ------------- IFFY: Ken Ufton "Heavenly Hymns Old And New: Steel Guitar And Organ" (Duo Sound Productions, 1983) (LP) B007G71RLG - #DS-002 - Private Canada - includes a number of "new hymns" written by Ufton, along with covers of Fanny Crosby, et al - also recorded an album of Hawaiian music "Maui Magic" (London Records) B00TI1UMS2 >
---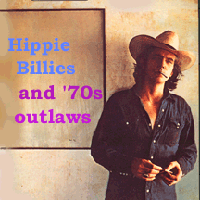 The "twangcore" and "Americana" boom of today owes a large debt to the shaggy twangers and no-hit wonders of yesteryear -- this section looks at the hippiebilly and stoner bands and a few odd, random artists from the 1960s, '70s and early '80s, back before there was anything called "alt-country." This page covers the letter "U"





---
HIPPIEBILLY & NO-HIT WONDERS:
A | B | C | D | E | F | G | H | I | J | K | L | M | N | O | P | Q | R | S | T | U | V | W | X, Y & Z | Comps | Hick Music Styles

---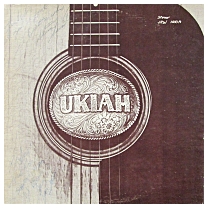 Ukiah "Ukiah" (Dark Star, 1979) (LP)


(Produced by Ray DeLeon)
The duo of Ray DeLeon and Steve Seidel cut this live album of outlaw twang and rock oldies at a club called Moonraker, in Irvine, California. Included in the set are their versions of "Take This Job And Shove It," "Put Another Log On The Fire" and (of course!) "Up Against The Wall, Redneck Mother," which is certainly in the running for the most popular outlaw cover tune of the '70s...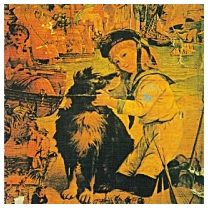 Uncle Dog "Old Hat" (MCA Records, 1973)



In the wake of Janis Joplin's tragic 1970 overdose, a handful of young women emerged on the hippie rock scene to fill the void, folks like Bonnie Raitt, Ellen McIllwane, Dianne Davidson. Brenda Patterson and -- in the case of the rootsy British band Uncle Dog -- Londoner Carol Grimes, who wailed with a wildness and abandon that was perhaps the closest in feel to Joplin's emotive style. This album kicks off with a decent amount of country-ish twang, showcasing the dobro and slide guitar of picker Sammy Mitchell, but gradually shifts into a more funk-and-blues oriented style, reminiscent of post-boogie rock bands such as the Faces, or far-flung, eclectic groups led by Joe Cocker, Leon Russell and the like. It's a pretty strong set -- joyful and energetic, stylistically varied, and surprisingly not too self-indulgent. If you're looking for good stuff from the eclectic era of pre-disco '70s rock, you might wanna give this record a try.
Uncle Jim's Music "Uncle Jim's Music" (Kapp, 1971)

Uncle Jim's Music "There's A Song In This" (Kapp, 1972)





<! - Jim Ed Norman joined after the first album >
Uncle Sam's All American Band "Uncle Sam's All American Band" (Prestige Productions & Records, 1976-?) (LP)
This short-lived band from Birmingham, Alabama is noteworthy for several songs written by Roger Hallmark, one of two lead singers, the other being Birmingham local Johnny Click. Hallmark had recorded some stuff for Stax Record's country imprint a few years earlier, but became better known at decade's end with a string of anti-muslim, patriotic novelty songs, starting with "A Message To Khomeini," which was recorded with the Thrasher Brothersm as well as one album under his own name. Hallmark wrote six of the songs on this album; one other original, "Sweet Thinking Railroad," was contributed by Nick Hancock.


<! - no ASIN 08/30/16 - with Roger Hallmark, main songwriter: had a Stax-Enterprise single in '73 "Truck Driver's Heaven," then a series of anti-muslim novelty songs: "A Message To Khomeini," "Chicken Shiites" and "Pluck Khadaffy Duck" - from Birmingham, Alabama - original songs - #760118 - Gaston Nichols "mix down" - also producer? >
Uncle Walt's Band "Blame It On The Bossanova" (Lespedeza, 1974) (LP)


Although they are often identified with the Austin music scene, Uncle Walt's Band was originally from South Carolina, and was working there when they recorded this album, between stints in Texas. The trio of David Ball, Champs Hood and Walter Hyatt first formed as a highschool band 'way back in the early '70s but didn't record this debut album until they'd been together for several years. The band (and bandmembers) migrated to and from Austin a few times over the decade, and also tried their luck in Nashville. All three musicians also pursued solo careers, with Hyatt being embraced as a songwriter by the bluegrass and folk communities, while David Ball had the greatest commercial success, climbing into the Country Top Forty in the 1990s and almost topping the charts on a couple of occasions. But they started their paths as a groundbreaking, ultra-eclectic roots/folk/twang band, pals of Lyle Lovett and favorites of the nascent Austin Americana scene. Some, but not all of their records have been reissued over the years...
Uncle Walt's Band "The Girl On The Sunny Shore" (Lespedeza)


This is a CD reissue of two albums, 1975's "Uncle Walt's Band," and "6-26-79," which originally came out in 1988.


<! 2 LPs on 1 CD; `Uncle Walt's Band' and `6-27-79', plus 2 previously unissued tracks. >
Uncle Walt's Band "An American In Texas" (Lespedeza, 1980)

Uncle Walt's Band "Recorded Live At The Waterloo Ice House" (Lespedeza, 1982) (LP)





<! https://en.wikipedia.org/wiki/Uncle_Walt%27s_Band http://www.localmusicscenesc.com/#!uncle-walts-band/c1uun >

Underground Country "Underground Country" (Quartz Records) (LP)
(Produced by Ronnie Preston)
A group from Duncan, Oklahoma, with Billy and Darlene Castleberry, Joe, Patsy and Robert Ledgerwood, Tim Williams on bass and Robbie Barnes on percussion...


<! - #1006 ~ NR-11225 - no ASIN 12/31/17 - liner notes by KRHD pd, Steve Lewis >

The Upstage Duo "Pickin' Time With The Upstage Duo" (Pretoria Records) (LP)


This folkie duo -- Ron Hatfield on banjo and Bryan Murphy on guitar -- had a lounge act that mixed country material with folk, pop and flamenco guitar, and worked the lounge circuit in Florida, though they were both from other parts of the country. The only mention of them I've found outside this album is an article about their act during a 1969 residency at the Quality Courts motel on Okaloosa Island, Florida. At that point they'd been together about half a year, and had plans to add Murphy's newlywed wife to the act. This album was recorded in Nashville, and includes versions of "Gentle On My Mind," "Jole Blon," "Don't Think Twice," "Foggy Mountain Breakdown" -- as far as I know, it was their lone album.


<! ‎– PR-1001 - recorded in Nashville - late '60s(??) >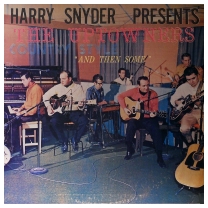 The Uptowners "Country Style... And Then Some" (Rimrock Records) (LP)
(Produced by John Major)
This was apparently the house band for the Major Recordings studio in Waynesboro, Virginia, letting their hair down a little on some instrumental versions of '60s hits such as "By The Time I Get To Phoenix," "Flowers On The Wall," and "King Of The Road," as well as tunes like "Tico Tico" and Allen Toussaint's "Java." Rhythm guitarist Harry Snyder seems to have been the the band's director as well, getting a "Harry Snyder Presents" credit -- he also recorded an album or two under his own name.


<! - no ASIN 01/12/16 >

The Urbis Brothers "Country" (Decoy Records, 1980) (LP)


(Produced by John Major)
A brother duo from Ontonagon County, Michigan, off of Lake Superior, Joseph and Michael Urbis showed their real DIY roots by including a photo of the receipts from two bank loans they took out to record this album in 1979... Ouch! As far as I know, this was their only album as a duo, though Mike Urbis moved onto a series of other local bands, such as Borderline and the Copper Drifters.


<! >

Us Two & Him "The Chapel Hill Pickers" (Chapel Hill Records, 1977-?) (LP)


(Produced by Marcus Mitchell)
This country-comedy trio consisted of brothers Jim Rickman and John Rickman (aka "Us Two") and Phil Comstock (henceforth known as "Him"). Hailing from the sleepy hamlet of Chapel Hill, Tennessee, the group had its origins in the Rickman brothers' mid-1960s rock band (which apparently won a Nashville talent contest in 1965). The Rickmans met Comstock years later, and by 1972 had formed the trio that was introduced onstage as, "us two, and him," when they couldn't come up with a proper band name. They released several LPs (and later CDs, in the digital era) and enjoyed a long tenure as regulars on "The Ralph Emery Show." This album spotlights a slew of tune written by John R. Rickman, including "Interstate Is Coming Through My Outhouse" and, on a similar note, a cover of Billy Edd Wheeler's "Little Brown Shack." In addition to the three founding members, there are additional guitars and steel guitar by Michael Wilson. Fun fact: all three bandmembers settled into careers as real estate agents, a flexible profession that fit in well with their musical gig, which they continued well into the 2010s.


<! - #CHS-1121 >

Us Two & Him "Out Standing In Their Field" (Chapel Hill Records, 1979) (LP)



<! - #CHS-1122 - no ASIN 05/31/18 also? Us Two & Him "Us Two And Him" (xxxxxxxx, xxxxx) (LP) >

The Usual Suspects "Volume One: The Usual Suspects" (Tomistoma Productions, 1981) (LP)
(Produced by Tom Stern)





The Usual Suspects "Volume Two: It's All Music" (Suspex, 1983) (LP)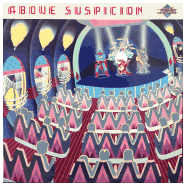 The Usual Suspects "Volume Three: Above Suspicion" (Suspex, 1983) (LP)
(Produced by Tom Stern)
This series spotlights a variety of root-oriented SF Bay Area musicians -- blues, country and rock locals -- invited together by producer Tom Stern, who just wanted to capture the relaxed, freewheeling vibe he heard in Marin County and environs. This particular volume starts off with some bluesy material, including vocals by Taj Mahal, and pianists Mark Naftalin and Mitch Woods tickling the ivories. But the disc takes a pronounced tilt towards more country-oriented material, with covers of tunes such as Harold Hensley's "You're The Reason" and Roy Orbison's "Dream Baby," sung by Peter Rowan, Tony Rice singing a straight-ahead bluegrass version of "Rock Hearts," and Don Reno and his family plunking out "Lonesome Hearted Blues," with Stern playing second banjo. (He plays a variety of instruments throughout the album...) Other participants include singer Vicki Randle, Joe Goldmark on pedal steel, and Darol Anger playing cello and violin on some 'grassed-up Bach variations, along with mandolinist Frank Wakefield. The sessions have a very relaxed feel and sound like what they basically were, a bunch of very talented folks dropping by to jam at somebody's home -- there's talent to spare, but they aren't stressing too much about making it sound a certain way, often taking chances or just plain enjoying themselves as they play. (By the way, does anyone know exactly which records came out when in this series, and which numbers each volume should be assigned? The info online is pretty contradictory...) At any rate, most roots music fans should find something to enjoy here.




The Usual Suspects "Volume Four" (Suspex) (LP)



<! is "Reunions" v. 2 or 4? >

The Usual Suspects "Volume Five" (Suspex) (LP)





The Usual Suspects "Volume Six: Reunions" (Suspex, 1986) (LP)



<! THE USUAL SUSPECTS REUNIONS Suspex 5 Original 1986 MARIA MULDAUR NORTON BUFFALO DAVID MATTHEWS PETE SEARS JOE GOLDMARK BOBBY REED NANCY WRIGHT DAVID SHAPIRO BIANCA JORDAN TOM STERN SCOTT MATTHEWS ALAN SENAUKE songs PRELUDE GOING HOME LET'S MAKE PLANS TO MEET AGAIN INTERLUDE 1: R.S.V.P PICK ME UP ON YOUR WAY DOWN IN WALKED BUD INTERLUDE 2: And Then Again YOUR LONG JOURNEY PERSON TO PERSON IT'S JUST A MATTER OF TIME INTERLUDE 3: No Other Love WONDER BAR ONE MORE TIME WE'LL BE TOGETHER AGAIN EPILOGUE >

The Usual Suspects "Volume Seven: Dreams" (Suspex, 1987) (LP)



<! Dreams? 1987 1987 Embossed Cover, Limited Edition Original With Superb 32 Page Booklet Featuring High Quality Color Prints Of Various Works Of Art. Features Lady Bianca, Norton Buffalo, David Grisman, Maria Muldaur, Noel Jewkes And Others. >

The Usual Suspects "Volume Eight" (Suspex) (LP)





The Usual Suspects "Volume Nine: Goodbye" (Suspex, 1989) (LP)
(Produced by Tom Stern & Scott Matthews)



<! Great Electric Records > <! During the years 1981-89, Marin County record producer Tom Stern issued nine LPs under the banner of "The Usual Suspects." The musicians involved, for the most part, were Marin-Sonoma types: Mike Bloomfield, Nick Gravenites, Peter Rowan, Mark Naftalin, Norton Buffalo, Maria Muldaur, David Grisman, Pete Sears, Scott Mathews, Dan Hicks, Amos Garrett, Holly Near, and into the great beyond. They were all there, with occasional guests like Taj Mahal, Oscar Brown Jr., Lady Bianca, Dr. John, many others. Stern studio-recorded them beautifully, live, on a haphazard schedule. Musicians chose their material, worked things out, had a ball - and Stern issued seven hours of classic Bay Area music on nine mail-order "Suspex" LPs, all now long out of print. I have the first 4 volumes here as one auction item. The artists on these albums are in and out of each others pockets, with each musician contributing to the whole. So i am doing them an injustice by just giving you the principle vocalist but i would rather give you this 4 line apology than write out a complete who's playing what. Intrumental tracks are just going to be listed as various, You should be able to see from the top paragraph the class of performers involved. VOLUME ONE - THE USUAL SUSPECTS VOLUME TWO - IT'S ALL MUSIC Nick Gravenite You Can't Hurt Me No More Frankie Lee Baby Call On Me Taj Mahal Blue Sea Blues Peter Rowan Workin' For The Man Peter Rowan The Fiddling Of Jacques-Pierre Bordeaux Taj Mahal If My Baby Leave Me Peter Rowan The Old House Tony Rice Hey, Lonesome Various San (Instrumental) Nancy Hall When Your Lover Has Gone Don Humphries Lost John Peter Rowan Blue, Blue Day Peter Rowan He Will Break Your Heart Taj Mahal Since I Met You Baby Peter Rowan Bonaparte's Retreat Peter Rowan A Woman In Love Bethany Raine Free Little Bird Kathy Kallick & Various Blues For Special Friends (Instrumental) Bethany Raine What Does The Deep Sea Say Frank Wakefield D B D Lable ~~~ Tomistoma Lable ~~~ Tomistoma Cat # ~~~ G8R Cat # ~~~ G8R2 Jacket ~~~ VG+ (Top Corner Bent No Seam Splits) Jacket ~~~ NM LP ~~~ EX+ LP ~~~ EX+ Country ~~~ US Country ~~~ US VOLUME THREE - ABOVE SUSPICION VOLUME FOUR - REUNIONS Frankie Lee I'll Do Right By You If You Do Right By Me Nick Milo Prelude Peter Rowan Dream Baby Bobby Reed Going Home Taj Mahal What A Price Bianca Thornton Let's Make Plans To Meet Again Tony Rice Rock Hearts Nick Milo Interlude Don Reno Lonesome Hearted Blues Norton Buffalo Pick Me Up On Your Way Down Peter Rowan 24 Hours From Tulsa Various In Walked Bud (Instrumental) Peter Rowan You're The Reason Nick Milo Interlude II Various Andante With Variations (Instrumental) Maria Muldaur & Sea Jai Learning The Blues Norton Buffalo Your Long Journey Norton Buffalo Person To Person Lable ~~~ Tomistoma Bianca Thornton It's Just A Matter Of Time Cat # ~~~ G8R3 David Shapiro Interlude III Jacket ~~~ VG+ (Ring Wear) Ana Rizzo Wonder Bar LP ~~~ EX+ Ana Rizzo & Country ~~~ US Norton Buffalo One More Time Maria Muldaur We'll Be Together Again Nick Milo Epilogue Lable ~~~ Suspex Cat # ~~~ Suspex 6 Jacket ~>
The Utah Kid "Eagle Ridge" (Self-Released, 1972) (LP)


(Produced by Mikel Covey, Jon Wellman & The Utah Kid )
Visual artist Kenvin Lyman made a name for himself in the hippie era as the lightshow artist for the Grateful Dead and other uber-bands in the San Francisco scene... Lyman cut this folk/roots/boogie rock album under his nom-de-art, The Utah Kid, and played some gigs along the West Coast, though most of his time on the road was spent helping stage shows for rock stars such as the Dead, Elton John, Santana, etc. Later, Lyman became a pioneering computer animator and one of Utah's first widely recognized organic farmers. This album isn't all country rock, by any means, but the twang is in there, as well as the rural vibe.


<! - private SSW folk country rock Kenvin Lyman - lead and slide guitar by Sonny Wolf - "The Virginia Creeper" on pedal steel (apparently Steve Davis, of the Commander Cody Band) http://www.sonicbids.com/band/theutahkid/ "The UK band cut the first Utah Kid album in 1972. 37 years later we're in the middle of the second. This time the band became the UK2 Band. The piano player on our first album, Kevin Lewis, died a few years ago and was replaced by Eric Muhler and there were a few other additions. Our lead guitar player Sonny Wolf is one of the "Old Masters" on lead guitar and played on both albums and Steve Auerbach played the hell out of the Hammond B3 on several cuts on the new album. The Babes who sing back-up include the illustrious Christin Merrill as well as the illustrious Lisa Marie Wood, my good friend Denise Provenzano and Misty Sanone. Flavia Cervino Wood Adds depth and elegance on the violin. I wish she'd been around to play on the first album. Harold Carr plays a big mellow bass that suits our music just right. He has played on both albums. Rex Flinner plays a sweet mandolin on several songs on the second album. Richard Taylor is another new member of UK2. He plays rhythm guitar and sings harmony. He and I invented a big visual piano in the sixties on which we performed with The Grateful Dead, Carlos Santana, CSNY, Big Mama Thornton and many other musical greats. In those days we were in the Family Dog booking Agency in San Francisco along with The Dead, Carlos, The Charletons, Wavy Gravy and other legends. All of our music is from scratch - original with deep American roots. I grew up on a big cattle ranch and although I don't think of myself exclusively as a Country Musician those influences are there in my lyrics and music. I am also a visual artist and have done work for many of the music greats of my generation including: Led Zeppelin (ledzeppelinposters.net), Stevie Wonder (Studio Logo), Elton John (Jet Records) and Earth, Wind and Fire (Faces). Even though the musicians in this band have an abundance of experience this is our debut as the UK2 band. As you can tell these guys can really play and in addition to that they are all even-tempered and easy to work with- no prima donnas here. I love them all. The Utah Kid (Kenvin Lyman) " >

---
---