<! MP3 05/26/10 > <! outside 00/00/00 > <! pix 00/00/00 > <! icons 04/19/11 > <! UPDATES: 05/26/10 - need more on Michael Martin Murphey 01/11: MMM discography added 02/28/14 - added Mason Proffit page > <! Bruce Mahan "Cancel The Ransom... I Escaped" (Pas, 1983) Country-Folk-Rock sounds out of San Antonio,Texas; full-band sound provided by The Walker Colt Band; all self-penned selections; easy-blended strummin' w/tasty lead-licks Buzz Martin "A Logger's Reward" (Ripcord, xxxxx) BUDDY MAX "Many Styles And Sounds Of..." (Cowboy Junction, 1980) (LP) B001IQ9CV8 - "...the singing, roller skating cowboy" - harmonica player from Florida BUDDY MAX "Cowboy Junction Opry" (Cowboy Junction, 1980) CD B00D6P22T8 - "...America's singing, fleamarket cowboy" - several songs about Lecanto, Florida Manna "Manna" (Columbia, 1969) melodic Country-Folk-Rock w/solid voc-harmonies, some hard-edged guitar Patsy Maharam "Patsy" (Roperry, xxxxx) (Robbery??) (LP) B005GIPD9Y - gal singer - not sure if this is really country PAM MILLER "My Mama's Songs" (Skylite, 1976) (LP) B00413B44S - gospel - maybe not all that "country"?? > <! PAUL MARTIN "Great Country Hits" (Plantation, xxxxx) Pete McCabe "The Man Who Ate The Plant" (Tumbleweed, xxxxx) (LP) B004D0TC8O - novelty guy DUDLEY & DEANIE MURPHY "At Home" (Caney Creek, xxxx) Carlton Moody "No Hard Feelings" (Lamon, 1979) (Produced by Mark Williams) - from Charlotte, NC Al Morgan "...Sings Jealous Heart" (Gateway, xxxx) Lecil T. "Marty" Martin "Sings Country Music" (American Heritage Music Corporation, xxxxx) Carlton Moody "Gimme A Smile" (Lamon, 1981) (Produced by Carlton Moody & David Moody) - "...And The Moody Brothers" WILL MILLAR "Make Believe Days" (Stony Plain, xxxx) JERRY MINSHALL WITH MAXINE AND JAN "Sing Songs From Proud Country" (xxxxx, xxxxx) - no label (?) Bob Miller "Jeanie, I'm Coming Home" (Blackbird, xxxxx) (Produced by Bob Massey) - from Dallas, Texas - four MIller originals: "Jeanie, I'm Coming Home" "Black Mark On My Name," "Loneliest Star" and "Jealous Kind" - two by Frank Zaruba: "Soap Box" and "Molly Come Go With Me" - Zaruba a band member? - also covers of Harlan Howard, Merle Haggard, Hank Cochran, Kris Kristofferson MARTY "Introducing..." (Choice, xxxxxx) (LP) B00HSP3SBI (Produced by Gene Breeden) - from Spanaway (near Tacoma), Washington - I think his name was Thomas A. Martin - one song on here credited to that name, "What You Alone Gave Me" - other songs covers of Merle Haggard, Kris Kristofferson, etc - backed by the Drifting Shadows - liner notes mention 1973 - recorded at Ripcord Candy Martin "The Man With A Thousand Voices" (Ripcord/Vanco, xxxxxx) - West Coast PRIVATE lp - from Vancouver, Washington - blind singer - one side of original songs, the other is a medley of imitations of various country stars - Webb Pierce, Roy Acuff, et al MUDDY BOTTOM BOYS "Slaughter On The Highway" (Grassroots Music, xxxxx) (Produced by Mike O'Rourke) - bluegrass? from Portland, Oregon - > <! Jody McCauley & His Country Cousins "Grandma's Hill" (xxxxxxx, xxxxxxx) - no ASIN - Bob Meighan Band Norrell McGann "April's Fool" Gayle McCormack McCormick(?) Sonny Martin "Live In Concert" (K.S.E. Records, 1984) (Produced by Robert Price) - California-based singer - from the Santa Ana/Irvine area - mostly covers, two songs by G. Gentry: "Let Me Go To Helen When I Die" and "Mail Me Home To Georgia" Sonny Martin "Live In Nashville, Tenn." (DeVille, 1974 - or 75?) (LP) B001V370FS - protege of Red Foley, on the Ozark Jubillee - born George Edward Throckmorton, Jr. - album has coves of Dave Dudley, Merle Haggard Ron McFarlin "Vagabond At Heart" (Round Robin, xxxxx) (LP) B00HSR6QZG Ron McFarlin "Ron McFarlin" (Round Robin, 1975) (LP) B00ILBUNA2 Amoeba: "Rare private press. Loner truck driver outsider type rock. " 1. Ragged But Right Ron McFarlin 01:58 2. Too Sweet To Be Forgotten Ron McFarlin 02:00 3. If You Hear Me Calling Ron McFarlin 02:11 4. Skid Row U.S.A. Ron McFarlin 02:55 5. St. Louie Ron McFarlin 02:27 6. Mean World Ron McFarlin 01:48 Side B Titles Artist Length 1. My Girl Ruth Ron McFarlin 03:00 2. Promised Land Ron McFarlin 03:35 3. Let It Rock Ron McFarlin 02:04 4. Forty Days Ron McFarlin 03:20 5. I'm The Man Ron McFarlin 03:12 6. We Won Ron McFarlin 02:17 Max Creek "Max Creek" (Quack Sound, 1977) (Produced by Max Creek) - band name, not a person - rock(??) Max Creek "Drink The Stars" (Wrangler Records, 1982) > <! Missouri Corn Dodgers "Old Time String Band Music" (Davis Unlimited, 1975(?) (LP) B002RJUMH8 (Produced by Steve Davis & The Missouri Corn Dodgers) - old-timey(?) Bob Abrams - fiddle, mandolin, Julie Hager, guitar & vocals, Jim Olin - banjo - Clarksville, TN bluegrass label had a bunch of other releases - by Clyde Davenport, Wally Bryson, the Blaylock Brothers "The Original Missouri Corn Dodgers" >
---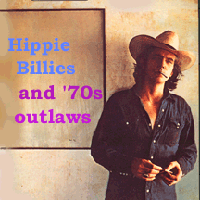 The "twangcore" and "Americana" boom of today owes a large debt to the shaggy twangers and no-hit wonders of yesteryear -- this section looks at the hippiebilly and stoner bands and a few odd, random artists from the 1960s, '70s and early '80s, back before there was anything called "alt-country." This page covers the letter "M"





---
HIPPIEBILLY & NO-HIT WONDERS:
A | B | C | D | E | F | G | H | I | J | K | L | M | N | O | P | Q | R | S | T | U | V | W | X, Y & Z | Comps | Hick Music Styles

---
Billy Mac "Double Clutchin', Guitar Pickin' Radio Star" (Jimtown Records, 1976?) (LP)


(Produced by Roy Ward)
A slightly lackluster but ultimately likeable indie-country album. Despite the awesome album art that shows Mac posed on the hood of a shiny, star-spangled, red-white-and-blue Mack truck, and liner notes that give his gear-jamming bona fides, this isn't the grinding, rhythmic set of trucker tunes you might expect. Instead, Mac sticks more to a mid-tempo, acoustic-based sound, often with an almost folk-ish feel. He's more in the light-toned honkytonk tradition of Hank Snow and Ernest Tubb, with a bit of Mac Wiseman-esque ballad singing as well, in a style that reminds me of the artists on Starday. The production sounds a little thin, and some tracks (like "Wrapped Around Your Finger" sound muffled in comparison to others -- I'd guess that this album was recorded over a long period of time, in various sessions. The strongest element, though, is Billy Mac as a country auteur: all the songs on this album are originals, and they are well-crafted weepers written in classic country style. The performances might be a bit sluggish, but the songs are gems, definitely worthy of reconsideration by fans of the genre. (BTW: anyone know what year this came out? I'm guessing '76, but that may just be the Mack truck influencing me...)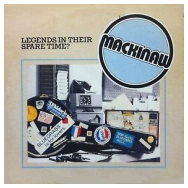 Mackinaw "Legends In Their Spare Time" (GDS, 1979) (LP)


A country-funk-grass band from Morton, Illinois with lively covers of songs from various alt-country types, as well as originals by bandmember Gary Carroll. Instruments include pedal steel, piano, saxophone and the great John Hartford even plays fiddle on one song! Are you interested now...? A pretty wild set of cover tunes, with material from as far afield as Michael Nesmith, Rusty Wier, Amazing Rhythm Aces and ex-folkie Michael McGinnis, balanced by some more rock-oriented originals from bandmember Gary Carroll... The album's first side is strongest and most country; Side Two opens with a pretty lame novelty song, "Chipmunk Boogie," a lightweight funk-disco track with sped-up, Alvin-esque vocals that I guess was their answer to "Disco Duck," and it closes with a meandering, lead guitar-centric rock snoozer, "Band At The Road House." But the good stuff is good, and worth checking out if you're a twangfan. Much less "bluegrass" than you'd think from looking at the stickers festooning the guitar case on the front cover.
Roger & Janice Maddy "The Place Of My Dreams" (Voyager, 1979) (LP)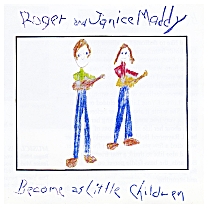 Roger & Janice Maddy "Become As Little Children" (SPBGMA/John's Recording Studio, 1980) (LP)


(Produced by Maurice Killenbeck) <! engineer >
A real gem. This independently-released set of sweet, melodic old-timey/bluegrass tunes features the husband-wife duo of Janice and Roger Maddy who, as far as I can tell were originally from Washington state (where this album was recorded) but moved to Iowa to be closer to family, and where they performed regularly at folk and bluegrass festivals. They dig deep into the sweeter side of the music, with a heartfelt sound that fans of Jim & Jesse, the Stanley Brothers and the Blue Sky Boys should appreciate. To my ears, she had the more rural-sounding voice, although they harmonized nicely and their repertoire is perfect. Most of the songs are covers or traditional material, including a nice version of Don Helms' "Sweet Little Miss Blue Eyes," and the Maddys add a few new songs to the genre, including the sentimental "Memories Of Mother," which they co-wrote, and two more that are credited to Rober Maddy, and one track, "Dakota Jane," that was composed by their fiddler, Craig Keene. The picking and fiddling is quite good, including some slick licks from banjoist Dan Young, although this isn't really the drag-racing kind of bluegrass, but rather the more sentimental, old-fashioned style... Which, by the way, I totally love. This album is definitely worth looking for!


<! liner notes mention a festival in 1980 >
Roger & Janice Maddy "Become As Little Children" (CD Baby, 2003)


Though I discovered the Maddys on vinyl, I was surprised -- and quite pleased -- to see that this old stuff is also available on CD. This disc includes the music from both of the albums above, Become As Little Children and The Place Of My Dreams. Sweet!
Bill Madison "Sunday Mornin' Hayride" (Saloon Records, 1973)



Authentic spaced-out, meandering, longhaired, hippie folk music from a New Hampshire-based troubadour who mixed blues-based acoustic picking with a bit of country-flavored pedal steel and whatnot. The songwriting doesn't seem super-focussed, but the album oozes authenticity... After this album came out, Madison started a country-rock group called Them Fargo Bros... and while the band never put out an album(?) they toured widely over the next decade or so.


<! - from Epping, NH >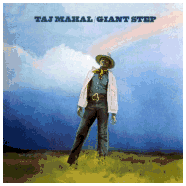 Taj Mahal "Giant Step/De Old Folks At Home" (Columbia, 1969)



(Produced by David Rubinson)
This is of the signature records of my youth, along with all the Beatles albums, Joni Mitchell and the Stones, a magnificent double album, divided into two part, and electrified "pop" disc and an all-acoustic companion which was probably my main introduction to the rich sounds of Delta blues and other acoustic styles. On the "pop" disc there is, of course, Taj Mahal's slyly magical cover of Carole King's "Take A Giant Step," as well as a jaunty runthrough of Dave Dudley's country trucker classic "Six Days On The Road" and sexy blues grooves like "You're Gonna Need Somebody On Your Bond" and "Good Morning Little Schoolgirl," all of which were staples of 1970s "free form" radio. The early '70s were a peak time for Mahal, and his presence on the hippie music scene was unique, for his mix of styles and cheerful, larger-than-life personality. A more modern remaster of Giant Step is certainly long overdue, but no matter what format you discover this album in, it'll be a joyful revelation.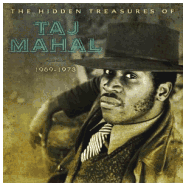 Taj Mahal "The Hidden Treasures Of Taj Mahal: 1969-1973" (Sony Legacy, 2012)



(Produced by David Rubinson, Jerry Rappaport & Taj Mahal)
This 2-CD odds/ends/outtakes collection draws on the same era as Giant Step, and it is a potent set of groovy, compelling material that will remind old fans of what an amazing musician this guy was... Youngsters will get a lot out of it, too: if you're into those funky jug band/old-timey tunes from the Carolina Chocolate Drops, this guy is their spiritual and musical granddaddy. Disc One unearths a dozen studio session gems featuring the same band that backed Taj on his albums, with alternate versions of beloved oldies, while Disc Two presents a full concert at the Royal Albert Hall in 1970. The live material tilts towards more upbeat, rock-oriented party material, "boogie rock," they called it at the time, while the studio tracks reveal Mahal's true genius, his visionary balance between acoustic roots music and modern, hippie-era pop -- most notably his use of the bright tones of a dobro guitar as a lead instrument in an electrified music mix. Listening back, I am struck by how much he managed to bypass rock'n'roll altogether, instead fusing deep-roots acoustic music with smouldering soul and serious funk. There are, to be sure, some spaced-out jam-band excesses, but in a good way: the smoky, erotic groove of "Yan-Nah Mama-Loo" and the sizzling, butt-shaking rhythm of "Chainey Do," are pure gold. The tracks at the end of the first disc were produced by New Orleans soul pioneer Allen Toussaint; the best of these is an experimental psychedelic banjo/wah-wah jam on the Appalachian oldie, "Shady Grove," which adds some unexpected twists to of this old-timey chestnut. Perhaps the best news of all is that this album is the herald of a reissue series that will include all of Taj Mahal's old Columbia albums... and a modern remaster of Giant Step is certainly long overdue. I'm looking forward to days to come!
Larry Mahan "King Of The Rodeo" (Warner, 1976) (LP)


(Produced by Snuff Garrett & Steve Dorff)
A fine novelty offering by six-time National Rodeo champion Larry Mahan, who didn't have a tremendous voice or anything, but still had the charisma and affability to carry these tunes and make 'em work. Includes a few great half-recited novelty tunes that might fit well on a Dr. Demento show: "Stunt Man," which laments the hardships of the Hollywood life, "Ha Ha," which sings the praises of getting bloodied up in dumb-ass barroom brawls, and "Rosie's Palace Of Pure Love And Fingertip Massage," which tells the tale of two drunk cowboys getting scammed at a Los Angeles brothel. They don't make records like this anymore. Snuff Garrett co-produced this disc, and some of the songs bear the stamp of his orchestral cowboy aproach. Yeeee-hawhawhaw.


<! Mama's Pride - rock band >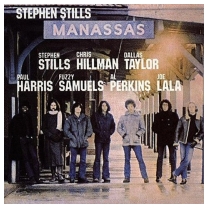 Manassas "Manassas" (Atlantic, 1972)



(Produced by Stephen Stills, Chris Hillman & Dallas Taylor)
Although it's rightfully given a place in the history of country-rock, the first album by the Stephen Stills/Chris Hillman-led Manassas kicks off with a strong blues/boogie rock sound, drifting into cosmic rock on songs like "How Far," "Both Of Us" and "Move Around" then briefly -- and a little abruptly -- into country songs such as "Colorado," "Fallen Eagle" and "Jesus Gave Love Away For Free." Stills is clearly the guiding force here, bringing into clearer focus the subtle Latino-Carribean soft-rock groove that would define many of the later CSN hits of the decade... The country stuff features some swell pedal steel by Al Perkins and fairly salty fiddle as well (courtesy of Byron Berline, I believe...) This double LP offers only a handful of true twang tunes for country fans, but they work well in a country-rock mix, and as a classic dino-rock hippie album, this holds up pretty well. Definitely one of Stephen Stills' finest moments.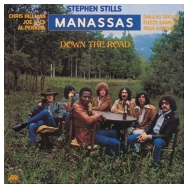 Manassas "Down The Road" (Atlantic, 1973)



(Produced by Stephen Stills, Chris Hillman & Dallas Taylor)
This disc was more groove-oriented, and perhaps a bit more druggy and sluggish as well, with Stills sliding into lethargic blues-funk riffs and, more interesting, returning to the groovy Latin-rock of earlier albums. (On "Pensamiento," Al Perkins adds some cool pedal steel licks to the solid salsa arrangement, an experimental touch and a lively track that are highlights of an fairly mundane album. For twangfans, there are a couple of country numbers, the spacy "So Many Times" and the aggressively philospohical "Do You Remember The Americans," an uptempo, bluegrassy number reminiscent of the late '60s Byrds. Not the greatest record ever (the rock-funk stuff is kind of morose and depressing) but there are a few tracks worth checking out. After this, the band broke up -- Chris Hillman had Stills had bigger fish to fry and may have realized that the harmonies with Crosby and Nash were simply better than anything else he was likely to put together with other rockers at the time.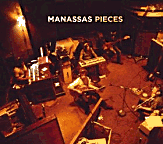 Manassas "Pieces" (Rhino/Eyewall, 2009)



(Produced by Howard Albert, Ron Albert & Stephen Stills)
I suppose, technically, this band -- which featured ex-Byrd Chris Hillman and Crosby Stills & Nash-er Stephen Stills -- counts as a "country rock" forerunner but perhaps it fits more comfortably in a folk-rock/classic rock bracket, of a piece with Stephen Stills' other solo work and his CSN/CSNY years. This album gathers outtakes and alternate versions from the band's brief, 1971-73 lifespan. To be sure, there are some twangy tunes, notably the pedal steel-drenched demo of "Like A Fox" (with Bonnie Raitt singing in the backup chorus!) and covers of "Panhandle Rag," Bill Monroe's "Uncle Pen" and the Joe Maphis classic, "Dim Lights, Thick Smoke And Loud, Loud Music," as well as some funky rock riffs and a bit of Stills' Latin American flair as well. If you're a Stills/hippie soul fan, you'll want to check this one out.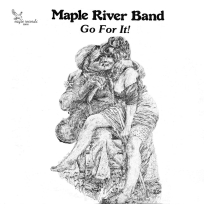 The Maple River Band "Go For It!" (Eagle Records, 1980)


(Produced by Lyndon Bartell, Steve Tryhus, Ralph Bailey & Larry Cooper)
This humble folk-country foursome from Good Thunder, Minnesota mostly recorded original songs with a few well-chosen covers, such as John Prine's "Whistle And Fish" and The Louvin Brothers' "If I Could Only Win Your Love." The group had mixed male-female vocals, with fiddler Patti Selsvold Tryhus indulging in some Emmylou-esque country crooning (with a slight Judy Collins folkie hangover) while the guys stick to a more old-timey/twangtune style... This album has a nice country feel, though it's a little under-produced: some of these original songs sound pretty thin, and might have had more impact with a richer mix, as it is the album, has an authentic feel though it doesn't really wow you. (It's possible, though, that the tracks sound better on the CD reissue... I only have the old LP...) Still, if you're looking for mellow, hippie DIY twang, this disc is certainly worth a spin.


<! Americana/Roots music from Minnesota (near Mankato). CD re-issue, orignally issued in 1980! 10 tracks: 1 LeRoy's Barn 2 Whistle & Fish 3 Ramblin Boy 4 C C Rider 5 Old Folksingers 6 If I Could Only Win Your Love 7 Rain Song 8 Chicken Coop Scoot 9 Northern Lights 10 Alcohol >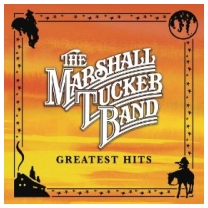 Marshall Tucker Band "Greatest Hits" (Shout Factory, 2011)



I gotta confess, as a true child of the 'Seventies, even I am surprised at how strong a hold South Carolina's finest, the Marshall Tucker Band, still have on me. One of the most commercially successful Southern Rock acts, these guys softened their sound enough to crack the formula to get into the Pop charts, and tunes such as "Fire On The Mountain" and "Can't You See" remain as effective now as they were when they first came out. There's a bunch of stuff they did on the more rock/boogie/groove end of the spectrum that doesn't really do much for me, but I do like their twang tunes, even after all these years. I also like some of their lesser singles and album tracks such as the Jerry Jeff Walker-ish "Desert Skies" and "This Ol' Cowboy," which I remember hearing on the radio, but didn't realize were from MTB... This is a nice sampler of their work, a dozen-plus tracks concentrating on their best years, and a good introduction to one of the best pop-twang bands of the era.


<! 1. Take The Highway 6:12 2. Blue Ridge Mountian Sky 3:36 3. In My Own Way 7:22 4. Fire On The Mountain 3:55 5. Heard It In A Love Song 3:31 6. Ramblin' 5:01 7. Searchin' For A Rainbow (Single Version) 3:05 8. I Should Have Never Started Lovin' You 7:08 9. 24 Hours At A Time 5:00 10. Long Hard Ride (45 Version) 2:50 11. Can't You See (45 Version) 3:20 12. Too Stubborn 3:55 13. This Ol' Cowboy (Single Version) 3:39 14. Desert Skies >
Marshall Tucker Band "Anthology: The First 30 Years" (Shout Factory, 2005)





<! Doug Gray – Lead Vocals, Tambourine Chris Hicks – Lead Guitar and Vocals Clay Cook – Guitar, Pedal Steel Guitar and Vocals Pat Elwood – Bass Guitar and Vocals B.B. Borden – Drums David Muse – Keyboards, Saxophone, Flute and Vocals >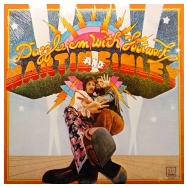 Martin & Finley "Dazzle 'Em With Footwork" (Motown, 1974) (LP)


(Produced by Bob Gaudio)
I'm adding this as a buyer-beware public service, not as a recommendation. It can be hard to tell just looking at the covers with a lot of early '70s albums just how "country" they might be... I had to check this one out because I noticed Lowell George, Carl Jackson and J.D. Maness listed in the studio crew, but as it turns out, I only should have paid attention to one name, producer Bob Gaudio, best known for his work as the keyboardist for the Four Seasons. This is an overblown, top-heavy, self-indulgent and entirely uncompelling '70s pop outing -- yes, there's some banjo and a little slide guitar in there somewhere, but unless you're on the prowl for bad '70s kitsch, there's really no reason to check this one out.
Bob Martin "Midwest Farm Disaster" (RCA, 1972)





<! other albums as well: Bob Martin "xxxxxxxxxxxxxxx" (xxxxxxxxx, xxxxxxx) Bob Martin "xxxxxxxxxxxxxxx" (xxxxxxxxx, xxxxxxx) Bob Martin "xxxxxxxxxxxxxxx" (xxxxxxxxx, xxxxxxx) Bob Martin "xxxxxxxxxxxxxxx" (xxxxxxxxx, xxxxxxx) >
Johnny Martin "Lay Back Easy Feeling" (History Records) (no release date) (LP) <! year? >
(Produced by Johnny Martin & Brad Edwards)
I try not to make a habit of making fun of records and artists just for sheer badness, but I have to say, despite the promising album art of the bearded, grinning Mr. Martin reclining in a field of flowers tilting his cowboy hat at a rakish angle, this is a pretty astonishingly bad record. There is some twang, but not enough, and while a couple of tracks make it to near-classic novelty status (like "Stand In Line" and the super-clunky civil-rights-for-Native-Americans song, "Leather Boots And Moccasins") many are just plain awful, and Martin emerges as a vanity-label artist who maybe just didn't know when to quit. Although I don't approve of such things, this is an album best appreciated by folks who get their kicks bathing in the ironies of faux-loving bad records, with Martin appearing as sort of a country music Mrs. Miller. Recorded at the AudioLoft Studios in Macks Creek, Missouri, this is one of several albums on the History label -- anyone know more about this outfit? I think there may have been some connection to nearby Branson, though I'm not totally sure. No release date, either, but I'm guessing around 1976-78.
Mason Bricke "...With Peter Masi and Donna Brickie" (Cactus Records, 1976) (LP)


This Arizona band takes its name from a composite of songwriter Peter Masi and singer Donna Brickie, who are joined by pedal steel player Gary Morse...
Mason Proffit - see artist discography
Chuck Maultsby - see artist discography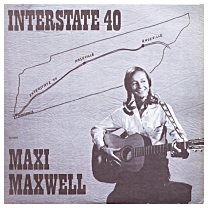 Maxi Maxwell "Interstate 40" (Custom Fidelity, 1973) (LP)


(Produced by Burton A. Decker)
I'm not really that into making fun of iffy, obscuro albums or the people who made them, though I have admit that this vanity pressing from the early 1970s probably has to fall into the "so bad, it's good" category, with nods to Mrs. Miller and the Shaggs. It was recorded at Glendale California's vanity-pressing label, Custom Fidelity back in 1972 or '73, (according to the handy Forbidden Eye website -- thanks, fellas!) and other than that, there's not a lot of info to be found on this one. The brief liner notes mention that Maxwell grew up in Tennessee and that she had what sounds like a fairly religious upbringing, though the songs are generally speaking secular country and country-folk material. Maxwell had a pretty thin voice, with a fair amount of echo thrown on it by the producers, so the closest comparison I can come up with is Skeeter Davis, although this session was hardly up to RCA's standards. The backing band is pretty lackadaisical, providing perfunctory accompaniment to a set of nine original songs and a half-dozen covers... There's some decent, though under-recorded pedal steel from a guy named Paul Barfels, who apparently lived on the Central California coast and played a bit locally; it's possible that this is the only record he played on. Anyway, Ms. Maxwell did put her heart into this album and wrote some goofy songs with searching, philosophical lyrics, but there's not really anything on here that's I'd go back and listen to for fun... It's a curio, but hardly an obscuro-country classic.


<! Mary McCaslin Mary McCaslin "Goodnight Everybody" (Barnaby, 1969) (LP) B001AA25V6 - reissued as "Blue Ridge Epitaph", Picc-A-Dilly LP, 1980) Mary McCaslin "Way Out West" (Philo, 1973) B000005YZ6 B0010VYIA6 Mary McCaslin "Prairie In The Sky" (Philo, 1975) B0000003QF B0065KVIGE Mary McCaslin "Old Friends" (Philo, 1977) B0000003QN B0010VWQM8 Mary McCaslin & Jim Ringer "The Bramble And The Rose" (Philo, 1978) B00003TL1A B0010W0NWM Mary McCaslin "Sunny California" (Mercury, 1979) (LP) B000UF71ZC - re-released 1986, Philo 1099) Mary McCaslin "A Life And Time" (Flying Fish, 1981) B0002RQ2YO B001082F5O Mary McCaslin "Broken Promises" (Philo, 1994) B0000003UO B007KIZ78K Mary McCaslin "Rain: The Lost Album" (Bear Family, 1999) B0000300MK - 1967/1968 Capitol recordings not released until 1999) Mary McCaslin "The Girls From Santa Cruz" (Mitchell/Collins, 2002) B0007WSOUE - concert with Lacy J. Dalton and Ginny Mitchell - also a DVD Mary McCaslin "Better Late Than Never" (Mary McCaslin, 2006) B000LV6868 B0012CMNE6 Mary McCaslin "The Best Of Mary McCaslin" (Philo, 1984) (LP) B003NWXNYW - 11-track compilation from Philo recordings) Mary McCaslin "Things We Said Today: The Best Of Mary McCaslin" (Philo, 1992) B0000003U2 B0010W2OQU - 18-track compilation from Philo recordings >


Delbert McClinton - see artist discography



Mose McCormack "Beans And Make Believe" (CMH, 1976) (LP)


(Produced by John Wagner)



<! producer John Wagner has his own New Mexico music website: http://www.newmexicosound.com/beansandmakebelieve.htm >
Mose McCormack "After All These Years" (JWRS, 2009)


John McEuen - see artist discography
Horrell McGann "April Fool" (TK Productions/Cloud Records, 1977) (LP)


(Produced by Steve Alaimo & Michael Hurley)
Weirdo, oddball '70s outsider rock. Although this album is packed with lush, overly-orchestrated cosmic pop and grinding blues-rock, there's also a significant "country" undertone, particularly with the participation of erstwhile Holy Modal oddball Michael Hurley, and some sweet pedal steel and dobro picking by Joe Hart. The songs are idiosyncratic, kooky and (though slickly produced) decidedly non-commercial... The themes go from low to high and back again: on Side Two, "Gambler's Lament" tells the tale of two dudes betting it all on the Packers, while "Honey In The Negev" is an ode to refugees from the Holocaust, followed by the allusive, poetic "Growin' Your Own," which I assume is a druggie reference, it being the '70s and all. This is a weird, only-in-the-Seventies album, possibly worth veneration if you're already in the orbit of Mssr. Hurley and his crowd... Not enough twang for me, but I do appreciate the high level of eccentricity, combined with state-of-the-art pop production. An odd one.
Wes McGhee - see artist discography
Michael McGinnis "Welcome To My Mind" (Forward, 1969) (LP)





<! The album could be classified folk/pop with some nice mellow cuts and features Larry Brown and David Jackson of the sixties group Moon, (a group that also featured Beach Boy David Marks) and Chuck Blackwell and Robbie Edwards of the group Colours (with Carl Radle). Jim Keltner and Keith Barbour also appear on this record. All these guys appeared on Buzz Clifford's "See Your Way Clear" around the same time. > <! David Jackson and Michael McGinnis were also both part of the New Christy Minstrels in around 1967. >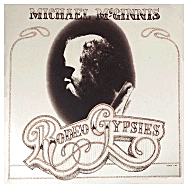 Michael McGinnis "Rodeo Gypsies" (20th Century, 1973) (LP)


(Produced by Bill Halverson)
Despite the promising album title and the outlaw-esque artwork, this album isn't as twangy or Jerry Jeff Walker-ish as one might hope... There are a couple of country-flavored songs, most notably "The Great Western Rip-Off," where McGinnis opines about the failed promises of the American cowboy mythology, but the album quickly lapses into lavish, overly orchestrated countrypolitan/orchestral pop, tempered by soulful, bluesy tunes that are a little reminiscent of The Band. (The funky piano and organ work by session player Tom Canning is particularly nice, though not consistently present... The tracks featuring Canning's keyboards add a sort of Muscle Shoals sound to the project...) The other thing that drew me to this record was the musician credits, which includes noteworthy country-rock pickers such as Dean Park, Al Perkins, Dean Webb (as well as bassist David Hungate, later of the pop band Toto...) Overall, I suppose this is worth checking out, though it's not really a lost hippie-country gem. I couldn't find much info about McGinnis, although the info-sphere indicates that he was one of the dozens of musicians who passed through the folk-pop New Christy Minstrels during the mid-1960s, and recorded at least one other solo album besides this one...


<! also bassist David Hungate, later of the pop band Toto > <! Roger McGuinn >


Ellen McIlwaine - see artist discography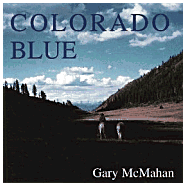 Gary McMahan "Colorado Blue" (Tomato, 1980)



(Produced by John Simon)
A well-produced but still rather flawed album... Mostly, it's songwriter McMahan's voice: I guess folks who are into his labelmate, Townes Van Zandt, might be more forgiving about it, but he sounds pretty awkward and strained to me. Also, the songs are kind of overwritten and ungainly. He's sort of a souped-up Bill Staines-style singng-cowboy folkie, mixing yodeling with country twang and plenty of rodeo-themed songs. It sure doesn't hurt having steel player Buddy Emmons adding some super-sweet licks; other notable sidemen include Kenny Kosek on fiddle and Eric Weissberg picking guitar, and even the Jordanaires singing on a tune or two. But despite the sleek, rich sound, the record falls flat. The repertoire includes a few cover tunes, I seem to recall one of his original tunes, "Real Live Buckaroo," being covered by somebody once upon a time -- Chris LaDoux, I think -- so that ain't nothin'. Worth checking out if you're a hardcore fan of modern-day cowpoke music, but it wasn't a keeper for me.

Terry Melcher "Terry Melcher" (Reprise/Collector's Choice, 1974/2005)


Okay, this isn't exactly what you'd call a "roots" or "Americana" album, but since revered superpickers like David Bromberg, Ry Cooder and Jay Dee Maness were part of the studio crew, and since the music itself has an odd, obliquely hinted-at twangitude, I figure it'll do. What this is, actually, is a fascinating and unique pop album from a remarkable show-biz insider. To begin with, Terry Melcher -- who passed away in November, '04 -- was Doris Day's son (and bore a striking resemblance to her...) which couldn't have hurt when he threaded his way through the thickets of the L.A. music machine... Melcher scored his first hits as a surf music songwriter, then landed a staff job as a producer at Columbia, where he helped mould the early sounds of the Byrds, among others. This is one of only two albums he recorded under his own name, and it's pretty interesting. Melcher's attentuated, half-whiny vocals bring to mind the likes of Jonathan Edwards and Jesse Colin Young, but his musical approach is much denser and more orchestral, making full use of the studio magic at his disposal. His warped reworking of roots music oldies like "Roll In My Sweet Baby's Arms" and "Stagger Lee," not to mention his bleak, opiated version of Jackson Browne's "These Days" all make this an album well worth tracking down. Recommended.



<! 144 x 144 >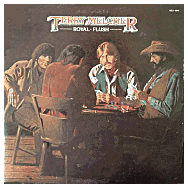 Terry Melcher "Royal Flush" (RCA, 1976)


(Produced by Bruce Johnson & Terry Melcher)
This moody, multilayered album is perhaps the perfect distillation of the Los Angeles pop/country-rock style, made by one of the city's cultural movers and shakers who most helped shape the sound he's satirizing so effectively here. It's a concept album of sorts, about cosmic-cowboy stoners going for a long lost weekend to party or perhaps sink themselves into oblivion in Mexico, which will forever be the cultural and historical mirror image and motherland of Anglo-dominated LA... There are a lot of songs that ring true here, perfectly capturing certain fragments of the Southern California mindset, particularly "Freeway Close" and "Rebecca," which define romance and reality in terms of traffic and roadways, the humorously cynical "High Rollers," which savagely lampoons the Top Forty-wannabees of the '70s country-rock scene, as well as the more sinister "Down In Mexico," which has a sludgy, swampy density that anticipates the Tom Waits of years to come. This isn't an easy album, but its self-indulgences seem purposeful and perceptive, with arrows that hit home more often than not. Plus, with musical contributions from folks like Red Rhodes, JD Maness, Van Dyke Parks (along with a large, more rock-oriented studio crew) there's some cool music behind the rather bleak, depressing lyrics. One wonders how much Melcher's brush with the Manson Family, years earlier, had to do with the darkness of his musical vision, and how much of it was just plain old show-biz cynicism. At any rate, this is a distinctive entry in the SoCal cowboy sound... definitely worth a spin!



<! 10/11: B00004TZ7U ASIN is for Japanese import B000K3EARG is vinyl >

Mesa "Here To Stay" (Gizmo, 1984) (LP)
(Produced by Tom D. Atkins)
Novelty-oriented honky-tonk from Fort Worth, Texas... Original songs by Tom D. Atkins and Clark Reynolds, including songs such as "Asphalt Cowboy," "Condo In Paradise" and "I Hate To Shave."





Augie Meyers - see artist discography




Midnight Express "In Session" (MBS, 1978) (LP)





<! PRIVATE 1978 COUNTRY ROCK Originals from Ontario, CANADA All originals written by the group. A couple of good country rockers and some mid tempo country ballads and beer drinkin tear jerkers. >

Midnight Flyer "First Flight" (Air Midwest Rescue Music, 1980) (LP) <! - no ASIN - >
I'm not sure, but I think this was a country-rock (maybe more rock?) band from the Kansas/Missouri axis... Not a lot of info about them, but I'm all ears if you know more than me...


<! 1 Ready For Love (1:55) 2 Simple Song (2:50) 3 Hard Kind of Livin' (2:28) 4 Parade of Fools (3:01) 5 Take Our Time (2:26) 6 You Should Know (3:50) 7 Life's Gonna Getcha' (2:55) 8 I Can Hear You (2:55) 9 Why Doncha' Leave (2:20) 10 Long Letter (2:32) >

Midnight Flyer "A Quart Short & 3 Bricks Shy" (Air Midwest Rescue Music, 1981) (LP) <!- no ASIN - >



<! - Tracks: Stone Cold, Pretty Darlin', Lies, You're So Endearing, 150 Rum /// The Outside Man, Life's Highway, Havin' Some Fun, Saturday Night, It Snowed Today - Kansas private pressed LP with a rustic Country Folk Rock loose playing, relaxed jams, fuzz guitars and a West Coast Psych feel. >
The Miller Brothers Band "Here's To The Women" (No Bull, 1985) (LP)


(Produced by Tom Wiggins & The Miller Brothers)



<! San Rafael label - original material, from Burrville, TN but moved to California Jeffrey Allen Miller, Lowell Thomas Miller >
Mission Mountain Wood Band "In Without Knocking" (M2WB Records, 1977)





<! changed their name to Montana in '82 (do I have their "Change In The Weather" album?) > <! "Private Stash" reissue in 2008 >
Missouri "Missouri" (Polydor, 1977)


I'm really just listing these guys as a cautionary note: despite the promise of their non-coastal bandname, they were not country-rock or country-flavored; they are often cited as a "Southern rock" band but I don't hear any of the twang or even the blues orientation that I'd consider hallmarks of the genre. Just a loud, punk-free American guitar-rock band from the '70s. Twangfans need not apply.


<! CD best-of: B00342VYR4 >
Missouri "Welcome Two Missouri" (Polydor, 1979) (LP)





<! Missouri Corn Dodgers >
Missouri Rain "Country Rock High" (History Records, 1979) (LP)


(Produced by Eddie Panghorn)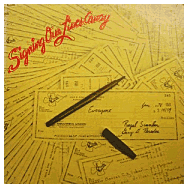 Missouri Woodland "Signing Our Lives Away" (Missouri Woodland, 1978) (LP) <! year? >


Countryfied soft-rock from the Kansas City duo of Royal Scanlon and Gary D. Paredes, along with a modest, unobtrusive backing band. They wrote or co-wrote all the songs on here, with Scanlon contributing the most material. It's nice, innocuous stuff, sort of headed in a Seals & Crofts/Brewer & Shipley AOR direction, but still anchored to a local-folkie sound, with a nice, lazy vibe. Apparently they went up to Minneapolis to record this, and among the studio musicians is session player Cal Hand, who I believe was a Twin Cities local, adding some sweet pedal steel on several tracks. This might not electrify your world, but it's another good, quiet example of Midwestern DIY hippie twang. (Note: this album is frequently listed under the names of Scanlon and Paredes, but was actually meant to be under the band name. If you look at the original inner sleeve, it reads, "Missouri Woodland is..." Just in case it matters.)


<! Tom Mitchell "Tom Mitchell" (Philo, xxxxxx) (LP) B00413GH40 folkie, but with some serious country musician. Produced by Peter Yarrow >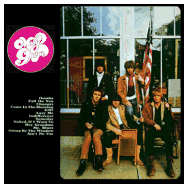 Moby Grape "Moby Grape" (Columbia, 1967)


(Produced by David Rubinson)
One of the most musically accomplished (and coolest-named) of the big-ticket bands from the San Francisco psychedelic rock scene, Moby Grape have not fared well over the years in terms of the availability of their music. Their manager royally screwed them, taking both the rights to their records and to the band's name itself, and because of endless legal wrangling their records were unavailable for most of the CD era, and the editions that have come out have been bitter disappointments to fans. That's particularly true in the case of their brilliant debut, a record that consistently surprises me because of it's high content of true twang. Of course, a lot of the San Francisco bands wove country and folk themes into their work, many having cut their teeth as jug band blues groups, or bluegrass pickers (or both) but the early Moby Grape albums were packed with a brand of full-on twang that I would consider one of the first real forerunners of the rock/twang brand of "Americana" that became popular in the 1980s and '90s. It's great stuff, with lots of odd, catchy songs, a lively sense of humor and great musicianship. Alas, the evil ex-manager has only reissued this debut album in what many fans consider an inferior edition -- low budget, high-priced, some would say poorly remastered -- and other records remain in limbo as well. It won't last forever, but it is amazing that this great band's best work has largely eluded proper reissue during the entire length of the great digital reissue boom of the last few decades. Still totally worth checking out, though -- every time I hear this album, I am amazed at how good it is and how well it stands the test of time. And how "country" it is!
Moby Grape "Vintage: The Very Best Of Moby Grape" (Sundazed, 1993)


Molly B' Damn "Last Night In Paradise" (Cowpie, 1982) (LP)


(Produced by Tim Ramsey)



<! - longhairs - includes a song called "Ode To Gram" - looks good! - - from Montana? recorded in Washington State >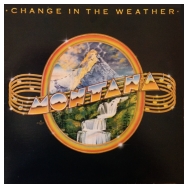 Montana "Change In The Weather" (Waterhouse, 1982) (LP)


(Produced by Randy Bean)
These guys, at least some of them, were formerly known as the Mission Mountain Wood Band; who knows why they changed their name, but it doesn't really matter... On this aptly-titled album, they're looking for a hit in the early '80s and while there's some residual twang in the mix, on most tracks they're aiming at a straight-up pop sound, as on "Dreamer" (with it's tinny '80s lead guitar) and the dreadful, saxophone-heavy "Sure Fooled Me," and the Dan Seals-ish "She's Never Gone." Founding member Rob Quist clung to his banjo ont eh back cover and contributes a couple of the twangier tunes, but mostly the ship seems ot have sailed, and the whole soft-pop thing wasn't really gonna work. Oh, well. Stuff happens.


<! formerly the Mission Mountain Wood Band >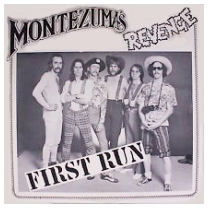 Montezuma's Revenge "First Run" (Prune Records, 1976) (LP)


(Produced by Ron Compton & Montezuma's Revenge)
This San Diego-area longhair twang band specialized in novelty songs, almost uniformly of a puerile, sex-joke or fart-joke variety. They were sort of Southern California's answer to Chuck Wagon & The Wheels... The song "Spring Valley Sally" refers to their hometown of Spring Valley, CA, which is in some hot, desert-y locale.


<! Don't Take It Out on Me, She Does Not Care, Breakin' It, Presidio Hill, Spring Valley Sally, Vegetable Song, She's Raining Now and the Creeks Are Up, Country Star, Nature's Melody, We Gotta Move, Reel to Reel, Nikki, Loney Tune. All selections are published by Breakwind Music >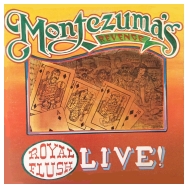 Montezuma's Revenge "Royal Flush - Live" (Prune Records, 1979)
(Produced by Jeff Johnson)
This live album opens on a sour note, their cheerfully homophobic "Ballad Of Bengue," which conflates homosexuality, prostitution and S&M, with the lead vocals sung in a mincey "gay" accent. Now, I'm not saying that there are no kinky gay prositutes in the world (particularly around San Diego...) but writing a novelty song about one for a faux-country album... Well, it's a little less than ideal. Plus, it's not a very funny song. Things get better on the banjodelic "Tomorrow I'm On My Way," then go sideways again with the dreadful oldies medley that takes up the remainder of Side One: "Wipeout," "Tequila," "Wooley Bully," etc. It was probably fun at the time, but it doesn't stand the test of the time... particularly when they start queer-bashing again, on "Surfer Joe," calling the fictional Joe a limp-wristed hairdresser, etc. What dicks. And it keeps going: there's the Jose Jimenez-style "Messikin" accent on "Gringo" (briefly reprised on their jokey rendition of "El Paso"...) The best that can be said for this album, perhaps, is that it's not as mired in poop and fart jokes as their earlier albums, but it's still pretty infantile. These were guys who didn't know when the joke wasn't funny... in a big way. But, whatever. Their fans seemed to have been having fun, so I guess if you drink enough beer, just about anything is amusing.


<! "They called their music bionic bluegrass..." guitarist Jim Soldi went on to perform with Ricky Scaggs and Johnny Cash. "They were based near Spring Valley in Casa de Oro, formed in 1973, and played a mix of genres and styles that defied categorization..." Montezuma's Revenge "Double Density -- Live" CD - NOT the same band >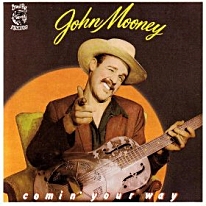 John Mooney "Comin' Your Way" (Blind Pig, 1979)



Fun acoustic blues from a guy originally from upstate New York, but later part of the New Orleans scene. Mooney went in a more "urban blues," electrified direction in the '80s, but this debut disc has a nice funky, rootsy feel that keeps it in the indiebilly camp, at least in my fevered mind. Kind of fits into the whole George Gritzbach/Bob Brozman/Dan Hicks continuum... Plus, you gotta love that National steel guitar sound!
The Moonlighters "The Moonlighters" (Amherst, 1977)


A "solo" project from roots-rock guitarist Bill Kirchen, a band he started at the tail-end of his tenure with Commander Cody...

The Moonlighters "Rush Hour" (Demon, 1983)



(Produced by Nick Lowe)
A punchy, relentlessly upbeat album with tightly arranged rock-soul grooves straight out of the playbook of producer Nick Lowe, much in the same vein as Rockpile and Nick Lowe's albums, though with a tough American edge that's distinctly Kirchen-esque... Kirchen cuts loose on some gritty guitar riffs on the opening tracks -- the second half of the album gets funkier, with dips into soul and reggae riddims... But there are several songs about cruising and cars as well... It wouldn't be Kirchen-adelic otherwise!


<! 144 x 144 >
The Moonlighters "The Missing Moonlighters: Live/Studio Closet Tapes" (Globe Records, 2008)


Nickie Morrison "Watch Your Mouth" (Charles Morrison Sounds Recording, 1975)
(Produced by Charles Morrison Sounds)
A nice example of the kind of under-the-radar recordings to be found on the peripheries of Nashville, balancing covers of hits by Kris Kristofferson and Joe South with a hefty dose of original material... Singer-organist Nickie Morrison recorded and self-released this vanity pressing, I assume, as a songwriter demo -- there are two originals by him on here, as well as three songs by a guy named Ray Marable, who shared the same publisher. The title track, which he included as the first song on both Side One and Side Two, is a little scary, meant to be a jaunty novelty tune in the style of Jerry Reed or Joe Stampley, about a guy who tells his wife, I love you baby but you better keep your mouth shut when I come home drunk -- clearly Morrison hoped that this would become a hit, but I'm glad it didn't. In contrast, the Marable songs are all pretty nice, your basic soulful, downtempo honkytonk weepers that Morrison sings in a robust, Charlie Rich-ish voice, with able backing from a studio crew that included Charlie McCoy, DJ Fontana and Russ Hicks. (...now you can see why I picked this one up, right?) Although he's not credited as a musician on this album, Marable apparently recorded at least one single under his own name -- Morrison never cracked into the big-time, but he did run a music store, selling pianos in Clarksville, TN for many years after this nice little record came out. Amazing how much talent there is in Tennessee, with guys like this as the guys who didn't make it! (Footnote: Mr. Morrison passed away in March, 2014, although this album was not mentioned in his brief obituary.)
Van Morrison "Tupelo Honey" (Warner Brothers, 1971)


(Produced by Van Morrison & Ted Templeman)
It's funny, but I think that looking back I got a lot of my love of country music from listening to my big sister play this hippie rock album (and others of the same era) over and over and over when I was a kid. Irish mystic rocker Van Morrison left his R&B band, Them, in the late '60s to pursue a solo career, scoring some big hits on American pop radio, including the manic single off this album, "Wild Night," which was one of a handful of his actual Top 40 songs. More alluring, and more durable perhaps, are the songs off the album's second side where he forged a canny, unprecedented mix of American country, rock and Celtic folk and soul. The title track, "Tupelo Honey," is a gorgeous recording, one of my favorite-ever songs, and is followed, perfectly, by the lilting "I Wanna Roo You," and the rest of this immortal, magical album. Morrison's music was a key building block in the growth of "free-form" FM radio in the '70s and, as I realized years later, an entry point into country twang for an untold number of rock fans. Great stuff.


<! Van Morrison "Astral Weeks" (1968) Van Morrison "Moondance" (1970) Van Morrison "His Band and the Street Choir" (1970) Van Morrison "Saint Dominic's Preview" (1972) >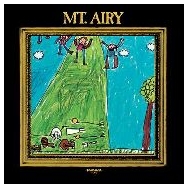 Mt. Airy "Mt. Airy" (Thimble, 1973)


(Produced by Bob Hinkie)
An intriguingly eclectic collaboration between singer-songwriter Tom Chapin (Harry's brother!) and folk/bluegrass multi-instrumentalist Eric Weissberg. There are a few softer folk-grass tunes on here, but this album is more insistently an experimental-psychedelic set, with Weissberg's banjo pushed into some very interesting rock arrangements... There's a hippie-dippie edge, to be sure, but also some very creative musicmaking. Definitely worth a spin!



<! LP - B005H7HN5G > <! Mt. Airy was a short-lived hybrid group formed in the early 1970s by Eric Weissberg, Tom Chapin, Bob Hinkle, Russell George, and Don MacDonald. Their sound was a mix of old and new, traditional bluegrass ("Foggy Mountain Breakdown"), side-by-side with covers of songs by The Band ("Rag Mama Rag"), and from Motown ("Take Me in Your Arms (Rock Me a Little While).") They could do it all instrumentally, and Hinkle and Chapin sang beautifully, as well -- the only pity is they never got past releasing an incredibly obscure self-titled LP on the Thimble label, a subdivision of Audiofidelity. >
Mountain Bus "Sundance" (Good Records, 1971)


(Produced by Jim Hurst & Dave Hemphill)
This short-lived Chicago-area rock band was super-ultra-mega Grateful Dead-ish, though on this album they imitate the Grateful Dead of the era, the more accessible, concise Dead of the American Beauty and Workingman's Dead albums, with a distinctively country-sounding undercurrent. Sure, you could be dismissive of how derivative they are, though on the other hand if you like that era of the Dead and aren't all immersed in concert bootlegs and want to hear more stuff like what you enjoy, this album is a darn good option. Apparently they got embroiled in a legal battle with rocker Leslie West whose better-known band, Mountain, claimed infringement on their name, a drag on the Mountain Bus's momentum that pretty much 86'd them, although the Sundance album has remained in print on and off for several decades. Worth checking out if you're into this brand of hippiedelic roots-rock.
Mountain Smoke "On Blue Ridge" (Smoke Records, 1975) (LP)


(Produced by Jim Hurst & Dave Hemphill)
A decent progressive bluegrass band from Oklahoma City, OK... They are probably best remembered as an early band for future country star Vince Gill, who is credited as playing banjo, dobro and guitar, as well as singing harmony vocals (...and possibly lead on a couple of tunes? I think that's him on "Rocky Road Blues," but there aren't song-by-song credits to verify that guess...) These guys were okay, though not dazzling, and at this point were working pretty strictly in the bluegrass style -- their second record had more of an outlaw country vibe, and the closest thing here is a cover of Arlo Guthrie's stoner anthem, "Comin' Into Los Angeles"; otherwise, it's mostly a Country Gentlemen/Seldom Scene 'grass sound. Worth a spin, though, especially if you're a Vince Gill fan. Love that cover photo of him in longjohns and overalls!
Mountain Smoke "Lettin' It Slip Away" (Smoke, 1976) (LP)


(Produced by Jim Ford & Brad Smith)
An excellent mix of speedy bluegrass and thumpy, imperfect, pedal steel-laced, Jerry Jeff-styled indie-DIY twang... Dunno if this Oklahoma City band recorded anything else, but this record is a nice legacy. The title track is a nice composition by singer-bassist Russ Christopher, joined by other originals by guitarist Hal Clifford (the nostalgic "Mayes County," which I could hear being covered by some Nashville dude of the era...) and mandolinist/fiddler Jimmy Gyles who contributes an ambitious grassing-up of the classical canon in "Mozart Rondo." Of course there are a bunch of cover songs as well, an eclectic set that encompasses songs from Paul Craft, Bill Danoff, Rodney Dillard and Bob Wills, capped off by a swell medley track that eases its way into a nice version of "Fox On The Run." If you're looking for high-test hippie-era twang, these semi-longhaired Okies delivered the goods! (BTW - anyone know if the Jim Ford credited as the album's engineer was the same guy as the '70s West Coast singer-songwriter, or is that just a country music coincidence?)
Maria Muldaur - see artist discography
Geoff Muldaur - see artist discography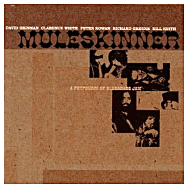 Muleskinner "Muleskinner" (Warner/Sierra, 1973)


For some reason, I've misplaced my beat-up old copy of the Muleskinner LP. As I recall, though, in my senile haze, it's pretty similar to the Old & In The Way album reviewed below... A spirited, but somewhat raggedy acoustic album, recorded by what was meant to be a pickup band for a Bill Monroe gig on a local TV station. Maybe this isn't the most stellar bluegrass you'll ever hear, but it's certainly not the worst. The players were all top-flight traditionalists: David Grisman, Peter Rowan, flatpicker Clarence White, banjoist Bill Keith, and fiddler Richard Greene, who'd once been in Bill Monroe's band along with Peter Rowan. This is worth tracking down, just to check out what these guys were up to at the start of the decade, and also because it has an early example of Grisman working out his vision on a new acoustic music, on his original composition, "Opus 57," which later became a staple of his famed Quintet. (Addendum: hey, it looks like someone finally reissued the Muleskinner album on CD! Thanks to the folks at Runt Records for making this disc available again!)
Muleskinner (David Grisman/Bill Keith/Clarence White/Peter Rowan) "Muleskinner Live" (Sierra, 1974)
I'm not sure what the difference between these two Muleskinner albums is; maybe this "soundtrack" album includes the complete live set or something... Apparently there's a video out, too, which is probably pretty cool. (Probably the best info online about this project comes from the Byrd Watcher website, which talks in great detail about Clarence White's career...)
Muleskinner "Muleskinner Live -- Original Television Soundtrack" (Rural Rhythm, 1998)

Dee Mullins "The Continuing Story" (Plantation, 1969)



(Produced by Shelby Singleton)
If you like bouncy country novelty songs, corny recitations and goofy Vietnam War-era topical songs, this one's got 'em all! The epitome of scattershot, see-what-sticks novelty-songization, this disc includes gems such as "I Am The Grass" (a first-person narrative, sung from the perspective of the lawn covering a cemetary plot); "The Continuing Story Of The Harper Halley PTA" (yes, indeed, a sequel to Jeannie C. Riley's hit, recorded for the same label); "War Baby," a semi-muddled song tying the benefits of the post-WW2 GI Bill to the patriotic efforts in Viet Nam, and "The Big Man," about a guy who was so full of himself he challenged God to prove who was stronger, with predictable results. Watch out for that lightning bolt! There are also a couple of melodramatic cheating songs about small towns and big rumors, all of it worthy of Porter Wagoner at his corniest and most over-the-top. The album's highlight might be "Beers," an endearing, nostalgic Tom T. Hall song about teenage drinking, which has the odd quality that no one suffers or is punished for enabling the underage boozing -- not the kids (who grow up okay, no car crashes or tragic DUIs) or the liquor store owners, who are praised for kindly turning a blind eye and letting the kids have their fun... Mullins, whose vocals remind me of Wynn Stewart, only recorded this one album and a few random singles. He didn't go very far, racking up a few singles in the Back Forty, but this record is certainly a classic of sorts... Country kitsch all the way!
Michael Martin Murphey - see artist discography
---
---