<! MP3 05/29/10 > <! outside 00/00/00 > <! pix 00/00/00 > <! icons 00/00/00 > <! states 00/00/00 > <! UPDATES: 00/00/00 - could use more reviews, expansion 01/01/14 - major section expansion 12/15/14 - added all eB with full info, ASINs 02/14/15 - added more eB, also Gary Van bio and albums > <! Joyce Vetter "Walkin' On The Sunnyside" (Wild Rose Records, 1987) (LP) B00GPALAM6 - label from Winnemucca, Nevada - includes a version of "Bump Bounce Boogie" "Dolly's Dive" - also recorded later stuff - MP3 = B004X7GOVK http://www.wildroserecords.com/order/cassettes/sunnyside/index.html http://prabook.com/web/person-view.html?profileId=239387 "Career: Lead guide Middle Fork River Company, Sun Valley, Idaho, since 1980, Epic Expeditions, Sun Valley, since 1984. Production assistant Group One, Los Angeles, since 1986. Yacht decor and refinishing specialist Swenson's Marine, Sausalito, since 1986. Owner Wild Rose Records, Mill Valley, Winnemucca, Nevada, since 1987. Songwriter, composer, public Broadcast Music Inc., since 1986" - directed a video for Dwight Yoakam's "Streets of Bakersfield" The Valley Boys "Old-Time And Counrty-Western Music From The St. Croix Valley" (19--?) (LP) - early 1970s-? - cover songs include "Folsom Prison Blues," "Never Ending Song Of Love," "Walk Through This World With Me" and Merle Haggard's "Sing Me Back Home" - the "old-time" music is polkas and waltzes - from Minneapolis, Minnesota >
---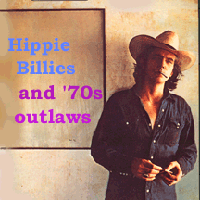 The "twangcore" and "Americana" boom of today owes a large debt to the shaggy twangers and no-hit wonders of yesteryear -- this section looks at the hippiebilly and stoner bands and a few odd, random artists from the 1960s, '70s and early '80s, back before there was anything called "alt-country." This page covers the letter "V"





---
HIPPIEBILLY & NO-HIT WONDERS:
A | B | C | D | E | F | G | H | I | J | K | L | M | N | O | P | Q | R | S | T | U | V | W | X, Y & Z | Comps | Hick Music Styles

---
Jackie & Arlen Vaden "Just As The Sun Went Down" (Vaden Records) (LP)


Pioneers of the Ozark indie scene, Arlen and Jackie Vaden were local Arkansas gospel singers who self-released their own music and sold it by mail, but soon branched out into secular styles, releasing several noteworthy rockabilly and R&B singles in the late 1950s. These two gospel LPs collect several older singles, including tracks that featured artists such as Ray Baker, Onie Wheeler and Bobby Trammell.


<! - w Onie Wheeler, Ray Baker, Bobby Tramell - #LP-107 - from Trumann, Arkansas - the Vaden label also issued some of these tracks under the "guest" artists' names - - also put out some rockabilly and hillbilly stuff, including a Maddox Brothers & Rose single >

Jackie & Arlen Vaden "Gospel Favorites, Volume One" (Vaden Records) (LP)
As with the prevous LP, what caught my eye with this album was the presence of other artists such as hillbilly bopper Onie Wheeler and the Bailes Brothers, a family-act dup whose post-war recordings kept alive the haunting, pre-bluegrass style of the Delmore Brothers and the Blue Sky Boys. I think several of these tracks were actually originally released under the "guest" artists' names, so this may actually be more of a compilation album.


<! - #LP-108 - w Onie Wheeler, Ray Baker, Bailes Brothers http://www.encyclopediaofarkansas.net/encyclopedia/entry-detail.aspx?entryID=7444 >

The Valley Hayriders "Headed For Bluegrass" (Lark Records, 1982) (LP)
Although this band from Warm Springs, Virginia played primarily bluegrass, they're worth noting here for the song "Everybody Wants To Go To Nashville But Me," which seems like it could be an indiebilly anthem worthy of your attention...


<! - bluegrass - plus other stuff(?) - no ASIN 04/23/15 >
Gary Van & The Western Caravan "Meet Gary Van" (Justice Records, 1966-?) (LP)
(Produced by Leo Teel)
Gary Van (nee Gary Vanlandingham, 1939-1980) was a late-'50 rockabilly rebel and '60s/'70s honkytonk bandleader from Dallas, Texas who exemplified the hard-working, below-the-radar Texas twang artists of the pre-outlaw era. Gary Van crisscrossed the Lonestar State, toured regionally and nationally, did county fairs, prison shows, NCO tours and the like, while also starting his own label (Justice Records) and hosting a syndicated TV show. His band on this album was packed with East Texas locals, including Billy Braddy, Al Posey, Tommy Hargrove and Mac McRae. They play mostly cover tunes of old heartsongs and honkytonk classics, with just one original song, co-written by Gary Van, the timely and topical "Never From Viet Nam," which is basically a patriotic recitation song. Van can be an iffy singer, getting a little "jazzy" singing along with the electric guitar riffs and not always nailing the rhythm correctly. But still, it's a charming and undeniably authentic real-folks country record. I haven't been able to determine exactly when this album came out, but I think the most recent song on it was Dottie West's "What's Come Over My Baby," which came out in 1966, so I'd guess '66 or '67 on this one.
Gary Van "My Favorites" (Justice Records) (LP)

<! #J-1000-1 >

Gary Van "Country Feeling" (Justice Records, 1966) (LP)

<! #J1600 (year per listing ) >



<! Real name Gary Vanlandingham. Born 1939 in Point, Texas. Died ca. 1980. http://the-daily-growler.blogspot.com/2010/05/thegrowlingwolf-get-nostalgic-via-gary.html From The Comanche (Texas) Chief: Gary Van Is County Fair Entertainer From the Golden Nugget in Las Vegas, Nevada to the Comanche County Fair! Singer, bandleader, music publisher and one of the entertainment world's top personalities... Gary Van is all of these. And Gary Van and His Western Caravan will be entertaining at the Third Annual Comanche County Fair on August 16, 1973 at 7:30 p.m. This tall good looking Texan has a unique style that has come only from hard work and his desire for the music industry. Gary records exclusively for Justice Records, which incidently is his own company, and has gained national recognition with such hits as "There's No Fool Like A Young Fool" and "I'll Cross That Bridge." Gary and his Western Caravan are certainly one of America's finest dance and show attractions having toured every state in the Union. Gary and his Band have been long time favorites of ballroom and club operators, military installations, and leading fairs and rodeos throughout the country. Gary Van and His Western Caravan are in constant demand at some of the top showplaces in the nation siich as the Buena Vista Hotel, in Sa/ford, Ariiona;TheCara- van Last in Albuquerque, New Mexico; The Cioldwi Nuggett in Las Vegas, Nevada, Tei Williams' Village in Newhall, California, Puerto Rico, Bermuda and Newfoundland. Gary Van has been a guest on many of the top television and radio shows including the Friday Nite Frolics In Nashville, Tennessee, the Midwestern Hayrlde in Cincinnati, Ohio, and the Opry House in Wichita, Kansas and is currently In the process of syndicating his own TV show with a Country andi Western format. Gary Van was born in Point, Texas but has resided in Dallas for some sixteen years. He enjoys the outdoors and is an avid sportsman when time permits. Gary and his Western Caravan possess one of the most fabulous wardrobes in show business and it's one reason why they are called one of the t)est dressed units in the business. All of their clothes are tailored by the famous western tailor, Nudie of Hollywood. Gary Van is a seasoned performer in every respect, and is one of the finest artists to come along In many years. Gary's lightly- swinging western-styled voice and that "special something" will keep the name "Gary Van" out in front for many years to come. Make plans now to see Gary Van and his Western Caravan at the Comanche County Fair on August 16, 1973, 7:30 p.m. at the Comanche County Livestock Center. " >

Van Dyke "Deal Me In" (Change Records, 1977) (LP)


Canadian country, apparently... Looking forward to checking it out someday.




Bruce Van Dyke "Self Portrait" (Van Dyke Records, 1982) (LP)
A self-released album by a guy from Biglerville, Pennsylvania with covers of some country oldies ("Crazy," "Rocky Top") some rockabilly stuff, one tasty roadhouse tune (Delbert McClinton's "Two More Bottles Of Wine") and one really scary, run-quick!! pop song (Lionel Richie's "Lady," doubtless acquired via Kenny (Sauron) Rogers...) There are also two original songs written by Van Dyke, "Cat In The Long Black Dress" and "Soft Eyes," each co-written with his pal Oscar Spicer and tucked away unobtrusively at the end of Sides One and Two. In the '70s, Spicer and Van Dyke -- whose day jobs were as the local district attorney (and later country judge) and probation officer -- composed several musicals together, including a Bicentennial-themed rock opera, so it's a musical partnership that went back quite a ways. This was, I think, their most country-oriented project.


<! - no ASIN 06/28/15 - originals both co-written with someone only identified as "Spicer," no first name given. No pix of BC https://news.google.com/newspapers?nid=2202&dat=19880922&id=wdUlAAAAIBAJ&sjid=Gv0FAAAAIBAJ&pg=6185,4636830&hl=en >
William Van Dyke "I'm A Nomad" (Cactus Saloon, 19--?) (LP)


(Produced by Robert F. Greenle)
Anyone who might've considered, oh, say, David Allan Coe to be a big old poseur might wanna check this guy out... The shaggy-ass William Van Dyke comes straight out of central casting, a hog-ridin' balladeer who sang at the Cactus Saloon in Daytona Beach, Florida, Van Dyke has recorded several albums worth of for-real biker music in which he name-dropped several motorcycle clubs. By the way, does anyone know when this first album actually came out? There's no date on the album, and I've seen it listed as being from the '70s, but a website hosted by one of the guitarists on these sessions says it as early '80s, and I have to say that looks right, based on the graphics. But I can't say for sure. Van Dyke's website isn't very clear about the details, either. Anyone know for sure? Or about his other albums?
William Van Dyke "Hog Ridin' Fool" (Brotherhood, 19--) (LP)

William Van Dyke "Combat Zone" (Combat Zone, 19--)

John Van Horn "Out Back Music" (Mercury, 1972) (LP)


(Produced by Jay Leer)
This is one of those only-in-the-Seventies style albums... Van Horn was apparently a longtime cohort of Link Wray's, an on-and-off member of his band, starting as far back as 1963, and also played lead guitar in the spinoff group, The Pack, a band that was basically the Wraymen with a minor facelift... Here, he was in sort of a latter-day, oddball jugband mode, with a hint of boogie-band rock, but a definite hippiebilly twang in there as well... A very rough, unpolished singer, he nonetheless landed a contract with a major label, and seems to have been the musical conduit for the stream-of-consciousness lyrics of one Kevin Fitzmorris (who I have no info about at all...) But even with the connection to Wray, it's hard to know just why this record was actually made. It's not quite weird enough to be an oddball super-classic, but it's goofy and unique enough that I'm hanging onto it for a while. Apparently Van Horn has continued playing rockabilly for years, releasing solo work at least as late as 1999... I imagine that this hippiedelic disc was a bit off the beaten track for him.




Darlene Vance & J. D. Smith "Just The Two Of Us" (Transworld Records, 19--?) (LP)
Although this record label was from Bristol, Virginia, I believe J.D. Smith and Darlene Smith Vance were a brother-sister duo originally from Pike County, Kentucky. By the time Mrs. Vance passed away in 2001, she and the rest of her family, including JD and her other siblings, had moved to Fort Wayne, Indiana. Not sure when this album came out, but it has an early/mid-'80s look.


<! - from Bristol, Virginia - no ASIN 01/06/17 I think this was her obit (1945-2001) - JD Smith was her brother(?): http://www.findagrave.com/cgi-bin/fg.cgi?page=gr&GRid=54716666 "Darlene Vance, 55, of Fort Wayne, a Head Start teacher, died Monday, Oct. 29, 2001, at home. She was a native of Pike County, KY. Surviving are her husband, Terry L.; a son, Norman Smith at home; a daughter, Sabrina at home; brothers J.D., Roger D. and Michael Smith, all of Fort Wayne; sisters Dianna Smith and Donna Sudduth, both of Fort Wayne; and two grandchildren. " >

Dwain Varnell & The Southern Comforts "Pickin' It Your Way" (Hill Records) (LP)
(Produced by Roger Hill)



<! - from Indiana - no ASIN 10/06/15 >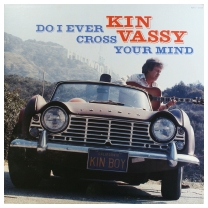 Kin Vassy "Do I Ever Cross Your Mind?" (Mad Bird Records, 1978) (LP)


(Produced by Mike Settle)
Probably best known as a songwriter, Kin Vassy started out in the pre-fab folk-pop band the Back Porch Majority, then he joined the Kenny Rogers' hitmaking country-pop band, the First Edition. Vassy collaborated with Rogers over the years although he also recorded some solo singles in the early '70s, as well as this full-length LP. Backing him are several members of the LA country-rock elite, including on-again/off-again Burrito Brothers John Beland and Thad Maxwell, as well as former First Edition-er Mike Settle. The title track cracked into the Country Top 100, though later singles a couple of years later would briefly bring him into the Top 40.


<! - 1943-1994 Kin Vassy: Rhythm Guitar Linda Dillard: Backing Vocals John Beland: Lead Guitar Lelan Rogers: Recording Supervision Matt Betton: Drums Thad Maxwell: Rhythm Guitar Elmo Peeler: Keyboards Mike Settle: Producer >
Eric Vaughan "...With Judy And The Kosmic Kowboys" (Top Productions, 1976) (LP)


(Produced by Wayne Walters)
A lot better than I thought it would be! The album art looks incredibly dorky, but these Hays, Kansas cowpokes made some nice music, working in a variety of styles. There's a folk-country-meets-AOR vibe that's on the iffier end of things: Vaughan's partner Judy Herman tilts towards a Linda Ronstadt/Judy Collins folk-ish style that can be a little too precious, but when they get twangier, there's some really nice stuff on here. A lot of good original material, too, notably "Keep Playing That Good Country Music," one of two songs written by lead guitarist Lain Wendler, and "Sarah Leigh," the only one written by Vaughan. Other highlights include "Food, Phone, Gas And Lodging," an ode to the Howard Johnson restaurant chain (a song with special resonance for anyone who's driven interstate in the Midwest!) Some nice picking, too, particularly the pedal steel by Doug Ramsey. There's no year given on the album, but the local newspaper The Hays Daily News gave the record a nice plug in August of 1976, so I guess it was a Bicentennial celebration from the heartland... Anyone know more about these guys?


<! recorded in April, 1976, released in August >
Scott Vaughan "Wanted: Scott Vaughn's Ideas" (It's Just Country, 1980) (LP)


(Produced by Norman Petty)



<! It's Just Country - label? - yes >

Jack Vaughn "The First Time Around" (Jester Records) (LP)
(Produced by Bob Hale)



<! - born in Etowah, Tennessee - album recorded at Jester Studios in Billings Montana - pedal steel: Alan Meade - lead guitar: Jimmy Nichols - fiddle: Frank Skidmore >
Sammy Vaughn "This Time Around" (Oak Productions, 1978) (LP)


A handsome young Texan who first headed out to Hollywood to make it as an actor, Sammy Vaughn got into country music after he met Freddy Hart and did some stuff with him. He eventually made he way out to Nashville, though like many hopefuls before and after, he found it pretty hard to make it big in Music City. This album includes an early version of his song, "Victim Of The Pretty Things In Life," which he recorded on all three albums listed here.


<! Tracks are: This Time Around \\ I Ain't Up To Forgettin' Her Yet \\ Big Time Rodeo Star \\ All Over Again \\ Until The Next Time \\ The Morning After The Night Before \\ That's All There Is (In The Life Of A Fool) \\ Victims Of The Pretty Things In Life \\ Lets Talk It Over In The Morning \\ Rodeo Bum >
Sammy Vaughn "Sammy Vaughn: Audiograph Live" (Audiograph, 1982) (LP)
(Produced by Ron Demmans & Don Kunselman)
For a brief time in the early '80s, the upstart Audiograph label tried to position itself as a viable indie, although most of their clients seem to have been Nashville old-timers who had lost their footholds in the increasingly corporate-oriented 1970s country scene. Audiograph also signed some genuine hopefuls, such as this guy, who really could have made it, as a sortof George Strait-style neotradder. This album is pretty standard fare, mid-tempo material with not-too-rough vocals, in line with what established singers like Moe Bandy and Ronnie McDowell were pumping out at the time. The songs are kind of a mish-mosh of old hits and newer tunes that were, in effect, being demo-ed by Audiograph, and a new version of Vaughn's "Victim Of The Pretty Things In Life," the only song credited under his name. In keeping with the label's "live" vibe, they even mixed in some obviously dubbed "applause" to give the impression that this was a concert album... Ah, those were the days!
Sammy Vaughn "Songs From The Heart" (Audiograph, 1982) (LP)


(Produced by Roy Callaway)



<! - 1982-? >


Townes Van Zandt - see artist discography



The Velvets "Velvet Country" (Vel Records, 197-?) (LP)
(Produced by The Velvets)
An early-1970s frat rock/vocal group from San Antonio, Texas whose repertoire included covers of hippie-era pop songs such as "Born On The Bayou," "Work Together" and "Let It Be," as well as some R&B oldies ("Got My Mojo Working") and some country stuff too, like "The Kind Of Love I Can't Forget" and "I Thought I Heard You Calling My Name." Solo singers include James Farek, Tony Florus, James Frank, Abel Rodriguez, David Simper and Joe Woods.


<! - no ASIN 06/18/15 - V-1002 - no date >
Dan Vernon "Welcome To The World Of Dan Vernon" (Nowsound, 1975) (LP)





<! - #LP 3001 - Salem, Virginia Label. Welcome to the world of Dan Vernon. Arrangements performed by Dan Vernon (Daniel I. Vernon) NowSound Records NV3001. Phonodisc (2 s. 12 in. 33 1/3 rpm. stereophonic) & NowSound Records: 2UOct75 (incorrectly in notice en label: 19714, in notice on record jacket: 1975) ; N27781. Tracks: I'm on my way; conscience, go home; Pickin' and singir'; Let's do it all over again; Drinkin' man; Can't you hear my heart calling?; Motor mouth; The 5th of May: I'm impressed; The World's biggest fool; Let bygones be bygones: Shattered > <! Kenny Vernon - from Mersh? >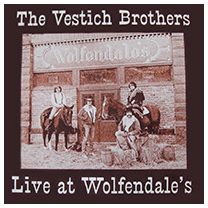 The Vestich Brothers "Live At Wolfendale's" (Eclipse Records, 1979) (LP)


(Produced by Ed Klamar)



<! - from Indiana, Pennsylvania - Joe and Mark Vestich, along with bassist John O'Connor - covers of "Friend Of The Devil," "I Heard It Through The Grapevine," "Up Against The Wall, Redneck Mother" >
Virgil Caine "The Great Lunar Oil Strike, 1976" (Fulcrum/Time Lag Records, 1971/2011) (LP)


This is apparently a legendarily obscure lo-fi rock album with strong roots-music influences. Originally issued on the microscopic Fulcrum label in Virginia, this was (briefly) reissued, though it remains pretty elusive even in that edition.


<! 1971 private pressed crude folk wonder on the original Fulcrum Records label! Hopelessly rare and obscure 1971 rural Virginia private press folk masterpiece. A true anomaly in the seemingly bottomless world of self released albums, this one charts a truly unique realm all its own. While the sound itself may draw some clear influence from classics of the day, even lifting the band name from a song by The Band, the mood & vibe here is ponderously uncharted territory, seemingly birthed complete from some parallel sonic reality. Crude lo-fi metaphysical basement folk rock filtered through a deeply southern gothic/Appalachian/Americana band aesthetic and executed in the purest, most sincere, spontaneous, vibe-thick sense possible Virgil Caine "The Great Lunar Oil Strike, 1976" (Time-Lag Records, 2011) >
Robert Thomas Velline "Gates, Grills And Railings" (Liberty, 1969)


Robert Veline was the given name of '60s pop singer Bobby Vee, who let his hair down and recorded a couple of country-rock albums in the early '70s. I'm curious about this one, but can never quite bring myself to buy it... Someday... someday.
Robert Thomas Velline "Nothin' Like A Sunny Day" (United Artists, 1972)


(Produced by Dallas L. Smith)

Vestich Brothers "Live At Wolfendale's" (Eclipse, 1979)
(Produced by Jim Haydon & Ed Klamar)
Joe and Mark Vestich were rural rockers from Pennsylvania who recorded this album while doing a gig at Wolfendale's, a bar in the tiny town of Indiana, PA (hometown of Jimmy Stewart!) They cover songs by John Fogerty, Ray Wylie Hubbard, the Dead, and others. No originals, though, alas.


<! - LP private rural hippie country rock - Jerry Jeff, CCR, Dead covers SOUTHERN ROCK/COUNTRY, THIS IS LIVE AT WOLFENDALE'S, A LITTLE WATERING HOLE IN THE TOWN OF INDIANA PENNSYLVANIA, JOE VESTICH HIS BROTHER MARK, WITH JOHN O'CONNER, GEORGE HARRIS, ED CHAPMAN, FRANK TUZI AND AL SARTORI, >
Mack Vickery "Live At The Alabama Women's Prison" (Bear Family, 1970/2008)


A gender-flipped send-up of the famous Johnny Cash prison concert albums: the cover art shows Vickery striding in front of a cell full of love-starved female convicts at the Julia Tutwiler Prison For Women, in Wetumpka, Alabama. Pretty goofy, but there is some great music on here. Mack Vickery was a successful songwriter with a background in the same Sun Records scene that brought fame to Johnny Cash and Jerry Lee Lewis, and went on to pen hits for '70s outlaws and '80s neo-trads alike. Vickery wasn't much of an album artist, though he did also release a string of singles, some of which charted, though obviously most of his success came through the versions cut by his better-known buddies.
Mack Vickery "Greatest Hits, Volume One" (Bear Family, 1980)


Wondering which hits Mack Vickery wrote? This disc includes a few that might turn your head: "I'm The Only Hell My Momma Ever Raised," which was a big one for Tanya Tucker, the Jerry Lee Lewis anthem, "Rockin' My Life Away" (and his more notorious, less radio-friendly "Meat Man") and "Cedar Town Georgia," a murder ballad Vickery co-wrote with Sammi Smith which was a minor hit for Waylon Jennings. There are also songs like "Brass Buckles" and "A Cardboard Pillow," as well as "Honky Tonk Wine," which was one of Mickey Gilley's best songs of the '70s. Vickery may have only had middling success as a chart artist, but as a songwriter, he really kicked some butt.


<! 1. Rockin' My Life Away 2. Waitin' For the Tables to Turn 3. Honky Tonk Wine 4. Pop a Top Popeye 5. Brass Buckles 6. Waitin' To Be Your Fool Again 7. Between the Storms 8. That Kind of Fool 9. Jamestown Ferry 10. Down On the Levy 11. Let It Last 12. I Can't Keep My Hands Off You 13. A Cardboard Pillow 14. A Raisin In the Sun 15. When It's Your Turn To Cry 16. I'm the Only Hell My Momma Ever Raised 17. Cedar Town Georgia 18. The Meat Man 19. Rock Me Like a Rollin' Stone 20. Rainbow Rider http://countrydiscography.blogspot.com/2012/04/mack-vickery_24.html >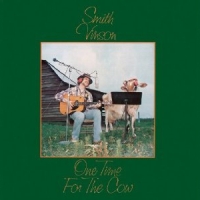 Smith Vinson "One Time For The Cow" (Playboy, 1973)


(Produced by Ray Harris & Kenneth Christian)
A nice, laid-back set of bluesy, acoustic Southern folk-rock featuring Tupelo, Mississippi guitarist Smith Vinson, who was also featured on other Playboy albums by David Lee Daniels, Tim Tutor and in the band called Doc Kirby & Co. The songs are relaxed and mellow, easygoing, whimsical tunes by a guy who clearly just liked kicking back and picking out tunes. Nothing dazzling, but totally enjoyable, sort of a mix of David Bromberg and Jonathan Edwards. It's also cool that the backing musicians all seem to be locals, instead of the usual-suspect studio crews of the era. I don't know much else about this guy, other than that he was part of the Mississippi longhair music scene back in the '60s and early '70s. Anyone have more info about him?


<! died in the 1990s from cancer, recorded and self-released a cassette-only album after he got the diagnosis >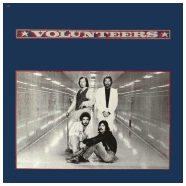 Volunteers "Volunteers" (Arista, 1976) (LP)


(Produced by Jim Mason & Val Garay)
This is not a country record -- not by a longshot -- but it deserves mention here because this was a rejiggered edition of the country/rock band formerly known as Timber. I say "country/rock" rather than "country-rock" because of Timber's slightly schizophrenic sound, split between the twangy tendencies of singer-pianist George Clinton and the pop-rock dreams of singer-guitarist Wayne Berry. On this album, Berry wins out: the record starts out in a pure disco mode, and shifts into slick '70s AOR-pop, with Michael McDonald-esque whiteboy soul vocals, with the band clearly changing its image and aiming for a hit. Side Two gets slightly rootsier, sounding like Little Feat or The Band on "Gypsy Thief (Who Do You Trust)" while getting kind of goofy on "Lost In The Hills Of Hollywood." They still have lap steel in the mix (played by bassist Jerry Vilicich, who looked like a Spinal Tap replacement drummer) and Sneaky Pete Kleinow plays steel on one track... But it's not clear why they bothered to have the country touches -- this was a straight-up '70s pop outing, with some Southern soul in there as well. Probably worth a spin if you're into it, though not much here for twangfans to get excited about.


<! Also worth noting that one of these George Clintons -- which one?!? -- was also in a country-rock band called Timber with a guy named Wayne Berry. They made two albums in the early '70s -- one for Kapp, another for Elektra -- as well as a rather bland rock album recording for Arista in 1976, under the name "Volunteers". http://www.soultracks.com/george_s__clinton.htm http://www.georgesclinton.com/ >

The Vogt Family "Footprints Of Jesus/All Aboard" (Praise Records) (LP)



<! - no ASIN 10/30/16 >

The Vogt Family "Back Home" (Praise Records) (LP)
(Produced by Irene Carter)
A family band from Pomeroy, Washington with Bud and Ruth Vogt joined by their three children, Bill, Jan and Jon. Jon plays piano and several non-family locals backing them, including lead guitar by George Palmer, some steel guitar from Lee Knight, and Ken Fuller playing the Hammond Organ. The Vogts were not professional musicians -- from the looks of the cartoony cover art, they were an actual farming family -- but they did play some infrequent shows around Spokane and Seattle, playing mainly gospel music.


<! - #PRS-153 - no ASIN 10/30/16 >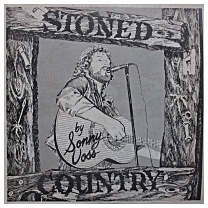 Sonny Voss "Stoned Country" (S & R Records, 1980) (LP)


(Produced by Dave Wooten)
As outlaw albums with druggie references go, this one really delivers the goods... Nearly every song on this Oregon bad-boy's album has a controlled-substance theme, including cheerful ditties such as "Cocaine For My Brain," "Get High, Get Stoned, Get Drunk," "Stoned Again At Club 756" and "My Daddy Is A Country Junky." Yee-haw!! Voss might be laying it on a bit thick, but devotees of stoner country will definitely want to check this one out.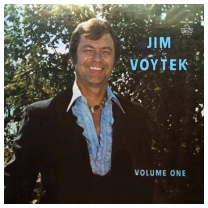 Jim Voytek "Volume 1" (Autumn Hill Productions, 1978) (LP)
(Produced by Jim Voytek)
This was the lone album by Miami, Florida's Jim Voytek, a onetime rockabilly singer who is best known for recording, "Sweetest Gal In Town," a demo track that was eventually released on an Ace rockabilly collection. He started his own label in the '70s, releasing a few singles by other artists, including several songs by Jack Blanchard & Misty Morgan, late in their career. This album includes novelty material such as "The Ballad Of Thirteen Wives," as well as more straight country material... Voytek died of a heart attack in 1980, leaving several other Autumn Hill projects unreleased.


<! - AH-L-1001 - no ASIN 02/12/15 - included on some comp of Miami Rockabilly - http://de.wikipedia.org/wiki/Jimmy_Voytek >

---
---