<! MP3 00/00/00 > <! outside 00/00/00 > <! pix 00/00/00 > <! icons 04/17/11 > <! states 05/20/16 > <! UPDATES: 06/01/13 - general update of entire section 06/11/13 - started Linda Hargrove page, need to edit and post, also Levon Helm and John Hiatt 12/02/14 - added Hickory and Hickory Hill, other "H" bands. Hickory Hill probably need a separate page, also linked to from Bluegrass section 12/27/14 - more adds. added a John Herald/Greenbriar Boys page 06/15/15 - alpha-ed the add list 12/31/15 - pix update 05/20/16 - states & updates 02/14/17 - more adds, at Oakland airport :-) 03/28/18 - re-alpha-ed the add list > <! Martine Habib "Martine Habib" (Epic Records, 1973) (LP) (Produced by Norbert Putnam & Glen Spreen) - #KC-31785 - all originals by Habib - country? seems like it - recorded in Nashville, with the Area Code 615 crew, along with some pop/orchestral instruments (fluegelhorn, congas, etc) Roger Hallmark "When You Care Enough To Hear The Very Best" (SRC, xxxxx) (LP) B0041PEB1E - #101 https://en.wikipedia.org/wiki/Roger_Hallmark (1946-2014) Ham Brothers "Ham Brothers" (Ariola America, 1977) (LP) B000W9EVIQ (Produced by Huey P. Meaux & Mickey Moody) - Moody plays steel guitar - brothers Bill Mack Ham and Warren Ham - more of a Southern rock thing(?) includes congas, keyboards - songs include "Chicken Dinner," "Party Down On The Bayou," "Hard Core Women" and "Virgin From The Virgin Islands" Uncle Bob Hardy "Sharing The Good News" (Country Boy Records, xxxx) (LP) - #101729 - Country Gospel - with Little Roy Wiggins; Hardy was apparently an Opry performer(?) - no ASIN 02/10/16, 02/20/17 Corina Gomez Harmon "Play Me Tonight" (Lamon Records, 1981) (LP) (Produced by Carlton Moody, David Moody & David Floyd) - # - "Latin Pop, Tejano/Tex-Mex, Latino Country" - includes a cover of Bob Dylan's "I'll Be Your Baby Tonight" The Harmony Brothers "Presenting The Harmony Brothers" (Dawn Records, 19--?) (LP) "...A young country trio from Ohio – drums, guitar, and steel guitar" - no ASIN 06/28/17 Bill & Lorain Harouff "Take My Hand" (MRC Records, 1982) (LP) B01IDP18UE (Produced by Bill Harouff & Lorain Harouff) - #MRLP 5006 - from Waynesboro, Virginia - Bill Harouff on banjo and guitar, with Lorain Harouff singing, backed by lead guitar Marc Taylor and bassist Don House. Windfall "Windfall" (Windfall Records, 1982) (LP) - also in a folk-pop band called Windfall, with Marc Taylor and two others - woodwinds, etc. Taylor contributes two original songs, "Bound For Dixieland" and "Dogwood Flower." They cover songs by Si Kahn, Bill Staines, and several traditional, public domain chestnuts, as well as a couple of songs by Jack Presbury, "Lady Down In Dixie" and "Sing My Love." Mr. Presbury was not in the band, per se, although he and his family sang as part of the nearly-twenty person vocal chorus, called the Bound To Dixieland Singers. Jericho Harp "" (United Artists, 19--?) (LP) (Produced by Peter Yarrow & Brent Maher) - Brent Maher engineer, mixed - with Doyle Grisham, Buddy Emmons, Ginger Holliday and Peter Yarrow sing backup Don Hayes & Country Heritage "Live At The Grapevine Opry" (Grapevine Opry Records, 197-?) B003XXCJDW - #GO 7807 - 1978(??) - Don Hayes (lead vocals, mandolin and guitar), Steve Story (fiddle, steel guitar), Gary Ledford (lead guitar), Tom Carpenter (bass), Mike Ragland (drums) The Headliners "The Headliners" (LSI Records, 197-?) (LP) - #LSI-0974 - from Nashville? 70's Folk/Rock/Country/Funk - Has a really cool cover of Sly's "If You Want Me To Stay" & Bill Withers "Use Me Up" Tracklist A1 Present Frame Of Mind A2 Sweet Home Alabama A3 Little Green Apples A4 If You Want Me To Stay A5 I Can Help B1 Use Me Up B2 Back Home Again B3 Rock Your Baby B4 Takin' Care Of Business B5 Sweet Memories Brice Henderson "xxxxxx" (Union Station Records, 1983) (LP) (Produced by Scott Tutt & Joe D'Amelio) - recorded in Nashville - song demo? tax writeoff? - some songs by Mark True - band led by Eric Butler - studio crew are all unknowns - no fiddle or steel - backup singers include Lea Jane Berinati, Karen Taylor-Good, Jana King - additional logo for "Scott Tutt Music" Rob Hertner "Bucky's Heartaches" (Texsun Records, 1989) (LP) (Produced by Rob Hertner & Roy Fleming) - dobro and steel guitar by B. J. Cole - signed, "from London, Texas" - no ASIN 08/22/15 Chuck Hess & The Chuckriders "Country And Western Favorites" (Strand Records) (LP) - #SL/SLS-1084 - weird repertoire - instrumentals? - recorded at Virtue Recordings Studios in Philadelphia, PA - no date, no musician info - songs credited to either Virtu (sic) Music or RalJon Music Dolph Hewitt "King Of The Barn Dance" (Cattle Records, 1987) (LP) B006SRQVHA - #LP-111 - from Pennsylvania - recorded in late 1940s-'50s JOHNNY HICKS: Johnny Hicks "Star Of The Big D Jamboree" (Cattle Records, 1988) (LP) B006SRQWHE - #LP-114 - material from 1950-54 Johnny Hicks "Gotta Gitta Gittar" (BACM Records, 1988) (CD-R) B013RPWX4A James Edward Holmes "Sounds Of Memories" (Comstock Records, xxxx) (LP) (Produced by Gary Holmes & James Edward Holmes) - #COM-988 - 1980s honkytonk - can't quite read the date - 1989? - looks like all originals, except one song co-written with Gary Holmes - record label in Scottsdale, Arizona, management in Florida(?) - no ASIN 05/16/16 - research Al Hooper (listed below) Holy Moses!! "Holy Moses!!" (RCA Victor, 1971) (LP) B00TFEW0WS "...Psych Country Rock" - also on MP3 and CD Lucas Harmon Brothers Show LP Private Bluegrass L&H (LP) - #0012 - no ASIN 03/29/17 J. D. Hurt "My Girl" (xxxxx) (LP) B00T8LLY0C - country? - label? Crusade Records(?) (per AM) - year? - (bc nv) Roy Head "Dismal Prisoner" (TMI Records, 197--?) (LP) B0049R3HEG - also on CD - B00JK8I32K (2014 reissue) Doc Hoye & Buckshot "Musical Prescription" (1981) (LP) - not totally country - see scans - from Idaho - lots of horns and woodwinds - no ASIN 02/20/17 IFFY? ------------------------------ HipenStrate "HipenStrate" (New Departure Records, 1973) (LP) (Produced by Tom Porter) - no ASIN 02/11/17 - duo of David Hull and Roy Blovin - from Charleston, SC - weirdo folk-rock(??) "Folk Rock Bluegrass Private Press" - EP (three songs on Side One) Iffy: folk? Jack Hamilton "Jack Hamilton" (Olde World Cafe, 1973) (LP) (Produced by Jack Hamilton) - #101052 PRIVATE PRESS FOLK/COUNTRY LP JACK HAMILTON ON OLDE WORLD CAFE Randy Handley "Keepsake" (Biscuit City Records, 1975) (LP) (Produced by Jim Ransom) - #BC-1306 - more folkie/folk blues , I guess, though there is some pedal steel The Harvesters "The Family Bible" (Festival Recordings, 1964-?) (LP) (Produced by Hal Harrill) - #SFLP-6402 - Charlotte, North Carolina label - southern gospel with country backing; with Arthur Smith, Tommy Faile and Ray Adkins of the Crackerjacks - these guys made several albums, including one (a split?) with the Oak Ridge Boys - bandmembers not listed by name - recorded at Arthur Smith's studio Bill Haymes "USA" (Resist Records, xxxxx) (LP) B004WG3THY (Produced by Herb Shawker & Mack MacNichol) - includes "New York City Cowboy" and "Lounge Lizard's Lament" though it mostly looks like a folkie type thing. Haymes plays piano - no fiddle or pedal steel in the band - recorded at Sheffield Studios http://www.witr.org/Bill-Haymes-1.htm - from Missouri - #NR6340-1 - recorded several albums - described as "folk-psych" but I doubt it Hunt & Dunk "Did You Ever Sing To A Mountain" (Mountain Records, 1974) (LP) (Produced by Frank Field) Private Folk Country Rock - John Duncklee and Rich Hunt, from Tucson, Arizona - with Bob Huff, lead guitar - no steel, no fiddle or mandolin - maybe more freak-folk? >
---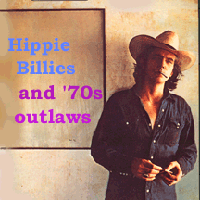 The "twangcore" and "Americana" boom of today owes a large debt to the shaggy twangers and no-hit wonders of yesteryear -- this section looks at the hippiebilly and stoner bands and a few odd, random artists from the 1960s, '70s and early '80s, back before there was anything called "alt-country." This page covers the letter "H."
---
HIPPIEBILLY & NO-HIT WONDERS:
A | B | C | D | E | F | G | H | I | J | K | L | M | N | O | P | Q | R | S | T | U | V | W | X, Y & Z | Comps | Hick Music Styles

---



H & V Melodies "Music, Memories, Family" (H&V Memories) (LP)
(Produced by Gary Peterson)
Founded in 1970, this family band led by Harold and Vonnie Anderson of Glyndon, Minnesota plays equal parts polka and twang, covering country and cajun standards as well as the waltzes and polkas popular in the Great Lakes region. They favor accordion and saxophone over fiddle and pedal steel, but there's still some country roots here to be heard as well.


<! - no ASIN 04/11/16 >

Bobby Hachey "Bobby Hachey" (London Records, 1970) (LP)
Albert "Bobby" Hachey (1932-2006) was a singer and television actor from New Brunswick, Canada who was part of the French-language country scene up North. Hachey was friends with fellow Franco-twang singer Willy Lemoth, forming a duo with him in the 1970s... This album showcases Hachey's guitar picking, with covers of classics such as "Buckaroo," "Fingers On Fire," "Sugarfoot Rag," and "Yakety Yak," as well as one track called "Bobby's Guitar Breakdown," which presumably is a Hachey original. No info about the other musicians involved, alas.


<! - #5089 - no ASIN 06/02/17 >

Bobby Hachey "...Sings Johnny Cash" (London Records, 1971) (LP)
This Cash tribute album spans both big hits -- "I Walk The Line," "Folsom Prison Blues," "I Still Miss Someone," "Ring Of Fire" -- and relatively less well-known numbers such as Glen Sherley's "Grey Stone Chapel" and Shel Silverstein's "Twenty Five Minutes To Go."


<! - #SDS-5090 - no ASIN 06/02/17 - no producer info, no musician info - has tons of albums, including a lot of material sung in French - as a kid, he was in Kid Baker's band, along with his two brothers, Curly and Terry - other LPs, CDs on AM https://fr.wikipedia.org/wiki/Bobby_Hachey (1932-2006) https://www.discogs.com/artist/2513141-Bobby-Hachey >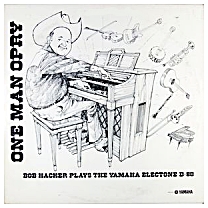 Bob Hacker "One Man Opry: Bob Hacker Plays The Yamaha Electone D-80" (Yamaha, 1980) (LP)
(Produced by Bob Dove & Paul Elmore)
Just to be clear, this is not an album that you need to run out and buy... Or, maybe it is, if you're a big fan of electronic keyboards. This is one of several boutique albums commissioned by the Yamaha corporation to showcase their then-new D-80 model keyboard, which included special settings that mimicked various musical instruments (violins, brass, etc.) This series also included similar albums by other artists demonstrating the D-80 in their own style (including one by Clare Fischer, presumably doing a more jazz-oriented set...) I'm not sure if Mr. Hacker was really that much of a "country" musician -- I think his background was primarily as a professional representative of organ and piano companies (such as the Kimball company during the 1960s) though he also toured nationally and gave concerts as well as demo shows. As far as this disc goes, even with Hacker wearing a cowboy hat on the cover, the repertoire wasn't exclusively country-oriented -- sure, there are songs such as "Rocky Top" and "For The Good Times," but also non-country chestnuts such as "Mairzy Doats," "Edelweiss" and "I Dream Of Jeannie With The Light Brown Hair." So no, this probably isn't the long-lost twang gem you were looking for...


<! Colorado Springs Gazette-Telegraph April 2, 1966: "...NAT10HAILY KNOWN ORGANIST TO PRESENT PROGRAM AT FINE ARTS CENTER Leonard C Robson of the Kimball Piano * Organ Center said today that Mr. Robert Hacker, staff representative of the Kimball Piano & Organ Company will present the nation's moat unusual organ presentation at The Colorado Springs Fine Arts Center in Colorado Springs on April 2nd >


Ernie Hagar - see artist discography



Sam Hale "A Touch Of Country" (Skylite, 1984) (LP)
(Produced by Joel Gentry & Chip Young)
I guess Sam Hale was kind of an Elvis soundalike, and he certainly had a penchant for ballads. On this album he covers oldies such as "My Way," "Faded Love," "Blue Eyes Crying In The Rain" "Release Me," and "I'm So Lonesome I Could Cry."


<! - covers a bunch of standards - some songs might be original - can't see song credits - no ASIN 07/22/15 >
Hillman Hall "One Pitcher Is Worth A Thousand Words" (Warner Brothers, 1975) (LP)


(Produced by Marijohn Wilkin)
This is the lone album by Tom T. Hall's younger brother, Hillman Hall, a modestly talented but entirely likeable country singer as well as a fairly successful songwriter, mainly known for the early '70s hit, "Pass Me By," which was a big hit for Johnny Rodriguez. This album is packed with original material, including the misery-laden title track, and novelty numbers like "Celluloid Cowboy," "You Can't Fool A Country Music Fan," "Fair To Middlin' Lower Middle Class Plain Hard Working Man" and "The Good News She Loves Me (The Bad News She's Gone)," as well as his own version of "Pass Me By." The arrangements are slick but rock-solid studio stuff, earthy though understated mid-1970s hard-country, with plenty of fiddle, dobro and pedal steel... This one's a real hidden gem from an artist who (obviously) lived in his brother's shadow, but did good -- real good -- when he got his chance.




J. R. Hall (The Utah Cowboy) "Utah Sings Again" (Bluebonnet Records) (LP)
Modern (1960s?) recordings by a fella from Grandbury, Texas who was a radio performer working at several stations starting in 1930 and throughout '40s. He performed mostly around Fort Worth, with stints in Little Rock, Arkansas and also over the border in Mexico on powerful AM channels such as XEPN and XELO, with signals that traveled across the globe. The nickname "Utah" came from one of his most popular western songs, but Mr. Hall was a Lone Star boy, through and through, and returned to Texas where he worked for a few years as a statte patrol officer, and later in an office. Hall was persuaded to record these sessions for the Bluebonnet label; previously he had only recorded transcription discs for his various radio gigs.


<! - #BL-115 - no ASIN 12/28/17 >

Jack Hall "Don't Know Where I'll Be Tomorrow" (Riverside Records, 1978) (LP)


(Produced by Hillman Hall & Stan Beaver)
Well, I'll be darned. Turns out Hillman Hall and Tom T. Hall had a third brother who also wrote and sang songs, although it's quite possible this was his only album(?) Jack is backed by his siblings, with Hillman on drums and Tom playing lead guitar, Ray Edwards playing steel (and a bunch of other instruments!) and Bill Wence on piano, along with a bunch of other folks. The disc includes four originals written by Jack Hall, one each from Hillman and Tom T., as well as a Hank Williams cover, and one by Jimmie Rodgers, and last of all, the spooky bluegrass classic, "Bringing Mary Home" from John Duffy and The Country Gentlemen.


<! - #JRC-850/RSR-1018 - the Halls were from Kentucky >

Jim & Jennie (Hall) "I'm Free From Sin" (Jessup Records, 1970) (LP)
(Produced by Kearney Barton)
Straight-up old-fashioned bluegrass gospel, featuring lead vocals by the husband-wife duo of Jim Hall and Jenny Hall, along with assorted friends and relations as The Dixie Mountain Ramblers... Their son, Lynn Hall, plays bass while Tommy T. Hunter chimes in on banjo; Mr. Ed Patrick saws a bit on the fiddle and sings lead on one track, as does the group's bass vocalist, Ernest Welch. Lastly, there's Mr. Welch's son, David Welch on mandolin. Jennie Hall also recorded an album under her own name a few years later, also on Jessup Records.


<! - #MB-103 - from Michigan? - Tommy T. Hall(?) or Tommy T. Hunter(?) on banjo >

Jennie Hall "He Walks Beside Me" (Jessup Records, 1971) (LP)


A "solo" set by Jennie Hall, of the Jim & Jennie bluegrass-gospel duo. Pretty much every track on here -- other than versions of "Amazing Grace" and "Lonely Journey" -- was written by either Mrs. Hall, or her husband and duet partner, Jim Hall, or co-written by the two.


<! - from Michigan? - #MB-110 Wow... - BGU says this is from 1976(?) >

Rodger Hall "When I Met The Master" (Word Records) (LP)


Gospel singer Rodger Hall found religion while serving time in a Federal penitentiary in Idaho... He created a music ministry and recorded several albums in the 1970s... I'm not sure, but I think this was his first LP.


<! "...1960s " While in prison Roger completed two years of Bible study and hopes to complete this training and become a minister" 1. I met the master 2. Where could I go? 3. The flowers the sunset the trees 4. I'll never be lonely 5. Jesus and me 6. Is your all on the altar? 7. Mommy sang a song 8. Mansions over the hilltop 9. Amazing Grace 10. Just a closer Walk 11. How long has it been? 12. What a day that will be >

Rodger Hall "I'm In The Right Road Now" (American Heritage Music Corporation, 1974) (LP)
(Produced by Lloyd Green)
A very nice, enjoyable country gospel album -- no frills, no fuss, decent vocals and confident backing by some unnamed studio pros, and some real country twang. I picked this one up because I noticed that Lloyd Green was the producer, and I'm pretty sure it's Green playing those sweet, fluid pedal steel licks and leading the band. The rest of the guys in the band are anyone's guess, but they did right by this non-Opry outsider, and this is a pretty strong record, packed with good material, including songs written by the Rambos, Marty Robbins and others. Hall didn't write any of the tunes, but he certainly gives them strong interpretations, with smooth, heartfelt vocals -- he's not a stunning jaw-dropping vocalist, but he's good.


<! - #AH-401-505 - no ASIN 02/12/17 >

Rodger Hall & The Nashville Edition "Don't Give Up" (Ripcord, 1977-?) (LP)





<! - #1029 <

Rodger Hall "Where Do I Go From Here" (Angelus) (LP)

Ted & Marge Hall "Songs That Tell A Story" (Master Records, 19--?) (LP)


An independently produced gospel album with several country covers, including Merle Haggard's "Daddy Frank," Dolly Parton's "Coat Of Many Colors," "Dust On The Bible" and "Suppertime," as well as Bob Dylan's "Blowin' In The Wind," and an equal number of originals written by the Halls. The Halls play acoustic guitar, pedal steel, banjo, bass and electric guitar, with some additional pickin' and drumming by other musicians on some of the tracks. Not sure where they were from: the Master label provides addresses in both Canada and Hollywood.


<! - #MS-531 - label from Hollywood and Vancouver, BC >


Tom T. Hall - see artist discography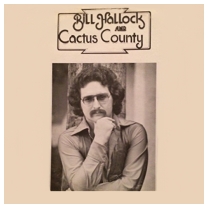 Bill Hallock "...And Cactus Country" (Hal B's Records, 1981) (LP)


This band was kicking around Flagstaff and Phoenix, Arizona in the late '70s and early '80s, and was one of the first local groups to break into airplay on the local country radio station, KNIX. They used to play regularly at a club called Mr. Lucky's and recorded this album at the height of the band's notoriety.


<! - year?? date above per artist - #38309 - mentioned in a 1981 article in a Flagstaff, Arizona student newspaper - March 5, 1977 article in Arizona Republic - LK emailed Hallock questions on 07/07/15 - hopefully the email address is still good! 07/17/15 - Hallock wrote back: "...Hello, I'm thinking Cactus County came out in 1981. It's been a loooong time ago!! We were the first local band to get airplay and to be featured on the bi-weekly in concert show on KNIX radio back when Buck Owens still owned it. If you want to talk about those years in depth, call me at (405) 444-0424. Mr. Luckys was ground zero for all the music in Phoenix and we were lucky to work the off nights there for many years. Thanks for your interest!! Bill" >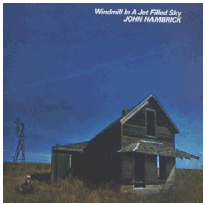 John Hambrick "Windmill In A Jet-Filled Sky" (United Artists/Brown Bag, 1972) (LP)


(Produced by Terry Knight)
This is the lone album by Texas-born actor and journalist John Hambrick... He has a gruff, plainspoken storyteller style, sort of a mix of Tom T. Hall and Tony Joe White; it's appealing and the album has a big, clear production sound, though sometimes the cosmic-tinged tunes get a little too philosophical and far-flung -- the album opens on a strong note, with the rolling, reflective "Hard Faced Road," but quickly falls into a series of less-cohesive, stream-of-consciousness topical/contemplative songs, grandiose folk-ish material that anticipates the kind of stuff that Butch Hancock and Tom Russell would specialize in... Listeners who like that strain of prophetic-poetic Townes Van Zandt-ish singer-songwriter material will want to check this out, though other twangfans may feel a little nonplussed by the chunky, often blunt lyrics. Hambrick is backed by a crack studio crew, including Nashvillers Hargus Robbins and Charlie McCoy, as well as Dennis Linde and drummer Jim Isbell, and the "big" sound they generate helps carry listeners through an admittedly odd set of songs. It's not a record that I would want to come back to just for recreational purposes (though many of the songs would be great in a radio mix) but I imagine there are many who'd consider this a lost classic, emblematic of its time.
Don Hamil "Two Of Many Moods In The Life Of Don Hamil" (American Recording Studios, 1972) (LP)


(Produced by Bill Holford)
Pop and country covers by a real-live country-pop lounge singer. From 1970-72, Houston-based singer-keyboardist Don Hamil led a band called the Don Hamil IV, which included a gal singer named Linda Raye, as well as guitarist Curt Blinhorn and drummer Frank Sudela, who helped arrange and produce this album. They played in a few local nightspots, mainly the Cork Club and Ten Fathoms West, a so-called "mermaid club," one of those places where buxom young women swim around in aquarium tanks in front of the mostly-male patrons... Ten Fathoms had two locations in Houston, and may also have had slightly shady management, seeing as how the owners were prosecuted in a fraud scheme and had their property seized later in the 'Seventies... Anyway, after Linda Raye left the band, Hamil and the boys kept plugging away, holding down a gig at a place called Kelley's at the time this album was recorded. The set list(s) are strictly covers of pop and country Top Forty hits, with versions of "Crazy Arms," "I Can't Stop Loving You" and "I'm So Lonesome I Could Cry" alongside "Funny Valentine" and "That's All." This was mostly recorded in the ARS label's Houston studio, with one live track, a version of "Folsom Prison," taken from a New Year's show at the Ten Fathoms West, which seems to have been Hamil's main stomping ground.


<! - #0001 >
Lawrence Hammond "Coyote's Dream" (Takoma, 1976) (LP)


Multi-instrumentalist Lawrence Hammond was a guiding light in the Berkeley, California psych-rock band Mad River, which started to tilt in a roots music direction before breaking up in '69. Hammond went full-on country'n'bluegrass on this solo set, with backing from pedal steel player Bill Weingarden and fiddler Byron Berline and others in a group he called the Whiplash Band. Hammond played gigs in California and along the West Coast for the rest of the 'Seventies. At the end of the decade, though, he retired from the music scene and enrolled in Harvard Medical School, graduating and becoming a doctor, though he later took music up as a sideline.


<! musicians: Lawrence Hammond - lead vocals; acoustic guitar, r-guitar, dobro, fiddle, piano; Alan Lane - bass; James Louis Parber - lead guitar; Al Mcshane - drums; Janet Bryson - b.-voc.; Guests: Bill Weingarden - pedal steel; Byron Berline - fiddle FEATURES novelty song "Trucker's Nightmare" >
Lawrence Hammond "Presumed Lost" (Shagrat/Soft Cloud, 2012) (LP)


A previously shelved album that Hammond finished in 1981, with several of the same musicians as on his first record: Byron Berline on fiddle, James Louis Parber playing lead guitar and Bill Weingarden on pedal steel... Includes his version of the song "John Deere Tractor," which became a hit for The Judds in the 1980s.


<! Red-Dirt Texas Fiddler Nevada McCloud Papa Redwing Blackbird Little Britches West Texas Border Patrol John Deere Tractor Love for the Hunter The Heavenly Saga of Flight 641 Pale Moon on the Pecos Lone Star Blues Tumbleweed Plantation With lead guitarist James Louis Parber, fiddler Byron Berline, Alan Lane on bass, Bill Weingarden on pedal steel, and featuring Lawrence on lead vocals, acoustic and acoustic lead guitars, dobro, mandolin and viola https://www.lawrencehammondmusic.com/ >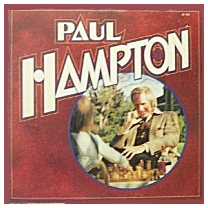 Paul Hampton "Rest Home For Children" (Crested Butte, 1974) (LP)


(Produced by Bob Johnston)
This is such an amazingly weird album... It's claim to "country" status is perhaps a little questionable, although Hampton is backed by some top Nashville talent -- Mac Gayden, Hargus Robbins, Kenny Buttrey and some of the guys from that crew. Anyway, Oklahoma-born Paul Hampton was a real-deal, highly successful songwriter, whose bona fides stretch back to late '50s hits such as Don Gibson's "Sea Of Heartbreak," and he was also in the creative orbit of Burt Bacharach and Hal David, as well as recording goofball novelty numbers such as "I'm In Love With A Bunny (At The Playboy Club." But he really lets it all hang down on this bizarre album, which seems to be a mega-stoned, super-indulgent, only-in-the-Seventies inside joke, with Side One kicking off with some Mac Gayden-style white Southern funk, but wed to really odd lyrics, stuff about underage girls, "rats with lists," and an endless stream of non sequitors. Side Two kicks off with a couple of overtly comedic tracks: "Cosmopolitan Magazine" is a satirical look at the content of the fabled women's magazine, seen from a guy's perspective, and "Your Basic Skater's Waltz" reenacts the '70s roller-rink scene, but with Hampton playing the part of an increasingly abusive DJ/announcer, yelling at the kids over a backdrop of generic easy-listening music... The rest of the record seems to be an extended parody of the lounge singer subculture, with an album highlight being the scathing "Gordon Entertaining Nightly" about a fern-bar hack who sees himself as "Fresno's favorite entertainer," while fully aware of his own creative shortcomings... It's kind of a mean song. This whole record is really strange -- most of the songs I couldn't get a handle on: what the heck was he trying to say? But there is a country undercurrent (including some great musicianship) and if you like bizarre, obscure music, you'll want to check this one out. Maybe.


<! from Oklahoma Also: Paul Hampton "Beautiful Beginnings" (xxxxxx, xxxx) (LP) >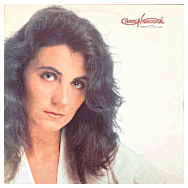 Conni Hancock & And The Supernatural Family Band "Split Personality" (Akashik, 1986) (LP)


(Produced by Lonnie Mack & Joe Gracey)
There are indeed a whole slew of Hancocks on this album -- songwriter, singer and steel guitarist Conni, along with mother Charlene and sister Traci (all three who were later in the commercial country band Texana Dames) as well as Joaquin and Tommy X. Hancock, along with a little guitar ooomph from producer Lonnie Mack. This is a very unassuming album, very indie and yes, maybe a little bit clunky and amateurish. Can't really say I'm a huge fan of her vocals, but she did sound like true Texas, from tip to toe, with a little hint of the same laconic Southern drawl as Lucinda Williams. All the songs are Conni Hancock originals -- a mix of country, folk and blues -- the same sort of mix that her family's group, the Supernatural Family Band, made popular in the '70s.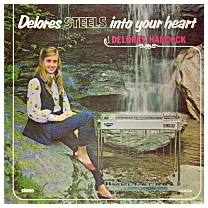 Delores Hancock "Steels Into Your Heart" (1974) (LP)
(Produced by Jack Watkins)
Wow... a girl pedal steel player? What will they think of next?? This gal from Burlington, North Carolina was the daughter of George Hancock, a singer-guitarist who taught her how to pick and bought her a pedal steel when she decided the instrument was for her. Veteran Nashville session player Jack Watkins -- a longtime member of the Tex Ritter band -- was her inspiration and became her pedal steel mentor, and also helped produce her first album. Hancock led her own band in the early 1970s and opened shows for or backed visiting artists on tour, such as Carl Smith when he came to town. She self-released this album in '75, though gradually she and her husband, Randy Simmons, gravitated more exclusively towards gospel material and became part of the regional Southern Gospel scene.


<! - pedal steel album - #DH-4638 - no ASIN 08/09/15 : "...The Delores Hancock Band 4 will perform at 4 and 6 p.m. s today and Warren & Bodle i will perform at 9 p.m. - today t and at 4 p.m. Sunday in the j Exhibition Hall, Greensboro Coliseum. Miss Hancock, daughter of i Mr. and Mrs. George Han - 4 cock, Jr. of Lakeside Ave. . Ext., is widely known for her ;; unique and smoothe style of playing lead un the pedal steel guitar. Her band is the only known band that uses 5 the steel guitar as a lead I instrument. This summer her band ' backed up Nashville star J Carl Smith when he sang in this area. The group features' I Dohie Thompson, vocalist. HOURS: Daily: '3 - 5 p.m. 7 - 10 p.m. .Sat.: 10 - 12, 1 - 3, 4 - 6, 7 - 10 p.m, Sun.: 1 - 3, 4 - 6, 7 - 10 p.m. on many recording sessions in studios in North and South Carolina and Tennessee. She has performed in the Masonic Temple in Arlington, Va., for the Old Dominion Barn Dance in Richmond, Va. and at various other places in North Carolina, Virginia and Maryland. She is known all over the United States as one of the best women playing steel Kuitar and she has heard from people in Canada and European countries wanting more of her music after birring her album "Delores STEELS Into Your Heart," http://www.thetimesnews.com/article/20140713/Lifestyles/307139910 http://bb.steelguitarforum.com/viewtopic.php?t=82820&sid=46eb43cdb1ed0530523462d4c59fff1b http://www.newspapers.com/newspage/53637074/ : "...Music has brought Delores and Randy together and will be a big part of the future for the young couple as they become more involved with the family - own"d recording company and a i'h band performance Music brought Delores Hancock and Randy Simmons together two years ago, and music will be a very "special part of the wedding ceremony uniting the couple Saturday afternoon at 3 o'clock in Concord United Church of Christ About four years ago, Delores learned to play the pedal steel guitar from Jack Watkins of Nashville, tenn., who played with Tex Ritter until his death. Mr. Watkins at that time was employed by Emmons Guitar Company in Burlington and now plays with Diana Trash. Two years after she learned to play. Delores had the opportunity for a program on Radio Station WBBB. and this was when Randy - came into the picture. Delores knew of a group of Western High School students who played together on occasions and contacted Randy to see if he would be interested in playing with the band on the radio program. The program continued for a year and so did the romance between Delores and Randy. The Delores Hancock Band is composed ol Delores on the pedal steel guitar; Randy on the drums: Delores' brother. Freddie Hancock, on the bass guitar, her father. George Hancock, on the electric guitar. John Campbell, pianist and Connie Ray. rhythm guitansl and vocalist. Prior to the radio program. Delores made her first alburn and this year she and her father began their own recording company at their home at 662 Lakeside Avenue." >
Delores Hancock "Gospel Style" (Tri-State Recording Company) (LP)


(Produced by John Wheeler)



<! >
Cal Hand "The Wylie Butler" (Takoma, 1977) (LP)


(Produced by Leo Kottke & Paul Martinson)
Pedal steel guitarist Cal Hand came out of the same early '70s Twin Cities folk scene that fostered many of the artists who wound up as regulars on the Prairie Home Companion radio show (such as the Sorry Muthas, which morphed into the early lineup of the Powdermilk Biscuit Band...) A subtle and sympathetic accompanist, Hand appeared on a bunch of albums by artists throughout the 1970s and recorded frequently and most famously with guitarist Leo Kottke (who performs on about half the tracks, as well as Peter Ostroushko, who chimes in on guitar and mandolin) This lone solo album spotlights Cal Hand's innovative approach to dobro and pedal steel. Very pleasant and definitely worth looking for.
Red Haney "Just Before Dawn" (Rome Records, 197--?) (LP)
(Produced by Jack Casey & Marvin Jones)



<! - #RLP 3128 - no ASIN 04/18/15 - 208 available, bot poor quality - there are a bunch of guys named "Red Haney" - was this Harlin Haney of Columbus, Ohio? - unable to track down any biographical info - back of album has some text >
The Bobby Hankins Show "The Country Sounds Of..." (White Lightnin' Records, 1967) (LP)
Midwestern bandleader Bobby Hankins hailed from Oelwein, Iowa and was a graduate of the Andy Doll show, after which he led his own band, which included steel guitar by Lefty Schrage (aka "Lefty Rite") with Buddy Nite on lead guitar and a gal singer named Miss Barbara Jean. On this album, she sings "These Boots Are Made For Walkin' " (of course!) as well as her own composition, "Everything's All Right." Hankins even had his 12-year old daughter as the band's drummer(!) There's a wealth of original material on here, and various artists take turn singing or playing lead... Hankins seems to have been on the scene for several years in the mid-to-late '60s... He also recorded several singles on the Cuca label, and this album includes glowing liner notes written by a DJ at radio station KOEL in Oelwein, Iowa... Real country from the heartland!


<! - pic - no producer/musician info - no ASIN 04/05/15 also, on AM: BOBBY HANKINS SHOW, MUSIC CITY - B000P1VF3A (LP)? >
The Bobby Hankins Show "Our Kind Of Country" (White Lightnin' Records, 1968) (LP)
There are a few country covers on here, big hits and oldies like "Gentle On My Mind," "Have I Told You Lately That I Love You," "Take Me To Your World," as well as Joe Poovey's "World's Youngest Naughty Old Man." As with their previous record, there are also several off-the-beaten-track originals such as "She's A Bad Girl," "You're Not Listening To Me," and "No Hope For The Furture," all part of the half-dozen songs written by the team of Bobby Hankins and steel player Lefty Schrage, who was also a former member of the Andy Doll band. Also included are two tunes Hankins co-wrote with rising star Bobby Bare, "Two Unhappy People" and "Why I'm Leaving Town," though apparently Bare never recorded either song.


<! - #2001-MS - was "Two Unhappy People" re-written as "House Divided"? have to hear the Bobby Hankins version! >
The Bobby Hankins Show "Two Sides Of Bobby Hankins: Country Songs And Recitations" (White Lightnin' Records, 1973) (LP)
(Produced by Reggie Wallace)
This album is packed with all-original material, with religious recitations on Side Two, and five country songs on Side One, all written or co-written by Bobby Hankins. His 19-year old daughter, Dixie Lee, who had been drumming with the bands since she was twelve, sings lead on one track, "Just A Little Something." Some of the songs were co-written with Lefty Schrage, though he's not on this album, and the band seems to be an all-new crew, including Chuck Rich on pedal steel and Rusty York playing banjo -- the album was recorded at York's Jewel Records studio in Cincinnati.




Jerry Hanlon "Memories" (Universal-Athena Records, 1980) (LP)
(Produced by Jerry Bradley & Floyd Chance)
Singer Jerry Hanlon was from Kickapoo, Illinois, and started performing and writing country music in the late 1950s, working in a classic, prewar honky-tonk mode, heavily influenced by Jimmie Rodgers and his "blues yodeling" style. He wrote a tribute to Rodgers that got him onto Ernest Tubb's radar: Tubb booked Hanlon on his show and cut a single with him back in '61, and even had him come on tour for a while. Hanlon continued to write and record over the years, but never broke through nationally -- this was his first album, recorded in Nashville with an A-list studio crew (and liner notes by ET!) though normally he played with his own band, The Midwest Playboys. Years later, Hanlon also released several cassette-only and CD albums, and apparently developed a strong following in Ireland, where he has worked with a number of Irish country artists.


<! - no ASIN 07/14/17 - date per AMG - covers Ernest Tubb and Jimmie Rodgers classics >
Paul Hann "Paul Hann" (Stony Plain, 1978) (LP)


Although Canadian songwriter Paul Hann was really more of a straight-ahead folkie, this mid-career album featured a lot of fancy bluegrass and country-rock guests, including Jerry Mills of the Ozark Mountain Daredevils, Dean Webb and some assorted Dillards...


<! other albums: Paul Hann "A Fine White Thread" (London, 1973) (LP) Paul Hann "Another Tumbleweed" (Stony Plain, 1975) (LP) Paul Hann "High Test: In Concert" (xxxxxxxxxxxxxxx, xxxxxx) (LP) Paul Hann "xxxxxxxxxxxxxxx" (xxxxxxxxxxxxxxx, xxxxxx) (LP) Paul Hann "xxxxxxxxxxxxxxx" (xxxxxxxxxxxxxxx, xxxxxx) (LP) Paul Hann "xxxxxxxxxxxxxxx" (xxxxxxxxxxxxxxx, xxxxxx) (LP) Paul Hann "xxxxxxxxxxxxxxx" (xxxxxxxxxxxxxxx, xxxxxx) (LP) Paul Hann "xxxxxxxxxxxxxxx" (xxxxxxxxxxxxxxx, xxxxxx) (LP) http://www.paulhann.com/bio.html >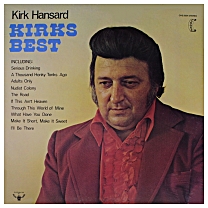 Kirk Hansard "Kirk's Best" (Chart Records, 1973) (LP)


(Produced by Slim WIlliamson, Joe Gibson & Bill Walker)
North Carolina's Kirk Hansard was a member of the WWVA "Wheeling Jamboree" show, and recorded a number of isolated singles, mainly on the Chart label, but also for Columbia in the early 1960s, and on some obscure indies as well. This album gathers some of his Chart recordings, including novelty numbers such as "Serious Drinking" and the tepid "Nudist Colony," as well as "Adults Only," a somewhat barbed attempt to bridge the '70s generation gap -- mainly by telling all those hippie kids to sit down and shut up. Hansard only wrote one of the songs on here, a first-rate weeper called "If This Ain't Heaven," though a couple of the other songs come from the same publishing company (Sue-Mirl Music) and producer Joe Gibson provides a couple of others, including the superior "A Thousand Honky Tonks Ago," one of the album's highlights. This is not a first-rate record, largely because Hansard was really only a so-so baritone singer, kind of a cross between Dave Dudley and Conway Twitty, though not as expressive as the more famous pros, and he benefited from strong production, as heard on his earlier work with producer Don Law. This album ain't bad, really... it's not awesome, either, but certainly worth checking out.


<! http://www.hillbilly-music.com/artists/story/index.php?id=13114 http://somelocalloser.blogspot.com/2014/05/kirk-hansard.html "Hansard (also spelled Hanserd) recorded for Dot in 1956, Hap in 1960 and also for Kapp. His Hap (Chattanooga, Tenn.) release "Johnny Collins" was written by Peanuts Faircloth, DJ and member of the Dixieland Drifters (who also recorded for Hap). " >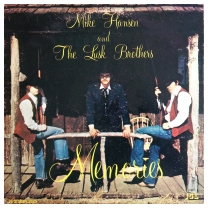 Mike Hansen & The Lusk Brothers "Memories" (IGL Records, 1974-?) (LP)
It's strictly amateur hour on this plodding album of country covers punctuated a couple of original tunes by lead singer Mike Hansen -- "Memories" and "All Alone." Not to be all mean about it, but Hansen was a pretty limited vocalist, and his backing band -- Larye Lusk on bass and thirteen-year-old Dave Lusk on drums -- also had their limitations. But that doesn't mean this album isn't without its charms... These guys went to the legendary IGL label in Milford, Iowa -- best known for recording garage bands in the '60s and early '70s -- and this is a fine example of truly amateur musicians making an album just for the heck of it. (Also sitting in on the sessions was IGL staffer Denny Kintzi, who added some lighthearted piano riffs...) Hansen looks pretty young on the cover, probably in his early to mid-twenties, though he sounds more middle-aged than you'd expect. He sings lead on most songs, though Larye Lusk belts out a version of "Folsom Prison Blues." I'm not sure when this album came out though I'm guessing at 1974, since amidst all the Johnny Cash and Buck Owens covers, there's a version of "Woman Without A Home," which was a hit for the Statler Brothers in '73 -- also, there are show notices in local papers from late '74 showing the trio playing frat parties and similar gigs.


<! - no ASIN 11/12/15 - #4042-5 laryelusk@agri-service.com - business email at ag equipment company http://www.arfarfrecords.com/arfarf/igl/iglrec.html Estherville Daily News - December 24, 1974 - show notice in Estherville, Iowa >
Steven O. Hanson "Pick And Choose" (Hangren, 1979) (LP)


(Produced by Steven O. Hanson & Frank Green)
A key player in Nebraska's hippie-era twang scene, banjo picker Steve Hanson was best known as a bluegrass musician, but he made his mark on the national stage backing novelty-twang star C.W. McCall on Top Forty hits such as "Convoy." This album was recorded in Lincoln with a slew of local pickers, including Pete Blakeslee on dobro, fiddler Dave Fowler, bassist Dave Morris and guitarists John Ingwerson and Terry Schmitt, as well as Hanson singing and playing several different instruments. Not sure if this was Hanson's only solo album... His name pops up as a session player on a lot of indie albums, as well.
Ted Hanson & Country Express "Remembers Just Plain Jane" (Shepherd Records, 1973-?) (LP)
(Produced by Billy Holiday & Jack Turner)
These longhaired hipsters from Philadelphia, PA wrote a lot of their own material, with over half the songs credited to two publishing companies used by composers D. Turner and Dick Rich, who were both presumably bandmembers. There are also a few cover songs, one from Larry Butler, another by Jerry Kennedy, and a cover from the pop world, of the Bee Gees song, "Words." I'm not 100% sure, but I think Hanson later became a pastor.


<! - #SA 773 - no ASIN 08/29/15 - several songs credited to D. Turner and Dick Rich - Joel Fein, Jack Logan engineers - lots of originals - how country? - later a pastor(??) >
Ted Hanson & Country Express "Tribute To A Queen" (Cherrywood Studios, 1975-?) (LP)
Guitarist Ted Hanson and bassist Dave Shaul were both from Wenatchee, Washington, a middle-sized town east of Seattle, and first formed their band after returning home from doing military service abroad, in different branches of the armed forces. They seem to have taken their band all over the country -- Reno, Nashville, Texas, and even a long stint up in Alaska. Somewhere along the line they recruited teenage singer Jackie Kadow, who sings on this album and later married Hanson. The repertoire includes some cool country covers, like "Rainy Day Woman" and "Most Beautiful Girl In The World," in a setlist that seems to have been made in honor of wimmin in general... Dunno what became of the band, but the Hansons wrote at least one children's book together, and Ted Hanson made a career as a saddle and boot leathersmith.


<! - #LP-CE-320 - no ASIN 03/11/16 Bass – Dave Shaul Drums – Bill Adams Guitar – Ted Hanson Guitar, Harp – Ron Stafford Piano – Chuck Chihak Vocals – Jackie Kadow A1 Tribute To A Queen 3:15 A2 Let Me Try 2:45 A3 Rainy Day Woman 2:25 A4 You've Got Me Right Where You Want Me 2:18 A5 One Man Woman 2:15 A6 My Woman, My Woman, My Wife 3:25 B1 Pretty Woman 2:35 B2 To Reach The Woman In You 3:25 B3 I've Got My Baby On My Mind 2:04 B4 Most Beautiful Girl In The World 2:20 B5 Lover Please Come Back 1:53 B6 Another You >

Happy's Bunch "Recorded Live In Austin" (ACR, 1975-?) (LP)
(Produced by Harold Herrman)
An Austin, Texas horn band led by trombonist Harold ("Happy") Herrman. These guys sure don't look very country, and there ain't no twangy instruments like fiddle or mandolin or steel guitar, but it was Austin, and they do play a bunch of country tunes, including several '70s Top 40 hits, as well as a few rock and soul oldies. And if you want to hear a trombone version of Rusty Weir's "Don't It Make You Wanna Dance," then this disc is for you!


<! - no ASIN 06/15/15 - guessing at date >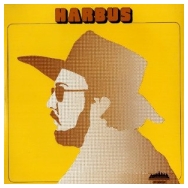 Neil Harbus "Harbus" (Evolution/Stereo Dimension, 1973)


(Produced by Neil Portnow & John Miller)
In the early '70s, the lines between country-rock, pastoral folk and soft-pop were pretty porous, as heard on this sunshine-y album by New York state songwriter Neil Harbus... The opening tracks bring Jonathan Edwards and Cat Stevens to mind, though he slides into a more distinctly rural vibe on songs such as "Memphis To Nashville," "Country Song," and "Arizona." Mostly, though, this has a contemplative singer-songwriter/chamber folk feel, particularly suited to Cat Stevens fans, with several songs that hint at Christian spirituality, although he doesn't really hit you over the head with it. Hank DeVito plays pedal steel, though most of the studio crew aren't as country-oriented... Still, the gentle vibe on his twang tunes is nice... A soft, subtle record that's worth checking out, but definitely more "pop" than country: of the non-country tunes, "Open The Door" is a standout. I think this was his only record... anyone know for sure?


<! - ASIN to Japanese boot > <! Neil Portnow *not the same as Neil Harbus; was also the band's bassist > <! became a social worker and professor at CUNY(? confirm?) >

Dave Hardin "Dave Hardin" (Source Records, 1974) (CD)


(Produced by Ronnie Prophet & Dave Hardin)
An all-original set of country and country-pop songs written by Dave Hardin, who was originally from Huntington, West Virginia, but was living in Baltimore when he cut this album. The Nashville studio crew included Willie Rainsford on piano, along with a bunch of folks I don't recognize (like Jim Vest on pedal steel...?)


<! - B0009F9TSK = CD reissue - same Dave Hardin who recorded recent albums? >

Rink Hardin "A Taste Of Country And Western" (Time Records, 1964-?) (LP)


(Produced by Mort Thomasson)
Originally from Atlanta, Georgia, singer Ronald Huffstetler (aka Rink Hardin) tried his hand at pro baseball, spending one season in the minor leagues, back in 1956... He didn't see much action on the field, and I guess nothing clicked... So then he turned his attention towards a country music career, writing his own stuff and doing a club act that included impersonations of country stars. He cut a few singles for Jubilee Records, made his way to Nashville, and fell in with the budget-lable indie, Time Records, where he recorded this solo album, backed by an A-list studio crew, including Pete Drake, Ray Edenton, Kelso Herston, Buddy Killen and Wayne Moss. The songs are about half originals, including several composed by Huffstetler, published under Rink Hardin monicker, as well as "When The Wine Is Gone," a tune being plugged by songwriter Clyde Beavers. Hardin went on to record a few singles for United Artists, including some goofball material that sounds imitative of Roger Miller, although nothing that charted nationally. He also appeared in a hickspoitation film, "That Nashville Beat," in 1966, though as far as I know that was the extent of his acting career.


<! - #S-2126 - no ASIN 12/12/17 - Ronald Huffstetler played minor league in 1956 >


Linda Hargrove - see artist discography




Dalton Harmon "No. 1 Loving Man" (Nashville Cats Productions) (LP)





<! - NCP Records 002 - looks 1970s "... Dalton Harmon of High Point, North Carolina; NC-002; stereo; scarce; no date; circa; 1971" October 2, 1976 The High Point Enterprise: show listing at the Cavern Lounge Now singing Southern Gospel? daltonharmon@northstate.net - LK emailed questions 04/14/15 - no reply >
Lon Harmon "Anytime" (Crown Records, 1967-?) (LP)


One of the many lower-tier country artists who found work recording for the cheapo label that sold knockoff albums in truckstops and rural drug stores, Lon Harmon was more successful than most in that he recorded several albums, and they were even released under his own name(!) Plus, it's good stuff -- down to earth, basic-issue country, with a hint of '60s rock thrown in by the hired-hand backing musicians. Definitely worth a spin!


<! - #CST-548 https://crownrecordsstory.wordpress.com/2015/03/15/week-of-crown-country-classics/ "... >
Lon Harmon "Bouquet Of Roses" (Crown Records, 1967-?) (LP)





<! - #CST-550 - 1967 date per http://www.bsnpubs.com/modern/crown/crown5500.html Bouquet Of Roses/Even If I Win I Lose/Playing Hard To Get/Beautiful Brown Eyes/Looking For A Mountain//Here Comes The Night/Streets Of Loredo/I Don't Need You Anymore/Veil Of Narra/I Guess I'm Losing My Mind >
Lon Harmon "Just A Little Loving Will Go A Long Way" (Crown Records, 1968-?) (LP)



<! - no ASIN 01/05/16 - #CST-562 - 1968 date per http://www.bsnpubs.com/modern/crown/crown5500.html Just A Little Lovin' Will Go A Long Way/Meet Me At Sunrise/I'm Not The First One/In The Shadow Of A Broken Heart/I Can't Let Go//I Choose You/Only Her Name Is Familiar/Walking Away From You/Are You Ready/Waiting For An Answer >

Dallas Harms "Paper Rosie" (Broadland Records, 1975) (LP)


Best known in the US as a songwriter, Canadian honkytonk crooner Dallas Harms had an early breakthrough when Gene Watson recorded his song, "Paper Rosie," scoring a #3 hit in the States, and topping the country charts in Canada. Harms himself had considerable chart success at home, but gained only limited traction in the US... His original version of "Paper Rosie" is on this album; over the years Watson recorded several more of his songs, and the two artists continue to share a great stylistic affinity. Which is a rather longwinded way of saying, if you like Gene Watson, you might wanna check this guy out, too.




Dallas Harms "The Fastest Gun" (Broadland Records, 1978) (LP)
(Produced by Gary Buck)



<! - no ASIN 03/10/15 - all songs are originals - recorded in Nashville with a usual suspects crew >

Dallas Harms "The Best Of Dallas Harms" (Broadland Records, 1979) (LP)
(Produced by Gary Buck)





Dallas Harms "Out Of Harms Way" (RCA, 1982) (LP)







Harold & The Chaparrals "Live At The Teepee Lounge" (Sambo Sounds Records) (LP)



<! - #SLP-1028 - small thumbnail - can't see song titles, etc - no ASIN 09/21/15 >
Lynn Harper "...Sings Country Favorites" (Alshire, 1972) (LP) <! year? >


I picked this one up because of the groovy picture of a go-godelic gal in a fringed-leather buckskin mini-skirt (and matching cowgirl hat) singing onstage in front of an anonymous band... Of course, I fully realize that this being a knockoff album from the Alshire label, chances are the woman in the photo might not actually be Lynn Harper, but whatever: it's still a cool album cover. The album itself is worth a whirl because most of the songs are originals credited to Ms. Harper (whoever she was) and while the vocals are admittedly pretty clunky, there's plenty of early '70s-style twang in the band, and a rough, authentic feel overall. Two songs are credited to Lynn Gibson, and they are standouts, the biker-themed "Chrome Plated Harley" and the raunchy, carnal "In the Back of My '57 Chevy," which has surprisingly sex-positive lyrics for a "girl" singer of the time... Harper seems to have been from California -- she had a couple of early 1970's singles on the Cartwheel label, which was based in La Puente, inside the greater Los Angeles area... This one's an obscure but intriguing album!


<! - seems to have been from California - had a 1971 single on the Cartwheel label http://www.45cat.com/record/cw117 - same person?: http://www.lynnharper.com/Home_Page.html - Cartwheel also label for ---------- LP >

Buddy Harris "Foundation" (Plantation Records, 1979) (LP & MP3)



(Produced by Royce G. Clark)
Singer Buddy Harris was a farm kid from Arkansas who landed a radio show on KDXE, Little Rock, when he was still in grade school, and worked in local bars all through his teens and twenties. He made his way to Nashville around 1970 and plugged away for years before cutting this album and a few singles for Shelby Singleton's Plantation label. It tanked, but he kept plugging away, working at venues like the Say When Lounge, which is where he was playing when Singleton spotted him. Dunno if Harris recorded any more records after this, but at least he got the chance to make this one!


<! - #PLP 542 - odd, thin voice. lots of twang in the tunes, though! Rosey Thompson; Substitute For You; You Can Love The Leavin'; Cowboy Way Of Life;You Ain't Never Been Mine; I Honky Tonked All The Way Home; Death Of Me; Too Much Woman For You; Freedom To Roll; Scarlet Beacon; Laughter Of Failures And Fools http://countrydiscography.blogspot.com/2011/11/buddy-harris.html - goofy voice, though pretty twangy music - originally from Arkansas, he was 37 years old in 1980: https://news.google.com/newspapers?nid=1916&dat=19801215&id=w-YgAAAAIBAJ&sjid=1m0FAAAAIBAJ&pg=1256,3546289&hl=en >
Burton Harris "...Salutes Bob And Joe Shelton" (Sugar Hill Records, 1977-?) (LP)
A country guy from Texas, Burton Harris got into songwriting and record producing in the mid-1950s, and had set up his own independent label, Security Records, when the rockabilly wave came crashing through the Lone Star state... Harris recorded several artists, and This is a much later (late '70s?) outing, a tribute to the now-obscure hillbilly brother-act duo of the Shelton Brothers, who recorded profilically during the 1930s and '40s.


<! - #781 - no ASIN 06/19/17 - LK lost bid :-/ Tracks: BOB AND JOE AND THE SUNSHINE BOYS; SITTIN ON TOP OF THE WORLD; JUST BECAUSE; NO FOOLIN; IT WAS ONLY A DREAM; WHO WOULDN'T BE LONELY; WEST TEXAS LOVE SONG; THE STORY OF SEVEN ROSES; MEET ME SOMEWHERE IN YOUR DREAMS; LOVERS FAREWELL; LEVEN MILES FROM LEAVENWORTH; AS LONG AS I HAVE YOU - same guy(???) on Burton Harris, Pee Wee Walker & Jim Anderson "Sunrise On The Guinea Farm" (Jamboree Records, 198-?) B06WLHHYRF https://www.google.com/search?q=Burton+Harris&ie=utf-8&oe=utf-8 >
Charlie Harris "All My Yesterdays Are Catching Up With Me" (Lamon, 1984) (LP)
(Produced by Oscar Burr)
This album includes a lot of early honky tonk and western swing oldies -- stuff from the era of Ernest Tubb and Bob Wills -- as well as a few newer tunes, and one song written by Charlie Harris, "Baby, I Love You."


<! - no ASIN 04/15/15 http://countrydiscoghraphy2.blogspot.com/2014/12/charlie-harris.html - disco is for two different guys was this this guy?: http://www.allmusic.com/artist/charlie-harris-mn0000172637 ...I don't think so... looks like a pretty young guy on this album >


Emmylou Harris -- see artist profile




Grady Harris "...And The Modern Country" (Ripcord Records, 197--?) (LP)
(Produced by Gene Breeden)
Far out! If you like twangy country music -- and I mean really twangy country -- you will love this record. Originally from around Sylva, North Carolina, singer Grady Harris moved to the Pacific Northwest in the late 1950s, playing venues in Washington state such as the Longview Elks Club and the Kelso Legion Club... This album is all cover songs, with classics from the songbooks of Dave Dudley ("Six Days On The Road"), Waylon Jennings, Merle Haggard and Marty Robbins, with interesting additions of two(!) songs by Stoney Edwards and a version of Chip Taylor's great "Clean Your Own Tables," which places this album at least as post-1973. And it's awesome. The lead guitar is pure twang-twang-twang, unapologetically plangent and playful, and Harris' vocals are a treat as well, reminiscent of Roger Miller in some ways, but not at all novelty oriented. Really: this is a great record. Wish I'd had the chance to see this guy play live, back in the day!


<! - #1015 - no ASIN 03/18/17 - LK purchased 03/18/17 - hard to find info on this guy; apparently lived in Washington state http://bobhuntleysbandpictures.blogspot.com/2011/03/grady-harris-and-modern-country-band.html >

Greg Harris "Acoustic" (Shiloh, 1979) (LP)


This is the first solo album by picker Greg Harris, a close friend of Skip Battin and a stalwart of the SoCal country-rock scene. Harris was a frequent on-again/off again member of the Burrito Brothers, in the band prior to recording this album, and then several years on down the line in the late '80s... In between he apparently worked with country gal Becky Hobbs, and did a lot of session work as well.


<! - Flying Burrito Brothers/Skip Battin'Larry McNeely orbit, also from Rains & Harris duo - - first solo album, with David Vaught, Chet McCracken, Doug Atwell, Peter Washer and Larry McNeely. In 1980 he formed a duo with Becky Hobbs - tried a solo career, rejoined the Burritos in the late '80s. - Greg's sons Jesse & Graham released a fantastic CD with their group Rancho Deluxe. Rancho Deluxe is Mark Adams on acoustic guitar and vocals, Jesse Harris on acoustic & electric guitar, mandolin and harmony vocals and Graham Harris on bass. >

Greg Harris "Electric" (Appaloosa, 1981)


Greg Harris "Things Change" (Appaloosa, 1988) (LP)


(Produced by Greg Harris & David Vaught)



<! - included Jim Goodall, Sneaky Pete Kleinow, Tommy Spurlock, Skip Edwards, Al Perkins and Garth Hudson >

Greg Harris "Acoustic II" (Shiloh, 1990)


This later album is actually sort of a best-of collection, with some newer recordings alongside old stuff. Harris also self-released a slew of records after this one... You'd have to track down his website to find out about all of those ones... It's probably worth mentioning here that his sons, Jesse Harris and Graham Harris are in the alt-Americana band Rancho Deluxe, which has recorded a few albums that are reviewed in my Alt Country section....


<! Greg Harris "The Record" (HarrisMusic, 2008) Greg Harris "The Last Of The Great Old Country Rockers" (HarrisMusic, 2012) >
Phil Harris "Here I Am" (Evergreen, 1989) (LP)
(Produced by Phil Harris & Linda Stern)
This is really kind of the tail end of "locals only/unsigned country" artists I can fit into this website, but even as late as 1989 there were earnest, unknown hopefuls putting out vinyl records and looking to break into the charts. I hate to be harsh, but this is basically pretty cheesy, low-end would-be Top Forty material, with the sort of tinkly, antiseptic 1980s Nashville production I shrink away from, although there are some nice pedal steel riffs from the ever-fab Doug Jernigan, as well as some good songs. Other studio musicians include Gene Breeden playing lead guitar and backup vocals by the Calloway Sisters. There's one song written by Red Lane, and several on Side Two by "Jim Harris," which are the strongest material on here. There's no release date on the album itself, but my copy came with a signed headshot, dated October, 1989, so I figure it's a pretty good guess.


<! - no date on LP or art, but signed headshot is dated 10/89 - no ASIN 03/02/15 >

Sherry Dell Harris "Dogs Unleashed" (A + R) (LP)
(Produced by Jerry Abbott & Harvey Peyton)
A piano player/singer from Fort Worth, who recorded this album in Arlington, Texas. There's some religious material (her own song, "I See The Light") but also more secular "progressive country" such as "Down Home In Texas Again" and "Down Home Woman."


<! - no ASIN 11/15/15 >
Tiny Harris "Tiny Harris" (Voice Of Country, 1979) (LP)
An excellent, independently produced true-country album from a guy who cut a couple of fun (but non-charting) singles in the '60s for Starday, Stop and some other, smaller labels. Harris scored some gigs on TV and played on the Opry stage and -- according to the liner notes -- performed for the troops in Vietnam after recording a patriotic, pro-soldier anthem called "When." Eventually he left Nashville and was living in Humboldt County, California when this LP came out. It contains several songs that he'd recorded as singles, such as "Georgia Manhunt" and a version of Frankie Miller's "Blackland Farmer," along with the trucker songs "Double Clutchin' Truck Line" and "Endless Black Ribbon" -- I'm not sure if these are the original singles on here, or re-recordings, but either way it sounds great. Lots of fiddle and steel guitar, and Harris has kind of a Hank Snow-ish voice which fits nicely into the uptempo twang. Highlights include the amphetamine-laced trucker song, "Benny And Me" and "Pour Me A Double (Because I'm Single Again)," just a couple of the excellent original compositions on this obscure but worthy album.


<! - no ASIN 01/01/15 >
Al Harrison "Nashville Sound Of Al Harrison" (1974-?) (LP)
Super-generic artwork and a super-generic song selection of early-to-mid-'Seventies cover songs, including "Okie From Muskogee," "For The Good Times," "Blue Eyes Cryin' In The Rain," some Eddy Arnold and Hank Williams oldies. The unsigned liner notes shift from the third person to the first, and ramble on about the song selection, though sadly provide no information about who Al Harrison was or where he was from. Alas! No label name, date, or musician info or date, either, but judging from the repertoire, I'd guess somewhere around 1973-74-ish.


<! - #BLP-1002 - no ASIN 12/19/17 - 1973-74-ish? - no musician, producer info - no date or label name >

Clint Harrison "The Two Sides Of Clint Harrison" (Mark Records, 197--?) (LP)
(Produced by Joe Higgins)
Clinton J. Harrison (1927-2012) was a California native who grew up in Southwestern Missouri, where he established himself as a regional performer, playing at Joplin, Missouri's Hidden Acres Supper Club during the 1960s and '70s, as well as regular gigs at the Camelot Inn, in nearby Tulsa, Oklahoma. Harrison kicked off his career working casino lounges with the Bob White Trio, singing in Vegas after World War II. He also worked in Tucson, Arizona and in Bentonville, Arkansas, where he owned and sang at his own restaurant and nightclub. Although he started out as a pop/big band vocalist, very much under the spell of Frank Sinatra, by the time he made his own records, Mr. Harrison had also acquired a taste for country music. This was his second album, with one side devoted to comedy, the other to music -- among the tracks are covers of Harlan Howard's "Heartaches By The Number," "Help Me Make It Through The Night," and Ray Stevens' early '70s hit, "Everything Is Beautiful." He may have also cut a few singles, though this information is fairly sketchy...


<! - #MC-2967 - no ASIN 08/08/17 UNABLE TO FIND FULL TITLE FOR THIS (FIRST?) ALBUM: Clint Harrison "Songs And _______" (Mark Custom Recordings, 197--?) (LP) - no ASIN 08/08/17 https://www.findagrave.com/cgi-bin/fg.cgi?page=gr&GRid=87239281 >

Danny Harrison "What I Feel In My Heart" (Deneba Records) (LP)
Hailing from West Virginia, songwriter Danny Harrison (nee Danny Cousins) started out as a rockabilly singer, waxing the 1958 single, "Rock-A-Billy-Boogie," along with other 45s on a variety of labels. Mainstream success came when he penned "How Can I Write On Paper (What I Feel In My Heart)" which was recorded by Jim Reeves, leading to a string of other tunes recorded by Nashville stars of varying luminescence. His success was limited, however, and Harrison receded into the background, establishing himself as a regional performer along with his wife, Audrey. He played gigs on the WWVA "Jamboree," where he was a cast member in the early 1970s, and released several records on his own Deneba label, as well as one album by singer Darnell Miller. Harrison also cut a few singles for major labels such as Coral Records.


<! - #DEA-1001 - Deneba founded in 1962 along with Joanna Harrison (his sister? same as Joanne Combs, below?) - no ASIN 12/18/16 - b. 1930 - married to Audrey Harrison (nee Bunch, 1927-1984) - Deneba was probably his own label - songs credited to Deneba Music - recorded several singles, including some on Coral http://countrydiscoghraphy2.blogspot.com/2014/03/danny-harrison.html >

Danny Harrison "No One To Love Me" (Deneba Records, 1971-?) (LP)


(Produced by Joanne Combs & Michael Perry)
For this album, Harrison lined up an all-star studio crew, including guitarist Fred Carter, and a slew of studio pros such as Willie Ackerman, Junior Huskey, steel player Lloyd Green, pianist Hargus Robbins, et. al., who were in the orbit of Carter's label, Nugget Records. The songs are all Harrison originals except for a version of Kathy Dee's "Only As Far As The Door."


<! - #DEA-1003 - date per PF (Danny Harrison [vcl], Fred Carter Jr. [ld gt], Ray Edenton [rh gt], Kelso Herston [gt], Lloyd Green [steel], Junior Huskey [bass], Willie Ackerman/ Buddy Harman [drums], Hargus Robbins [piano], The Jordanaires, The Sounds Of Nashville, Audrey Burch [bck vcl]. Producer: Joanne Combs, Michael Perry) >

Danny Harrison "Jesus Is The One" (Deneba Records, 197--?) (LP)



<! - #DEA-1004 - no ASIN 12/18/16 > <! ALSO: Danny Harrison "Introducing Danny Harrison" (Starlite Records, 1962) (EP) B000M0A2MY - same guy? - UK release: "DANNY HARRISON Introducing Danny Harrison (Scarce 1962 UK 4-track 7" vinyl EP featuring All the World Is Lonely Now, No One To Love Me, I'll Never Forget & Worries, front laminated flipback picture sleeve STEP-23" >
Roger Harrison "Take Some Love" (C Records, 197--?) (LP)
A singer from Wisconsin who at the time this record was made was doing a gig at the Lou-Ann Motel, in Cumberland, WI. The motel's owner, Roy Odden, is pictured on the back cover, along with action shots of the band. The liner notes tout Harrison's ability to play a variety of styles, including pop and disco, but his heart seems to have been more into the country stuff, including covers of "Muleskinner Blues," "Statue Of A Fool" and "Luckenbach, Texas." If you're looking for real-deal records of working bands from the '70s, this one's a prime example.


<! - no ASIN 03/10/15 - Recorded at Aleatoric Studios >

Dave Harry & Bonnie Harry "Welcome To My World" (A-Live Sound Records, 198--?) (LP)
A kooky-looking mix of country and lounge oldies, ranging from "Stardust" and "Chime Bells" to "She Taught Me To Yodel" and "Welcome To My World." And yes, not only does Dave Harry squinch down on the old accordion (while Bonnie Harry plays synthesizer and drums) he also yodels on a tune or two. This duo from Alderwood Manor, Washington are joined by a few other locals -- Becky Purdue on bass, Dave Purdue on lead guitar, Dick Gordon on banjo and fiddle, as well as a couple of saxophonists to round things out. As far as I know, this was their only album...


<! - no ASIN 03/16/18 - #A-1201 - early '80s? Willie Nelson covers? - no bio info online (quick search) > <! Clay Hart "Spring" (Ragamuffin Records, xxxxx) (LP) B00413CI2U - performed on the Lawrence Welk Show - this was his first album (I think) >
Dian Hart "A Girl For All Reasons" (Amaret Records, 1971) (LP)


(Produced by Joe Porter)
More of a '60s-style pop singer, Dian Hart hailed from Houston, Texas but did her time in Vegas and released a few indie-label singles before recording this album on the Hollywood-based Amaret label. As the title implies, it's meant to showcase her versatility and, yes, there is a little bit of country twang in the mix. The opening track, "To Love," shows great promise for country fans, though oddly enough it's on the following songs written by country-oriented composers such as Shelby Singleton, Johnny Russell and Ben Peters that the album tilts decisively towards pop music with an undercurrent of glossy white soul. The arrangements are, in the parlance of the era, a mixture of groovy and square, placing her roughly in the same band of the spectrum as Dusty Springfield or Petula Clark -- indeed she covers "Son Of A Preacher Man" as well as Bonnie Bramblett's "Told You For The Last Time," material that gives her a mildly funky feel. There's a palable almost-but-not-quite feel to this record, and you can sense that getting her a spot on something like the Dean Martin Show was their highest aspiration at the time... But for twangfans, I guess this will serve as a warning only... You'll see this record listed as "country" from time to time, but there's really only one song that qualifies. Oh, well.


<! https://en.wikipedia.org/wiki/Dian_Hart >
Tiny C. Hart "Sings The Cold Hard Facts Of Life" (K-Ark Records) (LP)


(Produced by John Capps)
Norbert William Cochart (aka Tiny C. Hart, 1932-2015) was a Wisconsin native who tried his hand as a country singer after years on the road as a professional trucker, playing his first music gigs in the late '50s and early '60s, way out in California. It was out West that he picked up the ironical nickname "Tiny" (he was actually a 6'4", 250 pound goliath...) When he was nearly thirty, Hart moved back to the Badger State and settled down, establishing himself as a regional country star, recording several singles and a few LPs, with a mix of cover songs and originals. This was his second album: his other records came out under his real, Cochart.


<! - #6020 - born in 1932 http://www.tributes.com/obituary/show/Norbert-William-COCHART-102245790 http://www.canalefuneral.com/obituary/NORBERT-WILLIAM-COCHART/Marquette-MI/1487797 http://rocknrollgraffiti.blogspot.com/2010/06/marquette-yields-vintage-albums.html : Marquette resident "Tiny" Cochart, meanwhile, issued two long-playing record albums. A giant of a man at 6-foot-three inches and 250 pounds, he is also known as Tiny C. Hart. Cochart was born in Wisconsin and started driving semi-trailer trucks coast-to-coast at age 18, but his real ambition was to sing country & western music. After nine years on the road, Cochart took time off to start his own group in California, but returned to trucking. When his rig broke down in LaCrosse, Wis. Cochart saw his fate and decided to give music another try. Later, he organized country & western band The Tiny Cochart Night Riders in Marquette, playing nightclubs around the country for years. He recorded five singles for Coulee Recording Corp. in LaCrosse. With the addition of "Double Life" and "One More Drink," both Cochart compositions, Coulee issued an album called "The Best of Tiny." B00CEIDC6K (LP) Cochart recorded in Nashville and "played and sang with Tex Ritter, Waylon Jennings, Merle Travis, Ernest Ashworth, Johnny Cash, Tommy Cash and Dottie West," according to Robert C. Gehl, who wrote the liner notes to the album. Big "Tiny" recorded another batch of tunes for a self-titled album on the Studio One label. The collection contains another original, "Let Me Live Again," and covers of tunes by Willie Nelson, Bill Anderson, Marty Robbins, Tom T. Hall and others. >
Chuck Harter "Keep Me In Mind, Keep Me In Love" (Chaparral Records) (LP)
(Produced by Johnny Maggard)
Although this early '80s album was recorded in Nashville, Harter seems to have been from the Kansas City area... Blue Springs, Missouri, to be exact, over by Lee's Summit. Harter hired a top-flight studio crew for these sessions, including Music City stalwarts such as Hoot Hester, D. J. Fontana, Hargus Robbins, Fred Newell and Doyle Grisson on steel guitar... But the sad fact is, Harter wasn't the world's greatest singer, and though he wrote all the songs on here (and many are quite good) they often fall flat due to his wobbly vocals and the sometimes indifferent accompaniment. Still, you can hear where he was headed with this, and on the twangier, less pop-oriented tracks (like "How Fortunate Am I" and "Sonya") he sounds pretty okay. Indeed, with attentive listening, this could turn into an inadvertent guilty-pleasure album, and it's certainly ripe for some stronger singer to mine for material. Harter mimicks some great artists, notably George Jones and Gary Stewart, and those hopeful aspiriations should give you an idea of where he was aiming on this one. Worth a spin, though you shouldn't get your hopes up too high. (By the way, thanks to the KC-Lawrence music blog for tipping me off to this one... I couldn't find the magic thrift store you mentioned on your blog, but I still appreciate the tips!)


<! - no ASIN 06/06/15 - #CLPS-1090 http://kclawrencevinyl.blogspot.com/2014/01/chuck-harter-keep-me-in-mind-keep-me-in.html A1 Keep Me In Mind, Keep Me In Love A2 Another Song Called Lady A3 Right Out Of The Blue A4 Nobody's Had Me This Much In Love A5 Sonya B1 How Fortunate I Am B2 That Kind Of Fool B3 Down And Out In Dallas B4 Nobody Round Me When I'm Cold B5 Down To One >
The Hart Family "...Featuring Mr. Sandman" (Associated Recording Artists, 1975) (LP)


(Produced by Billy Walker, Ailene Hart & Larry Hart)
Led by their mother, Ailene Hart, this Midwestern family band from Hopedale, Ohio recorded several albums toured regionally, while Hart's son Larry landed several appearances on Hee Haw and other TV shows. They mainly recorded gospel material, but went secular for this set, with support from some Nashville old-timers. Producer Billy Walker plays guitar on these sessions, while Eddy Arnold wrote the liner notes, and I believe he may have recorded some of their songs as well.


<! - Artco-? - A family band, other albums appear to be gospel - Eddy Arnold wrote the liner notes (did they work for him?) - recorded for Oklahoma City label - from Bloomington?? - apparently from Hopedale, Ohio: "...Hopedale's Larry Hart and his ventiloquist's doll, Chico, will appear July 4 during Hopedale's annual celebration. Hart also plays several musical instruments and performs with his mother, Ailene Hart, his three brothers and sister. The group consists of Ailene Hart, her four sons and a daughter. One son, Larry, has appeared as a regular on the "Hee Haw" television show for three years and has appeared on "Rawhide," the "Dick VanDyke Show" and "The Girl From U.N.C.L.E." these people??: http://www.reviewjournal.com/real-estate-millions/hartland-mansion-put-market-35-million-photos >


John Hartford -- see artist profile



Tom Hartman "A Tribute To John Wayne: American" (Artco, 1979) (LP)


(Produced by Tom Hartman)
Guns, guts and Old Glory are celebrated, as well as Mr. True Grit himself, in this heartfelt set by Oklahoman Tom Hartman. The title track, an update of I. M. Coffey's "John Wayne: American," is one of two songs credited to Hartman (he added some new lyrics) Most of the other songs are covers of western oldies, stuff like "Cool Water," "Empty Saddles" and "Tumblin' Tumbleweeds," while Hartman's tune "Old Paint" kicks off Side Two. The album includes songs by a couple of other composers also publishing under the Associated Artists Music banner. Unfortunately, other musicians aren't listed, though the back cover does have a long (and I mean long!) list of a hundred-plus movies that John Wayne starred in...


<! - #LP-ART-1268 - no ASIN 12/26/17 >
Harvest "Never Thirst Again" (Pure Joy, 1976) (LP)


(Produced by Al Perkins)
A sweet-sounding set of hippie-tinged "Jesus freak" California country-rock, with tight, light vocal harmonies and plenty of twang, as well as a strong set of original compositions. In many ways this is a more tightly-focussed, musically more cohesive and satisfying album than a lot of the secular albums being recorded by the SoCal hippie twangsters of the same era. Nice stuff!


<! Produced & engineered by Al Perkins - Steve Messick on guitar Edison Riggs, Willie Roberson, Jerry Barnard, Mark Ala, & Steve Messick Harvest "Morning Sun" - same band?? >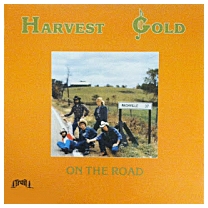 Harvest Gold "On The Road" (Trail Records, 1980-?) (LP)


(Produced by Bobby All)
A country covers band from Stow, Ohio, this five-piece outfit was led by singer/multi-instrumentalist Buddy James and featured gal singer Patti Watson, along with Mark Hawthorne on steel guitar. There's no date on the album, but I'm guessing 1980 based on the set list... The repertoire is mainly '70s country hits, with the most recent songs being Conway Twitty's "I May Never Get To Heaven" and "If I Said You Had A Beautiful Body" by the Bellamy Brothers, both from 1979. Also tons of material from vocal groups like the Oak Ridge Boys and Statler Brothers, stuff that's fun to sing along to, so I imagine they really enjoyed recording this album.


<! - from Stow, Ohio - Patti Watson, female singer - #0932 Side One: 1. On The Road 2. Come On In (Oak Ridge Boys, 1978) 3. Bed Of Roses - 1970 4. The Gambler 5. How Great Thou Art Side Two: 1. It Don't Get Better Than This 2. The South's Gonna Do It (Charlie Daniels 1974) 3. I May Never Get To Heaven (Conway Twitty, 1979) 4. If I Said You Had A Beautiful Body (Bellamy Brothers, 1979) 5. The Harvest Gold Band Buddy James: Vocals, Lead Guitar, Rhythm Guitar, Banjo, Piano and Manager Jerry Gibb: Vocals, Bass Guitar Patti Watson: Vocals, Tambourine Rich Lenhart: Drums, Percussion, Vocals Mark Hawthorne: Steel Guitar, Vocals >


Alexander Harvey -- see artist profile


<! Dorsey Harvey "Dorsey Harvey" (Poca River Music, 1977) (LP) B0040ZADNA 1. Leadout 2. Rawhide 3. Teco Teco 4. Blackberry Blossom 5. Fiddler's Waltz 6. Kentucky Mandolin 7. Poor Wayfaring Stranger 8. Red Apple Rag 9. Doc Harris The Fisherman 10. Big Sandy River 11. Rutlands Reel 12. Red Haired Boy 13. Crazy Creek liner notes: "The Bluegrass Scene in Southwest Ohio Fred moved to Dayton, Ohio, in 1975, explaining "I needed to be in a good bluegrass scene." He found it in Dayton, which at the time had a wide variety of excellent pickers in and around the area. After playing in bars with Jack Lynch, Fred joined John Hartford to play a cruise on the Ohio and Mississippi Rivers on the Delta Queen, along with Katie Laur and Doug Dillard. He then played some seven years with Dorsey Harvey. "We were a good local bluegrass band in a good bluegrass market, playing nightclubs, country clubs, and everywhere in between around Dayton, sometimes venturing down to Cincinnati." Bartenstein points to such players as Red Allen, the Allen Brothers, Noah Crase, Paul Mullins, Harley Gabbard, Dave Evans, and Earl Taylor who carried on a rich tradition in southwestern Ohio. When Doug Dillard asked Fred to accompany him on a tour of Europe, Fred realized he had to make a decision. "I could make a living as a musician, but I knew I would never be a great musician. I had a new job in the Dayton City Manager's office, and I decided bluegrass was not going to be my career." After Dorsey Harvey's death in the 1980s, Fred took some time off from playing, but has recently begun playing again, laying down rhythm and vocal tracks with Dayton banjo player Robert Leach and performing at social occasions." >
LeGrande Harvey "Montana Melody" (Bear Paw) (LP)


More Big Sky country, including a version of LeGrande Harvey's own "Montana Melody," which in 1983 was adopted as the Montana's official state ballad, though not the official state song, which remains the song "Montana, written by Charles Cohan and Joseph E. Howard, back in the 1800s. So now you know.


<! - #003 - "Montana artist, recorded in Missoula Montana. Includes Montana's Official State Ballad." - with Gary P. Nunn(?) >
Tonya Harwell "Foxy Lady" (HOMA Records, 1976) (LP)


(Produced by Mickey Sherman)
A pretty negligible album from a teenage Oklahoman who was, according to the liner notes, voted "The Best Female Vocalist Under the Age of Eighteen for 1975" by the Oklahoma Country Music Association, which kind of makes me wonder what Reba McEntire was up to that week. Tonya covers a few standards such as "Bobby McGee," "Silver Threads And Golden Needles," Merle Haggard's "That's The Way Love Goes" and even a mildly twangy version of the Beatles' "Yesterday." She also showcases some local (Oklahoma) songwriters -- herself included, writing the title track -- as well as "A Picker's Wife" by Bob Lendrum and "Shadows Of Love," written by Lee Hunter and Walt Wilder. I don't think any of these folks really did much after this, though fiddler Benny Kubiak also recorded a couple of albums on the Homa label, and was in a number of regional bands. Tonya Harwell apparently was in a rock band with her brother Paige in the early '80s, but I think this was about it for her country career. (Interesting side note: according to her brother, their band, Pearle Handle, also included future Top 40 country and gospel singer Melodie Crittenden, who was a teenager at the time... So there ya go!)


<! "Wait Wilder," or WALT Wilder? - she was also in the Grapevine Opry at some point >
The Hatch Brothers "Shady Grove" (Little Richie Records, 1980) (LP)
(Produced by J. Lynn Hatch & Loren Ashcroft)



<! - no ASIN 12/27/14 http://bakerspatch.blogspot.com/2011/02/little-richie-discography.html - all ten songs written by J. Lynn Hatch - #LR 1038 - no ASIN 02/10/16 "...Amazing rural country psych with some AOR and pop psych vibe throughout the album." - "...country-Folk-Rock recorded in Utah & distributed by a New Mexico label; ace harmonies w/ some airy strings and captivating steel-pedal/fuzz-guitar interplays; all self-penned songs >

Ray Hatcher "Songs Of Love, God And Country" (Arzee Records, 1964-?) (LP)



<! - no ASIN 06/23/17 - various artists? >

Ray Hatcher "The Best Of Country" (Nashville Sounds Records, 19--?) (LP)
(Produced by Pete Drake, Stan Kessler & Warren Peterson)
A Philadelphia country singer who was affilated with Rex Zario, co-writing several tracks on this album with him, and using the same publisher. The studio band is packed with Nashville pros, house musicians at Pete Drake's studio, the outside of which is pictured on the back. Hatcher sings and plays acoustic guitar, with cats like Pete Wade, Charlie McCoy, Hargus Robbins and the Gary Paxton Singers on backup vocals... He does a cover of Don Gibson's "Oh, Lonesome Me," but otherwise the whole album is either his or Zario's stuff. Their originals include "A Fool Over You" and "Anybody's Baby" (co-written with Ann Davison), Zario's "Sing Me Another Country Song," and Hatcher's regional anthem, "Philadelphia Baby."


<! - no ASIN 06/23/17 >

Ray Hatcher "Sings Hank Williams, Plus Three Others" (Nashville Sound Records, 1977-?) (LP)
No info about this guy other than that he seems to have been from Philadelphia... Sadly, there's no release date date, or musician/producer info on the album jacket. Hatcher covers a bunch of Hank Williams, "Oh Lonesome Me" by Don Gibson and a couple of his own songs -- "Philadelphia Baby" and "Time To Travel On," which was co-written with Anne Davison.


<! - #NS-22577 - 1977-? - no ASIN 12/20/16 - Nashville Sound Records - in Philadelphia, PA >
The Dixie Hatfield Combo "Tall Cool Country" (Gulf Crest, 1975-?) (LP)


An early 1970s album by a group originally formed in the late '50s by country deejay Dixie Hatfield, who worked at Montgomery, Alabama's WBAM. This edition of the band also features fellow DJs Jimmy Hicks (drums) and Gerald Driver (bass), taking turns singing hits such as "Four Walls," "Silver Wings," "Wine Me Up," "Mental Journey" and (my favorite!) "Six Pack To Go." None of these guys were super-great vocalists, but they were having fun and sound like some pretty cheerful good ole boys... The band is alright, too, with solid steel guitar picking and some wildly out of control psychedelic-fuzz guitar on thie gogo-delic version of Dallas Frazier's "Mohair Sam." There are two original songs at the end of the album, both co-written by drummer Jimmy Hicks and L. H. Stockmar, "You Tear Me To Pieces" and "Today Ended Everything," which both have florid orchestral arrangements swelling behind Hicks' vocals -- I'm guessing these tracks were recorded separately from the rest of the record, possibly as a single that came out earlier.


<! - #7558/7559 >
Irene Hatfield "August Rain" (Rex Records) (LP)


(Produced by Clinton J. Smith)
An independent country singer from Washington state... This includes the songs "Silly Little Fight" and "The Anniversary (Of The Day You Said Goodbye.)" All but one of the songs were written by J. Jones, who is also credited as the "A&R" man for the album.


<! - from Portland, Oregon? - 1970s? Cover notes by Lonesome Lowell E. Bryan of K-Bam Radio in Longview Washington. Contains 11 great songs, 1. August Rain, 2. Silly Little Fight, 3. Scarecrow Waltz, 4. Tomorrow, 5. The Anniversary of the Day You Said Goodbye, 6. No More This Land, 7. Seven Seas of Years, 8. Worries come a knockin, 9. Im Mindin from now on, 10. I'm Wonderin, 6 Ain't gonna do that again. >

Shayne Hatfield & The McCoys "X-Wives And Old Songs" (Jessie James Records, 1983) (LP)
(Produced by Larry Messick & Don Cederstrom)



<! - #JJ-101 - recorded in Boise, Idaho - no ASIN 02/03/17 >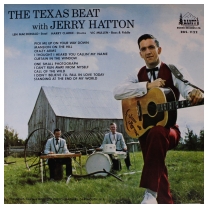 Jerry Hatton "The Texas Beat" (Banff) (LP)


(Produced by Clinton J. Smith)
A Nova Scotia-born country singer who eventually emigrated to New Jersey, Canada's Jerry Hatton was playing some pure honky-tonk on this 1960s set, with Len McDonald adding some sweet licks on steel guitar. Later on, in the early 1970s, he formed a duet with Debbie Lynn and recorded several records with her.


<! http://countryduo.com/index.html Jerry Hatton & Debbie Hatton "Good 'N' Country" (xxxxxxxxx, 2002) - date? B000CA32E4 - CD >


Bruce Hauser -- see artist profile




"Little" George Havens "Circuit Ridin' Preacher" (Rainbow, 1969-?) (LP)


Nicknamed "Little" George, Mr. Havens (1920-1988) stood about four-foot-eleven, and was mainly famous for his stunt work on numerous cowboy movies, dating back to the 1940s. Havens left the film industry after a religious conversion, as well as from concern about the safety of his work: his widow, Lucy Havens says that during an accident while shooting a "Jungle Jim" action flick, Havens was worried that he'd almost broken another actor's neck, and decided his film career wasn't worth that kind of risk to others. Afterwards he largely devoted himself to evangelical efforts, including a music ministry which resulted in this album, as well as appearances on the Grand Ole Opry. In 1966, Havens founded the Cowboy Camp Meeting, an annual event complete with covered wagons and gospel music, hosted at his Flying H Acres ranch, near Santa Anna, Texas. The event continued for decades after Mr. Havens' death, at least as late as 2017. As far as I know, this was his only album, one of many, many gospel LPs produced by the prolific, Dallas-based Rainbow Sound label.


<! - #R-1014-LP >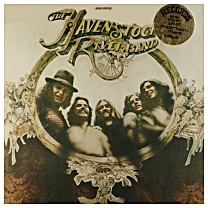 Havenstock River Band "Havenstock River Band" (Impress Records, 1972) (LP)


(Produced by Gary Clontz)
This was a "solo" album by a group best known as the backup band for folkie Glenn Yarbrough, with whom they recorded one album... The band was formed in 1970 when the various members -- guitarist/vocalists Gary Clontz and Archie Johnson, Geoffrey Pike on piano, bassist Gordon Curry, and Jeff Warren on drums -- met in LA and started jamming together, expanding the acoustic duo of Clontz and Johnson into a full ensemble. They were discovered by studio producer Alex Hassilev (a member of the Limelighters, during the early '60s folk boom) who recommended them to Yarbrough. Yarbrough hired them and worked with the band for most of 1971, touring the West Coast and recording one album with the group, which Hassilev produced and released on his own independent label. Hassilev also offered the group an album deal, and cut this more rock-oriented record, which got some traction before the label folded and Yarbrough went into semi-permanent retirement. The band tried to make a go of it for a year or two, playing local gigs up in the Sierras, at Mammoth Mountain, and later in the San Francisco Bay Area, but eventually they broke up with most members leaving the music business behind. Guitarist Gary Clontz toured with Glenn Yarbrough years later, as a backup musician during the late '70s and early '80s... Many thanks to Mr. Clontz for generously sharing his memories of the band for this review!


<! rock? southern rock > <! Jeffrey James Archie Johnson Gary Clontz Gordon Curry Geoffrey Pike 01 Feet Creek 3:54 02 Dog 3:40 03 Love What I Got 3:10 04 I Think of Only You 4:22 05 Saturday When I Hit Town 2:41 06 I've Only Got a Nickel 4:21 07 Sweet Music 2:58 08 Rambling Man 2:54 09 Portland 2:58 10 Tucumcari Highway 3:50 11 I'm Going Home 2:39 12 It's All Over 3:48 www.archiejohnsonmusic.com - defunct 05/2016 http://ripertoire.blogspot.com/2009/03/havenstock-river-band-havenstock-river.html gaclontz@gmail.com gpike0708@att.net - 05/20/16 - LK emailed Clontz to ask about band - 05/21/16 - he wrote back! :-) >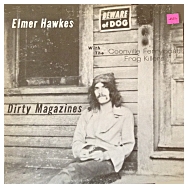 Elmer Hawkes & The Coonville Ferryboat Killers "Dirty Magazines" (Trutone Records, 1973) (LP)


(Produced by Bob Katz) <! engineered >
This is, I believe, the first album by New England-based singer-songwriter Elmer Hawkes, who recorded a handful of albums in the '70s and early '80s, tried his hand at theater, and more recently became a documentary filmmaker, producing travel films for kids. With the cheaply-pressed, seedy-looking cover, I had high hopes for this one, though it proved less of a low-rent twangfest and more of a frantic folkie comedy album, would-be fodder for Dr. Demento, ala Barnes & Barnes. Hawkes seems to have been a self-styled poet-satirist from New England, with a mailing address in Connecticut and tentative roots in New Jersey as well (he eventually settled in Cambridge, MA...) What country twang exists here comes more from the bluegrass side of things, with some decent banjo picking, though that's about it. Hawkes himself sticks to vocals, harmonica and guitar, and the verbiage comes fast and furious in song after song, in a post-Dylanesque fashion... It's all laid on a bit thick, if you ask me, but if you're looking for original under-the-radar '70s counterculture stuff, this could be of interest. I can see some kinship here with rock/folk geek-nerd outsider artists such as Jonathan Richman, although that's probably giving Hawkes a little too much credit... Still, there's a similar cultural thread that can be followed... Post-hippie, pre-punk, wiseass novelty material that's (perhaps deliberately) rough around the edges.


<! Stoned feel similar to Roger Rubin & Rotfree Anderson) > <! LK: not Cambridge - address is Wallingford, Conn. http://www.broadwayworld.com/people/Elmer-Hawkes http://worldstogether.com/about/ - became a documentary filmmaker > <! Elmer Hawkes "Boston Serenade" (Sidestreet Records, 1982) (LP) Elmer Hawkes "Songs For The Stagehands" (Sidestreet, 1983) (LP) B009TT067U Elmer Hawkes "The Incredible Newsboy Slayings" (Black Bear, 1975) (LP) B00410L3F6 Elmer Hawkes "Underdog" (Sidestreet, 1986) (LP) B0050O8N46 Elmer Hawkes/Various Artists "The Songs Of Elmer Hawkes, As Performed By..." (Guayaquil, 1996) (CD) B000PJ5BSW - with Elmer Hawkes, Lui Collins, John Lincoln Wright(!) Barrence Whitfield and others - http://www.highbeam.com/doc/1P2-8381051.html Elmer Hawkes "The Hunchback Of Notre Dame: A Stage Musical" (2000) (CD) B000004CSP >
Dale Hawkins "LA, Memphis & Tyler, Texas" (Bell, 1969) <! - ASIN to Japanese boot >


Louisiana rockabilly pioneer Dale Hawkins was still kickin' it in the '60s and '70s, and on this funky, psychedelic swamp-rock freakout he gets into some pretty deep grooves. Among the backing musicians are roots-rockers, soul players and hippie-rock icons such as James Burton, Ry Cooder, Taj Mahal, Spooner Oldham and Dan Penn, and while the repertoire is groovy, it's really the overall funky, jam-band vibe that makes this disc most interesting. Hawkins and his various collaborators just go for it, getting wild tones and textures from their instruments -- this disc is all about rhythm and riffs, and while I don't think they really connected emotionally with any of the lyrics, they had a ball jamming together. It's mostly a little too John Lee Hooker-ish for me, but it's still a pretty interesting record.


<! - Ry Cooder, Paul Murphy and even Texas Garage Rock legends Mouse & The Traps, swamp r-billy Hawkins recorded an interesting roots rock lp somethin' like Link Wray did in early 70's. With horns, fuzz guitar and mellotron, it was far removed from the classic rockabilly sound he had originally been known for, and almost psychedelic in its swampy, freaked-out grooves. The songs included creative, often bizarre reworkings of Roy Orbison's "Candy Man", Jimmy Reed's "Baby What You Want Me To Do", Mel Tillis' "Ruby, Don't Take Your Love To Town", the Leiber/Stoller classic "Hound Dog" L.A., Memphis & Tyler, Texas was recorded in the three cities of its title, which Hawkins helpfully explains during the opening track ("See what I mean?"). Many notable musicians lent a hand in the recording process - the L.A. sessions featured bassist Joe Osborn and guitarists Ry Cooder and James Burton, the Memphis sessions featured Dan Penn, Taj Mahal, keyboardist Spooner Oldham and The Memphis Horns, and in Texas he was backed by local garage rock band Mouse & The Traps. Despite coming from three recording sessions, it all came together into a fantastic rootsy blues-rock mix, tied together by Hawkins' drawling vocals and his sense of humour. With horns, fuzz guitar and mellotron, it was far removed from the classic rockabilly sound he had originally been known for, and almost psychedelic in its swampy, freaked-out grooves. The songs included creative, often bizarre reworkings of Roy Orbison's "Candy Man", Jimmy Reed's "Baby What You Want Me To Do", Mel Tillis' "Ruby, Don't Take Your Love To Town", the Leiber/Stoller classic "Hound Dog" and a couple of obscure Bobby Charles numbers. >

Eddie Hawkins "Cowboy Memories" (Summit Records)
(Produced by H. Wayne Fox)
I have absolutely no info about this album, except that I saw it at a used book store a while back and thought the novelty album art was funny (it's a picture of the artist -- a big, lanky cowpoke feller -- sittin' nekkid in a tiny tin washbasin, scrub brush in hand...) and I was tempted to pick it up, but thought it was a little too pricey for me, like two bucks or something... Anyway, this fella (who is not to be confused with the gospel artist Edwin Hawkins) seems to have been a rodeo rider in Colorado and Wyoming, and the music is mostly cover tunes, ranging from Hank Williams to other oldies such as "Philadelphia Lawyer" and "Yellow Rose Of Texas." There's one song that might have been an original, "Teardrops In My Heart," but I don't know for sure. I couldn't find any other mention of this guy anywhere else... I'm guessing this came out in the mid-to-late '60s, possibly the early 1970s(?) Apparently pedal steel player Don Buzard plays throughout this album, and adds some pretty tasty licks, with guitarist George Braswell backing him up. Anyone out there have anything to add?


<! - no ASIN 03/10/16 reader e-mailed me: "My father, George Braswell, played guitar on the Eddie Hawkins album "Cowboy Memories". They were close friends and my father played in Eddie's band but I don't remember where. We were in Cheyenne, Wyoming at the time (mid to late 1970's). I was very small but remember Eddie; my last memory is being with him in Reno. He died circa late 1970's early 1980's. Funny, I was visiting my father just last weekend in Oklahoma and we were talking about the album; had it in my hands! Contact my father at sing@sstelco.com to get Eddie's story "from the horses mouth." John Braswell >
The J. Hawkins Band "One Eye Open" (Partying Fools Productions, 1980) (LP)


(Produced by Dave Wheeler)



<! - #LP-XXXX / PFP-185581 - group from Pensacola, Florida - Butch Hancock an "executive producer" - no ASIN 07/11/17 - LK purchased 07/12/17 >


Ronnie Hawkins - see artist discography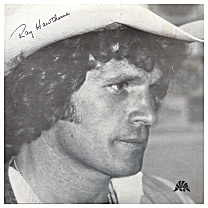 Ray Hawthorne "Ray Hawthorne" (Armadillo Records, 1976) (LP)


(Produced by Joe Bob Barnhill)
Hardcore indie Honkytonk from San Antonio, Texas... Recorded in Nashville with a crew that included Buddy Emmons and Dale Sellers...


<! label above is correct > <! is this a different album, or did I just get the label wrong?: Ray Hawthorne "Ray Hawthorne" (Record Productions Of America, 1976) (LP) >

Billy Hayden & The Country Keys "Last Date -- And Other Country Piano Favorites" (Crown Records, 1966) (LP)


Your guess is as good as mine about this guy's biography, as he was one of the many semi-anonymous musicians who banged out quick-and-dirty recordings for the Crown Records cheapo label. It's possible he may have grown up in Northern California, up past Sacramento somewhere, though that's the only lead I could find. Anyway, his :country style piao" encompassed covers of contemporary hits (like Floyd Cramer's "Last Date") as well as transposed fiddle and dance tunes, such as "Turkey In The Straw" and "Wing Ding." As is often the case with Crown LPs, there's no info on the session, the musicians, or the producer.


<! - #CST-514 / 5514 (stereo and mono versions) - date per bsn Last Date Turkey In The Straw Not So Happy Billy's Tune No Goodbye's Baby Baby Happy Feet Jenny Wing Ding Comin' Home Tonight >

Billy Hayden & The Country Keys "Don't Let The Stars Get In Your Eyes -- And Other Country And Western Favorites" (Crown Records) (LP)





<! - #CST-534 - 1967-? (dc) - 1967 date also per bsn A1 Don't Let The Stars Get In Your Eyes A2 Hand In Hand A3 She Said He Was Her Brother A4 Lost In The Middle Of A Crowd A5 I Need Help With Love B1 They Said It Wouldn't Last B2 Neon Lights And A Juke Box B3 Bottle Built For Two B4 Congratulations, You Win B5 The Waltz You Named For Me - all tracks reissued(?) on Vogue LP #VS 106-3 >

Billy Hayden "Country And Western Favorites Featuring Country Style Piano" (ARA Records) (LP)



<! - #19-2-A/B A1 No Letter Today A2 Fireball Mail A3 Careless Love A4 On The Outside Looking In A5 Country Maggie B1 Piano Country B2 Cotton Fields B3 My Old Kentucky Home B4 Swing Low Sweet Chariot B5 My Heart Paid Twice - from California? May 16, 1932 Woodland Daily Democrat: "...piano duo, Billy Hayden and Nadine Huff----(sp?)..." - from Northern California(???) - son(??) of Mrs. Hayden (per 1932 social column): "...about CO members of Mrs. Hayden's family gathered at the Byms Hayden Ranch near Yolo for a family picnic in her honor...Mrs. Hayden's career as a Yolo county' teacher was the inspiration... "School Days" >

Rudy Hayden & His Golden Nuggets "The 401" (Aragon Records, 1967) (LP)
A Canadian rock pioneer from Manitoba, Rudy Hayden (born Rudolph Clifford Myhedyn) cut one sizzling single in the late '50s for the independent Aragon label... Aragon was apparently still in action a decade later when Hayden -- like many former rockabillies -- had turned to country music for his bread and butter. There's some original material on here as well as chestnuts such as "San Antonio Rose" and "Squaws Along The Yukon," along with reprises of some of his early rock recordings, "Crazy In Love" and the previously unreleased "Rubber Dolly." A featured member of his backing band was fiddler-singer Elmer Tippe, who went on to release several albums of his own and chart some songs in the '70s.


<! - no ASIN 11/30/16 The 401; Foolish Fellow; I Let My Mind Wander; Crazy In Love; I Don't Want Your Love; Rubber Dolly; We've Got More Love; San Antonio Rose; That's The Way; Squaws Along The Yukon; Too Many Kinfolk; Jam'n - b. 1933 >

Jerry Hayes "Tennessee" (Penthouse Records, 1978) (LP)
(Produced by Fred Boyce)
Though he met with little success as a performer, songwriter Jerry Hayes scored several home runs as a composer, notably "Who's Cheatin' Who," which was a chart hit for both Alan Jackson and Charly McClain. He's backed here by members of the Amazing Rhythm Aces and various Memphis studio pros. Hard to track down, but definitely wrorth a spin.


<! - #ST-2978 "...Obscure Memphis, TN based Country Singer-Songwriter Hayes wrote songs covered by Charlie Rich, Alan Jackson, Mark Chestnutt & others. Who's who of Memphis session players include Barry Burton & James Hooker (from Amazing Rhythm Aces, Nanci Griffith) and Ron Easley (brother of Doug of BIG STAR fame). Hayes penned such No. 1 hits such as"Who's Cheatin' Who," that was recorded by Charly McClain and later by Alan Jackson, as well as Charlie Rich's "Rollin' With the Flow" and McClain's "Men." He was a member of the National Association of Recording Arts and Sciences, Nashville Songwriters Association, and he is in the Memphis Songwriters Hall of Fame. Jerry Hayes "Retrospect: 1972-1979" (xxxxxxxxxxxxxx, xxxxxxx) (CD) B000WLC5ZA >
Mack Hayes "Mack Hayes" (Paid Records)


(Produced by Gerald Bennett & Jerrel Elliott)
Texan Mack Hayes went from his teenage garage band into a gig backing Liza Minnelli, then in the late '70s he had a regional hit with "The Twelve Days Of Oiler Christmas," a football-related novelty song that led to a series of similarly-themed singles, and eventually to this country album... and a lot of guest appearances at halftime! (By the way, the album's producers, Gerald Bennett and Jerrel Elliott were part of a notoriously bizarre prog-twang trio in Houston... guess they helped out other musicians as well...)


<! - revised 10/01/17 ...apparently he recorded a second album: Mack Hayes "Mack Hayes" (American Records) > <! year??? >
Sherman Hayes "Catman" (Barnaby, 1973)


(Produced by Dan Lottermouse & Ken Mansfield)
A wildly, weirdly eclectic album with a strong foundation in Capricorn label-esque Southern rock and bright, lavish '70s AOR, with a subtle undercurrent of twang amid the glitzy keyboards and gritty horn charts. Although Hayes was a California boy, his songs had a groovy, laid-back Southern/rural flow, including explicitly in tunes such as "Keepin' To The Backroads" and "South's Gonna Rise Again." I wasn't really sure this would fit into this overview of "hippiebilly" country rock, not right up until the last track, "Country Rain," which has a sweet steel guitar sound lacing through it, and then I was cool. Even without the twang, this is a pretty engaging, enjoyable album, with lots of catchy tunes... certainly worth a spin! (PS: apparently he was actually Sherman Hayes, Jr., and his dad had been a big band musician who was fairly well known in the '40s and '50s... Anyone got more info about either one of them?)


<! B00413GZGK - import CD - OOP in 2014 >
Sherman Hayes "Vagabond's Roost" (Capitol, 1973)





<! B00CIO18QG - Korean import CD - OOP in 2014 >

Sherri Hayes "Words Of Love" (Gule Records, 1981) (LP)


(Produced by Harry Gordon)
I'm not sure where Ms. Hayes was from, though this album was recorded in Hollywood, California, with guitarist Al Bruno anchoring the studio band. The songs are all Sherri Hayes originals except for a cover of a Porter Wagoner/Dolly Parton duet. Her songs include a couple co-written with B. Vera, and others with M. Shoup. There's no fiddle, steel or banjo on here but, hey, you can't have everything!


<! - Hollywood-based label, though sticker is for Wisconsin-based promoter - Sherri Hayse (sic) >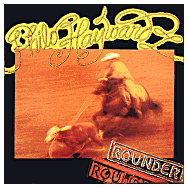 Philo Hayward "Rounder" (Mendocino Records, 1981) (LP)


(Produced by Philo Hayward & Lewis Corelis)
A decent, diverse set of Northern California country from Humboldt County's Philo Hayward, who branched out from a hippie honkytonk foundation to add in some bluesy boogie-country and even some bold countrypolitan aspirations (as on "Pullin' Me Apart"). Other than a cover of Waylon Jennings' "Waymore's Blues," the songs are all originals -- some are stronger than others, and most of them tend to devolve into mellow but amorphous jamming. Hayward wasn't a particularly strong composer, nor did he have a great voice, but this disc does have a nice, authentic NorCal longhair vibe, and includes guest performances by the Grateful Dead's drummer Bill Kreutzmann (who plays on one track) and country-rock pioneer Gene Parsons who plays on three songs, and folkie Judy Mayhan, who sings in the chorus, along with Linda Coolidge (who I believe was Rita Coolidge's sister...) So, maybe Hayward wasn't destined to top the charts or make it big in Nashville, but he did have an interesting story, including his subsequent career running an expatriate bar in Mexico, where presumably he still strums a tune or two from time to time. And here are his early years...


<! all songs are originals except for a cover of "Waymore's Blues" he moved to Mexico and opened a bar: http://philosbar.com/index.html > <! Haywire "Haywire" (Dead Centre Records, xxxxx) (LP) - Canadian(?) - Harry Jorgenson, John Davies, Ian Molesworth, Rick Thomas (?? - names blurry) The Haywire Band - different group? >
The Haywire Band "Silver Wings" (Air Craft, 1983) (LP)


(Produced by Arty Tedesco)



<! - Pittsburgh area band >

Donna Hazard "My Turn" (Pickwick/Excelsior Records, 1981) (LP)


(Produced by Ed Keeley)
Although the title track is actually about sexual reciprocity, it could also reflect on Hazard's career... One of Nashville's best-known backup singers, Donna Hazard sang on countless sessions throughout the 1970s and '80s... This was her first solo album, recorded after years of supporting other artists, and yielded a few modest hits, including "My Turn," which peaked at #45 on Billboard.. The album's a pretty strong effort for the times, the glossy post-disco era when country music edged even further towards a more synthetic-sounding production style. Hazard has a great voice, although here it's mostly used for come-hither, sexy-kitten effect, and many of the the songs wind up being of questionable quality. The opening track, "Love Never Hurt So Good," has a pleasantly rural feel, recalling Loretta Lynn while flaunting some surprisingly frank erotic lyrics. This sexual openness is echoed on the title track as well as on "A Lady Askin," in which the protagonist says, hey I know a lot of guys don't like assertive women, but it's almost closing time and I was wondering if you wanna get lucky tonight. Unfortunately the record winds up being kind of uneven -- some tracks are vigorously produced, others sound a little thin, and Side Two veers into pretty terrible pop territory, with nods towards Olivia Newton-John and ABBA, ending things on a fairly flat note. Around this same time, Hazard also recorded some lead vocals for a prefab band (also produced by Ed Keeley) called the Concrete Cowboy Band, which had a similar vibe but less success on the charts.


<! - unable to find bio info on her 05/08/18 - look up later - also look up Excelsior label - there's a site with real info on them LK: "Hazard generated some buzz as a "new" female singer but was easily overshadowed by Juice Newton, who became a dominant figure in early '80s country..." >
Kevin Head "No Frills" (Shellout Records, 1979) (LP)


(Produced by Kevin Head)



<! - #WRC-1-636 canadian privat-press of rural-free blowin' Country-Folk-Rock album w/full-band sound feat. acoustic- & electric guitars, mandolins, violin, steel-pedal, organ, harmonica, piano; backwoodsy vibes w/ passionate lead-guitar crank and driftwood-rider accordion-colors by Kate McGarrigle on the great "Lady Bessie" >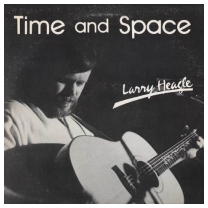 Larry Heagle "Time And Space" (Dog, 1983) (LP)


America's Dairyland isn't my first go-to locale when I'm thinkin' "outlaw country," but Eau Claire auteur Larry Heagle makes a persuasive case for the redneckiness of the cheeseheads in his anti-Texas anthem, "Wisconsin Country Song," one of several novelty twangtunes on this infamous album. Heagle is also known for novelty gems (not on this album) such as 1979's "The Vasectomy Song" and "The Wood Tick Song" ("...you check me, and I'll check you...) Yee-haw, eh?


<! http://larryheagle.com Tracks: Time and Space Windy Morning Summer Sale Between St. Peter and St. Paul Wisconsin Country Song Get off My Highway Takin the Cure Boondock Looney Highball Queen Bits and Pieces > <! Larry Heagle "Irish Heart" (Self-Released, 2003) B0000A984K B0014DM1EK Larry Heagle "Rude, Crude And Poor" (Self-Released, 2003) B0000A984L B00122O1XW >
Jimmy Heap "At His Best" (Crazy Cajun, 1978) (LP)


At some point, Texas honkytonker Jimmy Heap (1922-1977) seems to have fallen on hard times, at least as far as his music career goes... Heap was a leading figure in the Lone Star State's post-WWII country scene, leading his band the Melody Makers from the late 1940s into the 'Fifties and 'Sixties, pushing himself towards the uptempo hillbilly styles that bordered on rockabilly. Heap and his band were still playing in the 1970s, although earlier on he'd kind of bottomed out as a recording artist -- browsing the comedy bins you may find a few scratched-up old copies of the "blue" comedy albums he recorded with Ken Idaho, reflecting the kind of material they performed in Nevada lounges and nightclubs. This album, recorded for Huey P. Meaux's independent label, was a throwback to the good old days, a set of real-deal old country stuff, including versions of "I'll Sail My Ship Alone," "No Letter Today," "Time Changes Everything" and "The Wild Side Of Life," a song he popularized a year or so before Hank Thompson made it a hit in '52. Sadly, Jimmy Heap died in a boating accident not long after recording this album, which was released posthumously, serving as a fine tribute to a hard-country pioneer.


<! - # CC-1105 Side 1: Time Changes Everything; Why Don't You Open the Door; You Don't Love Me; Ain't That A Shame; Let The Four Winds Blow. Side 2: Mathilda; Wild Side of Life; I'll Sail My Ship Alone; No Letter Today; What Am I Living For https://tshaonline.org/handbook/online/articles/fhehc >

Norm Heard "Love And Teardrops" (Penny Records, 1970) (LP)
12-string balladeer Norm Heard was originally from Texas, but in the late '60s and early '70s he played clubs and hotel lounges in Arizona. As far as I know, this was his only album.


<! - country? - no ASIN 06/06/15 - LP says Minnesota, but he was working the lounge scene in Arizona (seen below) - listed in Billboard Jul 18, 1970 as a Penny Records artist - small profile in Billboard Dec 5, 1970 BB: "...Guitarist-singer Norm Heard is the nightly attraction in Howard Johnson's Sundowner Lounge, Tempe" Arizona Republic, June 9, 1967: "...A Gentle Voice . . . The haunting strum of a 12 string guitar . . . By PETE MARINOVICH £ Now We Come to one of this Towns' great Balladeers . . . Norm Heard, the transplanted Texan who gave up an eight-grand-per- annum position with the city of Phoenix to prove his point. His hot, dusty roads, and hard times, style, makes him a great story teller as he strums his 12-string guitar. On from 8:30 p.m. until the last dog is dead, Norm is a wisful man who could make the autumn look like spring. NORM HEARD For an enchanting evening of music RAMADA* SCOTTSDALE" >

Bill Hearne & Bonnie Hearne "Smilin' " (B. F. Deal Records, 1977) (LP)
(Produced by Steve Brogden & Mike White)
Longtime stalwarts of the Kerrville Folk Festival, Bill and Bonnie Hearne were originally from Texas, and lean heavily on local Lone Star talents such as Dee Moeller and Shake Russell, as well as Michael Martin Murphey, recording no few than three of his songs on this album. The title track was written by Bonnie Hearne, but otherwise, these are other people's songs... Backing the Hearnes are folks such as guitarist Larry Nye, bassist Dave Magill and pedal steel player Charlie Holman, as well as album producer/label owner Mike Williams, who adds some harmonies on a tune or two. Later, around 1979, the Hearnes moved to New Mexico, with several other Texas indie types migrating with them...


<! - #BFD-7 - no ASIN 03/19/18 A1 It's So Hard To Find A Smile – Shake Russell A2 The Sweetest Gift – James B. Coats A3 Evangelina – Hoyt Axton, Ken Higgenbotham A4 Boy From The Country – Michael Martin Murphey A5 Don't Cry Blue – Malcolm McKinney A6 Smilin' (Don't Come Easy) – Bonnie Hearne B1 Cherokee Fiddle – Michael Martin Murphey B2 Blue Morning – Wayne S. Kidd B3 Tennesee Green – Michael Martin Murphey B4 Georgetown – Gerry Spehar B5 Tequila After Midnight – Dee Moeller B6 Haul Off And Love Me – Wayne Raney 2:20 Credits Banjo – Louis Jay Meyers Bass – Dave Magill Drums – Tom Howard (9) Electric Guitar, Harmony Vocals – Larry Nye Harmony Vocals – Cassell Webb, Julie Griffin (3), Mike Hearne Harmony Vocals, Producer – Mike Williams (18) Lead Vocals, Acoustic Guitar, Harmony Vocals, Producer – Bill Hearne Lead Vocals, Piano, Harmony Vocals, Producer – Bonnie Hearne Pedal Steel Guitar – Charlie Holman >

Bill Hearne & Bonnie Hearne "New Mexico Rain" (Alpine Records, 1982-?) (LP)


(Produced by David Magill, Michael Hearne, Bill Hearne & Bonnie Hearne)



<! - #AR-101 - recorded in New Mexico, at Kludgit Sound - they thank "The Great American Honky Tonk Band," a town called Red River, and a club called The Alpine - Baird Banner, engineer - they cover Eliza Gilkyson, Ian Tyson, Michael Murphy, and others. Several originals by Michael Hearne, who also sings harmony http://billhearne.com/wp/?page_id=17 "...Bill's professional life began in Austin in 1968. It was there where he earned his first paycheck as a musician and met his future wife, Bonnie Cross. Bonnie's mellifluous east Texas alto fit Bill's picking like a glove. They toured TX, NM, and CO before moving to Red River, NM in 1979 where they became the house act at Chubbie's Tavern. Fellow Texans, Tish Hinojosa and Michael Martin Murphy also moved to northern New Mexico, and Bill & Bonnie found themselves the center of a thriving Americana music community." >

Hearts And Flowers "The Complete Hearts And Flowers" (Collector's Choice, 2002)


This generously programmed 2-CD set gathers together two hippie-era albums (and a hefty dose of outtakes) from California's long-lost, legendary and lamented country-psychedelic band, Hearts And Flowers. The two albums, Now Is The Time For Hearts And Flowers (1967) and Of Horses, Kids, And Forgotten Women (1968) are both goofy and glorious fun. The band was a fixture on LA's sprawling rock scene, pals with the Byrds and all the rest, but they never quite clicked commercially and these 35 songs are the sum total of their in-studio career. Charmingly, the two albums both start with the same song, a brief self-celebratory intonation, "Now Is The Time," written by the band's founder, Larry Murray. Their second album included Bernie Leadon (a future founding member of the Eagles) and a more accessible, though no less silly pop-folk sound, not unlike the more lofty material by the Byrds. This collection is a great time capsule, though in some ways the music was rather visionary, like what Gram Parsons might have made had he been a bit more playful. Anyway, if you like hippie-era freak folk, and are also looking into the roots of the early '70s country rock scene, this is definitely worth checking out.


<! Hearts & Flowers was a Los Angeles folk-rock club band, perhaps most significant as one of the groups that launched the career of Eagles' founding member and guitarist-songwriter, Bernie Leadon.[1] The lineup included Larry Murray (vocals, guitar), Dave Dawson (vocals, guitar, autoharp) and Rick Cunha (vocals, guitar). Leadon replaced Cunha on their second album in 1968. Among venues they played during the mid-1960s, were Los Angeles clubs Ledbetter's, Doug Weston's Troubadour, and the Ashgrove. After recording two albums without major success, the group disbanded in 1968.[2] > <! 144 x 144 >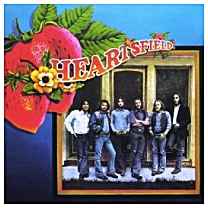 Heartsfield "Heartsfield" (Mercury-Polygram, 1973)



(Produced by David Rubinson)
On their debut, this eclectic, longhaired Midwestern band mixed soft-twang and Southern rock, and even a bit of thumpy folk-rock in there as well that sounded for all the world like England's fabled Fairport Convention (on tracks such as "Drummer Boy") and eventually became known as an early '70s jam-band. Pedal steel player Phil Lucafo brought a more deliberate country sound to songs such as "Nashville" (which he wrote) though an airier country-rock sound predominates, with vocal harmonies and a tilt towards treble that places these guys firmly in the same camp as commercially-oriented bands such as Poco, Pure Prairie League and the Eagles, albeit with a more aggressive, Allman Brothers-y sound on several songs that may have made marketing them a little difficult. The highlight of this album is probably "Needing Her," though the rockin' "Honest Junkie" probably got a few heads banging at their concerts, back in the day. Worth a spin, but very, very 'Seventies.


<! originally from Chicago? progenitors of the jam-band sound >
Heartsfield "The Wonder Of It All" (Mercury, 1974)



(Produced by Tom Geving & Heartsfield)
Nice one. A relaxed, pastoral album, with plenty of flowery guitar work, sweet vocal harmonies and spacy romanticism, with everything on the album's first side melded together into a smooth, slick, multi-layered country-rock production style. There are strong nods towards the Byrds and similarities to contemporary bands like Poco, Pure Prarie League, et. al., although there doesn't seem to have been a strong effort to craft a big radio hit other than the anthemic, CSNY-ish "Shine On," might have had a shot. They dip more overtly into country twang on Side Two, and for my money, the fun really begins when they bust out the pedal steel and get more gosh-heck, singalong about it all, as on "Eight Hours Time" and "I've Just Fallen" and "Lafayette County," while on "Racin' For The Sun" they bust almost unexpectedly into a Southern rock-flavored solo-swapping interlude that probably gives a good idea of what their in-concert jam-band sound was like. I guess I'd have to rank this one as a guilty pleasure, maybe not an A-list guilty pleasure, but still pretty easy on the ears... Certainly, for fans of '70s-era soft-rock, this album's a doozy.
Heartsfield "Foolish Pleasures" (Mercury, 1975)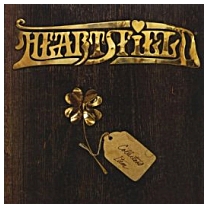 Heartsfield "Collector's Item" (Columbia, 1977)



(Produced by David Rubinson, Jeffrey Cohen & Fred Catero)
Although this album shows them having near-perfected a soft-pop/country-rock sound similar to Eagles, Little River Band and Michael Martin Murphey, there's also an unfortunate tilts towards more direct rock and pop, producing actively irritating sonic disasters such as the disco-ish "Another Night Alone," the faux-epic "Lost Love" (which feels a little like late-'70s CSN, particularly in the harmonies) and the would-be AOR anthem, "Let The Music Play." I think Heartsfield had a pretty good run up until this point, but things were starting to go a little Spinal Tap on them, and twangfans are best advised to pick out the more country-sounding songs (which are okay) and leave the rest of it alone. "Southern Girl" and "With These Tools" are country-oriented highlights.


<! recorded in SF(!) >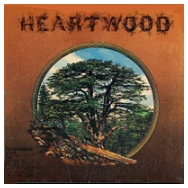 Heartwood "Heartwood" (General Recording Corporation, 1973) (LP)


(Produced by Lew Childre & Mike Collins)
A groovy, sometimes galloping mix of boogie rock and uptempo hippie twang, ala New Riders Of The Purple Sage, from a rootsy, rockin' band out of Greenville, North Carolina. Lead singer Tim Hildebrandt was the band's primary songwriter, giving his songs lofty titles like "Walter Mitty" and "Wants And Needs," while drifting into cosmic-spacy territory on a tune or two, notably on the Byrds-y "Show And Tell," which features some nice harmony vocals. (Drummer Robert Hudson contributes one song, the twangy "Coal Black Highway" -- otherwise, it's all Hildebrandt material...) Paul Hornsby's influence comes out on "Mr. Simpson," which sports classic Allman-esque Southern-rock twin guitars... This album takes a couple of listens to really get into, but it holds up pretty well.


<! Band from Greenville, NC - first album was originally issued as an indie, then re-recorded for GRC - >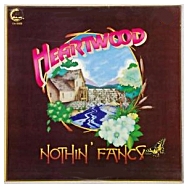 Heartwood "Nothin' Fancy" (GRC, 1975) (LP)


(Produced by Paul Hornsby)
What promise they showed on their eclectic debut, Heartwood pretty much blows on this smoothly-produced but aesthetically uneven mix of country, white funk and '70s-style soft-pop... The pedal steel that slinks throughout the album is pretty sweet, but a lot of these tracks are pretty goddawful cheesy. Like, really embarassingly bad 'Seventies stuff, in a Seals & Crofts-meets-Mac Davis kinda way. At their best, they sound a little bit Eagles-y, and I don't mean that as praise. The better stuff comes from Tim Hildebrandt, who still wrote a few country-flavored tracks, but mostly this album seems like a misfire, aiming for slick pop hits which just weren't going to materialize. Nice pedal steel work on "Sound Advice," even though the song itself is another dud... This one's pretty skippable, though if you're super-devoted to soft Southern rock and '70s country-rock, I guess it's worth checking into. I tried it out, but didn't think it was a keeper.
Tusco Heath "Cross Roads" (Rimrock) (LP)





<! - RLP 478 Private LO-FI Arkansas - label is from Concord, Arkansas but Heath's address is in Petoskey, Michigan - LOOKS like a honkytonk album, but appears to be some kind of freak-folk thing - several other albums >

Tusco Heath "My Kind Of People" (Rimrock) (LP)

Tusco Heath "Songs Of Love And Bloodshed" (Old Homestead) (LP)


(Produced by Gig Stewart)



<! - #OMH-80003 - Tusco Heath on 12-string guitar, vocals - Dale Reiger, second guitar "...Unusual Northern Michigan artist who is a teacher by trade. He writes and plays 12 string guitar, autoharp, banjo, and steel. This album contains all original material. " >

Walt Heath "...And The Pinetones" (Soundcraft, 1964) (LP)
Some real-deal hillbilly stuff from a band that featured Walt Heath on vocals, Lucky Shore on steel, Chuck Young (lead guitar) and Eddy Fisher on bass... I think they were from Mobile, Alabama, though info is pretty spotty and hard to find...


<! - autographed 1964 - no ASIN 04/25/15 also: - Cambridge Mass(?) >

Walt Heath & The Pinetones "Entertain Country Style" (Soundcraft) (LP)
This was the same band... possibly the same record as well?


<! - #SA-296 XTV-94538 >
Joe Heathcock "...Sings Western Swing" (Artco, 1973) (LP)


Actor Joe Heathcock (1914-1980) was apparently pals with country legend Roy Acuff, and when Acuff turned down the role of the sheriff in the 1971 film, The Last Picture Show, Heathcock got cast instead... Capitalizing on that success, Heathcock recorded this album, billing himself as "the singing sheriff" and rolled through a set of honkytonk and western swing standards. He had a great band backing him, and although (to be honest) Heathcock didn't have a dazzling voice, this is a pretty solid set of country tunes. He also released at least one single on the L. O. Cowpokes label, though I'm not sure if that was before or after this album came out. Anyway, fans of the western swing revival might want to check this one out... the pedal steel was particularly good!


<! - single produced by Oren Barrett, in Nashville. Includes Jimmy Bryant's "Bob's Rose" >

Jerry Hegarty "Help Me Momma" (ASI Records) (LP)


(Produced by Jerry Hegarty & Dan R. Holmes)
Singer-bassist Jerry Hegarty hailed from Minneapolis, fronting a mostly-covers band, singing lesser-known songs by Doug Kershaw, Red Lane, Willie Nelson, Jimmie Rodgers, Jerry Jeff Walker and others. There's only song credited to Hegarty, "You Look So Much A Woman," with another song credited to lead guitarist Neil Gelvin, the title track, "Help Me Mama." No steel guitar or fiddle, but we'll forgive them, just this once.


<! - #CPO-197 - original songs published by Tektra Music >


Levon Helm -- see artist profile




Brice Henderson "Brice Henderson" (Union Station Records, 1983) (LP)


(Produced by Scott Tutt)
Top Forty-oriented stuff from a guy who found some success as a Nashville songwriter, notably for a gospel song that Kenny (Sauron) Rogers recorded many years later. Although this debut album was secular, Henderson later specialized in Contemporary Christian/country gospel music, recording several albums in that style.


<! - Nashville indie - - Nashville label - recorded several other albums Tracks: Midnight Rain, Lovers Again, She Still Has That Hold On Me, Chains, Crossing the Love Line, Our Song On The Radio, Flames For What I'm Not, Lonely Eyes, Heart To Heart >

Kelvin Henderson "Slow Movin Outlaw" (Windmill Records, 1975) (LP)
(Produced by Gordon Smith)
In the album title, English country-folk singer Kelvin Henderson claims allegiance to the outlaw movement, but he concentrates his fire on more sedate, countrypolitian hits of the day, early '70s stuff like "Games People Play," "Jeannie's Afraid Of The Dark" and "Help Me Make It Through The Night."


<! - also: Chevron, 1977(?) reissue? -CHVL 036-UK - English country pop A1 Why You Been Gone So Long A2 A Restless Wind A3 Help Me Make It Through The Night A4 Jeannie's Afraid Of The Dark A5 Games People Play A6 Mona B1 Joe, Don't Let Your Music Kill You B2 In The Shelter Of Your Eyes B3 We Had It All B4 Son Of Hickory Hollers Tramp B5 Slow Movin' Outlaw B6 Sundown Bass, Harmony Vocals – Dave Gould (2) Drums, Harmony Vocals – Alan Homes Harmony Vocals – Jeannie Denver Lead Vocals, Acoustic Guitar – Kelvin Henderson Pedal Steel Guitar – Pete Wilsher* Piano, Organ – Al Saxon Producer – Gordon Smith Rhythm Guitar, Electric Guitar, Acoustic Guitar – Stewart Barnes >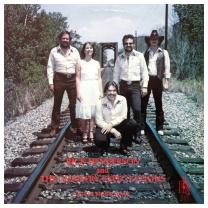 Rick Henderson & The Country Expectations "On The Right Track" (Rome Records) (LP)
(Produced by Rick Henderson & Jack Casey)



<! - no ASIN 01/22/15 >

Tim Henderson "Waiting For The Naked Girl To Call" (B. F. Deal Records, 1978) (LP)


(Produced by Mike Williams)



<! - Austin Singer/Songwriter >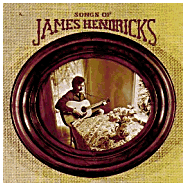 James Hendricks "Songs Of James Hendricks" (Liberty/Soul City, 1968) (LP)



(Produced by Johnny Rivers)
An odd record with an complicated back-story. Born in Nebraska, songwriter James Hendricks was at the heart of the East Coast folkie/jug band scene, but he was a sort of perpetual also-ran, despite working with several big stars. In 1963 he married singer Cass Elliot, working with her and Tim Rose in a short-lived folk trio called the Big Three, which morphed into a jug band formed with John Sebastian and other musicians who went on to huge fame. Sebastian and guitarist Zal Yanovsky formed the Lovin' Spoonful, while Denny Doherty and Cass Elliot gravitated towards the equally successful Mamas & Papas. Hendricks never hit the bigtime himself, although he did write a Top 20 hit for Johnny Rivers, and later found success as a Contemporary Christian songwriter. Rivers apparently took Hendricks under his wing to produce this semi-psychedelic, idiosyncratic folk-country-pop album. The studio crew includes a lot of hot session players, such as Pete Drake, Jerry Reed and a little bit of dobro playing by James Burton, who at the time was anchoring Elvis Presley's band. It's not a terribly distinctive record, but it's pleasant to listen to, and it's very much of its time. Worth checking out.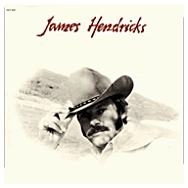 James Hendricks "James Hendricks" (MGM, 1971)


(Produced by James Hendricks)
It took me a little while to warm to this record... Here, Hendricks is much more clearly in a country mode (though also still rather folkie-sounding), wearing a cowboy hat on the cover and adding Buddy Emmons steel guitar into a mix that again includes guitarist James Burton, along with his TCB bandmates Jerry Scheff and Ronnie Tutt, the core of the Elvis Presley band, who give this record an air of cool, solid confidence. What takes a while to get used to is the thinness of Hendricks' voice, which doesn't seem to match the material, but after you ride with it a while, he'll win you over. A couple of the more languid, relaxed tracks have soft string arrangements which, for all the world, make this sound a little like a "country Nick Drake" album. This get interesting on Side Two, where he delivers some more uptempo, almost twangy material, covers a Hank Williams oldie, and closes out with nice version of Jimmie Rodgers' "Blue Yodel No. 10." An album highlight is a heartfelt performance of the classic gospel hymn "Softly And Tenderly," which presaged his later move into Contemporary Christian songwriting. Hendricks released a lone country single a few years later, but this was about it for his career as a recording artist. A nice, subtle record -- doesn't reach right out and grab you, but it's a solid set.


<! LP ASIN: >

Audie Henry & Gord Henry "By Request" (Broadland Records, 1975) (LP)
(Produced by Gary Buck)
Well, Ms. Henry certainly has a colorful and surprisingly cosmopolitan life story for a country singer... Originally named Aria Lanka, she was born in Brazil, the daughter of Latvian refugees who fled to South America at the start of World War Two, but soon moved to Canada when she was still a baby. As a young woman, she started singing in clubs around Ontario, and formed a duo with singer Gord Henry, who she eventually married. They recorded this album as well as a few singles, with some modest success on the Canadian country charts. The Henrys eventually moved to Bedford, Texas, with Audie Henry recording a couple of albums with Lone Star producer Bart Barton, although most of her promotional push (and chart action) was up in Canada.


<! - gal singer, with a thin voice - did Gary Buck really produce this one? or just her singles? - no ASIN 01/29/17 I'm not sure if Gord Henry also released any solo stuff under his own name... >

Audie Henry "Audie Henry" (Canyon Creek Records, 1985) (LP)
(Produced by Bart Barton)
After a ten-year hiatus, Ms. Henry returned to the studio and made a stab at some would-be Top 40 material, with relatively glossy production... This includes the song, "You'll Never Find A Good Man Playing In A Country Band" -- apparently she had some success on the Canadian charts with this album and the one that followed, though on later recordings she pitched herself as a Texas artist...


<! - no ASIN 01/29/17 >

Audie Henry "Heart Of The Country" (RCA-Canada, 1989) (LP)
(Produced by Bart Barton)



<! - no ASIN 01/29/17 http://www.45cat.com/biography/audie-henry >
Hank Henry "Rainy Nights" (Tall Dog, 1984)
(Produced by Simon Shrimpton-Smith & H. Hank Henry)
Well-meaning but ultimately underwhelming honky-tonk retro from Belgian country singer going by the name of H. Hank Henry. All the songs are Henry originals, with a couple co-written by others, including a tinkly ballad sung with Jeanne Henry, a vaguely Emmylou-esque singer who I assume is his wife(?)... He gets the American rural accent mostly right (reminds me of Terry Allen at times) but the band's a little sluggish and they never get loose enough to really draw you in. Technically accomplished, but the gritty feel and hillbilly swagger isn't really there. Worth checking out if you're into Euro-twang, but don't get your hopes too high.


<! - no ASIN 01/01/13 >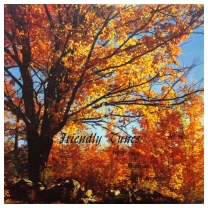 Henry, Thomas & Arnold "Friendly Tunes By..." (Mark Custom Records, 1970-?)


An unassuming set of old-timey tunes, polkas and waltzes by three guys from North Dakota. The driving force of this trio was middle-aged Bismarckian singer-guitarist Arnold S. Christianson, who was joined by Mandan, ND's Henry Bertrams ("the mandolin playing shoemaker") and a younger feller, Thomas Johnson, from the Northern outpost of Rolette, ND. There are some sentimental songs on here, though mostly this is an instrumental showcase, less of a hillbilly record than an example of ultra-DIY recordmaking in the rural high plains. One thing definitely worth noting, though, is Johnson's use of a Norwegian hardanger violin, an instrument that found revived popularity in the 21st Century, but was pretty darn obscure back when this record was made... Well, unless you were playing square dances up in Bismarck, that is!
Gene Henslee "The Boy From Turkey Texas (As I Remember Him)" (Billiefran Records, 1975) (LP)


(Produced by Jerry Abbott)
A western swing tribute to Bob Wills from fellow fiddler Gene Henslee, an Oklahoma native who began his recording career in the early 1950s and had moved to Texas long before cutting this disc. The album includes several original songs, including "The Boy From Turkey Texas," "Nobody's Done It Like Bob" and "I Cut My Teeth On Good Old Western Swing," all written by Henslee, as well as covers of several Wills-related classics. Producer Jerry Abbott sits in on piano, along with Bobby Boltright and Tommy Camfield on fiddle, Gerry Hall playing steel, and a couple of Henslees in the band for good measure. This outlaw-era album has the added benefit of references in the lyrics to young'uns like Waylon and Willie, Asleep At The Wheel, and other contemporary Texas stars.


<! - #GH13 - d. 2007? - "Teeth" namedrops Waylon and Willie >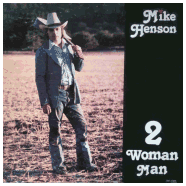 Mike Henson "2 Woman Man" (Wednesday's Child Productions, 1977) (LP)


(Produced by Jackie Mills)
An interesting, commercially-leaning but way off-the-radar indie album from the son of West Coast hillbilly singer Cousin Herb Henson, a television host and radio personality who helped promote many of the key players in the fabled "Bakersfield Sound" scene. This album was recorded over a decade after Herb Henson passed away, and it has to be admitted that Mike's voice wasn't the greatest, although mostly he does fine, aided in part by a studio crew that included hotshot guitarist James Burton (again along with fellow TCB-ers Jerry Scheff and Ronnie Tutt...) as well as David Lindley, playing both fiddle and lap steel. The real story here seems to be with the songs: the album opens with the Waylon-esque "Swamp Water Woman," and includes one track apiece from Billy Mize and Alexander Harvey. But what's most notable are a couple of songs written by Lyle Sweeden (never heard of him) and several by the duo of Gene and Paul Nelson, who became successful Nashville songwriters over a decade later, in the late '80s. Gene Nelson also sings backup on the record, and it's conceivable that this record was financed as kind of a glorified songwriter's demo -- it certainly seems to have been put together pretty hastily, as seen in the liner notes which amazingly manage to misspell the names of country stars Lefty Frizzell, David Houston and Jody Miller... And I'm fairly sure that the "Kathi Sagol" listed as a backup singer was actually Katey Sagal, who later became the star of "Married With Children" and "Sons Of Anarchy." Go figure.


<! ...while the title track is a Brill Building novelty number from Barry & Mann... (?? this true? I could find no info about the song online) >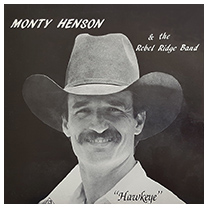 Monty Henson "Hawkeye" (Arrowhead Productions, 1987) (LP)


(Produced by Rick Harper & T. A. Hixson)



<! - Henson was also on the "World's Champion Cowboy Band" album -- B00D0G56SW - rodeo rider? - recorded in San Antonio Texas - Gig Wharton, pedal steel - a mix of cowboy songs and western swing oldies - & The Rebel Ridge Band >


John Herald - see artist discography




Curly Herdman & The West Virginia Boys "Old-Time Fiddle Tunes" (Arcade Records, 19--?) (LP)



<! - #CR-LP-1002 - no ASIN 01/18/17 - band includes Tom Dononhue, Mac Justice, Jack Turner and Gene Woods >

Curly Herdman "Fiddler: Ohio State's Best" (Kanawha Records, 1967) (LP)
Old-time fiddler Curly Herdman was born near Ripley, West Virginia, way back in 1918... He came from a rural family packed with fiddlers, and quickly mastered the instrument as a child... While still in his teens he started playing professionally, getting gigs on WSM, the Renfro Valley Barn Dance and other regional radio shows, while working a day job with the Pennsylvania Railroad Company. Herdman worked with the Bar-X Cowboys and the Georgia Crackers, and won numerous fiddling contests over the years. He eventually settled down in Ohio, and cut this album of old-timey standards with his brother Troy Herdman on guitar, along with brothers Bob Tanner on mandolin and Joe Tanner on banjo. Although the album includes many standards such as "Old Joe Clark" and "Turkey In The Straw," there are also several tunes credited to Herdman, including "Meig's County Reel" and "Rocus's Reel." Just before recording this album Herdman won a stunning victory in the Ohio State fiddling championship, beating the legendary Clark Kessinger, who was one of his idols. Sadly, he passed away the following year, in 1968, having recorded just two albums as well as a number of 78s and 7" singles over the years.


<! - no ASIN 01/18/17 http://www.beebalmmusic.com/curley_herdman.html >
Marv Herzog "Country" (Sound Incorporated, 1978) (LP)


This one's a little far afield for most twangfans... It's a (sort of) country album by polka bandleader Marv Herzog, who had about a dozen albums under his belt by the time he recorded this one, mostly lauding German-American culture and the joys of Oktoberfest. To be honest, most of the songs on here are still just plain old polka tunes, with Herzog chugging along on both accordion and cordovox, backed by a compact trio of guitar, bass and drums. On the country side, he performs instrumental versions of "San Antonio Rose" and the Kenny (Sauron) Rogers 1977 hit, "Lucille." There's also a curious vocal version of "Before The Next Teardrop Falls," which is probably the album's highlight, at least from a twangfan's perspective. Side note: this album appears to be from the late '70s, though Herzog kept playing for years and years, and was still working professionally in 1991, when he opened his own Bavarian-themed hotel in his hometown of Frankenmuth, Michigan, a tourist town near Saginaw that caters to Germanophiles and polka lovers alike.


<! - 1977-? '78-? - some sites say '78 - "Lucille" was a hit in '77 >

Jerry Herzon "...Sings Whipporwill" (Merit Records, 1966) (LP)


A middle-aged fella who had moved to Southern California, Jerry Herzon recorded this album in his home studio in Covina, California. All but two of the songs are Herzon originals, with covers of "Pearly Shells" and "Beyond The Reef" sandwiched in with his own, country-flavored tunes. Apparently this is just Mr. Herzon playing solo, but with overdubbing on some tracks to achieve a bigger sound.


<! - #LP-104 - Illinois native, living in Covina, California - date written out in Roman numerals - MCMLXVI >
Dave Hess & Nick Platt "The Country Team" (Crown Records-Hong Kong, 1968) (LP)


This one's farther into the whole bluegrass-folkie thing than I'm really looking for here, but the story was too good to pass up. Banjo picker Dave Hess and guitarist Nick Platt were diplomats serving as Foreign Service officers in Hong Kong when they decided to form a folk duo to pass the time. Their repertoire was pretty cool: a mix of Appalachian standards -- murder ballads and whatnot -- country oldies like "Satisfied Mind," some Dylan, and perhaps most interestingly, a couple of Chinese folk tunes, "Yao Yuan Ti Tifang (The Girl With The Scarlet Whip)" and "Ma Che Fu Chih Lien (The Teamster's Love)" as well as one original written by Hess, called "Chilly Spring Evenings." I guess the moral of the story is that, yes, you actually can get a banjo into Hong Kong...provided that you have a diplomatic pouch to carry it in!


<! The Hong Kong tours of Foreign Service Officers Nick Platt and Dave Hess overlapped for eight months in 1967-1968. In their spare time, they developed and performed in numerous concerts and TV appearances a unique repertoire of Chinese and American folk songs. Here are the most popular of these, as recorded July 1968 at Crown Records, Hong Kong. Playlist includes: Yao Yuan Ti Tifang (The Girl with the Scarlet Whip); Trouble in Mind (a classic country blues); Pretty Polly (A Scotch-Irish tale of terror kept alive in the Appalachian mountains); Greenland Whale Fisheries (A jolly New England fo'csle ballad about tragedy at sea); Long Time Man (Alan Lomax found this song at a Texas prison); Ma Che Fu Chih Lien (The Teamster's Love); The River is Wide (An old love song from the British Isles); The Times They Are A'changin (Bob Dylan's modern prophecy in an original Elizabethan musical setting); Cripple Creek (A mountain hoedown. Dave Hess' five string banjo was an entirely new experience for Hong Kong audiences); Chilly Spring Evenings (Dave Hess sings about his wife and daughters); Satisfied Mind (A Nashville product from the forties that sold millions); Country Girl (Nick Platt learned this bitter blues from a Navy oiler on a US aircraft carrier visiting Hong Kong. The haunting accompaniment is picked claw-hammer style on an open D tuning.); Young Girl (This is a female version of "Streets of Laredo"); The Eggplant that Ate Chicago (Dave's revenge, with Kazoo obligato); Railroad Blues (an intricate "criss cross" instrumental arrangement for two six-string guitars); The Old Sow (An old family madrigal first heard on Bluebird records in the thirties. This is Platt's revenge, with unidentified obligato). >

Ron Hester "Caprock Country Music" (Caprock Records, 1980-?) (LP)
(Produced by Lloyd Maines & Don Caldwell)
A West Texas local from Silverton who played in '60s frat-rock bands as a kid, Ron Hester went to nearby Lubbock to record this album at Lloyd Maines' Caldwell Studios. Backing him are members of the Maines Brothers band -- Donnie Maines on drums, Kenny Maines playing bass, Lloyd Maines on all kinds of stringed instruments, along with Monte Williams on piano and Richard Bowden on fiddle, and a few other dudes. Hester apparently led a band called Caprock Country, and this album seems packed with originals songs (and a few covers) including tunes like "Why Didn't I Say I Love You," "Two Dollars In The Jukebox," and "Country Music Losing Songs." Judging from the matrix number (#82880) it looks like this was recorded in the summer of 1980, and released either that year or maybe early in '81.


<! - #82880 - no ASIN 06/01/16 - pix available - from Lubbock -- with Donnie Maines, Kenny Maines, Lloyd Maines, Monte Williams on piano and Richard Bowden on fiddle "Hester, Ron / __from: Silverton, Tx...../ key member: Ronnie Hester-vocals & guitar /optional name: Caprock Country..../ recorded where: Caldwell Studio, Lubbock, Tx /...possible recording date: c.1980..../ album release date: 1981.../ Label: Caprock Records...../ Album title: 'Ron Hester: Caprock Country Music' / Note: The backup band for this album was the Maines Brother's Band of Lubbock,TX. For more information about Ronnie Hester refer also to entries #33 , #74 and #173" - Hester was in a frat band calle the Gemini Five, 33. Caprock Country__/ from: Silverton, Tx..../ key member: Ronnie Hester-vocals & lead guitar..../ other members: Ricky Hester-guitar, Ted Hester-fiddle, Tim Mathews--drums / later members: Connie Purcell Smith-bass & vocals, Lynn Smith-drums.../ active: c.1970-80's.... >

H.E.W. "H.E.W." (Jam Records, 197-?) (LP)


(Produced by Jerrel Elliot)
Three guys from Houston, Texas -- Pat Hamilton, Jerrel Elliot, Clark Walter -- doing sort of a folkie, singer-songwriter thing, with some country touches. Elliott and Walter were later in the better-known trio of Elliott, Walter & Bennett, which had several albums in the late '70s, also on the Jam Records label.


<! - sound engineers: Roy Prince & Charles Weems - #Jam 101 >

Cecil Hiatt "Cecil Hiatt" (Double Stop Records, 198--?) (LP)
(Produced by Byron Berline)
Oklahoma old-timer Cecil Hiatt (1912-1994) was a modestly endowed vocalist and a real wizard on the low-tech percussion instruments known as "bones," short sticks made of either bone or wood that are clattered together at lightning speed to add a bright rhythmic pizazz to acoustic stringband music and blues. Haitt plays the bones and sings on this low-key set of sentimental oldies, gospel and novelty tunes and lilting instrumentals. He's joined by a bluegrass band including Dan Crary on guitar, John Hickman and Tom Sauber on banjo, Carol Yearwood on bass and Byron Berline playing fiddle and mandolin. This album was a labor of love for Berline, whose father, Lue Berline, played with Hiatt in a Depression-era stringband called the South Haven Ramblers, which did shows along the Kansas-Oklahoma border, including several shows at the fabled 101 Ranch in Ponca, Oklahoma. This album is one of those sweet, relaxed outings with younger musicians paying homage to old pros who never really got their due (in Hiatt's case, he had never made a record before, despite decades playing on the regional dance circuit). The accompaniment is sympathetic and restrained while also sleek and virtuosic, and the material is pretty classic. Several songs are prefaced by spoken introductions in which Hiatt explains his instrument and its history, as well as his philosophy of musical collaboration... Standout tracks include an instrumental called "Jaw-Bone Breakdown," which features Okie singer-songwriter Bill Caswell playing the jaw-harp, and the topically-themed "What Are Ya Squakin' About," in which Hiatt lambastes naysayers and negative thinkers who think they know what hard times are like, comparing their complaints to the rough lives of rural farmers -- the song also has a couple of verses making fun of feminists, wryly pointing out how all their new-fangled equality and whatnot comes at the expense of gentlemanly courtesies such as having doors held open and hats tipped on the sidewalk. That'll learn ya! All in all, a really nice, down-to-earth album, with a very authentic rural feel.


<! - #DS-101 - no ASIN 01/10/17 - Cecil Hiatt (b. 1912-1994) - with BCH (Berline-Crary-Hickman) - "Lue Berline" is the right spelling A1 Sail Away Ladies A2 Soldier's Joy A3 Leave The Pretty Girls Alone A4 Soppin Gravy A5 Poor Man's Heaven A6 Cripple Creek B1 Flop Eared Mule B2 What're Ya Squakin' About B3 Under The Double Eagle B4 Lamp Lighting Time In The Valley B5 Jaw Bone Breakdown B6 Just A Closer Walk With Thee >


John Hiatt - see artist discography





Dan Hicks -- see artist profile



Hickory "Wahoo!" (Country Kitchen Records, 1976) (LP)


(Produced by Paul Eakin, Paul Mullins & Hickory)
A longhaired bar band from Houston, Texas, this group featured lead vocals by Peter Breaz and his wife, Marcia, who also played keyboards. A strong debut musicically and in terms of the diverse, adventurous repertoire, although in all honesty I gotta say the vocals are a little hard to take at times. Both Marcia and Peter had their weak spots as singers, although they also emanate gtreat energy and enthusiasm, so it's kind of a mixed bag. The musicianship is otherwise rock-solid, with some swell banjo picking and pedal steel throughout, punching up a song selection that incorporates a nice mix of covers and new material... Hule Wyrick's mellotron keyboard riffs on the opening track are a real surprise as well, though the bands hews to a more traditional sound on the rest of the record. A noteworthy album from the heyday of the Texas outlaw scene... definitely worth a spin!


<! http://www.ironhorsetheband.net/peter.htm "The Reason Is You" >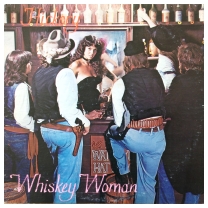 Hickory "Whiskey Woman" (Country Kitchen, 1978) (LP)
(Produced by Jeff Wells & Paul Eakin)
On the western swing-oriented songs they are very much in the style of Asleep At The Wheel, though admittedly not as musically accomplished, or as well-produced. Their stylistic range is pretty broad, though, and on Side Two of the album they include are folksongs such as Ian Tyson's "Someday Soon," as well as bluegrass standards like "Ruby" and the outlaw-cosmic twang of "The Weight" by The Band. On this last song in particular, there's a weird tendency to ham things up, which may have been a reflection of their stage show at the time, but it doesn't hold up on record. The real sizzle here comes on Side One of the album, which showcases a half-dozen originals written by bandleader Peter Breaz... Marcia Breaz also sings lead on some songs, and Chris Breaz (who later left the band) is on pedal steel.


<! Side One is all originals by Peter Breaz; Side Two has a lot of covers >

Hickory "Truck Stop Annie" (Country Kitchen, 1980) (LP)
(Produced by Paul Eakin)



<! - all original material(?) "Boilermaker," "Livin' On Whites And Reds," "Bartender's Ladies" and "Truckstop Annie" >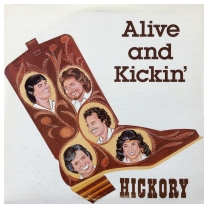 Hickory "Alive And Kickin' " (Country Kitchen Records, 1983) (LP)
(Produced by Paul Eakin & Hickory)
On this concert album, Hickory are captured in their natural state. To be honest, this album's a little clunky -- poorly recorded, mostly, but also with some awkward musical passages. But I think this record probably paints an honest picture of what these guys were like, an earnest band, joyful in their musicmaking, but unevenly talented. Pickers Peter Breaz (bass and banjo) and John Haas (dobro and pedal steel) were the band's anchors, with vocalist Marcia Breaz being perhaps their weakest link, with her bluesy leads reflecting the Texas roadhouse sound, reminiscent of gals such as Marcia Ball and Lou Ann Barton, but at a more amateurish level. This album is all cover tunes, rock, soul and country-rock classics such as "Desperado," "Glendale Train," "Pretty Woman," "Not Fade Away" and "When A Man Loves A Woman," as well as extended tracks at the end of each album side -- a cover of Pure Prairie League's "Amie" and a rock-oriented medley of old Buffalo Springfield hits. This ain't the greatest Texas outlaw album ever, but it's charming in its own way -- an authentic record of its time, and a nice echo of earlier bands like Greezy Wheels, or Frida and The Firedogs. Worth a spin, if you can track it down.
Hickory Hill "Coyote Night" (Hickory Hill, 1982) (LP)
Founded in 1979, Hickory Hill has proved to be one of the the Lone Star State's most enduring bluegrass bands... A longhair band hailing from Avinger, Texas, the group has held together for over thirty years, gaining national recognition over the years, with various changes of personnel and a repertoire that has mixed traditional and original material, as well as healthy doses of "outlaw" and "progressive" cover songs... This was their first album.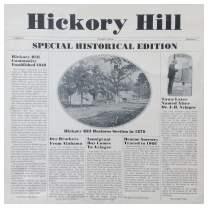 Hickory Hill "Special Historical Edition" (Hickory Hill, 1983) (LP)
(Produced by Hickory Hill & Jim Phillips)



<! - mostly (all?) cover songs - bluegrass(?) with an outlaw subcurrent in the repertoire... - Tom Russell listed as Executive Producer >
Hickory Hill "It's About Time" (Hickory Hill Records, 1985) (LP)

Hickory Hill "Reminiscin' " (1990)

Hickory Hill "Good Times Again" (1998)

Hickory Hill "Thank You Lord" (2000) (LP)
An all-gospel bluegrass set...
Hickory Hill "The First Fifteen Years" (Turquoise, 1995)

Hickory Hill "Freedom" (Nashville InCorrect, 2002)





<! Joe Ross: "Freedom," is the band's eighth recording... Today, the band features John Early (guitar), Don Eaves (banjo), Bob Stegall (bass), and Wes Perry (mandolin). On "Freedom," Mike Tucker picks mandolin on four tracks, and special guest Milo Deering lays down some high-lonesome fiddle and dobro. >

Hickory Hill "Old School" (2006)





Hickory Wind "Cow Jazz" (Village Records) (LP)
Not to be confused with the hippie bluegrass band of the same name, this late '70s(?) trio from New Jersey was led by guitarist Frank Wright, who wrote most of the music on Side Two of the album, which was recorded in the studio, while Side One was recorded live at a club called the Top Of The Hill, in Sommerville, New Jersey. I guess their thing was playing country material in a jazzy style, so the live show featured them jamming on covers of songs like "Sugarfoot Rag," "Wabash Cannonball" and "I Washed My Hands In The Muddy Water" and, of course, yet another version of "Up Against The Wall, Redneck Mother." (Hmmmm... it's beginning to occur to me that maybe I should start a list of '70s bands who recorded that song...)


<! date?? unable to find > <! - no ASIN 03/05/15 >
Jack Hickox "I've Got The Time" (Record Productions Of America, 1976) (LP)


(Produced by Earl Richards & Lee Lodd)



<! - over half the songs (7 0f 13) were written or co-written by Bill Emerson - #RPA-SP-1001 >

The Hicks Family "Down Country Roads" (1970-?) (LP)
Looks like the dad, Olan Hicks, was a pedal steel player, and got all his kids interested in music as well, while handing the mic to his wife Barbara. Chuck, Clint and Jean Hicks round out the ensemble... Not sure where these folks were from since the album has even less info than usual for a custom-made record -- the back cover is blank, and the inner labels only have the band name and song titles. Chuck Hicks also recorded a single in 1971, "I Ain't Cryin,' Mister"/"The Happiest Way," which gives Dayton, Tennessee as the home of Olan Hicks Productions, so they may have been from around Chattanooga. (Sadly, neither of those songs are included on this album, which favors covers such as John Denver's "Country Roads" and Johnny Russell's "Making Plans.") Music was Mr. Hicks second occupation: he has been a prominent writer in the "Restoration Christianity" movement, and has written or co-written several religious tracts on a variety of topics.


<! http://www.olanhicks.com - LKay wrote 02/06/17 w/ questions about record, band - 02/25/17 got a reply: "Larry; The recordings you mentioned were private home recordings, not published. The tapes were made in our living room. We had just a few copies pressed for our own use and to give some to friends. We are not certain of our memory as to the year but we think it was 1970. Regards; Olan Hicks" - the same:? The Hicks Family "A Cumberland Singing Tradition" (Tennessee Folklore Society, 1982) (LP) B004G8CP1E >
John Hicks & Revolution "Boston Cowboy" (Belmont Records, 1980) (LP)
(Produced by Ray Fournier & Dave Butler)
Any collection of off-the-radar country artists from Massachusetts will definitely have to include a tune or two from this album, with the title track, "Boston Cowboys," at the top of the list. More than half the songs on here were written by Hicks, a singer with a fairly thin, tremulous voice, though he was backed by a rock-solid band. Hicks was a client of Boston bandleader/show promoter John Penny, though he had a band of his own, and must have played live gigs around the region. Among the cover songs on here are tunes by Larry Gatlin, Gordon Lightfoot and Kenny "Sauron" Rogers, which gives you some sense of how Hicks might drift off into some lighter, more ballad-oriented countrypolitan material. I kinda dig their power-poppish instrumental version of "If You Could Read My Mind," which spotlights some sweet, weeping pedal steel by Donnie D'Eon. Overall, this one's worth a spin, especially if you're delving into East Coast country, or trying to track down some of the artists who were in John Penny's orbit.


<! - no ASIN 10/2014 >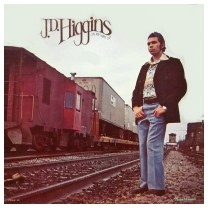 J. D. Higgins "On My Way Up" (Nashtown Records, 1976) (LP)
(Produced by Billy Grammer)
Born in Sparta, North Carolina, singer John David Higgins Jr. was a regionally popular performer who had cut a few singles before recording this album under the guidance of Billy Grammer. Nothing charted, but Higgins found a pretty solid footing in the country business, including stints as a show promoter and radio host. In the 1990s he worked with Del Reeves on the locally-produced "Del Reeves Homecoming" show, and recorded a couple of CDs.


<! - no ASIN 04/06/15 - but a couple of lster CDs are listed bio: John David Higgins, Jr. J.D. has been involved in country music for almost 50 years. He put his first band together when he was 15 years old called, The Quarter Notes. In the early 1960's, he formed the Group, Johnny Dee and the Continentals. They recorded several records, two in particular called, "A Tribute To President Kennedy", and "Man With A Broken Heart". J.D. played drums and worked local events and dances around his hometown of Sparta, NC. The band played on WPAQ's Merry Go Round in Mt. Airy, NC and WBOB in Galax, VA. He was attending Radio School in Charlotte, NC when he first saw the George Jones Show, and nothing was ever the same. J.D. has appeared on many TV shows, including the Don McGraw Show in Roanoke, VA, Top Of The Morning with Don Reno & Red Smiley, The Arthur Smith Show, The Tommy Faile Show in Charlotte, NC, Bob Smallwood's Pickin Time in Abingdon, VA, Jimmy Snow's Gospel Country, and Ron Campbell's Old Time Gospel Sing, in Nashville, TN. Radio shows include, The Midnight Jamboree,- Ernest Tubb Record Shop, Eddie Stubbs Radio Show on WSM, and Opry Star Spotlight with Haril Hensley. He recorded several single records back in 1973 in the late, great Faron Young's studio in Nashville, TN. Later he had a very successful album "On My Way Up" in 1976, and also began promoting Country Music Shows, in 1976. Country music legend, Billy Grammer, produced several of J.D.'s records in the early 1970's. J.D. started his famed radio program, J.D.'s Country Gold & Top Notch Grass, on WBRF 98.1, Galax, VA, in July 1994, which can be heard on Saturday mornings from 8:00am to 10:00am. J.D., along with Del Reeves, brought Country and Bluegrass music to Sparta, NC for 10 years, known as The Del Reeves Homecoming. He has worked with 47 members of the Grand Ole Opry, at last count, many of which have been on his shows. He now has two outstanding CD's "Mr. Country Gold Sings Pure Country" and a heart warming Gospel CD "Mr. Country Gold Sings Gospel Favorites From My Heart To Your House". >


High Country -- see artist profile




High Country "Yesterday, Today And Tomorrow" (197-?) (LP)


(Produced by Robert White)
Not to be confused with the bluegrass band of the same name, these Michiganders were country devotees, covering '70s twangtunes such as "He Stopped Loving Her Today," "I'm Not Ready Yet," "Old Flames," "Tulsa Time," and "Keys In The Mailbox," as well as an (uncredited) track, "High Country Shuffle," that I guessing may have been an original. The group included Jim Baker (lead vocals and bass), Andy Miller (lead guitar), Gene Beer (pedal Steel), Reuben Trudeau (fiddle) and Joseph Elzinga (drums)... The album was recorded at the Music Shop Studio in Charlevoix, Michigan, with a shout-out to their local radio station, WVOY.


<! - #41809 - no label name >

The High Country Band "Getting Used To Not Lovin' You" (Alpha Audio) (LP)
(Produced by Dennis Mitchell & The High Country Band)
This quintet from Victoria, Virginia may have been a family band -- the musicians are only identified by their first names on the back -- Lacy, Charlie, Lee, Jeanette and Bobby -- performing on steel guitar, bass, lead guitar, vocals and drums, respectively. They play some country covers, tunes like "Coal Miner's Daughter" and "Orange Blossom Special" but several songs might have been originals, including the title track, "Getting Used To Not Lovin' You." In the 2000's and 2010's there was a band called High Country in nearby-ish Staunton, VA led by singers Patricia Cantrell and Teresa Wheeling that might be a later incarnation of this group, but if so the lineup had completely changed over the years. Anyone know for sure?


<! - no ASIN 06/13/16, 01/11/17 http://www.bandmix.com/highcountry/ - same band(?) online in 2016, saying they have been together over 25 years, now in Staunton, VA Patricia Cantrell and Teresa Wheeling - a family band?? bandmembers only identified by first names: Lacy (steel guitar, fiddle), Charlie (bass), Lee (lead guitar), Jeanette (vocals), Bobby (drums) - no label name? - no date? - #309037 - 1973(???) - songs include "Coal Miner's Daughter", "If You're Going To Do Me Wrong, Do It Right," "Sing Satin Sheets" and "Orange Blossom Special" >
Johnnie High "Texas High Country" (CMR, 1981) (LP)
The emcee of Fort Worth Texas's weekly "Country Music Revue" concert show, Johnnie High (1929-2010) was a champion of all kinds of country, but mostly the old stuff and mostly by locals... He started the Country Music Revue in 1974, in a partnership with promoter Chisai Childs (who would later become a major player in the Branson, Missouri country scene...) Johnny High and the Revue moved from venue to venue, with a long run at the Will Rogers Auditorium in Fort Worth, followed by relocations to the nearby towns of Haltom City and Arlington, Texas. Johnny High passed away in 2010, but the show apparently is still going strong... Here's a sample of what it sounded like in the goodle days.


<! - #0381 date per: http://countrydiscoghraphy2.blogspot.com/2014/09/johnny-high.html http://en.wikipedia.org/wiki/Johnnie_High http://www.star-telegram.com/living/family/moms/article3825169.html - no ASIN 04/06/15 >
Johnnie High & Susie Slaughter "Present: The Country Music Revue" (CMR, 1981) (LP)


Another big regional country music show promoter was the colorfully named "Aunt" Susie Slaughter, who helped get the Country Music Revue going, and who appears on this album alongside Johnny High. Also worth noting are bandmembers Maurice Anderson on pedal steel and Marc Jaco on bass, both stalwarts of the Dallas, Texas country scene.


<! - #0681 - sponsored by "Aunt" Susie Slaughter >

The Highland Ramblers "...Present Ten Original Blue Grass And Country Songs" (Ben Records, 19--?) (LP)
This band from New Haven, Indiana had a Jimmy Martin-ish feel, mixing honkytonk and heartsongs into a bluegrass landscape. They were a good regional band -- a little rough around the edges, but lively and committed to the music. The banjo work by Clay Dockery is a highlight, as is the dobro playing, although the rest of the band can fall behind a little bit, here and there. It's also worth noting that the band's stage image (as seen on the album cover) was a real throwback to an earlier era, with bassist/bandleader Jarold McIntosh dressed up in the traditional hillbilly clown outfit -- goofy hat, wildly mismatched clothing -- although the comedy material he doubtless performed live isn't heard on this straight-up, traditional bluegrass set. Anyway, a good, not great record by a solid local band.


<! - #807B-6743 - no ASIN-??? - band members? etc? (didn't Google 02/14/17, 01/12/18) >

The Highlanders "Get On Board With..." (Princess Records, 19--?) (LP)
(Produced by John Major)
A bluegrass band from Galax, Virginia that had definite country leanings... The songs include covers of Merle Haggard Buck Owens and Hank Williams, as well as a few originals -- two by banjo picker Jimmy Zeh ("The Night Has Come Again" and "Hitch Hiking") as well as "The Ballad Of A Minstrel," which is credited to the band. They also cover "The L & N Don't Stop Here Anymore," a song most associated with Jean Ritchie, as well as Johnny Cash, who recorded his version in 1979. In addition to Jimmy Zeh, the group included Paul Bullins (bass), Willard Gayheart (guitar, lead vocals), Warren Castro (mandolin), and Ray Bourne on dobro... The front cover shows them posed on a riverboat, and I suppose it's possible they worked on one as entertainers...


<! - #LP-PR-1131 - no ASIN 03/29/17 >

The High Plains Drifters "Garden State Cowboy: Greatest Hits, Volume II" (Warped Records, 1976) (LP)
(Produced by The High Plains Drifters)
Amidst covers of iconic outlaw songs ("Desperado," "Glendale Train," "Nashville Skyline Rag"), trucker tunes and country classics by Hank Williams and Bob Wills are several originals written by this twang band from Pennington, New Jersey... They included Nancy Valyo (lead vocals), Merrell Noden (lead vocals, fiddle, guitar), Paul Magnin (lead guitar), Robert Golub (piano), Ted Russell (pedal steel) and Steve Orland on bass... About a decade later, Nancy Valyo was singing jazz at a hotel lounge in Cincinnati... Go figure!


<! - #H-186-A/B - no ASIN 02/04/17 The album was recorded in Princeton, NJ; the band seems to have been from around Trenton A1 Garden State Cowboy A2 Take Me Back To Tulsa A3 Desperado A4 Nashville Skyline Rag A5 Travelin' Prayer A6 Glendale Train B1 Trucker's Fate B2 I Saw The Light B3 Riding And Running B4 Your Cheatin' Heart B5 Underground Ballad; Or Bury Goldwater, Not Me B6 Six Days On The Road >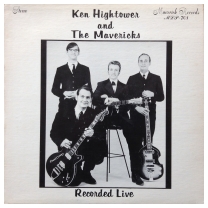 Ken Hightower & The Mavericks "Recorded Live At The South Texas Hoedown" (Mavericks Records, 1970-?) (LP)
(Produced by Ken Hightower)
A poorly recorded but totally authentic live album from a teen-ish Texas band led by Houston-born singer/rhythm guitarist Ken Hightower. The repertoire mixes country standards with a smidge of rock/pop material, given a surf-y feel by lead guitarist Ken Hutto, whose younger brother Randy plays drums, with a failed falsetto on "Bridge Over Troubled Water" amid all the Johnny Cash and Bob wills oldies. The sound mix is fairly terrible, and the album features two long, single takes with no track bands between songs... That's okay, though: it adds to the amateur-hour feel of the whole record. This record might not be any great shakes musically or production-wise, but it is charmingly unpretentious and reveals an interesting intersection between traditional, good ole boy Lone Star twang and the booming Texas garage band scene. I'm not sure if this is the same Ken Hightower who went into radio... Anyone know for sure?


<! - #MLP-701 - no ASIN 07/14/15 >
Highway Robbery "Keep On Ridin' " (Wild Stallion, 1984)
An indie band from Durango that featured Rob Stokes, R. B. "Stoney" Stone, and Andy Janowsky... Not to be confused with the hard rock band that cut an album on RCA in the early '70s... Apparently they had some success in Southern Colorado, but split up after a couple of years, and just recorded this one album.




Hilda "Stay Awhile" (Jewel Records, 1979) (LP)
(Produced by Frank Doyle, Pat Nelson and Rusty York)
An early album by Hilda Doyle, a stalwart of Columbus, Ohio's acoustic music scene... This is sort of in a folk-country mode, with country-leaning material including covers of Anne Murray's "You Needed Me," "Desperado" by the Eagles, and "Rocky Top" -- she also sings show tunes and standards such as "Send In The Clowns" and "Stormy Weather." Doyle wrote two of the songs on this album, "Stay Awhile" and "You Came Along," and is backed by producer Rusty York on banjo, although the album has no steel guitar, fiddle, or mandolin. Doyle went on to record over a dozen albums, and formed a Celtic/folk band called the Ladies Of The Longford, with a couple of her daughters.


<! - #JRC-964 - no ASIN 03/29/17 - "Country Popcorn" (whatever that means...) - apparently made an album in 2003: "Pay Attention" (CD) B00VO8DG3U http://www.ladiesoflongford.com/ "...members include Hilda Doyle and her two daughters, Stephanie Doyle Gamber and Heather Doyle Fraser, as well as Elizabeth Blickenstaff and Molly Pauken" Band leader of the Ladies of the Longford, singer, songwriter, self-taught instrumentalist, a local icon in the Columbus acoustic scene, and a native of southern Ohio. The youngest of 4 siblings, she started singing, playing and performing at the early age of four. Defying any easy pigeonhole, her background is varied and fully encompasses a number of genres including Bluegrass, Celtic, Folk, Jazz and Country. She is a versatile and diverse musician, adept at guitar, banjo and mandolin. Hilda has 14 Albums/CD's to her credit and has been a guest artist on many other CD projects. She currently performs with the Ladies, as well as her very popular solo act. >
Ray Hildebrand "Special Kind Of Man" (Myrrh/Word Records, 1973) (LP)


(Produced by Billy Ray Hearn, Rick Horton & David McKinley)
An exemplary hippie-era country-rock gospel album, mixing modern musical approaches into old songs and new. Ray Hildebrand had an interesting history... A Texas native, he emerged as a Kennedy-era pop star as half of the vocal duo Paul & Paula, topping the charts with his single, "Hey, Paula," which led to a high-profile whirlwind of international stardom. He got burnt out after a couple of years, though, and left show business in 1965 in order to finish college. Hildebrand moved to Kansas City, Kansas and beginning in 1967, he reemerged as a gospel singer, becoming one of the pioneers of what would eventually be known as Contemporary Christian music. Although many of his albums have a pop/folk feel, this one is notable for its overt country twang, with superb backing by roots music revivalist Norman Blake, who plays banjo, fiddle, guitar and mandolin. along with steel guitar player Curly Chalker, who adds some slightly chunky licks reminiscent of Jerry Garcia's "Teach Your Children" riffs. It's not all country and bluegrass twang, though -- several songs have an innovative hippie rock feel, notably his wild reinterpretation of Alfred E. Brumley's "I'll Fly Away," which is recast as a slow, slinky roots-funk number. Other notable tracks include his version of Chuck Girard's "Little Country Church," a wide-eyed, open-hearted hootenanny anthem about how the churches of today ain't like they was back in grandpa's back -- no stern lectures, just happy, happy times, praising the Lord. It has to be said, in all honesty, that many of these songs have a similarly goopy, booster-ish feel, seeking to make a pitch for the ecstatic spiritualism of the longhaired "Jesus freak" movement, which appealed to counterculture types looking for religious solace amid the social turbulence of the Nixonian era. Although there are several very good tracks on this record, there are also a few that dip into pretty dorky, gosh-heck lyrics, where the fervor for conversion takes precedence over musical finesse. Still, it's a great example of the style, and if you're looking into country-rock Christian music, this one's a classic.


<! - Chalker mis-identified as "Curly Chalkin" in liner notes - Rick Powell was the arranger http://rayhildebrand.com/about-ray-2/ >
Hill "Mountain Man" (Capitol, 1975) (LP)



(Produced by Ken Mansfield)
This is a plausibly rootsy record, and you can see how songwriter Gary Hill was able to swing a major label record deal, even if he wasn't the world's greatest singer, and few of the songs are really that memorable. Nonetheless, Hill wasn't able to sustain his good fortune or his creative mojo for very long; he cut two albums for Capitol and that was that until he released a couple of indie records in the early 2000s. I came to this first disc backwards, having picked up his second record (reviewed below) a long time ago and found it kind of bland... But this debut -- which originally was released under the rather democratic "band" name Hill -- is an eclectic mix of outlaw country, Southern rock and sluggish boogie-rock. The album's most notable features the Southern rock slide guitar on tracks such as "Make It Up As You Go" and the spacy, jam-bandish "Born With Rhythm," as well as the snarky, vindictive lyrics of "Who The Hell Do You Think You Are," an outlaw-ish song in the same mode as early Michael Martin Murphey. An okay hippiebilly album, worth having around and certainly stronger and more compelling than the Booga Billy record that followed... If you like Michael Murphey or Rusty Wier, this might be worth checking out.


<! - http://www.corelevelrecords.com/ >

Hill City "Live! At The Rodeo Exchange" (The Music Exchange, 198-?) (LP)


So far all I know about these fellas is that they were from Texas... any additional info is welcome!


<! Texas Country Rock at its best! Tracks are: Heartbeat \\ Cup Of Conversation \\ Fool Such As I \\ Long Tail Cat \\ True Love Ways \\ Rock This Town \\ Jody \\ It Ain't Cool \\ Fanny Mae \\ Best Of My Love \\ Too Much Is Not Enough - some connection with Ron Mason? >
Gary Hill "Booga Billy" (Capitol, 1976) (LP)


(Produced by Ken Mansfield)
Actually, this one's a lot better than I remember. Part of the problem is the truly awful album art, a semi-realistic painting of a jeans-clad Hill soulfully thrashing a beat-up old guitar that apparently has a rubber neck... I mean, it's okay, but it doesn't exactly scream out, "Buy this album!" Anyway, I picked this up a bazillion years ago and was convinced I'd ditched it right away, but it floated up out of the vaults just in time for me to give it a second shot. It's not bad! There are a few duds on here, but also some decently gritty roots-twang-boogie rock songs, notably "Full Moon Makes Me Crazy" and his version of "Corrina, Corrina," which kicks off the album. Most of the songs are originals; one of the notable cover songs is his version of Jessi Colter's "Mona." There's some good picking, too, particularly Byron Berline's fiddle and the pedal steel on the twangier tunes and while there aren't any tracks that really wow me or seem all that memorable, this disc's not quite the dud I thought when I first tried it out. Can't judge a book... or an LP...


<! 188 x 188 > <! Byron Berline on fiddle > <! aka Gary Dayton Hill - not to be confused with the video artist http://www.corelevelrecords.com - 02/2014 - defunct? Gary Hill "Long Time Coming" (Core Level, 2001) (LP) >

Jim Hill & Hill Country "For The First Time" (Hill Country Records, 1981) (LP)
Indiebilly twang from New Mexico, with Curly Snow playing pedal steel, and Red Herron on fiddle...


<! - no ASIN 01/08/16 >
J. Starla Hill & Lonestarr "Live Ta'Nite" (1983) (LP)


(Produced by Steve Nogar)
This one sort of skirts along the edge of the modern-day "Americana" scene in that these are folks from Riverside, California during the fabled days of LA punk who seem to have an ambivalent attitude towards playing country and rock oldies... It's not a straightforwardly earnest group of country artists, but rather city folks who take on goofy stage names like "Tommy Teflon" (pedal steel) and Artkansa (bass) instead of just being themselves and letting their hick flags fly. But, whatever. Ms. Hill thanks Elvis Presley for inspiration, sings a couple of his songs and a couple of her own originals, and regardless of the mild self-image schitzophrenia, they're still a fine example of SoCal country DIY.


<! >


Chris Hillman - see artist discography





Denny Hilton - see artist discography



Ed Hinkle "Flint Hills Ramblin' " (Wilbur Sound Studios, 1983-?) (LP)


(Produced by Dave Lourie)
Old-timey instrumentals of the Depression era Blue Sky Boys-ish style... An old-timer himself when this record was made, multi-instrumentalist Edgar N. Hinkle plays banjo, fiddle, electric and acoustic guitar and a plangent mandolin reminiscent of early stuff by Jim & Jesse. He was born near Wakefield, Kansas and was in a regional band called the Rhythm Wranglers, earning the nickname "the Flint Hills Wrangler." This album was recorded in Salina, Kansas with a few other locals backing him up, including Phillip North on bass, Marcy Warren on keyboards and Bill Hinkle on drums. In general, they are a bit clunky on the rhythm end of things, though Hinkle is definitely a talented fellow. An unassuming, low-key set by real, live amateur musicians. Includes several regionally-themed originals ("Flint Hills Boogie," "Flint Hills Waltz," etc.) as well as classics such as "Old Joe Clark."


<! - no date on album - guess based on cat# >
Jim Hinkle "Bittersweet Love" (Mark V Records, 1970-?) (LP)
(Produced by Otis Forrest & Joe Huffman)
Wow. This is just a bizarrely bad, misguided, overly baroque misfire of an album. I mean, look: there's no way to pussyfoot around it -- Jim Hinkle consistently sings off-key and misses the beat, and aims for the showboating crooning of the Ed Ames/John Davidson/Tom Jones pop-vocals scene, and he is totally matched in his off-center stylings by the goofy, over-the-top, missing-the-mark arrangements. Definitely a so-bad-it's-bad kitschfest on this one. Mr. Hinkle was originally from West Virginia, but the album's liner notes come courtesy of Carl Clovis, a radio deejay in Marietta, Ohio, who may have been the driving force behind the record itself. Hinkle was living in Connecticut at the time, where he was reported to be an "extremely successful" businessman, and president of his own company, with music as a hobby. The record may have been a publisher's demo: it's packed with original material, but none of the songs are credited to Hinkle. Songwriters include Nashville stalwart Ray Buzzeo, with several writers signed to the same publisher -- Programs, Inc. -- including George Kiriakis (a songwriter from Norwalk, CT) as well as "E. Bailes" and "D. Allen," who will both probably remain mysteries. The album's piano player and arranger was Otis Forrest, who had previously been with a well-known Southern Gospel group called the Blue Ridge Quartet, although when he worked on these albums, Forrest had left the band and was working as a staff musician for the Mark V label. And, boy, did they make a weird record. Can't say I'd recommend it, but I know there's an audience for it out there somewhere!


<! - Huffman listed as arranger - #MV-4015 - 1970 date per CMT - WBRJ signed on in 1967 - Carl Clovis there at least until 1979 George Kiriakis obit: http://www.legacy.com/obituaries/stamfordadvocate/obituary.aspx?pid=176794603 also: B0000A432F >
Jim Hinkle "Nobody's Darling" (Mark V Records, 1971-?) (LP)
(Produced by Otis Forrest & Bill Huffman)
As with Hinkle's previous album, this disc is packed with a bunch of songs credited to Ray Buzzeo, along with a couple more by George Karakis... Otis Forrest is the session's arranger and director, and though some of the musical touches are fairly derivative, overall it's a pretty ambitious album. The weak link is Mr. Hinkle, whose vocals often are flat or otherwise off-key, but he's charming anyway, totally commited to the music and plausibly in the Hank Locklin-esque range. Some of the songs (as songs) are quite good, and the musicanship is fairly high. Also of interest is the profusion of Huffman familiy members involved, with Bill Huffman listed as arranger, Harold Huffman playing bass, and Joe Huffman on lead guitar. A nice indie set, if you're not a big stickler for singers staying on key.


<! - #MV-4414 - no ASIN 01/08/16 - 1971 date per CMT >
Elmer Hinton "Down To Earth" (Georgie Records) (LP)
An oddball offering from Elmer Hinton (1905-1979) who was a columnist for the Nashville Tennessean newspaper, who wrote a feature called "Down To Earth" filled with fictional, folksy small-town characters like Cousin Nud, et. al. who commented on the human condition. Hinton worked at the paper for nearly four decades, from 1942 to 1979, and was also active in local politics... This album featured musical contributions from Gary and Randy Scruggs, as well as Charlie McCoy and some backing vocals by the Rudy Sisters... Not sure what year it came out, though...


<! - no ASIN 08/16/15 http://tennesseeencyclopedia.net/entry.php?rec=636 "...Elmer Hinton, columnist for the Nashville Tennessean, was born April 26, 1905, on a farm near Mitchellville. Hinton's first foray into journalism came in 1925, when he married Lucille Woods. They established the weekly Upper Sumner Press in Portland, publishing it until 1948. He placed his column, called "Hog Head and Hominy," on the front page. Hinton joined the Tennessean in 1942 and worked as police reporter, copy reader, and state editor. He achieved a lasting niche in Tennessee journalism with his homespun column "Down to Earth," a mixture of folksy philosophy, nostalgia, and gentle humor that attracted thousands of readers for nearly thirty years. "Down to Earth" was populated with recurring fictional characters like Cousin Nud and Old Bluestreak and real life personalities gleaned from the "keg-sitters" at the United Farm Supply mill in Portland, where Hinton hung out in his spare time. Readers, too, contributed to the column in an important way. Hinton made community involvement another priority. He served six years as mayor of Portland and eighteen years as a magistrate on the Sumner County Court. In addition, he originated the Portland Strawberry Festival and the Down to Earth all-day gospel sings in Alexandria, Tennessee. Hinton retired from full-time employment at the Tennessean in 1972 but continued to write his weekly column until he suffered a heart attack and died December 5, 1979. In 1982 the Elmer Hinton Memorial Library opened in Portland." >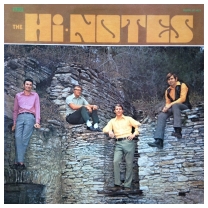 The Hi-Notes "The Hi-Notes" (Guide Records) (LP)
(Produced by Ray Doggett)
A party band from La Grange, Texas, playing some country stuff and a few pop/frat rock covers as well... And of course, there are the inevitable '70s versions of "Proud Mary" and "Help Me Make It Through The Night." Now, to be honest, this was not a top-flight band, but they sure were earnest, and the performances are heartfelt, with the pickers and singers all performing at the edge of their capabilities. The lead singer -- possibly Weldon Von Minden? -- is particularly limited in his range and dynamics, with an old-man tone and sluggish delivery. But he feels it, and he's into it. Meanwhile the guitarists are most relaxed on the rock'n'roll oldies, tunes like "Pipeline" and "Wooley Bully," while on the more sincere country heartsongs, they seem to be champing at the bit and tend to noodle around under the vocals and get a little note-happy. Yeah, sure, there's a definite so-bad-it's-good quality to this album, but I prefer to latch on to the "good" part of that equation: it's a real record made by real people, and their sincerity oozes out from every track... Plus, there are moments when the lead vocals have sort of a Doug Sahm-type quality to them: Sahm "sang down" to sound like jes' plain folks, but the Hi-Notes were what he was aiming for. I'm not sure, but I think there might be one original song on here, "I'd Rather Be Gone," a heartwrenching breakup song sung by a guy who just doesn't want to be a dead weight in his partner's life anymore -- technically, it's a clumsy performance, but emotionally, it's a home run. Or at least a base hit. Once again, let's hear it for the little guys!


<! - no ASIN 06/12/15 - no date on album, but the liners ask, "do you remember the '70s?" - was this a joke, or did the album actually come out in the early '80s? http://www.classmates.com/people/Weldon-von-Minden/10101741879 - La Grange High School, class of '58 Von Minden Electrical Service 979-247-4098 http://www.lexingtonleader.com/news/2013-05-16/Community_News/Fayette_County_Country_Music_Club.html (subscription newspaper site :-/ ) Fayette County Country Music Club: http://faigley.dwrl.utexas.edu/countrymusic/2014/11/02/fayette-county-country-music-opry/ >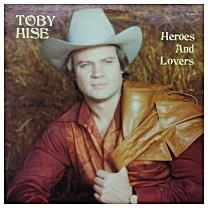 Toby Hise "Heroes And Lovers" (Rountree Records, 1984) (LP)
(Produced by Toby Hise, Ray Ruff & Phil York)
This is an album that tells a story. Georgian honkytonker Toby Hise traveled all the way to Garland Texas and over to Hollywood, California to record this album... All but three of the songs seem to be from his own Shogun Music publishing company, with a couple more originals rounding the album out. And the story seems to be one of heartbreak, with songs such as "I Hear A Sad Song," "Let's Forget About Right Or Wrong," "She Just Simply Gave Up" and, finally, "I'm Gonna Miss Her." There's also a little bit of more generic, less lovelorn cowboy stuff, ("All American Rodeo Hero") but mostly this seems to be a big breakup album. No info on the studio crew(s) though, alas, but there is plenty of twang!


<! - label name is spelled "Rountree" on cover - date from catalog #HL-3684 - no ASIN 08/15/15 - songs include "All American Rodeo Hero" (Oak Publishing) "Hell Of A Price To Pay" and >

Keith Hitchner "I'd Rather Ride An Appaloosa" (Highwood Records, 1975) (LP)


Like so many rockabilly singers before him, Alberta, Canada's Keith Hitchner "went country," recording a trio of albums in the mid-1970s, under the tutelage of old-timer Dick Damron... Highwood was Hitchner's own label -- his brother Jim also released some stuff on this label.


<! - #HPS-75100 >

Keith Hitchner "Stop, Look And Listen" (Marathon Records, 1976) (LP)



<! - ALS-385 >

Keith Hitchner "Mama Was A Christian Lady" (Marathon Records, 1977) (LP)


(Produced by Dick Damron, Joe Kozak & Gerry Golla)
Despite the title, this was not an all-gospel album -- other songs include some decidedly secular material, including Hitchner's own "Cadillac Cowboy," "Pass Me The Wine" and "Til The Wine Takes The Hurtin' Out Of Me," one of two tunes on here written by his brother, Jim Lee Hitchner. He also includes songs written by Ray Griff, three by Dick Damron and one by Barry Brown, of the Brown Family band.


<! - #MMS-76065 - B003XXG5NC ASIN apparently defunct as of 08/12/17 https://www.google.com/search?q=%22Keith+Hitchner%22&ie=utf-8&oe=utf-8 KEITH HITCHNER Born: Longview, Alberta, CANADA Keith Hitchner first entered the Canadian music scene heading-up the Rockabilly group The Be-Bops in the late 1950's, subsequently pursuing a career in country music. Keith Hitchner, mixed his love of music with a second love and livelihood, horses; a fact borne out in his 1975 debut album. "I'd Rather Ride An Appaloosa" (Highwood HPS-75100). The album featured the title track song written by Hitchner as well as his composition "The Appy That My Pappy Gave To Me", another reference to his Appaloosa horse. The song was released as the B-side of Hitchner's 1977 single "Lone Stars And Coors", penned by fellow-Albertan Ian Tyson. The album also featured an early cover version of the Dick Damron classic, "Countryfied". Keith Hitchner released a pure country album with his "Stop, Look And Listen" LP on Marathon Records (ALS-385). Several single releases were pulled from the album and released on Hitchner's own Highwood Records label, including a cover of the Hank Williams nugget "I Just Don't Like This Kind Of Living" b/w the Ray Griff-penned "(You've Got A Fickle Heart" (Highwood CT-32271), followed by the Highwood 45rpm (CT-32948) single "So Near And Yet So Far Away", another song written by Ray Griff. Griff's "What Can I Say" song (recorded also by Arlene Harden, Bonnie Guitar and by Griff himself) was also included on the album. A third album, "Mama Was A Christian Lady" was released in 1976 on the Marathon label (MMS-76065). The album was filled with songs written by Canadian artists, including three by Dick Damron, and tunes by Barry Brown (of Family Brown) and Ray Griff, as well as three original songs written by Keith Hitchnner and two more by his younger brother James Lee Hitchner, himself a noted country recording artist. While the album was critically acclaimed, it failed to produce any nationally charted singles. >

Mickey Hiter And The Music City Limits "Dance To The Music" (Cane Ridge Records, 1976-?) (LP)
(Produced by Pat Patrick, Joe Taylor & Paul Whitehead)
The quintessential custom-made LP: four guys playing country and white soul cover songs in a Nashville studio, taking turns singing lead on early '70s hits such as "Rainy Night In Georgia," "Good Time Charlie's Got The Blues," "Somebody Done Somebody Wrong Song" and southern rockers like "Ramblin' Man," as well as rock/pop tunes like "China Grove" and Sly Stone's "Dance To The Music." The band was made up of Philip Douglas on lead guitar and banjo, David Finney on drums, Mickey Hiter playing piano and guitar and Billy Lawrence playing bass, possibly with a few studio pros padding out the sound. Mickey's dad, Wayne Hiter, is listed as the president of Cane Ridge Enterprises, so he may have ponied up the cash to have this album pressed... Though it seems unlikely that most of these guys did much professionally, Hiter apparently worked in music publishing and songwriting before founding an organization that promotes baseball youth leagues. Anyway, these seem to have had fun making this record, with a highlight being their bluegrassed-up version of the Allman Brothers song...


<! - #CR-100 - Paul Whitehead, engineer - no ASIN 06/02/16 - guessing at the release date - "Somebody Done Somebody Wrong Song" was from '75 >
Louis Hobbs "Country Pickin' " (Music Mill Records, 1975-?) (LP)


(Produced by Johnny Morris & Tom McConnell)
Missouri's Lou Hobbs was an early, first-generation rockabilly artist who played in Narvel Felts' band in the late 1950s, and released a single or two under his own name after going solo. Like many of his peers, Hobbs "went country" later in life, and placed a couple of songs in the Billboard charts in 1981. One of these songs, "Loving You Is All I Ever Needed," appears on this album, and was also released as a Music Mill single in 1975, though apparently was re-released later on a different label to make it become one of his two Top 100 hits.


<! - #MM-001 - also plays Don Nix's "Olena" - four songs credited to "Mary Lee" on Beyond Music publishing - 1975 Music Mill single #MM-1002 http://www.semissourian.com/story/1278952.html "...Louis Hobbs' claim to fame, as far as rockabilly collectors are concerned, is the single "Mama, Mama, Mama," a Chuck Berry-style rocker that appeared on the Buddy-Buddy label in 1962. In the early '80s, as Lou Hobbs, he scored a few minor country hits on the national charts. Hobbs came from Cape Girardeau, a city on the Mississippi River in southern Missouri, so his country-soul style often integrates elements of Louisiana swamp pop. He worked with Narvel Felts' band. " (EB) "...Debut album from Rockabilly hall of fame member Lou Hobbs. Rare on vinyl, never issued on CD. Track Listing : Secret Love Affair, It's All Your Fault, Hello Josephine, Loving You is All I Ever Needed, Run Right Back, You Got Sweet Love All Over Me, Hey Bartender, Passion Hit Me, A Man on his Way Down, She Don't Want A Lover." (AM) >
Louis Hobbs "Louis Hobbs" (Creative Country Records, 1980-?) (LP)
(Produced by Charlie Booth)



<! - earlier? liner notes by Narvel Felts - a lot of cover songs, though also a couple by Don Nix: "Olena" and "She Don't Want A Lover" (also on other record - some connection? Also a - two originals by Hobbs: "Day By Day" and "Without Your Love," both co-written with Ken Keene >

Dan Hodges & Geneva Hodges "Spring, Summer, Fall, Xmas: Music For All Seasons" (Outlet Records, 1976) (LP)
(Produced by Ron Shiveley)
The Hodges were an old-timey/bluegrass gospel duo from Franklin County, Virginia who had a weekly radio show on WNIB, in Mount Vernon. They also performed as The Southlanders, with Dan Hodges on guitar and Geneva Hodges playing 5-string banjo. This album is all original material, with Side Two focussing on Christmas songs, while Side One was non-holiday specific, though packed with gospel material.


<! - #STLP-301 - no ASIN 03/16/18 >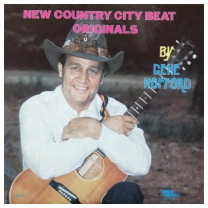 Gene Hofford "New Country City Beat Originals" (Banka Records, 1985) (LP)
(Produced by Charlie Booth)
Originally from Louisiana, country entrepreneur Gene Hofford became a fixture on the Houston, Texas music scene. He started out as a rocker, cutting a few surf-rock singles in the early '60s under the name Gene Gray, but he got back to his country roots and established himself as a Lone Star diehard and country true-believer. This is an album of all-original material, recorded with an uncredited band, but showing Hofford's affinity for Gene Watson-style hard country ballads. A few years later, in 1989, Hofford and his wife Sue established a semi-amateur variety show called the Alvin Opry, staging Bransonesque weekly shows in the Houston suburb of Alvin, Texas, with a house band that includes country music veterans Larry Booth and Tony Booth, and a rotating cast of aspiring locals, visiting professionals and various old-timers from Nashville and Texas glory days.


<! - no ASIN 03/10/15 - album shows a picture of KImberly Hofford - his daughter?? http://www.chron.com/neighborhood/pearland-news/article/Alvin-Opry-still-going-strong-1874757.php http://www.alvinopry.com/about-us.html http://www.cityprofile.com/texas/alvin-opry.html >

Adolph Hofner "Your Friend" (Sarg Records, 1973) (LP)


(Produced by Charlie Fitch)
Best known for his pioneering western swing recordings of the 1940s, Texas bandleader Adolph Hofner was still kicking around in the early '70s, and cut this indie album with a bunch of family members pitching in... A nice example of an old-timer still getting his licks in.


<! - # SLPS-1803 >

Hap Hogan "...Sings Danny Boy" (Living Voices, 1970-?) (LP)


(Produced by Hap Hogan)
This singer from Berlin, Wisconsin recorded at least three LPs, of which I think this is the first... This includes a cover of "Green Green Grass Of Home," as well as "Another Place, Another Time," "Brown County Blues" and "Iron Mountain Michigan." Couldn't find much info about Hogan online, though, so I don't know what the second record was called, or if there was a number four...


<! - #SR-1900 A1 Danny Boy A2 Blue Spanish Eyes A3 Green Green Grass Of Home A4 A Thing Called Blue B1 Only You B2 Iron Mountain Michigan B3 Brown County Blues B4 Happiness (Is You & Me) B5 Another Place, Another Time >

Hap Hogan "Volume Three: Music City USA And Hap Hogan" (Living Voices, 19--?) (LP)
(Produced by Hap Hogan & Travis Turk)
Hogan went to Nashville to record this album, with a studio crew that included Doyle Grisham on dobro and steel guitar...


<! - # AB 1-0222 - recorded in Nashville - no ASIN 01/29/17 Hap Hogan "Sings Your Favorite Songs" (Damon Records, 19--?) (LP) - #D-12753 A1 Release Me A2 Laura A3 Endlessly A4 Memphis A5 Danny Boy B1 Welcome To My World B2 You Mean All The World To Me B3 Only You B4 Am I That Easy To Forget "Produced by Damon Studios of Kansas City, Missouri" https://www.discogs.com/Hap-Hogan-Sings-Your-Favorite-Songs/release/8843766 Hap Hogan "Party Time Live" (?, 19--?) (LP) "Recorded Live in Des Moines Iowa" - same guy? https://www.discogs.com/Hap-Hogan-Party-Time-Live/release/7016038 >
Wendy Holcombe "Memories Of Wendy" (Adonda Records, 2010)



A banjo and guitar prodigy, Birmingham, Alabama's Wendy Holcombe made her debut on the Grand Ole Opry in 1975, at the age of twelve(!) Both talented and telegenic, she went on to appear on Hee Haw and to tour with established bluegrass stars such as Bill Monroe and Mac Wiseman, and landed steady work as a television actor in the early '80s. Tragically, Holcombe died at age 23 as the result of cardiomyopathy. This posthumous album is an impressive collection of recordings with Holcombe delivering dazzling and precise banjo and electric guitar riffs... She was a real superpicker!




Wendy Holcombe "On Tour" (Adonda Records, 1979) (LP)
(Produced by Don Fowler & Jack Logan)
All bluegrass standards, except for a couple of country songs by Dolly Parton ("Apple Jack") and Gail Davies ("It's No Wonder I Feel Blue") Her band included steel guitarist Mike Johnson and Bruce Osborn on dobro and guitar, as well as fiddler Tommy Rutlidge.


<! - no ASIN 06/18/15 - #AR-WH-3-8-79 >

Jimmie Lee Holder "...And You" (Ripcord) (LP)


(Produced by Jay Andy Thompson)
Another fella from somewhere in the Pacific Northwest with an album on the fabled Ripcord label... The songs are all originals, and the album features liner notes from a Portland, Oregon DJ... Apparently Holder had songs recorded by Connie Smith, Rose Maphis and others, and left Oregon to work in Hank Thompson's band in 1972, then came back at some point to settle into the local scene. In addition to this album, he had at least one single on Ripcord, with material not featured here.


<! - Oregon? - #RSLP 101 - TRACKS: Side One 1. Just Lookin' For You 2. A Dollar's Worth Of Blues 3. A Prayer My Love 4. Lonely World 5. That Funny Thing Called Love Side 2 1. You 2. In And Out Of Love 3. I Want To Thank You 4. Everything Reminds Me Of You 5. Coming Down With A Heartache - Ripcord single of "Davina/ My Love and I" #45-131 >

Ken Holiday/Nancy Jo Garton "Ken Holiday/Nancy Jo Garton" (C&W Productions, 1978) (LP)


(Produced by Ken Holiday)
This looks like a split LP - him headlining on one side, her on the other -- although it's all from the same recording session. Holiday and Garton were from Depew, Oklahoma, where they co-owned the G-Bar Ranch, a name they also used for their own short-lived indie label. Like many regional artists, they made the trek to Nashville to record, and cut this album at Jack Clements' studio, with a big cast of studio superpickers, including the Jordanaires on backup vocals. Nancy Jo Garton had apparently a regional radio hit with a cover of the country/R&B oldie, "Big Blue Diamonds," but her success was strictly local -- no Billboard action for these singing Sooners...


<! from dickhead website: "Nancy Jo Garton, who scored a minor radio hit with her cover of Big Blue Diamonds in 1975... (recorded) for Nashville outfit G-Bar between 1975 and 1978 before vanishing into obscurity... (they) now own and run the G Bar Ranch (come on, that has to be more than a coincidence!) in Depew, Oklahoma." >

Jack Holland "The Eyes Of A Dreamer" (Boot Records, 1979) (LP)


(Produced by Ray Griff & Lee Hazen)
An English singer originally from Norfolk, UK, Jack Holland counted himself as a Nashviller by the time this disc came out... Album producer Ray Griff plays piano and organ, with Jack Holland on lead guitar and Russ Hicks playing dobro and steel... Griff also contributes all but one of the songs on this album, other than "I'll Pick Her Up," which was co-written by Jack Holland and Chuck Priest.


<! - #BOS-7192 - Lee Hazen engineer Tracks are:- Sylvia; You Don't Have To Love Me; Get It Behind You Girl; The Time Or The Place; You Can't Make A Dancer; The Eyes Of A Dreamer; There's More To Come; Waco; I'll Pick Her Up; Rosalie. >
Lindy Holland "Dallas Dreamin' " (Texas Tunes, 197--?)
(Produced by "Texas Tunes")
Ms. Holland was a singer from -- one would assume -- Dallas, Texas... I couldn't find any onfo about her online, and also couldn't find a release date for this one, although the album includes an Elvis Presley tribute song, so maybe it was from 1976-77-ish?? It's also quite possible it was an early '80s recording, but late '70s is my best guess.


<! - no ASIN 02/21/15 - couldn't find year or any info online >
The Hollanders "The Hollanders" (Show Time, 1984) (LP)
A six-sibling family band from Lynchburg, Virginia with a pretty scary visual aesthetic -- lots of big hair and shiny outfits, all very '80s. The repertoire on this disc is pretty country, overall, although they "went pop" on later albums.


<! - no ASIN 04/15/15 >
The Hollanders "Traveling Band Album" (Show Time, 1987) (LP)


They seem to be more into showtunes and more glitz on this disc...




Bobby Holliday "Home Grown" (1976) (LP)



<! - "Private Country-Folk-Rock VG+ Greenville, South Carolina" - no ASIN 12/11/15 >

Chuck & Margi Holliday "This Road" (Joker Records) (LP)
This couple from Cedar Falls, Iowa sang some country, but also some very lounge-y/pop standards stuff, with songs such as "Mr. Bojangles," "Me And Bobby McGee" and "Games People Play" and artists such as Credence Clearwater and Gordon Lightfoot. There's not release date, but clearly this was very early '70s...


<! CHUCK & MARGI HOLLIDAY - some country, but also some very lounge-y/pop standards stuff (see pic) - early '70s - date?? - no ASIN 04/04/15 - no info online, that I could find >

Doc Holliday "Salutes The Writers Of Country Music" (Vegas Records, 1979-?) (LP)


(Produced by Jerry Abbott & Doc Holliday)
As the title implies, this album is filled with covers of classic outlaw and honkytonk songs, although there are also a couple of originals co-written by "Doc" Holliday and Sam Bardin: "I Love You" and "Forgotten Lady." (They also co-wrote a 1979 single on the Vegas label, "Yes (I Love You)"/"Rebels & Devils" --- possibly "Yes" is the same song as on the album(?) Anyway, this was recorded in Texas with a local crew in the studio... a later edition of this LP had "As Seen On TV" branded on the front cover. Sam Bardin also released some stuff under his own name on the same label, though as far as I can tell, they were in fact two different guys.


<! - #VEG-7028 - no usual suspects Donald E. ("Doc") Holliday (?) - seems to be a different guy - born 1935, the guy above b. 1940 same??: - no - this is some Southern rock band from Florida B0016BIUQ8 Doc Holliday / Doc Holliday Rides Again / A&M Records / 1981 / Side One: Last Ride, Good Boy Gone Band, Don't Go Talkin, Southern Man, Let Me Be Your Lover / Side Two: Doin At Again, Don't Stop Loving Me, Hot Rod, Lonesome Guitar >

Martin Hollis "Nashville Session" (Holmac/Wilma Records, 197-?) (LP)
(Produced by Charlie Bragg & Bob Moore)
SInger-guitarist Martin Hollis made his mark on the British twang scene as a founding member of The Down County Boys, a popular and trailblazing English bluegrass band of the 1960s and '70s... Sometime in the 'Seventies, Hollis emigrated to the United States, where he worked thirty-plus years as an accountant for the Connecticut Department Of Education. He continued his love of American music, branching out into more mainstream country, and even joined the Connecticut Country Music Association, serving for a time as its president. Hollis formed a new band (brilliantly) named the Back Street Affair, which performed regionally around New England, though on this album he sought out backing by the big-name country pros, booking a studio crew that included Buddy Harman, Weldon Myrick, Hargus Robbins, Jerry Shook, Jerry Smith and Pete Wade, recording at the House Of Cash studios in Nashville. The repertoire is pretty straight-ahead country stuff, with songs written by Don Gibson, Merle Haggard, Mickey Newbury, Mack Vickery and others... Unfortunately, there's no release date on the LP, though I'd guesslate 'Seventies, possibly early-to-mid '80s from the look of it. Mr. Hollis passed away in 2011, at age 64, a couple of years after retiring from his gummint job.


<! - #WS-001 - no ASIN 10/10/17 (d. 2011, age 64) http://www.legacy.com/obituaries/hartfordcourant/obituary.aspx?pid=151768516 "...Martin Christopher Hollis, 64, of Granby, formerly of West Simsbury, beloved husband of Catherine "Terri" (McNamara) Hollis, passed away on Wednesday, (June 8, 2011) at Hartford Hospital after a courageous battle with cancer. Born in England, son of Marguerite (Parker) Hollis and the late Frederick L. Hollis, he lived in West Simsbury for 21 years before moving to Granby six years ago. Martin was employed as an accountant for 32 years with the State of Connecticut Department of Education, retiring in 2009. He was a devoted member of St. Catherine of Siena Church in West Simsbury and sang in their church choir for 16 years. Music was a big part of Martin's life and he was a founding member of The Down County Boys, a highly renowned bluegrass band in England and had his own band, The Back Street Affair, amongst others, in the United States. He also won many awards as a musician, vocalist, and entertainer as well as serving as President of the Connecticut Country Music Association. " A1 This Much A Man A2 Don't Go City Girl On Me A3 In The Shelter Of Your Eyes Written By – D. Williams A4 If You've Got Time (To Say Goodbye) Written By – M. Haggard A5 The Promised Land Written By – C. Berry A6 Home's Where The Hurt Is B1 If You Want Me To I'll Go Written By – M. Newbury B2 The Backside Of Dallas 3:13 B3 Easy As Pie Written By – R. Burke/J. Wilson/D. Dobbins B4 I Can't Keep My Hands Off Of You Written By – M. Vickery/B. Borchers B5 Diggy Diggy Lo Written By – J.D. Miller B6 A Legend In My Time Written By – D. Gibson Bass – Bob Moore Drums – Buddy Harman Engineer [Recording] – Charles Bragg Guitar [Gut String] – Pete Wade Lead Guitar, Rhythm Guitar – Jerry Shook, Pete Wade Piano, Electric Piano, Clavinet – Hargus "Pig" Robbins*, Jerry Smith (4) Producer – Bob Moore, Charles Bragg Steel Guitar – Weldon Myrick BRITISH??? http://blog.ebma.org/2011/06/martin-hollis-british-bluegrass-pioneer.html "... - in the Down County Boys, a bluegrass band formed in 1964 "...Martin Hollis lived in Coventry and in the early Sixties was studying for his accountancy qualification... - LK emailed DCB band 10/04/17 to ask for info may have worked as a studio engineer? - possibly: https://www.yellowpagesgoesgreen.org/whitepages/details/tn/MARTIN_HOLLIS/4604254 Phone: (931) 268-2535 230 Bethel Palk Rd, Bloomington Springs, Jackson County, TN-38545 - played at the Hartford, CT Podunk festival in 2000(?) http://articles.courant.com/2001-07-27/features/0107270803_1_festival-moves-homecoming-performance-northern-lights >

Terri Hollowell "Just You And Me" (Con Brio, 1979) (LP)





<! - "...Born on July 2, 1956 in Jeffersonville, Indiana, Country vocalist Terri Hollowell had, by choice, a short 1978/79 recording career after signing with the equally brief Con Brio Records, launched in 1975 in Nashville by Jeff Walker and his father Bill, lasting itself only to 1979... She was good. But when she became pregnant in 1980 with her first child she just left the business entirely to raise her family." > <! DOYLE HOLLY >

Eileen And Wes Holly "Just Us" (Fredlo Records, 1970-?) (LP)
Hillbilly picker Wes Holly was born in Dixon, Illinois and recorded a handful of hard-country singles back in the 1950s, eventually landing a gig as the host of a TV show in Davenport, Iowa. He and his wife, Eileen Holly, also recorded a series of albums, with a mix of country and pop material. Here, as the album title implies, it's just the two of them in a stripped-down setting with Mr. Holly playing some sweet licks on his amplified guitar, and singing a few of the songs. She covered most of the vocals, though, and had a penchant for belting it out -- reminiscent in some ways of Lynn Anderson, perhaps by way of Kitty Wells or Loretta Lynn, though with a definite tilt towards a pop-vocals/showtunes style. To be honest, this mostly doesn't work for me, though there is a charm to the unpretentious, DIY presentation, including the minimal cover art and blank back cover.


<! A1 With Pen In Hand 3:31 A2 I'll Be Your Baby Tonight 2:52 A3 I Don't Care What You Used To Be 2:22 A4 Green Green Grass Of Home 3:40 A5 Distant Drums 3:40 A6 Who Do You Love? 2:33 B1 Raindrops Keep Falling On My Head 2:34 B2 White Lightnin' 2:40 B3 Old Favorite Medley 2:39 B4 Every Street's A Boulevard 3:12 B5 I Overlooked An Orchid 3:13 B6 Break My Mind 3:15 B7 Finale - #FR-7008-LPS - blank back cover - purchased 05/01/16 http://countrydiscoghraphy2.blogspot.com/2013/03/wes-holly.html http://www.rocky-52.net/chanteursh/holly_wes.htm http://www.cmt.com/artists/wes-holly/biography/ - no content - >
Eileen And Wes Holly "The Sounds Of Holly" (1972-?) (LP)
On this record they cover some Top Forty stuff, like "Spinning Wheel," "Never Ending Song Of Love" and "Knock Three Times," as well as songs that were more officially "country," such as "Country Roads" and "Release Me," along with a real oldie like "Wreck Of The Old 97." Not a lot of info about these sessions -- there's no date on the record, and the back cover was blank. Around the time this early '70s album came out the "Sounds Of Holly" duo was doing gigs up in Tahoe -- and possibly touring elsewhere -- although I think the Midwest remained their main center of activity.


<! - 1974 newspaper notice about them playing a gig up in Tahoe "Knock Three Times," 1970 spinning wheel - 1968 "Never Ending Song Of Love" - 1971 >
Eileen And Wes Holly "The Sounds Of Holly, Volume 3" (Lee-Myles Associates, 1973) (LP)
Other than a cover of "For The Good Times," this is a far less country-oriented album... They also include a version of "Proud Mary," in case you're keeping track...


<! "...The LP sports a Lee-Myles Instant Cover. Printed By – Lee-Myles Assoc., N.Y.C." - #LPS 1212 ALSO: Eileen Holly & Julie Goldstein "From The Heart" (xxxxxxx, xxxxx) (LP) >
Jan Holly "Country Girl" (Avenue Records, 1973) (LP)
(Produced by Gordon Smith & Joe Brown)
An early-1970s offering from the ambitous but short-lived English label, Avenue Records... Ginger-haired Jan Holly had worked in a variety of bands prior to recording this album -- all with colorful, American-sounding names like the Moonshiners, the Southerns and the Virginians -- and was working in a duo with US expat Sherry Jackson, though I don't think Jackson appears on this album. In all honesty, this is a pretty lackluster album, with the Donna Fargo-esque Holly backed by a Brit band that couldn't quite seem able to figure out how to shed their rock roots and find a real country groove. They were technically proficient, but just not genuinely rootsy enough, so they clearly sound like folks who are going through the motions. Still, it's not a bad record, just not very exciting.


<! - no ASIN 08/16/15 - #AVE-0133 >

Jan Holly "Sitting On Top Of The World" (Horatio Nelson Records) (LP)



<! - no ASIN 08/16/15 - 1980s(?) >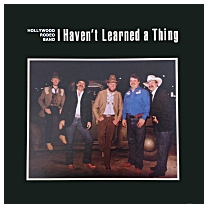 The Hollywood Rodeo Band "I Haven't Learned A Thing" (HRB, 1983) (LP)
(Produced by E. P. Davis)
One of the more notable bands in Colorado's 'grass-and-twang scene, the Denver-based HRB came together a few years before they made their first album, and stayed together (or reunited) for many years to come. This first record was a rock-solid mix of retro-honky tonk and western swing -- mostly covers, though there are some originals, including bassist Michael Clayton's "Come On Back" and "Nobody's Home," as well as fiddler Clarke Wright's "Wonderful Waltz." The musicianship is excellent, particularly the inventive, ever-present pedal steel work by E. P. Davis, who also adds some tasty banjo licks. Davis had been in a couple of Midwestern bands before this and stayed active in various post-Rodeo projects. Davis later moved to Kauai and delved into Hawaiian music although he still curates the Rodeo Band's legacy, including a best-of CD that's available from his website (and that's also listed below.) Anyway, this is a very strong record... Some iffy vocals, maybe, but on the whole this stands right up there with the best of the western swing revival bands such as Asleep At The Wheel, et. al. Recommended!


<! - online says 1977, LP itself says '83 - from Denver, Colorado - an MP3 album online: is this repackaged? http://www.hanaleiep.com/Hanaleiep/Hollywood_Rodeo/Hollywood_Rodeo.html : "...The Hollywood Rodeo Band was a popular regional band based out of Denver, Colorado. Founding members were EP Davis, Clarke Wright, Hagan Day and Ernie Martinez. G. Fred Swanson was the next to join the group in 1977 and Ernie went on to pursue other opportunities. Through the years the core of the Band would remain EP, Clarke and Fred. Other Musicians who worked with the group were, Matt Clayton, Rich Moore, Matt Pulizzi, David Rodriguez, Jim Gregg and Mark Rosenberg." >

The Hollywood Rodeo Band "On The Western Trail" (1985)





The Hollywood Rodeo Band "Saddle Up" (1986)





The Hollywood Rodeo Band "Fading Romance" (1986)





The Hollywood Rodeo Band "Born Ready" (1987)





The Hollywood Rodeo Band "Bluegrass Routes" (1988)





The Hollywood Rodeo Band "Looking At The World" (1991)




The Hollywood Rodeo Band "Cowboy-Bluegrass Honky-Tonk Dancehall Music" (2014)



This best-of set is made up of material from four albums released in the 1980s...


<! The Hollywood Rodeo Band "I Haven't Learned A Thing" 1977 The Hollywood Rodeo Band "On The Western Trail" 1985 The Hollywood Rodeo Band "Saddle Up" 1986 The Hollywood Rodeo Band "Fading Romance" 1986 The Hollywood Rodeo Band "Fading Romance" (45 rpm) 1986 The Hollywood Rodeo Band "Born Ready" 1987 The Hollywood Rodeo Band "Bluegrass Routes" 1988 The Hollywood Rodeo Band "Looking At The World" 1991 The Hollywood Rodeo Band "The Essential Hollywood Rodeo Band, Volumes I, II, III" (CD) (1994) The Hollywood Rodeo Band "Partners On The Prairie" (CD) All original songs: 2CD set 1995) > <! Johnny Holm "...And The Traveling Fun Show" (ASI, 1979) (LP) B000GF5IRY - includes a Jack Sundred song, "All My Life" and songs like "Battle Of New Orleans" Johnny Holm & The Traveling Fun Show "Live!" (Neva, 1982) (LP) - from New Munich MN Johnny Holm "Gotta Let It Out" (Neva, xxxxxx) (LP) B00412ZTN6 - now called the Johnny Holm Band Johnny Holm "Lightnin' Bar Blues" (ASI, xxxxxx) (LP) B005OD9VHQ - yeex. scary looking! - - Minnesota rocker (?) still around: http://www.johnnyholm.com/ >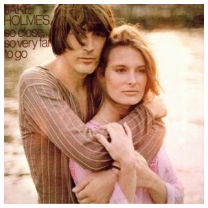 Jake Holmes "So Close, So Very Far To Go" (Polydor, 1970) (MP3)


(Produced by Elliot Mazer)
This rambling orchestral pop-folk odyssey doesn't really fit in with the whole "hippie country" sound, but I'm adding it here more as a "buyer beware" thing, since it was recorded in Nashville and features a bunch of talented country super-pickers in the backing band. We're talking about folks like Kenny Buttrey, Norbert Putnam, Buddy Spicher and Weldon Myrick, so you can see why I would have wanted to check it out. Holmes was a graduate of the Greenwich Village folk scene who made a few oddball, experimental folk-pop-psych albums, and is best remembered as the guy who wrote the song "Dazed And Confused," which British rock guitarist Jimmy Page brazenly stole from Holmes after hearing him play it during a gig where Holmes opened for the Yardbirds. (Page never gave Holmes credit for the work, despite Holmes having recorded it two years before Led Zeppelin, and the issue wasn't settled until Holmes filed suit in 2010...) Later on, Holmes went into advertising and composed several well-known jingles... Anyway, this is one of those weird hippie-era pastoral pop albums that you really have to be into on a cerebral level -- it's certainly no alt-country twangfest, although on a couple of tracks the pedal steel makes a nice impression, notably on "The Paris Song," although it's still a stretch to think of it as "country-rock." Probably of more interest to fans of experimental, late '60s studio pop.
James Edward Holmes "Sounds Of Memories" (Comstock Records, 1989) (LP)
(Produced by James Edward Holmes)
A self-produced set of all-original, retro twang, with songs like "Home Brewed" and "Hillbilly Saturday Night." Holmes was from Scottsdale, Arizona, but other than that I don't know much about him.


<! - #COM-988 - all originals - no ASIN 11/18/15 "...Fountain Productions is bound and determined to select the very best, most qualified, most professional judges to evaluate the singing of contestants. For example, Dr. Wendell V. Fountain has been involved in music and entertainment as a talent scout, manager and promoter of musicians and singers since the early 1970s. Fountain produced an album in 1989 by James Edward Holmes, whom he promoted in the U.S., abroad and the Far-East. " >
Bennie Holtsclaw "Lots Of Love" (Melody Wings Music, 1981) (LP)
(Produced by John Leavitt, Jr.)
A gospel offering from Cedar Point, Kansas, with a half-dozen Bennie Holtsclaw originals, including a couple that have local, Kansas-specific references, "My Kansas Flint Hills" and "A World Champion Cowboy," a recitation song which pays tribute to a couple of local rodeo riders. Holtsclaw has kind of a tremulous voice, one that I'd perhaps call "churchy," but there's definite true twang on here as well, with fiddle, banjo and mandolin added to a basic, Nashville-style electric-country backdrop, all performed by local artists. This album -- which isn't earthshaking, but has its charms -- was made a long time ago, though Holtsclaw kept writing, recording and self-releasing for years to come, still holding down the fort in Cedar Point. I think this was his first album, though I'm not totally sure.


<! > <! Holy Modal Rounders "The Holy Modal Rounders" (1964) Holy Modal Rounders "The Holy Modal Rounders 2" (1965) Holy Modal Rounders "Indian War Whoop" (1967) Holy Modal Rounders "The Moray Eels Eat The Holy Modal Rounders" (1968) Holy Modal Rounders "Good Taste Is Timeless" (1971) Holy Modal Rounders "Alleged In Their Own Time" (1975) Holy Modal Rounders "Have Moicy!" (1976) - with Jeffrey Fredericks Holy Modal Rounders "Last Round" (1978) Holy Modal Rounders "Going Nowhere Fast" (1980) Holy Modal Rounders "Too Much Fun!" (1999) Holy Modal Rounders "Live In 1965" (2002) - live - Holy Modal Rounders "Bird Song: Live 1971 (2004) - live - Compilation Holy Modal Rounders "I Make A Wish For A Potato" (2001) >

Bob Homan "Beaming All Over" (HEB Records, 1969) (LP)
(Produced by Kearney Barton)
Originally from Tifflin, Ohio, honkytonker Bob Homan moved around and performed on a number of Midwestern radio stations in the 1950s, before moving permanently to Yakima, Washington in 1959. His first music job in the area was playing on the Bert Wells cowboy show on TV station KIMA, Yakima; Homan also had a regular live gig at the Alaska Corral Club. Homan self-released a handful of singles before recording this first album, and led his band or played solo for years and decades to come. He was active in a range of local events and performed at community events well into his seventies and eighties...


<! - #H-1653 - no ASIN 01/25/17 - album mentioned in BB Nov 23, 1968: not released until Spring: Apr 12, 1969 >

Bob Homan "Phases Of Love" (HEB Records, 1970-?) (LP)
(Produced by Lee Furr & Bob Morris)
Homan brought in some high-power twang for this one... None other than the Buck Owens band, the circa 1969-70 Buckaroos, with Don Rich, Doyle Holly and J. D. Maness are in the studio crew, with Buck adding liner notes in praise of Mr. Homan. About half the songs on here were co-written by Bob Homan, including one composed with Jerry Pruitt, as well as two written with Cecilie "Tillie" Clifford (1924-2015), a Yakima housewife who took up songwriting as a hobby.


<! - #H-1732 - no ASIN 01/25/17 - "Doyle Singer" (Holly?) on bass - probably a typo; Maness' name is also misspelled http://nwmusicarchives.com/artist/homan-bob/ - singles http://www.hillbilly-music.com/artists/story/index.php?id=13135 (b. 1930) "...The native of Tifflin, Ohio were playing at the Alaska Corral Club in Yakima, WA in the early 1960s." https://www.highbeam.com/doc/1P2-18439147.html Yakima Herald-Republic, January 12, 2001 "...Yakima first wrangled a taste of Homan in 1959 during his daily appearances on KIMA's "The Bert Wells Show." Homan, who says he's worked most of the nightclubs in Yakima, still is performing with The Al Maletta-Bob Homan Duo and Sweetwater, which appears weekends at the VFW..." (hit a paywall) http://www.yakimaherald.com/obituaries/cecilie-tillie-clifford/article_52e4d052-3fb6-11e5-a703-4f31e6b72291.html Tillie Clifford (1924-2015) >

Home Comfort "Old Strings, Old Songs" (Paja's Records, 1977) (LP)
(Produced by James H. Starbuck)
This album was recorded in Westport, New York, though I think the band was from Vermont... At any rate, this is super-duper hippied out, folkie stuff with old-fashioned tunes played by Michael Blouin (bass, guitar), Vincent Thomas Consoli (guitar, fiddle, mandolin, banjo), Michael Kennedy (lead guitar, banjo), Pancho (banjo, bass, guitar) and Christopher Trigg (drums).


<! - from Vermont? recorded in Westport, NY - #75-71 - no ASIN 12/18/16 >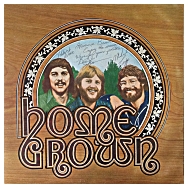 Home Grown "Home Grown" (Ridgetop Records, 1976) (LP)
(Produced by Home Grown & Gary Boyd)
The Northern California trio of Patrick Durr, Bruce Johnson and Michael Lingg apparently hailed from Modesto, CA, and while most of the songs on here have sort of a sprightly, goofball folkie tone (vaguely ala Tiny Tim?) there are a couple of noteworthy twang tunes -- I think I have dim memories of hearing the bar-bandish "Over Me" on KFAT, a bazillion years ago, and the novelty number, "Fourteen," a fond look back at horny adolescence, is a winner. Most of these songs are originals and many are more ambitious than accomplished, but their hearts were in the right place, dabbling in a variety of styles, including the gooey country-rock of the time. When the three-part harmonies kick in, a CSN/Firefall/Poco debt becomes plain, underscored by their earnest cover of Stephen Stills' "Love The One You're With." I think the best thing about the copy I picked up is the inscription, made out to, "Governor Brown: Enjoy the music - We enjoy your politics." Gee, I wonder if Jerry's staffers actually passed this LP along or not... it's awfully tempting to send it to him again, now that he's the governor... again!




Homegrown "Homegrown" (Homegrown Records, 1980) (LP)
(Produced by Homegrown & Randy Rand)
Though this is starting to get a little too "Bambi Meets Godzilla" for me, I will tell you that Homegrown, the band, was the duo of Steven Farmer and Michael Myers, from Bozeman, Montana. "Homegrown," the album, was recorded in Missoula, and is mostly original material from Farmer and Myers, as well as two by R. O. Baird -- "Really Love Ya Woman" and "Sunshine Goodbye," along with a version of Willis Alan Ramsey's "Angel Eyes."


<! - no ASIN (?) 10/12/17 >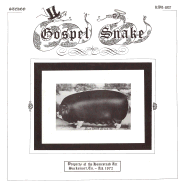 The Homestead Act "Gospel Snake" (Kim-Pat, 1972) (LP)
(Produced by Bill Trigg & The Homestead Act)
The first album by banjo plunking Elmo Shropshire and his bass playing partner Patsy Trigg, later of "Elmo & Patsy" fame... This self-released bluegrass/country mashup album isn't that great, not in an it's-bad kind of way, but mostly because it's a mediocre performance that was poorly produced -- the sound palate is static and flat, and the vocals are, well, kind of amateur level. Not bad, though, and certainly of interest to fans as well as alt-country historians. Interestingly enough, there isn't much novelty material on here, other than bluegrass-y covers of rock songs like the Beatles' "Lady Madonna" and The Band's "The Night They Drove Old Dixie Down," but not a lot of the kind of Dr. Demento comedy stuff we now associate with the Elmo & Patsy duo. The most notable song is the semi-kooky recitation on the title track, though there are no Dr. Elmo originals on the entire album. Alt-country fans heads might spin, though, at the folks in the studio crew, most notably picker Steve Young, who contributes several songs, including "The White Trash Song," which has a promising title, but isn't quite the novelty number you'd hope for. Also on board are veteran country-rock steel player Don Beck and bassist Bill Amatneek, a Bay Area bluegrass stalwart who wound up in David Grisman's dawg music quintet a few years later. They add some nice licks, and Shropshire has a couple of instrumentals where he cuts loose a little on the banjo. Nothing dazzling, but a nice example of hippie-era DIY twang.


<! GIF w/out added margin >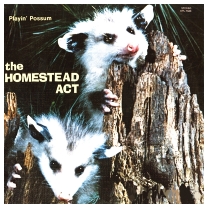 The Homestead Act "Playin' Possum" (Kim-Pat, 1974) (LP)


(Produced by Mike Cogan)
Sort of a standard-issue amateur bluegrass album, with decent picking and semi-iffy vocals around a nice set of hillbilly oldies and standards. Some of the same musicians that were on the first album come back for this one -- the lineup includes Bill Amatneek, Richard Greene, Brantley Kearnes, and several less well-known pickers, recording at the Bay Records studios in Berkeley, CA. It's not a great record, but it's okay. Adorable cover art.
(Gene And Jerry &) The Homesteaders "Nashville Hootenanny" (Roulette Records, 1963) (LP)


The Homesteaders was a pickup band formed in the late 1950s by fiddler/multi-instrumentalist Jerry Rivers (1928-1996) several years after his high-profile gig with Hank Williams came to an end. This album projects an image intended to capitalize on the early '60s folk revival -- two guys posed with banjo and 12-string guitar -- but there's a pretty solid country core, notably in the repertoire. A couple of singles preceded this album, but as far as I know this was the first Homesteaders LP; there aren't any credits on the album, but I believe Jack Boles and guitarist Floyd Robinson were also part of the band at this point. Rivers led the band through the early 1970s, when he handed over the reins to guitarist Frank Evans. Rivers went on to be a core member of the Drifting Cowboys, a Hank Williams tribute band led by singer Jim Owen.


<! - PF says (Gene Chandler, Jerry Butler - was that really Jerry Rivers? ...and their manager Gene Goforth? or Gene South? https://en.wikipedia.org/wiki/Jerry_Rivers http://www.findagrave.com/cgi-bin/fg.cgi?page=gr&GRid=96306893 ...and was it also the same Jerry Rivers who played fiddle for Hank Williams? Frank Evans: http://www.radioyears.com/other/details.cfm?id=602 http://steelguitarforum.com/Forum10/HTML/001945.html "...I think the original group was comprised of Jack Boles, Jerry Rivers, and Floyd Robinson (Billy's brother), who played lead guitar." >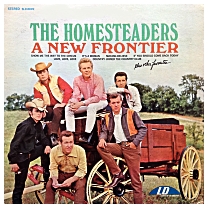 The Homesteaders "A New Frontier" (Little Darlin', 1967) (LP)


(Produced by Aubrey Mayhew & Jack Clement)
A fun, zingy album with a heavy Buck Owens influence and plenty of original material written by producer/label owner Aubrey Mayhew. The principal members of this edition of the band -- the guys listed on the back cover -- were Frank Evans, Bob Leftridge and of course, Jerry Rivers, although a full, six-person band is pictured on the front, and I think Jack Boles was also part of the band at this time. This record really is a lot of fun, with robust performances all around, and a strong repertoire of honkytonkers and novelty songs. Also a really swinging pop-pysch flavored instrumental called "Homesteadin'," with some fancy rock riffs on guitar. Recommended!


<! Show Me The Way To The Circus; It's A Woman; Making Believe; Country Joined The Country Club; Love, Love, Love; "H" Is For Heartache; If You Should Come Back Today; Take A Little Time For Lovin'; Homesteadin'; Wasting My Time On You; Lovin' Time; Your Thinkin's All Wrong >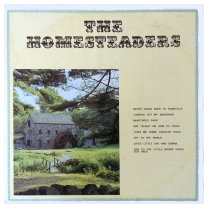 The Homesteaders "The Homesteaders" (1972) (LP)


By the early '70s, the Homesteaders found regular work as the backup band for singer Jeannie C. Reilly, who contributes glowing liner notes to this album... She also recorded a song called "Six Guns And Popsicles," which was written by bandmembers Gordon Cash and Jimmy Halfacre, though unfortunately they didn't include a version of the song on here. Jerry Rivers had left the band by this time and let guitarist Frank Evans take over as bandleader. While this disc isn't quite as zippy as their Little Darlin' album, it's still a fun set... pretty much exactly how you'd want an off-the-radar tour band from the early 'Seventies to sound. It's all country covers including stuff like John Stewart's "Never Going Back To Nashville," "Life's Little Ups And Downs" and Billy Ed Wheeler's "Ode To The Little Brown Shack Out Back." They were good pickers, decent singers, and put their hearts into it, even getting into some cornpone comedic showmanship on oldies like their epic rendition of "She Taught Me How To Yodel." I'm not sure if the band held together much longer after this, though Frank Evans continued to tour and do session work throughtout the '70s.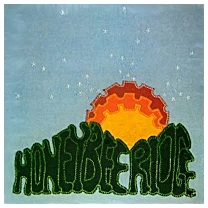 Honeybee Ridge "Honeybee Ridge" (Beaver Creek Revolution, 1979) (LP)


(Produced by John O'Connell & Bill McElroy)
This band from Bakersfield, California mostly stuck to a folkie-stringband sound, with pretty bare-bones arrangements and production, framing low-key vocals by songwriters Tom Hunnicutt and Sandra Kline. They stray into slightly more countried-up territory on a tune or two, such as Hunnicutt's "Big Ol' City," where he sounds a little like Don Williams, and "Sadness Is Sundown," which reminded me more of Elmo & Patsy. The album includes a song called, "What's Gonna Happen To All Us Old Hippies?" a plaintive novelty-song paen to all things longhaired, sandal-wearing and earth-worshipping. A couple of songs were co-credited to George Beecham Jr., but he seems to have been mostly a friend of the band, limited to some light kazoo tootling on a tune or two; also notable are dobro picker Red Sawyers and a couple of guys playing banjo... But though this does seem to be a genuine West Coast hippie artifact, it's not that much of a country-rock record, and way more of a folkie thing.
The Honey Bees "Great American Country Hits" (Everest Records, 1960) (CD & MP3)



This all-female vocal trio came from a pop-vocals/big band background, but here run through a repertoire of country standards... Singer-pianist Bix Brent had been in a late '40s/early '50s group called the Heathertones, which cut a few records with bandleaders such as Tommy Dorsey and Benny Goodman and she later worked as a featured vocalist for Vaughn Monroe. Delores Brown and Bettye McCormick had both been backup singers for Ray Charles, as well as doing some work on Broadway. At the time this album was made the gals were working as backup singers for country crooner Eddy Arnold -- the band on this album was led by pop guitarist Billy Mure.


<! - from the Arthur Godfrey show(?) - sang with Eddy Arnold Bix Brent, Bettye McCormick and Delores Brown > <! Bob Hood/Various Artists "Bob Hood Presents The WNOX Tennessee Barn Dance" - Johnny Shelton L.E.White - no ASIN - in COMPS(?) >

Al Hooper "Sunday Morning Coming Down" (Paragon Records) (LP)
A Canadian artist from New Brunswick, Al Hooper was also known as "The East Coast Ambassador," though to which embassy, they didn't make clear. He covers some hippie-era hits, like "Is Anybody Goin' To San Antone" and "Me And Bobby McGee" -- the album also includes three Hooper originals: "Hello Dad," "Mr. Rain," and "Waitin' For My Hangover."


<! (Produced by Jack Bennett(?) & Bill B-------) - no ASIN 10/22/16 but there are some MP3 albums on AM >
Rick & Dee Hooper "Live At The Belle Starr" (Belle Starr Records, 1980) (LP)
(Produced by Phil York)
The Hooper brothers were a popular duo in Texas during the 1970s, recording here with with a band called The R&D Express... I think in later life they both turned to singing gospel music, but were still singing secular stuff here, including covers of honkytonk classics such as "Pick Me Up On Your Way Down."


<! http://www.findagrave.com/cgi-bin/fg.cgi?page=gr&GRid=62996048 - no ASIN 02/11/15 >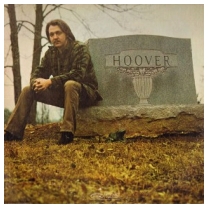 Hoover "Hoover" (Epic, 1970) (LP)


(Produced by Chuck Glaser)
The now-obscure country songwriter Willis Hoover went to Nashville in the 1960s and hit the ground running... Although he's cited as an early forefather of the "outlaw country" style of Waylon and Willie, he also had success pitching songs that were recorded by old-school artists such as Eddy Arnold, as well as denim-clad rebels such as Tompall Glaser and Waylon Jennings. According to the perhaps unreliable website of Kinky Friedman's Sphincter label, after several years in the Nashville scene, "things got checkered," and Willis dropped out of the music business and drifted from job to job for the next couple of decades. This was his only full solo album, although he recorded singles for several labels, and wrote the soundtrack for a feature film called "tick...tick...tick..." Some of his older recordings were reissued on the CD below.
Hoover "The Lost Outlaw Album" (Sphincter, 2003)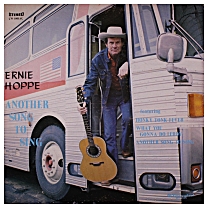 Ernie Hoppe "Another Song To Sing" (Chartwheel, 1979) (LP)


Hoppe was a Kansas farm kid who moved to Denver and played in country bars throughout Colorado... This album includes covers of country oldies by Mel Tillis and Ted Daffan alongside a bunch of Hoppe originals. This is an album where you have to overcome your first impressions, as Hoppe had one of those weird mousy-froggy voices that sometimes work in country music, and sometime do not... I'm thinking of folks like Don Bowman, Dick Feller and Dr. Elmo here... Anyway, once you get past the vocal tone, Hoppe's got a lot to offer, not the least of which is a nice flock of original songs such as his own novelty numbers such as "Midnight In Memphis" and "Honky Tonk Fever," where he name drops a bunch of country and outlaw stars. There's one duet on here with an unidentified female singer whose own rather iffy voice makes an odd combination with his... It's a good song, though, the sentimental "Treasure Of Love," one of many fine weepers and ballads that bookend the more uptempo stuff. I'll admit, this record might not be for everyone, but I got into it, and I think it's a real find.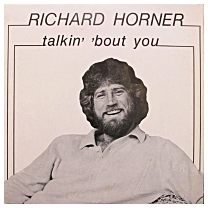 Richard Horner "Talkin' 'Bout You" (Woodshed, 1982) (LP)


(Produced by Chuck McCabe)
A swell indie-twang album from San Jose, California, with a strong mix of originals and cover tunes, such as versions of the George Jones oldie "The Race Is On" and John Phillips's outlaw fable, "Me And My Uncle." The originals include songs by producer-guitarist Chuck McCabe, co-producer Dennis Gobble and a couple by Horner himself. He's not the greatest vocalist ever, but if you enjoy folks like Larry Hosford, Norton Buffalo or Chuck Wagon & The Wheels, this humble set from Northern California might be your speed. Definitely worth a spin. [Anyone know more about this guy, or this album? It seems to have been a very local affair -- I don't recognize any of the backing musicians other than McCabe... And who the heck were the Overlook Mountain Boys bluegrass band that backed him on the album's best novelty number, "I Tore Up My Tickets (Like You Tore Up My Heart)"? So many mysteries...]




Horse Creek Band "Ozark Mountain Music: Recorded Live" (LGS) <! #LGS-101 >
(Produced by Larry Sledge & Butch Gregory)
The Horse Creek Band was started as an acoustic-based "house band" at Branson Missouri's Western-themed Silver Dollar City tourist park... They're mostly a bluegrass-based act, and have hosted a string of working musicians in their lineup over the years. Founded in 1975, the band remained together well into the 21st Century, with their original guitarist, George "Butch" Gregory, anchoring the group for over forty years.


<! - no ASIN 01/12/2015 - recorded at Silver Dollar City, featured on another SDC album >

Horse Creek Band "Don't Be Ashamed Of Your Age" (LGS, 1983) <! #LGS-103 >



<! http://www.homeandawaymagazine.com/files/ozarks/ozarks_unplugged.html >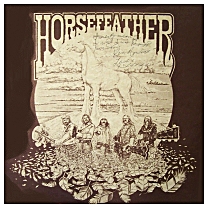 Horsefeather "Horsefeather" (Horsefeather Records, 1978)
A longhaired country band from Michigan... All original material, except for one cover of a Roy Acuff song.


<! - includes a song called "Dreams Of Cthulu"(sp?) - recorded at River City Studios >


Larry Hosford - see artist discography





Hot Rize - see artist discography




Hot Shandy "Paradise Ain't Cheap!" (Hot Shandy Records, 1981) (LP)
(Produced by Hot Shandy & Steve Gronback)
This was a humorous, eclectic acoustic duo from Charlotte, North Carolina who had a folkie-bluegrass feel. Singers Jim Magill and Rick Bouley are joined by a high-power cast of guests that included Mike Cross, and Celtic musician Triona Ni Dhomhnaill. The album is full of original material, including the original song, "God Is A Good Guy."


<! - no ASIN 06/09/16 > <! Hot Tuna - individual albums? >

Hot Tuna "The Best Of Hot Tuna" (RCA, 1998)



A 2-CD set showcasing the best of this hippie-era acoustic blues/jug band supergroup. One of the finest pickers of the uber-hippie scene, guitarist Jorma Kaukonen came to fame as a member of Jefferson Airplane, but began to chafe as the Airplane became more exclusively an electric-psychedelic band. The acoustic-oriented Hot Tuna was his answer, at first just a side project/spinoff band, and then a force to be reckoned with on it own. This generously programmed collection has a bunch of their best songs, including a slew of old blues tunes covered in Kaukonen's inimitable style -- "Candy Man," "Hesitation Blues," "Keep On Truckin' " and others -- as well as some sweet instrumental numbers such as the Leo Kottke-esque "Water Song." Although Hot Tuna had some psychedelic and boogie-band tendencies, it's their more subtle, delicate side that really set them apart from many of their drugged-up, clompy contemporaries. This is a great overview of these sometimes-neglected hippie-era old-timers. Recommended!


<! 144 x 144 >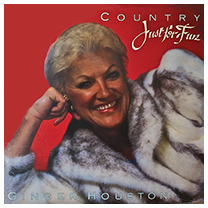 Ginger Houston "Country Just For Fun" (198--?) (LP)
I couldn't track any info down about this one... Ms. Houston looks like she was a middle-aged gal, possibly a lounge singer who decided to record a few country classics. Her backing band included Timmy Avalon on steel guitar, and he seems to be a younger dude who plays in various Mississppi bar bands, as well as fiddler Mickey Davis and bassist Jerry Puckett, both of the band Union Kun-Tree, which also had roots around Jackson, MS. So, I'm guessing Ms. Houston may have been from that part of the country as well. The album also looks like it was recorded in the 1980s, or possibly even in the '90s. Anyone know more about this one?


<! Jerry Puckett: bass, keyboards, guitars, background vocals Traci Hayes: background vocals Mickey Davis: fiddle Timmy Avalon: steel guitar No visible label, catalog #, or copyright/release date Side 1: Comin' on Strong Your Cheatin' Heart You're Looking at Country Release Me You Win Again Side 2: Too Many Rivers Today I Started Lovin' You Again Holding Him, Thinking About You The Cricket Song God Bless America Again Jackson, Mississippi? - possibly this owman's daughter? http://www.freemanfh.com/obits/obituary.php?id=497229 Mickey Davis on the band Union Kun-Tree http://talkinbluegrassmusic.blogspot.com/2013/01/mickey-davis-family-music-history-spans.html >

John Fred Houston "John Fred Houston" (Houston Records, 1969--?) (LP)


A mix of pop and country covers, with songs by Neil Diamond ("Sweet Caroline" and "Song Sung Blue") alongside barroom weepers like "Good Time Charlie," and standards such as "Ghost Riders" and "Jambalaya." This guy also apparently released a bunch of singles under the name "John Fred" while living in Shreveport, Louisiana.


<! - #6699 >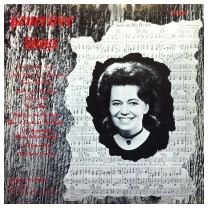 Genevieve Hovde "...Sings Close To My Heart" (Ardelle Records) (LP)


(Produced by Rex Allen, Jr.)
Ms. Hovde was formerly a child star performing on the Chicago-based National Barn Dance radio show and KSTP-TV's Sunset Valley Barn Dance, and also apparently played live with the Sons Of The Pioneers... This album captures her much later (early 1970s??) as an adult living the quiet life in River Falls, Wisconsin. She went down to Nashville to record at Jack Clement's studio, with backing from Lloyd Green, Hargus Robbins, Johnny Gimble and other several high-powered studio pros. This album includes some oldies like "Release Me" and Hank Williams's "Mansion On The Hill" as well as several by songwriters she was friends with, such as Bud Auge and Billy Folger. Not sure of the exact date on this one, but I'm guessing early-to-mid '70s.


<! http://www.jeanneandersen.net/tvshows.html http://kymnradio.net/tag/singer/ - radio interview! >

Diane Howard "High Rollin' Man" (Scott Music, 1984) (LP)



<! - no ASIN 03/27/15 - Houston TX - country??? Track Listing: High Rollin' Man; The Heat Is On; Mothers Lullaby; This Could Go On Forever; (Love Me) Like the Morning; (Me to You) Heart to Heart; I Talk in My Sleep; If I Had to Do It Over; Let's Fall in Love Again Tonight; Helluva Surprise. >

Jack Howard/Various Artists "Jack Howard's Covered Wagon Caravan" (Arcade, 1962-?) (LP)


Jack Howard was a music promoter from Philadelphia who had worked with Hank Snow and Bill Haley in the 'Fifties, moving into a more active impressario role in the early '60s. He set up his own country music variety show featuring East Coasters such as Shorty Long, Rex Zario, Marty Smith, the duo of Ginger and Johnny, Art Taber and Jesse Stone, a group that acted both as a package tour lineup and as the cast for a weekly Saturday night radio show on WCAM, Camden, New Jersey, called the "Covered Wagon Caravan." In the early 'Sixties, Howard released several singles and at least two LPs featuring many of these artists, mainly on the Arcade label.


<! - #AR-1003 - 1962-? - (1961 BB ad for Zario) >


Randy Howard - see artist discography



Scotty Howard "None Other Than Me" (Crown Records, 1967) (LP)



<! - no ASIN 02/20/16 - #CLP-5536/CST-536 >
Scotty Howard "More Truck Drivers Songs" (Custom Records) (LP)





<! - seems to be a reissue of the other album - ten tracks - not particularly "trucker" though(??) >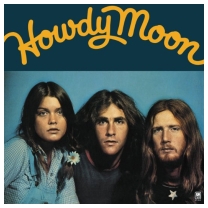 Howdy Moon "Howdy Moon" (A&M, 1974)


(Produced by Lowell George)
This airy folk-rock trio is worth noting here because of the presence of several members of the Los Angeles roots-music elite -- Lowell George, Bill Payne and bassist Roy Estrada from Little Feat; pedal steel player Sneaky Pete Kleinow, and ex-Lovin' Spoonful singer John Sebastian playing harmonica on the album's opening track, "Lovelight." There are also a slew of pop and jazz session players, such as Van Dyke Parks, guitarists Arthur Adams and Dennis Budimir, as well as percussion by Milt Holland and Bobbye Hall. The bad news is, this is a pretty dreadful album, at least from my point of view. Tons of gooey, spacily amporphous soft-rock with fairly weak vocal harmony arrangements, and occasional whiffs of CSN-ishness. The guys in the band, Jon Lind and Richard Hovey, never really did much else than this album -- a few songs recorded by other artists -- though the gal, Valerie Carter, recorded two solo albums in the '70s and had a long career as a backup singer -- most notably for James Taylor -- and she sang on Little Feat's The Last Record Album right after this record came out. Despite the storied musical lineage, this album has very little to offer country-rock twangfans, and even soft-rock aficianados might find it hard to get too excited about its contents.


<! >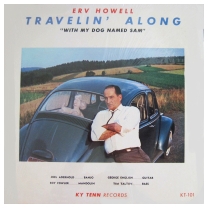 Erv Howell "Travelln' Along" (KY Tenn Records) (LP)
Dunno much about this fellow, other than that he was an uber-indie bluegrasser from Tennessee, and that he released at least two albums. On this record, other than a cover of the classic instrumental "Train 45," all the songs are credited as Erv Howell originals.


<! - no ASIN 12/06/15 - bluegrass? - #KT-101 - mostly originals? "...All but one of the thirteen songs on this album is an Erv Howell original." - Joel Aderhold banjo, Roy Fowler, Mandolin, Tim Talton, bass - George English, guitar - 208 available A-6. Tallapoosa Georgia2:47 A-5. The L & N1:41 A-4. Tennessee moon3:05 A-3. Semi trailer2:01 A-2. Laurel blossom time3:25 A-1. Talladega polka B-7. Train 451:53 B-6. Dixie dew2:24 B-5. On the Gulf, Mobile & Ohio2:06 B-4. Rollin' back to Tennessee2:50 B-3. Goin' to Colorado1:58 B-2. Smokey Mountain drive2:05 B-1. The watermelon song2:16 https://lospeep.wordpress.com/2012/09/19/travelin-along-with-my-dog-named-sam/ >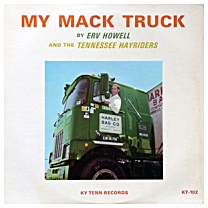 Erv Howell & The Tennessee Hayriders "My Mack Truck" (KY Tenn Records) (LP)
On this album cover, Howell bumped himself up from a VW bug to a big old, badass semi-truck... Dunno if he actually worked for the Harley Bag Company or not, but he sure looks comfortable up there in the cab of that big rig. The band -- now called the Tennessee Hayriders -- appears to include the same guys as before and about half the songs overlap with the previous album. (I wouldn't be surprised if many are the same versions as well...) The title track is new, though personally, I'm more interested in the opening song, "Chula Vista Baby," which sounds about as trucker-y as you can get.


<! - no ASIN 12/06/15 - #KT-102 pre-1977: that year Harley Bag Company merged with another company and changed its name A-6. Fire on the mountain A-5. Tennessee hayride A-4. Blue Cumberland Valley home A-3. Bugle call rag A-2. My Mack truck A-1. Chula Vista baby B-6. Train 45 B-5. Semi trailer B-4. The watermelon song B-3. Tennessee moon B-2. Smokey Mountain drive B-1. Tallapoosa Georgia >

Bill Hoy & Allspice "R Ranch Saturday Night" (All Spice Records, 1982) (LP)
Not much info on this country-lounge band, other than that they were from Medford, Oregon and dabbled in both twang and pop... Side One of the album was all country (oldies, from the '60s and '70s) while Side Two was more of a pop standards kinda thing -- songs like "Don't Get Around Much Anymore, "September In The Rain," and "I Left My Heart In San Francisco."


<! Selections are: "INTRODUCTION, STOP THE WORLD AND LET ME OFF, TEDDY BEAR, STAND BY YOUR MAN, BLUE EYES CRYING IN THE RAIN, I'M FROM TEXAS, POINCIENNA, ROUTE 66, DON'T GET AROUND MUCH ANYMORE, SEPTEMBER IN THE RAIN, I LEFT MY HEART IN SAN FRANCISCO" > <! - no ASIN 03/06/15 - is this country??? - with Bill Hoy, Shirley Collins, Rick Arens, Bob Carlson, and Rex Rice... Nice cover photo (The Rogue Rover?)... > <! Doc Hoye & Buckshot "Musical Prescription" (H & S Promotions, 1981) (LP) - from Coeur D'Alene, Idaho - they play some country material - but it's all flugelhorns and flutes Doc Hoye and Mike Schettler - more of a jazz thing? >

Dennis Hromek "It's Such A Pretty World Today And Other Country & Western Favorites" (Custom Records, 196-?) (LP)
Bass player Dennis Hromek grew up in Sonoma, California and made his way down the the coast, straight into country music history. First he migrated to Modesto, where he formed an early 'Sixties rock band with guitarist Bobby Wayne -- Hromek and Wayne then became inseparable, moving through one top-flight band after another, playing for Freddie Hart, Wynn Stewart and -- most famously -- as core members of Merle Haggard's Strangers from 1970-73. In the late '60s they anchored the house band at the Palomino nightclub in LA, along with steel player Red Rhodes, and it was as part of that group they they cut a bunch of sessions for the Crown/Custom/Somerset/Alshire cheapo labels, including this album, which was released under Hromek's name. (There are other related albums which juggle around or recycle the same or similar material, sometimes using names of different bandmembers -- it's dodgy and complex, as one might expect from such a fly-by-night outfit...) The cover of "It's Such A Pretty World Today" is appropriate, since it was Hromek and Wayne who backed Wynn Stewart on the original hit, and they had just moved from his band into the hip and happening Sunset Strip scene when they cut this late-'Sixties session.


<! #CS-1099 - no ASIN 02/06/17 >

Dennis Hromek (?) "Country And Western Hits" (Somerset) (LP)
This even-cheaper record is often listed simply as "artist unknown," though I think it's actually Dennis Hromek singing on the whole album -- at least it sounds like the same guy on all the tracks. There's some overlap, including a couple of originals(?) "When My Conscience Takes Over" and "Save A Kiss For Me" which appear on both LPs. Generally, this is pretty good stuff -- the vocals recall Roger Miller on a few tunes, and maybe a little bit more Merle Haggard on others. As is often the case with these cheapo discs, the cover songs were just bait-and-switch, trying to gull unsuspecting record buyers into getting it for the "hit," and on this particular set, the rendition of "By The Time I Get To Phoenix" is just so-so, though some of the "filler" tracks are pretty cool... There's also an icky-sweet run-through of Bobby Goldsboro's uber-sexist "Honey" which is kind of delightful in a kitschy kinda way. At some point, Hromek relocated to Fort Worth, Texas and got into the music scene there. He also spent a couple of decades working as a limo driver/tour guide in the Napa Valley wine country... Dunno what he was up to musically during those years though. Anyone know for sure if it's him on this record?


<! - no ASIN 02/06/17 https://twitter.com/dhromek - last tweet in 2013 >
Edwin Hubbard "Edwin Hubbard" (Prana Records, 1982) (LP)


This is definitely an oddball record, though also pretty cool. Flautist Edwin Hubbard is best known for his work as a jazz and soul player -- a well-known musician in the Memphis scene, Hubbard toured with Isaac Hayes during the peak of Hayes' career, and played on the "Shaft" sessions. But he also had a consistent fascination with and affinity for country material, often interpolating bluegrass standards into the jazz format. It's unusual, for sure, but if you really listen to Hubbard's recordings, you'll realize it's not just gimmicky, he really dug country music and had a unique way of folding it into other styles. I'm not sure how often I would want to come back to this album just for listening pleasure, but it's certainly worth checking out and giving a spin or two!


<! - Freak Folk / Flute NEWGRASS Bluegrass S/T 1982 "...Edwin Hubbard was one of Memphis' best known musicians in the 80s and 90s. He was the youngest conducter in the state of Arkansas at the age of fifteen. He toured with Isaac Hayes in the 70s and played flute on "Shaft." He died in 1997 during intermission while conducting the Germantown symphony orchestra before a packed house of 850. "Moon Pie" is a compilation of work that Mr. Hubbard had been compiling the preceding year before his death." >


Ray Wiley Hubbard - see artist discography



Susan Hudson "Put On Your Dancing Shoes!" (Graceland Records) (LP)


(Produced by Bob Pickering)
Originally from Gatesville, Texas, and later known as Susan Hudson Carman, this gal was a child performer and made several appearances on Hee Haw when she was young, and also did USO tours throughout Europe... She was also apparently a prolific songwriter, penning over half the tracks on this album, and she had good taste in cover tunes, including a version of "The Key Is In The Mailbox" and two by Delbert McClinton (which is always a good sign!) Backing musicians include Tommy Morrell plays steel and Johnny Gimble sitting in on fiddle... Also on this album is her version of Dave Dudley's "Six Days On The Road," a song she later re-recorded for Epic Records with Charlie Rich as producer. I guess that major-label windfall didn't gain much traction, though, and Hudson mostly wound up touring with older established artists such as Charlie Rich, Don Williams, and Conway Twitty. Years later, in 1988, she competed in a national talent competition and was dubbed Miss Country Music America; a few years later she permanently moved to Branson, Missouri and became part of the stable of artists managed by impressario Chisai Childs. As far as I know, this was her only album.


<! - GRACELAND #11236 - she also put out a couple of singles on Epic - nothing charted > <! is this her?: Ms. Country Music America Susan Hudson Carman Roaring River Theater and Events Center http://www.missouritrout.com/roaringriverlinks.html "Country/gospel/rockabilly singer Susan Hudson (Carman) was on stage from age 3 in her family's show, The Country Roundup. " http://www.cassville-democrat.com/story/1481633.html "...The cast of Childs' Best of Branson Band features Susan Hudson Carman, who was awarded Miss Country Music America by Tammy Wynette. Hudson Carman is a regular performer in Branson during the week, but on the weekends, she can be seen and heard at Barry County's Roaring River Theater. " http://www.wintertexantimes.com/news/local-news/6-local-news/906-annual-rgv-quilt-show-is-this-weekend.html?tmpl=component&type=raw : "...Susan Hudson Carman is best known for her guest performances on the television show, "Hee Haw." As a young woman she traveled with the USO troops in England, Scotland, Germany and The Netherlands. Afterwards, she worked with Charlie Rich, Jerry Lee Lewis, Conway Twitty, Don Williams, Sammy Smith and the Wilburn Brothers. In 1988, she competed against 2500 females to receive the title, Ms. Country Music America, receiving her award from Tammy Wynette on the stage of the Grande Old Opry Show. Susan moved to Branson in 1991 and has since appeared in The Ferlin Huskey Show, Chisai Childs and the Starlighters, Elvis and the Superstars, and the Ladies of Motown, and Fountains of Faith." >

Manuel Huffman "...And The Deliverance Mission Blue Grass Band" (West 235 Main Records, 1978) (LP)
A bluegrass-gospel album recorded in Spokane, Washington. The liner notes purport to be an interview in which Utah Philips talks to mandolin player Manuel Huffman about his life. Huffman says he was born in 1910, talks about his early years working in the Idaho logging camps, where he drank to excess and became an alcoholic. Huffman describes about how his boozing dragged him down until he finally got religion, and how a chance meeting in a local record store led to the formation of this band, and to recording this album with a few younger musicians... Whew! Talk about authenticity!


<! - Private Bluegrass LP Spokane WA Hillbilly C&W - no ASIN 02/11/15 - no pix online 11/20/15 >

Lee Hufstedler "From Me To You" (Crusade Records, 198-?) (LP)
(Produced by Bill Casolari)
This looks like a fairly marginal offering from amateur singer Lee Hufstedler, who hailed from Marion, Illinois, in the state's rural southern end. He cut this album at Bill Casolari's prolific vanity pressing label, with backing by Casolari, though apparently no one else. The repertoire is all covers, though in a variety of styles including country and gospel oldies such as "Ashes Of Love" and "Peace In The Valley," along with more pop-oriented '70s stuff like "Drift Away," "He Ain't Heavy, He's My Brother" and "Joy To The World."


<! - #LPS-1313 - Casolari backs Hufstedler on guitar - looks like it's just the two of them - no date visible - no ASIN 02/16/16 >

Billy Lee Huggins & Holly "Billy Lee Huggins And Holly" (Artist House Records, 1985-?) (LP)
In his teenage years, Billy Lee Huggins was a rockabilly rebel from Saranac Lake, in upstate New York... At one point he headed to Nashville to make it big, and wound up playing backup for a while, but mostly his career was spent in Clinton County, NY, where he led bands in the '60s, '70s and '80s. Many years later he cut this album, which features robust, soulful vocals in an old-Elvis/Charlie Rich country crooner style. The exact date this album came out is a little mysterious, but it was probably around 1985, since he covers "Mona Lisa Lost Her Smile," which was a big hit for David Allan Coe in '84. In addition to this obscuro album, Huggins also cut a 1977 single on the Nashville-based indie label, Phono Records, although he was back in Saranac Lake by at least 1982, playing county fair-type gigs with "Miss Holly" and a local guy named Carl Chiasson. Later on, Huggins got religion and started his own ministry, which included a self-released gospel album which he sold locally as a CD.


<! - Total mystery release by country duo. Record in Vermont, label has an Ohio address - no ASIN 04/07/15 - sound samples: "Misery And Gin", "Mona Lisa Lost Her Smile" (DA Coe - 1984 single) http://www.bunksplace.com/saranaclakerockers.html - from Saranac Lake, New York - cut a single on the Nashville-based Phono label 1977: "Lady Love / I Can't Forget Completely" - News clipping from 1982: Press-Republican-Thursday, July22,1982: "AIR SHOW CLINTON COUNTY HERB ROCK & BILLY LEE HUGGINS PRESENT COUNTRY CLASS FEATURING MISS HOLLY AND CARL CHIASSON" also: http://www.pressrepublican.com/news/local_news/article_5f3aafc9-7efa-5d72-9966-9ad801961966.html - article about a guy who made a book about musicians in Clinton County, NY including Huggins "75 Years of Music II: The Bands of Clinton County, New York" by Marc Mero (2011) > <! Don Hughes "See Ruby Fall: The Nashville Scene" (Crown Records) (LP) - #CST 609 Side 1: See Ruby Fall; You've Got The Grounds; Mr. Steelman; Long Easy Terms; Three Songs For A Quarter; Home Side 2: Broken Promises; Shopping For Your Love; Love Inc.; Daddy Can I Have A Puppy; Tryin' Worse Than Dying; Might As Well Be Gone >
Don Hughes "Simply For You" (CC & Company, 1979) (LP)


A singer from Pompano Beach, Florida covering hits by Waylon Jennings, Eddie Rabbitt, Johnny Rodriquez, Mel Tillis and even Kenny "Sauron" Rogers...


<! >
Earl Hughes "Hawaii's Ambassador To Country Music" (LP)
Fiddler Earl Hughes really had a thing for the non-mainland, non-lower 48 states... But why he jumped ship from Hawaii to Alaska -- or why he never made it to Puerto Rico -- I really can't tell you. Anyway, this album looks to be mid-to-late-'70s vintage... Much later on, he became Alaska's country music ambassador. (Which raises another question: how do you get that job? Do you get appointed to it, by Chet Atkins or Billy Sherrill? I'm gonna have to look into this one...)


<! - much earlier album >

Earl Hughes "Alaska's Ambassador Of Country Music" (CD)

Earl Hughes "Alaska's Earl Hughes: Fiddler's Son" (2002) (CD)





<! - Alaskan themed set - pictured playing a fiddle on all three albums >

Lena Hughes "Queen Of The Guitar Pickers And Her Flat Top Guitar" (Power Records, 196-?) (LP)
(Produced by Wayne Raney)
Multi-instrumentalist Lena Hughes (1904 - 1998) played fiddle, banjo and most notably the flat-top guitar... Her clean, elegant style had a profound influence on the regional music scene of the Ozarks, where the Missouri native played at barn dances and other events, dating back to her childhood and the post-WWI era. This was her only album, recorded in the 1960s by hillbilly boogie star Wayne Raney on his independent Rimrock label, and captures her remarkably clean, beautiful performances. Though she is said to have influenced the course of modern country music, Hughes embodied an earlier style, known as "parlour guitar," where popular songs of the Antebellum era and later decades were adapted by amateur, homegrown musicians playing melodies learned from the sheet music that was popular before recording technology existed. This is a lovely album, reissued in the digital era on the album below...


<! - #PLP-185 - made by Rimrock Records in Concord, Arkansas - no ASIN 12/19/16 - Hughes lived in Ludlow, Missouri <

Lena Hughes "Queen Of The Flat Top Guitar" (Tompkins Square Records, 2013) (CD/MP3/LP)







<! >

Denny Hulbert "The Denny Hulbert Show: It's Now Or Never" (Mad River Productions) (LP)


(Produced by Eric Raleigh & Tom Archibald)
This hippie twang band from Mad River, California covered country songs like "Walking After Midnight" and "Orange Blossom Special," along with original material by Hulbert and others... Guest musicians include multi-instrumentalist John McFee (of Clover and Huey Lewis fame) and Bill Kirchen (from the Commander Cody Band) with Katherine Hulbert sharing lead vocals...


<! - country/hippie rock - date nv - unable to track down bio info 12/28/17 on G > <! T.K. Hulin - Huey P. Meaux discovery - made at least two albums aka Alton James Hulin; Robert Thibodeaux was his dad - SWAMP POP singer - how "country" was he? T. K. Hulin "As You Pass Me By" (Crazy Cajun, 1978) (LP) B004BBLK12 (Produced by Huey P. Meaux) - #CCLP-1055 - includes a couple of Hank Williams songs, several by Huey P. Meaux, and even one by Brian Collins T. K. Hulin "Larger Than Life" (Crazy Cajun, xxxxx) (LP) T. K. Hulin "Hit Memories By T. K. Hulin, Volume One" (Starflight Records, xxxxx) (LP) B00413TDA0 (Produced by Huey P. Meaux & Robert Thibodeaux) T. K. Hulin "I'm Not A Fool Anymore: The Crazy Cajun Recordings" (Edsel Records, 1999) (CD) B00004HYM0 >

Bill Humphrey "Retrospect (Is For The Mind)" (Rising Star) (LP)


(Produced by Randy Bleuer)
This singer from Redondo Beach, California played at joints like the Happy Clam and Blue Moon Saloon... His band (at least on this album) included a teenaged Ron Block(!) on banjo, at least ten years before he joined Alison Krauss & Union Station. The set list includes covers of "City Of New Orleans," "Mr. Bojangles," "Big Iron" and "My Heroes Have Always Been Cowboys" and also a few originals, "Move Move Move" and the title track, "Retrospect."


<! - #MCF5110 - Block left California in 1982 (maybe others, could only see one label) MCF Records, MCF 5110 - same?: "Dedicated to Gary Neve Words and Music by "The Revelairs" former band member Bill Humphrey" >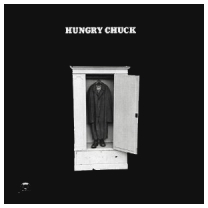 Hungry Chuck "Hungry Chuck" (Bearsville, 1971)


After folk stars Ian & Sylvia Tyson tried their hands at country-rock, several musicians from their short-lived Great Speckled Bird band formed Hungry Chuck as a way to further explore the group's eclectic style. Jim Colegrove, Jeff Gutcheon and N.D. Smart formed Hungry Chuck in 1971, and released this lone album, with a mix of roots music styles that included folk, blues, country and gospel, reflecting the open-minded, experimental vibe of the times.
Tom Hunnicutt "Escaping From Today" (Hillside Country Records, 1974) (LP)


(Produced by Jack Linneman & Gene Lawson)
A native of Opposition, Arkansas, singer Tom Hunnicutt served in the US Marine Corps and peppers his songs with political and social commentary. Tracks include "The Environmentalist," "To Fight A War," "Escaping From Today" and "What Would You Do?" Hunnicutt later rebranded himself as "Captain T," and has self-released several CDs of early and later work. The Nashville crew on theis album includes guitarist Jimmy Capps, fiddler Johnny Gimble and Jeff Newman on steel.


<! - #HSC-103 - date per dc >

John Hunt "Beginnings" (Great American Goldmine, 1985) (LP)
A guitarist and singer from Omaha, Nebraska's roots music scene, Hunt played played with a country band called Backtrack, which included songwriter John Gibson on bass and Dan Mohamed on steel guitar. As far as I know, this was his only album.


<! - no ASIN 02/10/16 - rare private Country Guitar record out of Omaha, Nebraska with acoustic guitar, steel guitar, fiddle, banjo, electric guitar, keyboards YT listing for live show tape: John Hunt & Backtrack - Omaha, Ne - Live from Paltani's - 1985 John Hunt guitar, David Cowden guitar, John Gibson bass, Dean Fornoff drums, Dan Mohamed steel & banjo - >


The Cornell Hurd Band - see artist discography



Chuck Hurley "Goin' Where The Sun Always Shines" (Ashbrook Records, 1974) (LP)





<! - recorded in Nashville, though I think he was from somewhere else - liner notes by Don Finn of Ashbrook Records - no info on musicians, address, release date - sounds Hank Snow-ish - Boronat says 1974 - #3384 >
Frank Hurley "I Like Honky Tonks" (Picadilly Records, 1980) (LP)


(Produced by Frank Hurley & Gene Breeden)



<! - with pedal steel by Doug Jernigan, Duke Dumas on dobro, Gene Breeden lead guitar, D.J. Fontana on drums, Bruce Watkins on fiddle and banjo - 208 available >
Michael Hurley & The Unholy Modal Rounders/Jeffrey Fredericks & The Clamtones "Have Moicy!" (Rounder, 1976)



(Produced by John Nagy)
A decidely classic album, this rambunctious avant-twang set features the loose-knit conglomeration of folk-country autuers in the Holy Modal Rounders, notably Jeffrey Fredericks, Michael Hurley and Peter Stampfel, whose intertwined musical paths converged when some of the East Coast-based Rounders moved to Oregon in the early '70s, and began jamming with Fredericks, whose kooky artistic sensibilities dovetailed with their own. This record was a favorite on "underground" radio, and was championed by rock critics, notably Robert Christgau, who proclaimed it a country record worthy of rock fans' attention. It's a weird record, too. I like it, but there are elements at play that make me uneasy, more to do with the people who praised it than with the music itself: I think there were folks like Christgau who saw it more as a shot against the bow in opposition to traditional country music, than as an album that both played with the genre's conventions and revered them. The songs and lyrics are clever and absurd, an almost Dadaist presentation -- brash, subversive, witty and reflective of the counterculture values that nurtured their art, with songs about sex and drugs, dodging landlords and ripping off utility companies. Some lyrics are just silly, like the cajun-styled "Surf Song" or "What Made My Hamburger Disappear" (both songs about food, with "Surf Song" taking a turn into the unairable when the chorus describing what happens to food after it's digested...) and others are transgressive in a hunded little ways. The music refects this as well: the Rounders were clearly virtuosi pickers, but they go out of their way to play sloppy, setting the tone, perhaps, for the "twangcore" bands on decades to come.


<! Michael Hurley "Watertower" (Fundamental, xxxxx) (LP) >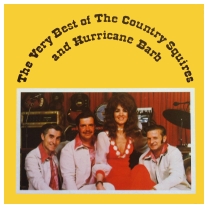 Hurricane Barb & The Country Squires "The Very Best Of..." (Jimbo Records, 1977) (LP)


(Produced by J. D. Van Buskirk)
This was a later edition of the Country Squires, a band from Minneapolis led by songwriter and cordovox king Bob Richison, along with guitarist Lee Larsen and drummer Pudge Likes. However, the group's previous female vocalist Betty Lee has been replaced by a new gal named Barb Huber or, more colorfully, Hurricane Barb. At the time, they were playing gigs at a place called Archie's Bar And Lounge, located in Hopkins, Minnesota, which commissioned this album. The record features liner notes by Marvin Rainwater, who probably played a few gigs with them at some point. The album includes "The Interstate Is Coming Through My Outhouse" and a few medley tunes, including one called "Barb's Favorites." The song, "Love Is The Answer" which is included on this album was also released on one of the singles Barb Huber managed to record under her own name as well (though still featuring material written by Bob Richison.) The two singles I know of were "Rags Upon My Shoulders/Love Is The Answer To This World" and "Now I Lay Me Down To Sleep"/"I'm Really Sorry," from 1978.


<! - #300-77-8 >
Hurricane Ridgerunners "Hurricane Ridgerunners" (Topaz Records, 1981) (LP)


Amateurish but amiable old-timey music, hearkening back to the era of Gid Tanner, Jimmie Rodgers and Grandpa Jones... They draw on a wide variety of sources and reprise some pretty obscure old tunes, adding a few new gems, such as the lively banjo medley "NASA Sweepstakes/Last Chance," which, despite being an instrumental number, refers satirically to the disintegration of the Skylab space station in 1979, while singer Mark Graham's "The Big Band Theory" is billed as -- and delivers -- "the history of the Universe in seven verses." It's a fun song, a scientific/philosophical spoof that anticipates the theme song to the Big Bang Theory TV show by a good two-and-a-half decades: the album as a whole has a nice, ramshackle charm, but that song alone makes it worth tracking down.
George Husak & Anton Husak "George's Album: Country Western Folk Songs" (Windjammer Records, 1965-?) (LP)


(Produced by George W. Husak)
These two fellas -- who were brothers -- were originally from South Texas, near the Gulf, although George Husak was living in the San Francisco Bay Area whenever this album was recorded. (I'm guessing the mid-1960s from the looks of it...) Anyway, we might as well just come right out and say it -- they weren't really that good. I mean, I'm not trying to be catty or harsh, it's just that they really were unskilled amateurs, plunking out the guitar melodies note-by-note, playing off-chords, and singing with a range that strongly suggests Ernest Tubb's monotone, though throwing Tubb's vocals into a very flattering light, by comparison. It's an ambitious album, nonetheless, with three songs written by George Husak, and four by Anton, as well as a few oldies from Hank Williams, Bob Wills and Rex Griffin. This includes a re-recording of their earlier single, "I'm Surfing," a misshapen novelty song originally performed so weirdly out of tune, they actually sounded like a warped record... The single was once infamously singled out by Dr. Demento as the worst record ever made, as recounted on the archives of good old WFMU. And who am I to argue with those guys? Nonetheless, I will make the case that while George Husak clearly could not sing or play guitar in tune, the older, mandolin-strumming Anton Husak (1919-1977) was actually a pretty good old-old-old-school hillbilly singer, performing in the Jimmie Rodgers-Hank Snow-Ernest Tubb school of plangent, primeval, depression-era honkytonk. Anton's "Let's Have A Look At The Bottle," is a spooky suicide ballad, worthy of Porter Wagoner or perhaps even Nick Cave, and well within the norms of the genre... Indeed, I'd unironically call it a classic. (Also, why all the drama about the songs's ending? If it was good enough for Bill Withers, it's fine for these guys too.) Anyway, though I'm not that into snide commentary and musical mockery, I will admit that this album is probably best appreciated as kitsch, although some listeners may also be touched by their eagerness and sincerity, regardless of the musical calibre.


<! - #ST-465 >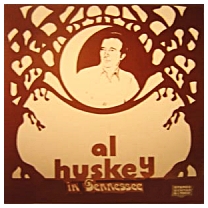 Al Huskey "In Tennessee" (Syntar Records) (LP)



<! http://waxidermy.com/al-huskey-in-tennessee/ "...Al Huskey was born in east Tennessee and learned to play guitar and mandolin by 13. He organized a 14 piece teenage band and played thru-out Tennessee, Kentucky, Virginia and North Carolina. The back of the records suggests that this band probably had the first full set of drums used in country music. I'm not so sure about that, but who knows? After five years of of playing in that band, Al left and drifted around from state to state working odd jobs at night clubs and factories and he even tried his hand at construction work and truck driving. This album is a solo look into Al's heart and soul. The greatest songs are the opening "You've Made A Fool Out Of Me" which is a real foot stomping jam about some woman who made him look bad in front of all his friends, and "Will The Angels Let Me See" a sad and slow steel guitar song, questioning whether or not a recently blind man will be able to see again once he gets to heaven." http://bubblingdusk.blogspot.com/2010/06/al-huskey-in-tennessee.html Reissued as: >
Al Huskey "Double Album Of Al Huskey Songs" (2012)


Brian Huskey "Road Fever Rag" (Turkey Trot Records) (LP)
(Produced by Brian Huskey & Oren Moore)
A longhaired fella from Charlotte, North Carolina backed by a small band with Carlton Moody playing banjo. The songs are mostly covers, including versions of Guy Clark's "Let Him Roll," Merle Haggard's "Mama Tried" and "Fox On The Run." There are also a couple of original songs written by Huskey: "Road Fever Rag" and "Roses Every Wednesday." Not sure of the release date... it might have been 1975, based on the matrix number...


<! - no ASIN 05/22/16 - #TT-1001 - also: SO-16357 >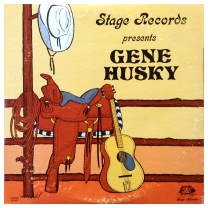 Gene Husky "Stage Records Presents..." (Stage Records) (LP)
A good-natured amateur from Owensboro, Kentucky, singing with feeling on a simply-produced, semi-clunky, modest little album. The centerpieces are several covers of songs from Waylon Jennings and Jessi Colter, so there's a mild outlaw vibe. Mostly, it's just some guys getting together to pick and sing a few favorite tunes -- his backing band included guitarist Jack Schoolcraft, bassist Mony Latham, drummer Charlie James and fiddler Herman Alvy, who all chipped in on vocals as well. This won't make the earth open up underneath you, but it's a nice, honest, authentic album. I'm pretty sure Gene's no relation to Ferlin, though.


<! - no ASIN 08/24/15 - no date on album - "Mony Latham," or MONTY?? >
Billy Hutch & His Boys "Eefin'-Nanny Down Home" (Time Records, 196--?) (LP)



Hutch was a session player in the orbit of the Modern/Time record label, who went novelty-number on his solo LP debut. This disc features several songs with "eefing" vocalizations - an old, wild, oddball hillbilly-vaudeville singing trick, which includes all sorts of snorts and oinks and wheezes. Eugene Chadbourne nominated this disc as a candidate for weirdest record ever, and that's pretty interesting recommendation. Some folks over at WFMU were into it, too, and provide a wry summary to the style, adding guideposts to other artists known for their eefing abilities. The rest of the record is pretty much standard-issue knockoff instrumentals, a speciality of the label, and Hutch's follow-up album dropped the wacky eefing schtick and stuck to straight covers of contemporary hits.


<! - his first album - what instruments did he play? >
Billy Hutch & His Boys "Great Hits Of The '60s" (Time Records, 1964-?) (LP)
(Produced by Cecil Scaife & Hal Diepold)
Although this country-covers album was padded out with pop instrumentation -- a string section, lots of horns -- the core of the band was made up of Nashville pros. A-list guys like Fred Carter, Jr., Buddy Killen, Willie Rainsford, et. al., paying their dues at the Modern studios...


<! - #52150 - cheapo label - all covers - no ASIN 05/16/16 >
Carl Hutchens "Carl Hutchens" (Capitol City Records, 1982) (LP)
(Produced by Steve Mendell & Carl Hutchens)



<! - PRIVATE COUNTRY FOLK AOR POP ROCK Austin TX - Jimmy Day on steel guitar, Howard Kalish on fiddle and mandolin - also synths and castanets... so there is that as well. - no ASIN 06/12/15 - there are some CDs from the 2000s, though. >
Ray Hutchinson "I Like Mountain Music" (Rich-R-Tone Records, 19--?) (LP)
(Produced by Jim Stanton)
Although the Rich-R-Tone label is known as a pioneering bluegrass label (even in its latter-day incarnation) they are pretty consistent in these liner notes describing Ray Hutchinson's music as "country." And what they mean by that is indeed old-school country, more Jimmie Rodgers or the Blue Sky Boys than Bill Monroe or Lester Flatt. He sings twangy chestnuts such as "Hobo Bill," "Don't Let Your Sweet Love Die," and "Women Make A Fool Out Of Me," as well as "Sweet Bunch Of Daisies" and "Pictures From Life's Other Side." Hutchinson hailed from Fletcher, North Carolina; not sure what the rest of his career was like, though I believe he made some singles as well as this LP.


<! - #LP-8084-S - no ASIN 06/11/18 ~The Blueridge Ranger >

Len & Esther Hutsell "When I Met Him" (196--?) (LP)



<! - #HT-101 - related to Sally Hutsell, who also recorded a gospel album? B01A2KX144 >
Len & Esther Hutsell "In The Valley" (Crusade Enterprises, 196--?) (LP)
(Produced by Ray Harris)
This married couple from Fremont, Nebraska were both clunky vocalists but the guitar pickin' is good and packed with rockabilly-influenced twang. The liner notes indicate that they performed shows throughout the South and upper Midwest, though I'm not sure if they were part of any particular ministry. Most of the songs were written by Len Hutsell, most notably his novelty number, "Guitar Pickin' Preacher Man." There are also a few standards such as "Palms Of Victory," as well originals such as "You Can't Run Away From God," by fellow evangelist, Jim Snyder and one called "Won't You Let Jesus In," which was composed by Esther's uncle Dan McGraw, a minister from Gillette, Wyoming. Her family band, the Grace Victors, with brothers Phil Grace and Steve Grace provided backing vocals as well. Given the twangy, uptempo feel, Hutsell may have started out playing in some local rock band or another before taking up his evangelical mission -- I'm not sure if he's playing lead on any of these tracks, though, as Crusade label staffers Bill Casolari and Pat Baker played on these sessions, and Hutsell is only mentioned as a rhythm guitarist. Anyway, this is a nice one for folks looking for Christian country with a little musical bite to it... Worth a spin, for sure!


<! - no ASIN 05/26/17 - #LPS-474 >

---

More '70s Oddball Country Letter "I"
---