<! cd = 05/24/13 > <! MP3 05/25/13 > <! outside 05/25/13 - WP > <! pix 05/25/13 - some, not all > <! 208-pix: 00/00/00 > <! styles: Bluegrass > <! UPDATES: 05/25/13 - posted >
---
Banjo player Bill Keith (1939-2015) was a stylistic innovator and one of the leading lights of the 1960's bluegrass revival... Like many of the newgrass generation, Keith apprenticed in the mid-'60s edition of the Bill Monroe band, and went on to expand the style into new horizons. He adapted the banjo style pioneered by Earl Scruggs, and eventually was credited with creating his own unique "Keith style" of playing that remains a standard today. He's been a prolific performer, working with many of the leading bluegrass artists of the era, often along with his longtime collaborator, Jim Rooney. Here's a quick look at his work...
---
Discography - Albums
---
Bill Keith & Jim Rooney "Bluegrass: Livin' On The Mountain" (Prestige Folklore, 1963) (LP)


The debut album by banjo picker Bill Keith and guitarist Jim Rooney, whose creative partnership would continue for decades: Rooney plays on most of Keith's records for years to come. This is a nice, straightforward bluegrass set, one of many groundbreaking albums that set the benchmark for the folk-scene bluegrass revival of the early 1960s. Definitely worth tracking down!


<! BILL KEITH DISCOGRAPHY: Red Allen & The Kentuckians in Bill Monroe's band for one year Blue Velvet Band Jim Kweslin's band for four years (which albums?) New Blue Velvet Band - reformed in 1989 >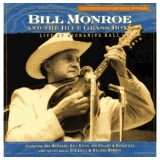 Bill Monroe & The Bluegrass Boys "Live At Mechanic Hall" (Acoustic Disc, 2004)



These live recordings, featuring Bill Keith in a 1963 edition of the Bill Monroe band, come to us courtesy of bluegrass archivist David Grisman, who recorded this show in New England as he began his own ascension into the bluegrass firmament. Keith's banjo picking was a big show-stopper, blending dazzling hot licks and preternatural finesse. Also of note is Monroe's daughter, Melissa singing a wonderfully twangy version of Buck Owens' "Love's Gonna Live Here," as well as fiddler Joe Stuart who ably compliments Keith's fretwork. A nice snapshot of some major bluegrass talents during the folk scene revival era.


<! Del McCoury, guitar; Bill Keith, banjo; Joe Stuart, fiddle; Bessie Lee Mauldin, Bass) >

Red Allen, Frank Wakefield & The Kentuckians "Bluegrass" (Folkways, 1964)



Keith was one of two banjoists featured on this fine album, with separate sessions including Pete Kuykendall. It's classic of early '60s bluegrass in an edition of Allen's band that also included Frank Wakefield on mandolin.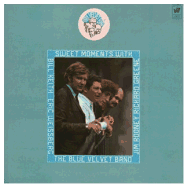 The Blue Velvet Band "Sweet Moments With The Blue Velvet Band" (Warner Brothers, 1969) (LP) & (CD)



(Produced by Erik Jacobsen)
A smooth but sweet major-label album made when the '70s newgrass scene was still just around the bend. There's certainly a power-packed lineup: Bill Keith joins his old pal Jim Rooney, as well as fiddler Richard Greene and guitarist Eric Weissberg in his pre-Deliverance days... people often cite this as a pioneering bluegrass record, but I just don't hear much high-lonesome here, rather, it seems like a tradition-oriented hippie country set, with most of the "rock" sensibility set aside in favor of old-fashioned twang and a little bit of Bakersfield bounce. The repertoire is a swell mix of Hank Williams, Bill Monroe, a Luke Wills western-swing oldie and a cover of Merle Haggard's "Somebody Else You've Known," with these guys scooping the Flying Burrito Brothers by a year or two. The also show deep folk scene roots with a reading of "The Knight Upon The Road," and version of the Appalachian murder ballad "Little Sadie." I think it's Jim Rooney singing lead, and I have to admit he's an acquired taste. For the first few tracks you might think there's a hint of parody in his voice -- after a while, though, you'll realize it's just the plain-spoked way that he sings, not some kind of nudge-nudge, wink-wink thing. There are only two original tracks on here, including one of the album's strongest songs, "Hitch-Hiker," a cheerful novelty number written by Weissberg that captures some of the feel of the times. I guess this has been reissued on CD, though the original LP is worth tracking down just to enjoy the hilarious "board game" drawing and text that Eric von Schmidt designed for the inside of the gatefold sleeve. A long out-of-print landmark album that is more of a quiet, iconoclastic nugget than a earthshaking stylistic game-changer.
Mudacres "Music Among Friends" (Rounder, 1972)


Keith and Mooney also sat in on this groovy folk/bluegrass jam session, led by brothers Happy and Artie Traum, along with Maria Muldaur, John Herald, Eric Kaz, and others.

Muleskinner "Muleskinner: A Potpourri Of Bluegrass Jam" (Warner/Sierra, 1973)



A spirited, but somewhat raggedy acoustic album, recorded by what was meant to be a pickup band for a Bill Monroe gig on a local TV station. Maybe this isn't the most stellar bluegrass you'll ever hear, but it's certainly not the worst. The players were all top-flight traditionalists: Grisman, Rowan, flatpicker Clarence White, banjoist Bill Keith, and fiddler Richard Greene, who'd once been in Bill Monroe's band along with Peter Rowan. This is worth tracking down, just to check out what these guys were up to at the start of the decade, and also because it has an early example of Grisman working out his vision on a new acoustic music, on his original composition, "Opus 57," which later became a staple of his famed Quintet.
Muleskinner "Muleskinner Live-- Original Television Soundtrack" (Sierra, 1974)





<! David Grisman/Bill Keith/Clarence White/Peter Rowan >

Jim Rooney "One Day At A Time" (Rounder, 1975) (LP)





<! Jim Rooney, Bill Keith, Joe Val, Everett Allan Lilly, and Tennis Lilly >
Bill Keith "Something Auld, Something Newgrass, Something Borrowed, Something Bluegrass" (Rounder, 1976)



A super-duper with Bill Keith gleefully proving himself a jack of all trades, playing rock-solid, high-lonesome truegrass, right next to twangy renditions of jazz classics and standards such as "Auld Lang Syne" and Duke Ellington's "Caravan," a wedding, if you will, of music old and new. He also adapts several country hits and old-timey tunes to his own style, revealing this album's greatest strength, namely, Keith's ability to make the music his own. He not only develops a distinctive mix of catchy bounce and unruly clomp, but he gets a bunch of his super-picker pals, such as Tony Rice, David Grisman, Vassar Clements and Jim Rooney, to join him on the same wavelength. This is an impressive album, but more importantly, it's also really fun. Recommended!
Bill Keith & Jim Collier "Bill Keith And Jim Collier" (Boot Records, 1979) (LP)



(Produced by Jacques Subileau)
A pleasantly eclectic, very low-key collaboration with folksinger Jim Collier, featuring a mix of styles including lightly grassed-up folk tunes (including three written by Collier), a few unhurried instrumentals and some lively acoustic swing on tunes like the album's opener, a tasty version of Merle Travis's "Smoke, Smoke, Smoke," and a rollicking cover of Hank Snow's "Texas Cow Boy." Speaking of Snow, this album, released in Canada, seems populated with several French-Canadian jazz musicians, along with newgrass stalwart Kenny Kosek adding some nice fiddle licks... Speaking of tasty licks, Keith's banjo work is solid throughout, but also remarkably un-flashy and laid-back. A quiet gem, and a fine example of the diverse range of '70s acoustic music.
Bill Keith/Bela Fleck/Tony Trischka "Fiddle Tunes For Banjo" (Rounder, 1981)


Bill Keith "Banjoistics" (Rounder, 1984) (LP)

Bill Keith/Jim Mooney/Peter Rowan "Hot Bluegrass" (Waterfront) (LP)


A concert album recorded in November, 1980... Not sure when the album came out.


<! live in England, 11/24/1980 >
Bill Keith "Beating Around The Bush" (Green Linnet, 1993)



A sweet set, mostly instrumental, with smooth, elegant performances. Keith's banjo work is particularly sleek; nice integration of the pedal steel in several songs as well. Keith enjoys himself on the vocal numbers, particularly on "A Drop In The Bucket," but the real magic is in the playful picking. Recommended!


<! Biography Bill Keith had great impact on modern banjo playing, particularly in the direction of "newgrass." He even had a picking style informally named after him. Born in Boston, Massachusetts, Keith began taking banjo lessons at a young age, and also learned to play piano and ukulele. During adolescence, he played in a few Dixieland bands, but by the late '50s, became interested in folk music after listening to such inspirational artists as Pete Seeger and Earl Scruggs. Using instruction books, the Amherst college student began learning their two different styles. Eventually, Keith began developing his own unique style, which became known as the melodic, chromatic or "Keith" picking style. This distinct technique was borne of his desire to play fiddle melodies on his instruments. In 1958, he teamed up with fellow Amherst student Jim Rooney and began playing at local coffeehouses and on campus. Eventually they hooked up with promoter Manny Greenhill; with his assistance they founded the Connecticut Folklore Society, which sponsored a series of traveling campus concerts throughout New England. Following graduation and a brief stint in the US Air Force Reserve, Keith began learning to make banjos with Tom Morgan. Later he, Rooney, mandolin player Frank Wakefield, and guitarist Red Allen formed the Kentuckians. In 1963, Earl Scruggs contacted Keith to lay out the tablature for the instructional book Earl Scruggs and the 5-String Banjo. Later that year, Keith and his former Amherst classmate Dan Bump developed a new kind of tuning peg that was adopted by Scruggs who provided a name for the resulting company in 1964. In the mid-'60s, Keith joined Bill Monroe's Blue Grass Boys, where he was listed as Brad Keith. He left the band after only eight months to do more session work and by the year's end had joined Jim Kweskin's Jug Band where he would stay for four years. After that he played with the Blue Velvet Band. He abandoned the banjo for a while in 1968 to become a pedal steel guitarist. In 1970, Keith moved to Woodstock, New York, and spent a year with Jonathan Edwards. He then went on to work with Judy Collins. He and long-time cohort Rooney also toured together in both the U.S. and in Europe during the '70s and '80s, with Keith developing a particularly large following in France. When back home in Woodstock, Keith began playing banjo for the Woodstock Mountain Review. In 1977, he worked briefly as a columnist for Frets magazine. Later, in 1989, Keith, Rooney, Eric Weissberg and Kenny Koseck re-formed their old group, calling it the New Blue Velvet Band. ~ Sandra Brennan, All Music Guide 1969 - The Bee Gees, Odessa, Polydor Records (UK), Atco Records (US) 1975 - 1976 Bill Keith & Jim Rooney, in Banjo Paris Session vol. 1 Pony/Musigrass; Cezame CEZ 1005 & vol 2 Cezame CEZ 1022 1976 The David Grisman Rounder Record (1976) reed. CD 0069, 1986 (feat. Tony Rice) 1985 Peter Rowan The First Whippoorwill, Sugar Hill, reed. CD 1990 SHCD 3749 >

---
Links
---
---