<! Flenks? Fevers? 14 Bis? Franco? Frederyko Renata Lu? > <! MP3 12/08/09 > <! pix 12/08/09 > <! icons 01/22/11 > <! UPDATES: 02/06/13 - new A-Z, crossref w/ main >

---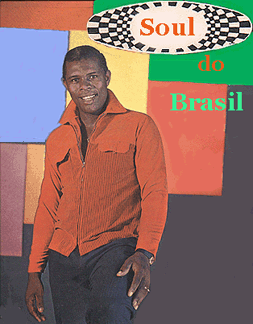 This page is part of a discography of Brazilian Soul Music and Funk reviewing artists under the letters E-M... If you have some favorite albums or artists that you think should be added to this list, feel free to write me and suggest them as well...
---
Brazilian Funk & Soul: A | B | C | D | E-M | N-Z | Soul & Funk Compilations | Other Brazilian Styles
---

Farofa Carioca "Moro No Brasil" (Universal, 1998)



(Produced by Farofa Carioca & Carlos Beni)
This contemporary samba-soul band is most notable for the presence of future solo star Seu Jorge... Much less so for the music itself, which is a generic, hyperactive update of the Brazilian funk sounds of yesteryear -- it lacks any semblance of subtlety or grace, and reminds me of Earth Wind & Fire or Ed Motta, more than P-Funk or Bootsy. It's the manic pace that really turns me off, as well as the wall-of-sound production style, which has a forced, artificial feel to it, and seems rushed and not very heartfelt. Seu Jorge knew what he was doing when he shifted gears and got out of this band. They kinda sucked.

Funk Como Le Gusta "Roda De Funk" (ST2, 2000)


Fans of Venezuela's Los Amigos Invisibles may find kindred spirits in this Sao Paulo-based funk outfit... Funk Como Le Gusta specializes in horn-heavy groove tunes that are reminiscent of War and Tower of Power back in the day... There are also homegrown touches as on the Tim Maia-styled soul crooning of "Olhos Coloridos" and the cumbia flavored "Funk De Bamba," as well as a dash of ska and axe flavoring. A little smooth for my tastes, but worth checking out. Soul and funk fans will probably love this!
Funk Como Le Gusta "FCLG" (ST2, 2005)

Funk Como Le Gusta "Remixes" (ST2, 2005)


With DJ Patife, DL Cuca and Cosmonautics.
Funk Como Le Gusta "Special Edition (Box Set)" (ST2, 2005)


A box set with three albums: Roda De Funk, FCLG and Funk Como Le Gusta Remix.
Funk Como Le Gusta "Ao Vivo" (DVD) (ST2, 2007)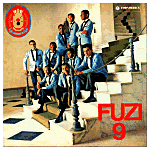 Fuzi 9 "Fuzi 9" (Todamerica, 1970)
Authentic, though semi-inept pop-funk with slight psychedelic tinges, apparently recorded by a bunch of guys who were enlisted in the army at the time... Although I'm sure this qualifies as a genuine "samba soul" lost nugget, you have to admit that the rhythm section is kinda wobbly, the horns are off-key, and the organ soloist is a little ragged, as are the group vocals. But once you get past all that, this album does have its charms. Mostly, I think, this is notable for the presence of bandmember Carlos Dafe, who went on to record several soul albums in the '70s and '80s. Not sure what he was up to between this group and his solo stuff...
Gabriel O Pensador - see artist profile
Gilberto Gil - see artist discography

Grupo Batuque "Samba De Rua" (FarOut, 1997)



A funk- and rock-flavored percussion album recorded (in the studio) during Rio's 1997 Carnaval. Features the eminent Wilson Das Neves and a slew of younger players. I thought most of these tracks were pretty boring; many are monotonous riffs on one swinging beat or another, it's all very well and fine, but overall it's amazingly static. I suspect this album was made with club DJs in mind, folks looking for beats to sample, rather than for the casual listener... There is one song at the end ("Aoyama Sam") which features a full parade ensemble, along with cuica, surdo, and (thank god!) a vocal chorus... But mostly this album is really sparse and unmelodic. Not my cup of tea, but if you're into percussion per se, this album might be a real turn-on.
Grupo Batuque "Samba De Futebol" (FarOut, 1998)


Grupo Batuque "Africa Brazil" (FarOut, 2000)


Grupo Batuque/Various Artists "O Tempo Do Samba" (FarOut, 2005)



Remixes galore!
Grupo Batuque "O Tempo Do Samba" (FarOut, 2005)


Grupo Batuque "Ole Ola - Futebol Bonito" (FarOut, 2006)


Grupo Batuque "Batucada Maneira" (FarOut, 2006)


A four-song EP, including two remixes of the title track, "Batucada Maneira."
Bebel Gilberto - see artist discography
Hyldon - see artist profile

Instituto "Colecao Nacional" (YBrasil, 2002)



(Produced by Rica Amabis & Instituto)
A mellow, downtempo mix of electronica, rap and dub from a loose musical confederation led by Rica Amabis, with contributions by a horde of Brazilian hipsters, including Otto, Fred Zero Quatro and a slew of other, less well-known artists. The jungle/house beats don't do much for me, but I'm a grouchy old man. Worth checking out if you're in search of modern Brazilian stuff that's off the beaten track, pretty dynamic and stylistically diverse, even if it ain't quite my cup of tea.
Lady Zu "A Noite Vai Chegar" (Philips, 1977)

Lady Zu "Femea Brasileira" (Philips, 1979)

Lady Zu "Number One" (Abril, 2002)

Leleo "Se Quiser Tem" (Dubas, 2008)





<! baile-funk? >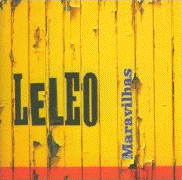 Leleo "Maravilhas" (Acid Jazz, 2008)



(Produced by Leleo & Lucas Marcier)
Perfect summertime tunes from this Brazilian guitarist-producer. The first song I heard off here, "Ferias," is a real doozy, a sly, sexy samba-pop song which mixes the funky tropical vibe of Jorge Ben's best early-1970s work with a great approximation of the classic roots reggae of the Bob Marley era -- heavy syncopation, doubled guitar lines, and plenty of soul. It's a celebration of summertime and idleness, freedom and relaxation, with Leleo's nasality exaggerated by vocal processing -- a heady brew of unusual sounds, all coalescing into an irresistible, perfect Brazilian pop tune. I rushed to get the CD after seeing the "Ferias" video, and am pretty pleased with the rest of the record. About half the album is too clubby for me, but the songs I like are pretty groovy, reminiscent of the best of the '70s samba-funk scene. Definitely worth checking out.


<! Lenine ?? >

Paula Lima "Diva Paulista" (Mr. Bongo, 2002)

Paula Lima "Paula Lima" (Universal, 2003)

Paula Lima "E Isso Ai!" (Universal, 2005)

Paula Lima "Sinceramente" (Indie, 2006)

Arto Lindsay - see artist discography
Marcio & Goro "Atrevida" (1997)

Marcio & Goro "Ponto G" (1998)

Marcio & Goro "Festa Surpresa" (Abril, 1999)





<! Marcio G "xxxxxxxxxxxxxxxx" (xxxxxxxxxxx, 2006) http://pt.wikipedia.org/wiki/Marcio_%26_Goro Márcio & Goró foi uma dupla de cantores de funk melody formado em Madureira no Rio de Janeiro. Entre seus maiores sucessos estčo "A DistČncia", "Atrevida" e "Deitados na Areia". Em 2000, devido a uma depressčo e sofrendo com a falta de sucesso da dupla, Goró acabou cometendo suícidio. Em 2005, Márcio retornou sua carreira, agora usando o nome Márcio G, homenageando seu parceiro Goró. >

Marcio Local "Says Don Day Don Dree Don Don: Adventures In Samba Soul" (Luaka Bop, 2009)



(Produced by Mario Caldato, Jr.)
Contemporary Brazilian funk and soul, from a Rio native who carries the torch of samba-soul pioneers such as Tim Maia and Wilson SImonal... There's a touch of the cooler, funkier, sexier Jorge Ben in there as well, but mostly that sound is in the mix; there are some great arrangements (courtesy of Beastie Boy producer Mario C, who in recent years has returned to Brazil and joined the simmering local hip-hop/samba scenes...) but the vocas are pure Simonal, a husky, schmaltzy style that is popular in Brazil, but may be hard for many North Americans to get into. This is a musically creative record, and in terms of keeping true to the traditions of 1970s/80s Brazil soul, it's also very authentic. Definitely worth checking out -- if you like this, you'll also want to check out Maia, Simonal and Maia's nephew, Ed Motta.
Marcio Local "Samba Sem Nenhum Problema" (Universal, 2009)





<! Renata Lu ?? >


Tim Maia - see artist discography





Marku (Ribas) - see artist discography





Patricia Marx - see artist discography




Rose Max "Atlantico" (Cinq Etoiles, 2003)
An adequate singer amid slick, somewhat generic slick-soul MPB arrangements. Didn't do much for me, but might be fun for folks who like singers such as Patricia Marx or Luciano Mello.

MC Buchecha "MC Buchecha" (Universal-Mercury, 2003)


Super-perky, lightweight pop, with a token veneer of hip-hoppish production. Not much to write home about, really.


<! also: Claudinho & Buchecha >


Luciana Mello - see artist discography





Luiz Melodia - see artist discography




Dom Mita "O Som Do Black Rio" (Transmita/Whatmusic, 2001)


A Black Rio revivalist album, this features soul singer and percussionist Dom Mita along with a slew of his old pals, including members of Banda Black Rio and vocalist Carlos Dafe (who guests on one song). The album is dedicated to the late Brazilian funk pioneer Tim Maia, and is definitely true to his spirit. There's an odd, familiar mix of disco-ish production and legitimately funky rhythms -- this modern disc is well-produced and tightly arranged. It might not be your bag, but if it is, I'm sure you'll be pretty happy with it.
Ed Motta - see artist discography
---
Brazilian Soul & Funk - Letters "N" through "Z"
---



Other Brazilian Styles
Main Brazil Index


---