<! MP3 12/08/09 > <! pix 12/08/09 > <! icons 00/00/00 > <! UPDATES: 12/09/09 - need to comb through main listings for more & updates of Zuco 103, etc. 02/07/13 - updated and corrected whole section >

---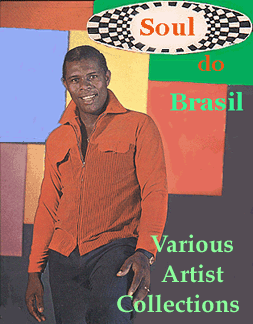 This page is part of a discography of Brazilian Soul Music and Funk with reviews of various artist compilation records... For more about this style, see Artists A-Z.
If you have some favorite albums or artists that you think should be added to this list, feel free to write me and suggest them as well...
---
Brazilian Funk & Soul: A | B | C | D | E-M | N-Z | Soul & Funk Compilations | Other Brazilian Styles
---

Various Artists "BLACK RIO -- BRAZIL SOUL POWER: 1971-1980" (Strut, 2002)


Certainly one of the strongest sets of Brazilian funk and soul that has been compiled to date. Like other similar sets, this disc has a strong disco tinge, but it is mercifully short on the strained soul ballads by thin-voiced crooners such as Cassiano and Hyldon, opting instead for more rugged material by the likes of Uniao Black, Copa 7 and Dom Salvador. Also included are big name artists like Banda Black Rio, Jorge Ben and Ben's one-time backup, Trio Mocoto, but also a slew of lesser known gems by Manito, Miguel de Deus, Eklipse Soul and others. This album's biggest coup is the inclusion of Antonio Carlos & Jocafi's surprise sizzler, "Kabaluere," a bass-heavy funk bomb with a strong Isley Brothers feel, recorded in 1971, by this otherwise fairly wimpy songwriting duo. Also has one track by Gerson King Combo, whose music remains mysteriously un-mined by the retro crowd. This is a very strong collection; hopefull strut can come up with a follow-up volume or two of equal calibre. Recommended!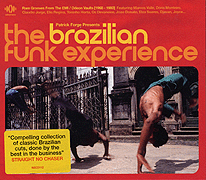 Various Artists "THE BRAZILIAN FUNK EXPERIENCE" (Nascente, 2006)


Well, I guess one person's booty-shaking funk explosion is another person's fusion/soft-pop/soul seranade... Especially when one of them is a British club DJ, and the other is a yobbish Yank living near Oakland. Anyway, I'm not trying to say that DJ Patrick Forge doesn't know his stuff -- clearly he does, and this disc is a nice bit of cratedigging, picking out some interesting and occasionally atypical oldies from folks like Alaide Costa, Joao Donato, Joyce, Elza Soares and Marcos Valle -- it's just that most of these tracks are hardly what I would consider (or advertise) as "funk." To me, funk is more like George Clinton and Bootsy Collins, James Brown and The Bar-Kays, and less like Lionel Richie or Manhattan Transfer. (Okay, that's not an entirely fair contrast, but it's close...) Anyway, this set of tracks drawn from the Odeon vaults, with material dating from 1968-1980, and includes several rarities as well as some nice surprises (Djavan's 1978 recording of "Nereci," with duet vocals by Mariazinha, is an album highlight. I'm skeptical of the "funk" label -- I think it's pretty misleading -- but folks who like downtempo soul'n'samba will probably enjoy this quite a bit. Certainly worth checking out!

Various Artists "CITY OF GOD" (Soundtrack) (Milan, 2003)



The soundtrack to Fernando Meirelles' hard-hitting, gritty feature film about life in the favela slums. An excellent collection of vintage "Black Rio" Brazilian soul, including tracks by Tim Maia, crooner Hyldon and Wilson Simonal's hipsterdelic "Nao Vem Que Nao Tem," which was previously anthologized on the SAMBA SOUL '70 album reviewed below. Also included are sweet samba tunes from Cartola," an elder of the Mangueira samba school, and the anthemic "Metamorfose Ambulante," by rocker Raul Seixas. It's a fine set of classic songs to start with, but the new material that augments and connects these tracks is also pretty cool, '70s-styled funksploitation instrumentals by Antonio Pinto and Ed Cortez, along with a new samba-soul song by Seu Jorge, one of the best new artists in the style. This is a really groovy collection, definitely worth checking out!
Various Artists "FAVELA CHIC: POSTNOVE 1" (BMG-France, 2002)


Various Artists "FAVELA CHIC: POSTNOVE 2" (BMG-France, 2002)


This series was assembled by the DJs at a hip Parisian nightclub , where it's said to be all the rage. This volume opens with several well-selected '70s rock and soul numbers, by the likes of Trio Ternura, Rita Lee and Toni Tornado; it moves into more modern remix tracks from labels such as Trama and Natasha, and then alternates back and forth between classic tropicalia and contemporary novo-tronica. It's not bad!
Various Artists "FAVELA CHIC: POSTNOVE 3" (BMG-France, 2002)



Various Artists "HOJE E NATAL" (Mercury-Japan, 1999)


To balance things out, you might want to track down this spiffy but expensive Japanese import of classic '70s soul from Gershon King Combo, Cassiano, Jorge Ben, and Caetano Veloso... Since this was compiled By Arto Lindsay, I presume it's all first-rate stuff, but since I still haven't won the Lottery, I haven't had the good fortune to find out yet...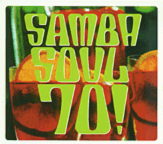 Various Artists "SAMBA SOUL '70" (Ziriguiboom/Six Degrees, 2001)


A pretty sweet set, and probably the best collection of Brazilian soul we're likely to see up in the States for some time to come. Apparently these guys didn't have access to the full Philips-PolyGram catalog, so there are major omissions - Tim Maia, Gershon King Combo and Jorge Ben, to name a few - but what's here is pretty tasty. The disc's major coup is the inclusion of Wilson Simonal's super-swinging "Nao Vem Que Nao Tem," a hip, Ray Charles-style zinger from the mid-'60s which mysteriously has never been included on any of Simonal's own best-ofs... There are also plenty of other rarities and odd inclusions (such as a funky disco-era track by former jovem guarda teen queen, Wanderlea...) along with staples of the samba-soul scene like Banda Black Rio, Dom Salvador and Trio Mocoto. The slant of this collection is somewhat lounge-y and acid-jazz-ish -- not as all-out disco or as sappy and Philly-Sound as it might have been. Overall it's pretty breezy and fun. It also has several impossible-to-find songs on it... Worth checking out!
Various Artists "SOUL BRASILEIRO" (Universal, 2000)


I also haven't heard this collection yet, but there's a nice description of it on the Clique Music website. Although this only has 14 tracks (stingy!), it tracks Brazilian soul from the '70s through the '90s, including artists in the Polygram orbit such as Gershon King Combo, Ed Motta, Cassiano and Lulu Santos. Why Universal seems hellbent on holding back the material from Jorge Ben's Africa Brasil album is beyond me, but at least this is a step in the right direction.
---
Brazilian Soul Links
---
Movimento Do Soul Do Rio De Janeiro pays tribute to dozens of Brazilian soul and funk singers... Well, actually it looks as if their site is still a work in progress... a link is set aside for a Tim Maia page, but the entry isn't up there quite yet... Still, I'd say this site is worth keeping an eye on. (In Portuguese.)
Here's a longer review of the SAMBA SOUL '70 collection, which ran in the SF Weekly newspaper, June 20, 2001)
Radio Ben is a cool Brazilian fan site with lots of background information about various Jorge Ben releases. They also have other soul-funk artists such as Dom Salvador and Cassiano programmed into their audio stream, if you want a chance to hear their music, although I couldn't find active links to any info on those artists. The site may be a little tough to navigate, but it's worth checking out! (Em Portuguese.)
---
Brazilian Soul & Funk - A-Z
---



Other Brazilian Styles
Main Brazil Index


---