<! MP3 12/08/09 > <! pix 12/08/09 > <! icons 00/00/00 > <! UPDATES: 02/06/13 - new A-Z, crossref w/ main >

---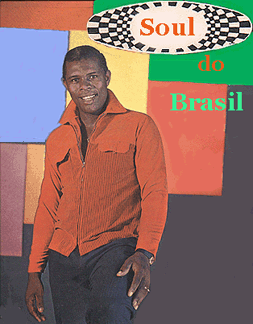 This page is part of a discography of Brazilian Soul Music and Funk reviewing artists under the letter "C"... If you have some favorite albums or artists that you think should be added to this list, feel free to write me and suggest them as well...
---
Brazilian Funk & Soul: A | B | C | D | E-M | N-Z | Soul & Funk Compilations | Other Brazilian Styles
---

Odair Cabeca De Poeta "Rebulico " (RCA, 1979)


Lyricist Odair Tadeu de Freitas, along with his band Capote (featuring guitarist Vincente Barreto) crafted an at-times uneasy blend of rock, funk and northeastern baiao and forro. Taken from the Brazilian standpoint, as an extension of traditionally-inclined styles, this is pretty wild stuff. But viewed through the filter of North American rock and funk, it's pretty goofy-sounding and clumsy. Still, Odair was one of the most important Northeastern rockers to follow in the path laid down by Alceu Valenca, and this record actually sounds more interesting than most of the Valenca albums I've heard to date. Didn't rock my world, but it's worth checking out.

Cabruera "Proibido Cochilar: Sambas For Sleepless Nights" (Piranha, 2005)



A reshuffled version of their O Samba Da Minha Terra album... A dense, challenging, lively, irritating, inventive, noisy, amazing blend of regional Brazilian styles (such as forro and coco, along with creatively appropriated rock, rock-funk and tweaky acid-rock-samba... As on their earlier albums, Cabruera touch bases with contemporary manguebeat bands such as Pato Fu and Nacao Zumbi, as well as older psychedelic/samba pioneers such as Novos Baianos, who also mixed rootsy regional sounds with hard-edged "American"-style rock'n'roll... This is a little too aggressive and Red Hot Chili Peppers-ish for me, but in between the slamming testosterone injections, there's some really cool, surprisingly subtle experimental musicmaking... Definitely worth checking out!
(Banda) Capote "Banda Capote" (1996)


I'm not sure, but I think this is the same Brazilian band fronted by pop-funkster Odair Cabeca (listed above...) I haven't heard this album, and I'm not sure when it really came out... But I am quite curious.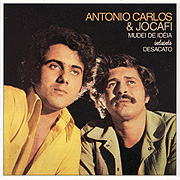 Antonio Carlos & Jocafi "Mudei De Ideia" (BMG-Ariola, 1971)


Way cool. This songwriting duo is not to be confused with Antonio Carlos Jobim... particularly not on this lost gem from the tail end of the tropicalia years. Full of driving, legitimately funky grooves and piercing acid-rock guitars, this is an unusually dynamic album which shows a clear debt to psychedelic singers like Gilberto Gil, but is also a notable early link in the history of Brazilian soul music. In fact, compared to the big names in Brazilian soul, softies such as Hyldon and Cassiano, this is pretty kickass material. Features the funk monster, "Kabaluere," which captures the bass-heavy electric style of the Isley Brothers, and makes it into a super-Brazilian sizzler. Very, very nice album... and one you should try to track down.
Cassiano - see artist profile
Chico Cesar - see artist profile
Cidinho "Muito Suingue" (Phillips, 1980) (LP)


Soft-centered pop-funk, with a restrained jazz fusion influence... Not surprising since composer Sergio Paulo Valle co-wrote most of this material... The backbeats bring Tim Maia's funk to mind; the warm vocals (and shrill female chorus) conjure up Jorge Ben's work, and the rolling piano adds a whiff of glossy, lounge-y jazz, as well as a fair dose of Cuban-style salsa. It's slick, but not bad; not bad at all. Eliana Pittman guests on one track, "Amor Proibido," Luiz Vagner and Maria Vera each appear on several other songs.
Clube Do Balanco "Samba Incrementado" (Spin Music/MCD, 2004)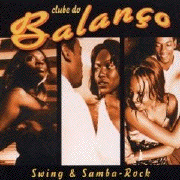 Clube Do Balanco "Swing & Samba-Rock" (Spin Music/MCD, 2005)



This one was recommended to me by a reader... and it's pretty cool! This Sao Paulo-based ensemble pays homage to the smooth Brazilian soul-samba sound of the 1970s, picking up where artists such as Jorge Ben, Banda Black Rio and Tim Maia left off. And they get the style completely right: this is smooth, mellow party music, perfect for a relaxing evening on a steamy, summery dancefloor. The grooves are sweet, the rhythm is gentle but persistent, and the vibe is just right. Plus, they are amazingly well-connected: guest performers include Brazilian pop and funk icons such as samba-funkster Bebetos and Marku Ribas, jovem guarda legend Erasmo Carlos, Seu Jorge and a host of younger soul-funk-triphoppers like Max De Castro, Paula Lima and Wilson Simoninha, each seamlessly mixed into the band's gentle party vibe. If this sounds like it's up your alley, trust your instincts: it's really quite good!
Gerson King Combo - see artist profile

Copa 7 "O Som Do Copa 7" (Top Tape, 1979)
One of the sleeker bands from the Black Rio soul movement, Copa 7 were looser than the better-known Banda Black Rio and funkier than most of the soul singers that dominated the '70s scene. They were also more identifiably building from a samba background, but layering it with tight horn and keyboard arrangements, similar to Earth Wind and Fire. The Copa 7 took their name from an earlier jazz band led by J.T. Meirelles, although as far as I know there were no direct links between the two groups. Either way, this is a pretty cool record, with some solid funk and soul performances, and a few lapses into softer disco-pop instrumentals. The influences of bands such as the Bar Kays, KC & The Sunshine Band and Brazil's Tim Maia can readily be heard on this disc, a long-time collector's item, and certainly worth looking for, if you're into the style.

Copa 7 "O Som Do Copa 7, v.2" (Top Tape, 1980)
A fine follow-up to their first album, maybe a bit tougher and more muscular, but still drenched in solid, funky rhythms and sharp, American-style funk and R&B. These guys really were several steps ahead of most of their competition. [Reissued by What Music.] Recommended!

Curumin "Achados E Perdidos" (Quannum, 2005)



This disc opens with "Guerreiro," a thunderously sexy, slinky, cool, irresistibly catchy pop-funk samba that recalls Stevie Wonder's grooviest work from the early 1970s... That sweet funk vibe is echoed on "Tudo Bem Malandro," which also uses a full, fat-toned keyboards to create a thumping funk beat -- Curumin's debt to Wonder is made explicit in his English-language cover of Wonder's "You Haven't Done Nothing," which rounds out the album's soft, sensual opening set. From there, more contemporary hip-hop and Brazilian pop influences kick in, and the record starts to lose some of its momentum, becoming more a collection of songs than a cohesive artistic statement. There's a little bit of a patchwork, kitchen-sink feel to the second half of the album, but this lack of cohesion also indicate's Curumin's searching, innovative creativity. A Sao Paulo native (whose given name is Luciano Nakata Albuquerque), Curumin makes a point of opening his album up to guest performances by off-the-radar locals; as is often the case, Sao Paulo's music scene offers a grittier, edgier alternative to the sleek elegance of Rio and the party-down sambas of Bahia... Of the many Brazilian artists who have melded funk, soul and samba over the last four decades, Curumin stands as one of the most fluid and accomplished. Sadly, the entire album isn't as funky as the opening numbers, but those few tracks go a long way towards establishing him as a contemporary pop artist worth keeping track of... While savoring the songs on here that get my toes tapping, I'm definitely looking forward to Curumin's next record!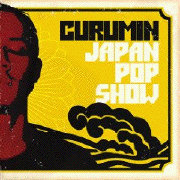 Curumin "JapanPopShow" (Quannum, 2008)



(Produced by Curumin, Gustavo Lenza & Lucas Martins)
Brazilian music has always been about the mixing of cultures and styles, and Luciano Nakata Albuquerque, aka Curumin, is a young Brazilian of mixed Spanish-Japanese ancestry who exemplifies this tradition of diversity. As on his previous album, Curumin shows mastery of a wide variety of styles, mainly from the continuum of soul, funk and hip-hop, but with distinct touches of Brazilian samba-pop and different stripes of rock in the mix as well. JapanPopShow is far more cohesive and consistent album than 2005's Achados E Perdidos, moving from one pop style and era to another while keeping an even keel -- the songs all sound different, but they are all good within the separate sounds. For old-schoolers (like me) the album's gem is the song "Compacto," an irresistible samba-funk tune on a par with Jorge Ben's great works of the 1970s, a hummable and seductive ultimate cruising tune. Other standout tracks include "Caixa Preta," which opens with rock guitars and settles into a slippery, funky vibe, and the dubby, trip-hoppy "Dancando No Escuro." The album encompasses various styles of funk, soul and hip-hop, edging into the more hyperactive modern-day "baile funk" scene, but staying thankfully closer to the sultry grooves of yesteryear. Guests include fellow Brazilian pop experimentalist Lucas Santtana, samba-funk elder Marku Ribas and the American hip-hop duo Blackalicious, who join Bay Area rapper Lateef the Truthspeaker on the song "Kyoto." Curumin's savvy mix of styles is another strong example of how the youthful, ever-modern Sao Paulo scene is setting itself on a par with other major pop movements, absorbing influences and creating new sounds that will inspire similar creative bursts across the globe. Definitely worth checking out!


<! Curumin "JapanPopShow" B0016JD66E - Import version on Adrenaline Records >
Curumin "Arrocha!" (Six Degrees, 2012)


---
Brazilian Soul & Funk - Letter "D"
---



Other Brazilian Styles
Main Brazil Index


---