---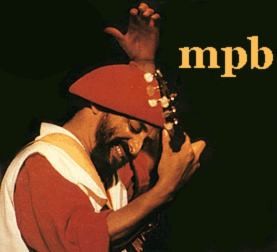 "Musica Popular Brasileira" (or MPB) is a broad, catch-all phrase used to describe the movements in Brazilian music that came after the bossa nova movement. The phrase came into wide usage in the early 1970s, as the stars of the socially radical, rock-oriented tropicalia scene started to mellow out and find wider, mainstream audiences that were more open to their innovative, eclectic musical leanings. There were, however, other key artists who had been pioneering change in Brazilian pop at the same time as the tropicalistas, particularly jazz and bossa nova oriented composers such as Chico Buarque, Ivan Lins, Edo Lobo, and Milton Nascimento, whose work also fell under the "MPB" label. Dozens of second generation MPB artists were prominent in the '70s and '80s, including the likes of Joao Bosco, Maria Creuza, Djavan, Simone, and others. MPB became increasingly sophisticated and, arguably, too slick and musically conservative for its own good. For many, MPB represents the small slice of sugary, overproduced pop that was the only kind of Brazilian music available for many years in the States and eleswhere.
The term MPB is still commonly used, although Brazilian pop has expanded and adapted so much since the mid-1980s, that the term has become even more nebulous that it was originally -- for example, are hip-hop and electronica artists MPB? Some styles, such as the Caribbean flavored axe, and the Africanist samba-reggae and bloco-afro scenes, set out to inject distinct ethnic or pan-American sensibilities into the Brazilian style, and arguably are quite separate from the '70s rock-jazz-latin mix that many consider classically "MPB". So, the list of artists on this page is pretty conservative and 'Seventies oriented. Records by dozens of other artists can be found in the miscellaneous album guide.
---
Major MPB Artists
---
---
Related Styles
---
---
Links
---
Brazzil Magazine covers a wide range of Brazilian culture, including frequent articles on MPB artists both old and new.

Chris McGowan and Ricardo Pessanha's excellent book, The Brazilian Sound gives an in-depth, easy to follow account of how MPB (and most other Brazilian styles) developed. An invaluable resource.
---



Other Brazilian Styles
Main Brazil Index




---