---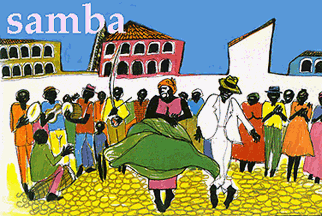 It was samba that first drew me to Brazilian music, lo, those many years ago -- the insistent, irresistable, simple swaying rhythms have attracted listeners for over a century, ever since the celebrants at the annual Carnaval (Lent) parades first pounded out the drum rhythms that form the basis of modern Brazilian pop. There are many styles of samba: early styles include the crashing, primal, often overwhelming percussion of the samba de enredo, or street sambas (which are played during Carnaval) and samba cancao, which was the first blend of Brazilian percussion and European song structure. Although samba music fell out of fashion in the 1950s and '60s, as bossa nova came in, samba cancao enjoyed a huge resurgence in the early '70s, as it transformed into the pop mixture known as pagode. Pagodge in turn has evolved into a super-slick pop sound that floods Brazilian radio (and is a little hard to separate out from other forms of Brazilian pop). Anyway, there's a lot of it. This page doesn't pretend to do anything more than scratch the surface and point you in the general direction of all the great music that falls under the title "samba". There are thousands and thousands of records that I have not heard (and probably never will)... but here are a few that I've heard and like a lot.
---
Major Samba Stars
---
---
Recommended Records
---
Argemiro Patrocinio "Argemiro Patrocinio" (EMI/Phonomotor, 2002)


Samba composer Argemiro Patrocinio, an elder member of the Portela samba school's velha guarda, is celebrated and spotlighted on this beautiful, reverential album, which features affectionate contributions by MPB and samba stars such as Zeca Pagodinho, Jaques Morelenbaum, and Moreno Veloso. The driving force behind the project is Phonomotor label head, pop star Marisa Monte, whose father was head of the Portela escola in the 1960s. While she bankrolled the record, she remains in the background, singing on only a couple of songs, content merely to document, not to dominate. All the songs were written or co-written by Argemiro over his decades-long career, and are performed with a delicious, delicate delivery, marked by lovely instrumental efforts which perfectly frame his gentle, soulful vocals. A lovely record; if you enjoyed the Velha Guarda da Portela album that came out a couple of years earlier, then you should definitely track this one down as well.
Batatinha "Diplomacia" (EMI-Brasil, 1998)
A gorgeous album showcasing the songwriting and vocals of a samba old-timer -- the music is delicately sculpted, simple and strightforward. Batatinha's good-humored, old-man vocals are deliciously framed by straight-ahead acoustic arrangements. The nostalgic simplicity and grace of this album strongly recalls Joao Gilberto's 1981 album, Brasil. And, like that album, this one also features warm, reverential contributions by Maria Bethania, Gilberto Gil and Caetano Veloso. This is well worth searching for.
Leci Brandao "Coisas Do Meu Pessoal" (Polydor, 1977)
Straight-ahead acoustic-based samba from this younger member of the Mangueira samba school. As a singer, Brandao has a fair resemblance to Alcione: strong, confident, clear female vocals. She's also quite a songwriter: most of her material on this and other albums is stuff she herself has written. Recommended!
Clementina De Jesus/Pixinguinha/Joao Da Bahiana "Gente Da Antiga" (EMI, 1968)
Wonderful! Old-fashioned choros and sambas performed by two elderly master musicians, and Clementina, an unknown singer who, out-of-the-blue, became a national star in the 1960s. Her style of "samba antigua" is just gorgeous, especially when blended in with modernized touches, such as the large melodic choruses, as well as Pixinguinha's outstanding, virtuoso playing. Reissued on CD in 1992, along with Marinheiro So, as part of EMI's "2 em 1" series.
Clementina De Jesus "Marinheiro So" (EMI, 1973)
Another great album -- though this time a bit rawer, and with more focus on Clementina as vocalist. Also, a real heavy dose of traditional Afro-Brazilian percussion. The title track is a cover of Caetano Veloso's arrangement of a classic tune, also heard on his third album. This LP was reissued on CD in 1992, along with Gente da Antiga, as part of EMI's "2 em 1" series.
Jair Do Cavaquinho "Seu Jair Do Cavaquinho" (EMI/Phonomotor, 2002)


Do Cavaquinho, a central member of the Portela samba school's velha guarda, is celebrated and spotlighted on this fine, affectionate album, which is, amazingly enough, his first solo album. The driving force behind the album is Phonomotor label head, Marisa Monte, whose father was head of the Portela escola in the 1960s, but while she bankrolled the project, she remains very much in the background, singing in the chorus, but content merely to document, not to dominate. All the songs were written or co-written by Jair over his decades-long career, and samba fans may recognize many of them from other artist's albums. The arrangements by Pedro Amorim warmly frame Do Cavaquinho's now-frail voice. These songs don't barrel along at lightning speed, but they also don't have to: the honied lyricism and well-draped nostalgia are enough to evoke the style's glory days.
Fala Mangueira! "Fala Mangueira!" (Odeon, 1968)
A magnificent old-school, pre-pagode samba album. It's a little difficult to know just where to file this one... "Fala Mangueira" is actually the album title, but while five of the greatest traditional samba artists of the 1960s and '70s share the stage, as it were, on this disc, they are all performing together, taking turns singing the leads on longer medley tunes. At any rate, if you want to hear Odete Amaral, Nelson Cavaquinho, Cartola, Clementina De Jesus and Carlos Cachaca all busting loose on a nice set of tunes associated with (and about) Cartola's famous samba school, then check this disc out. The arrangements and performances are all first-rate, and this has a really nice, friendly feel. Recommended!
Yvonne Lara "Mestres Da MPB" (Warner, 1995)
Gorgeous samba cancao, with deliciously layered production, though also very simple and straightforward. Dona Ivone Lara contributed many great samba cancao hits to Clara Nunes and other samba singers in the 1970s, as well as to Maria Bethania in the early '80s. A s avocalist she was not as compellingly magical as Clara Nunes, as stark as Clementina de Jesus, nor as warbly as Virginia Rodrigues, but somewhere in that general orbit. Unfortunately, the CD liner notes don't indicate when, exactly, these tracks were recorded, although Maria Bethania appears on one of the songs collected here. This disc is one of the real finds in this particular series -- one to keep an eye out for.
Ivone Lara "Serie Raizes Do Samba" (EMI, 1999)


This is an excellent collection of her EMI material, drawing heavily from the albums reviewed below. Great stuff -- highly recommended!
Ivone Lara "Sorriso De Crianca" (EMI, 1979/1997)
A superior collection of Lara's gorgeous samba cancao performances. God, what a voice. And what a writer. Included is her version of her glorious composition, "Sonho Meu" (covered as a duet by Gal Costa and Maria Bethania), which unfortunately melts into one of those '70s-samba medley... But really, with material like this... who can complain? I think this originally came out as an album in the late '70s, but (as with so many Brazilian releases) the liner notes are pretty sketchy. HIGHLY recommended.
Os Meninos Do Rio "Os Meninos Do Rio" (Sony/Carioca Discos, 2000)


An absolutely gorgeous set of old-school acoustic pagode, honoring the work of composers such as Ivone Lara, Jair Do Cavaquinho, Elton Medeiros and Nelson Sargento. A bunch of these old-timers are pictured and named on the front cover, and make guest appreances thoughout, although the album is anchored by a group of younger musicians who, I assume, go by the name of Os Meninos Do Rio. At any rate, this is a super-lovely record. Fans of Beth Carvalho or the Velha Guarda Da Portela owe it to themselves to track this one down.
Joao Noguiera "Boca De Povo" (Polydor, 1980)
Acoustic sambista Joao Noguiera, who passed away in 2001, barely gets mentioned at all these days, and mostly just as a songwriter. He was also a great performer, as his many albums of the 1970s and '80s ably demonstrate. If I had to recommend just one Joao Noguiera album, this might be it. Here he glides up from the typical acoustic pagode arrangements, building a sound which sparingly incorporates funky, earth outside influences without resorting to any of the cliches and mannerisms of the then-dominant MPB scene. Rootsy yet modern, and a very vigorous, enjoyable album. Highly recommended!
Quatro Grandes Do Samba "Quatro Grandes Do Samba" (RCA, 1977)
One of those dazzlingly great, understated acoustic samba albums that seem to slide under the radar as Brazilian fancies are turned elsewhere... This album originally came out at the height of the MPB years, although there was also a resurgent pagode samba revival going on, which this disc fits into quite nicely. At any rate, the four old-timers who made up this ensemble are all impressive figures on their own: Nelson Cavaquinho, Candeia, Guilhereme de Brito and Elton Medieiros all back each other up as they trade off on vocals. It's a beautiful record, worth tracking down, especially if you enjoyed recent albums such as the Velha Guarda da Portela discs... Recommended!
Roberto Ribeiro "Meus Momentos" (EMI, 1999)


Sweet samba from the '70s and early '80s... the same sort of flowery arrangements and big, bright choruses as contemporary records by Beth Carvalho and Clara Nunes. Although Ribeiro may have lacked the visceral ooomph the gals had, he's still pretty sweet. Like the other recent Meus Momentos releases, this 2-CD set collects a couple of earlier best-of discs, and the first CD is punchier than the second. But it's a fab budget-line release -- totally worth checking out at such a reasonable price.
Jair Rodrigues "Orgulho de Um Sambista" (Philips, 1973)
An absolutely gorgeous album of swaying, romantic sambas and saudades; one of my longtime favorites. If you see it, do not hesitate to check it out.
Fernando Sanjines & Samba Do Coracao "Heartbeat Of The Jaguar" (Coracao Records, 1999)
Samba do Coracao is one of San Francisco, California's best samba schools, and this album features plenty of dynamic, idiosyncratically original compositions by master drummer Sanjines, as well as sharp precision playing by both large and small ensembles. There are several tracks with unusual meters and stop-and-start rhythms; although their live performances are stunning, this album captures the power of their playing with surprising immediacy. Although San Fran had several samba schools in the 1970s and '80s, most never recorded their work, so this is a nice document of a scene which has been going strong for a while now. Well worth checking out!
Nelson Sargento "Memoria Eldorado: Sonho De Um Sambista" (Eldorado, 1979)


A beautiful album of old-school acoustic sambas, from velha guarda legend, Nelson Sargento. This is one of very few records he recorded as a solo artist (he's more frequently heard as a member of various ensembles or on Carnaval tributes and poupourri albums). This is lovely stuff, with Sargento calmly crooning atop a bright, glorious chorus and beautiful guitar work, and of course, the swish-swish of a delicately strummed cavaquinho. Recommended -- if you can find a copy, snap it up!
Velha Guarda Da Portela "Tudo Azul" (Phonomotor, 2000)


An absolutely gorgeous acoustic samba album. Relaxed, lyrical, affectionate takes on old samba cancao themes, featuring various members of the Portela samba school, including several influental old-timers. This disc was bankrolled by pop pioneer Marisa Monte, one of the escola's younger members... A beautiful album, frequently compared to the Cuban Buena Vista Social Club... HIGHLY recommended!
---
Compilations
---
"BRESIL: CHORO - SAMBA - FREVO/1914-1945" (Fremeaux & Associates/France, 1998)
Colossal. Enthralling. Essential. Legendary figures from the dawn of samba such as Pixinguinha, Noel Rosa, Sinho and Ary Barroso may seem distant and antique, but this excellent French compilation brings their music back with resounding immediacy. Two CDs worth of catchy, classy, crazy, playful creativity with an old-timey, jazzy feel. A lot of this would work well alongside old big band tunes, or Django Rinehardt records. HIGHLY recommended. Also check out the similar "BRESIL: SAMBA" collection.
"SAMBA: BATUQUE - PARTIDO ALTO - SAMBA-CANCAO/1917-1947" (Fremeaux & Associates/France, 1998)
The second in this fabulous archival series of early Brazilian pop songs. Of course, this 2-CD collection has a tasty sampling of early Carmen Miranda recordings, but better yet are the two dozen other tracks featuring fabulous artists whose work has been next to impossible to find for decades. Noel Rosa, Bahianho, Mario Reis, Cyro Monteiro and others are all represented -- this is a HIGHLY recommended collection!!
"CHORO: 1906-1947" (Fremeaux & Associates/France, 1998)
Another stunner in this incredible French series. A beautiful collection of mostly-instrumental music, featuring the legendary Pixinguinha and acoustic jazz pioneer, mandolinist Jacob do Bandolim. There is some teensy overlap between this and the first BRESIL comp, but it's pretty negligible considering how great both collections are. This collection is indispensible for anyone looking into the roots of Brazilian samba.
---
Various Artists "CARTOLA: O SOL NASCERA" (Revivendo)
A stunning collection of antique samba recordings, written by Angenor de Oliveira (Cartola), one of the great early sambistas, and founder of the Estacao Primeira de Mangeira, one of Brazil's largest samba schools. Most of these recordings are from the early 1930s, although it spans into the early '80s as well. If you enjoy old Carmen Miranda records, then this disc full of forgotten singers such as Sylvio Caldas, Arnaldo Amaral and crooner Francisco Alves will be a real treat. Also includes a sprinkling of Cartola's own rare recordings -- which are lovely. A few tracks towards the end are a bit goopy, and the "medley" at the end is clumsily edited, but these are only minor imperfections in an otherwise killer historical record.
Various Artists "CASA DA MAE JOANA" (Blue Jackel/Natasha, 1998)


Beautiful acoustic music -- one of the best new collections you can find, if you're searching for the gentle balladry style of yesteryear. These are new recordings, but include several old masters, such as Ze Keti, Nelson Sargento and Wilson Moreira. Gorgeous songs and gentle sambas, with more emphasis on the melody than the rhythm... This brings to mind the wonderful albums made by the acoustic sambistas of the early '70s. Recommended!
---
Other Resources
---
"THE SPIRIT OF SAMBA: BLACK MUSIC OF BRAZIL" (Harcourt Films/Shanachie, 1982)

The key to understanding this tendentious hour-long documentary film is in its subtitle, and the dogmatic assertion that samba is a "black" music that has somehow been appropriated and exploited by Brazil's "white" population. Although the film has some good material, including sit-down interviews with Gilberto Gil, Milton Nascimento, Chico Buarque and Leci Brandao, the thrill of seeing them all in action is severely undercut by the grinding, joyless narration, as French director Jeremy Marre intones gravely about how samba is the music of the poor and exploited black underclass, etc. etc. etc. He cuts away from scenes of street parties and MPB concerts to military parades held by the dictatorship that was still in power when the film was made (albeit in its waning days; the military relinquished control of the country in 1985) and makes the seemingly contradictory assertions that Brazil's vast Carnaval celebrations are a merely bread-and-circuses sop, a pointless bacchanal designed to placate the nation's poor, and, simultaneously, that samba has been stolen from the masses, and that they can no longer enjoy their own music. Second-string MPB star Luiz Melodia is shown singing a sexually suggestive song with a female co-star, as Marre instructs us that his music has been ruined by the influence of non-Brazilian pop, and that his songs "have no meaning." There are elements of truth to Marre's argument, but on the whole, he seems to be pounding static, lifeless square pegs into round, rhythmic holes. Marre's dogmatic political presentation betrays a startling ignorance the complexities of Brazil's interracial, multilayered, ceaselessly fluid and profoundly syncretic centuries-long cultural heritage. Samba, which came into existence towards the end of the 19th Century, was one in a long line of admixtures of African, Amazonian and European influences -- it didn't come fully formed fresh off the boat from West Africa, as the film seems to suggest. And historically, it is a national music, not only enjoyed by all, but actually one of the key elements uniting this far-flung country. This same point is made constantly by the film's own footage: every time Marre sets out to show us some explotative situation in which a poor samba artist is forced to play their music for a "white" audience, the crowd we see is invariably and emblematically of mixed race, and they generally seem to be having a pretty good time together. Try as he might to stack the deck, the director keeps running up against the contradictory nuances of Brazil's confoundingly multi-textured society. This film is worth checking out for a glimpse at the samba culture, but its message has to be taken with a grain of salt.
"Escolas Do Samba: O Espectaculo (A Documentary Of Rio's Carnival)" (BMG/Liesa, 2002)
Then again, the salaciousness of this docu-spectacle may actually reinforce the criticism brought forth by the movie above. This DVD is the visual equivalent of the old Carnival souvenir LPs that were made from the 1960s on, a keepsake of Brazil's biggest party and largest tourist draw. Each of the major samba schools are profiled, showing their prize-winning samba songs and parade choreography for the years 1985-2002. One one level it's really cool, on another it's somewhat cursory and visually repetitive: lots and lots of naked women and dancing men, bright colors and incredibly imaginative floats and costumes. You get to hear all the major Carnival songs, and to see the grand, Rose Bowl-ish scale on which they are presented. However, the sit-down interviews with songwriters, set designers, artistic directors, etc. are all pretty clipped and rarely illuminate the process by which these parades are mounted. The result is kind of a sensory overload: how many shaking booties and naked breasts can you watch in one sitting? Keep an eye out for uncredited celebrity appearances: was that Jorge Ben's big beak that just walked by? Hey... isn't that Chico Buarque? Back up the tape!
---
---
Links
---
RNT Pagode Page is a sort of overview of "pagode", with album recommendations, song lyrics and photographs of select artists. (In Portuguese).
---



Other Brazilian Styles
Main Brazil Index




---