---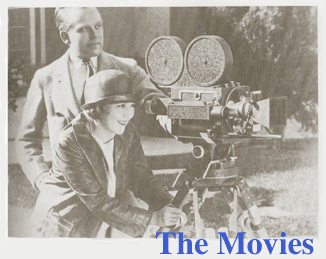 Hi there...! This is the index page of an ongoing series of weblogs in which I review movies I've seen. I'm not, like, a big, know-it-all expert on films and cinema, or anything... This just seemed like the easiest way for me to remember what I'd already seen, so I wouldn't wind up renting the same movie twice -- which happens more often that I'd care to admit. Anyway, this page should be pretty self-explanatory. <! Other film-related info is on my main "film_index.html" film index page. >
By the way: You might also want to check out my children's book review site, ReadThatAgain.com, which also features a bunch of kid's video, music and website reviews. A few are added here as well, but there's a lot more kid-related content over there.
---
Some Stuff I've Watched Recently...
---
December, 2008


"Dr. Horrible's Singalong Blog"
"Iron Man"
"The Dark Knight"
"My Kid Could Paint That"
"Jakers: Sheep On The Loose"
"Go Diego Go: Wolf Pup Trouble"
"Do Not Adjust Your Set"
"Chop Shop"
"Peter And The Wolf"



November, 2008


"Project Runway, Season 4"
"Get Smart" (2008)
"The Band's Visit"
"Wilby Wonderful"
"Wall-E"
"Eragon"
"Moontide"
"The Boys In The Band"
"Hellboy II: The Golden Army"
"Star Trek: The Complete Third Season (Remastered)"
"Tinkerbell: The Movie"
"The Visitor"



October, 2008


"Alice Faye Collection, v.2"
"Five Days" (HBO)
"This American Life - Season One"
"Charlie Chan Collection, v.5"
"CSI Miami - Sixth Season"
"Leatherheads"
"Boomerang"




August-September, 2008


"State Of Play"
"Honey West: The Complete Series"
"Road House" (1948)
"Play With Me Sesame: Furry Fun And Healthy Too"
"Star Trek: The Complete Second Season (Remastered)"
"The Bodyguard/Bodyguard 2"
"Project Runway - The Complete Second Season"



July, 2008


"Surfwise: The Amazing True Odyssey Of The Paskowitz Family"
"The Golden Compass"
"Project Runway -- The Complete First Season"
"Executioner's Song"



Film Blog: June, 2008


"Evening Shade -- Season One"
"The Carmen Miranda Collection"
"Mannix -- The First Season"
"Prince Cinders"
"Californication -- Season One"
"Early Edition -- The First Season"
"Jericho -- The Second Season"






---
Archives
---
February, 2005
January, 2005
October-December, 2004
August-September, 2004
July, 2004
June, 2004
May, 2004
April, 2004
March, 2004
February, 2004
January, 2004
December, 2003
November, 2003
October, 2003
September, 2003
August, 2003
July, 2003
June, 2003
May, 2003
April, 2003
March, 2003
February, 2003
January, 2003
December, 2002
November, 2002
October, 2002
September, 2002
August, 2002
July, 2002
June, 2002
May, 2002
April, 2002
March, 2002
February, 2002
January, 2002
December, 2001
November, 2001
October, 2001
September, 2001... spooky!
August, 2001
July, 2001
---

Main Film Index
Music Review Index
Slipcue Main Index




---
Copyright 1998-2006 Slipcue.Com. All Rights Reserved.
Unauthorized use, reproduction or translation is prohibited.
---
...Roll 'em!!