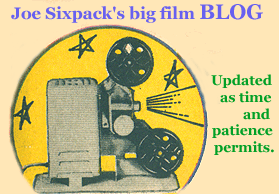 ---
June, 2008 | Film Reviews - TV rants - Kid's Vids & More
---
---
06/29/08
"Evening Shade -- Season One"
(CBS/Paramount, 1990)


A CBS-TV series that ran from 1990-94, Evening Shade holds a special place in the Burt Reynolds canon... Reynolds acted prodigiously on TV and in film throughout the 1960s, '70s and '80s, but this was one of his best and longest-lived roles, playing Wood Newton, a retired NFL player who has become a high school football coach for a perpetually losing small town team. The show was a half-hour sit-com dramedy with a high-powered cast that also included Ossie Davis, Hal Holbrook and Marilu Henner -- Reynolds directed almost half the episodes, but one of the show's strengths was how well he shared the spotlight. Reynolds is unhurried and relaxed, a mature actor in a mature, middle-aged role. The show's rhythms are familiar: in its cosmopolitan-professional-settling-in-a-small-town premise, it strongly recalls the second Bob Newhart show, including the large cast of wacky locals; there is also a domestic aspect of the show that recalls shows like Family Ties, et al., but with an occasionally adult, raunchy edge (in the pilot episode, for example, Coach finds out that his late-in-life vasectomy failed, and that he and Marilu are now expecting another child) While the show conformed to some of the formulas of network TV, it also had its own unique tone and charms. Fans will be happy to see Season One out on DVD; newcomers may be charmed as well.
---
06/23/08
"The Carmen Miranda Collection"
(20th Century Fox, 2008)


This is a fab set of old films starring one of Brazil's greatest samba singers, Carmen Miranda. True, these are not her "best" movies, but Hollywood ruined Carmen quickly and once she came to the US, all we ever really got to see were glimpses of her dazzling performing power. As it is, I would highly recommend this collection to anyone who is curious about the Carmen Miranda legend... The first film, "The Gang's All Here," is a frothy collaboration between Carmen and the great choreographer Busby Berkeley, who indulges himself in some wonderful visual gags and inventive tracking shots. The movie has a playful, giddy tone, and Miranda thrives in it from the first frame until the end. She has great costumes and strong musical numbers, with backing from her ace Brazilian band, Banda Da Lua. This film alone is worth the price of admission. The other movies aren't on the same level, but they're still fun, particularly if you have a taste for World War Two-era B-movies. (In the burlesque-tinged "Something For The Boys," erstwhile female lead Vivian Blaine actually turns to the male lead and says, hey, the boys have lots of talent, and we've got this big old house -- "Let's put on a show!") The Fox studios surrounded Carmen with a cast of regulars that included Vivian Blaine (yawn), Don Ameche, Phil Silvers and Perry Como. In "Greenwich Village," an affable Ameche shines as an aspiring classical composer who gets caught up in the heady, bohemian art scene, while that lovable lug William Bendix hams it up as a gruff nightclub owner who nonetheless fixes things up so that Ameche can become a star...)
The real draw, of course, is Carmen Miranda, an artist who sizzled like a live wire when she came to the United States in 1939 (if you can, check out the samba records she made before she came here, and you'll hear where her famous charisma started...) and she continued to dazzle whenever given half a chance (check out the shockingly vaginal pink-and-black dress she wore in"Greenwich Village" - still scandalous after all these years!) Sadly, Miranda worked herself into an early death, but she also created and kept tight control of her own cannily-crafted public image as a kooky, warm-hearted Latin bombshell, and these movies, even if they have their shortcomings, are still vital parts of her legacy. Not only are these top-quality prints of vintage movies that have mostly never been on DVD before, the folks at Fox also wisely decided to augment them with archival features such as old TV appearances and movie shorts (including a follow-the-bouncing-ball singalong trailer that was shown in theatres in the 1940s) and, even more wonderful, there is a feature-length documentary tacked onto "Something For The Boys" that profiles Carmen Miranda's career, from her early years in Brazil to the meteoric rise and slow fizzle of her Hollywood career. The doc includes thoughtful, insightful commentary by numerous Brazilian and American film scholars, journalists and Carmen Miranda mavens -- and LOTS of cool archival footage from throughout Miranda's career. Definitely worth checking out.
---
06/19/08
"Mannix -- The First Season"
(CBS/Paramount, 1967/2008)


The first season of TV's Mannix (1967-68) is a detective show that was several notches above the rest. To begin with, it's cool, like Steve McQueen-meets-noir cool, with a taciturn, Chandler-esque hero Joe Mannix (played by Mike Connors) who takes threats, setbacks and violence in his stride. Mannix doesn't mind taking a few knocks if he can crack the case and get his licks in at the end. He's also an old-school crime-buster at odds with the modern methods of the gigantic company he works for (Intertect) -- instead of relying on computers, high technology and space-age science, Mannix prefers to use shoe leather, bare knuckles and moxie.
Very hip for its time, the show was also very stylish and surprisingly experimental, full of wild, artsy, almost avant garde camera work, and sleek scripts that didn't rely too heavily on explanation and exposition, as did many TV shows of the era. The list of guests stars in this first season is impressive as well, including great character actors and A-listers such as Neil Diamond, Karen Black and Rona Barrett. A fresh-faced, clean-shaven kid named Tom Skerritt shows up in the same episode that features the soon-to-be-legendary psychedelic band Buffalo Springfield (featuring Stephen Stills and Neil Young) as the house band of a seedy Sunset Strip go-go club. It's a very "Sixties" show, in the best meaning of the word -- folks who enjoy James Bond movies, Steve McQueen, or even The Avengers, will find a lot to cheer about here. Plus, this was back in the day when TV studios still knew how to program a real *season* of entertainment: with 24 full episodes, this 6-disc set will keep you on the edge of your couch for many, many nights to come. Bring on Season Two!
---
06/15/08
"Prince Cinders"
(First Run Features, 1994)


This gender-flipped parody of the old Cinderella story is an interesting -- but loud -- commentary on masculine gender roles. Our daughter really, really, really wanted to see it when she was Cinderella-obessed, and I reluctantly agreed. The production and the humor is very, very English, though, with concerns about "posh" society and an unexplained difference in accents between Prince Cinder's loutish brothers (working-class accents) and Cinder himself, who has a more generic, middle-class accent -- not quite an upper-crust toff, but certainly not a Cockney fishmonger, either. The British-isms may be lost on some non-UK viewers, but the main message comes through clear as a bell. (The loud sound design and clubby music are another matter altogether, but probably less of a problem for kids than for parents...) All in all, an engaging, PC-ish reading of an old, old story. My wife really hates this cartoon and finds it quite grating; after a couple of viewings, I was forced to agree, and whisked it back to the library s fast as I could.
---
06/08/08
"Californication -- Season One"
(Showtime/Paramount, 2008)


Like HBO's Deadwood, Californication defies viewers to look beyond the obvious, coarse provocations that frame the show and look into the souls of its characters. In this case, it's egregious swearing, brazen sexuality and occasional drug use that are thrown at the audience, in this rough-and-tumble portrait of Hank Moody, a bad-boy boho novelist who's made it to Hollywood only to lose his moral compass, and his marriage as well. Although the Moody character seems a little forced -- he's a two-fisted, heavy drinking thinking man's roughneck who sleeps with any gal that pauses long enough to make eye contact -- actor David Duchovny invests the character with unexpected nuances and depth, and turns in a fine performance all around. Indeed, viewers like myself, who thought he was kind of a dud as Agent Mulder (in The X-Files) will be pleasantly surprised to find what a clever, funny performer he actually can be. Likewise, this show will sweep you up and ensnare you in its ribald humor, jaw-dropping outrageousness and intelligent writing. There's great dialog, plenty of hot monkey love, a de rigeur skewering of vapid LA culture, and a delicious, fast-paced soap opera scandal that will get you squirming in your seat. Yummy fun!
---
06/08/08
"Early Edition -- The First Season"
(CBS/Paramount, 1996)


Kyle Chandler fans, rejoice! The future "Coach Taylor" of Friday Night Lights, stars here as Gary Hobson, a Chicago stockbroker who finds his career to be soulless and dull, until fate intervenes and gives him a new calling, along with a mysterious subscription to a newspaper from the future. Granted a chance to see tomorrow's news today, Gary chooses to transform tragedies into triumphs and help others avoid disaster, rather than use the paper to make lots of money (which is what his weasly best friend wants him to do...) This 6-DVD box set gathers the first of four seasons of Early Edition, establishing the characters and giving them room to grow. Like most TV series, it takes a while for the actors and producers to find the right rhythm -- the show's quirky premise lends itself to formulaic episodes (Gary finds out about, then averts, various tragedies; Gary flirts with but never quite connects with one interesting, gutsy modern gal after another... Gary's friends flutter about the horizon, giving him advice and helping him save lives; Gary complains about the burden fate has placed on his shoulders.) But the mystery of the magical newspapers helps move the show forward, and Chandler is such a charming, soulful performer that any show that gives him this much screen time is a delight.
Early Edition, which ran from 1996-2000, has an oddly dated feel, as if it had been made in the 1980s, when TV was still under the spell of the '70s. It recalls other episodic supernatural/timetravel-y shows, notably Quantum Leap (which also had an adventure-of-the-week, do-good-deeds premise) and the similarly quirky Wonderfalls, which also featured a likable but often cranky workaday person chosen by a higher power to fulfill a task that was never quite clearly defined and was often burdensome and unwanted. At the heart of it all is Mr. Chandler and his puppydog eyes... The show is oddly formulaic, but he's dreamy.
---
06/03/08
"Jericho -- The Second Season"
(CBS/Paramount, 2008)


Season Two of the TV series Jericho wasn't supposed to happen... the taut, terrifying post-apocalyptic drama had been canceled due to weak ratings, but was revived by the network after intense lobbying by fans. In this second season, the claustrophobia of Season One gives way to paranoia as the town of Jericho is taken over by a provisional Federal government based in Nebraska. As it turns out, this new government is the result of a political conspiracy, and the citizens of Jericho, like Kansans in the 1850s and '60s, are caught in the middle of a chilling civil war. The ensemble acting of the first season is replaced by a fast-moving, plot-heavy political narrative over which contemporary (Iraq War-era) politics cast a long shadow. The new government installs a Halliburton-like mega-corporation in charge of all economic activity in the town; this company also owns a private, mercenary security force (ala Blackwater) which terrorizes the locals. Finally, the townspeople have to take a stand: are they going to knuckle under to a powerful, remote dictatorship, or will the spirit of 1776 survive? Action junkies and fans of political conspiracy-theory films will dig this. Although it may feel a little rushed, this short season (only seven episodes were made) ties up most of the loose ends, and should satisfy most fans. Fun stuff, and a little scary, too.
---
Next Month
---
---


Joe Sixpack's Film Blog
Main Film Index




---
Copyright 1998-2009 Slipcue.Com. All Rights Reserved.
Unauthorized use, reproduction or translation is prohibited.
---