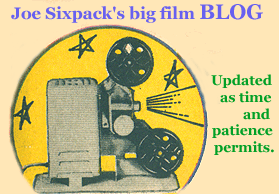 ---
April, 2004
---
---
04/30/04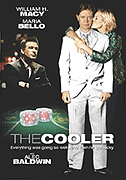 "The Cooler" (2003)


Gosh, I love William Macy, and it's swell to see him in a lead role, though if the truth be told, this wasn't really that great of a film. Macy stars as a guy whose luck is so bad, so outright, impossibly terrible, that he's employed as a "cooler" at a Mob-run Las Vegas casino. He mopes his way up alongside a roulette table, and -- bang! the house wins. The concept of a cooler is obviously somewhat superstitious and old-fashioned, but it's just right for his hard-edged boss, Shelley Kaplow (played by Alec Baldwin), who is as old-school as Vegas casino bosses come. He still likes the chintzy old decor, the plush, musty booths, the hammy old crooners, and the occasional kneecapping of some client or friend who owes him money. Baldwin, in fact, delivers the one great performance in this film (Macy's done much, much better elsewhere...) and his controlled, menacing intensity is what makes this film work. It sure ain't the script, though, which is packed with cheap ironies, clumsily directed violence and painfully derivative "guy film," student-movie cliches. It really adds nothing new to the mix, from a psychotic, hair-triggered Joe Pesci-like mobster beating up some civilian schmo who disses him, to Macy's hotsy-totsy girlfriend, yet another stereotypical hooker with a heart of gold. Still, it's got William Macy, and though the lousy script takes the bloom off the rose by the end of the film, he's still a lot of fun to watch. I can't really say I'd recommend this film, but it was an okay rental.
---
04/29/04
Friends was really boring. So were all the other Thursday night shows. I should really stop watching TV.
---
04/22/04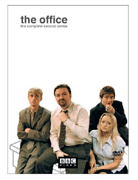 "The Office - Complete Second Series" (BBC, 2002)


Oh, ouch. I had forgotten how incredibly painful this show can be. Ouch. Ouchouchouchouchouch. Ow.
---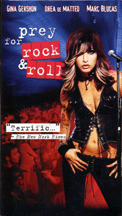 04/21/04
"Prey For Rock And Roll" (2003)



Boxoffice star Gina Gershon is slumming a bit in this surprisingly effective low-budget independent feature about an aging, lower-rung, Joan Jett-ish rock'n'roller, still slogging it out in the LA nightclub scene and wondering, on her fortieth birthday, if it's really all worth it. There are gaps in the drama, but for the most part I found this film to be charming and fun in its own trashy, alterna-lifestyle way, and Gershon's performance is really quite good. Nice supporting cast, too, although Mark Blucas (previously seen as the corn-fed, all-American super-soldier, Riley, on Buffy The Vampire Slayer) is just a little too clean-cut and gosh-darn nice to be believable in his role as a recently paroled ex-con. Still, I'd recommend this film -- it delivers on its premise, and was a lot better than I thought it would be.
---
04/16/04
"Weekend At The Waldorf" (1945)


Ginger Rogers has top billing, but Lana Turner steals the show in this somewhat sluggish wartime remake of Grand Hotel. Turner plays Bunny Smith, a young stenographer at the Waldorf, whose desperate race against lifelong poverty leads her to reject love in favor of a calloused, pragmatic, taking-care-of-number-one attitude. Her romance with a wounded WWII soldier (Van Johnson) is the single most interesting aspect of this otherwise negligible film. Stiff and unwieldy, Weekend simply lacks the sparkle and wit of Hotel, the sincere sophistication and freshness -- and the superior ensemble acting. Here, the pacing is slow, the direction unsure, and much of the acting is flat. Walter Pidgeon, in particular, is a snoozer as he plays opposite Rogers -- the two simply lack chemistry, and seem like they're not even in the same room for most of their scenes. It's an okay film, I suppose, but really, you're much better off with the original -- Grand Hotel was a real class act, while this flick was workmanlike at best. Bandleader Xavier Cugat, who I believe actually did have a long residency at the Waldorf Hotel, gets two good, long scenes -- one a comedic bit towards the start, and the other an ambitiously staged musical performance with Lina Romay and Bob Graham as vocalists. For fans of Cugat or Turner, this one's worth checking out; otherwise stick with the '30s version.
---
04/13/04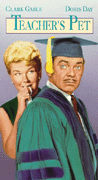 "Teacher's Pet" (Paramount, 1958)


Filmed in black-and-white at the height of the Technicolor era, this film is an intentional throwback to the old-school screwball comedies, with a plot based on mistaken identity and a love/hate relationship between a blustering man and a too-professional gal. Clark Gable was a bit long in the tooth when this flick was made, but he does quite nicely in his role as Jim Gannon, a gruff, hardbitten newspaperman who has an axe to grind against smartypants college classes that purport to teach students how to become journalists. He stomps off to Fancypants U., to give them all a piece of his mind, but when the egghead professor turns out to be a stylishly attired Doris Day -- well, hubba hubba! -- he starts to change his mind! Next to Run Silent, Run Deep, which came out the same year, his is one of Gable's finest later performances, and Day is as lovable as ever. Top honors may go to the supporting actor, Gig Young, who delivers a wonderfully understated, funny performance as one of Day's fellow academics. His sly slapstick in a long hangover scene is worth the price of admission all by itself. A nice film, very much of its time... The "serious" theme -- about the importance of a good college education -- takes over the film in the second half, and actually brings it to a grinding halt right towards the end... But the movie is still entirely enjoyable, and worth checking out if you're looking for something light and retro.
---
04/12/04
---
04/11/04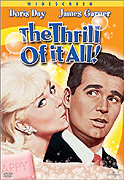 "The Thrill Of It All" (1963)



A hip and happening Doris Day comedy in which the girl next door becomes a media sensation. Doris stars, not surprisingly as a wholesomely sexy suburban housewife who is hired to become the spokesperson for the Happy Soap company, because Happy Soap's crotchety old president finds her stammering, unprofessional endorsements to be refreshingly honest and -- more importantly -- so does the soap-buying public. In fact, the only one who doesn't like her ascent into the media is her grouchy, fragile-egoed husband (played by James Garner), who can't stand the thought of his own wife having a job -- it's just too much of a blow to his masculinity, and besides, who will raise the kids if mommy goes to work? The depth and sheer matter-of-factness to the sexism in this pre-women's movement comedy will be both astounding and instructive to a modern audience, but besides all that, it's also a great vehicle for Day's bubbly, frowsy charm. Garner's character is a bit hysterical, but it's all worth it for the big payoff: his double-take during the swimming pool scene is a golden comedic moment. Scriptwriter Carl Reiner's touch is easy to pick out; Reiner also has some choice cameos as a hammy TV actor on the show that Happy Soap sponsors. There are also plenty of great early '60s character actors, such as Edward Andrews, who you may recognize from old TV re-runs and the like. [Crazy cast note: the Pamela Curran, who plays "Spot Checker," the glamorous model who was the old Happy Soap Girl, is a dead ringer for Drea de Matteo (best known as Adriana, of the Sopranos...) The likeness must be seen to be believed.] Anyway, this is a fun movie, entirely enjoyable and also a real blast of Cold War-era camp.
---
04/08/04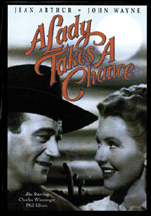 "A Lady Takes A Chance" (RKO, 1943)



An unusual wartime comedy-romance, starring the ever-delectable Jean Arthur as a big-city girl who takes a bus tour out West to see some of the world, and gets a real eyeful when she hooks up with John Wayne, a lanky, laconic cowboy who's rambling around on the rodeo circuit. The script is fairly minimal, and many scenes even seem improvised, but what's remarkable is the underlying sexual frankness of the film -- the two meet by accident, and are inexorably drawn together by sheer sexual chemistry. When they finally give in and go out on a real date, they have nothing to say to each other -- the attraction is purely physical. Certain scenes, such as when he invites her up to his hotel room, offers her a drink, and bed to bunk in, are surprisingly raw. Arthur and Wayne also seem to have chemistry together -- in fact, this is the only film in which I've seen him play opposite a gal when the sizzle seemed real... It's a funny film with an offbeat sense of humor, one that's worth seeing particularly if your a fan of Jean Arthur's work... She's about as cute as ever in this one!
---
04/07/04
"Something's Gotta Give" (2003)


---
04/06/04
"Matrix: Revolutions" (2003)



The third and --ye gods!-- most boring of the Matrix movies. I hated the first Matrix film, but was pretty much on board after seeing #2, considering it a fine, fast-paced, pleasantly pseudo-profound comicbooky action film. And while this chapter started off with a promising nonchalance, it quickly devolved into a loud, flimsy, poorly plotted morass. Of course, no one needs little old me to tell them that about this flick: fans of the series deserted it in droves after this turkey was released... But I still had to check it out and see for myself. Oh, well. By the way, the woman who plays Trinty, Canoe's love interest, is one of the least interesting screen actors I have ever seen. Big flaw in the casting there, which helps drag the series down on a number of occasions.
---
04/02/04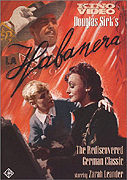 "The Habanera" (1937)



This odd pastiche of medical drama, political thriller and romantic melodrama is of curio value for two reasons. Fans of director Douglas Sirk (here still working in Germany under the name Detlef Sierck) will enjoy the chance to see him plying his trade 'way back during the Depression, and it's also an interesting example of pre-War, post-Weimar German cinema. Still, it's also quite cluttered and muddled in the plot department, and filmically its main strength is in the crisp black-and-white cinematography; the acting and the script are a little sketchy. Sirk is moderately successful trying to stir the romantic angle up into his usual hysterical fever pitch, but there isn't all that much to work with. The plot -- about an impulsive, romantic-minded Swedish gal who gives up her safe European home to live in the passionate, but ultimately grimy and dispiriting island nation of Puerto Rico -- can be seen as allegorical and topical, particularly with an awkward medical subplot showing science being distorted and bent to the will of political power, but it's still not very compelling or fun to watch. It's also hard to tell exactly where the filmmakers are coming down on the film's commentary about the relationship between developed nations and the Third World -- Latin America seems pretty uniformly looked down on by the "good guys" in this flick, and it certainly is funny how everyone on the island speaks German so fluently. Deutsche starlet Zarah Leander, who sings several stilted musical numbers, also doesn't do much for me; most of the acting seems hurried and unsubtle. I'd tag this as more of a treat for film scholars, rather than movie fans.
---
Previous Month | Next Month
---
---


Joe Sixpack's Film Blog
Main Film Index
Slipcue Main Index




---
Copyright 1998-2006 Slipcue.Com. All Rights Reserved.
Unauthorized use, reproduction or translation is prohibited.
---