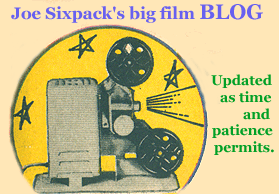 ---
March, 2004
---
---
03/31/04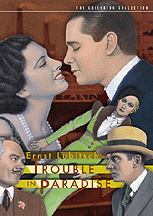 "Trouble In Paradise" (RKO, 1932)


An absolutely delicious, saucy romantic comedy by famed director Ernst Lubitsch -- a pre-Code gem that fell by the wayside after the dullardly Hayes Code swept through Hollywood. Miriam Hopkins, Herbert Marshall and Kay Francis are caught in an unusual triangle, as Hopkins and Marshall, a pair of high-stakes con artists, latch onto the wealthy, sexy -- and resolutely single -- Parisian socialite, Mariette Colet (Francis) and plan to rob her blind. Of course, trouble ensues as the suavely amoral Herbert teeters at the brink of honesty, after he starts to fall for the considerable charms of their intended victim. Kay Francis steals the show with her smoulderingly sensual performance -- and things really start to heat up towards the end, when she finally has her way with the dashing young thief -- if you're looking for a "strong" female character in the old, Depression-era cinema, Francis's Madamoiselle Colet is a real doozy. Fine supporting roles by Everett Edward Norton, C. Aubrey Smith and Charles Ruggles as well. It may take you a little while to settle into this film's cheerfully salacious wavelength, but once you get into it, it pays off handsomely. A nice, fun movie.
---
03/28/04
Methinks Alias is starting to drag a bit... How many bombs on timers can they defuse at the last second? Hmmmmmm...
---
03/25/04
"She" (RKO, 1935)



A goofy old-fashioned action film produced by Meriam C. Cooper, the brains behind the1931 smash King Kong. Randolph Scott stars in this slightly tweaked adaptation of H. Rider Haggard's novel (in the book, the action is set in Africa; here it's in the Antarctic). Anyway, the basic plot is that a dashing young Anglo-American adventurer heads off in search of a magical fountain of life, but when he arrives at its hidden temple, it turns out the guardian is an immortal hottie (played by Helen Gahagan), who believes that our hero is a reincarnation of her long-lost lover. The first half of the film is kind of rickety and slow-moving, but once the films starts zipping to its crescendo, things get pretty fun. There's a big, silly dance number (half modern dance, half Busby Berkeley revue, with kooky ethnic elements), and some really cool special effects -- including a jumping-over-the-chasm scene that may seem familiar to fans of the first Lord Of The Rings film. Acting wise, this flick is campy at best -- it's not Scott's best effort (and I like Randolph Scott!), and Gahagan is kind of a dud; she's just not very convincing as an irresistible, sinister sexpot -- couldn't they have gotten Bette Davis or Marlene Dietrich instead? Still, it's a fun film... definitely worth checking out!
---
03/23-25/04
"Angels In America" (HBO, 2003)


A jaw-dropping film adaptation of Tony Kushner's epic, 5-hour play, which was a defining artistic statement documenting the political and social upheaval that AIDS-HIV disease brought to America's gay community and to the wider America around it. Mixing agitprop and camp with magical realism and utter, heart-rending, pathos, Kushner and director Mike Nichols bring the story to the screen in a big, big way, with all-around amazing performances by a perfectly cast ensemble. Al Pacino gets to chew up yards of scenery in his portrayal of the sleazy, venal, far-rightwing attorney Roy Cohn (who acted as Joe McCarthy's point man in the infamous 1950s prosecution of "atom spies" Julius and Ethel Rosenberg) and for once, all of Pacino's high-decibel yelling pays off with some real dramatic ooompf. There are a lot of things that you could comment on in this play -- the exploration of Jewish-American assimilation, the powerful reaffirmation of a supposedly marginalized leftist perspective, etc. -- but the most profound insight Kushner has to offer is about who the real redeeming angels will have to be in our nation's coming cultural reconciliation. The humanity that he is able to impart into the character of the middle-American Mormon, Mother Pitt (played faultlessly by Meryl Streep), is a marvel of modern political drama: and it rings undeniably true. Pushing past our narrowly defined social and political "roles," and into our shared humanity, is the only road open to folks who want to see America's moral and ethical core liberated from the ideological intrusions of the religious far-right, and the resulting frustrated anger of the disenfranchised middle-liberal-left. In a strictly us-vs-them world view, Mother Pitt would be derided by those on the we're-here-we're-queer Left... but as many people have learned, particularly amid the devastating upheavals of the HIV crisis, our real emotional lives are (ideally) not ruled by dogma. Mother Pitt isn't just a caring parent, she's also a kind, pragmatic person, and for her, the most pragmatic choice when confronted with an epidemic, is to simply offer sympathy and solace. What could be more natural? Let's hope her example prevails.
---
03/16/04
Dude... the last Top Model sucked. It's boring; my wife is on her own with this one! Also, Tyra Banks is a terrible dresser and has bad hair.
---
03/21/04
"Two For The Road" (20th Century Fox, 1966)



A funny, subtle, bittersweet and skillfully constructed look at one couple's courtship and sometimes-rocky marriage, as seen in a series of interwoven narratives, all during trips through France in the 1950s and '60s. Albert Finney and Audrey Hepburn portray the Wallaces, he an irascible, prickly young architect, she, his indefatigably cheery, clear-eyed wife. The dizzying, back-and-forth cross-chronological editing can be a bit disorienting, but the script is incredibly skillful, and the tart dialogue takes on an aching, painful resonance. Plus, Hepburn is such a doll. Great clothes, great old cars and outlandishly modern architecture and interior design -- a nice glimpse into the Euro-American middle class of the late 'Fifties and early 'Sixties, when the world was their oyster, and love was in the air.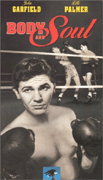 "Body And Soul" (Enterprise Productions, 1947)



This is one of the classic, archetypal boxing films... And I guess maybe it turns out I don't really like boxing films that much; at least I found this one to be a little plodding and ponderous. John Garfield stars as Charley Davis, an angry young turk from the New York ghetto (it takes almost half the film before they define him as being distinctly Jewish) who punches his way to the top of the professional boxing scene, only to find himself in the grip of the local Mob, who want to control his career. His family and friends disapprove, and urge him to get out before he loses his moral compass. Decades later, this is pretty standard fare, but with the late '40s film noir treatment, this does have a certain moody stylishness, although even this is upended by Garfield's loud, one-note theatrics. The film snaps to life, though, during the innovative championship boxing climax, filmed by cinematographer James Wong Howe, who really puts the audience into the fighter's POV through some innovative handheld techniques... The ambiguous ending is also kind of cool, though the film as a whole is a bit slow moving and shrill... Maybe if I liked boxing better, I'd be a little more into it. But I ask you: how can anyone get all excited about dumb old boxing?
---
03/18/04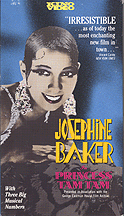 "Princess Tam-Tam" (1935)


Although better filmed and better directed than Jospehine Baker's previous feature film, Zou Zou, this movie has less soulfulness and zest, and is more genuinely offensive, in terms of how it portrays a black woman's role in European society. The premise is simple enough: it's a remake of Shaw's Pygmalion, this time with a French novelist going abroad to Tunisia and finding a new muse in the guise of the wild, uninhibited Alwina, a shepard girl who sings, dances and shoplifts her way through life. Our Gallic hero takes her under his wing, transports her to Paris and passes her off as African royalty, training her in the finer points of civilized life, such as wearing shoes and not dancing the boogaloo in public, all the while making side comments about her wild native ways. Sure, the film is a product of its time, and some degree of racism is to be expected, but we also have to be honest and admit that it gets in the way of enjoying this film, and helps define its central essence. Also, it just seems more forced and predictable than Zou Zou, which in addition to a more interesting plot also had better performances from Baker. Worth checking out, to be sure, but a little troublesome nonetheless.
---
03/16/04
I can't believe my wife is making me watch Top Model... again!!
---
03/15/04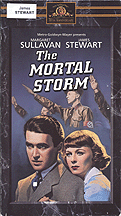 "The Mortal Storm" (MGM, 1940)


A chilling and surprisingly effective political drama detailing Germany's transition from a center of European high civilization into the totalitarian paranoia of the Nazi regime. Jimmy Stewart is a free-thinking, kind hearted Everyman, whose best friends turn on him when he refuses Party membership, and whose life and career are destroyed by the people who were once his neighbors and confidants. The sense of horror and surprise at how swiftly things changed is made manifest in this film, which is one of Hollywood's most effective pre-war antifascist propaganda films. Margaret Sullavan plays opposite Stewart, and once again adds a nice touch to her role as the girl he loves, and the daughter of an eminent scientist who runs afoul of the local Nazi fanatics. Robert Stack also appears, so young (and so blond!) that you'll hardly recognize him. A powerful film; well worth watching.
---
03/15/04
---
03/14/04
Alias... yay!!
---
03/09/04
I can't believe my wife is making me watch Top Model... and it's a repeat!
---
03/07/04
A new Alias... yay!! Who needs movies??
---
03/05/04
"The School Of Rock" (2003)



Man, what a fun movie! Wish they'd make more like this one. It's funny, yet not gross or condescending... A very conventional screwball comedy storyline, with a modern/retro rocker twist. Yummy. Jack Black is such a talented, high-octane stud. The added DVD features aren't great, but it is nice to get a glimpse at the kids they used as actors, and see how super-ambitious or super-geeky they actually are. Oh, yeah... I almost forgot -- Richard Linklatter is also a very enjoyable director. Yay for him, too.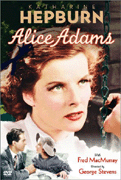 "Alice Adams" (RKO, 1935)



Katherine Hepburn shines in a heartrending (and hanky-twisting) role, as Alice Adams, a romantically minded teenage girl whose social prospects are continually dimmed by her lower-middleclass status in a small, gossip-laden town. She is painfully aware of her position and tries to overcompensate by putting on airs and latching onto the haughty local debutantes, who look down their noses at the poor girl who tries too hard to fit in. Enter into this miserable scenario good ole Fred Macmurray, a handsome young rich guy who's got a decent heart, and who falls for the voluble, nervous young Miss Adams. Adapted from a novel by Booth Tarkington, this film gives a glimpse into the old-fashioned mores and courtship rituals of smalltown America in the early 20th Century, and also provides Hepburn with one of her first choice roles. Her fast-talking, palpably forlorn Adams is a character who evokes both irritation and sympathy, perfectly capturing the awkward desperation of teenage longings. Quite a performance!
---
03/05/04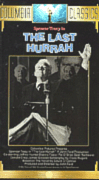 "The Last Hurrah" (Columbia, 1958)



A strangely sluggish drama, starring Spencer Tracy as Frank Skeffington, an aging, old-school, ward-heeling Irish-American politico waging his final campaign against the nascent forces of the modern mass media -- namely, a callow young candidate backed by big money and a phalanx of television producers. What's most odd about this film is that John Ford directed it, and yet it's so dull and disjointed. And what, exactly, are they trying to say here? Is Tracy's character a scoundrel or a noble throwback to a simpler, more human time? Is he a little bit of both? And if so, what does that ambiguity mean? It's never quite clear what we're supposed to feel about Skeffington; clearly his enemies are horrible, shallow people, but the film is so fuzzy about how we're supposed to feel in constrast about Tracy's character -- who was roughly modeled on one of Boston's old mayor's -- that it's difficult to feel moved, or involved, one way or the other. Muddled and disappointing.
---
03/02/04
I can't believe my wife is making me watch Top Model... again!!
---
Previous Month | Next Month
---
---


Joe Sixpack's Film Blog
Main Film Index
Slipcue Main Index




---
Copyright 1998-2006 Slipcue.Com. All Rights Reserved.
Unauthorized use, reproduction or translation is prohibited.
---