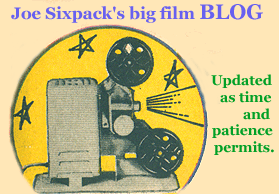 ---
November, 2002
---
11/30/02
"The Matinee Idol" (Columbia, 1928)


God Bless the French, for salvaging The Matinee Idol, a "lost" Frank Capra movie uncovered in the archives of the Cinematheque Francaise, bringing one of Capra's last silent films back into the world of the living. Johnnie Walker stars as a Broadway star who accidentally falls in with an earnest but untalented regional theater company, the Bolivar Players. His big city pals see the show and it leaves them in stitches, so they invite the hapless rubes to a run on Broadway -- as a comedy act, unbeknownst to the actors themselves. The end of the film is rather abrupt: Walker seeks to make amends for the cruel joke, and to patch things up with the gal who runs the troupe, but doesn't go through the type of elaborate manouevers we'd expect to see a few years later, in a classic screwball comedy. (One imagines the script was clipped and the movie kept shorter than Capra might have liked...) Actress Bessie Love is a really interesting onscreen presence, and the scenes in which she and her fellow actors are jeered at by the audiences in New York are absolutely heartbreaking, in the classic Capra style. Not a stunning movie in artistic terms, though invaluable for any fans of Capra to see him in his work in his early years. (The accompanying biographical documentary, narrated by Ron Howard, is also available separately as a VHS tape, without The Matinee Idol as a backup feature.)
---
11/29/02
"Sunrise" (Fox, 1927)


F.W. Murnau's brilliant first film produced in Hollywood. With George O'Brien and Janet Gaynor, who won one of the very first Oscars (in part) for this role. A simple country farmer is lured into plotting murder by an amoral big-city party girl. His loyal, devoted wife is the object of their homicidal plot, but when she figures out what he's up to, he falters and has a spiritual epiphany. Love and hope are reborn, an then imperiled again, in this amazingly wrought masterpiece. Murnau doesn't let a single false note or dull moment intrude: from start to finish, this is filmmaking at its best. Beautiful cinematography, moving script, great acting. Highly recommended.
---
11/27/02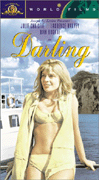 "Darling" (Embassy Pictures, 1965)


Julie Christie stars in this skillfully produced, prescient look at the morality of the 'Sixties sexual revolution. She's a vivacious fashion model whose career skyrockets alongside an affair with Dirk Bogarde, a dashing young intellectual who works as a journalist for the BBC. They meet and pull each other away from their previous partners, but while he falls in love, she still feels the tug of infidelity and wanderlust, using various suitors to further her career at the expense of her soul. One of Bogarde's rivals is a slimy media mogul who takes Christie abroad to sample the scandalously sexy, but spiritually vacant Parisian nightlife; later she travels to Italy to get away from it all, and meets a suave Italian prince who woos her as well. These foreign side trips set up deft parodies of contemporary '60s European filmmakers (and the French New Wave in particular)... In temprament, I suppose this emotionally reflective film most closely aligns itself with Ingmar Berman and his brooding Nordic ilk. At any rate, this is a first-rate film, with an intelligent, tightly crafted script and Christie and Bogarde each turing in fine performances. Anyone interested in the pre-hippie swinger culture will find this film richly textured and fascinating. Recommended!
"The Perils Of Pauline" (Paramount, 1947)



Once again, Betty Hutton plays a show girl whose talent overshadows her grouchy, envious boyfriend, making him cold and rejecting. This time, she plays silent movie actress Pearl White, star of the popular "Perils Of Pauline" cliffhanger serial adventures... The role is mainly dramatic, and though Frank Loesser is the film's songwriter, Hutton only gets in two good numbers before the schmaltz sets in. But what doozies they are! "Rumble Rumble Rumble," about an upstairs neighbor who plays the piano all night long, is a charming novelty song. Hutton's comedic inflection is better on the studio version (heard on Capitol's Spotlight collection), but it's a gas seeing her singing it live on film. She also really seems to enjoy herself a lot on "Papa Don't Preach To Me," a full-on dance number with a legion of smoothies in top hat and tails whirling her around... Hutton positively beams as she closes the number, knowing that she nailed the take, hands down. The film, directed by George Marshall, is a straightforward melodrama and once again her leading man, John Lund, plays a guy who is a real pill (...those uptight '40s "real men" characters really bug me somehow). The ending, in which a recently paralyzed Pearl still manages to rush to the train station to meet her man, is as preposterous as the Pauline serials the movie satirizes. Still, the film does give a nice glimpse at the early, early, early years of Hollywood, and the ramshackle, seat-of-their-pants production style of the one-reeler studios, and the film's scenes, which play with the transition of film from silent to sound, are pretty clever. Also, check out William Demarest as the grouchy director who makes White a star -- a role that was tailormade for his talents. Not the greatest film ever, but it has its charms.
---
11/25/02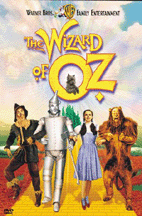 "The Wizard Of Oz" (1939) [on TV... in color!]



Ironically, when I was growing up (in Kansas, no less), every year I would see this film on on the tube except that our TV was... a black and white!! So I missed the whole transition-to-color-and-then-back-again thing that helps make this such a magical movie. I must say, it's much better this way. Still, I can't decide who I like better: the Scarecrow or the Cowardly Lion. Some questions remain eternal.
---
11/23/02
"E.T. - The Extraterrestrial" (1982)



I have several ultra-hipster friends who reflexively poo-poo everything Stephen Spielberg does, but personally I think he's a skillful and savvy filmmaker and pretty much always enjoy what he does with his movies. I hadn't seen this early classic since it had come out in the theaters, and still enjoyed seeing it again on the little screen. I hadn't realized before how much suburbia itself was a character in the story; Spielberg's comedic and cornball touches still ring as true as they did all those years ago. Excellent mainstream moviemaking.
---
11/23/02
---
11/17/02

"The Ring" (2002) [at Emerybay Theater]



A good modern horror movie, concerning a malevolent videotape that within a week drives mad and kills anyone who watches it... Well, almost anyone. Australian actress Naomi Watts stars as a woman racing against time to beat the curse, uncovering the layers of ickiness that led to the tape's creation. The fact that the it's never really fully explained is actually one of the pleasant quirks of this film; the unconventional ending is also a nice change of pace. However, I found the character of Watt's six-year-old son to be kind of irritating -- he's one of those precocious, soulful genius weirdo kids who spouts of pearls of wisdom and practical suggestions at every turn. We've seen this kid a bazillion times, in Sixth Sense, etc. etc., and it's wearing thin as a stock character. Most kids are actually quite whiny and hapless... can't we ever see that in a horror film instead? Anyway, this film is hokey is some ways, creative and genuinely spooky in others; all in all, a good fun film. (Note, this American version isn't the only remake of Hideo Nakata's Japanese original, Ringu -- there is also a Korean version, which came out earlier...)
---
11/16/02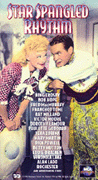 "Star Spangled Rhythm" (Paramount, 1942)



Bing Crosby croons the closing number in this flimsily-scripted wartime tossoff in which Paramount Studios hosts a patriotic all-star revue to entertain our men in uniform. Eddie Bracken is a goofy sailor back home to get a girl... Lucky for him that Betty Hutton -- in her first major role -- has her eyes set on him as well. She fast-talks and finagles (in a very Lucy-like way) to get Bing Crosby, Bob Hope, Fred MacMurray and a bunch of other stars to come on board for the (spontaneous, yet amazingly elaborate) really big show, and in the process Hutton gets her man. The song and dance numbers, despite being written by Johnny Mercer and Harold Arlen, are notably not first rate, although the Golden Gate Quartet have a nice cameo (even if they are playing train porters...) and a trio of starlets -- Paulette Goddard, Dorothy Lamour and (aroooogah!! woof! woof!) Veronica Lake -- do a hilarious number together, based on their images as stars. Also notable is a silly, prolonged skit in which men pretend to be women (eek.) and Bing's big patriotic number at the end, which is some of the clumsiest wartime propaganda committed to film. Betty Hutton is given the film's biggest role, and though she hams it up, she's still totally adorable. Let's see more of her!! Film buffs will also enjoy the chance to see director Preston Sturges and studio legend Cecil B. DeMille onscreen.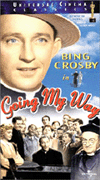 "Going My Way" (Paramount, 1944)



At the height of his wartime fame, Bing Crosby plays a hip young Catholic priest who arrives to help a troubled parish struggle back to its feet. Of course, what passed for young and hip back then, in this lily white, family-friendly comedy-drama may seem pretty silly these days -- Bing is convincing, though, as he use his suave social skills to listen to and help out those in need. Veteran scene-stealer Barry Fitzgerald plays the doddering, crusty old Irish priest who runs the church before Crosby's arrival... The rest of the supporting cast isn't as strong, but the film still has its charms. Mostly it's just a great chance to observe Crosby at his most magnetic and self-assured. The film also previewed hits like "Swinging On A Star" and Bing's version of "Too-Ra-Loo-Ra-Loo-Ra," both of which are longtime favorites.
---
11/13/02
"The General" (1927)



One of Buster Keaton's most classic comedies, a full-length story of a train engineer who, although turned down for military service, becomes a hero in the Civil War. A long-haired, youthful Keaton performs athletically throughout -- jumping from car to car on his fast-moving train and taking numerous pratfalls, although this film relies more on its dramatic aspects than on overt humor and slapstick. Seeing it on TV is okay -- the print of this film is great -- but to really get Keaton's comedic appeal you need to see his films in an actual movie theatre, with other people, to let the comic intensity and laughter build the way Keaton originally intended. Watching it in the privacy of your own home simply won't achieve the same effect. The backup short features on here are more overtly funny, with some fun slapstick and creative gags.
---
11/12/02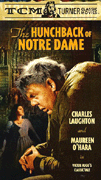 "The Hunchback Of Notre Dame" (RKO, 1939)



Charles Laughton stars as Quasimodo, the famously wretched, deformed outcast in this highbrow meditation on the evils of prejudice and the need for tolerance. Even buried under fifty pounds of latex makeup, Laughton's remarkable acting range come to bear in this role, which seems tailormade for his brand of heartbreaking soulfulness and pitiable vulnerability. The hunchback isn't the only figure worthy of compassion in this socially-consious tale -- gypsies (a handy stand-in for Jews, on the eve of WWII), poor people and the disabled are also present on the streets of mideaval Paris, as are all varieties of blaggards and poltroons. Thomas Mitchell also makes an appearance as the king of beggars. A finely crafted Hollywood film, on the artier, more classic end of the spectrum.
---
11/10/02
"Mutiny On The Bounty" (Warner, 1935)



Charles Laughton is pure martinet evil, and Clark Cable is a sizzling hunka studmuffin in this classic version of the famous (and famously fictionalized) story of the 1787 rebellion aboard the HMS Bounty. Laughton's Captain Bligh embodies cruelty itself as he terrorizes, tortures and flogs the poor souls toiling under his command, Clark is noble and true to his morals, even as he forsakes his country in order to stand up to the tyranny of the mad ship's captain. This film is magnificently made, filmed in black & white that's as crisp and clear-cut as the plot itself... Best of all, though, is Gable at his most dashing and magnetic -- if you've ever wondered where his star appeal came from, then check this film out.
"Mutiny On The Bounty" (RKO, 1962)



This remake of the 1935 classic is a much-maligned film, although it's certainly worth checking out. Part of the problem is Marlon Brando's oddly mannered performance (and horrible attempt at a British accent!), but by the film's end Brando will grow on you... in fact, there's a dramatic payoff to his icy aloofness. What the film's critics are really rebelling against is the refashioning of what many consider a perfect movie. With typical '60s relativism, the story's heroic aspects are undercut by a much darker and complex plotline... Trevor Howard's Captain Bligh remains, like Laughton's, a greedy and cruel man, but in this version he is much more sympathetic. Here, Bligh is needled and derided by first mate Fletcher Christian, an aristocratic fop who looks down his nose at his rigid, uptight commander. Brando's character is also a breezy dilletante ultimately driven to act on the sailor's behalf as much by his rivalry with Bligh as by any moral concerns. The sailor's see this situation and, as Bligh's repressive behavior comes to a boil, they cynically exploit Christian's hatred of the captain to push him, unwillingly, to lead the mutiny. The ending of the film is markedly different, as well, and for anyone willing to entertain this story's historical value, the new view of Pitcairn Island is worth checking out. The long interlude on Tahiti, though a bit racist and tinged by a dated, Hugh Hefner-y sense of naughtiness, is also quite compelling... It also includes some nice, reasonably authentic Polynesian dancing, and a fine scene where Brando meets his non-English speaking bride. Of the two films, this one feels much more real, with rich details that go beyond the original story of right and wrong. Recommended.
---
11/09/02
"Lady Of Burlesque" (RKO, 1943)


The plot is even skimpier than the costumes in this soft-noir murder mystery featuring Barbara Stanwyck as a hard-bitten showgirl working in a music hall full of jealousies and deadly romantic rivalries. This wartime B-movie, based on a novel by the famed Gypsy Rose Lee, is pretty fluffy, but still has some interesting touches. Unfortunately, on the VHS version I saw, much of the grittier and racier material is absent... Apparently, the film was dubbed from a print that had been butchered by a timid (or puritanical) exhibitor, who clipped out all the shimmies, bumps and grinds, and -- inexplicably -- much of the dialogue as well. Pity. It's not a classic film, but it deserved better.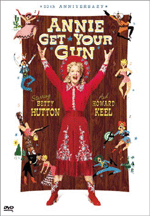 "Annie Get Your Gun" (1950)



Blonde bombshell Betty Hutton stars in this charming musical based on the life of sharpshooter Annie Oakley, who was one of the big stars in Buffalo Bill Cody's wild west show... As Hutton portrays her, Oakley is a Lil' Abner-style backwoods hick, who is hopelessly smitten with the show's original star marksman, Frank Butler (smugly played by the ever-geefy Howard Keel), and she joins up with the troupe in order to win his heart. Hutton is absolutely magnetic -- no matter who is in the scene, all eyes are on her. It's not her best role in terms of conveying her unique performing style (in fact, on many songs Hutton seems to be paying homage to Judy Garland, who was originally cast for the role), but she's still cute as a button. One of the movie's highpoints is her dead-on vocal lampoon of co-star Keel, as she heartily bellows away in Keel's cornball style; her winsome charm and emotional range build Oakley into a nearly three-dimensional character, rather than just a charicature. A cohesive plot, good performances, plenty of fun songs by Irving Berlin and vivid Technicolor make for a classic old-school musical. (The one cringe-worthy moment comes with the patently racist musical number, "I'm An Indian, Too!" in which Annie is inducted into the Native American fold by her 'adoptive' father, Sitting Bull... played by a white guy in heavy dark makeup. Apparently, this number was dropped from the play in the Bernadette Peters revival... yay.) Amazingly, this film had been out of print for decades until the Y2K re-release -- bonus features include a couple of outtakes of songs shot with the then-drug-troubled Judy Garland, before she was dropped from the project. Depressing really, as she seems haggard and somewhat hostile -- the exact opposite of what Hutton brought to the project.
---
11/03/02
"Ruggles Of Red Gap" (Paramount, 1935)


Charles Laughton is magnificent in this priceless comedic role as a proper English butler who is won over by the egalitarianism and joyfulness of American life. The actor's subtlety and reserve, and flawless comic timing make this one a winner. Yay, Charles Laughton!
"Hobson's Choice" (1954)


Charles Laughton plays Henry Hobson, a blustering, bullying 19th Century British shopkeeper who runs roughshod over his three daughters, who have kept the family shoe shop running while their widowed skinflint of a father drinks up all the profits at the neighborhood pub. At least, that is, until the eldest of the three breaks away and tells poppa where to get off. The performance that really makes this film, though, is the magnificent John Mills as the meek, hapless craftsman who she pins her hopes on. As he grows from noodge to man of means, Mills crafts one of the most endearing characters seen on screen to date. Recommended.
---
11/01/02
"My Darling Clementine" (20th Century Fox, 1946)



A perfectly realized western, retelling the classic story of the shootout at the OK Corral... Henry Fonda first appears onscreen as a grizzled, shaggy cattleman, soon revealed to be the legendary lawman, Wyatt Earp. Walter Brennan excels as the heartless patriarch of the Clanton family, whose sons draw Earp into an unavoidable blood feud. Brennan's performance, like Fonda's, is magnificently understated, as is pretty much everything else about this film -- director John Ford embues every scene with an economy of presentation that takes the western genre into the level of high art. Everything about this film rings true... well, other than the romantic melodrama surrounding 'Doc' Holliday, and Victor Mature's geefy, mannered portrayal of the tubercular gunman... with frontier life evoked with the same richness of detail that Ford later brought to The Man Who Shot Liberty Valence. Here, though, the choke of dry dust and sense of fast danger are much more present. The Clantons are a much more sinister set of badmen than Lee Marvin's exaggerated schoolyard bullies; Brennan and his boys simply sidle up and ooze menace and dark violence. The B&W cinematography is typically gorgeous, and Ford never misses a beat in his calm, patient direction. Highly recommended.
---
Previous Month | Next Month
---
---


Joe Sixpack's Film Blog
Main Film Index
Slipcue Main Index




---
Copyright 1998-2006 Slipcue.Com. All Rights Reserved.
Unauthorized use, reproduction or translation is prohibited.
---