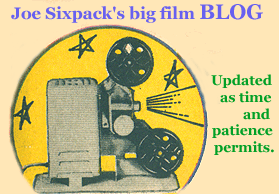 ---
January, 2004
---
---
01/26/04
"Bad Company" (1972)



One of the best anti-heroic westerns I've seen... A young, brash Jeff Bridges stars as Jake Rumsey, the putative leader of a disorganized "gang" of adolescent boys, set adrift amid the lawlessness of the Civil War-era West. The boys teeter between adulthood and adolescence, abject fear and murderous amorality, and as they wander through the bleak, vacant prairie, they have no signposts -- figurative or literal -- to guide them. Although the subject matter is pretty raw, the film is surprisingly circumspect (visually, at least), and the violence and pain it portrays is all given a complete context, and full emotional depth. It's a surprising film, with a deceptively simple structure weighed against a deeply pessimistic view of human nature. It's also one of those superior westerns that feels absolutely, completely convincing. Recommended.
---
01/25/04
---
01/23/04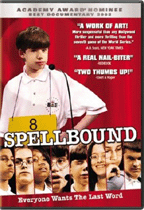 "Spellbound" (2003)



Everybody's favorite documentary this year... In some ways, the subject is a complete slam-dunk: a film about the national Spelling Bee competition, tracking the hopes and fates of eight of the nearly 300 contestants, revealing their dreams, their determination, their foibles and -- above all -- their intense geekiness. As a former grade-school "brain" and (one-time) abject social failure, I watched this film with a keen sense of "there-but-for-the-grace-of-inattentive-parents-go-I" empathy. It was surprising, though, how few of the children seen in this competition seemed even marginally "normal" or socially adept -- as a group they were far more introverted and quirky than even I would have imagined. Still, I guess to get at the absolute apex of verbal skill, one must be a bit, well... special. Anyway, the drama of the story is quite compelling, and you'll be amazed at how suspenseful and terrifying it is to watch one of these kids choke on an answer. And their profoundly unique personalities make the dram that much more compelling... A great rental if you want something substantive yet entertaining and light.
---
01/19/04
"The Battle Of Algiers" (1967)


A chilling and sober look inside the heart of terror and terrorism... This is a dramatic recreation of the Algerian insurgency against the French colonial authorities which rocked the city of Algiers in the mid-1950s, told from a perspective that is flatly sympathetic to philosophies of "The Organization," the guerilla network which first assassinated police officers and military personnel, and then turned to a bombing campaign to prove its point. The French, for their part, used ruthless methods to hunt down and destroy the clandestine network, capturing and torturing hundreds of Algerians partisans. Eventually, the French military was able to annihilate the liberationists, but at the cost of public support at home, and of making martyrs of their defeated enemies: two years later, the rebellion flared up again, this time across the entire country, spreading into the full-scale revolution which led to Algerian independence in 1962. Technically, this film is impressive: scenes involving hundreds of extras, including parading phalanxes of French "troops," as well as military hardware such as tanks, transports and concertina wire lend an air of authenticity to the production, as do several well-choreographed mob scenes in the streets of the city. The simplicity of the liberationist politics, so clear and fiery in the 'Sixties, is more troublesome in today's climate, where decades of civilan deaths in Ireland, the Middle East and elsewhere have taken some of the glow off of the terrorist mystique. Though clearly sympathetic to the Algerian cause, however, the directors are not oblivious to the horrors of their tactics: a long sequence in which several bombs are planted in crowded cafes, discotheques and business offices throughout the French Quarter, is one of the most anxiety-provoking and horrifying things I've ever witnessed in a film.... and one of the best executed, as well. A vital, timeless film, and one which commands our attention, even as the same ghastly political dynamics persist, and indeed, seem to dominate the world of today. (By the way, if you want to read a heated debate on the merits of this movie, the Amazon reviews section is a real doozy...!)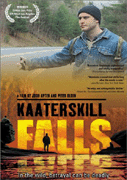 "Kaaterskill Falls" (Lo-Fi Pictures, 2001/2003)



An engrossing yet somewhat leaden independent film about a married couple whose lives are complicated by an encounter with a moody young hitchhiker, whose brusque ways attract the anxious wife, and spur jealous petulance within the heart of her distracted yuppie husband. The entire production, from script to shooting, has a pungent aroma of film-schoolishness -- many scenes falter and the performances don't always connect; the writing inclines predictably through scene after scene, and the ending, while surprising, seems forced and feels unsatisfying. This being said, it's still nice to see that independent cinema, with all its flaws and foibles, is still alive and well and making it into our lives. Worth checking out, though you could also just as easily skip it.
---
01/18/04
"The Seven Sinners" (Universal, 1940)

---
01/12/04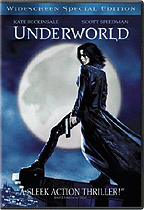 "Underworld" (2003)



A semi-stylish, only-okay action/monster movie with a muddled plot about werewolves vs. vampires and stuff. It's okay, though: the film moves fairly fast, and Kate Beckinsale looks great in all those tight leather/vinyl jumpsuits. It's no "Buffy The Vampire Slayer," but it was fine for a no-brainer rental. It is lame, though, that so much of the action was just people -- um, I mean, monsters -- standing around shooting a bunch of automatic rifles and pistols... We already see plenty of that in all the non-monster movies; didn't need it here so much.
---
01/11/04
"Songwriter" (1985)


A fast-paced, fluffy film about the "outlaw country" lifestyle. Willie Nelson and Kris Kristofferson play Doc Jenkins and Blackie Buck, two grizzled road warriors who will only face life on their own terms, come what may. Early in the film, Doc gives up life on the road and tries to make it big as a record producer in Nashville; his evil, unscrupulous business partner royally screws him in the contract negotiations, and Willie spends the rest of the film trying to get out from under his thumb. For his part, when onscreen Kristofferson mostly just smiles and acts carefree and high on life. Leslie Ann Warren opens up a gaping black hole of talentlessness and tunelessness, improbably cast as the "next big thing" country star that Doc and Blackie pin their hopes on -- it's all very well and fine, except that the gal can't sing her way out of a paper bag. Regardless, this is a fun film, a nice chance to see Willie, in particular, be completely charming. Some fun songs, too, though at times a bit heavy on the '80s rock influences.
"O Cinema Falado" (1986)
A super-pretentious art film made by Brazilian pop superstar Caetano Veloso (whom I adore...) A full review of this film is included on my Caetano discography page...
---
01/10/04
---
01/08/04 - 01/09/04
"Three Little Words" (MGM, 1950)


A brisk, enjoyable Fred Astaire flick, which features Fred and Red Skelton as the prolific Depression-era songwriting team of Bert Kalmar and Harry Ruby, who wrote standards such as "Whose Sorry Now," "Nevertheless," and "I Wanna Be Loved By You," known for its "boop-oop-a-doop" refrain, sung by squeeky-voiced Helen Kane. Astaire and Skelton play things pretty low-key in this straightforward potboiler; Skelton is particularly likeable with his big-lug interpretation of Ruby's personality and Astaire... Well, he's just Astaire, which is to say he's great -- wish maybe he'd danced a bit more in this one. The music is nice too, especially when they sing as a duet; the movie's only downside is the drab female leads, Arlene Dahl and Vera-Ellen, both of whom are a bit dull, and don't sing that well. All in all, though, an entertaining, pleasantly nostalgic film, well worth checking out. (For more info about Ruby & Kalmar, check out The Tunesmith's database...)
---
01/06/04
"Loulou" (1980)



Another French film! This time, a fairly dreary, depressing antiromantic character study, featuring Isabelle Huppert as a restless young woman who ditches her boring, tempramental boyfriend for a wild, leather-clad bad boy (played by an incandescent, youthful Gerard Depardieu). The films inches forth through one mildly unsettling scenario to another; the cumulative effect of which is something close to spiritual nausea. It's supposed to be that way, though: this film is very much a precursor to the downcast realism of the 1990s "dogme" scene, skillfully made, but definitely a downer. However, Depardieu is particularly magnetic in this one... it's worth it to see him in his prime, even if the film itself seems needlessly depressing.
---
01/04/04
"Extenuating Circumstances" (1939)
A galloping, bawdy French comedy about a retired criminal court judge, Mssr. Gaetan, with a stern reputation who finds himself stranded on his vacation at a roadside inn packed with hardbitten thieves, dope dealers and prostitutes. Not suspecting his actual identity, the local wolfpack takes the judge and his wife for easy marks, but discover -- after plying them with booze and good food -- that the Gaetans aren't such bad folks after all. The uptight Parisians coincientally discover a taste for the simple, earthy life, and once they discover the true character of their hosts, find they actually like hanging out with a rough-and-tumble crowd. It's a screwball comedy based on mistaken identities and roaming bedroom eyes, not unlike its American and British counterparts, although much coarser and sexually explicit. It's a hoot. Among the cast is musette singer Arletty, who plays Marie, a cynical steetwalker who takes a shine for the old coot, and Michel Simon as the judge, in a much richer, more reserved role than many of his other films. Recommended!
"The Elusive Corporal" (1962)


Director Jean Renoir's reflection on the humiliating defeat of the French army in World War Two focusses on the attempts of a captured Parisian POW to escape from various German prison camps. The start of the film, with its pseudo-documentary presentation, is perhaps the film's most thought-provoking aspect... The concrete presentation of the collapse of the French military, and the astonishing internment of its two million (!) soldiers is a story that's seldom told when WWII is examined; it's mind-boggling when you think of it. Renoir cedes the Germans a surprising amount of humanity in this film; a legacy, perhaps of the Cold War-era alliances present when this was made, but also a nice, nuanced touch. With its "Hogan's Heros"-ish undertones, this is perhaps not Renoir's deepest or most moving film, but it's still fascinating and well produced. Worth checking out.
---
01/03/04
"Cold Mountain" (Miramax, 2003)



I'm told the book was great, but this film is absolutely dreadful... Jude Law stars in this drearily on-the-nose romantic drama as a Confederate soldier who survives numerous hardships at war, only to decide, late in the game, that it's time to desert and head home to his sweetie, brittily played by Nicole Kidman. She's been having a hard time of it as well, with her father dying and the family farm in jeopardy as a local robber baron, who desires both her and her land, appoints himself head of the "home guard," a thuggish local militia that takes it upon itself to sadistically hunt down and execute deserters and other folks they just don't happen to like the looks of. Not a single scene in this film had an unexpected outcome, as the script (such as it is) flips monotonously between hardship/relief, hardship/relief, hardship/relief, hardship/relief, and finally, vague yet predictably melodramatic resolution. Cold Mountain, the movie, has been praised as the new, defining Civil War epic, setting the bar higher than any work seen before. I would beg to differ. Gone With The Wind, corny as it was, is at least more of its time, and more in keeping with the time it portrays -- heck, even Birth Of A Nation has a more honest emotional core than this tawdry mishmash of romance novel cliches and neofeminist anachronisms. This does have, I suppose, its entertainment value, but I mostly felt oppressed by its over-obviousness and blunt, un-nuanced presentation. I just wanted the film to end, so I could go home and pop something better into the VCR.
"Le Schpountz" (1936)
A classic, heartrending Marcel Pagnol comedy. A "Schpountz" is a made-up term that the cynical crew at a French film studio has come up with to describe the new legions of movie fans who have convinced themselves that they have what it take to make it big in show biz. On a trip to Marseilles, they play a particularly cruel trick on the youthful, blundering yokel named Irenee (played by comedic film star Fernandel), a country bumpkin who is the ultimate in Schpounze-hood. Encouraged by a bogus contract, he travels to Paris to seek his fortune, and bids his skeptical family adieu. Although he is scorned by the studio head, it turns out he has what it takes to succeed after all -- not, as we might have guessed, his narcissistic drive and egotism, but rather his innate dopiness, which makes him an instant box office hit, transforming what he believes to be sincere dramatic performances into comedic gems. Fernandel, a verbal dynamo and delightfully gangly physical actor, is aided by a superb supporting cast, including Orane Demaiz -- "Fanny," in Pagnol's immortal Marius/Fanny/Cesar trilogy -- as the gal who spurs the irrepressible Irenee on to greatness. Their scenes together, particularly the exchange regarding the role of the comic and clown in relationship to his audience, are a revelation and a joy. And Pagnol, in his inimitible style, draws the characters far beyond the confines of the plot, investing them with unexpected humanity and depth, bending our perception of their flaws and foibles until, unexpectedly, we are irrevocably in love with these funnky, flickering people up there on the screen. His jokes about the shallowness of the film industry and the silliness of its fans are, of course, also as funny and true today as they were back when the movies were young. Recommended -- if you can track a copy down!
---
01/02/04
"Return Of The King" (Tristar, 2003)



So many people had said to me (well, to my wife, actually...) that this was the best of the three Lord Of The Rings films, that I was ready and rarin' to go when we trundled off to the theatre, with extra water, a smuggled-in sandwich and other provisions for the 3-1/2 hour endurance event. What I was not prepared for, though, was the sense of deflation that emerged from the in-theatre experience. Towards the end of the first hour (or thereabouts) I was feeling a little listless, and was aware that I wasn't nearly as absorbed as I had been by the first two films... The first movie had been enchanting, and then had a brutal cliffhanger ending, the second seeems like the perfect action-fantasy film. Number three, however, seemed a bit lumpen and sluggish in parts, having lost much of the momentum and sparkle of the other two. It seemed adequate, yet repetitive, and clumsily paced by comparison. I enjoyed it, but was much more conscious of myself being in a theatre, watching a movie and, worse, being a little critical of it. None of which will stop me, of course, from getting the DVD to see what I missed on the big screen. Hmm. Maybe Peter Jackson might consider shortening the home video release, rather than adding to it, as with the first two films...
"Winged Migration... The Making Of" (Columbia Tristar, 2003)



Ahhh... Now it is clear to me why, despite having adored this film when I saw it on the big screen last spring, I was unable to write a review of it, until now. The reason is, sadly, that the film is a fake. A skillful, mesmerizing fraud, but a fraud nonetheless. In the theatre, we all thought, "oh! how did they get that shot!" and "wow -- I never knew birds did that!" But watching the DVD -- or, more precisely, the behind-the-scenes featurette that we all knew would be on the DVD -- it all becomes apparent why the birds were so strangely accessible to director Jacques Perrin and his French film crew. The reason is that the majority of the birds seen in the film -- the Canadian snow geese in the Southwestern desert, the stately pelicans on the coast of Senegal, the elegant cranes perched astride one another atop Saharan sand dunes -- were all hatched, imprinted, conditioned and trained to perform as "actors" by Perrin and his crew. These birds didn't migrate to these picturesque locales; they were shipped there in cages and posed amid various props and scenarios. Their handlers whizzed before them, in jeeps and ultralight planes, honking bicycle horns and shouting "Allez! Allez!" (the sounds the birds had been trained to respond to) as the somewhat befuddled birds tried to please their bipedal, Gallic surrogate parents. Setting aside the issues involved in presenting these carefully engineered scenes as representative of "instinctive migration" (I'm sure that real nature documentarians are fuming about this film...), this is also disturbing because the filmmakers never fully disclose the results of their inter-species machinations. Does this mean that the scenes in which birds die were also engineered by the director? When, for example, some adorable ducks waddle into a toxic waste pit in Eastern Europe, seemingly of their own innocent accord, is it actually because they were plopped there by a cynical and callous film crew, sacrificial lambs to the aesthetic and political sensibilities of their human "friends"? When a goose is felled by a hunter's bullet, were the hunters trucked onto the set as well? Did Perrin and his grad student scientific cohorts feel any affection for or responsibility towards the animals they had raised, or were the birds mere props? And what happened to the dozens of avian actors, once the filming was over? Did they continue on as a research project at some university somewhere, or did Perrin and his crew have celebratory dinner of roast fowl and liver pate afterwards? The DVD, neither the feature film or the "making of" featurette, doesn't deal with any of the ethical implications of their work, and though I thought the film itself was a work of jaw-dropping beauty and amazing technical wizardry, learning the real story behind its production left a bad taste in my mouth.
---
01/01/04
"Bonjour Tristesse" (1958)



Jean Seabourg and David Niven co-star in this stylish uncoming-of-age drama about a carefree, swinging widower and his equally irresponsible daughter, Cecile, a cynical teenage flirt who acts as the film's narrator. They are on vacation on the French Riviera, along with Elke, an adorable, airheaded European party girl who is there as dad's date and Cecile's playmate, right up until she gets dumped in favor of a hotter prospect. Cecile thinks the new gal will be just another one of Dad's little conquests, the ones they laugh about between chic parties and social calls, but when the new relationship turns serious, with Niven about to settle down with a mature-minded woman who may force Cecile to take her own actions seriously, the girl rebels and determines to undo the tryst. In some ways, the plot seems somewhat simple and uneventful, although this seeming flatness is actually a reflection of the shallowness of the character's emotional lives. Directed by Otto Preminger, this flick is packed with stylish cinematography and equally chic clothes, arch dialogue and great on-location scenery... It may not be a real classic, or a soul-moving work of art, but it is quite entertaining and very nice to watch. (BTW, the VHS copy is very poorly cropped... shoot for the DVD instead.)
---
Previous Month | Next Month
---
---


Joe Sixpack's Film Blog
Main Film Index
Slipcue Main Index




---
Copyright 1998-2006 Slipcue.Com. All Rights Reserved.
Unauthorized use, reproduction or translation is prohibited.
---