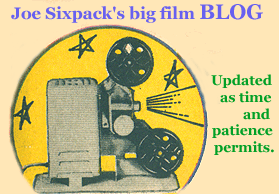 ---
October, 2008 | Film Reviews - TV rants - Kid's Vids & More
---
---
10/29/08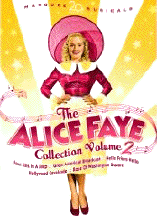 "Alice Faye Collection, v.2"
(20th Century Fox, 2008)


A Hollywood star of the 1930s and '40s, blonde, button-nosed Alice Faye had a sort of plain-jane, girl-next-door appeal. She was a demure singer with a cheerful onscreen presence, and starred in numerous mid-level musicals, often surrounded by a large ensemble cast and numerous guest performers. This is the second set of DVD reissues of her work at the 20th Century Fox studios, and includes a few frothy films from the early wartime years of WWII. It's pleasant, highly formulaic material from an earlier, innocent era. The films include: Rose of Washington Square (1939) A rags-to-riches showbiz pic with Faye starring as a struggling vaudeville star, co-starring old-timer Al Jolson and matinee idol Tyrone Power. Hollywood Cavalcade (1939) a showbiz comedy with co-star Don Ameche. Pretty, richly colored cinematography compensates somewhat for the by-the-numbers B-movie script. The Great American Broadcast (1941) is a highlight of this set. This frothy, energetic comedy is a loose-with-the-facts fictionalization of how radio became the great American medium of the early 20th Century. Robust, good-natured John Payne (sort of the Brendan Fraser of his time) and comic sidekick Jack Oakie meet up around 1920 as two down-and-out World War One vets who share an interest in the then-new radio technology. Payne's character come up with the idea that maybe they could use this newfangled radio stuff to bring entertainment to people all across the country... and then they're off! Of course, there's gotta be a girl, too and enter the ever-blonde girl next door, Alice Faye, as the gal they both love. But it ain't a love triangle -- nope! -- it's a square, because rich-cad tycoon Cesar Romero wants her too. This is a pleasantly fast-paced, lighthearted film, packed with better-than-usual performances from Ms. Faye (she and Payne duet quite nicely together). There are also great cameos from the Ink Spots vocal group, a fabulous (but all-too-brief) dance number from the Nicolas Brothers, and a nice, dewy-eyed version of how radio came to America. It's a fun old film... they really don't make 'em like this anymore! Hello Frisco Hello (1943) reunites the Faye, Payne and Jack Oakie as yet another trio of star-crossed entertainers who brave the odds and wind up on top -- only to lose everything when fate turns against them. This time they're song-and-dance vaudevillers working in San Francisco's rough-and-tumble Barbary Coast. Payne plays a talented showman who builds an entertainment empire, only to lose everything when he marries the wrong woman -- a hoity-toity high-society dame with expensive tastes who dumps him once times get hard. Waiting in the wings is loyal Alice Faye, who the big lug should have married in the first place. Their buddy Jack is there to make sure things work out right. The musical numbers tend to be raucous, Dixieland-tinged floorstompers, although there's some nice barbershop singing, and Faye croons one of her best-known ballads, "You'll Never Know." Four Jills In A Jeep (1944) is a star-studded, flimsily plotted showbiz revue set around the wartime USO circuit. There are several stars of yesteryear in here, including Dick Haymes, Carmen Miranda, Betty Grable, Jimmy Dorsey and his band, as well as Alice Faye, singing "You'll Never Know," which had become her signature song. This isn't actually an Alice Faye film, but it's still a nice slice of good, old-fashioned, B-grade Hollywood hokum -- the she's-so-obnoxious schtick with Marth Raye may wear thin, but it's still a pleasantly formulaic film. All in all, this is a nice set of old-fashioned Hollywood corn... If you like movies from a more innocent time when the only goal in films was simply to entertain, this collection has some swell stuff to offer.
---
10/27/08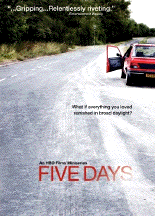 "Five Days"
(HBO, 2008)


This joint production of the BBC and HBO is a taut, yet elegant murder mystery that will keep you guessing right up until the end. When a young mother of three vanishes by the side of a British highway, leaving her children stranded in their car, a family is thrown in upheaval, as is the local police department, which finds the high-profile disappearance to be a difficult case to crack. Fans of BBC shows such as "Prime Suspect" will find themselves in familiar territory here, in a miniseries packed with strong performances by unfamiliar, immensely talented actors, aided by a strong, intelligent script and handsome cinematography. This show's particular strength is in its fine-grained, thoughtful exploration of the forceful, torturous emotional reverberations that murders can have on loved ones. The real psychological costs of homicide, which mainstream media often ignores or presents in trivialized or stick-figure form, are here presented at length, and revisited in episode after episode, much as they might revisit the victims of crime in real life. There's a lot more emotional substance here than you might be used to seeing, and plenty of fine character work as well. You'll be drawn in and well rewarded for your time. It's a bit depressing, but definitely worth watching.
---
10/13/08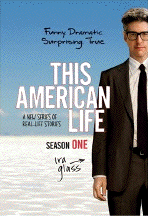 "This American Life - Season One"
(Showtime, 2007)


Like, oh so many of my geeky, nerdy kith and kin, I love listening to "This American Life" on NPR... Was there ever a better show to wash dishes to, or be stuck in traffic with? But when I heard it was being adapted to television, I confess I had my doubts. So much of the charm of radio is that, well... it's radio! It's a medium that engages your imagination in a way unlike any other... and how much of that ineffable, undefined charm would be taken out in a concretized, on-film version? Turns out -- no worries! The TV "This American Life" is every bit as odd and arresting as the audio version... Indeed, they recycle some of the same stories we've already heard on-air, but they are even weirder and kookier here. The format changes that do effect the content have more to do with length than with style: this is a half-hour show, and the stories are generally shorter and fewer, and the concept of a through-line for each show are a little less well-developed. Still, it's a great show, and Ira Glass and his pals sure know how to grab your attention. I've showed this to friends who have never heard the radio show, and their jaws dropped... they couldn't believe how addictive this was. Definitely worth checking out.
---
10/12/08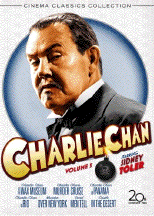 "Charlie Chan Collection, v.5"
(20th Century Fox, 2008)


The "Charlie Chan" films, a long-running series of several dozen hour-long quickies produced from 1929-1949, is something of a cultural Rorschach test. Many old-timers view them fondly with great nostalgia, while many Asians and Asian-Americans find them offensive, with the pseudo-Confucian detective Chan a symbol of Hollywood stereotypes. I remember seeing the Chan films regularly on after-school and weekend television as a kid, and relishing the cheesy, B-minus flavor of the productions, which were derivative of tougher, more substantive film noir, but were also close to the cheapo serial adventures of Flash Gordon, and the like. The clunky, workmanlike feel was a big part of the charm (and still is), a window into the entertainment industry's old-school factory-style production... Plus, it's fun to work inside a formula. As far as the Chan character himself, well, it's true that the earlier films, starring Warner Oland (a white man, in the role of the Chinese-American Chan) had a distinctly Fu Manchu-esque, "mysterious orientals" feel to them, but by the time of these later films (box set Volume Five starts in 1940, with "Charlie Chan's Murder Cruise" and spans through to 1942's "Castle In The Desert") the role had been taken over by the milder, suaver Sidney Toler, who made Chan seem more "American" and less exotic and inscrutable. There is a good case to be made that, casting another white guy aside, this version of Detective Chan is in some small way a validation of the American melting-pot myth: at a time when Japanese-American families were being rounded up and sent to detention camps, here was an Asian character who was an actual hero. True, the always-strained comedic schtick with Chan's inept, sexed-crazed "Number One Son" (and, in these later films, Number Two) could be seen as racial caricatures, but this doesn't entirely hold up. Indeed, there isn't much difference between the bumbling, blank-headed sons and that of caucasian characters such as, say, Mickey Rooney or, a decade later, Superman's pal, Jimmy Olson. All in all, I'd say these late-edition Charlie Chan movies are mostly good, clean fun... You have to be aware of the social backdrop, but the racial overtones are not overwhelming or noxious (and to the extent that they are, this is also instructive about the popular culture of years gone by...) At heart, these short films are simply fun, fluffy, low-budget crime stories, pop culture candyfloss that mimics the gritty feel of better crime films, but is no less enjoyable for doing so. I'm happy to watch them again, as I did years ago, and find them still pretty much as amusing as they were back then.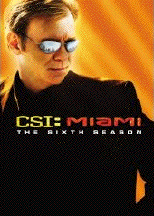 "CSI Miami - Sixth Season"
(Paramount, 2008)


In the past, arguably, CSI Miami has worked better as an ensemble cast show than as a vehicle for lead actor David Caruso. Caruso, who first came onto the mainstream radar as the character Det. John Kelly, on "NYPD Blue," where his smouldering, slow-burn intensity was perfectly harnessed. After leaving the show, Caruso embarked on an abortive film career marked by the abysmal 1995 Joe Eszterhas flop, Jade (one of only two movies that I've ever walked out on in my life). His role as CSI's Horatio Caine is Caruso's career redemption -- although many viewers find the character to be shockingly one-note, the show has been a commercial success, as evidenced by this, the show's sixth season, now released on DVD. During the show's sixth season it was derailed, like most 2007-2008 TV shows, by the long-running Hollywood screenwriters strike. Hardly matters, though: this is a show that chugs along on its own steam, outside world be damned. And, interestingly enough, it is a season where the taciturn Caine character is given more development than in many previous seasons. Caine is reunited with a long-lost (and hitherto unknown) son, a teenage boy who is hopelessly caught up in Miami's world of petty crime. Their relationship gets caught up in Caine's ongoing feud with an imprisoned crime boss, leading, apparently, to a cliffhanger ending where Caine gets shot by an unknown gunman. Is he dead? Doubt it, but you'll have to tune in next season to find out! Meanwhile, the trademark CSI formula is firmly in place: glitzy, stylish cinematography, gratuitous T&A (hey, it's Miami, after all) and simplistic yet far-fetched murder mysteries, solved by with plenty of gruesome detail by a Scooby gang of high-tech flatfoots with lots of fancy forensic toys (and holographic projectors in the crime lab! Batman himself would be jealous!) One of TV's most formulaic shows, but also one of the decade's programming warhorses.
---
10/10/08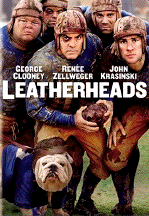 "Leatherheads"
(Universal, 2008)


This was an okay, old-school comedy, with director George Clooney playing an over-the-hill roughneck 1920s football player trying how to figure out how to crack into the big leagues. Renee Zellweger plays a tough-talking "girl reporter" (ala Katherine Hepburn) who falls into a love-hate flirtation with him... The movie tries, perhaps too hard, to recreate the snappy, zinger-heavy feel of the classic screwball comedies of the 1930s and '40s, and while this film isn't quite Dinner At Eight or Bringing Up Baby, it still has a nice, easygoing charm. In its hazy, golden-lit nostalgia, it also evokes '70s films such as Paper Moon, etc., that both nod towards the past and give it a little modernistic goose. Personally, I wasn't blown away by this film, but I did appreciate what Clooney was up to, and I think he did a fairly good job making a lighthearted, un-cynical, un-violent, un-grotesque film -- a welcome break from the unending stream of brainlessness and loud noise streaming out of Hollywood these days. I thought it was alright.
---
10/04/08
"Boomerang"
(20th Century Fox, 1947)


With torture and forced confessions currently in the news, this talky film noir is more relevant now than when it first came out in 1947. Here, an innocent man is railroaded by the legal establishment bent on "solving" a high-profile, politically volatile case. For two days, the man is interrogated while deprived of sleep and food, until finally he cracks and confesses, telling his captors what they want to hear. Dana Andrews, as the earnest, honest District Attorney smells something fishy and works to find out what really happened... But *did* the accused man really do it? As Andrews tries to discover the truth, he is pressured from all sides, and becomes aware of the political corruption that suffuses his town. Elia Kazan directs an all-star cast (Ed Begley, Lee J. Cobb, Dana Andrews, Karl Malden, Jane Wyatt and numerous character actors). The pacing is slow, and the script is heavy on exposition, but when the heat and pressure increase, the scum rises to the top and the film starts to sizzle. Worth checking out, especially since the issues remain so timely.
---
Next Month
---
---


Joe Sixpack's Film Blog
Main Film Index




---
Copyright 1998-2009 Slipcue.Com. All Rights Reserved.
Unauthorized use, reproduction or translation is prohibited.
---