<! MP3 02/05/11 > <! update 00/00/00 > <! outside 00/00/00 > <! pix 00/00/00 > <! icons 02/05/11 >
---
This page features reviews of a bunch of compliation albums that don't quite fit into the other categories of world music that are reviewed on Slipcue.Com. As my interest in some of these styles broadens, I may expand some of these reviews into larger sections of their own, but for now, this seems like a nice spot to tuck them all together.
---
---
Miscellaneous Albums | 1 | 2 | 3 | 4 | Compilations
---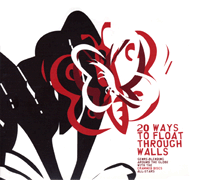 Various Artists "20 WAYS TO FLOAT THROUGH WALLS" (Crammed Disc, 2007)



An excellent sampler from one of the most innovative, wide-ranging world music labels around. Crammed Disc, a Belgian-based indie whose pioneering musical explorations have been licensed by numerous other labels in Europe and the US, has championed or brought to light artists such as the African avant-pop ensemble, Konono No. 1, the innovative Roumanian band Taraf De Haidouks, as well as numerous Brazilian musicians, including Bebel Gilberto, Celso Fonseca, DJ Dolores, Zuco 103 and Apollo Nove. The Brazilians, who are quite popular these days, dominate this 20-song collection, although there are numerous other delights and surprises, and all kinds of new, magical sounds. One find for me was the French artist Hugo, whose acoustic tune, "La Collection," is a standout track. (I bought his album afterwards, and wished that more of it sounded like that one song... but that's the thrill of discovery for you!) If you are the kind of music fan who likes continually finding new challenges and treasures, then this disc will be a welcome addition to your listening library.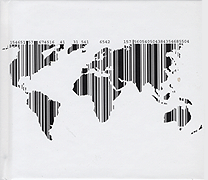 Various Artists "ANOTHER WORLD IS POSSIBLE" (Uncivilized World, 2005)


What's that old saying about "if I can't dance, I don't want to be part of your revolution?" Well, the super-diverse cast assembled for this anti-globalist, crosscultural world/dance/sociopolitical mash-up can help you cover all those bases... There's music from a wide range of artists (with a notable emphasis on weird Balkan music; it seems to be the "in" thing these days...), with artists ranging from Femi Kuti, Salif Keita and the Skatalites to Asian Dub Foundation, Moby and Massive Attack along with written commentary from Noam Chomsky, Naomi Klein, Arundhati Roy and other intellectual political luminaries... For folks in the anti-WTO contingent, this may become the soundtrack for their lives; it's a little aggressive for me, but still has some cool stuff on it, including two Clash covers (including Emir Kustica's thickly-accented, semi-absurdist rendition of "All Lost In The Supermarket"). Plus, how interesting and odd is it to find out that Manu Chao's father is some sort of prominent political academic in the economic development field...? Who knew? A well-packaged set that packs a real wallop... in more ways than one.

Various Artists "BERLIN: 1925-1936 -- THE CABARET YEARS" (EMI, 2001)
An outstanding collection of German popular songs dating from the downhill side of the Weimar years, and cautiously edging into the Nazi era. Some obvious big names are here -- Marlene Dietrich and the Comedy Harmonists -- but this album is primarily a treasure trove of lesser-known German stars such as Paul Linke, Marek Weber, the Weintraub Syncopators and the delightful English-born UFA Studios movie star, Lilian Harvey, who is probably my favorite new discovery on this disc. Obviously, there are hundreds and hundreds of other great songs that could have been anthologized, but this is a nice way to get your feet wet if you want to check out some of the best music that the Weimar Republic had to offer. Recommended!

Various Artists "BLACK MIRROR - REFLECTIONS IN GLOBAL MUSICS: 1918-1955" (Dust-To-Digital, 2007)


An ultra-obscuro collection of rare 78s from Africa, Asia, the Balkans, some Celtic music and even a dash of Indian filmi and Portuguese fado, and a piano piece from Handel thrown in for contrast. Each track is distinctive and challenging, even to folks with open ears and open minds who have been poking around "world music" for a while. (It helps if you like old stuff, too, since a lot of this goes back many, many decades...) Impressive scholarship and lots of unusual music... Cool stuff!

Various Artists "BROWN GIRL IN THE RING" (Rounder, 1997)



Children's rhymes are one of those great mysteries of life... how do they persist? Who keeps them alive? And isn't it wonderful to see the oral transmission of culture survive in the face of modern communication? This CD is made up of schoolyard chants sung by kids in the Caribbean... they combine the winsome innocence of little kid's voices with the dry folkloric charm of English folk music (fans of Shirley Collins, in particular, may find some of these tracks irresistible...) Some songs are led by older islanders, and their wizened, gravelly voices have a charm of their own -- many songs are also written local dialects, which have varied degrees of impenetrability... Admittedly, the charm may wear thin if you try to listen to this collection all the way through, but taken in small doses, it's just wonderful.


<! really 109x108 >

Various Artists "FROM AVENUE A TO THE GREAT WHITE WAY: YIDDISH & AMERICAN POPULAR SONGS FROM 1914-1950" (Columbia Legacy, 2002)


This fine 2-CD set traces the growth of Jewish American popular music from its roots as an Eastern European dance style, through the thriving Yiddish theatre scene, and into its role as one of the pillars of modern American pop. The first CD may be rough going for the Yiddish-impaired; very "ethnic" sounding, and slightly impenetrable, although it does feature rare recordings by many of the genre's biggest stars -- Molly Picon, Abe Moscowitz, and klezmer pioneer Abe Schwartz (see above). Disc Two kicks off with an Irving Berlin song, and proceeds straight into the American mainstream, and an increasingly English-speaking and bilingual mileaux. Eddie Cantor, Fannie Brice, Sophie Tucker, Benny Goodman and the Gershwin sibs all get their due, and a parade of great recordings zip by. Some of the skits are hilarious, but as they are chosen for historical relevance as well as artistic content, some listeners (depending on their temprament) may find the content -- particularly the ethnic stereotypes that thrived in the vaudeville and Catskills theatre circuits. Anyone who wants to research this subject, though, will find this collection invaluable. Great liner notes -- both informative and hilarious -- by producer Harry Sapoznik.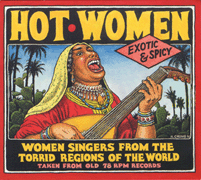 Various Artists "HOT WOMEN: WOMEN SINGERS FROM THE TORRID REGIONS OF THE WORLD" (Kein & Aber, 2003)


Cartoonist Robert Crumb's passion for record collecting and antique culture is well known, as evidenced by his tenure in the Cheap Suit Serenaders band, his similar forays into French musette, numerous comic strips devoted to notable Depression-era blues and jazz musicians, and his earlier collection of "sweet band" jazz, Now That's What I Call Good Music. Still, this far-flung collection of vintage "world music" recordings, spotlighting old 78s by female artists who've been washed under the sands of time, is a pleasant surprise, even from such an eclectic and crusty uber-collector. The two dozen tracks gathered on this disc come from Crumb's own library, and feature Cajun, Cuban, African and Arabic, Greek, Hawaiian, South American and Sicilian singers and -- most intriguingly -- artists from Asian nations, such as Burma and Siam where few record nerds have dared to look. I was excited to pick this up, although I have to confess, I was disappointed when listening to it, and didn't wind up hanging onto the album. I'm not sure why. I mean, I like oddball, obscuro music as much as the next fella, and I've certainly developed an ear for the rarified, attentuated sounds of old discs from the 1920s and '30s... But for some reason this album couldn't hold my attention... The songs all seemed to hold a keening, grating quality to them, and began to sound too much alike from track to track... Some songs would stand out a little, but as the disc went on, I just found myself getting annoyed with its monotone feel. That being said, this disc has a ton of fascinating old rarities and should certainly be picked up and tried out by any devoted old/world music fan. Your experience of it may be completely different than mine.

Various Artists "KLEZMER MUSIC -- EARLY YIDDISH INSTRUMENTAL MUSIC: 1908-1927" (Arhoolie, 1997)



Various Artists "YIKHES: LINEAGE -- EARLY KLEZMER RECORDINGS: 1911-1939" (Trikont, 1996)


Jewish klezmer music, even in its modernized, toned-down form, might not be for everyone... Still, this infectious dance style can be incredibly captivating, filled with dazzling clarinet solos and inventively bouncy melodies. For anyone who's already a fan of the style, these two CDs are a must. They come from UC Berkeley professor Martin Schwartz's vast collection of rare 78s, and each volume features some of the most stunning early Jewish music set on wax at the start of the 20th Century. These CDs are also an invaluable historical resource, since many of these recordings are unique, and no other original copies exist other than the ones that went into the creation of these collections... For an ecstatic and authoritative look at the major pioneers of the style, this is where to look.

Various Artists "LA MUSICA DELLA MAFIA 1: IL CANTO DI MALAVITA" (PIAS, 2002)


Various Artists "LA MUSICA DELLA MAFIA 2: OMERTE, ONURI E SANGRE" (PIAS, 2002)


Hey, forget about Dino, Sammy and Ol' Blues Eyes... or the Sopranos soundtrack, for that matter (how many times do you need to hear Travis, anyway?) Anyone interested in the Mafia's true musical culture can now head straight for the source, the folk ballads of rural Calabria, one of the original strongholds of Italian organized crime. These two CDs collect several dozen rare examples of canti di malavita, songs of the 'Ndrangheta, or Calabrian mafia. Although these gruesome acoustic ballads are hard to differentiate musically from other Mediterranean folk styles, their mere existence is controversial in Italy, where over the last few decades civil government has made a concerted effort to root out the long-lived crime families from their Southern strongholds. Regardless of how you feel about decapitations and car bombings, these discs are fascinating documents of a hidden and secretive culture. Thematically, the songs are all rather similar, meditations on the importance of "honor" and omerta -- the well-known Mafia code of silence -- and the consequences that befall anyone who narcs on their buddies. On "The Law of Silence," El Domingo softly croons, "Mentri cantara la lupara..." ("when the sawed of shotgun sings..."), while on "The Dance of the Mantalbanu Family," the narrator concludes his description of a crime family's cruel reign with an entreaty that the listener -- apparently a police informer -- "come out of the crowd now, and let me twist my knife deep within." Although critics charge that these collections romanticize criminals, a quick glance at the liner notes proves otherwise. The lyrics are surprisingly unglamorous, mainly about police raids, jail time and violent reprisals, with little of the free-drugs-and-fast-living sexiness depicted in the Martin Scorcese ouvre. There's a brutishness about these songs that belies their perky acoustic melodies -- naturally, it all sounds more graceful in Italian, but still not that pretty.
Various Artists "LONDON IS THE PLACE FOR ME -- TRINIDADIAN CALYPSO IN LONDON: 1950-1956" (Honest Jon's, 2002)


A fascinating slice of immigrant art from the London nightlife of the early 1950s, featuring clever calypsos from artists such as Young Tiger, Lord Beginner, Lord Invader and The Lion, and -- most notably -- Lord Kitchener, Caribbean transplants who sang with good nature and wit about current events, culture and the living conditions of postwar England. Songs such as "My Landlady" echo the eternal laments of the renting class, while "The Underground Train" looks at the ultra-urban London environs from the (half-facectious) perspective of a colonial rube, while "I Was There (At The Coronation)" celebrates the ongoing fascination with royalty. Although theirs is partly an outsider's perspective, it also contains a strong assertion of their belonging to the cosmopolitan UK, particularly on the title track, "London Is The Place For Me"; on the flip side, though, there is Lord Kitchener's blunt assessment of racial politics, "If You're Not White, You're Black." Of more general interest is the giddy musical novelty song, "Kitch's Bebop Calypso," which namechecks Dizzy Gillespie and his crew, while pretending to be shocked at the new developments in jazz... All in all, this is a fine historical document, rich in content as well as comedy, as fun as it is fascinating.
Various Artists "LONDON IS THE PLACE FOR ME 2 -- CALYPSO & KWELA, HIGHLIFE & JAZZ FROM YOUNG BLACK LONDON" (Honest Jon's, 2005)


Volume Two of this fine series spreads the net even further, to include African music from South and West African emigrants, as well as some interesting African-jazz hybrids. There are also several more fast-paced, tongue-twisting calypso tunes, generally more novelty oriented numbers such as "My Wife's Nightie" and "Nobody Wants To Grow Old." Another cool coolection -- there are several other discs in this series that have come out as well, but I haven't heard them yet... I'm sure they're pretty groovy, too.

Various Artists "MUSIC OF SARDINIA" (Arc Music, 2005)


The island of Sardinia, located smack dab in the middle of the Mediterranean Sea, off of Italy's western coast, has a musical culture that will still sound exotic and fresh to all but the most jaded world music fan. This collection, which draws on several European labels, is packed with unusual sonic treasures, music that will perk your ears up and make you sit up and take notice. Only towards the end of the album, when a few more modern-sounding recordings were included, did my attention start to wander...
Various Artists "PLANET SQUEEZEBOX" (Ellipsis Arts, 1995)


An entire 3-CD set devoted to the humble accordion? Egad. Yes, it's true -- this sweeping collection gathers examples of accordion, bandoneon and concertina work ranging from Irish jigs, Louisiana cajun music and zydeco, Argentine tangos, Brazilian forro and French musette, as well as Columbian dance music and contemporary art-folk tomfoolery of all sizes and descriptions. It's amazing how widespread the squeezebox has become, and how many styles have adapted to include its dulcet tones. This impressive collection may be for true believers only; but prolonged exposure may well draw you into the accordion cult.
Various Artists "PUTUMAYO PRESENTS: FRENCH CARIBBEAN" (Putumayo, 2003)


A nice, smooth set of modern pop songs drawn from the French-speaking islands of Guadeloupe, Haiti and Martinique, lingering on the more tuneful and diverse end of the Caribbean musical spectrum. For someone like myself, who quickly tired of the landslide of manic, monotonous soca and zouk records of the 1980s, this disc came as a pleasant surprise. It's very listenable and engaging, a nice selection for someone looking for some accessible, poppish world music.

Various Artists "PUTUMAYO PRESENTS ISRAEL" (Putumayo, 2007)


Well, this sure ain't your grandma's old Esther Ofarim album -- heck, it isn't even your big sisters Ofra Haza remix set... What it is, though, is a consistently pleasant, engrossing set of contemporary Israeli pop and indie-ish fare, easy on the ears, with a lot of melodic pull and stylistic variety. I'm always in favor of new music that sound nice, being sung in languages I don't understand, preferably by artists I've never heard of. This disc succeeds on all three counts -- a surprisingly strong set that I'd anticipated would be much cheesier than it actually was. Only a couple of tracks were a little irritating -- a smattering of reggae, a few desert flutes -- but even these fit in well with the overall mellow vibe of the album. And David Broza's crisp acoustic ballad, "Srochim," was a real eye-opener: I'd heard the name, maybe now I'll have to check him out!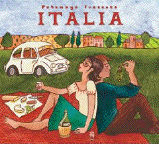 Various Artists "PUTUMAYO PRESENTS: ITALIA" (Putumayo, 2009)


A really sweet set of modern Italian pop, with a gentle adult pop-folk edge. Forget about those old Italian icons of accordions and mandolins, unless they're in a sexy tango or a country-flavored tune: this ain't your stereotypical "old country" Italian collection. This set opens with Simone Lo Porto's entrancing bossa-Americana flavored "Il Giralsoe," and moves into jazzy folk by the band Rossomalpelo and a tango ballad by Alessandro Pitoni... There's wide stylistic variety here, but a similar mellow tone and rich musicality throughout, with echos of Tom Waits, Bill Frissell, and any number of French acoustic music revivalists. I'm not readily tapped into the Italian musical scene (their 1970s and '80s pop music scared me off...) but this album was a pleasant surprise; the more I listen, the more I like it. No sign of Paolo Conte, but then again there's no Mina or disco, either. A nice selection of a rich, vibrant contemporary scene, definitely worth checking out.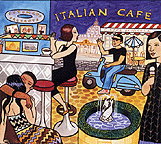 Various Artists "PUTUMAYO PRESENTS: ITALIAN CAFE" (Putumayo, 2005)


Super cool! For me, Italian music has always borne the mark or terrible, terrible, terrible bad taste, from their love of watered-down disco and bland, overripe romantic pop to the kitschy croonings of various American pop vocalists (Dean Martin, et al) which just consigned the nation's music to the back bins, as far as I was concerned. Well, I take it back, at least some of it: this is a superb collection that reveals Italian music's hitherto unsuspected depth, variety and good humor, drawing on several decades of somewhat off-the-radar Italian artists, musicians who dip into playful acoustic jazz and swinging pop vocals. Following World War Two, the playful beat of American swing entered the Italian musical vocabulary, and that tradition is still strong today, as herad here. Some of the early Italian swingers are featured here, such as Fred Buscaglione and Quartetto Cetra, whose stars rose in the late 1940s and early 1950s, up through playful modern artists who cheerfully mix Italian tradition with acoustic jazz, swing, and gypsy rhythms... The well-known eclectic crooner Paolo Conte is sadly absent from this set, but his brother Giorgio fills in, one of many musicians here whose bright performances light up this disc. This album is a real treat, a collection full of surprises and one artist after another that seem worth checking into at greater length. Nice when a whole new country's worth of music opens up before you... Bravo, Putumayo! Keep up the good work.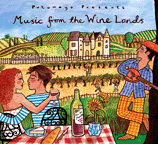 Various Artists "PUTUMAYO PRESENTS: MUSIC OF THE WINE LANDS" (Putumayo, 2006)


This new Putumayo collection joins previous commodity-oriented discs devoted to cocoa, coffee and tea -- the concept is a little strained, but the music is lovely. Lazy, mellow, heavy-lidded, eclectic music from France, Italy, Portugal, South America, South Africa, Spain and Greece (but no Australians! Poor Ozzies!) It's a nice record, ideal for cracking open a carafe of something white and cool or red and warm... My only complaint, living near San Francisco, is the listing of "USA" as one of the "wine lands..." Um, hello? "USA"? Don't you mean "California"? Last time I checked, Michigan wasn't doing so hot in the pinot noir department... Other than that, though, this is a fine little disc, sure to appear in the tasting room of a wine tour near you. As with most Putumayo collections of the last few years, it's well compiled and very listenable -- a much stronger set than you might imagine!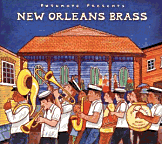 Various Artists "PUTUMAYO PRESENTS: NEW ORLEANS BRASS BANDS" (Putumayo, 2007)


A nice collection for fans of New Orleans brass band music, and a good introduction to the style for those who haven't heard it before. The Dirty Dozen Brass Band, Leroy Jones, the Yockomo All-Stars and others boomp, toot and boop-boop-boop their way through this rhythm-filled homage to the Crescent City. A nice set if you like the style!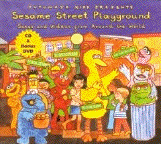 Various Artists "PUTUMAYO PRESENTS: SESAME STREET PLAYGROUND" (Putumayo, 2008)


Anyone who has purchased or rented a Sesame Street video in the last twenty years has been amply reminded by the ads at the beginning that the popular children's show has long since franchised out into a global phenomenon, with Sesame Street variants on TV channels across the globe. Mostly, for Americans, these international muppets remain a mystery... they flash across your screen and you think, "Hey, that looks like Ernie, except he's got a mohawk" or "Is that Prairie Dawn wearing a burka?" Some of the songs are familiar, albeit in different languages ("Rubber Ducky," appropriately enough, is sung in Chinese... honoring the single massive Southern Chinese factory where all rubber duckies are now made; the "sunny days" Sesame Street theme song is sung in Dutch...) Some tunes are new to these ears, such as the South African anti-pollution song, "Thath 'iphepha", and the revamped title theme for the Indian edition, "Galli Galli Sim Sim," and the hip Brazilian soundtrack, from the first country that picked up on the Sesame franchise, 'way back in 1972. There are some new-looking puppets, too, as seen in the second DVD disc, which features five video clips, showing international muppetry in India, Israel, Mexico, Russia and South Africa... only a taste of the global variants on Jim Henson's great, lasting legacy.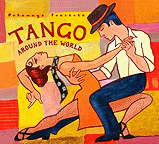 Various Artists "PUTUMAYO PRESENTS: TANGO AROUND THE WORLD" (Putumayo, 2007)


Tango music, which was one of the first great global dance crazes, was born in Argentina and is inextricably linked with the history and soul of that country. But, having spread across the planet nearly a hundred years ago, it has had ample opportunity to gestate elsewhere, and it is no surprise that a collection of modern tango music that spans the globe would yield such rich results. To be sure, Argentina is well-represented, by artists such as Hugo Diaz, Federico Aubele and Florencia Bonadeo, but the sampling of songs from other nations such as Serbia, Senegal, Norway and Portugal, will be as eye-opening as it is rewarding. Finland, one of the great European strongholds of tango, has its own distinct tango style and is represented here by a single track by M.A. Numminen and Sanna Pietiainen, while Brazil, a neighboring country that resisted the pull of tango in favor of its own, homegrown samba, contributes a fine song as well, "Tango Ishede," by Fortuna. Tango fans will enjoy this set, as will newcomers who may welcome the way these crossovers and variations often dilute the innate severity of the genre. As with many of Putumayo's best collections, this serves both as a fine album itself and as a signpost for deeper exploration of many fine artists who would otherwise be far off our radar. Recommended!

Various Artists "PUTUMAYO PRESENTS: TURKISH GROOVE" (Putumayo, 2006)


A solid selection of contemporary Turkish dance music -- modern stuff, borne of the age of electronica -- with flowing crosscurrents of Balkan gypsy harmonies and Iberian flamenco. This album is a bit too club-sceney for me, but I can still recognize that it's good stuff. For y'all who are into world beat dance stuff, this disc will make a good addition to your library.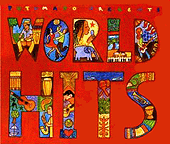 Various Artists "PUTUMAYO PRESENTS: WORLD HITS" (Putumayo, 2007)


Exactly what it says it is: some of the biggest, most easily recognizable, global pop songs you could imagine. Sure, folks can quibble about this song or that song being included or excluded, but for your basic mainstream world pop album, what's there to complain about here? "Watermelon Man" by Mongo Santamaria, Jimmy Cliff's "The Harder They Come," "Lambada," "Bamboleo," "Oye Como Va," "Pata Pata..." See? After a while, I didn't even have to mention the artists anymore -- the song itself just came into your head, right? Well, that's the idea. And if you want a bunch of those songs together all in one place, turning heads at a backyard barbecue, or whatever, this disc is a pretty good option. It's definitely not made for world music snobs, but for folks who just want a little jolt of recognition, here's one hit after another -- all songs that made the whole world shake a little booty at one time or another.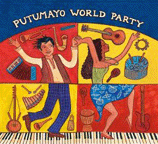 Various Artists "PUTUMAYO WORLD PARTY" (Putumayo, 2007)


An easygoing, feelgood world music dance disc that harkens back to the early days of the Putumayo label, when it was routinely disparaged as bringing about the WalMart-ization of world music. This is a bright, perky set of smooth, well-produced world-pop: Euro-salsa, Afro-gypsy hip-hop, streamlined Louisiana zydeco tunes, latter-day roots reggae, all of it situated in a decidedly middle-of-the-road mode... I got no problem with it, though there wasn't anything here that gave me shivers or made my hair stand on end... One thing that is surprising about this set, though, is the label's willingness to dig back into the past, notably the inclusion of a mid-1970s track by African smooth-groovers Osibisa, and a song from the late zydeco star Beau Jocque, who passed away in 1999. If Putumayo wants to get into mining deeper in the past, I'm all for it! Anyway, folks looking for something mellow yet xeno-friendly might wanna check this out, though fans of grittier, rootsier international music may want to take a pass. It really depends on your temperament, I guess.

Various Artists "RASTLIN' JACOB: THE MUSIC OF THE SPIRITUAL BAPTISTS OF TRINIDAD" (Rounder, 2003)


Fascinating field recordings made in 1939 by the husband-wife folklorist team of Melville and Frances Herskovitz, who also preserved dozens of secular Trinidadian songs at the same time. This disc documents the music of the "shouter" sect of Trinidadian Baptists, whose ceremonies had actually been outlawed by the colonial authorities in 1917, on grounds of alleged "indecency." They certainly were wild: the uninhibited exclamations, hoots and shouts of sect members come through unnervingly loud and clear in these old recordings, helping make this some of the most unusual and distinctive music you're likely to ever hear. Admittedly, these recordings are not very accessible to the average listener, but fans of archival folklore will find this album a wellspring of pre-pop culture recordings, music that clearly has its own history and unique cultural roots. The thick dialect and idiosyncratic rhythms somewhat mask the British origins and religious nature of many of these songs; in many cases, only after a refrain has been repeated dozens of times will the words become clear: "Onward Christian Soldiers," "When The Saints Come Marching In" and "By And By" never sounded like this before! Very unusual and striking -- maybe not the kind of thing to put on when you have company over for dinner, but for those fascinated by how radically music can change from culture to culture, this disc is amazing.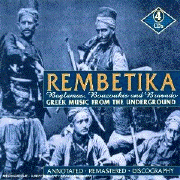 Various Artists "REMBETIKA 1: GREEK MUSIC FROM THE UNDERGROUND" (JSP, 2008)


One of the last frontiers of more-obscure-than-thouishness in the world music pantheon, rembetika is a modern, urban music that's often called "the Greek blues" -- mysterious, rugged songs born in the brothels and bars of early 20th Century that, similar to American blues or French musette, reflect the rough living of the big cities. This 4-CD set is a strong selection of these rare old records, by artists mainly known to devoted aficianados. If you're interested in this genre, this collection and the one that follows would be excellent places to start.


<! MP3 for disc C B000QZV9KE >
Various Artists "REMBETIKA 2: MORE OF THE SECRET HISTORY OF GREECE'S UNDERGROUND MUSIC" (JSP, 2008)


Various Artists "SOUND OF THE WORLD: COMPILED BY CHARLIE GILLETTE" (Wrasse, 2005)


A fine, admirably diverse, well-programmed collection of music from across the globe, put together by BBC music reviewer Charlie Gillette (who can often be heard on the BBC public radio co-production, The World). The pacing of this 2-CD set is dynamic and thoughtful -- it feels like a good, well-planned radio show, or even a fairly aggressive club mix, with a few softer songs thrown in to vary the tempo and timbre... Anyway, it's a very good selection of some of the more striking, memorable releases of the past year. Definitely worth checking out!

Various Artists "SOUND OF THE WORLD PRESENTS: BEYOND THE HORIZON" (Warner Classics & Jazz, 2008)


Another groovy 2-CD compilation of far-flung world music tracks selected by BBC DJ Charlie Gillett... and the guy has a pretty good ear! Not everything on here appeals to my taste, but there's nothing glaringly tacky or abrupt -- the set flows well, and gathers high-calibre recordings from artists across the globe. It's consistently challenging and surprising, pleasant and seductive. This collection makes an excellent introduction to numerous artists and styles that are well off the beaten track (even for folks who have been listening to "world music" for a while...) Artists include some heavy-hitters such as Orchestra Baobab, Lucky Dube, Manu Chao and Toumani Diabate, as well as up-and comers such as CeU, Dengue Fever and DJ Dolores, along with a bunch of pleasantly obscure artists, savvily selected from lord knows how many records that Gillett has sifted through in the last few years. It's hard to imagine a listener anywhere who couldn't benefit greatly from listening to this with open ears and an open mind. Recommended!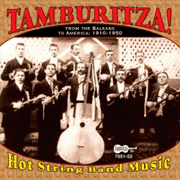 Various Artists "TAMBURITZA! HOT STRING BAND MUSIC FROM THE BALKANS TO AMERICA: 1910-1950" (Arhoolie, 2007)



Fun stuff! A lively overview of Balkan-American tamburitza music, recorded in the first half of the 20th Century... Basically, it's that kooky lute music we may think of as quintessentially "Russian," although in this case the artists are mainly of Croatian and Serbian ancestry. Although many of the key artists and stars of the genre are represented, this stunning 2-CD set isn't intended as a definitive overview of the style... Rather, it's tamburitza music as filtered through the restlessly eclectic ears of Arhoolie label owner Chris Strachwitz, whose love of raw, rollicking, rootsy music trumps the need to present a particular canon of songs. Strachwitz is interested in one thing: making a record that's really fun to listen to... and he succeeds wildly on this one! The rambling, wild abandon of some of these recordings, and the antiquity that comes through in the sound quality (particularly in the older, pre-electric recordings) bears an uncanny and unexpected similarlity to old-timey and early bluegrass music... On the later tracks, a crossfertilzation with mainstream American pop culture produces such gems as Dave Zupkovich's "Hey Tambu-Re-Bop," a kooky Balkan vamp on Lionel Hampton's big hit. There are some other jazz/blues crossovers included as well, all part of a lively immigrant culture that comes through loud and clear. This is an amazing historical resource, and lots of fun for folks coming from the culture, as well as those of us looking (or listening) in!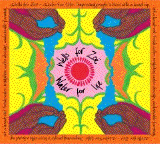 Various Artists "WELLS FOR ZOE: WATER FOR LIFE" (Compass, 2009)



There are some things that many of us take for granted that others -- literally -- would die for. Little things, like clean water, water that won't give your kids diseases, water that you can bathe in and raise crops and drink without fear. Having clean water is a big step towards solving other problems; once you can survive you can succeed elsewhere and prosper, but without it, life is untenable. That was the keystone of the efforts by the Irish-led nonprofit, Wells For Zoe, which helps build sustainable farming and other development in the tiny country of Malawi, an East African nation with shockingly high infant mortality rates and little economic infrastructure. This benefit album features many major talents, mostly drawn from the Irish pop and folk scene, with contributions from likeminded artists from across the globe. There's something delicious hearing the transition between Scottish singer Karine Polwart's "Well For Zoe" into Sinead O'Connor singing the wry "Baby, Let Me Buy You A Drink" -- here are two classic Celtic voices singing beautifully on the same theme, with equally rewarding results (either song will echo in your mind all day long...) Also on board are Celt-folk legends Dougie MacLean and Paul Brady, as well as guitarist John Doyle and Heidi Talbot, and bluegrassers such as Alison Brown and Tim O'Brien. It's a nice album -- only a couple of tracks seemed untenable (...a crossover-folk cover of "Sisters Are Doing It For Themselves"? No, thank you.) But several tracks are lovely, and the cause is certainly good. If you're interested in downloads, here are some options:

Well For Zoe


Baby, Let Me Buy You A Drink

Various Artists "WEST INDIAN RHYTHM: TRINIDAD CALYPSOS" (Bear Family, 2007)


A massive, multi-disc box set gathering some of the finest historical recordings of classic calypsos... I could never in a million, bazillion years afford to buy a box like this (might be kind of hard to get through as well... ) but I figured that for the right person, this would be a real Holy Grail. Almost three hundred songs with tongue-twisty lyrics and peppy rhythms, along with a hefty, album-sized booklet and all the great sound quality you'd expect from a Bear Family product. Wowza.

Various Artists "WOMEN OF REMBETICA" (Rounder, 2000)



A fine compilation of archival Greek rembetica recordings from the early 20th Century, including two stars of the genre, Rita Abadzi and Rosa Eskenazi, who are also mentioned above. Truthfully, this collection gets a bit shrill, and may be difficult to listen to from start to finish... but the material is pretty cool, and pretty rare, outside of collections such as this... worth checking out, especially if you're already a fan of the style.
Various Artists "WORLD 2004" (Wrasse, 2004)


A generous 2-CD overview of new "world music" material from across the globe, compiled by syndicated public radio DJ Charlie Gillett... It's a bit more on the aggressive and electro-flavored side than I prefer (but not entirely so), but still a nice cross-sampling of what's going on these days... Features many bands you might have already heard of -- Khaled, Lo'Jo, Tinariwen, etc. -- but numerous others that are farther off the beaten path. Many of these artists (and Gillett as well?) seem to be trying a little too hard to boggle and wow our minds with "trippy" sounds and multi-culti musical mish-moshes, but the set's still worth checking out; chances are you'll find a few new artists you'll get all excited by...
---

More Miscellaneous World Albums | Main World Index
---


---