<! MP3 02/05/11 > <! update 00/00/00 > <! outside 00/00/00 > <! pix 00/00/00 > <! icons 02/05/11 >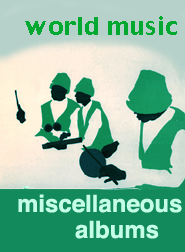 ---
Hi there... This is the fourth page of a bunch of stuff that doesn't quite fit into the other categories of world music that are featured on Slipcue.Com. As my interest in some of these styles broadens, I may expand some of these reviews into larger sections of their own, but for now, this seems like a nice spot to tuck them all together. Gypsy music? Balkan brass bands? World fusion and flamenco? Right here. Meanwhile, the Main World Music Index links to larger sections on Cuban, Brazilan, Celtic, French, Hawaiian and other styles of music. Enjoy!
---
Miscellaneous Albums | 1 | 2 | 3 | 4 | Compilations
---

The Savoy Family Band "Turn Loose But Don't Let Go" (Arhoolie, 2007)



(Produced by the Savoy Family)
Intricate, mellow, more-accessible-than-usual Cajun music from this lively musical dynasty. Marc and Ann Savoy, along with their kith and kin, have made another great record, this time infused with a hefty dose of country music and hints of old-fashioned traditional jazz. There's a marvelously playful honkytonk piano in the mix, too, courtesy of young'un Wilson Savoy... Your toes'll be tapping and you'll be reaching for your French-English dictionary for a translation of their version of "You Don't Know Me." Fine stuff - some of the best American folk music out there!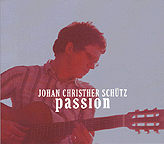 Johan Christher Schutz "Passion" (Acousticolour, 2004)



Swedish singer-guitarist Johan Christher Schutz has a somewhat intense connection to the Brazilian bossa-nova sound, and an almost unreasonably sunny world view... This album combines persistent, gentle, accomplished acoustic guitar work with cheerful, naifish lyrics straight out of the twee-est twee segments of the indiepop scene. Schutz's vocals sound quite a bit like Arto Lindsay's, but shorn of the darker and more carnal elements of Lindsay's work. I confess, it took me a while to warm to this disc -- I had to put it down and come back to it later when I was in the right mood, and then I saw that it had an undeniable charm, once I set my urban American grumpiness aside and just let Schutz be Schutz. If you think an album with song titles like "Tousled Kitten Samba" might be for you, then this is certainly worth checking out!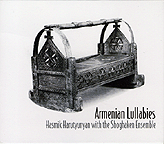 The Shoghaken Ensemble "Traditional Dances Of Armenia" (Traditional Crossroads, 2004)



The Shoghaken Ensemble & Hasmik Harutyunyan "Armenian Lullabies" (Traditional Crossroads, 2004)



I have to confess, I know next to nothing about Armenian music (despite having lived in the San Joaquin Valley for the better part of a decade...), and as a result I approached these records with a bit of hesitation. Still, these folks were said to be one of Armenia's premier folkloric groups, representing lost traditions from numerous regions, and I figured, what the heck ...now is as good a time as any to check this music out! And, sure enough, these albums were both winners. The first eye opener was how much of an Middle Eastern influence there was in the music... I guess this shouldn't be so surprising, what with the whole Ottoman Empire thing and all, but it does leap out at you -- many of the melodies on the Traditional Dances album wouldn't be out of place on an album by the Persian ensemble, Ghazal, or even some of the mellower artists of the Arabic world. The Shoghaken Ensemble approaches this material with great authority and assurance, and a bursting vitality that is evident from the first note to the last. Of these two albums, Armenian Lullabies may be the most striking, with singer Hasmik Hartutyunyan opening the album with one of the most arresting, incandescent vocal performances of recent years, a voice, like Cesaria Evora or Marta Sebestyen's, that stops you in your tracks and makes you catch your breath. Both albums have the drawback that the songs start to sound alike after a while -- the Lullabies album filled with slow, soulful, largely a capella performances, and Dances with lively instrumental tunes that zip along at about the same tempo from songs to song -- but just concentrating on each tune and each melody as it comes, this is clearly very rich music, representing a powerful and enduring culture. Definitely worth checking out.

Chango Spasiuk "Tarefaro De Mis Pagos: Sounds From The Red Land" (Piranha, 2004)



An Argentinian accordion master with East European (Ukranian) roots, the youthful Chango Spasiuk is an uncommonly fluid, creative performer, fusing a global melodic sensibility with Chamame, the joyful dance style of his native region, the remote Argentine province of Misiones, known for its red-colored soil. Spasiuk's update of the music he grew up with is resonant and playful, shifting from style to style with flecks of jazz, blues, pop and folk laced together around distinctive Latin American melodies. Now I know you folks who like accordion music really like accordion music, and this disc ought to be a real treat for you! The approach is fresh and consistently engaging, and the warmth of the performance is evident on every track. Recommended!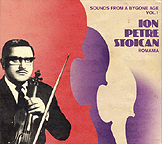 Ion Petre Stoican "Sounds From A Bygone Era, v.1" (Asphalt Tango, 2005)



Playful Balkan dance music from Romanian violinist Ion Petre Stoican, who supposedly was awarded the right to record an album as a reward for having reported a foreign spy to the Communist government in the mid-1960s, during the height of the Cold War. Well, James Bond's misfortune was our blessing -- Stoican milked the incident for years, recording a 4-song EP right away in '66 and finally got to record a full LP a decade later, packing the sessions with top talent such as cymbalom star Toni Iordache and Costel Vasilescu on trumpet. The album, which came out in 1977, is lively and playful, mixing regional elements with cosmopolitan pop-jazz touches, sort of like a kooky gypsy-jazz-meets-Crazy Otto set. Although the disc was issued anonymously (individual musicians were rarely credited on any of the state-owned labels...), folks knew who was on it, and it helped establish Stoican as a leading bandleader in the Romanian wedding band circuit... Modern listeners will find a lot to cheer about here as well; even for folks like me who may not care much for Balkan music per se, this is a pretty fun record. (Available though the label at www.asphalt-tango-shop.de )

Ned Sublette "Cowboy Rumba" (Palm Pictures, 1999)



A bizarre but effective blend of hard country honkytonk and Cuban dance music... and it comes from a guy who really knows his stuff, in both genres. Sublette made a few albums in the early '80s that were on the more cerebral, Bukowski-esque fringe of the alt-country movement; he also runs the Qbadisc music label, which has some of the most high-class Cuban reissues out there today. With his background, Sublette is one of the few people around who could really pull something like this off... Still, this disc probably ain't for everyone -- the overall concept may throw fans of either style off balance, and his brusque barfly balladry brings to mind an image of Jimmy Buffet on a rough night in Havana, when his band didn't show up and he had ask some of the locals to back him up instead. Still, the playing throughout is first-rate, and as a devoted Webb Pierce fan, how could I possibly resist a song like "Feelin' No Pain", which conflates chorus of "There Stands The Glass" with the glitzy tinklings of Ng La Banda, one of Cuba's most famous modern orquestras? An odd record, but worth checking out.
Taraf De Haidouks "Band Of Gypsies" (Nonesuch, 2001)



Perhaps you're like me -- when it comes to gypsy music, you can pretty much take it or leave it. This is an interesting live album, though, because of the band's fluidity and playfulness, as well as its lightning-quick timing and tight arrangements. A carnival atmosphere prevails, as they zip through a dazzling mix of styles -- Arabic, Mediterranean, Slavic and Jewish music collide in a high-speed, multi-culti chase. After a while this wore me down the way all gypsy records seem to, but for a while I was pretty entertained. Worth checking out.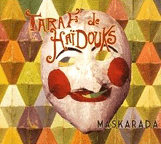 Taraf De Haidouks "Maskarada" (Crammed Disc, 2007)



Another insanely diverse collection from this multifacted Roumanian ensemble... Taraful Haiducilor (aka Taraf De Haidouks, the "band of outlaws") are a Roma, or gypsy, group, and as such have always drawn on a deep historical wellspring for their music... Here, they diverge from a popular-folkloric approach to a more academic perspective, or rather, they take a whirl at how the European academy viewed Roma music, taking "folk" pieces by classical composers such as Isaac Albeniz, Bela Bartok, Aram Katchaturian and others, and prizing out the traditional elements that the classical world had sought to formalize generations ago. Some of the pieces are delightfully imaginative or just plain kitschy -- I love the Far Eastern/Chinese elements of Albert Ketelbey's "In A Persian Market" -- and some are profound cross-cultural syntheses. The Haidouks add a few tunes of their own, along with dazzling musicianship -- fans of traditional Eastern European music will definitely want to check this one out!
Tea "Dreams" (Teajuana, 2009)



A sleek world beat/world jazz mix, a true global mix of styles and personnel. The group's main duo of guitarist Franck Balloffet and drummer Phil Bunch were in several earlier global beat bands; along with them here is a host of African performers, including veterans of Manu Dibongo, Angelique Kidjo and Tabu Le Rochereau's bands. The African vocals (in various languages) help propel these tracks through a sometimes syrupy jazz-pop mix... A lot of this is too clubby and house-y for me, but it's certainly an accomplished performance, a tour-de-force, really, if you're into the style. There's also a strong jazz-fusion strain, aided in no small part by British fusion elder Brian Auger, who plays the Hammond B-3 throughout. If you're into fluid, modern world music (and less stuck on traditional sounds) then this is a disc you might wanna check out.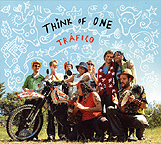 Think Of One "Trafico" (World Village, 2006)



A wild, far-flung crosscultural mish-mash, with an acoustic-based Dutch band mashing contemporary Brazilian party music (like coco, a high-energy toasting style popular in Recife, where the band hung out recently...) together with African, Latin and Balkan music, underlaid with a strand of quirky avant-jazz worthy of the Willem Breuker ensemble. I personally find ot a bit too busy and unrelenting, but if you like Antibalas, Zemog, LoJo or the Paris Combo, then this energetic group, singing in a heady mix of Flemish and Portuguese, may light a fire under your tailfeathers. I bet they're pretty wild live!
Tin Hat Trio "The Rodeo Eroded" (Ropeadope/Atlantic, 2002)



An endlessly eclectic and relentlessly inventive mix of tango, Americana, show tunes and various strains of "world music." John Fahey, Brian Wilson and Hank Williams are as likely to come to mind as Astor Piazolla or Bela Bartok. Country crooner Willie Nelson pitches in on a fine, fairly straight, rendition of "Willow Weep For Me," though for the most part this is an all-instrumental effort. The Trio flirts with sounding busy and overly clever, but their deftness and strong sense of melody will keep your attention throughout.
Andre Toussaint "Bahamian Ballads" (Naxos, 2002)



A swinging set of Bahamian oldies in a variety of styles, recorded by the Haitian-born nightclub singer, Andre Toussaint. He covers a wide musical terrain, ranging from old-fashioned topical calypsos to Cuban-style son dance numbers and French chanson and Spanish colonial tunes. Although the liner notes aren't entirely clear about when these songs were recorded (presumably it was over a period of many years), Toussaint died in 1981, so it's safe to say that they are "vintage" material, with some tracks dating as far back as the '50s and '60s. It's all pretty nice, delivered in a warm, welcoming style. Worth checking out, particularly if you enjoy old Caribbean music.

Transglobal Underground "Impossible Broadcasting" (Triloka, 2005)



This multiculti, clubalicious, trip-hoppy world fusion ensemble is still going strong, as this solid set of slick, sleek dance tunes demonstrates... They weave in Latin influences, Eastern European melodies, Arabic motifs, reggae riddims and, metaphorically speaking, even the kitchen sink. It's a skillful mix, and gives each of the source elements its rightful due, but for guys like me, there's just one little problem. See, I'm not really that fond of club music, so I tend to see this as inherently emphemeral and even a little vaccuous... I mean, I know it's well produced and a very good repersentative of the genre, I just don't like the genre. But if you've enjoyed Transglobal Underground's earlier work, you'll love this disc -- I think it may be the best thing they've ever done.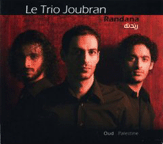 Le Trio Joubran "Randana" (Fairplay/Harmonia Mundi, 2006)



An exemplary set of Middle Eastern oud music, with three Palestinian lutists playing soft, yet urgent instrumentals... truly beautiful stuff. The Jourban brothers share a fluid musical sensibility and glide from melody to melody; it's difficult to tell one player's part from the others, as it all seems to melt together. A very listenable, lulling album... Recommended!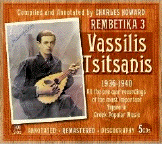 Vassilis Tsitsanis "1936-1940" (JSP, 2008)


A budget-priced 5-CD set celebrating the work of one of Greece's most popular performers of the pre-WWII era... Fans of the arcane "Greek blues" style known as rembetika will totally salivate over this one... It's a doozy, and a great historical resource for this super-obscuro genre. You might also want to check out JSP's previous two rembetika box sets, which have a trove of vintage recordings from this era...


<! 02/11: MP3s listed separately >

Markos Vamvakaris "Bouzouki Pioneer: 1932-1940" (Rounder, 1998)



The rolling half-plink, half-twang of the bouzouki is familiar to anyone who's ever patronized a gyro shop or a Greek deli, or heard the theme to Never On A Sunday... It's a well-stylized sound, one of the musical stereotypes of ethnic America, but at the start of the 20th Century, the instrument was still lodged in its folkloric roots, and it wasn't until the 1920s and '30s that modern bouzouki music started to take form. Vamvakaris was apparently one of the great pioneers of bouzouki plunking as a popular style -- these recordings have antique charm to them, but also trace his growth from a folksy performer to a stylist of greater melodic and rhythmic strength. Nice old stuff -- you have to be in the mood for it, but this can be very captivating. Also, these old-school early recordings, most of which also feature vocal performances, are very different from the generic instrumentals that echo forth in humble restaurants across the land today.


<! really 110x108 > <! quite a few other albums >

Wapa Sakitanou "The Music Of Martinique" (Arc Music, 2003)


Raw, vibrant Afro-Caribbean percussion, presented by a lively folkloric ensemble that has been at the forefront of preserving Antillean cuture since its founding in 1990. A surprisingly engaging, powerful album... drumming fans will not want to miss this one!

Warsaw Village Band "People's Spring" (World Village/Jaro, 2004)



Woah. This is a real ear-bender of a world music record... The parochial-sounding band name belies the expansive, innovative approach these young Polish musicians take to the often-dour Eastern European traditions. Like the experimentally inclined Scandanavian bands of the Northside label, these Eastern Bloc avantniks push folk themes to outlandish heights, taking their cues from psychedelic folkies such as the Incredible String Band, rather than from Grandpa's polka-playing buddies. The featured instruments are an antique Polish fiddle called the suka (which gets a lot of echo thrown on it...) an omnipresent but often subdued dulcimer, and an insistent, keening vocal chorus... It's a striking sound, and a very nice change of pace from the standard-issue mania of many Eastern European releases. Worth checking out...!

Wild Tchoupitoulas "Wild Tchoupitoulas" (Island, 1976)



Dang! It kinda seems almost like cheating, packing all these hotshot musicians from the Allen Toussaint-Meters-Neville Brothers axis into the studio to record a Mardi Gras marching band album... And what a great album it is! This is the atom bomb of 'Nawlins party music, one killer, super-catchy tune after another. These are songs that had been around for ages -- every brass band and "indian" crew worth its salt can stomp through a great version of "Brother John" or "Meet The Boys," but no one has ever done them better than on this album. Highly recommended.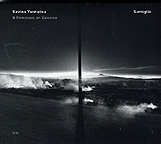 Savina Yannatou "Sumiglia" (ECM, 2005)



An eclectic, evocative, ambient'n'classical-tinged set, drawing on the music of Greece, Spain, Italy and various Eastern European locales to weave a not-too-artsy tapestry that should enchant world music fans on the more rarified end of the spectrum. Yannatou, a Greek singer who has explored a variety of Mediterranean musical traditions, incorporates a healthy dose of avantnik influences as well, but without allowing it to overwhelm the rest of the music and make it seem overly arid or academic. I wasn't completely drawn in by this disc, but I can see how for the right listeners, it would be utterly enchanting.
Les Yeux Noirs "Live" (World Village, 2003)



This French-based gypsy band rocks live: it's not my kind of music, but they are really good at it. This is a strong set, which fans of the band (and of the style) will doubtless enjoy.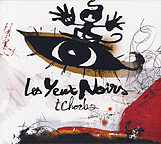 Le Yeux Noirs "Tchorba" (World Village, 2005)



Their fifth album finds this French gypsy-Jewish-fusion world pop ensemble pushing their sound into a more forcefully modern style. Le Yeux open this album with the drum-heavy title song, "Tchorba," a juggernaut instrumental tune that sounds for all the world like an old Jean Luc-Ponty track... I'm not sure these guys would shy away from the comparison, either -- there's a similar faith in slick, compact, decisive production styles, and a streamlined melodic and rhythmic sensibility. It's a bit on the clompy, overly-muscular side for me, but folks looking for more innovation in the now-popular Eastern European sound may want to check this one out...
Zemog El Gallo Bueno "Zemog El Gallo Bueno" (Aagoo, 2002)



An intriguing blend of world beat and Afro-Latino dance styles, leaning more towards the salsa end of the mix. Unusual booty-shaking party music, with weird dips into the wellspring of free-jazz and what sounds like Eastern European dance music. Bandleader Abraham Delgado-Gomez has been at this mix'n'match approach for a while now, his last Boston-based band, Jayuya, turned people's heads a few years back; this disc may have a similar effect.

Zemog "Cama De La Conga" (Aagoo, 2006)



Cool, weird, and getting better every album. When these East Coast guys started out a couple of years ago, they were like the forgotten love child of Marc Ribot and Crash Worship; now their interest in experimental Latin dance music has crystalized and the band's musical chops have greatly improved -- so now when they play their salsa riffs all tweaky and freaky, it sounds less fragmented and chaotic, and more like these guys are really onto something. There's also a strong hint of driving African rhythm here; indeed, this band may be to Cuban son what Antibalas is to Afrobeat: offbeat innovators playing to the beat of a different drum. It's an acquired taste, but defintely worth checking out.
---

More Miscellaneous World Albums | Misc. World Compilations | Main World Index

---


---