<! MP3 02/05/11 > <! update 00/00/00 > <! outside 00/00/00 > <! pix 02/05/11 > <! icons 02/05/11 >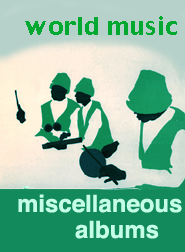 ---
Hi there... This is the second page of a bunch of stuff that doesn't quite fit into the other categories of world music that are featured on Slipcue.Com. As my interest in some of these styles broadens, I may expand some of these reviews into larger sections of their own, but for now, this seems like a nice spot to tuck them all together. Gypsy music? Balkan brass bands? World fusion and flamenco? Right here. Meanwhile, the Main World Music Index links to larger sections on Cuban, Brazilan, Celtic, French, Hawaiian and other styles of music. Enjoy!
---
Miscellaneous Albums | 1 | 2 | 3 | 4 | Compilations
---

Depedro "Depedro" (Nat Geo Music, 2008)



(Produced by Jairo Zavala & Craig Schumacher)
A delectable, super-listenable record from Spain indie scenester Jairo Zavala, from the band Nat Geo. This set mixes traditional Spanish and modern pop influences, with a bit of contemporary freak-folk and mellow-tronic ambient spaciness... If the blend sounds subtly familiar, perhaps you won't be surprised to hear that Craig Schumacher for Calexico is one of Zavala's collaborators on this album, helping sculpt a gentle, evocative sound that will utterly draw you in. This was one of the big happy-surprise records records for me this spring, a disc that stayed glued inside my CD player for weeks on end, with several songs that slipped inside my dreams at night. Definitely worth checking out.


<! DePedro may be the first solo album for the man behind the name, Jairo Zavala, but in no way is it his debut. Already a celebrated recording artist in Spain, where he was born and raised, Zavala has spent the past two decades playing, writing, and performing with bands like Amparanoia, Vacazul, Los Coronas, and Calexico. Mixed by Craig Schumacher (Calexico, Giant Sand, Neko Case, Devotchka, The Sadies), DePedro, also the first full-length release for the newly minted Nat Geo Music. >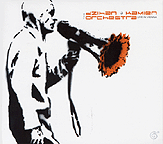 Dzihan Kamien Orchestra "Live In Vienna" (Six Degrees, 2004)



(Produced by Vlado Dzihan & Mario Kamien)
It's a groovy gypsy world beat retro-fusionfest, with '70s-style funk drumming laying down the beat for folks to dance to, while the Eastern Europeans play their little hearts out. Producers Vlado Dzihan and Mario Kamien have carved out a reputation on the European electro scene, and a second disc on here includes remixes by pals and compatriots like Richard Dorfmeister... This kind of club music isn't really my bag, but I'm sure plenty of y'all will enjoy it quite a bit. If this is your scene, I bet their live shows are a lot of fun.

Roza Eskenazi "Rembetissa" (Rounder, 1996)



Along with her rival, Rita Abadzi, Roza Eskenazi was one of the great stars of Depression-era Greek rembetica, a driving acoustic style often referred to as "the Greek blues". This is an impressive collection of her best recordings from the 1930s and '40s. Other than the overmodulation of some of the original recordings, the sound quality on these rare recordings is pretty good... and Eskenazi's voice is fantastic! A much more forceful and confident performer than Abadzi, Eskenazi's career also lasted longer... give this disc a listen, and you'll hear why. Both singers can also be heard on the excellent WOMEN OF REMBETICA collection, which is reviewed below.

Fanfare Savale "Speed Brass Of The Gypsies" (Sub Rosa, 2004)



Insanely fast gypsy brass band music from the tiny Romanian village of Zece Prajini, which is renowned for its deep musical traditions. If you dig Eastern European brass music, or are drawn to stuff that sounds just plain weird, then this disc is definitely for you. Impressive musicianship that pushes the music into the sphere of the avant-garde, then twirls it around and around until it gets dizzy and starts to stagger... then offers it a drink and gets it spinning again. Pretty wild!

Frigg "Economy Class" (Northside, 2008)



(Produced by Anttil Jarvela)
A lively, rollicking fiddle music lovefest. Although this half-Finnish, half-Norwegian band shows its Nordic roots, there are also strong echoes of Appalachian/Celtic and American cajun music in the mix as well. Whatever the sources, the music on this disc is cheerful and infectious -- once it starts, you can't stop smiling. Anyone with an interest in fiddle-based folk music will want to check this out: it's fun, innovative and invigorating. Recommended!

Gotan Project "Lunatico" (XL, 2006)



A very cool, very mellow record, tailor-made for airplay in tattoo-packed cafe's and super-hip bookstores. This French-Argentine ensemble seamlessly fuses modern electro/triphoppish with the dark, brooding elegance of raw, unvarished tango, bringing Astor Piazolla's modernist vibe into a new millennium. The uncompromised wheezing of the Argentine bandoneon (or mega-accordion) laces through the, dubby, multi-textured soundscapes... This was one fo those much-welcome records that I had a hard time getting ot of my stereo once I put it in, I just wanted to hear it again and again. Chances are you might have the same response... Recommended!

Boris Grebenshikov "Russian Songwriter" (Naxos World, 2003)



This fellow is hailed as a Russian Bob Dylan and more generally as one of his country's great rock-pop heroes... Personally, I hear him as more a Jacques Brel-styled crooner, but that may be in part due to the decision to showcase him here as a poetic, sensitive singer-songwriter type. It's possible that his other albums are way more rockin', or, conversely, that Russian popular culture was so constrained and constricted under Soviet rule that it was possible to appear as a rock'n'roll firebrand while actually performing music that seems pretty tame by Western standards. At any rate, this is a nice collection by one of Russia's most prominent pop stars of the '70s and '80s, a set in which Slavic syllables never sounded so sweet.

Petru Guelfucci "The Music Of Corsica" (Arc Music, 2003)



Vocalist/arranger Petru Guelfucci is one of the pillars of modern Corsican music; this album leans more towards the tradtional, folkloric end of the spectrum, delving into the ancient "close harmony" style, which has it's own parallels to both Balkan vocal music and Gregorian chant. It's serious, soulful music, which fans of those genres should like as well. A few instrumental tracks are distracting, however, as they sound a bit too much like the generic "folk" music one might hear as a tourist in the shops and stalls of Southern Italy. But beyond that, this disc definitely has great depth and beauty.
A Hawk And A Hacksaw "Darkness At Noon" (Leaf, 2005)



An odd, engaging, avant-klezprov album from indie-rocker Jeremy Barnes (a veteran of bands such as Neutral Milk Hotel and Bablicon)... Although the record is mostly Barnes's work, he has collaborators from the avant-jazz, rock and klezmer community on board, and while the album has obvious Jewish roots, it stretches into Arabic and Balkan motifs, as well as a sheen of manic noisepop as well... The eclectic, frantic feel of some of the Neutral Milk Hotel albums is funnelled here into a tighter form, and while this record pushes the boundaries of the klezmer genre, it is also surprisingly strong compositional aspects, while simultaneously feeling freer and less staid than much of the contemporary klezmer that it branches off from... There's also a sense of fun and abandon, as well as a moody, whimsical side that's kind of cool as well. If you like the newer, experimental klezmer of groups such as Hasidic New Wave, but find their orientation towards the free jazz of Ornette Coleman et al., to be a bit taxing, this multi-layered, sometimes spacy sonic odessey might be more to your liking. Definitely worth checking out!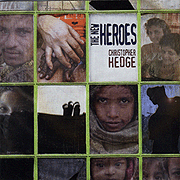 Christopher Hedge "The New Heroes" (Triloka, 2005)


A soundtrack companion to a PBS series , The New Heroes, which celebrates social innovators and humanitatians working to solve health and development crises in the Third World... Composer Christopher Hedge provides a mix of global styles, threaded together with a soft, contemplative feel and the requisite snippets of spoken word samples... There's a familiar feel to a lot of this, but the album is pleasantly listenable and compelling, and doesn't slide into any of the goopy, florid traps of many standard-issue "world fusion" records. Many of the solutions presented in the documentary are pretty simple -- foot-powered water pumps for people in drought-striken, low-tech rural areas, or small personal "micro loans" given to individuals in countries where only a few dollars can represent a month's worth of work. Hedge's musical approach is also simple and spare, taking a "more is less" approach that's a welcome change of pace from the often overwrought world beat scene. Nice and listenable.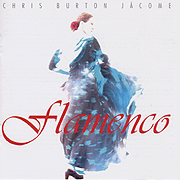 Chris Burton Jacome "Flamenco" (CBJ, 2004)



An extraordinary and fresh-sounding, passionate album... Yeah, sure, everybody and their brother who's had classical guitar training can zip off a few sweet-sounding flamenco riffs; the style has no shortage of amateur enthusiasts, but this Arizona-based composer-performer brings a brightness and originality to the music that is a real treat to hear. Jacome skirts past the forceful muscularity of popular bands such as the Gipsy Kings, et al., in favor of a far wider musical palatte. Each song has its own unique feel, with tunes that recall the work of Segovia as well as Leo Kottke and even a bit of the brooding, Gothic tone of Brazil's master guitarist Baden Powell. Many of the arrangements are ambitious and dynamic, with a lively vocal chorus added into an imaginative, well-sculpted sound design. It's quite impressive for an independent release, and what's even better, it's fun to listen to and quite compelling... If you're looking for a record that your world music-savvy friends and relations probably haven't heard yet, this one comes highly recommended, with the Joe Sixpack seal of approval. (For more info, check out his website at www.chrisburtonjacome.com" )
Jorane "The You And The Now" (Six Degrees, 2005)



French-Canadian cellist Jorane spins a pretty web, along with the aid of New Age-y world fusion producer Michael Brook... Deep string tones mix with skittering, Marc Ribot-esque rhythms, gentle, airy vocals, inscrutiable lyrics and an overall vibe that should remind more than a few listeners of those precious old Kate Bush albums. She squanders a lot of her artistic capital, though, with a peppily orchestrated version of Donna Summer's old disco hit, "I Feel Love," a too-cute misstep many fans may be willing to overlook... If you're looking for a mellow space-out album, this might fit the bill, although I have to confess I didn't find much to latch onto, especially as the album went on; the French-language material is welcome, although I wish she'd sing that material with as much gusto as the English-language songs... If you like things that are on the softer side, this may be worth checking out, although many may find it a bit too amorphous and coy. Didn't do much for me.
Kad "Societe" (Beleza, 2005)


This one's a gem... a mesmerizing set of French-language bossa nova-cum-chanson, with a dash of modern electronica on a tune or two. This disc kept its spot in my CD player for the better part of a week; it was consistently listenable and compelling, a mellow, pretty-sounding, genre-bending set that mixes styles and sensiblities well. Algerian-Spanish singer Kad Achouri has a modest voice, but he's definitely hit on a rich, resonant, laid-back groove that'll draw mature listeners in and keep them coming back... Features covers of Baden Powell and Nirvana, as well as an old Cole Porter standard, and a slew of original tunes that translate the laid-back vibe of late-'50s Brazil into the modern age... This is Kad's second album, picking up where 2002's Liberte left off... I suppose Fraternite can't be far behind? Anyway, if you're looking a mellow record that also has some heft, you might wanna check this disc out.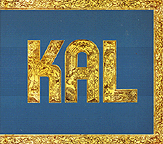 Kal "Kal" (Asphalt Tango, 2006)



Gypsy folk/hip-hop/dance-pop.. Cacophanous and wild, skillfully rendered and quite creative.. thogh not my cup of tea. Still, if you're into the whole contemproary Balkan musical renaissance, you'll definitely want to check this Belgrade band out... They seem to be at the top of their game!
Karady Katalin "Archiv Felvetelek: 1939-1949" (Pepita, 1979)
I stumbled across this album by accident and was thoroughly enchanted... It was exactly what it looked like: a collection of recordings by a Hungarian film star/diva from the pre-war era -- stylish, sultry torch songs very much along the lines of Edith Piaf, or even Marlene Dietrich and Lotte Lenya. Although Karady is a national institution in Hungary, her music is practically impossible to find anywhere else, which is a real shame, since she was a fabulous singer. As an internet DJ from Budapest told me, Karady is the kind of artist everyone in Hungary owns an album by, but it's usually something passed down to you from their grandparent's record collection. I am, by the way, looking for more information about this artist, and anyone who has info to pass on, please feel free to write me and let me know... (Here's what I know so far: Katalin was born in Budapest in 1912, and emigrated to the US after WWII, and died in New York City in 1990. She starred in several films written by Zilahy Lajos; apparently a documentary film about her life is/was being made by a fellow named Basco Peter... I'll keep you all posted as I find out more...)(Update: here's a great webpage that seems to have gone up recently, with a detailed biography page... And an article by Lucy Mallows that was recommended by a Slipcue reader... cool!)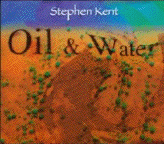 Stephen Kent "Oil & Water" (Family Tree, 2004)



The mere mention of the Australian digiridu is enough to make some nonbelievers cringe in terror: several years ago it was adopted as an instrument of choice by world music's fusion-y New Age contingent, and since then its status has never been the same. What's most remarkable about this album, though, is that it's really quite good, although it is pretty much what you'd call a "world fusion" album. To start with, Californian Kent is a virtuoso performer, capable of delving deep into the tonal richness of the oboe-ish instrument, but also of playing shorter notes and not just the long, resonant drones the digiridu is known for. These controlled percussive bursts are so unlike most digiridu playing that at first I wondered if they'd been sampled or digitally manipulated; but no, I think he's just an amazingly skilled performer. Naturally Kent also explores a wide variety of musical styles and it's the album's odd multicultural combinations -- the "oil and water" of elements you wouldn't expect to mix -- that bring life to this album. Some parts work better than others: in general, the Western funk and pop mixes seem tacky, but the tracks that borrow from various "world music" styles -- Tuvan throat singing, Arabic percussion, West African pop, East Indian flutes -- are pretty nice. One song which features a shimmering cascade of Rajasthani flutes, "Edge Of Three," is particularly beautiful. Though this record edges into territiory that I don't normally go for, there are several songs on here that I could see working into a mix. Worth checking out!

Kitka "Wintersongs" (World Village, 2004)



Founded in 1979, this venerated San Francisco Bay Area women's chorus is one of the premiere American ensembles to explore the dense and dazzling world of Balkan vocal music... Here, they broaden their scope to include seasonal music from throughout Eastern Europe and beyond, ranging as far as Russia, Latvia, Georgia, the Ukraine, Romania, Belarus, Bulgaria, Greece, Macedonia and Israel... It's an ambitious programme, and a highly listenable record. If you're looking for something really new for your holiday listening, then check this record out. Recommended!

Kitka/Various Artists "The Rusalka Cycle: Songs Between The Worlds" (Diaphonica, 2007)



An operatic song-cycle based on ancient Slavic tales about the Rusalki, mythic feminine spirits, the ghosts of women who suffered unnatural or violent deaths and whose shades go on to become natural forces: siren-like, they inhabit the waters and woods and lure living people to their doom by singing hypnotically and entrancing them. Doubtless, The Rusalka Cycle is a powerful piece of live theatre, although as a recorded work, it plays against one of Kitka's greatest strengths, that is, their impressive power as a chorus. Meeting the demands of the operatic form, here they sing solos and arias, with individual voices rising out of the shrill keening -- I'm not as fond of the atonalities of Eastern European vocals when they are taken out of the harmonies of a chorus... But Kitka fans will definitely want to check this out. (You can also check out the group's website to see if they have any performances scheduled, so you can see the show live...)

Boris Kovac & La Campanella "World After History" (Piranha, 2005)



A big change of pace from the normal manic tempo of Balkan brass band music... Mixing lyrical, reflective jazz, Mediterranean melancholy and a touch of tango and gypsy lilt, saxophonist Kovac and his latest cohorts -- an inventive Italian acoustic ensemble -- craft an unusual pan-European style, music that drifts into soundtrack-ish territory, but may be pleasing to those looking for something lush and romantic to settle into.
---

More Miscellaneous World Albums | Misc. World Compilations | Main World Index
---


---