<! MP3 04/01/10, 02/05/11 > <! update 00/00/00 > <! outside 00/00/00 > <! pix 04/01/10 - need to convert misc folders > <! icons 02/05/11 >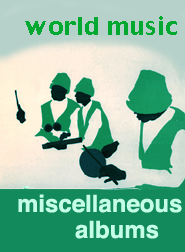 ---
Hi again... This is the first page of a bunch of stuff that doesn't quite fit into the other categories of world music that are featured on Slipcue.Com. As my interest in some of these styles broadens, I may expand some of these reviews into larger sections of their own, but for now, this seems like a nice spot to tuck them all together. Gypsy music? Balkan brass bands? World fusion and flamenco? Right here. Meanwhile, the Main World Music Index links to larger sections on Cuban, Brazilan, Celtic, French, Hawaiian and other styles of music. Enjoy!
---
Miscellaneous Albums | 1 | 2 | 3 | 4 | Compilations
---

17 Hippies "Heimlich" (Hipster, 2007)



Alternately kooky and beautiful, this far-flung German ensemble combines some of the insistent outsider experimentalism of The Ex, et al with the mellow amorphous poppiness of Polyphonic Spree, as well as the workmanlike, joyful competence of Paris Combo... Yes, it's the sound of a large number of amiable, unhurried musicians for whom the act of making music -- and having fun while you do it -- is an end in and of itself. Their love of collaboration and exploration will come through loud and clear to receptive listeners: if you're into Balkan brass bands, French accordion music, Jewish klezmer and gypsy swing or even ethereal indie ballads, you'll probably enjoy this album a lot. The Hippies flow from style to style, with each strand woven together in a surprisingly cohesive whole. Recommended!

Rita Abadzi "Rita Abadzi: 1933-1938" (Heritage, 1996)


Abadzi was one of the most popular female singers of Greek "rembetica", an acoustic style often called "the Greek blues". The musicians on this disc include Greeks, Turks and Armenians, playing a rich mix of regional styles, with languid ouds or wild gypsy-ish violins, all capped off by Abadzi's husky, confident vocals. You might also check out the collections of material by Abadzi's rival, Roza Eskenazi, which have come out on Heritage and on Rounder Record's Rembetissa CD (reviewed below).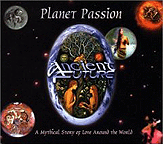 Ancient Future "Planet Passion" (Self-Released, 2002)



Okay, this totally qualifies as "guilty pleasure" territory for me... I mean, as a card-carrying, uber-hipster music-snob (or at least, someone who knows a bunch of people like that..) I'm supposed to turn up my nose at anything that qualifies as "world fusion..." Well, here's the deal with Ancient Future, they not only fit into the "world fusion" genre, they actually came up with the term, a couple of decades back. And they're really good at it. This disc does have moments that are too goopy for me, but it also has some truly gorgeous songs, particularly the East Asian-flavored tunes and the vocal numbers featuring Kazakh-born singer Irina Mikhailova, who has a lovely voice, well-suited to this loose, fluid style. Sorry, my music-snobby friends: sometimes super-mellow stuff is kinda nice. (Note, this isn't a new record, but it's their most recent release and the band just sent me a copy, so I figured I might as well give 'em a shout-out. You can also check out their website at: www.ancient-future.com )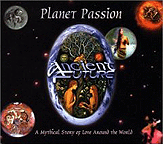 Ancient Future "Planet Passion" (expanded edition) (Self-Released, 2002/2009)



The latest update on an old record that's still got legs. I admit, this album totally qualifies as "guilty pleasure" territory for me... This edition adds a new four-song suite that wasn't included in the original 2002 version... The "new" songs fit in well, and this remains a strong release, even if there are some pretty goopy passages in there, too. Super-mellow hippie stuff, but it's worth checking out.


<! COLUMN REVIEW: The latest update on an old record from the band that claims to have invented the "world fusion" genre... Or at least came up with the name, lo, those many years ago. I admit, this album totally qualifies as "guilty pleasure" territory for me... I mean, as a card-carrying, uber-hipster music-snob I am supposed to turn up my nose at anything New Age-y or overly Marin County... But this record has some really lovely, inventive moments, and several gorgeous songs. In particular, the East Asian-flavored tunes and the vocal numbers featuring Kazakh-born singer Irina Mikhailova are nice -- she has a lovely voice, and is well-suited to this loose, fluid style. This edition adds a new four-song suite that wasn't included in the original 2002 version... The "new" songs fit in well, and this remains a strong release, even if there are some pretty goopy passages in there, too. Super-mellow hippie stuff, but it's worth checking out. >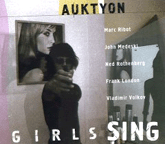 Auktyon "Girls Sing" (Geometriya, 2007)



Kooky stuff from the Russian avant-rock ensemble known as Auktyon. This disc leaps from indecipherable space-folk and the fusion-y atmospherics of songs such as "Tam-dam" to louder, harsher experimental "difficult listening" that would make the Japan-noise crowd curl their toes with orgasmic happiness. This album features contributions from American jazz modernists and avantniks such as guitarist Marc Ribot and trumpeter Frank London of the Klezmatics. John Medeski adds plenty of driving, surging organ riffs, buoying the playful, exhortatory Russian vocals, and lends a strong prog-fusion feel that blends well with the band's densely rendered Plastic People-y art-rock, with hints of the chaotic hijinks of the modern Balkan brass bands. A few tunes are softer, such as the halting, acoustic-based "Zhdat" and the epic, Chick Corea-ish "Girls Sing," which closes the album out. The wilder numbers have a distinctive sense of abandon -- clearly this album, which was recorded live in a small studio in New York, was a lot of fun to make. It certainly won't be everyone's cup of tea, but for folks with a penchant for out-there music, it'll be a blast. Definitely worth checking out!

Ballet Exotic Du Robert "Caribbean Tropical Music: Martinique" (Arc Music, 2009)



A nice homage to the glory years of Antillean jazz and swing, from a revival band led by Fred Adelaide that was founded in 1990 to preserve the diverse musical culture of Martinique... The music is a fun mix of European, African and Creole culture, dipping into waltzes, mazurkas, boleros and -- of course -- the bouncy, giddy dance known as the beguine, which returned home to the Antilles after World War Two, following its European heyday on the 1930s. Admittedly, there is a fly-in-amber feel to these folkloric performances -- they don't have the kooky abandon of 1940s artists such as Sam Castendet or Stellio -- but it's still a fun record, and I imagine seeing this ensemble live would be a real gas. A nice introduction to a very diverse regional scene, and perhaps a good starting point for further explorations.


Joe Barbieri "In Parole Povere" (Le Pop Muzik, 2008)



This cool, mellow Italian indie crooner would seem to be a big fan of Brazil's Caetano Veloso. He purrs along to a whispery, modern bossa nova -- gentle, delicate, quavering vocals set to spare piano-based arrangement. Sounds awfully Brazlian, except that the lyrics are in Italian. In the middle, the album tilts a little towards the soft-pop Italians are famous for, but Barbieri brings things back to a classy bossa core. All in all, a sweet, understated album. Fans of Paolo Conti might like this as well -- their styles are different, but the two men share an independent vision and bring new sounds into the Italian sphere. Nice stuff.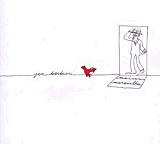 Joe Barbieri "Maison Maravilha" (Le Pop Muzik, 2009)



On his second album, Giuseppe Barbieri continues exploring his love of cool Brazilian balladry -- he doesn't cover a bunch of bossa nova oldies, but rather captures the essence of the style in his own original compositions. Barbieri also still sounds uncannily like MPB legend Caetano Veloso, although on this album the arrangements are less ethereal and he works in more of the emotive, grand drama of Italian popular music. In addition to his own songs, Barbieri covers one by Paolo Conte ("Wanda") and another by Henri Salvador ("La Muraille De Chine") which fit in nicely with his own subtle, subtly textured approach. Sweet stuff!


<! http://www.joebarbieri.com > <! Joe Barbieri "Virus" (WEA) B00000JX86 same guy? >
Bole 2 Harlem "Volume One" (Sounds Of The Mushroom, 2006)



Now, these people know how to party!! Modernized Ethiopian groove mixed with good, old-fashioned New York-style, hip-hoppish block-party funk... This is one of the hardest-driving, most dance-provoking, utterly satisfying crosscultural mash-ups I've heard in years, with a solid groove that sounds unlike anything I've heard before. It's original, energetic and exhiliarating, and doesn't let up from the first track to the last. Definitely worth checking out!

Brazilian Girls "Brazilian Girls" (Verve, 2005)



Mellowed-out club music. This is guilty pleasure material, pure and simple: uncomplicated makeout-scene dance-tronica, with blase, Bjork-ish, Blondie-esque femme fatale vocals by Italian chanteuse Sabina Sciubba (the only "girl" in this four-member band...) and slinky, trip-hoppy rhythmic beds with downtempo sex beats designed to bring out the sleazy Eurotrash in us all. There's a shamelessly unchallenging, lightweight aspect to this album that makes it oddly endearing... these folks aren't pretending to any great artistic heights or grand, crosscultural mindblowing-ness... They're just making preprogrammed pop music tailormade for car ads, Bond films or slightly tacky dinner parties. The chorus to one reggae-flavored track says it all: "Pussy, pussy, pussy, marijuana... Pussy, pussy, pussy, marijuana..." Need I say more? Oh, and they're also not Brazilian, but if you've taken enough drugs, I suppose that wouldn't matter either.
Bob Brozman & Rene Lacaille "Dig Dig" (Riverboat, 2002)



This is a giddy, exhiliarating, exuberant collaboration between two top-flight multi-instrumentalist virtuosi, each playing at their peak and creating a joyful fusion of styles so dazzling and inventive that it will make your toes tap and your jaw drop. Bob Brozman is best known as an acoustic blues revivalist whose love of Depression-era blues and steel guitar playing led him to delve into vintage Hawaiian music, and from there into the music of other islands across the globe. Here he works with Rene Lacaille, one of the foremost musicians of the tiny French colony of La Reunion, an island hundreds of miles of the coast of Madagascar, and a hotbed of musical innovation. Two modern "Reunionais" styles are presented here, maloya and sega, and each feature a mad, manic mix of influences: Indian, African, Latin American, flamenco, Arabic, blues, jazz and folk all float in and out of the mix; Brozman, naturally brings a Hawaiian and bluesy flair as well, and zips and zings his way through lightning-fast riffs on various guitars as well as a Bolivian charango, which was his instrument of choice when these recordings were made. Lacaille is right there alongside him, matching him lick for lick -- it's really difficult to say which one is leading at any given time, as they zoom in and out of the multi-layered rhythms and complex melodic interplays. Honestly, this is one of the more remarkable examples of upper-stratosphere artistic synergy you're likely to hear.... A lot of fun, and definitely recommended!

Branko Krsmanovic Group "Music Of Serbia And Montenegro" (Arc Music, 2005)



Branko Krsmanovic is the latest incarnation of a folk music ensemble founded in the 1950s, with its home at Belgrade University. Folks who are enamored of Balkan dance music will like this -- the musicianship is solid and the playing quite forceful. If you're not into the whole East European vibe, though, this might be rough going. The first few tracks have a slower, dark, classical-tinged richness to them, but then it quickly settles into a manic, manic, manic breakneck pace with plenty of wild accordion playing. It's not really my cup of tea, but I can certainly recognize the authority with which they play...


<! unedited PIC is in swipes folder >
Charanga Cakewalk "Loteria De La Cumbia Lounge" (Artemis/Triloka, 2004)


This is pretty cool... Working out of Austin, TX, auteur Michael Ramos (formerly of the rock band, the Bo-Deans) tackles Latin American dance music and gives it an odd, eerie, playful, kitschy twist... Ramos plays almost all the instruments on this album -- piano, Hammond organ, accordion and trumpet -- and wrote or cowrote all but one of the songs. It's similar in some ways to the avant-Cuban crossovers of Marc Ribot, but a little less cerebral and more of a mind candy album. It's fun. At first I wasn't that into this album, but then its goofy indie-rockish playfulness started to come through and I got into it. There are a lot of textures and layers to this album... Some of it's pure camp, some of it's deep musicianship and much of it is just some groovy tunes to have on at your next margarita-drenched backyard barbeque. Worth checking out!
Cheb i Sabbah "La Ghriba: La Kahena Remixed" (Six Degrees, 2006)



Clubby, hiphoppish electronica remixes of Moroccan pop star Cheb i Sabbah's work... It's nice and very skilfully produced, and if you like the style I'm sure this disc has a lot to offer. Personally, though, I'm not into club music, so this isn't really one that grabs me that much. Results may vary.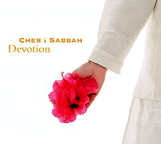 Cheb I Sabbah "Devotion" (Six Degrees, 2008)



Although he's originally from Algeria, multiculti mixmaster Cheb i Sabbah taps into Indian culture with authority and ease... And not just one musical style: this velvet-textured album moves from the unmistakable bounce of traditional Punjabi music into the soaring vocals of both the Carnatic and Hindustani traditions. As the title implies, the theme of the album is devotional, and the searching, ecstatic qualities that implies are readily present throughout. This is a lovely record, with breadth and depth that are equal delights, with classical themes interwoven into a modern, electronic-tinged pattern. Fans of the late Nusrat Fateh Ali Khan will enjoy this aswell... If you're looking for an album that can both lull you or pluck you up and bring you closer to the sky... check this one out!

Comedian Harmonists "The Comedian Harmonists" (Ryko-Hannibal, 1998)


The Harmonists were a wonderful vocal group from Weimar-era Germany, which combined swing vocals with Germanic leider traditions... In essence, they were an a capella jazz group -- Berlin's answer to the Mills Brothers (whose style and technique they liberally borrowed from, including the use of voices to mimick instruments...) Wildly popular in Continental Europe, the Harmonists toured widely and recorded dozens of original songs and tasty cover tunes, many of which are collected on this well-paced single CD collection. Their career was cut short, however by the Nazi regime that rose to power in the early 1930s: half the band was Jewish, and when the non-Jewish members refused to perform without them, the group was forced to disband. Their story is ably presented in the feature film, Harmonists, which also features some outstanding recreations of the group's musical style.
Comedy Harmonists "Auf Wiederseh'n" (ASV Living Era, 1997)


The band's name is translated differently, but the music is the same. This is also a great sampling of their work... Anything on the British ASV label is bound to have good sound and even better taste.

Paulo Conte "The Best Of Paolo Conte" (Nonesuch, 1998)



This gravelly-voiced, somewhat clownish jazzy crooner is one of Italy's great modern treasures... His playfully mutated, absurdist version of cabaret and music hall styles echoes other postmodern alpha-poet types such as Leonard Cohen, Serge Gainsbourg or Tom Waits, but Conte's whimsical indulgence - his willingness to dip into a Jolsonesque razzmatazz - is more pronounced than any of those dissolute icons. Conte's music is complex and varied, but he's not above tooting on a kazoo or scatting nonsensically if the mood strikes him, and this makes his music feel a bit less cerebral and tendentious than, say, Gainsbourg. He has a bunch of records out in Europe, but this collection is a pretty good introduction for us poor benighted Americans... it draws on several albums recorded in the 1980s and '90s... it's a pleasant, playful set with an unusual, magical appeal. Cool stuff!
Paulo Conte "Reveries" (Nonesuch, 2003)



A delightful followup to his previous American release (1998's Best Of collection) which shows Conte's continuing playfulness, passion and original and engaging musical arrangements. An immensely appealing performer, whose work is surprisingly and consistently enchanting. Recommended!

Adrienne Cooper/Zalmen Mlotek "Ghetto Tango: Wartime Yiddish Theater" (Traditional Crossroads, 2000)



In the 1930s and '40s, after the Germans had rounded up the Polish Jewry -- first into the ghetto and then into the camps -- small groups of Yiddish-language performers gathered together to write and perform cabaret acts and plays, staging shows that both kept hope in their hearts and expressed the anger, defiance and pessimism of a race that was living with its neck in an executioner's noose. It's amazing that any of these songs survive -- many were handed down verbally, memorized and written down after the war; others were anthems sung by the Jewish partisans who fought guerilla battles in the Polish forests. This record collects many of the most biting and tragic of these songs, gathered by pianist Zalmen Mlotek and singer Adrienne Cooper, who have worked to archive and reinterpret the Yiddish wartime legacy. The album closely follows their stage show, capturing the balance between Cooper's brassy, sardonic cabaret singing and Mlotek's soulful arrangements and his own, more reflective vocal style. What's probably most striking is how the bitter cynicism of the Polish ghetto so often translated into scorn and outright anger for their captor's, laying waste once again to the image of a meek, passive Jewry. In "The Song Of The Nazi Soldier's Wife", the singer feigns envy at all the fine things a plundering German sends home to his starstruck hausfrau, yet the singer's teeth are bared in undisguised glee at the thought of this same soldier meeting a cold and gruesome death on the Russian Front. Other songs take a more inspirational tone but the performances, which owe a large and obvious dept to Bertolt Brecht's work, are seldom maudlin or contrived. A remarkable album, and highly recommended for any of us with friends or family who may still be Holocaust gloom junkies.

Csokolom "Dog Daze" (Arhoolie, 2006)



A kooky set of traditional Transylvanian folk music, played acoustic by a loose, lively Hungarian foursome featuring three viola/violin players, one bassist, and a guitarist on only two of the tracks. These folks play with a careless craziness that brings to mind the chaotic feel of American "old-timey" music, which in some ways is a relief, given the formalism and gravity of so many other Eastern European modernists... Worth checking out!
---

More Miscellaneous World Albums | Misc. World Compilations | Main World Index

---


---