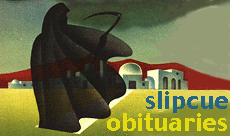 ---

Baden Powell, Guitarist Who Pioneered Bossa Nova, Dies at 63
By Simon Romero, courtesy of The New York Times
---
Sept. 26, 2000 - Roberto Baden Powell de Aquino, the musician whose blend of African, jazz and classical influences gained him renown as one of Brazil's greatest guitarists, died yesterday in Rio de Janeiro. He was 63.
The cause was pneumonia and multiple organ failure, said Alexandre Raine, his publicist. Known professionally simply as Baden Powell, Mr. Powell had been hospitalized for the last month at the Clinica Sorocaba in Rio de Janeiro.
Named after Robert Steven Smyth Baden-Powell, the 19th-century British founder of the Boy Scouts, Mr. Powell was born on Aug. 6, 1937, in Varre-e-Sai, a small town in the interior of the state of Rio de Janeiro. His grandfather, the abolitionist Vicente Thomas de Aquino, formed an orchestra of black slave musicians before Brazil's abolition of slavery in 1888, and his father, Lilo de Aquino, supplemented his modest income as a shoemaker by playing the tuba and the violin at local dances.
When Mr. Powell was a small boy his family moved to Rio, then Brazil's capital, where his father enrolled him in private classes with Jaime Florence, a guitar professor who introduced him to the work of Spanish masters like Francisco Tarrega and Andres Segovia. Mr. Powell proved to be a prodigious student, and by the time he was a teenager, he was playing the guitar on national radio programs and at dances and parties in the lower-middle-class suburbs of Rio. He went on to play at at the Bar Plaza in the late 1950's in Copacabana, where he was noticed by the composer Antonio Carlos Jobim.
Through Jobim, Mr. Powell met the composer Marcus Vinicius de Melo Moraes and soon became immersed in bossa nova, the stylistic reworking of traditional Brazilian samba rhythms in the late 1950's and early 60's. In perhaps the most fruitful part of his career, Mr. Powell collaborated with Moraes on nearly 50 songs in the 1960's, like "Berimbau," released in 1967. In "Berimbau," for which Mr. Powell composed the music and Moraes the lyrics, the sound of the musical bow used in the ritual of capoeira, the martial art brought to Brazil by slaves from what is now Angola, is subtly recreated on the guitar.
"Baden Powell is to the guitar what Joao Gilberto is to style and Tom Jobim is to composition," said Charles Perrone, a professor of Brazilian culture at the University of Florida.
Shy and wiry, Mr. Powell went to live abroad in the late 1960's along with many other prominent Brazilian musicians after a military coup toppled the civilian government in 1964. He established himself in Paris, where he worked with musicians like Thelonious Monk and Stan Getz, who helped introduce him to audiences in the United States.
Mr. Powell moved to the German city of Baden-Baden in 1983, which he used as a base for playing at jazz clubs and festivals in Europe, Japan and the United States, according to Mr. Powell's biographer, the French writer Dominique Dreyfus. Even though Mr. Powell's recognition grew while he lived in Europe, his heavy drinking sometimes complicated his personal life and threatened his financial security. "What messed him up were his personal life and a friend named Johnnie Walker," Ruy Castro, a Brazilian writer, said in reference to Mr. Powell's longtime fondness for whiskey.
Still, Mr. Powell saved enough money to return to Brazil in 1988. In Rio de Janeiro he began to play at clubs again. By then, however, he was perhaps better known abroad than in Brazil, where popular music had undergone enormous innovation because of musicians like Caetano Veloso and Gilberto Gil.
"Although his career spanned continents and decades, in the popular imagination Baden Powell belongs to that very special time for Brazilian music in the 1960's, when things were still somewhat innocent," said Christopher Dunn, a professor of Brazilian literary and cultural studies at Tulane University.
In 1997 Mr. Powell became an evangelical Christian in a religious conversion that led him to tone down his public performances of Afro-sambas like "Samba da Bencao," the song he composed that became well known in the 1966 film "A Man and a Woman," by the French director Claude Lelouch. He also became more reflective about Brazil.
"I get sad because our country has such beautiful places but it's all falling down," Mr. Powell wrote in a Brazilian newspaper earlier this year. "We must, I think, give greater importance to our natural wonders."
Mr. Powell is survived by two sons, Philippe and Louis-Marcel Baden Powell de Aquino, both of Rio de Janeiro.
---

Neuma Goncalves Da Silva, 78, Samba Leader
By Simon Romero, courtesy of The New York Times
---
July 22, 2000 - Neuma Goncalves da Silva, a central figure in the slums that served as the testing ground for the composers, seamstresses and fiercely talented layabouts who catapulted samba into an art form, died on Monday in Rio de Janeiro. She was 78.
A poor woman all her life, Goncalves da Silva, affectionately known as Dona Neuma, rose to national prominence because of her role in the samba school of Mangueira, a sprawling favela in Rio de Janeiro. Her home became a meeting place for the creators of samba, the frenetic, drum-heavy music that accompanies the hip-gyrating dance of the same name.
She founded the women's wing of the Mangueira samba school and was its president for several terms. She often sought out the carpenters and sculptors who built the floats and the seamstresses and designers who created the costumes for the annual Carnival celebration. The school's official colors, pink and green, often show up among the victors in samba competitions.
Goncalves da Silva was a force behind the scenes in electing the male-dominated leadership of the school. Candidacies like that of the acting Mangueira president, Elmo Jose dos Santos, were often said to have been hatched from her modest home on Visconde de Niteroi street. Goncalves da Silva also entertained celebrities like the composer Heitor Villa-Lobos and the musician Noel Rosa, as well as many politicians. One governor recognized Goncalves da Silva's social role by giving her a telephone, the first in the favela.
The eldest daughter in her poor family, Goncalves da Silva was born in 1922 in Madureira, another Rio neighborhood and moved to Mangueira as a child. At the time, samba was emerging as a type of lingua franca among the variants of African-inspired music and dance practiced in Rio.
In 1928, her father, Saturnino Goncalves, was a founder of the Mangueira Samba School and Recreational Society, together with Jose Gomes da Costa, also known as Ze Espinguela, a master of organization who arranged the first competitions among Rio's samba schools. Other founders were the legendary composers Angenor da Silva, or Cartola, and Carlos Moreira de Castro, better known as Carlos Cachaca.
Immersed as she was in music as a child, Goncalves da Silva made samba central to her life, which was always one of economic hardship. To make ends meet, according to one account, she took to washing clothes by hand after being denied a factory job because she was black.
"Samba never leaves us sad," Goncalves da Silva told one interviewer. "It never leaves us with that disease which is nostalgia."
When Maria Tereza Goulart, the wife of Brazil's former president, Joao Goulart, visited Goncalves da Silva to see the Mangueira school for herself, she was reported to have danced until the wee hours. A headline in a local newspaper read, "The first lady of the country is received by the first lady of samba."
As samba evolved over the years into a commercialized, multimillion-dollar industry, Goncalves da Silva wondered whether the musical form could still capture with frivolity the ferocity of existence, as it did when the Mangueira samba school was starting out.
"These days samba is manufactured instead of delivered from within us," she said. "But I think samba is on a slow voyage to victory."
After Goncalves da Silva's burial on Tuesday, her friends and family members gathered to dance until three in the morning to some of the legendary sambas with which she was associated.
Goncalves da Silva is survived by four children, four grandchildren and two great-grandchildren.
---

Ustad Alla Rakha, 80, Master of Hindustani Classical Music
By Jon Pareles, courtesy of The New York Times

---
February 6, 2000
Ustad Alla Rakha, the most important tabla drummer of his generation, died Thursday at his home in Bombay. He was 80.
He had a heart attack when he learned of the death of his daughter Razia during cataract surgery, said a spokesman for Moment Records and Zakir Hussain Management, which releases albums by Mr. Rakha and his son Zakir Hussain, who also plays the tabla.
Alla Rakha, who was given the honorific Ustad as a master musician and teacher, was a virtuoso of the complex system of talas, rhythmic cycles that are central to Hindustani classical music, and he used his skill to invigorate every musician who shared the stage with.
"All life is rhythm," he once said in an interview. Sitting calmly, with his hands a blur of speed above his drums, he traded smiles and dazzling, incendiary improvisations with leading figures in Indian music, among them the sitar players Ravi Shankar, Vilayat Khan and Ali Akbar Khan.
He was also the first tabla player to give solo concerts.
"The country has lost an accomplished maestro whose mastery over the tabla created waves all over the world," the prime minister of India, Atal Bihari Vajpayee, said in a statement. "He strode like a colossus on the scene of Indian classical music."
Alla Rakha Qureshi was a farmer's son who grew up in a small village in the Jammu region of Punjab. He was drawn to music and theater as a child, and began studying music against his parents' wishes. His first tabla teacher, Lal Mohamed, was a disciple of Mian Qader Bakshi, a leading musician in the Punjab gharana, or school, of classical music. When he was 12 he ran away from home to study with Mr. Bakshi in Lahore, in what is now Pakistan.
He began performing on Lahore Radio, and in 1936 he moved to Delhi to work for All India Radio, and then to Bombay. During the 1930's he studied raga singing with Ustad Ashiq Ali Khan of the Patiala gharana. In 1943 he began working in the Bombay film industry as a music director for Rangmahal Studios, and he provided music for two dozen films in Hindi and Punjabi. He performed with Mr. Shankar, who also worked for All India Radio, in the 1940's, and their partnership carried Hindustani classical music beyond India's borders.
He made a percussion album with the jazz drummer Buddy Rich, and he performed with Mr. Shankar at the Monterey Pop Festival in 1967 and at the first Woodstock festival in 1969.
Although he occasionally collaborated with Western musicians, he was revered for his classical performances. In recent years he had devoted much of his time to teaching. His three sons -- Mr. Hussain, Fazal Qureshi and Taufiq Qureshi -- are all tabla players, and he ran a music school, the Alla Rakha Institute of Music, in Bombay. He estimated that he had hundreds of students.
In addition to his wife and sons, he is survived by another daughter, Kurshid Aulia of London, and nine grandchildren.
---
And here's the next set of more groovy obits...
John Burton Tigrett, 85 - Mr. Glub-Glub Duck

George Crowley, 80 - Invented the Electric Blanket

Henry Pleasants, 89 - The Jazz-Loving Spy

---
Links
---
There are several obit enthusiast sites out there, and each has its own unique take on obituary journalism. Here are some recommended sites you may enjoy as well.
---