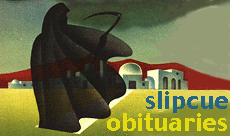 ---

John Tigrett, 85, Entrepreneur
By Nick Ravo, courtesy of The New York Times
---
May 27, 1999 - John Burton Tigrett, a Tennessee entrepreneur who made a fortune on things like the Glub-Glub drinking-duck novelty, befriended financiers like Sir James Goldsmith and musicians like Isaac Hayes, and advised politicians like Vice President Al Gore, died on May 18 in a hotel room in Washington. He was 85.

Tigrett, who lived in Memphis, Tenn., was also the father of Isaac Tigrett, the co-founder of two restaurant chains, the Hard Rock Cafe and the House of Blues. He was staying overnight in Washington after visiting his other son, Kerr Tigrett, at the University of Virginia in Charlottesville, VA.

Known in Memphis as the driving force behind the city's distinctively designed civic center, the Pyramid, John Burton Tigrett had jobs that ranged from bookseller to bus-company executive to investor in patents.

Patents proved to be his gold mine. In the early 1950s he paid $800 for the Glub-Glub duck, a toy that bobs and appears to drink water. He eventually sold 22 million Glub-Glubs.

Tigrett was an inventor in his own right, too. When his son John Jr., cut himself on a wooden playpen, Tigrett made a playpen of plastic mesh. No one knows how many have been sold since.

Tigrett was born on Sept. 29, 1913, in Jackson, Tenn. He lived briefly in an orphanage there after his father left his mother, until he was taken in by his uncle Isaac, a railroad baron. He attended the University of Tennessee at Knoxville, worked for a while as a freelance writer and newspaper reporter, and served in the Navy during World War II.

After the war, he entered the world of commerce and credited his uncle, according to an obituary published in The Commercial Appeal of Memphis, with teaching him the importance of being independent.

"I've never depended on anyone for a salary, and that independence has proven invaluable over the years," Tigrett said in an interview with the newspaper last year.

A son, Hewitt, was killed in 1962 at the age of 11 in a ditch collapse at the family's winter home in Arizona, and in 1968, John Jr. died in Mexico.

Tigrett divorced his wife, Frances, when he was 52; relatives say he gave her all his money, except for a $10,000 grubstake. He then moved to London, where he worked with Armand Hammer, the chairman of Occidental Petroleum, and Goldsmith, the corporate takeover artist.

He also worked as a European representative for Holiday Inn and the North Sea Oil Consortium, before moving back to Memphis in 1989. There he and other developers initiated the Pyramid project.

In his later years, Tigrett wrote a book, Fair & Square (Spiridon Press, Nashville, 1998), about his careers.

At his funeral on May 19 in Savannah, Tenn., a videotape was played of Vice President Gore, a longtime friend and a recipient of Tigrett's advice. Gore likened him to another toy tycoon, the fictional Willie Wonka. Gore also recalled how his mother used to take him to Tigrett's toy factory.

Besides his sons, Isaac of Los Angeles and Kerr of Memphis and Charlottesville, Tigrett is survived by his wife, Pat Kerr; a brother, Charles Clark of Jackson, Miss., and one grandchild.



---

George Crowley, 80, Developer Of the Modern Electric Blanket
By Ronert D. Hershey, Jr., courtesy of The New York Times
---
January 22, 2000 - George C. Crowley, an engineer and inventor whose work led to 80 patents, including one for the first thermostatically controlled electric blanket, died Jan. 15 in Pinehurst, N. C., after suffering from pneumonia. He was 80 years old.
After his graduation in 1942 from the University of Notre Dame, where he was a third-string quarterback, Mr. Crowley joined the Navy and was assigned to the General Electric Company, which was engaged in numerous wartime technical projects. It was Mr. Crowley's development work on electrically heated flying suits that would enable pilots to fly above anti-aircraft flak that led to his invention of the electric blanket, which was patented by the company.
Mr. Crowley's later work for G. E. and for the Northern Electric Company brought dozens more patents for other products as well as refinements for blankets. He continued to invent after retiring from Northern Electric in 1982 as executive vice president for research and engineering. When he died, he had a patent pending for a control that would automatically switch off an overheating blanket; he had hoped to provide the device to Japanese manufacturers.
By the time he was 6 years old, Mr. Crowley was exhibiting his flair for invention, wiring the stairs to his third-floor room to warn of approaching parents, according to David Scott, a son-in-law. By 12 he had rigged a dining room door to open so that his mother could easily pass through carrying armloads of dishes and had made it so the curtains would close when someone flipped on the lights. Sometimes he would induce family members to survey the kitchen "looking for things he could invent," Mr. Scott added.
For his work in developing a negative temperature coefficient electrical cable, a major improvement in blanket technology, G. E. presented him its Charles A. Coffin Award in 1949, the company's highest honor for an employee.
The citation spoke of his "outstanding ingenuity and technical judgment in the design and development of a control circuit which made possible considerable advances" in blanket quality.
Mr. Crowley, who was born in Keansburg, N. J., also turned his inventiveness to golf. In 1958, he and a partner, Robert J. Sertl, patented a device for painting balls that used a blower to suspend them in the air while they were sprayed and dried. Other inventions were a tennis-ball bouncer and a device to chase squirrels from bird-feeders, the latter abandoned "when he began to feel bad for the squirrels" receiving a one-volt shock, Mr. Scott said.
Nearly all of the patents belonged to his employers and he never reaped substantial financial benefits. When people would inquire, the genial Mr. Crowley would explain that "after all, these companies paid my salary," which he considered sufficient.
He also served as board chairman of St. Joseph of the Pines Hospital in Southern Pines, N.C.
Mr. Crowley is survived by his second wife, the former Barbara Talley, whom he married in 1982, and his four daughters: Ginger Scott, of Hobe Sound, Fla; Susan Brewster, of Key Biscayne, Fla.; Karen Klein, of Cary, N. C.; and Elizabeth Nielsen, of Avon Lake, Ohio. Also surviving are two stepdaughters, eight grandchildren and five great-grandchildren. His marriage to Virginia Kozlowicz ended in divorce.
Frequently called as an expert witness in lawsuits involving fires said to have been caused by faulty electric blankets -- the real cause was often cigarettes -- Mr. Crowley never doubted the blankets' safety and used them regularly himself. "He loved them," his wife said. "We have one on our king-size bed right now."
---

Henry Pleasants, 89, Spy Who Knew His Music
By Douglas Martin, courtesy of The New York Times

---
January 14, 2000- Henry Pleasants, a music critic and author who doubled as a top American spy in postwar Germany, died at a hospital in London on Jan. 4. He was 89 and lived in London.
A former colleague at the Central Intelligence Agency said Mr. Pleasants had served as the intelligence agency's station chief in Bonn in the 1950's. The Invisible Government, a book by David Wise and Thomas B. Ross published in 1964, said he had held the post "for many years."
In an interview yesterday, Mr. Wise said the statement had never been challenged.
Another book, The Old Boys, by Burton Hersh, published in 1992, also identified Mr. Pleasants as an American intelligence operative. Several journalists who worked in Germany said they knew him as the C.I.A. bureau chief. William Harlow, a C.I.A. spokesman, said the agency did not confirm whether individuals had served as station chiefs.
Mr. Pleasants was best known for his books about the voice, which he loved, and contemporary music, about which he became disillusioned in the early 1950's. An earlier version of his obituary, published on Wednesday, focused on his career as a music writer and briefly mentioned his spending four years in the United States Foreign Service, from 1950 to 1954; it did not take account of his C.I.A. activities.
His first book, The Agony of Modern Music (1955), caused considerable controversy with its attacks on all contemporary music except jazz.
"Serious music is a dead art," he began. "The vein which for 300 years offered a seemingly inexhaustible yield of beautiful music has run out. What we know as modern music is the noise made by deluded speculators picking through its slag pile."
The authors of The Invisible Government pointed out the oddness of the situation. They said Mr. Pleasants "probably had the distinction of being the only top U.S. spy to become the center of a literary storm."
C.I.A. employees in embassies are often listed in the State Department Biographic Register as "attaches." Mr. Pleasants was an "attache" with "S-1" ranking, meaning the highest category of Foreign Service officer.
Mr. Pleasants did his intelligence work during the cold war, when espionage and intrigue abounded in Germany. For some months, according to The Invisible Government, he lived with Reinhard Gehlen, a former Nazi general who was being considered as a top intelligence official for West Germany, to evaluate his suitability. The Gehlen Organization, which the former general led, became the forerunner of the postwar West German Federal Intelligence Service.
About the same time, Mr. Pleasants was also writing Death of a Music? and Serious Music and All That Jazz about contemporary music. His books about voice were The Great Singers: From the Dawn of Opera to Our Own Time, a 1966 survey that has become a standard reference work, The Great American Popular Singers and Opera in Crisis. His last book was The Great Tenor Tragedy: The Last Days of Adolphe Nourrit.
He was born in Wayne, Pa., and studied at the Philadelphia Music Academy and the Curtis Institute of Music. He began his writing career as a critic for The Philadelphia Evening Bulletin in 1930, when he was 19, He was the music editor from 1935 to 1942, when he joined the Army. After World War II, he was involved in the de-Nazification proceedings against several musicians who were prominently involved in the Third Reich.
It is not clear when Mr. Pleasants began his service with the C.I.A. Records show him joining the Foreign Service in 1950 and holding various positions in Munich, Bern and Bonn until his retirement in 1954, years in which he also seems to have been with the C.I.A. Mr. Wise said he remained active with the intelligence agency at least until the early 1960's.
From 1945 to 1955, Mr. Pleasants contributed articles about European music to The New York Times. He later became the London editor of Stereo Review and from 1967 to 1998 was a music critic for The International Herald Tribune.
He is survived by his wife, the harpsichordist Virginia Pleasants; two sisters, Constantia Bowditch of Peterborough, N.H., and Nancy Logue of Clarksville, Tenn.; and a brother, William, of Bethel, Del.
---
And here's the next set of more groovy obits...
Allen Funt, Creator of Candid Camera, 84

Peter Tripp, 73 - Popular 1950's Disc Jockey

Vivian Harris, "The Voice of the Apollo," Dies at 97

---
Links
---
There are several obit enthusiast sites out there, and each has its own unique take on obituary journalism. Here are some recommended sites you may enjoy as well.
---