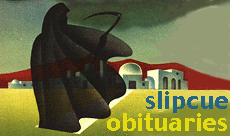 ---

Allen Funt, Creator of Candid Camera, Is Dead at 84
By Wolfgang Saxon, courtesy of The New York Times
---
September 7, 1999 - Allen Funt, the creator and original host of "Candid Camera," network television's kindhearted snare for the unwary, died on Sunday at his home in Pebble Beach, Calif. He was 84.
His family said the cause was complications from a serious stroke suffered in 1993. Funt retired that year from the show's management, but the series continues on CBS on Friday evenings with his son Peter as producer and host.
As creator, producer, director and editor of "Candid Camera," Allen Funt has been described as part humorist, psychologist and con artist who honed his act to a fine art over four decades. His idea was to catch unsuspecting people "in the act of being themselves," as he put it.
He launched the show's first version, "Candid Microphone," on the ABC Radio Network in 1947, using hidden microphones. The format, though embarrassing to many of his prey, proved highly popular. Funt considered himself a student of human nature rather than a practical joker.
"Candid Microphone" moved to television in 1948 and was renamed "Candid Camera" a year later. The show achieved top ratings in network runs and syndication. Funt remained active in its management until his stroke and retirement to Pebble Beach, where he had been raising Hereford cattle and quarter horses on his 1,100-acre Big Sur ranch since the late 1970's.
In a typical "Candid Camera" stunt, passers-by were startled by a hand reaching out of a sewer grating, angling for a hat just out of reach. In New York, many people just handed the hat to the hand and walked on.
For the victims of talking mailboxes and the like, the tip-off was the exhortation: "Smile! You're on 'Candid Camera,' " set to cheery music.
A native New Yorker, Funt graduated from high school at 15 and studied at the Pratt Institute in Brooklyn before earning a bachelor's degree in fine arts at Cornell University. He attended Columbia University and returned to Pratt for additional arts courses.
He found a job in the art department of an advertising agency. He then worked as a copywriter and, after moving to the radio department, became an idea man who dreamed up gimmicks for radio programs. In World War II he used his radio experience in the Army Signal Corps. He learned to handle a portable wire recorder, predecessor of today's tape recorder, and began to experiment with concealment techniques. "Candid Microphone" had its premier on ABC shortly after he left the Army.
On radio and television he disguised himself as a dentist, garage mechanic or whatever occupation suited his purpose. He then recorded the reaction of people to unusual, even weird situations.
The program was a hit from 1960 to 1966 on CBS. It was followed by "New Candid Camera," which ran for five years in the 1970's, as well as adult versions shown on cable television. Funt also produced specials of the genre for NBC and CBS. His son Peter joined him for the CBS specials in 1987.
Besides Peter, his survivors include four other children, Patricia, John, Juliet and William; and four grandchildren.
Funt donated his recordings and films to Cornell and established a fellowship at Syracuse University for postgraduate studies in radio and television. He established a Laughter Therapy Foundation to provide seriously ill patients with his videocassettes. He also taught psychology at Monterey Peninsula College for some time.
"When people are smiling they are most receptive to almost anything you want to teach them," he said. "I think that can be applied industrially, academically, technically and almost every other way."
---

Peter Tripp, 73, Popular 1950's Disc Jockey
By Nick Ravo, courtesy of The New York Times
---
February 13, 2000 - Peter Tripp, a popular disc jockey in New York in the late 1950's whose career peaked when he stayed awake for more than eight days as a stunt but later plunged when he was found guilty of accepting thousands of dollars in payola, died Jan. 31 in a hospital in Northridge, Calif. He was 73. The cause of death was a stroke, said Richard W. Fatherley of Kansas City, Kansas, a friend. Mr. Tripp's career was indelibly tarnished by the 1960 payola scandal, in which the better-known Alan Freed and several other disc jockeys and radio station employees were indicted on charges of accepting money from record companies in exchange for playing their records. Mr. Tripp attracted just as much national attention, though, for his sleepless promotional gimmick a year earlier. He spent 201 hours and 10 minutes awake, much of it sitting in a glass booth in Times Square, spinning records and bantering into his microphone three hours a day. When Mr. Tripp began to fall asleep, nurses shook him; doctors joked with him, played games with him and gave him tests to take. After a few days, he began to hallucinate, seeing cobwebs, mice, kittens; looking through drawers for money that wasn't there; insisting that a technician had dropped a hot electrode into his shoe. His last 66 hours awake were spent under the influence of drugs administered by the doctors and scientists observing him. Asked at the end of his stunt what he wanted the most, Mr. Tripp said, not surprisingly, that he wanted to sleep, which he then did for 13 hours and 13 minutes. Peter Tripp was born on June 11, 1926, in Port Chester, N.Y., and started his career in radio at WEXL in Royal Oak, Mich., in 1947. In 1953 he moved to KUDL in Kansas City, Mo., where he called himself the "Bald Kid in the Third Row," based on a remark one of his parents had made upon spotting him among the infants in the hospital after he was born. He later moved to WHB, also in Kansas City, and started the Top 40 format for the station; he rebilled himself the "Curly-Headed Kid in the Third Row." And in 1955, he got a program on WMGM in New York called "Your Hits of the Week." It was a golden time for rock 'n' roll disc jockeys, an era when figures like the Big Bopper often reached greater stardom than the musicians whose records they played. It was also a time of quirky publicity-grabbing, like record-playing marathons and Mr. Tripp's staying-awake stunt. In fact, just after he set what was called a world record for sleeplessness, several other disc jockeys immediately tried to best him; one of them, Dave Hunter, in Jacksonville, Fla., reportedly did less than a week later, not sleeping for 225 hours. But Mr. Tripp was indicted a few weeks after his stunt on a charge that he had accepted $36,050 in payola. He was found guilty of commercial bribery, fined $500 and given a six-month suspended sentence. Mr. Tripp left WMGM, all but penniless, his lawyer said, and bounced around the radio business as a journeyman disc jockey, taking spots at KYA in San Francisco, KGFJ in Los Angeles and WOHO in Toledo, Ohio. In 1967 Mr. Tripp left radio for good, moved back to Los Angeles and took a national sales training job with Slim Gym and founded DynaGym exercise products. He also freelanced as a motivational writer and speaker and worked as a stockbroker and in investment marketing. Later, he retired in Palm Springs, Calif. Mr. Tripp, who spent his last years in West Hills, Calif., was married and divorced four times. He is survived by two sons, Peter Jr., of West Hills and Jeffrey, of Levittown, N.Y.; two daughters, Terri Lanciault of Guilford, N.Y., and Candi Tripp of Holtsville, N.Y.; seven grandchildren; and three great-grandchildren.

---

Vivian Harris, Comedian, Chorus Girl and Longtime 'Voice of the Apollo,' Dies at 97
By Douglas Martin, courtesy of The New York Times

---
March 26, 2000 - Vivian Harris, a comedian and chorus girl and the performer with the most recorded appearances -- 10,000 -- at the Apollo Theater in Harlem, died Feb. 18 in Englewood, N.J. She was 97.
Ms. Harris, who died at the Nursing and Retirement Home of the Actors Fund of America, was one of the women hired by the manager of the Cotton Club for a new chorus line when Duke Ellington came to play for the white audience there. She was one of the first ever to dance the Charleston, in the 1923 Broadway show Runnin' Wild. She performed with the top black comics Pigmeat Markham, Spider Bruce and Ralph Cooper during the Depression years, when comedy kept the Apollo afloat.
Leonard Reed, a singer and dancer at the Apollo in 1935 and theater manager from 1950 to 1960, remembers her as "one of the sweetest girls I ever met in my life." Indeed, the two were sweethearts from 1927 until 1929. Until the Apollo started using masters of ceremony in the mid-1950's, he said, it was her voice, clear and precise, that came from behind the curtain to announce the night's big attraction.
"She would say, 'The Apollo Theater takes great pleasure in presenting Duke Ellington' or Cab Calloway, or whoever," he said.
William Miles, a filmmaker who made the 1981 documentary "I Remember Harlem," said Ms. Harris was known as the Voice of the Apollo. In addition to her announcements, he said, she often sang "I May Be Wrong, but I Think You're Wonderful."
Ms. Harris was born on Dec. 23, 1902, in Harlem. She was the second of five daughters; the others were Lottie, Margie, Lorraine and Edna Mae, who became a star of the black cinema. Her father, Sam, gained some fame as a boxer and then became a customs inspector. Her mother, Mary, worked as a maid for the Gay 90's pin-up Lillian Russell, among others.
As blacks gradually moved uptown, the Harrises were among the first black families to migrate to Harlem. They wanted to be near the new home of their church. Their brownstone on 132nd Street was also near the Lafayette Theater, where stars like Ethel Waters, Maud Russell and Butterbeans and Susie would perform.
Her sister Lottie was something of a groupie; she would invite the performers to the house for dinner and often to stay for the night. Mr. Harris said, "I might as well open a rooming house," and did.
This resulted in the stars' practicing routines in the house's big kitchen. They worked with the girls on their singing and dancing skills and encouraged them to pursue show business careers. All but Margie did.
After graduating from Julia Richmond High School, Vivian joined "Shuffle Along," the Broadway production put together in 1921 by the ragtime pianist Eubie Blake and the singer and lyricist Noble Sissle. The show ushered in a series of successful black musicals on Broadway.
Ms. Harris went on to be a chorus girl in "Runnin' Wild," with music by James P. Johnson and lyrics by Cecil Mack, which added a new dance, the Charleston, to the national repertory. Mae Barnes introduced the dance in the first act, but Ms. Harris's spirited third-act version also drew enthusiastic attention.
An unsigned review in The New York Times of Oct. 31, 1923, said that in addition to its funny comedy, the show "excels in eccentric dancing -- some of the most exciting steps of the season (though steps is not always the right word, for knees are used more often than ankles) are now on view at the Colonial."
Ms. Harris performed in other productions on what came to be known as Black Broadway. She traveled to Paris, London and other European cities with Lew Leslie's Blackbirds, a theatrical revue. Working with Tim Moore, who became famous as Kingfish in the Amos 'n' Andytelevision series, she performed the burial scene from the play Porgy, the precursor to the same scene in Gershwin's opera Porgy and Bess.
When Duke Ellington started at the Cotton Club in 1927, the manager hired a new chorus line, which included Ms. Harris. "They had nothing but light girls, they didn't have any real dark girls there at the time," Ms. Harris said in the Harlem documentary. "Only the two girls at the ends of the line were dark." She was considered light.
The women wore big, feathery costumes, and Ms. Harris's exotic tap dance caught the eye of one of Ellington's trumpet players, Louis Metcalf. The two were married, with cases of Champagne to celebrate, despite Prohibition. Ms. Harris said the gangsters who controlled the Cotton Club were the benefactors. (In 1935 Frank Schiffman, the manager of the Lafayette Theater, bought a burlesque house on 125th Street that Mayor Fiorello H. La Guardia had ordered closed. It became the Apollo.)
Ms. Harris started there in 1935 as the voice behind the curtain, and over the years performed with almost all the popular black comedy acts. She played in the first rendition of Pigmeat Markham's "Here comes the judge" skit, immortalized for a later generation by Flip Wilson.
In Dusty Fletcher's "Open the door, Richard" skit, another classic of the black comedic stage, she played the woman in the window Dusty vainly tried to reach.
When Mr. Moore went out to California to play Kingfish on Amos 'n' Andy, he recommended Ms. Harris to play Kingfish's wife, Sapphire. She flunked the screen test.
"I came out looking too white," Ms. Harris said. "I was rejected and it broke my heart."
But she stayed at the Apollo until 1970, working as cashier and in the wardrobe department when she was not onstage. Undoubtedly, some of her 10,000 appearances involved exchanging tickets for money in the box office.
Her sister Edna Mae, who left home to star in films, including The Green Pastures in 1936 and The Notorious Elinor Lee in 1940, always lamented that her sister did not aim higher.
"She could have had a career like Ethel Waters or Alberta Hunter," Edna Mae said in the 1980's. "I still don't know why she stayed."
Vivian's marriage was brief, and she never remarried. There are no immediate survivors. But when she visited Harlem, as she did almost every day until recent years, everybody greeted her.
Mr. Reed, Ms. Harris's long-ago boyfriend, was known for his theme song, "It's Over Because We're Through." But he says he cannot remember why he and Ms. Harris broke up.
"There wasn't a hate bone in Vivian's body," he said.
---
And here's the next set of more groovy obits...
Israel Myers - Created The London Fog Coat

Mel Torme - The "Golden Fog"

Donald Townsend, The T-Bone King, Dies at 91

---
Links
---
There are several obit enthusiast sites out there, and each has its own unique take on obituary journalism. Here are some recommended sites you may enjoy as well.
---