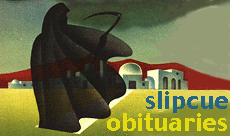 ---

Israel Myers Is Dead at 93; Originated London Fog Coat
By Saul Hansell, courtesy of The New York Times
---
December 31, 1999 - Israel Myers, the originator of the London Fog raincoat, died on Sunday at the North Oaks retirement community in Pikesville, Md. He was 93.
After making raincoats for the Army in World War II, Mr. Myers's Londontown Manufacturing Company was the first to popularize the military trench coat for civilian wear. The design and pioneering use of polyester blends helped Londontown become the dominant maker of men's coats in the United States in the 1960's and 70's.
Mr. Myers, the son of a tailor, was born in Lynchburg, Va., but moved as a boy to Baltimore. He became a statewide champion in shorthand while attending Baltimore City College. Just before graduating at 17, Mr. Myers was hired as a stenographer with the Makover, Roten Company, a maker of naval officers clothing.
Mr. Myers worked for that company, with increasingly more responsible jobs, while earning a law degree at the University of Maryland at night. By 1927, the company changed its name to Londontown Clothes and began to focus on expensive men's suits and coats.
The company collapsed during the Depression, and Mr. Myers obtained the rights to the Londontown name by agreeing to help the creditors liquidate its assets.
Mr. Myers started his own men's clothing company under the name Londontown Manufacturing. The company's big break came during the war, when the Army ordered 10,000 raincoats. After the war, Londontown found a receptive market for its trench coats at leading retailers like Sears, Roebuck & Company and the J. C. Penney Company.
In 1951, Mr. Myers started experimenting with a fabric that was 50 percent cotton and 50 percent Dacron polyester, a blend that was both lightweight and waterproof. After working with DuPont to perfect the fabric so that it could be used in automated manufacturing equipment, the company introduced the London Fog Maincoat in 1954. It quickly became the company's signature product.
The $29.95 coat, introduced by Saks Fifth Avenue with an ad in Look magazine featuring a model in front of a foggy background, was an immediate hit. Rather than the double-breasted and belted trench coat, the new model was a more streamlined single-breasted design called a balmacaan. Mr. Myers called it a maincoat because he intended it to be worn year round in all weather.
Mr. Myers's experiments with polyester allowed the company to introduce other innovations, including a wash-and-wear coat and a zip-out lining.
Londontown soon introduced a version of the maincoat for women, which became popular in the late 1950's and early 60's as women's fashion emulated men's clothing. Later in the 1960's, the company began to expand into other styles and colors and eventually began to make a range of outerwear from golfing jackets to heavy car coats.
In 1969, Londontown became the first clothing manufacturer to advertise directly on television rather than relying on retailers for promotion. Its atmospheric advertisements, filmed in London, featured what would become its long-running slogan: "London Fog lets you laugh at the weather."
By the late 70's, the company dominated the men's raincoat business, selling six of every eight men's raincoats bought in the United States. Indeed, its position was so dominant that it was accused by the Federal Trade Commission of fixing prices, a case it settled without acknowledging wrongdoing.
In 1968, Mr. Myers's son, Jonathan, of Owings Mills, Md., became the company's president and was promoted to chief executive in 1973. Mr. Myers became the chairman emeritus, and he continued to go to his office almost every day until his health deteriorated in 1990.
In 1976, the company was bought by Interco, a conglomerate based in St. Louis that owned other brands like Florsheim Shoes. But Jonathan Myers and his brother-in-law, Herschel Langenthal, continued to run the Londontown division for several more years.
Since then, Londontown has become a pawn in a series of Wall Street deals. In 1988, Interco fought off a hostile takeover bid through a leveraged buyout that ultimately forced it into Chapter 11 bankruptcy protection in 1991. The company, renamed London Fog Inc., passed through the hands of several investment groups. Along the way, it opened a chain of 140 stores, but that strategy offended its traditional department store outlets. In September, London Fog itself filed for bankruptcy protection.
In addition to his son, he is survived by a daughter, Judith Langenthal, of Pikesville, Md.; a brother, Dr. Philip Myers, of Annapolis, Md.; and six grandchildren. Mr. Myers's wife, Mollie, died in 1968.
---

Mel Torme, Velvet Voice of Pop and Jazz, Dies at 73
By Stephen Holden, courtesy of The New York Times
---
June 6, 1999 - Mel Torme, the fluent pop-jazz singer who earned the nickname the Velvet Fog for his smooth, soft vocal timbre, died yesterday of complications from a stroke he suffered in 1996. He was 73 and lived in Beverly Hills, Calif. Mr. Torme was rushed early yesterday from his home to the University of California at Los Angeles Medical Center, said his publicist, Rob Wilcox.
A supreme vocal technician whose style encompassed everything from intimate pop crooning to jet-propelled scat improvisations, Mr. Torme was rivaled in virtuosity only by Ella Fitzgerald, who moved between the worlds of pop and jazz with a similar ease. An innate classicist who approached popular songs with an analytic sense of balance and proportion, Mr. Torme infused everything he sang with a geniality that seemed ingrained in a voice that was incapable of making an unpleasant sound.
Mr. Torme was also a prolific songwriter, drummer, pianist, musical arranger, actor and author. His most famous composition "The Christmas Song" (also known as "Chestnuts Roasting on an Open Fire"), written with the lyricist Robert Wells, became one of the most beloved of seasonal standards after it was recorded by Nat (King) Cole in 1946. Mr. Torme liked to recall that the song was written in just 40 minutes on a sweltering July afternoon in Los Angeles and that it had subsequently been recorded in 1,734 versions.
The singer's several books included "The Other Side of the Rainbow" (1970), an account of his experiences working as the musical adviser to Judy Garland on her television shows in the 1960's, a novel, "Wynner" (1978), and an autobiography, "It Wasn't All Velvet," published in1988. The Garland book, with its portrait of the troubled singer, won critical praise but earned the wrath of her family, who unsuccessfully sued Mr. Torme.
But it was as a singer that Mr. Torme made his deepest mark. The critic Will Friedwald, in his book "Jazz Singing," cited Mr. Torme as a pioneer of the "cool jazz" approach, spun off from the pop crooning of the day.
"Torme works with the most beautiful voice a man is allowed to have, and he combines it with a flawless sense of pitch," Mr. Friedwald wrote. "As an improviser he shames all but two or three other scat singers and quite a few horn players as well."
His standards included "Blue Moon," "It Might as Well Be Spring," "Oh, You Beautiful Doll" and "Mountain Greenery."
Melvin Howard Torme was born on the South Side of Chicago on Sept. 13, 1925, to a working-class Jewish family. His parents were immigrants whose name had been changed from Torma to Torme by an immigration agent. He was a musical prodigy who sang professionally at age 4 with the Coon-Sanders Orchestra, singing "You're Driving Me Crazy," at the Blackhawk restaurant in Chicago for $15 a session, and he was also a busy child actor on radio serials, appearing from 1933 to 1941 on such network programs as "The Romance of Helen Trent" and "Jack Armstrong, the All-American Boy."
He started writing songs at 13 and was only 16 when Harry James scored a hit with his song "Lament to Love." While still a teen-ager, he toured as a singer, arranger and drummer in a band led by Chico Marx of the Marx Brothers.
In 1943, he made his movie debut in the musical "Higher and Higher," playing a supporting role to Frank Sinatra, who was also making his film debut. The same year he formed the vocal group Mel Torme and His Mel-Tones, a quintet that sang in a style modeled after Frank Sinatra and the Pied Pipers. After his appearance in the 1947 musical "Good News" made Mr. Torme a bobby-soxer idol, the Mel-Tones slipped increasingly into the background.
He was only 21 when he appeared as a soloist at the Copacabana in New York, and Fred Robbins, a local disk jockey, gave him the nickname Velvet Fog, a sobriquet he detested. Mr. Torme recorded for Decca in 1945, for Musicraft (1946-48), singing with the Artie Shaw Orchestra, and in 1949 moved to Capitol, where his first recording for the label, "Careless Hands," became his only No. 1 hit. It was followed by a two-sided hit, "Again" and "Blue Moon," which became one of his best-loved signature songs. The same year, his composition "California Suite," a jazzier answer to Gordon Jenkins's pop oratorio "Manhattan Tower," became the first 12-inch LP put out by the label.
Mr. Torme was 30 when he met Red Clyde, the jazz producer who founded Bethlehem Records, and decided to switch gears and move toward jazz. From 1955 to 1957, he recorded seven albums for the label, including "Mel Torme With the Marty Paich Dektette," a pop jazz classic featuring a 10-member ensemble (arranged by Mr. Paich) that combined the power of a big band with the freedom of a small ensemble.
"I wanted to embed in the minds of the public at large, particularly jazz fans, that this syrupy, creamy bobby-sox sensation was taking the musical bull by the horns and singing the kind of music he wanted to sing," Mr. Torme later recalled.
But artistic integrity did not breed commercial success.
"I can't deny that I would have been pleased to have a best-seller," Mr. Torme said, "but if you're constantly working to good rooms and to good crowds, records are only frosting on the cake. Yet my managers kept bugging me for the big hit, and to satisfy them, when rock erupted in the mid-1960's, I recorded some of the worst dreck you can imagine -- to no avail."
Soon Mr. Torme found himself eking out a living playing out-of-the-way clubs. As rock-and-roll solidified its domination of the airwaves, he briefly considered retiring from music and becoming an airline pilot.
The next two decades were a frustrating period of dues-paying in which Mr. Torme moved from record company to record company and often found himself forced to record the pop hits of the day with tinny arrangements. He managed to score a minor hit, with a blues song, "Comin' Home, Baby," in 1962.
His reputation as a jazz singer continued to grow, based on his live performances. In 1976 he won an Edison Award (the Dutch equivalent of the Grammy) for best male singer, and a Downbeat award for best male jazz singer.
The ground swell of recognition accelerated after a triumphant 1977 Carnegie Hall concert with George Shearing and Gerry Mulligan, which Mr. Torme viewed as a turning point in his career. He later recorded five albums with Mr. Shearing, whose cool, romantic pianism perfectly complimented Mr. Torme's serene vocal style.
"It is impossible to imagine a more compatible musical partner," Mr. Shearing said after hearing of Mr. Torme's death. "I humbly put forth that Mel and I had the best musical marriage in many a year. We literally breathed together during our countless performances. As Mel put it, we were two bodies of one musical mind."
In 1982, Mr. Torme finally found a stable recording base in Concord Jazz Records, for whom he made a succession of albums that established him as an articulate custodian of a broad pop-jazz-swing tradition that encompassed Bing Crosby, Fred Astaire, Duke Ellington, Benny Goodman and the Gershwins.
Mr. Torme's career also got a lift in the 1980's through the television series Night Court, in which Harry Anderson's character, Judge Harry Stone, was an unabashed fan.
Mr. Torme was married four times. His first three marriages ended in divorce. He is survived by his wife, Ali, and five children, Steve, Melissa, Tracy, Daisy and James Torme, all of Los Angeles, and two stepchildren, Carrie Torme and Kurt Goldsmith.
Regular appearances at the JVC Jazz Festival and annual nightclub engagements at Michael's Pub in Manhattan solidified Mr. Torme's position as a musician who melded the achievements of the past into a sweeping but personalized vision of American popular music in its golden age as a vernacular kind of classical music.
For well over a decade, Mr. Torme's September appearances at Michael's Pub, on the Upper East Side, unofficially opened New York's fall cabaret season. A typical Torme performance there might have been a salute to a pop music giant like Bing Crosby, Fred Astaire or Benny Goodman, in which the singer distilled his rich personal vision of a career in less than an hour. These shows featured intricate medleys that showcased Mr. Torme's phenomenal flexibility as both a singer and an arranger with an enthusiasm for his subject that matched his encyclopedic knowledge. Such a medley might string fragments from as many as two dozen songs into a virtuosic vocal (and sometimes also drum) display that would change in mood every few seconds as the singer glided from the most ethereal pop crooning into the sort of machine-gun driven scat improvisations that only Ella Fitzgerald, in her prime, could match in precision and rhythmic intensity.
These engagements compressed volumes worth of pop-jazz history and lore into an explosion of musical energy that was as lucid as it was comprehensive.
"I do not believe there's such a thing as a jazz singer," Mr. Torme declared late in his career. "Every pop singer is influenced a little by jazz, because it's our native folk art," he said. "But labeling someone a jazz, rather than a pop singer, is only a matter of degree of influence."
---

Donald Townsend, Who Founded Tad's, Home of the Low-Priced T-Bone, Dies at 91
By Douglas Martin, courtesy of The New York Times

---
April 2, 2000 - Donald Townsend, who founded the Tad's Steakhouse chain in 1957 on the theory that a T-bone, baked potato, garlic bread and a tossed salad could be profitably sold for $1.09, died March 25 in a Reno hospital. He was 91.
Little matter that the meat might be cardboard thin, with clumps of fat and sinew. For a tenth the price of a fancy steak dinner, a working man could watch his hunk of steer searing under leaping, hissing flames in Tad's front window -- "a steak show" in Mr. Townsend's memorable phrase. He could then savor it beneath red velvet wallpaper and fake Tiffany lamps, dousing it with as much steak sauce as seemed prudent. At Tad's peak, the chain had 28 restaurants, eight in New York.
The concept had legs. Adjusted for inflation, the $1.09 price in 1957 would be $6.50 now, just 49 cents below today's price. The Riese Organization, which bought Tad's in 1988, will open a new Tad's in the new Times Square, its fifth in New York. If all goes well, Riese hopes to expand nationally once again.
The appeal of Mr. Townsend's idea was evident at lunchtime the other day at the Tad's on 42nd Street between Broadway and the Avenue of the Americas. One man said he rode the subway at least once a week from his home in the Bronx to eat in the restaurant. A family from St. Louis said they had dropped in because they like the Tad's in their hometown, one of the few still open outside of New York. Kathryn Calise, who works in a nearby office, said: "The food is good. The price is good. It's comfortable."
Mr. Townsend's office was once directly over this restaurant. He had two secretaries, one to handle business and the other to schedule polo and the other elements of his brisk social life.
Mr. Townsend was born in North Dakota in 1908. His father, a rancher, died when he was 7. As the oldest of five children, he went to work training trick ponies and helping haul coal. In his teens, he went to Washington State, where he worked as a logger until an injury to his little finger ended his logging career.
He scrambled from job to job, selling diet pills in Australia and opening some of Northern California's first drive-in restaurants, among other things. For a brief time in his 20's he worked for Borden's. One day, his boss, irritated at his off-the-job business activities, demanded, "Are you working for Borden's, or are you working for Don Townsend?"
"I guess I'm working for Don Townsend," came the reply. He never worked for anybody else again.
In 1957, Mr. Townsend joined with his brother Neal and a friend, Alan Tadeus Kay, to open the first Tad's, its name taken from Mr. Kay's middle name. Mr. Kay died soon afterward.
Mr. Townsend told the writer Sandra Hochman, who was his companion for many years, that Tad's was based on several foundations besides the "steak show." One was marinating the meat in papaya juice to tenderize inferior cuts of meat. Another was inventing tiles that looked like charcoal over which to cook the meat; it was cleaner than charcoal and allowed more even levels of heat.
Tad's hired no advertising or public relations consultants, relying instead on word-of-mouth recommendations. There were no waiters, further cutting costs. Customers carried their own trays. Fortune magazine called Mr. Townsend "the grandfather of the fast foods business," and Ray Kroc, who built McDonald's into a powerhouse, conferred with Mr. Townsend. One piece of advice Mr. Kroc got: "You make more money selling to the Indians and not to the chiefs."
Mr. Townsend and his brother later became involved in more business ventures, including selling blue-green algae as a nutritional supplement and marketing geothermal energy. In the late 1940's, he developed an entire town, Cameo Acres, near San Francisco. He liked to say that the centerpiece of his business strategy was, "Get the money up front."
Mr. Townsend lived in New York for 35 years; he moved to Reno to be nearer his family after selling Tad's. With his immaculate dress, shock of white hair and twinkling blue eyes, he was active in fund-raising for the arts and politics. His own dining preferences tended more toward Le Cirque than Tad's.
His sense of humor could be wicked. He once had a denim jacket made with a heart on the back, his phone number smack in the middle. Ms. Hochman, who lived with the millionaire at the time, remembered being less than charmed.
Mr. Townsend's first wife, Lois, died many years ago; their sons, Lance, of Hawaii, and Gordon, of Northern California, and their daughter, Donna Searby of Reno, survive him. His second wife, Leila Townsend, from whom he was divorced, returned to be with him in his final years, although they did not remarry.
At the 42nd Street Tad's, the man who regularly visits from the Bronx expressed pleasure that Tad's had survived the automats and other New York City institutions like Orange Juliuses, which once seemed to stand on every other corner. He saw no reason to give his name, but said he was 59 and worked as a supervisor for the Transit Authority.
"This reminds me of when I was a youngster," he said. "Tad's Steakhouse is a monument."
---
And here's the next set of more groovy obits...
The World's First Penicillin Patient

Sir Christopher Cockerell, Creator of the Hovercraft

A Mysterious Death In Rock'n'Roll

---
Links
---
There are several obit enthusiast sites out there, and each has its own unique take on obituary journalism. Here are some recommended sites you may enjoy as well.
---