! MP3 00/00/00 > <! update 00/00/00 > <! outside 00/00/00 > <! pix 00/00/00 >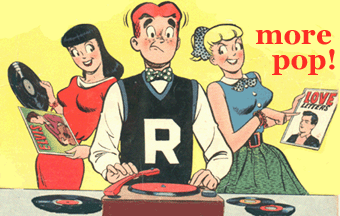 ---
ROCK REVIEWS: 2001
Reviewed in 2001: Arling-Cameron-Swarte, Ashby, Ashley Stove, The Bristols, Call & Response, Cat Five, Chamber Strings, The Donnas, Graeme Downes, Mark Eitzel, The Four Corners, The Fruit Bats, Holly Golightly, The Gossip, The Greenhornes, J.C., Freedy Johnston, The Lucksmiths, Stephen Malkmus, Money Mark, Paul McCartney, Moviola, Die Moulinettes, The Orange Peels, The Pearlfishers, Sam Phillips, Portastatic, REM, Michael Shelley, The Shins, Solex, Stereolab, Superchunk, Kevin Tihista's Red Terror...
---
... Did You Miss These Ones?
---

Arling-Cameron-Swarte "Sound Shopping" (Basta, 2001)
Cute, uncomplicated electro pop from this bouyant Dutch outfit... This is same the kind of embarrassingly enjoyable modern pop that brought folks like Looper and the Cardigans to our attention, informed by but not bound by the conventions of electronic dance music... A kinder, gentler drum'n'bass, if you will. Reknowned cartoonist Joost Swarte -- whose drawings grace the pages of august journals such as The New Yorker, Raw, and Drawn & Quarterly -- is both album artist and co-writer; a couple of the gals from Solex also pitch in on vocals. This isn't the most life-altering, spiritually transformative music you'll ever hear, but it is light-hearted and adorable, in a bright-eyed, Northern European Pizzicato Five kinda way... If you swing in that direction, then this is certainly worth checking out.
Ashby "Power Ballads" (Marina, 2001)


Pretty, dreamy, bouncy pop with a slight synthy backbeat, and technically iffy but emotionally appealing female vocals. Brings to mind old St. Etienne, Air, and the like. This is basically a two person band, with a spot of help from a few pals here and there. Nice subtle retro-'60s vibe.
Ashley Stove "All Summer Long" (Merge, 2001)


Perky, youthful, bouncy, hook-laden pop, with equal debts to Beatles-y melodicism and Merge's brand of unruly and irregular indie-ness. Pretty fun stuff!

The Bristols "In Tune With..." (Damaged Goods, 2001)


Fabulous! For all you folks who've suspected that April March may have her deficiencies, or who despair of ever seeing a full-length release by Sandra Barry & The Boys, comes this catchy little collection featuring plenty of zippy garage-pop retro, including mod-beat covers of Louis Jordan (!) and Joe Meek, as well as the inevitable (but enjoyable) French ye-ye tune. Vocalist Fabienne Delsol makes the most of her soft-pedalled snarl, and the curiously diffuse production flattens the guitars enough to prevent them from sounding shrill, but also keeps your attention. This disc is a lot of fun... highly recommended! (Plus... isn't their name one of those Cockney rhyming slang things...? Say no more, mate... say no more! )
Call & Response "Call And Response" (Kindercore/Emperor Norton, 2001)


These poppy darlings of the SF Bay Area are the kind of band that's unafraid to wear their influences on their sleeve -- a heavy debt to the blase, deadpan vocals of Stereolab is the most apparent motif, mixed with a bit of the mix'n'match eclecticism of Solex, Stereo Total and their ilk... There's also a blank-eyed, cheerful melodicism, worthy of the Osmonds... (That's actually not the snide aside you might first imagine, considering the unrepentant '70s vibe that runs throughout this album, occasionally bubbling over into straight-up disco rhythms, although (naturally) in the proper indie recontextualization...) As with Belle & Sebastian, grumpy, critically-inclined types could find plenty to grouse about with this band; folks who just want to bask in the good vibes may find this quite pleasant, and thankfully free of gratuitous irony. Nice stuff; worth checking out.
Cat Five "Katphonics" (Hip Hop Slam, 2001)
Melodic scratch DJ-ing matched up with trip-hoppy audio collage, mixing found sound from old B-movies and the like. This SF Bay Area outfit has a nice playful style, and the disc is pretty fun from start to finish. If you have a cat, the opening track, "Cat Breaks" will definitely trip him or her out. Meeowww.

Chamber Strings "Month Of Sundays" (Bobsled, 2001)
One of those lovely melodic, Big Star-derived, soft-edged power-pop albums that makes you wonder "just how many lovely melodic, Big Star-derived, soft-edged power-pop albums can there be in this world??" Never too many, as it turns out. Singer Kevin Junior has the classic fragility of Chris Bell, or maybe even Nikki Sudden, that just sort of tugs at you a bit, as well as a knack for writing catchy, repetitive choruses that bubble to the top of the mix, and ingratiate themselves in your brain for days. Heartfelt, earnest and easy on the ears... a beautiful record which grows on you with repeated listenings.
The Donnas "The Donnas Turn 21" (Lookout!, 2001)
Thirteen punk-metal pop songs, all with the same theme: we're young, we're hot, and you know you want us. The album title says it all. I guess they get extra points for an unexpected level of self-awareness, and a willingness to take pot shots at their horny dirty old man, skeezy-geezer fan base, though after a while the oh-so-ironic snarly-chick sexual posturing gets kinda old. Bouyed by crunchy, classic '70s-styled pop-metallic power chords, these songs are indeed a lot of fun, and surely would make Angus Young feel proud. But piled one on top of the other, they feel about as disposable as a Rachel Sweet tribute album.

Graeme Downes "Hammers and Anvils" (Matador, 2001)


It's been simply ages since this dark-toned New Zealand songsmith has put out an album. The leader of NZ's Verlaines can still pull a jangle or two out of his pocket, but this is mostly very dense, intense and rather pessimistic material, highly individual and pleasantly grating rock balladry. Rough-hewn, with an inner core of great depth and beauty... Fans of Mark Eitzel (or old Verlaines albums!) should check this out.

Mark Eitzel "The Invisible Man" (Matador, 2001)
Although I'm sure they'd be loathe to admit it, there isn't really that much separating the stoned-out spirituality of the Summer of Love San Fran hippies and their ecstacy-laden club kid counterparts... Mark Eitzel, who at this point is sort of an elder statesman of the Bay Area indie scene, has gone electronic, seemingly just to prove this very point. Some tracks on The Invisible Man -- particularly "Shine" and "Can You See" -- are about as touchy-feelie-mystical and spongey-headed as anything Dino Valenti and Quicksilver ever came up with, even if they are pitched to us as post-everything irony. Still, this is an adventurous album for an avatar of reconstructed acousto-rock to put his weight behind, full of dripping, Tindersticks-styled keyboards and glum declamations galore. On "Bitterness," Eitzel approximates the smoky, ambient novo bossa nova of Arto Lindsay; other tracks share the same crafted, polished synthy sound. On a few songs, the wordplay is just too damn easy, as on the paradoxical turnarounds of "Without You", although the seedy mutterings of "Stevie I Always Knew" (an old AMC tune) and the opening lines of "Anything" carry some real wallop. The SF-specificity of this album is interesting, as Eitzel takes us on a grimy dusk-to-dawn tour of The City's darker clubs and sweatier cruise strips... I was never all that into American Music Club, but this is an album worth checking out.

The Four Corners "Say You're A Scream" (Kindercore, 2001)


Since the Pandoras fizzled out in the late '80s, there's never quite been an adequate replacement in the Farfisa-organ-lovin' garage-chick department. Well, folks, get ready for the Four Corners. Hailing from Athens, Georgia, this mixed-gender foursome churns out an impressive blend of slinky, retro-rocking psuedo-oldies. It's a pity you can't understand a word they're singing -- the vocals are mixed way too low, probably on purpose to enhance the aura of coolth -- but the songs are still uniformly enjoyable, with catchy riffs galore. Plus, the CD version has each song in both stereo and mono mixes... how groovy is that? Fun stuff -- recommended!

The Fruit Bats "Echolocation" (Perishable, 2001)


Say what you will about those folks on the Chicago scene, they sure do make some purty music. This languid, country-shaded indie outing has some of the most intriguing soundscapes of recent vintage, calling to mind a mix of Kingsbury Manx and Richard Buckner. Yeah, they play mandolin and pedal steel, but they don't make a big deal of it... mostly this is all about the odd, elliptical songs, the hallmark of all good contemporary indiepop obscurantists. At any rate, this record sounds great, and is very pleasant to space out on... The only clunker is the song, "Dragon Eggs," which has lots of intrusive, gratuitous cussing. Otherwise, this disc hits a bullseye.

Holly Golightly "Singles Roundup" (Damaged Goods, 2001)


This is an album that's been a long time coming, and which will make Holly's fans old and new happy as clams... At last, a compilation of her best 7"-only releases from over the years, gathered up from several uber-cool indie labels. This includes alternate versions of several songs that have appeared on LP, as well as some real obscuro tracks. It's a little light on the cover tunes, but since Holly writes such great original material, we'll forgive them this omission... Get it while you can; this is one of her best records to date!

The Gossip "That's Not What I Heard" (Kill Rocks Stars, 2001)


If the Go-Gos have never gotten their shit together and remained a scruffy LA punk band, then later got into raunchy Jon Spencer-type electric blues... well, you know where I'm headed with this, right? ... The long and short of it is that The Gossip -- yet another idiosyncratic Olympia, Washington band -- have got the honest-to-goodness grrrlie goods. Any band with "SHAKE DAT FAT ASS, BABY!" as their motto have to have something on the ball. Sledgehammer drums, unapologetically frenetic vocals and pretty cool tunes all combine to make this one of those loud, ugly albums that you just can't help liking a whole lot.

The Greenhornes "The Greenhornes" (Telstar, 2001)


This Cincinnati garage group has got the goods alright - nice, forceful material with passionate delivery and an ear for catchy melody. The band math formula says: Them+ Sonics+ The Pagans = check this out! Plus, I hear they're gr-r-r-reat live.
J.C. "Deathbed Recollections" (Kiss Chase, 2001)
Mopey, mordant reflections of love gone wrong... There's a strong whiff of Nick Cave here, with a piano-based sound that also brings to mind Tindersticks, Stephin Merritt, Epic Soundtracks, or other lofty croony-pop types. Like those pop forerunners, this J.C. fella is not exactly the world's strongest vocalist, although he doesn't go to the same lengths that others do to hide the it through track layering and other such production tricks... There's a certain bravery to that type of DIY, although there's also something to be said for polishing things up a bit when it makes sense to do so. Some songs are fairly interesting, others strain too hard to be clever and MagFields-y. ( E-mail: kisschase01@hotmail.com )

Freedy Johnston "Right Between The Promises" (Elektra, 2001)


A nice return to form, in a way. Folks bailed out on Freedy in droves when he went from radio-friendly, super-hooky tunesmithing to dark, dense, downer-pop. Now he's back to catchy, captivating melodies, with his patented youthful vocals. I can't understand what any of the songs are about, but it doesn't seem to matter. I just like listening to the record. You might, too!

The Lucksmiths "Why That Doesn't Surprise Me" (Clover/Drive-In, 2001)


A super-sweet treat for all those folks pining for the morose heyday of the Sarah Records twee scene. Australia's Lucksmiths mope about and write precious, semi-perfect songs that are too clever by about half, but have a way of lingering about in your brain... Not entirely my bag but still, one can't deny they have a way with crafting a lasting melody... "How To Tie A Tie" is quite an appealing character sketch, particularly for me, since I still don't know. Nice stuff.
Stephen Malkmus "Stephen Malkmus" (Matador, 2001)
Although the opening track, "Black Book," is an irritating bit of Neil Young-ish blare, once you get past it, the rest of this album is quite lovely. There's some quirky stuff, and a bit of novelty, but it's on the quiet numbers that this solo Pavement dude hits his runs... They may not all be homers, but I'll take a single hit or two anyday. Having exhausted my entire supply of sports metaphors, suffice it to say that this is a nice little album -- nothing grand or far-reaching, just an understated creative piece that works on its own terms and should keep the fans happy. It's cool.
Money Mark "Change Is Coming" (Kindercore/Emperor Norton, 2001)


The Beastie Boys' funky keyboard guru gets all groovalicious on this new disc... He kicks it off with a couple of tunes that have more goofy Korg synthwork than a truckload of ELO LPs... MM then drifts into familiar territory, his trademark, laid-back funky instrumental style, and caps things off with several salsa-tinged tracks that also have than semi-porno-soundtrack sound. If you liked his other albums, this one will not disappoint.
Paul McCartney "Driving Rain" (Capitol, 2001)


Doesn't suck. I mean, yeah, some songs are dorky, but several are surprisingly strong. Paul's voice is much thicker these days, but he's still got a good pop sensibility and his explorations into denser electronic terrain is intriguing. Worth checking out, if you're at all curious.

Moviola "Rumours Of The Faithful" (Spirit Of Orr, 2001)


Very pleasant, very listenable, very mutable melodic indiepop with a heavy debt to Neutral Milk Hotel and their ilk. Like Beechwood Sparks, these fellows mix "country" influences in, but in such a subtle and guarded fashion that they waft by almost before you realize it. Nice record. Worth checking out!

Die Moulinettes "Alfa Bravo Charlie" (S.H.A.D.O., 2001)


Another winner from this multi-lingual European outfit... Less power-poppy and more sleek and loungey than their last album, this is full of predictable retro elements - shimmering vibes and vintage synthesizers, softened guitars, plenty of oooh-ahh backup vocals, and numerous stylistic nods towards Burt Bacharach and his ilk, including an Ennio Morricone cover - but Die Moulinettes manage to avoid the predicatable (and all-too familiar) pitfalls of such retro mining. Nothing on this album sounds forced or belaboured, and the stylistic and linguistic shifts - from German to Italian to French to English - all feel perfectly natural. The second half of the CD version includes remixes by The High Llamas and others; fans of the like-minded Stereo Total should be pleased to see that they contribute as well. On the whole, an exceptionally listenable album that doesn't go overboard when it easily could... Recommended!

The Orange Peels "So Far" (Spinart, 2001)
A South San Francisco pop prodigy, Allen Clapp has done more in three albums to map the internal landscape of the Bay Area than the Grateful Dead or Jefferson Concorde ever thought of in all their decades of drudgery. When, for example, was the last time you heard Phil or Grace croon about the fog, or look up at the sky and wish for rain? The weather, which comes in waves just like the ocean, is Clapp's constant companion, and unlike our legions of psychopathically perky weather forecasters, he doesn't mind when it starts to drizzle. Clapp's silky guitar tones encompass both the morning overcast and the sun that burns it off; rainy weather may be anathema to all the immigrants from LA who have swamped the Bay Area during the last decade, but to those of us who remember a time before SUVs and global warming, Clapp's music has a ring of romance, and truthful nostalgia. And, hey -- for the rest of you, beyond the confines of California, the guy also makes some pretty nice pop songs. This is another lovely album by a humble local hero.

The Pearlfishers "Across The Milky Way" (Marina, 2001)


The Pearlfishers are frequently billed as a one-man band, which is slightly true but not quite accurate... Scottish popster David Scott certainly does most of the heavy lifting -- writing songs, recording at home, dreaming. But he's also not above asking a few friends in to help out, so when he envisions a Beach Boy/Bacharach orchestral sweep, there are plenty of folks around to pitch in with a woodwind here, a viola there. Scott has an infectiously naifish pop vision, similar to his pals in BMX Bandits and Teen Fan Club, which stands in contrast to the cynical pretensions of the time; a resolute and unhurried "what? me worry?" faith in the power of sugary pop songs and Paul Simon-y introspection. This time around, though, he's pushing the envelope ever so slightly by an insistance on inspirational lyrics that stretches throughout the the length of the album... After a while you may weary of winsome advice on how best to see the bright side of life, yet the pretty packaging makes it hard to take offense. This is calm, pretty indiepop, which unabashedly tries to make the world sound like a swell place to live. Fans will not be disappointed.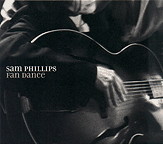 Sam Phillips "Fan Dance" (Nonesuch, 2001)


This is currently one of my favorite albums, full of captivating tunes and odd, evocative lyrics. Phillips has long been something of and indie inbetweener, too rootsy for a mainstream breakthrough, and too mainstream to be fully embraced by the indie hipoisie... The production on this mainly-acoustic album -- steered, as ever by her hubby, T-Bone Burnett -- is slick and mellow, but inviting. Orchestral pop pioneer Van Dyke Parks pitches in, as well as Tom Waits' erstwhile guitarist, Marc Ribot, who lends a recognizably Kurt Weill-ish twist to several tunes. This is Phillips' first album in five years, and while she seems to have missed the "Alice" style of femme-centric Top 40 programming, she certainly has my attention. This is an album packed with songs you could fall in love with. Mature, mysterious, enchanting rootsy modern music.
Portastatic "Perfect Little Door" (Merge, 2001)


Accompanying Superchunk's expansive Here's To Shutting Up album, comes this interesting EP which pairs lead Chunkster Mac McCaughan up with two avant-jazz types, saxophonist Ken Vandermark and percussionist Tim Mulvenna. The results are alternately challenging and lulling, and certainly a big step forward in McCaughan's musical growth. I think a lot of folks will be interested to see where he and his cohorts go from here. Definitely worth checking out.
R.E.M. "Reveal" (Warner, 2001)


Pop... bombast... schmaltz. Lather... rinse... repeat.

Michael Shelley "I Blame You" (Bar/None, 2001)


Impish, earnest, catchy... like the character in his song, "Dear Mr. Webster," who is searching for the means to describe his true love's charm, NYC freeform radio DJ Michael Shelley eludes the proper adjective. Not quite singer-songwriter, not quite power-pop, Shelley is in turns clever, capable and craftsmanlike... His romances often seem like schoolboy crushes, the kind that require songs like "Mix Tape" to describe their inception, and "I Blame You" to outline their demise. In between, he enlists the help of fellow WFMU programmer, urban cowgirl Laura Cantrell to duet on the country-ish "Let's Fall In Hate..." and draws us in with one winsome melody after another... Nice, unpretentious pop, with jangly little undertones... check it out!
The Shins "Oh, Inverted World" (SubPop, 2001)


A thoroughly enjoyable, tuneful indiepop album that combines the inscrutiable lyrical dadaism of bands such as Quasi with the catchy whining style of 70s bands like Badfinger and the Raspberries. A notch or two above their spotty, solipsistic contemporaries, in that the Shins album is consistently listenable and engaging, not just a hit-or-miss affair. Recommended!
Solex "Low Kick and Hard Bop" (Matador, 2001)


Densely layered mix-and-match pop collages from this Dutch outfit. It's still playful, but I kind of miss the lighter, poppier efforts of the past. True to the album title, this is kind of the indiepop equivalent of some of that old bebop stuff: it takes a lot active, patient listening to "get" this, and the appreciation is likely to be more intellectual than visceral. For pop-sweettooth types, this disc may be less rewarding that earlier albums.
Stereolab "Sound-Dust" (Elektra, 2001)


A remarkably bland album by these bloop-bleep pop pioneers... Are they even trying anymore??

Superchunk "Here's To Shutting Up" (Merge, 2001)


Mac and the gang loosen up and widen their sound away from the earnest, driving guitar rock that has been Superchunk's stock in trade. Sure, they drift back into that territory, but several songs also feature brisk string arrangements and other signs of a wider sonic pallate. It's a great record, although I'm sure the band must have shat a few bricks about the content: released just after the September 11th World Trade Center bombing, the album features several songs that use airplane travel as a metaphor for the anxieties of modern life. Particularly striking is the country-tinged "Phone Sex," which offers the pedal steel-laced refrain, "Plane crash footage on TV / yeah, I know that could be me..." Historical coincidence aside, though, this disc is striking on its own merit, showing that these emotive rockers are, indeed, musically maturing. (For further evidence, check out the recent Portastatic EPs, which also show Mac McCaughan's widening musical vistas...)
Kevin Tihista's Red Terror "Don't Breathe A Word" (Atlantic, 2001)


A genuinely seductive album, full of whispered, cynical lyrics and endlessly clever pop hooks. By now, the bag of tricks unleashed by Teenage Fan Club and soft-pop cohorts such as Belle & Sebastian and their Sarah Label predecessors are pretty familiar to the indiepop crowd. Naturally the temptation is to say, "oh, look, this is on Atlantic Records -- it's just some big, major label cooptation of mopey, poetic pop..." Whatever. All I know is, is that this is an engaging record, well-produced and pretty sounding, harkening back to the sexiness of old Squeeze albums as well. It's made its way back into my stereo several times already, and is likely to be played a few times more before the night is out... Recommended!
---



Indiepop Indiedex
Favorite Rock Records
Recent Pop Archives





---