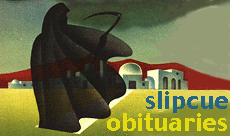 ---

Werner Klemperer, Col. Klink in TV's 'Hogan's Heroes,' Dies at 80
By Bernard Weintraub, courtesy of The New York Times
---
December 8, 2000 - Werner Klemperer, an Emmy Award-winning actor in television, film and theater whose role as the bumbling Nazi Col. Wilhelm Klink on "Hogan's Heroes" dominated an eclectic career, died on Wednesday at his home in New York. He was 80.
The cause was cancer, said John A. Anderson, his manager.
A love of music dominated the life of Mr. Klemperer, the son of the conductor Otto Klemperer, who was the music director for the Los Angeles Philharmonic. The younger Mr. Klemperer performed in many opera productions and, in the last two decades, served as narrator with virtually every symphony orchestra in the United States. His narration of Mozart's "Impresario" with the Mostly Mozart Festival Orchestra was broadcast by PBS on "Live From Lincoln Center."
But what stamped his career, and made him famous, was his role in the lowbrow "Hogan's Heroes," the successful and unlikely sitcom set in a German prisoner-of-war camp during World War II. The show, which ran on CBS from 1965 to 1971, starred Mr. Klemperer as the monocled and inept Nazi commandant of the camp in which the American prisoners, led by Col. Robert Hogan (played by Bob Crane), actually controlled the camp.
Mr. Klemperer, whose Jewish family had escaped Germany in the 1930's for Los Angeles, found the role a double-edged sword. "He sometimes felt he was too identified with that character," his wife, Kim Hamilton Klemperer, said. "But it had such a major impact on his career. He loved it when people stopped him on the street. The fan mail he still gets is unbelievable." (The series has been rebroadcast on TV Land).
Mr. Klemperer was nominated for Emmys for each of the six years he appeared on the show, and won twice, in 1968 and 1969, in the category of best supporting actor.
What plainly dogged Mr. Klemperer was the criticism that a show based on the concept of bumbling Germans running a prisoner-of-war camp was simply not funny given the actual events of World War II.
When the idea of a movie version of "Hogan's Heroes" was discussed two years ago, and then dropped, a writer in The Boston Globe, Renee Graham, wrote: "Call this political correctness if you like, but under no circumstances should a film of `Hogan's Heroes' be made. For those who don't remember, this was the 1960's World War II comedy starring Bob Crane, Werner Klemperer and John Banner that presented the Nazis as the biggest cutups since the Keystone Kops. Let's be clear here: Nazis are never, ever funny. Ever. So it's with great joy that I report that the film version of `Hogan' is on ice, at least for now."
Such criticisms through the years bothered Mr. Klemperer. "The show was never intended to be viewed in a serious light," he said in 1999. "Whenever anyone tries to overanalyze `Hogan's Heroes' I merely tell them that it was a funny show, a wonderful show, and I'm very proud of it. And that's the end of that."
But Mr. Klemperer also had early misgivings about the series. He was offered the role as the Nazi commandant by CBS but his agent failed to tell him that it was humorous. When Mr. Klemperer learned that the show was a comedy, he said he was stunned.
"I had one qualification when I took the job: if they ever wrote a segment whereby Colonel Klink would come out the hero, I would leave the show."
Mr. Klemperer played other Germans in two of his more memorable films. He was a Nazi on trial for war atrocities in "Judgment at Nuremberg" (1961) and Adolf Eichmann in "Operation Eichmann" (also 1961).
Years ago Mr. Klemperer was set to serve as grand marshal in a parade in Oregon, but a state legislator protested and said it was wrong to honor an actor who played Colonel Klink. Mr. Klemperer bowed out.
"I found that so ridiculous," he said, years later. "I wrote an open letter to the paper in that particular area and I said that I certainly would bow out of this parade, but that it was saddening to me that I, a three-year World War II veteran, had to do that."
Mr. Klemperer was born in Cologne, Germany, and fled to the United States when he was a teenager. He served in the Army for three years, mostly with a special services company that entertained troops. After serving in the Army he enrolled at the Pasadena Playhouse and pursued acting.
His film credits include "The Goddess" (1958), "Flight to Hong Kong" (1956) and "Ship of Fools" (1965). On the Broadway stage he appeared in such plays as the revival of "Cabaret," in which he was nominated for a Tony in 1988.
In recent years he worked onstage in several dramas, including the Circle in the Square's revival of "Uncle Vanya" in 1995.
But his career during the last two decades centered on concerts, where he often worked as a narrator, and on opera. On the opera stage he appeared in the premiere of John Dexter's Metropolitan Opera production of "The Abduction From the Seraglio." He had varied roles in productions ranging from "The Sound of Music," with the New York City Opera, to the role of Prince Orlofsky in "Die Fledermaus" with the opera companies of Seattle and Cleveland.
Mr. Klemperer married four times. He has two children, Dr. Erika Klemperer Webster of San Francisco and Mark Klemperer of New York. He also has a sister, Lotte Klemperer of Zurich.
A public memorial service will be held in the next few weeks, Mrs. Klemperer said.
"He loved music, he loved music more than anything," she said. "But it was `Hogan's Heroes' that made him a star."
---

John Worsley, 81, Artist Whose Wartime Creation Outfoxed the Nazis
By Richard Goldstein, courtesy of The New York Times
---
October 21, 2000 - John Worsley, a British artist who as a prisoner of the Germans in World War II hoodwinked guards with a dummy P.O.W. named Albert, later a part of British wartime lore, died Oct. 3 in London. He was 81.
Soon after Britain went to war, Kenneth Clark, director of the National Gallery, recruited official war artists to portray combat action and life on the home front. Most of the artists were civilians, but the youngest one, Mr. Worsley, was a midshipman in the Royal Navy.
An art school graduate, Mr. Worsley had sketched his fellow sailors on the armed merchant ship Laurentic. When it was sunk by a German U- boat off Northern Ireland in 1940, he was rescued by a destroyer, but not before sketching the sinking from his lifeboat.
His enterprise resulted in his assignment as a war artist while he took part in the Allied landings in Sicily and the Italian mainland. He worked in paint at first, but after his landing craft was hit by a dive bomber at Reggio di Calabria in September 1943, making a mess of his artwork - "I had just got a nice wash going," he would say Ð he switched to pencil.
By November he was a lieutenant accompanying Allied saboteurs to an island off the Adriatic coast of Italy, hoping to sketch their exploits. But the Germans intercepted their boat and he was taken prisoner.
His captors thought at first that he was a spy because he had drawing materials, but after keeping him in solitary confinement for two months, they decided he was simply a military artist. He was held with British Navy prisoners at the Marlag-O camp near Bremen, Germany, where he recorded prison life with materials supplied by the Red Cross, assembling such an impressive portfolio that German admirals visited the camp to admire his work.
All the while he was creating a secret masterpiece. Every Thursday, Mr. Worsley worked on assembling his dummy Albert in the shed where prisoners were taken for their weekly shower. Albert's head was papier-m‰chŽ; he had a wig made from hair scraps contributed by the prisoners, and his eyes were Ping- Pong balls made to blink by a sardine-tin pendulum. His body was a wire frame covered with a naval greatcoat. Albert lacked hands, so his sleeves were stuffed into his jacket pockets.
One day, after the prisoners had showered, a prisoner, Lieutenant Mewes, escaped. Albert promptly took the lieutenant's place in the three-times-a-day head count, propped up on either side by the real prisoners. The guards did not know that the officer was missing until he was captured four days later in Lubeck.
Mr. Worsley returned to England at war's end and opened a studio in London.
A British journalist, Guy Morgan, who had been a fellow prisoner at the Marlag-O camp, recounted the escape plot in his play "Albert R.N.," which stood for Royal Navy. In 1953, it was made into a film with the same title, directed by Lewis Gilbert and starring Anthony Steel as a fictionalized version of Mr. Worsley, who created a replica of Albert for the movie.
John Godfrey Bernard Worsley was born in Liverpool, the son of a retired naval officer. He lived as a youngster in Kenya, where his father ran a coffee plantation, then returned to England. He graduated from Goldsmiths College, London, where he studied fine art, and worked as an illustrator for romance magazines before joining the navy.
Mr. Worsley was a versatile and prolific artist. He drew the popular comic strip "PC49" for the boys' comic book Eagle in the 1950's. He also created color illustrations for television readings of children's stories and painted portraits of British military leaders.
In the late 1960's he became the police artist for Scotland Yard, producing more than 1,000 sketches of suspects from victims' descriptions. He was also noted for paintings of sea scenes and in the 1980's served as president of the Royal Society of Marine Artists. His wartime sketches were collected in "John Worsley's War," published in Britain (Airlife, 1993).
The Imperial War Museum displays 61 of Mr. Worsley's paintings, and the National Maritime Museum is home to another 29.
As for Albert, he still stands ready for roll call, bundled up in his greatcoat at the Royal Naval Museum in Portsmouth.
---

James Carr, Soul Singer Whose Life Reflected the Blues, Dies at 58
By Jon Pareles, courtesy of The New York Times

---
January 10, 2001 - James Carr, a singer whose 1966 recording of "(At the) Dark End of the Street" was a masterpiece of Memphis soul, died on Sunday in Memphis. He was 58 and lived in Memphis.
The cause was cancer, said his friend and producer Quinton Claunch.
With a robust baritone that embraced both amber-toned purity and desperate growls, Mr. Carr could turn an unhappy love song into three minutes of heartsick drama. But a combination of bad breaks and psychiatric problems limited his career.
"He had a hard life," Mr. Claunch said. "He felt the blues, man, that's for sure."
Mr. Carr was born in Clarksdale, Miss., in 1942 and grew up in Memphis. The son of a minister, he began performing with gospel groups when he was 9.
He married when he was a teenager and had children, working as a day laborer while he sang in local gospel groups, including the Southern Wonders Juniors and the Harmony Echoes.
He never learned to read or write.
In the early 1960's Mr. Carr started singing soul music. He was turned down by the fledgling Stax Records, which sent him to Mr. Claunch's label, Goldwax. Mr. Carr made his first single, "The Word Is Out," in 1964, and in 1966 he made his two best-selling singles: "You've Got My Mind Messed Up" and "(At the) Dark End of the Street," both Top 10 rhythm-and-blues hits.
His was the first recording of "Dark End of the Street," written by Chips Moman and Dan Penn and later performed by Aretha Franklin, Linda Ronstadt and many other singers.
Mr. Carr made a triumphant 1966 appearance at the Apollo Theater in Harlem and toured the South and East. He continued to record for Goldwax through the 1960's, putting out songs like "Pouring Water on a Drowning Man," "I'm a Fool for You," "Forgetting You" and "A Man Needs a Woman."
But Mr. Carr was a manic-depressive and could not sustain a career on the soul-music circuit. He grew moody and withdrawn. Mr. Claunch recalled him sitting at a recording session, not saying a word for hours, then singing one song.
In 1970 Mr. Carr recorded four songs for Atlantic Records; two were released as a single in 1971.
For the rest of his life, while he lived with his sister Rose, he made occasional efforts to tour or record. He released a single in 1977 and toured Japan in 1979.
In 1992 Mr. Carr played his first New York engagement in 25 years at Tramps. He was also in and out of psychiatric hospitals, sometimes every few weeks.
"His first priority was a marijuana cigarette, a drink or a woman," Mr. Claunch said. "That would take precedence over his music. But he loved to sing."
Mr. Carr made albums with Mr. Claunch in 1991 ("Take Me to the Limit" on Goldwax) and 1994 ("Soul Survivor" on Soul Trax). A compilation of 13 songs from those albums and 7 other songs is to be released on the Soul Trax label in the next few weeks, Mr. Claunch said.
The Essential James Carr, a collection of his recordings from 1964 to 1969, was released in 1995 by Razor and Tie Records.
Mr. Carr is survived by three sisters, a brother and five children.
---
Here's the next set of groovy obits for your reading pleasure...
Screaming Lord Sutch, Loony British Politician & Rock Star, Dies at 58

Henri VI, 90, the Orleans Heir Apparent to the Throne of France

Phoebe Snetsinger, World's Greatest Birdwatcher, Dies at 68

---
Links
---
There are several obit enthusiast sites out there, and each has its own unique take on obituary journalism. Here are some recommended sites you may enjoy as well.
---