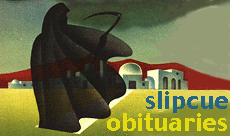 ---

Screaming Lord Sutch, Eccentric Even for England, Dies at 58
By Warren Hoge, courtesy of The New York Times
---
June 18, 1999 -- LONDON - Screaming Lord Sutch, the leader of the Official Monster Raving Loony party, who delighted even the victims of his lampooning of British politics over three decades, has died in London. He was 58.
He was discovered hanged in his North London home on Wednesday afternoon by his partner, Yvonne Elwood. Friends told the police that he had been on medication to offset recurring bouts of depression.
Dressed in howlingly unfashionable clothes and armed with a rusty bullhorn, he campaigned in more than 40 elections, losing them all but winning for himself the appreciation of a society with a fondness for eccentrics.
"He was the man who brought gaiety to politics and pricked the pomposity of politicians," said his friend, Harry Greenway, a former Conservative member of Parliament. Among the tributes to him Thursday was one from 10 Downing Street, where a spokesman for the prime minister's office said: "Screaming Lord Sutch will be much missed. For many years he made a unique contribution to British politics."
Appearing in his standard campaign uniform of top hat and oversized jacket in gold lame or a leopard-skin pattern, he campaigned under the party slogan "Vote for insanity -- you know it makes sense."
He saw only one of his campaign pledges make it onto the statute books -- lowering the voting age to 18. The rest were notable for their merry ring of sheer nonsense.
He said he wanted to know why there was only one Monopolies Commission. He proposed breeding fish in wine so they could be harvested ready-pickled. He said the European Union should take the famous mountain of butter that was created by overregulation of dairies and turn it into a ski slope. He proposed heated toilet seats for pensioners and no closing hours for pubs.
During the prime ministership of Margaret Thatcher, he said he felt compelled to change his group's name to the Raving Sensible Party on the ground that by comparison with her ministers, his membership was no longer loony at all.
Party members arrived at one convention in a balloon so they could propose pie in the sky, and their victory parties, always held before the elections, were enlivened by the party dance, the Cabinet Reshuffle. He detested joggers and said they ought to be put to good social use by being made to power treadmills to generate cheap electricity.
He proposed extending branches from the Channel Tunnel to the islands of Guernsey and Jersey so all of Britain could be declared a tax haven. When Edinburgh and Glasgow disputed the location of the new Scottish Parliament, he proposed putting it on wheels and moving it from city to city.
With his sense of the theatrical, Sutch entered his first race for Parliament in 1964 from Stratford-on-Avon. Quite by accident, he set two records in British public life: He was the country's longest-serving party leader and most frequent candidate.
He was born David Sutch but had his name legally changed to Lord Sutch in the 1970s. An only child, he was brought up by his mother, Nancy, after his father, a London policeman, was killed in a bombing attack during the blitz. She died two years ago.
Sutch was said to have come by his exhibitionism through his father and grandfather, both of whom had been soapbox orators at Speakers Corner in Hyde Park. In the 1960s he became a minor rock star with a group called the Raving Savages, and he continued to raise money over the years for his election entry fees by giving concerts and playing in clubs throughout Europe.
He never married but he had a son, Tristan, who is 24 and lives in the United States, by Thann Quantrill, a former American model who helped out in one of his early campaigns by riding naked through a town on horseback.
Over the years, election officials raised the entry fee to keep irreverent candidates from entering races, but it did not work -- until last week.
The entry fee for last week's elections to the European Parliament was $8,000, a new high, and Sutch said he could not enter at that price. He predicted the extinction of his party, saying, "It's a bad day for loonies, it's a sad day for democracy."
---

Lord Sutch
Courtesy of The Associated Press
---
LONDON David Sutch, who brought a chuckle to British politics as leader of the Monster Raving Loony Party with the slogan: "Vote for insanity Ñ you know it makes sense," was found hanged Wednesday at his northwest London home. He was 58.
Known as Screaming Lord Sutch, he was Britain's longest-serving party leader. He never won a race, despite running in scores of them, but one of his party members was once elected mayor in a town in southwest England.
With his top hat and gold lame suit, Sutch blared his party's madcap policies through a rusty loudspeaker from one corner of the land to the other.
Sutch, who legally changed his name to add the "Lord," founded the Monster Raving Loony Party in 1963 and first ran for Parliament in 1964. He went on to enter some 40 elections over more than 30 years.
The campaign style of Sutch and his followers irritated more traditional candidates but delighted many British voters. And at least one of his policies Ñ all-day pub openings Ñ later became a reality.
Attempts to price him and other "nonsense" candidates out of the election scene by increasing the deposit from $240 to $800 backfired in 1985 Ñ prompting even more carnival figures, clowns and self-described clueless ones to join his ranks.
During the 1960s, Sutch was a rock singer and until recently performed up to 250 concerts a year throughout Europe.
---

Henri VI, 90, the Orleans Heir Apparent to the Throne of France
By Craig R. Whitney, courtesy of The New York Times
---
June 21, 1999 - PARIS -- Henri VI, Count of Paris, who might have been king if France were still a monarchy, died Saturday in the family home in Dreux. He was 90 and had been suffering from prostate cancer.
His eldest son, also Henri, 66 -- one of nine surviving children, six of them daughters -- immediately claimed the titles of Count of Paris and Duke of France.
Henri VI bore his royal heritage with such political finesse that French republican leaders on both the right and the left mourned his passing.
But, the count said five years ago, in the turmoil caused in France by Algerian independence in 1960, a French president who ruled like a monarch, Gen. Charles de Gaulle, told the count, "Monseigneur, I believe deeply in the value of the monarchy, and I am certain as well that this regime is the one best suited to our poor country."
De Gaulle ran for the presidency again in 1965, and the count never found out whether French voters agreed on the subject of monarchy. In 1988, the count scandalized some of his backers by supporting the re-election of another president with regal airs, Francois Mitterrand, a socialist.
But from the time he became heir apparent to the throne in 1926 until 1950, the count did not even have the right to live here. A French law passed in 1886, after royalists thronged around the Orleans family residence in Paris during a wedding and made leaders of the shaky Third Republic nervous, banned claimants to the throne from French soil.
The count violated that law at least once, flying in from Belgium in 1938 to warn that the Munich Agreement would lead to no good and then flying out again to avoid arrest.
When war broke out, he enlisted in the Foreign Legion under the pseudonym d'Orliac and fought in North Africa.
A solemn, trim man with a trademark mustache, Henri Robert Ferdinand Marie Louis-Philippe d'Orleans was born in France, the eldest son of the Duke de Guise, but spent his early childhood in Morocco.
The pretender to the French throne at the time was not his father but his uncle, the Duke of Orleans. He had no sons, and named Henri his successor in 1926. Henri attended the University of Louvain in Belgium, and married Isabelle, granddaughter of the last Empress of Brazil.
Henri and his wife separated after 52 years of marriage. They had 41 grandchildren, one of whom, Eudes, was being married when his grandfather died.
During World War II, the family lived in Morocco until the Allies occupied it and expelled them to Spain. Henri later moved them to Portugal, but after the war, the French allowed his heir to go to school in Bordeaux in 1947 and, three years later, abolished the law of exile.
Henri moved the family back to France and, proclaiming loyalty to humanist democracy, established its seat at Dreux. The count set up a foundation that restored the Orleans castle at Amboise, and, with considerable government funding, kept it open to the public.
Diehard supporters of the senior Bourbon branch of the French royal family sometimes contested Henri's right to claim royal succession, because one of his ancestors had taken the name Philippe Egalite after the French Revolution and voted as a member of the National Assembly to send Louis XVI to the guillotine.
But his legitimacy was never seriously doubted by most of the tens of thousands of French royalists who read respectful articles about him in celebrity magazines like Point de Vue.
There were periodic scandals. In 1984, he stripped his eldest son of his position as heir apparent for getting a divorce and then marrying a Chilean divorcee. The father relented in 1996.
"He is someone I mourn," the new Count of Paris said of his father. The new head of the royal family survives on -- what else? -- royalties from a line of perfume called Royalissime and by making sketches and watercolors. He is also the author of a cookbook, published by Michel Lafon in 1994, whose title may explain why he collected so many recipes: "Terribly Sorry, Highness, It's my Day Off."
---

PHOEBE SNETSINGER, 68, Held Record for Bird Sightings
By Douglas Martin, courtesy of The New York Times

---
December 2, 1999 - Phoebe Snetsinger, who saw and recorded more birds than anybody else, died on Nov. 23 in a van accident on a birding expedition to Madagascar, shortly after viewing an exceptionally rare Helmet vanga. She was 68 and lived in Webster Groves, Mo., a suburb of St. Louis.

Birding went from a hobby to a passion for Mrs. Snetsinger on the day in 1981 that a doctor told her she had an incurable cancer, with less than a year to live. Rejecting therapy, she took off to Alaska on a scheduled trip, her first long-distance journey simply to see birds.

"She came back and felt good," her husband, David, said. "Things just started snowballing from there."

Mrs. Snetsinger liked to say her avian ardor "began with a death sentence," and her relentless energy reflected that level of urgency as her cancer went into the first of several remissions. Family members and friends could not imagine her without binoculars, floppy hat, sneakers, telescope and other field gear as she scurried around the globe on scores of bird tours, most costing more than $5,000. An inheritance paid the bills; she supplied the boundless energy. She said she spent more time in the world's jungles, mountains and other wild areas than at home.

There were setbacks, as the cancer, melanoma, recurred every five years or so, only to go into remission again. But her record, as verified by the American Birding Association, was sighting about 8,400 birds, or nearly 85 percent of the species now estimated to exist, more than 2,000 birds ahead of her nearest competitor.

"She was a celebrity in our bunch," said Bret Whitney, a co-founder of Field Guides, a tour operator based in Austin, Texas.

Mrs. Snetsinger was traveling on one of the group's tours when the van overturned. Whitney said she apparently died instantly.

"She gave so much to the birding world and had so much more left to give," said G. Stuart Keith, the birding association's first president. At the highest tier of birding, it was a common joke to differentiate between Phoebe Snetsinger and the phoebe, a genus of flycatchers.

Genera, or large groups of species (as in the genus Homo of Homo sapiens), were of considerable importance to Mrs. Snetsinger, who kept a separate list of those that have only a single species, known as monotypic genera. Her list of more than 2,000 such genera far surpassed anyone else's, said Whitney, who also works as a research associate at Louisiana State University.

She also kept extensive notes on subspecies, using index cards as a catalog until switching in recent months to a computer from the Remington portable typewriter she had used since college.

Her subspecies notes, in whatever format, are important because many of the birds have now been reclassified as species. When she started, there were 8,500 officially named species, compared with about 10,000 now. A spokeswoman for the American Museum of Natural History said some scientists believed there could eventually be as many as 18,000 named separate bird species.

This means that her life list will almost certainly grow posthumously. "She has birds in escrow," Whitney said.

Mrs. Snetsinger was born in Lake Zurich, Illinois, where she attended a one-room elementary school with only two other students. At 11, she met her future husband, then 13, in 4-H clubs.

She graduated from Swarthmore College as a German major, and then taught science at the Baldwin School, a private girls school in Bryn Mawr, Pa. When Snetsinger returned from service in Korea, they both attended graduate school and she earned a master's degree in German literature.

They had four children, all of whom survive. They are Thomas, of Corvallis, Oregon; Penny, of Woodbridge, Connecticutt; Carol, of Missoula, Montana, and Susan, of Tempe, Arizona. All but Penny pursued careers relating to birds, Thomas as a researcher in endangered bird species for the Federal government, Carol as a bird researcher in Alaska and Montana, and Susan as a student of the spotted owl in the Northwest.

In 1965, a friend took Mrs. Snetsinger birding for the first time in Minnesota, and when her husband took a corporate job in Missouri she pursued her interest with a group of birders. (Birders adamantly spurn the term "birdwatcher" in the belief that it suggests a lack of gravity.) The group visited local woods and prairies each Thursday afternoon. After birding came to represent a new lease on life to her, Mrs. Snetsinger began to take longer and longer trips. She was hooked when she visited Kenya and saw 500 different birds in three weeks. Her odyssey was aided by new technology for recording bird sounds, greater access to more and more remote habitats and the increasing numbers of tours being offered. The depth of her enthusiasm is suggested by her response to a fall she took about six months ago while climbing a mountain in the Philippines: she stayed in the field for two additional weeks to see more birds. The whole idea of listing birds, or at least the seriousness of the pursuit, is also sometimes criticized, or at least satirized. Indeed, it is called "the game" by birders themselves. "It's like collecting stamps or baseball cards," said Paul J. Baicich, editor of Birding, the magazine of the American Birding Association. Snetsinger said his wife's competitive spirit was kept hidden, though he did not deny it existed. In a 1996 interview, she insisted that she wanted to play down her quantitative quest. "I'm going back to being a birder, not a lister," she said. Ultimately, she felt very lucky, as she explained in an article to be published in next February's issue of Birding. "Birding is the best and most exciting pursuit in the world, a glorified never-ending one," Mrs. Snetsinger wrote. "And the whole experience of a foreign trip, whether you see 10 new birds or 500, is simply too good to miss."

---
Here's the next set of groovy obits for your reading pleasure...
Charles Earland, 58, Soul-Jazz Pioneer

Hank Snow, Country Music Legend from Canada, Dies at 85

Max Hunter, Ozark Folklorist, Dies at 78

---
Links
---
There are several obit enthusiast sites out there, and each has its own unique take on obituary journalism. Here are some recommended sites you may enjoy as well.
---