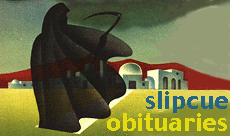 ---

Charles Earland, 58, Soul-Jazz Organist and Saxophonist
Courtesy of The New York Times
---
December 15, 1999 - Charles Earland, an organist and saxophonist who was a popular exponent of the soul-jazz idiom in the 1970's, died on Saturday at the Holiday Inn hotel in Kansas City, Mo., the morning after playing a concert.
He was 58 and lived in Matteson, Illinois.
The cause was heart failure, said his wife, Sheila.
Earland's stock in trade was a driving, percussive style on soul-jazz versions of contemporary rhythm-and-blues and pop tunes; his "Black Talk," released in 1969, became a hit.
After learning to play saxophone in high school, he played with the Temple University band; shortly afterward, he joined the organist Jimmy McGriff's band as a tenorist. In 1963 he switched to the organ when he was having trouble keeping organists in his own band.
He found work with the saxophonist Lou Donaldson and then began to make his own records for the Prestige label.
He made many records for the Prestige, Muse and High Note labels. At the time of his death he was studying to become a minister at the Moody Bible Institute in Chicago.
His albums were always popular on jazz radio; his latest, Cookin' With the Mighty Burner, was released on High Note in July and was in the No. 1 position last month on the Gavin chart for national radio air play.
In addition to his wife, he is survived by three children: Charles Earland 3rd of Pasadena, California, Ahmad, of Lake Peekskill, N.Y., and Melissa Earland, of Philadelphia.
---

Hank Snow, Country Music Star, Dies at 85
By Neil Strauss, courtesy of The New York Times
---
December 21, 1999 - Hank Snow, one of the most popular and prolific country stars of the 1950s, died Monday at his home in Madison, Tenn. He was 85.
In his nearly 50-year recording career, Snow released some 140 albums with more than 85 songs reaching the country charts. He was a masterful songwriter with a clear, expressive baritone, and his biggest hits extolled freedom, specifically the lure of traveling and the release from tortuous love affairs, both often intertwined in the same song. As a composer, he was a country and folk traditionalist with a broad palette, able to incorporate everything from mambo to jazz without straying far from his roots.
Snow's career was a classic case of music's triumph over extreme hardship. He was born Clarence Eugene Snow in a small town in Nova Scotia called Brooklyn. His parents separated when he was 8, sending two of his siblings to an orphanage and subjecting him to the physical abuse of his grandmother, whose house he ran away from to live with his mother. There, his stepfather also abused him, eventually kicking the boy out of the house when he was 12. (Later, Snow would record moving songs of abused children, like "The Drunkard's Boy.") The 12-year-old found work on fishing boats, where he entertained the rest of the crew by singing. After a shipwreck four years later, he decided to stick to jobs on dry land.
Influenced by the yodeling country blues of Jimmie Rodgers, Snow eventually saved up enough money for a guitar. When he was 19, he was booked to sing on a weekly radio show on the Halifax station CHNS and soon began performing in local clubs, earning the nickname the Yodeling Ranger and, later, as his voice deepened and he developed his own style, the Singing Ranger. It was at CHNS that Snow changed his first name after a radio announcer suggested that Hank sounded more country than Clarence.
In 1936, Snow married Minnie Aaiders and signed his first record deal, with the Canadian arm of RCA Victor. For the next 10 years, he recorded some 90 songs, scoring hit after hit in Canada. But he had yet to conquer America.
He moved briefly to Hollywood in the mid-1940s, where he sang his songs of rambling and performed with his trick pony, trying to make it as a movie cowboy. In 1948, he got his first break in America when he met the country singer Ernest Tubb. Tubb helped put Snow on the Grand Ole Opry, where he was introduced by Hank Williams.
But Snow's first Opry performance and recordings met with a lukewarm response. As he was considering heading home to Canada, his single "I'm Moving On," a rolling fiddle-heavy song of failed love and hitting the road sung in Snow's striking baritone, began climbing the country charts until it reached No. 1 It stayed there for 21 weeks, and Snow's career in America was off. His follow-up songs, the similarly themed "The Golden Rocket" and the hybrid "The Rhumba Boogie," also went to No. 1. Soon, Snow was living in Nashville as an American citizen.
In 1954, Snow, a sharp businessman, met Col. Tom Parker, Elvis Presley's future manager, and formed a booking company with him. And, just as Tubb had done for him, Snow convinced the Grand Ole Opry to book Elvis Presley in 1954. Presley later recorded music by Snow, as did artists as diverse as Ray Charles, Les Paul and the Rolling Stones.
For most of the '50s and '60s, Snow cut his own path through country, mixing it with Hawaiian sounds, Latin music, rockabilly and boogie without ever alienating his past work or influences like Jimmie Rodgers and Sons of the Pioneers. In 1966, he spent 18 days touring in Vietnam. But as Nashville slicked up its sound with strings and heavy production, Snow's career began to falter. In the '70s he formed the Hank Snow Foundation for the Prevention of Child Abuse to provide abused children with the assistance he never received. In 1979, he was inducted into the Country Music Hall of Fame.
After recording for RCA Records for some 45 years, the label severed tied with him in 1981. Angry at his treatment by the record label and the roots-revoking sound of new Nashville, he nonetheless continued to perform and published an autobiography, "The Hank Snow Story," in 1994. After battling respiratory illness in 1995, he returned to perform at the Grand Ole Opry the following year, receiving a standing ovation.
Snow is survived by his son, Jimmie Rodgers Snow.
---

MAX HUNTER, Ozark Folklorist of Tunes and Tales, Dies at 78
By David Stout, Courtesy of The New York Times

---
November 15, 1999

The way his widow tells it, Max Hunter realized early in his travels as a salesman in Missouri that the hill people of the Ozarks had songs, stories and expressions that were uniquely theirs. And so he decided to collect as many as he could before they vanished into time.

Hunter, 78, died on Nov. 6 of emphysema at a hospital in his hometown, Springfield, MO., but his work survives. Or rather, the traditional music and expressions of the Ozark people survive, thanks in part to Hunter, who became a renowned folklorist.

Hunter sold tools and other goods and collected his lore mostly within a 150-mile radius of Springfield, his wife, Virginia, said. Some of the people he sold to and talked to were old, and the thought that they might take their tunes and tales to their graves made him sad.

"I began to know it was important," he said in an interview a few years ago. "This was a way of life that people were losing, and it was never coming back."

So over the decades he wrote down the words and tape-recorded the songs. By some estimates he gathered more than 2,200 folk songs, 14 hours of jokes, 1,100 proverbs and no one knows how many fiddle tunes. Much of what he accumulated is on file at the Smithsonian Institution, the Library of Congress, the University of Missouri, Southwest Missouri State University, the University of Arkansas and at various libraries in Missouri.

And what did Hunter like about the people he talked to on their porches or by the sides of dirt roads? "It was a whole different style of living," Mrs. Hunter reminisced. "They were happy and content with what they had, and they didn't have a lot."

What they had was a colorful way of communicating. "Deader than a mackerel" and "ugly as a mud fence" and "pretty as a speckled pup" are among the sayings he wrote down.

Some expressions would have found their way into everyday English without Hunter, and English might be just as well off without some of them. No matter; he was a collector, not an arbiter of taste.

So he wrote down the one about "people who wear clean shirts over dirty underwear" or the man who "grins like a jackass eating cockleburs." And he wrote down one for practical use: "You're spreading it faster than I can shovel it."

And he captured Ozark superstitions, like what to do if a black cat crosses your path. (Take off your hat, spit in it and put it on backward.)

But perhaps his greatest contribution was in recording traditional songs. "You can't write a folk song," Mrs. Hunter said. "At least, not a true folk song." Her husband recorded love songs and lullabies and the songs of outlaws.

Mrs. Hunter tried to remember a funny one about a farmer who came home drunk and slept with the pigs, but the words refused to come back to her. (Fortunately a Web site offering the songs her husband recorded is to be opened soon by Southwest Missouri State.)

A few years ago Hunter explained his interviewing style: "You gotta come down on their level. If they use a little bit of rough language, you use a little bit of rough language. You just be yourself and don't try to put on some airs."

Nobody ever accused Hunter of putting on airs. To get people to cooperate, he would help them with the chores, loading hay, tending chickens, feeding calves.

"He even delivered stump water," Mrs. Hunter said cheerfully.

Stump water?

"White lightning. We're talking about moonshine, the kind that would take the top of your head off."

Besides his wife, Hunter is survived by a son, David, of Springfield; three daughters, Jenny Sweet of Springfield, Linda Bangs of Jerico Springs, MO., and Sue Davidson of Gainesville, MO.; a sister, Pauline Sharpe of Marysville, California; 12 grandchildren; and several great-grandchildren.

Childhood neighbors and sweethearts, Max and Virginia Hunter were married on Christmas Day 1939. Mrs. Hunter said he was good company over the years. One of the few things she did not like about him was his smoking. "I never did smoke because I always liked to smell like a lady," she said.

Mrs. Hunter said her husband gave up smoking years ago, but too late for them to make it to their 60th wedding anniversary.



---
Here's the next set of groovy obits for your reading pleasure...
John Paul Stapp, 89, the "Fastest Man on Earth"

Lee Lozano, 68, Conceptual Artist Who Boycotted Other Women

Futurist Known as FM-2030 Is Dead at 69

---
Links
---
There are several obit enthusiast sites out there, and each has its own unique take on obituary journalism. Here are some recommended sites you may enjoy as well.
---