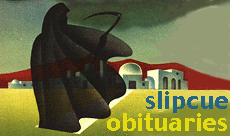 ---

John Paul Stapp, 89, the "Fastest Man on Earth"
By Douglas Martin, courtesy of The New York Times
---
November 16, 1999 - Col. John Paul Stapp, an Air Force medical researcher who rode a rocket-powered sled at a speed faster than a .45-caliber bullet in an experiment to test the limits of human endurance, died on Saturday at his home in Alamogordo, N.M. He was 89.
Stapp was known as the "fastest man on earth" for his 1954 ride, though the speed has since been surpassed, and it was never accepted by auto racing officials as an official land speed record. The speed was impressive, though. Stapp accelerated in five seconds from a standstill to 632 mph. The sled then decelerated to a dead stop in 1.4 seconds, subjecting Stapp to pressures 40 times the pull of gravity.
He became an immediate celebrity. The New York Herald Tribune called him "a gentleman who can stop on a dime and give you 10 cents change."
He won what will perhaps be even more lasting fame in a test five years earlier, when he suffered injuries owing to a mistake by a Capt. Murphy. The result: Murphy's Law.
His 1954 experiment has been compared with being in an automobile crashing into a wall at 50 mph with the shock of the impact lasting 18 times as long. The sudden stop was accomplished with the use of bucket scoops underneath the sled that dug into a trough of water.
How did it feel? "It's like being assaulted in the rear by a fast freight train," Stapp said. What did he think about as he listened to the countdown? "I said to myself, 'Paul, it's been a good life,"' he said.
As it turned out, he was blinded, but recovered his sight in a couple of hours. He ended up with two black eyes because his eyeballs had shot forward in their sockets.
Before the ride he had worried that he might become permanently blind. "I practiced dressing and undressing with the lights out so if I was blinded I wouldn't be helpless," he said in a 1985 interview.
The purpose of this and 28 other high-speed rides was to study the effects of bailing out of airplanes at supersonic speeds and to find ways of keeping pilots safer.
The experiments were just the most famous chapter in Stapp's lifelong mission of testing the limits of human tissue in order to make transportation safer. The results of his research helped in areas as diverse as improving seat belts in cars and developing the medical and psychological tests for choosing the first team of Mercury astronauts.
He became an early advocate of seat belts and shoulder harnesses in cars and argued unsuccessfully that airlines should seat passengers backward so that the entire back could absorb the shock of a sudden stop.
Stapp's views were also sought on the question of whether traveling at the speed of light slowed aging, as Einstein had theorized. He thought not.
Stapp, who was known for his razor-sharp wit, suffered an injury in the experiment that inspired Murphy's Law, after a somewhat less rapid sled ride in 1949.
An assistant, Capt. Edward Murphy Jr., had designed a harness to strap the rider in. The harness held 16 sensors to measure the acceleration, or G-force, on different parts of the body. There were exactly two ways each sensor could be installed. Murphy did each one the wrong way.
The result was that when Stapp staggered off the rocket sled with bloodshot eyes and bleeding sores, all the sensors registered zero. He had been restrained in vain.
A distraught Murphy proclaimed the original version of the famous maxim: "If there are two or more ways to do something and one of those results in a catastrophe, then someone will do it that way."
Stapp was born in Bahia, Brazil, the son of Baptist missionaries. When he was 13, his parents enrolled him in the San Marcos Baptist Academy in Texas. At Baylor University in Waco, Texas, he began majoring in English, but then he nursed a 2-year-old cousin with severe burns.
"It was the first time I had ever seen anyone die," Stapp said. "I decided right then I wanted to be a doctor."
He graduated with a science degree but could not afford to go to medical school, so he stayed at Baylor and earned a master's degree in zoology. He then earned a doctorate in biophysics at the University of Texas. At 29, he entered medical school at the University of Minnesota, where he earned a degree.
In 1944, he joined the Air Force. He became fascinated with "aviation medicine," which addressed the effects that ever-increasing speeds and heights were having on the bodies and minds of fliers.
This led to his assignment in 1947 to Edwards Air Force Base in California, where he began working with a rocket-propelled sled on rails. He used a dummy for the first 32 trial runs before attempting his first ride. The next day he doubled his speed.
He was eventually transferred to Holloman Air Force Base in New Mexico, where he got an even faster sled. Though he had begun to let other volunteers take many of the rides, he suffered broken ribs, hemorrhages in one eye, a concussion, an abdominal hernia, a fractured coccyx and a shattered wrist. Because of concerns about his health, the Air Force grounded him after his fastest ride, overriding his requests that he be allowed to try for 1,000 mph.
Stapp served in medical advisory and staff positions with the National Highway Traffic Safety Administration and the National Advisory Committee on Aeronautics, among others. His many awards included the Medal of Technology, presented to him by President Bush in 1991. He was president of the American Rocket Society and wrote more than 50 technical articles.
As chairman of the Stapp Foundation, he led the annual Stapp Car Crash Conference, which brought together automotive engineers, trauma surgeons and other experts to examine how people died in car crashes.
He refused to marry until the rocket sled experiments ended. In 1958, he married Lillian Lanese, who had danced with the Ballet Russe de Monte Carlo. She survives him, as does his brother, Wilford, of San Antonio.
Stapp once said that the only lasting effects of his daredevil experiments "are all the lunches and dinners I have to go to now."
---

LEE LOZANO, 68, Conceptual Artist Who Boycotted Women for Years
By Roberta Smith, courtesy of The New York Times
---
October 18, 1999 - Lee Lozano, an eccentric artist who pursued Conceptual Art and painting in the 1960's and then left the New York art world for self-imposed exile that included an embargo on contact with other women, died on Oct. 2 in the Dallas Health and Rehabilitation Center in Texas. She was 68 and lived in Dallas.
The cause was cervical cancer, said Mark Kramer, the artist's cousin.
Ms. Lozano was a quixotic, confounding rebel whose decadelong New York career seemed always to involve pushing one limit or another. Her early paintings, executed in an Expressionistic cartoon style, confronted issues of sexual and painterly decorum. They featured a robust messiness, distorted close-ups of the body, intimations of violence and suggestively exaggerated images of tools.
By 1967 she had taken the systemic approach of Minimalism, making nearly monochromatic "Wave" paintings based on wavelengths that pushed the limits of visual perception. In the mid-1960's she also began to execute a series of life-related actions (she didn't like the word performance) that tested, among other things, her stamina, her friends' patience and the conduct of everyday life. These works reflected her friendship with Conceptually inclined artists like Sol LeWitt, Hollis Frampton, Dan Graham and Carl Andre. They also reflected an increasing disenchantment with the art world that bordered on hostility.
Many of these pieces were proposed or recorded in written works that she considered drawings. Sometimes she designated everyday activities like thought, conversation or marijuana smoking as art, attracted by the idea that they were unsaleable and democratic. Her "Throw-Up Piece" proposed throwing the 10 most recent issues of Artforum, the leading magazine of contemporary art, in the air and letting them fall where they may. In "Transistor Radio Piece" she listened to a radio while attending a panel discussion on art.
In 1969 and 1970 Ms. Lozano began a steady withdrawal from the art world in works that she titled "General Strike Piece" and "Dropout Piece." She decided to boycott women for a month or two as a means of improving communication with them. For unexplained reasons, she continued this piece to the end of her life, despite the great inconvenience and, one supposes, even greater rudeness.
Ms. Lozano was born Lee Knastner in Newark in 1930. She received a B.A. from the University of Chicago in 1951 and studied painting at the Art Institute of Chicago. A brief marriage in the late 1950's to an architect, Adrian Lozano, ended in divorce. She leaves no survivors.
Ms. Lozano had her first exhibition at the Bianchini Gallery in New York in 1966 and was then associated with the Green Gallery. In 1998 her work, long absent from the New York scene, returned when three SoHo galleries, Mitchell Algus, Rosen & Van Liere and Margarete Roeder, each showed a different phase of her painting. At the same time the Wadsworth Atheneum in Hartford exhibited her "Wave" paintings and notebooks. All the dealers and curators involved with these exhibitions were men.
---

Futurist Known as FM-2030 Is Dead at 69
By Douglas Martin, courtesy of The New York Times

---
July 11, 2000 - A futurist who changed his given name to something a little more forward looking, FM-2030 to be specific, died Saturday night at a friend's Manhattan apartment.
An author, teacher and consultant to corporations, he was 69 and lived in Miami.
The FM might have stood for Future Man, Future Modular or Future Marvel, but he never said. He also did not like to answer questions about his nationality, because he considered himself a global person. He felt the same way about his age, because his latest artificial hip was only two years old, making the question, in his view, meaningless.
But he would have turned 100 in 2030.
And, if his plans are realized, he might still.
FM-2030, who was known for his sunny optimism, had directed that his body be frozen by an Arizona foundation specializing in such things in the hope that doctors in the future will find a cure for pancreatic cancer, which his longtime friend Flora Schnall said was the cause of death.
Part of his futuristic vision is the idea that people will eventually become wholly made of synthetic parts, as their minds are transported vast distances through space. He predicted that humans would become "post-biological organisms."
He was "launched," his word for born, F. M. Esfandiary on Oct. 15, 1930, and legally changed his name in the mid-1970's. Under both names, he thought very large thoughts, usually about an imaginary future that he described in great detail.
He said that someday a Santa Claus machine would produce three-dimensional objects in the manner of copying machines. This, combined with free energy from the sun, would produce limitless resources and eliminate competition.
Traditional families would be replaced by a Club Med morality, a good thing in the estimation of a man who never married because he resented the idea of humans belonging to other humans. Energy and other natural resources would be essentially limitless, he contended.
Humans would become immortal.
"It's just a matter of time before we reconstitute our bodies into something entirely different, something more space-adaptable, something that will be viable across the solar system and beyond," he wrote in 1989.
"He thought that death was tyrannical," said Ms. Schnall, a Manhattan lawyer. "He wanted to do away with death."
He saw himself as an anachronism. "I am a 21st-century person who was accidentally born into the 20th," he said. "I have a deep nostalgia for the future."
Many of his predictions were prescient. In a 1977 interview, he spoke of correcting genetic flaws and of fertilization and gestation outside the body. In 1980, he wrote of teleconferencing, telemedicine and teleshopping. He argued against the assumption that many more nursing homes would be needed in the 21st century, on the basis that health standards would improve, making nursing homes less necessary.
F. M. Esfandiary was the son of an Iranian diplomat. He was born in Belgium and lived in 17 countries in the first 11 years of his life. He said the experience influenced him to think of himself as a global citizen, and said there were no illegal immigrants, just irrelevant borders.
His looks and abilities helped him play citizen of the world. Courtly and handsome, he spoke Arabic, French, Hebrew and English. In the 1948 Olympics, he competed in basketball and wrestling for Iran. His novels were "The Day of Sacrifice," "The Beggar" and "Identity Card."
At the time of the Iranian Revolution in 1979, the novelist Anne Tyler wrote that "Identity Card," published in 1966, was "the perfect way to find out why so many fists are raised in Iran today."
His books about the future were "Optimism One," "Telespheres" and "Are You Transhuman?" He was revising two others, "Countdown to Immortality" and "The Coming Age of Abundance" when he fell ill.
He taught at the New School for Social Research in Manhattan, the University of California at Los Angeles and Florida International University in Miami. He was a consultant for Lockheed, J. C. Penney and Rockwell International, Florida International University officials said.
He is survived by four sisters, Farideh Sadjadi of Baltimore, Fereshteh Jahanbani of New York, Forouzandeh Moghimi of Tehran, Iran, and Behjat Ghanbari of Bushehr, Iran; and a brother, Mohsen Esfandiary of Washington.
For now, his body is in Scottsdale, Ariz., immersed in liquid nitrogen in a thermos tank at the Alcor Life Extension Foundation. The foundation noted in a news release that no frozen mammal had been successfully thawed.
Though he acknowledged that he would have no money if he woke, he said he would not care.
"I'll be so glad that I'm back," he said in an interview in The Palm Beach Post.
---
Here's the next set of groovy obits for your reading pleasure...
Stretch Johnson, 85, Communist Tap Dancer

Jerome Smith, Original Guitarist for K.C. and the Sunshine Band, Dies at 47

C.D. Atkins, 86, Inventor of Orange Juice Process

---
Links
---
There are several obit enthusiast sites out there, and each has its own unique take on obituary journalism. Here are some recommended sites you may enjoy as well.
---