! MP3 00/00/00 > <! update 00/00/00 > <! outside 00/00/00 > <! pix 00/00/00 >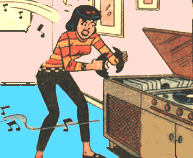 ---
TOPPERMOST OF THE POPPERMOST
Joe Sixpack Looks at
Some Reasonably New Music: 2007
---
Well, here are a few more rock & pop & jazz reviews for y'all... It's all kind of random these days, since my attention has mostly been focussed on country and world music for the last few years. Always looking for recommendations, though!
This month: The "Beatles", Brunettes, The Commonwealth, Deep Blue Organ Trio, Bob Dylan, Les 5 Gentlemen, Gore Gore Girls, I'm From Barcelona, The Lodger, The Pipettes, Les Sans Culottes, Sly And The Family Stone, Various Artists "LA BELLE EPOQUE", "LE POP, v.4"
---
Some Pop & Rock & Jazz: 2007
---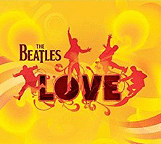 The Beatles "Love" (Capitol-EMI, 2006)


As a Beatles baby, born and bred, I knew that someday I would have to give in and check this out... A remix album masterminded by Sir George Martin and his son, Giles, this purported to be a mindblowing reimagining of the Beatles catalog, drawing on the original EMI master tapes to create the ultimate Fab Four mash-up mix. There are some clever moments on here, but on the whole it is a profoundly unadventurous record: brightly remastered, mostly very linear, rarely challenging, and packed with facile combinations of beloved Beatles oldies. Compared to brilliant, aggressive reappropriations such as John Oswald's long-suppressed studio manipulations or the infamous Beatles/Jay-Z Gray Album mashup, this is a terribly polite record, made of mere pastiche and a few good parlour tricks, but little real bite. Most of the tracks are more or less straight run-throughs of various golden oldies, with hazily-identifiable fillips of other songs -- guitar tones, string sections, etc -- thrown simply in for the sake of throwing something in and making the songs sound a little bt different. It's all very Little Jack Horner-esque, but not very visionary. Occasionally, it's even quite clumsy: the "Drive My Car/The Word/What You're Doing" mix is simply embarrassing and the "Blackbird/Yesterday" acoustic guitar segue, while sounding quite lovely, has the feel of a botched ice skating finale: did Michelle Kwan really just stop dead for a split-second before going into that triple-axle? Ouch. The only truly imaginative mix on here is the intertwining of John and George's mystical visions in "Within You Without You/Tomorrow Never Knows," and perhaps the underwater version of "Octopus's Garden." Sure, I can understand the need to keep a mainstream project accessible and coherent to the record-buying masses, but did they really have to play it so safe, and make a record that is so ineffably dull? Well, I suppose that one of these decades the copyright laws will finally run out, and some real remixes will be able to see the light of day. I'm looking forward to it, but in the meantime I'm just sorry that George Martin, a man who I greatly admire, missed his shot this time around.
Brunettes "Structure And Cosmetics" (SubPop, 2007)


A good friend with great taste raved about these guys to me, pegging them as the great new kiwipop band of the decade. Sadly, though, I'm just not feeling it here. I'm just not that into these New Zealand noisemakers basic approach -- super-goofy lyrics backed by rapidly-changing, purposely difficult music. Not quite as abrasive as Ween, nor as cutesy-wootsy as Stereototal, Brunettes manage to summon distinctive, catchy riffs, then fritter them away at a moment's notice. If you're into artists that are clever for the sake of cleverness, and feel that the best way to underscore their cleverness is to make their music irritating and spasmodic, then you oughtta love this duo. Perhaps it's just the thing for folks who think rock'n'roll (and indie rock, in particular) takes itself too seriously these days. But some of us still like a good melody, too, and this disc strikes me as super-clever and super-cluttered. I'll stick with Flight Of The Conchords (...who are also on SubPop, as it turns out... Vive la kiwis!)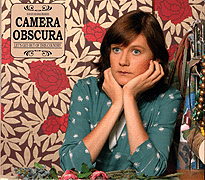 Camera Obscura "Let's Get Out Of This Country" (Spit & Polish, 2006)


Without doubt, this is my favorite indie offering of the last few years. Camera Obscura is sometimes unfairly linked to or compared with their fellow Glaswegians, Belle & Sebastian, but the approaches of the two bands are markedly different, mainly because Camera Obscura is a more deliberately coherent (and arguably more potent) pop band. The main attraction is songwriter-vocalist Tracyanne Campbell, who is one of the most heartfelt and capable indie song stylists of her generation -- she sings with conviction, brio and dexterity, and, working with a fairly flat tonality, proves herself masterful at both phrasing and intonation. Her songwriting is irresistible as well -- Campbell's twee, love-bitter lyrics have a faint sheen of high school spiral-notebook poetics, including the cleverness and the bite. She prizes out unexpected turns of phrase and emotion and, most important, knows where to linger long enough to summon up a stunning chorus (as heard on the album's opener, "Lloyd, I'm Ready To Be Heartbroken.") Her instincts are well served by the album's shimmering, Spectorian production (courtesy of Sweden's Jari Haapalainen) which combines both extreme compression and surprising dynamic range, notably on the bouncy "If Looks Could Kill." Lastly, Campbell seems not to care a fig for the too-cool ethos of many of her hipster contemporaries -- she doesn't feign distance or disinterest in her own art, but instead fully throws herself into what she's doing, and her combination of craftsmanship and exhilaration completely won me over. I was floored by this album, and look forward to more of the same. It's yummy stuff.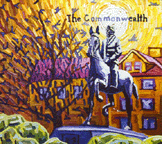 The Commonwealth "The Commonwealth" (Let's Be Quiet, 2007)
As old-fashioned, acid-fried freak-folk continues to gain popularity with the indie-hipoisie, more and more kooky projects like this will float to the surface. Folks who find Sufjan Stephens a bit too tame and coherent will dig the arty, admittedly insufferable, spaced-out songwriting and general over-the-top weirdness of this Kentucky-based experimental folk ensemble. Other than the hilariously louche novelty song, "(Making Out With The) Mirror," this is not very accessible -- not at all -- but part of the price of admission is being able to declare your love of pretentious, indulgent musicmaking. And these folks deliver it by the truckload, indeed, wearing it as a badge of honor: for listeners looking for difficult music that will set them aside from the common herd, the Commonwealth just might be your cup of (licorice?) tea. Although I can appreciate the joke -- Violent Femmes-meets-Borbetomagus-meets-Bridget St. John, or whatever -- I can't really listen to stuff like this recreationally... but I know folks who do. (Self-released, available from the band's website.
Deep Blue Organ Trio "Folk Music" (Origin Records, 2007)


Swingin', groove-laden soul-jazz, anchored by organist Chris Foreman on the Hammond B3, along with guitarist Bobby Broom and Greg Rockinham on drums. This Chicago ensemble is a compact, confident trio, playing retroriffic, finger-snapping grooves, very much in the style pioneered by Jimmy Smith, Richard "Groove" Holmes, and their followers. The Deep Organists stick to the mellower side of the spectrum, and while this album is hardly challenging, it is really nice to listen to. Earlier albums had more of an oddball repertoire (covering Prince songs, etc.) but this time around they're more in the standards-based tradition, with tunes by Jimmy Van Hausen, Victor Feldman, Hank Mobley and others (along with a nice original tune, "A Deeper Blue," which opens the album...) If you like mellow, soulful jazz instrumentals, this is a sweet little set.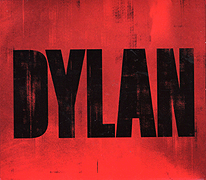 Bob Dylan "Dylan" (BMG/Sony-Legacy, 2007)


Bob Dylan "Dylan" (Collector's Edition) (BMG/Sony-Legacy, 2007)


A swell 3-CD set covering Dylan's career from his first Columbia album in '62, up through his most recent, 2006's Modern Times. Dylan has the almost unique advantage of having stuck with the same record label throughout his career, so assembling an all-encompassing retrospective isn't as difficult for him as for other artists who may have bounced about a bit throughout the years. This collection touches on all his major studio albums, with detours into the myriad archival and concert albums that Sony has excelled at while keeping Dylan's legacy alive. The warts-and-all approach has advantages and disadvantages, some songs, heard in The Basement Tapes, for example, have fuller-sounding studio versions, but it's nice to hear Dylan's different approaches to his material. Some songs, like "Lay Lady Lay" and "Knocking On Heaven's Door," are so anchored in their studio sounds, and so gratifying to hear, that it would be near-blasphemous to anthologize a demo instead. Dylan's entire catalog remains in print, and probably will be in perpetuity, so many fans will prefer to revisit the complete, original albums -- entirely justifiable since his career offers such a rich trove of artistic and poetic growth. Still, this retrospective does an admirable job of cherrypicking from various eras, and can serve both as a good introduction to Dylan's work, and as an entirely satisfying, portable best-of collection that'll make old-timers as happy as newbies. I confess, like many others I start to blank out in the late '70s, when Dylan embraced his role as a voice-of-a-generation spokesman a little too literally -- the born-again proselytizing of Slow Train Coming is still a buzzkill after all these years -- but he recovered his cool and has produced consistently mystifying, mystical work ever since. And while the early years are packed with all the fun stuff, perhaps the true value of this collection is in compacting the later years into a more readily accessible form -- we may want all the old albums, but chances are many of us would prefer a guided tour though the later stuff. Well, here ya go. Another nice one from the Sony-BMG media empire!
Les 5 Gentlemen "Complete 1965/1968" (Magic, 2005)


A lively, thrilling set of Mod-tinged psychedelic rock from this fab French fivesome. The Gentlemen stand out from their pop-oriented ye-ye contemporaries for their originality, aggressiveness and raw rock'n'roll power: although their songs were somewhat shambolic and rough-edged, the rhythm had real drive and the melodies were clever and unique. The band was also heavily steeped in the freaky counterculture of the times, more in touch with Swinging London than with cerebral Gay Paree. It's the sort of band you might find a track or two of on psych-garage collections of the Nuggets and Pebbles variety, but here you have a whole album's worth of groovy tunes culled from six EPs they released between 1963-68, including their first release, under the name Le Ambitieux. It's pretty cool. If you're looking for a French Kinks/Yardbirds/Remains-style band, check these gents out!

The Gore Gore Girls "Grown-Ups" (Bloodshot, 2007)


In a pre-Donnas world, garage-gal retro-rock would reference '60s groups such as the Standells and Troggs, along with a liberal dose of roughened-up girl-group riffs... Nowadays, though, the touchpoints are more likely to be '70s-style hard rock and power-pop backbeats -- Cheap Trick, Montrose, maybe even a little Foghat or Sweet. And of course, we can't forget foremothers such as the Schoolgirls, Runaways and Suzi Quatro. These gals cover a lot of familiar territory, with plenty of jailbait-y pouting and lyrical snarls, but they do hit some solid grooves, and do dip back into the fuzz-drenched 'Sixties grab-bag for a tune or two. They're not saying anything new, but sweaty-fisted fans of the style will probably dig it... especially if they crank it up loud.
I'm From Barcelona "Let Me Introduce My Friends" (EMI, 2006)


Giddy, goofy, fun but facile, ultra-naifish meta-pop from a gigantic (29-piece) Swedish ensemble. This crew seems to take its cues from Polyphonic Spree, seeking to craft music that's so irresistibly, remorselessly melodic and head-bobby that anyone who doesn't fall in line and get all drooly-faced and dopey over it will be labeled a humorless grinch. It works for a lot of people, for sure: they have avid fans, although there are also those who turn on the critical blinkers and start strapping reindeer horns onto their puppy dogs. I thought about a sleigh ride into Who-ville, but I got distracted when I started to hum... Really, it depends on your temperament -- if you're feeling grouchy, there's room to kvetch, but if you just want something light and frothy, these kooky Scandahoovians can definitely deliver.
David Kilgour "The Far Now" (Merge, 2007)


Hmmm. Maybe it'll grow on me. Maybe not, though. I'm a huge fan of New Zealand kiwipop god David Kilgour, and I dig his languid, fuzzed-out drone style of electric guitar. But, I also recognize there is a too-loose side to the kiwi scene, and sometimes these guys make records that simply lack cohesion or momentum... I'm afraid this is one of those times: there are many of the stylistic hallmarks that make Kilgour's best work so wonderful -- the unhurried pace, the lack of concern for what the outside world is doing, and musicmaking for its own sake. But it just doesn't hold together here... The album is far-flung, diffuse and maybe even a little lazy, but not in that sublime way as his other albums. It's cool in parts, but it didn't really wow me. Like I say, maybe with a few more listens, I'll get into it, but right now I'm struggling a little... (More David Kilgour albums are reviewed in my New Zealand pop section...)

The Lodger "Grown Ups" (Slumberland, 2007)


Cynical, clever, super-jangly, manically melodic Brit-pop, ala The Wedding Present... This Leeds-based three-piece offers rapid-fire, tightly constructed guitar riffs, unrelentingly up-tempo riffs that batten up all the empty space behind singer-composer Ben Siddall, who has a classic angry-twee/bitter-sensitive delivery. It's all very early-1990s, but as with the music it picks up the torch from, this draws you in with its majestic intent and sharp craftsmanship. It's not quite as exhausting or as caustic as the David Gedge ouvre but it draws from the same wellspring... And if that sounds intriguing to you, you are probably the right person to check this puppy out.

The Pipettes "We Are The Pipettes" (Memphis Industries, 2006)


Girl-group punk, with and electro-disco tinge? And they're from the UK? Golly! Im in...! Yeah, I fell for the hype, including recommendations from in-the-know hipster friends, but I gotta say, the Pipettes' schtick doesn't do much for me... The sound is too dense and the concept is too self-congratulatory, and the lyrics are a bit blunt... Clever, in parts, but not as much of a crank-up-the-volume-and-get-stupid power-pop lovefest as I'd hoped for. The wall-of-sound homage is too dominant, though it doesn't feel as retro as it should -- everything about this record feels planned out and mediated, a modern lark rather than an in-the-moment revel. If I were still doing radio shows, I probably wouldn't play much off this disc -- maybe "Judy," "ABC," or "I Love You," but that's about it. It just isn't that much fun to listen to, and that matters a lot to me. Silly old man.
Les Sans Culottes "Le Weekender" (VibraTone, 2007)


Tres bien! or Je suis fatigue? Here are a bunch more crazed, kooky musical mashups of French ye-ye and various brands of non-Gallic rock. This New York-based novelty band composes songs that draw on the music of many eras -- garage, punk, glam, Motown, indie and new wave -- and throws themselves full-force into irreverent lampoons of French pop, with half-nonsensical lyrics packed with pop culture references galore. This fast-paced album is a bit relentless and even a bit exhausting at times, but taken in small, bite-sized chunks, it can be rewarding and hilarious. I'm sure the band must be a lot of fun live; they'd also sound nice blasting past at light speed in a good freeform radio mix -- or on a home playlist, for all you DIY musicaholics out there. Worth checking out, especially if you haven't heard their earlier albums yet.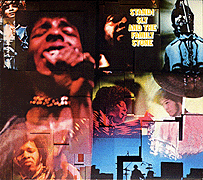 Sly And The Family Stone "Stand!" (Columbia, 1969/2007)


Wow...! Every time you come back to these old Sly Stone albums, they continue to astound, and this one is certainly a highwater mark, by anyone's standards. There's the sheer ferocious funk of it all -- Sly, bassist Larry Graham, the whole crew -- and the cultural wham-bam of the best goddamn hippie band ever. A lot of people go on and on about how this is the wellspring of modern funk music -- or at least the George Clinton/Bootsy Collins wing of the scene -- and that is true, although it's certainly not the whole picture. One of the things that stands out for me is how thoroughly Sly & Co. embodied and embraced their role as a political-cultural entity, giving voice not just to a nascent multicultural/black power movement, but to the shaggy, hippiedelic Left as well. They sang in the code of the subculture, offering hope, affirmation, paranoia and anger, with a big psychedelic telescope aimed squarely at The Man and The Establishment. This disc is packed with mini-manifestos, girded by a raunchy free-your-mind-and-your-ass-will-follow playfulness that allowed it to survive the tedium of politics in the raw. Part of this disc's greatness is that it carried the drug-scarred, raw-boned politics of the hardcore hippies into the future -- the topical songs on this album didn't date themselves the way that tunes like "For What It's Worth" or "Blowing In The Wind" did... They still penetrate into people's minds because they music is wild and and message is weird... Meanwhile, in musical terms, this is hard to beat. Other than the tedium of "Don't Call Me N----r, Whitey", this is a nonstop funkfest, and some songs, like the fuzzed-out album-side jam of "Sex Machine" still can warp your brain, if you give it a good listen. (Note: the 2007 CD reissue adds four bonus tracks, including singles mixes of "You Can Make It If You Try" and "Stand!" Cool beans.)
Various Artists "LA BELLE EPOQUE -- EMI'S FRENCH GIRLS: 1965-1968" (EMI-Zonophone, 2007)


Here's a rare bird: an above-board compilation of French girl-groupish 1960s ye-ye pop-rock... While this collection does sport much cleaner, brighter sound quality than many of the bootlegs that've been coming out over the last decade or so (see below), it's also kinda tame by comparison. Includes singers such as Liz Brady, Alice Dona, Anne Kern and Les Roche Martin... While there are a few outlandish arrangements, these vintage singles tend to be more pop-vocals oriented than rock'n'roll, more about co-optation than innovation. Still, there are some fun tracks, notably Christine Laume's giddy, teenyboppin' "Agathe Ou Christine" and "Te Te Moques De Moi," by Ria Bartok. A lot of this is more in the Connie Stevens/Petula Clark vein, but then again, for fans of that stripe of girly pop, this might be a real gem. Nothing terrible, but if you're a rocker, this won't get your blood pumping the same way as, say the ULTRA CHICKS collections. Worth a spin!
Various Artists "LE POP, v.4: LES CHANSONS DE LA NOUVELLE SCENE FRANCAISE" (Le Pop Musik, 2007)


Another fascinating, richly rewarding collection of contemporary French indie/pop. The electro-tinged cool of Dominique A and Francoiz Breut hovers over this set -- Dominique A contributes one song, but the entire album echoes his work, a doleful, syncretic mix of dark cabaret and joyful, sassy rock-pop. Maybe a bit of Marc Almond and '80s synthies in there as well? Naturalment. It all sounds lovely, though after a while, also all rather similar. The one track to break ranks is "Torticolis," a giddy, handclappy powerpop tune by Bernard Lallemant. There are many enticing tracks on here -- by Pierre Lapointe, Vincent Delerm, Jeanne Cherhal and others, but Lallemant is the artist I most want to further check out. As with the previous volumes, this album is a fine guidepost for further exploration of new French pop: you'll be glad you checked it out! (Also, if you like htis disc, you'll want to check out the Tot Ou Tard record label, where many of these gems came from... One of the best French pop labels around!
---
Recent rock reviews index
---



Indiepop Indiedex
Recent Pop Archives





---