! MP3 00/00/00 > <! update 00/00/00 > <! outside 00/00/00 > <! pix 00/00/00 >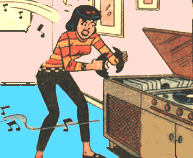 ---
TOPPERMOST OF THE POPPERMOST
Joe Sixpack Looks at
Some Reasonably New Music
---
Well, here are a few more rock & pop reviews for y'all... I've decided to quit whining about how out of touch I am with the whole rock scene (lucky you!) and also to add reviews of jazz and pop vocals releases here... Just because I can. So... here goes... here are a few new things that have caught my ear in recent days...
This month: Arctic Monkeys, The Bats, Gus Black, Gotan Project, Stephin Merritt, Nino Moschella, Beth Orton, Bill Withers, Various Artists: "70s GOLD", "SONGS FOR SIXTY-FIVE ROSES" Books 'n' Stuff: King Dork by Frank Portman
---
Some Pop & Rock & Jazz: Spring, 2006
---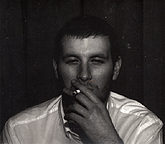 Arctic Monkeys "Whatever People Say I Am, That's What I Am Not" (Domino, 2006)


Everyone was talking about them, so I just had to check them out. Well, okay, so they're Britain's big, cheeky, cooler-than-cool buzz band du jour... It's still not my cup of tea. In short, this is just too jittery and staccato for me... not enough low end or faith in the power of a sustained groove, and the band is just wa-a-a-a-a-a-yyy too in love with itself. The music changes every two seconds, shifting from one dense, machinegun rhythm to the next, never sitting still, with the band continually calling attention to it's own cleverness. The tinny, high-energy approach reminds me of the Dickies and Rezillos, just without the mitigating factor of all the purposefully dumb lyrics to balance things out. These fellas are so into the whole inscrutiably witty, Britty snide lyric thing that there's hardly a single sing-along chorus or memorable melody to be heard. In short: I am a grumpy old geezer and was mostly nonplussed by this one. I mean, it's okay, but I doubt I'll spent much time listening to it. Plus, the guy is smoking a cigarette on the cover: what kind of message is that to send to the youth of today??
The Bats "At The National Grid" (Magic Marker, 2006)


Bee-yoo-tee-ful, dreamy guitar pop from one of my favorite New Zealand kiwipop bands. The Bats have had a few missteps in recent years -- iffy solo stuff, etc. -- but this disc landed with a big BANG onto my sound system... It's great. One of their best records, if you ask me. Fans of late vintage Yo La Tengo, or other kiwi dronemasters such as David Kilgour will love this record... It's got a mellow, hypnotic feel and while, yeah, there's not a lot of stylistic variety from song to song, that's okay, because this is a sameness that I really want to hear. Great in a mix, too. Recommended!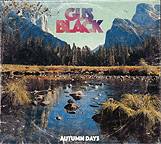 Gus Black "Autumn Days" (Cheap Lullaby, 2005)


A sweet, melodic, guitarry album from this LA-based artist, with the same easygoing poppiness as the most recent Pernice Brothers records... This disc probably won't alter the course of your life, but it may make a few days pass by nicely. Easy on the ears, but substantive and serene.
Gotan Project "Lunatico" (XL, 2006)


A very cool, very mellow record, tailor-made for airplay in tattoo-packed cafe's and super-hip bookstores. This French-Argentine ensemble seamlessly fuses modern electro/triphoppish with the dark, brooding elegance of raw, unvarished tango, bringing Astor Piazolla's modernist vibe into a new millennium. The uncompromised wheezing of the Argentine bandoneon (or mega-accordion) laces through the, dubby, multi-textured soundscapes... This was one fo those much-welcome records that I had a hard time getting ot of my stereo once I put it in, I just wanted to hear it again and again. Chances are you might have the same response... Recommended!
Stephin Merritt "Showtunes" (Nonesuch, 2006)


I picked this one up out of idle curiousity: did I still really give a rat's ass about the Magnetic Fields' prime auteur, Stephin Merritt? Well, turns out, not so much. I knew he'd gotten into composing for stage and film, but I'd kind of hoped this album's title was an ironic deflection... Unfortunately, it wasn't. This disc collects a couple of dozen songs Merritt wrote for various stage plays, most of which have some sort of Asian theme or origin, made in collaboration with Chinese opera director Chen Shi-Zheng. It's fine songcraft, I suppose, but by and large these tunes show Merritt taking himself way too seriously, indulging in precious little of the kitschy, pop culture kitchensinkism that made his old rock-tinged work so much fun. This is skillfully rendered stuff, but you kind of have to work to appreciate it. I'm too old and too lazy and philistine for that: I want the melodic payoff and groovy brain buzz right up front... If Merritt can't provide it anymore, there's any number of musicians out there who will. Kabuki me, baby! Kabuki me now!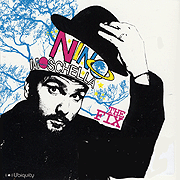 Nino Moschella "The Fix" (Ubiquity, 2006)


A weird, freaky, mix of funk, blues and lo-fi psychedelic rock from the outskirts of Fresno, California... In the interests of full disclosure, I should mention that I knew Nino when he was a little kid, and used to be one of his neighbors living off the grid out in the Sierra foothills, and I remember attending many a boozy blues-rock jam session at his dad's place (which is where this album was recorded). Now, Nino was only like five years old when I met him, and it's really weird to encounter him in this new adult incarnation, and also to see how the sloppy hippie rock music he grew up with has filtered itself into a new, organic form in his own music. This disc, which I gather is a largely self-produced effort, has the unusual flair of a true 4-track masterpiece, the introverted passion of lonesome, late-night recording sessions and a dedication to the music that comes through in a way that you seldom hear anymore in this day and age of corporate pop. If Prince was coming at hippie culture from an R&B perspective, Nino Moschella is meeting him halfway, bumping down a dirt road from the opposite direction. There are wisps of Stevie Wonder and Michael Jackson in Nino's impassioned, attentuated, high-end soul vocals, but the music, with its densely layered, shambolic glory, is more like the loopy lovechild of George Clinton's P-Funk crew and the Beat Happening school of lo-fi indierock. This is a record that will stand out as an indiosyncratic cultural artifact -- some folks will love it just for the music itself, others will keep it as a curio... It is, literally, a voice from the wilderness, as well as a record that is recognizably human and unique. In these days of increasingly bland pop culture, we need a few more hand-produced records to keep the blood flowing. It's not entirely my cup of tea, but it's worth checking out if you're in search of something different and new.

Beth Orton "Comfort Of Strangers" (Astralwerks, 2006)


A nice album from this well-regarded British trance-folkie... Like a lot of folks, I fell in love with Orton's work through her stunning late-1990s debut, and the accompanying EPs (which still sound great), although I lost track of her after an album or two. I read somewhere that this new disc was a super-groovy acoustic-based effort, and thought it sounded like something I'd want to hear. It's good, though not so radically different from her earlier work. There are several gorgeous, alluring tunes, packed with that curious, meter-defying interstitial grace that Orton can bring to bear; other tracks sound forced and formulaic, albeit following the formulas that Orton herself created, which are still pretty potent. There are also some stylistic choices that don't do much for me, balanced by stuff that's simply sublime. So, it's a mixed bag, but mostly pretty damed nice... Definitely worth checking out.
Bill Withers "Just As I Am (Dual Disc)" (Sony-BMG Legacy, 1971/2005)


This one's a mixed bag... On one hand... YAY! The first Bill Withers album is and always will be a thing of great beauty and power, an amazing mix of funk and folk, made with an intensity and poetical directness that few have ever matched or even come close to... If you're not familiar with this record, get it. It's packed with great tunes, notably the bittersweet "Grandma's Hands," the elegant "Sweet Wanomi," the huge pop hit, "Ain't No Sunshine," and the ultra-bummerific "Hope She'll Be Happier" and "Better Off Dead," which has gotta be one of the spookier novelty songs ever recorded. In 1971, Withers emerged from utter obscurity, fully formed and ready to conquer the world, which he did after soul producer Booker T. took him under his wing and loaned him his band, who were some of the slyest, funkiest session players in LA. The extras on this disc are a real treat, notably a trio of vintage video clips of the then-ascendant Withers playing live on a long-defunct soul music TV show, and a present-day one-on-one interview conducted by the ever-insufferable movie critic (huh?) Elvis Mitchell. What's most remarkable about the interview is the barely-suppressed rage that the middle-aged Withers still clutches tight, as he tells the tale of how he joined the military in order to get out of the Southern mining town he grew up in, and how he barely scrabbled his way into the music industry, one of the fortunate few to escape urban ghetto life in the early 1970s. I'm sure that for many white liberal fans, Bill Withers was seen as an icon of fuzzy, accessible, cross-cultural kumbaya handholding; Steve Wonder without the Motown musical baggage. It may come as a shock to see the flashes of pure anger as he touches -- only lightly -- on American racism and how he felt being pigeonholed as a performer. It's all fascinating stuff which does add greatly to our appreciation of his music. (Nice liner notes, too.) Okay, so that's the good side. The bad part is that this disc is (groan, Sony, when will you ever learn?) copy-protected and won't play on a computer disc drive... At least I couldn't get iTunes to recognize it, which really ticked me off, because I really wanted to play this album in the car... Also, the interview segment is intercut with numerous tantalizing clips of Withers playing several other songs of the same vintage as the three that are included on the video portion of the disc... Oh, my lord, how much cooler this record would have been if, instead of skimping on this part, they had simply included a second disc of video-only material, and let us see the rest of these concert performances! Hopefully the reason for this is that the owners of those video archives have plans of their own, and that a longer film will emerge someday, since that material is really, really cool. Okay, so, the short answer is that, yes, this dual-disc is worth picking up, although I suspect that we'll look back and see it as a mere stopgap measure, once the rest of the video material sees the light of day... Meanwhile, there are more digitally accessible music-only versions of the album out there (such as the generous 2-for-1 reissue on Raven Records that includes his second record as well...) but once you sit down and listen to this record, you'll love it, no matter what format it's in.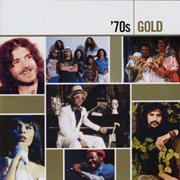 Various Artists "70s GOLD" (Hip-O/Universal, 2006)


I am shameless. I am without shame and entirely lacking in self-reproach or cool-factor reserve... Look, dude, I grew up geekily listening to Kasey Kasem's "American Top Forty" every single week for almost all of the disco era, and each one of the cheesy pop, rock, disco and AOR tunes included on this 2-CD set is deeply, deeply ingrained in my mind. I actually don't even have to put the discs in the stereo... I just glance at the song titles and there they are, each factory-produced pop hook, funky bass groove and sleazy singles bar come-on line, hardwired into my cerebral cortex... Boston, Chicago, Cat Stevens, Elton John, EW&F, Pablo Cruise... It's all there, playing in a continuous loop somewhere deep in the back of my brain, waiting to reemerge when I'm stuck in an old-folk's home and my short-term memory goes kaput. In the meantime, I can say, with great authority, that this is a first-rate collection, and that the music conglomerates of today are getting closer and closer to fulfilling the once-empty promises of "ultimate" collections... See? This is the kind of thing that media monopolies were born to do! Play that funky music, white boy. Play it!!

Various Artists "SONGS FOR SIXTY-FIVE ROSES: RE-WORKING THE NORTH CAROLINA JUKEBOX" (The Splinter Group, 2006)


This is a powerful, striking collection, with the cream of North Carolina's indie scene pitching in on an record to benefit cystic fibrosis research. "Sixty-five roses" is a phrase doctors use to teach children who get cystic fibrosis to pronounce their disease... The songs don't explicitly deal with CF, or even with illness, but there is a moodiness that spreads over many of the tracks, and this is quite a moving album... The highlights are frontloaded into the first half of the album, particularly in Caitlin Cary's mysterious, eerie cover of "Battleground Park," and Portastatic's plaintive version of Ryan Adams's "Oh My Sweet Carolina." The record continues apace, one strong song after another -- certain tracks float to the fore, with Athenaenum's refreshingly sincere reading of the Randy Travis hit, "Forever And Ever, Amen," being a surprise standout. Really, it isn't until the very end, with a few ragged, irritating tracks, that the mellow, melodic vibe gets sacrificed to a more difficult aesthetic... And the album's closer, an appropriately cloying cover of James Taylor's "Shower The People," was the one song that made me rush to the remote (though fans of the original version might like this one as well...) Still, a couple of weak tracks on a sprawling, 16-song album like this is a pretty darn good ratio: dunno what it is about North Carolina, exactly, but they must be doing something right. I'd definitely recommend this record! (PS -- if you want to learn more about cystic fibrosis, here's a link to the label's website: www.songsforsixtyfiveroses.com )
---
Related Media
---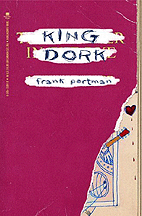 "King Dork" (Delacorte Books, 2006)
by Frank Portman


The pop-punk pioneer known as Dr. Frank, songwriter for the long-lived Mr. T Experience, tries his hand at the "young adult" book market... King Dork uses the baby boomer generation's preoccupation with J. D. Salinger's Catcher In The Rye as a springboard for a far-reaching and completely hilarious dissection of modern-day high school life... (Modern-day, and yet... some things never change. Plenty of people will read this and painfully recognize their own high school and junior high days...) I read about half of this book while sitting in the bathtub, mostly because having started, I couldn't find a bookmark and I was really into the story and I didn't want to lose my place. Finally the water was getting cold and my toes were all pruny, so I tore one of those irritating subscription inserts out of the New Yorker and used that... I used to spend a lot of time as a kid reading stuff in the tub... In fifth grade, I plowed through a pretty hefty chunk of Edgar Rice Burroughs and Ursula K. LeGuin and Encyclopedia Brown books that way... Oh, and about a bazillion comics books, pretty much every title Marvel Comics put out at the time, even though they were at their creative nadir then... I was still a devoted reader right up until the end of the disco era. All of which may seem a bit off the topic, except that this is my little way of saying that when Dr. Frank writes about social outcasts and uber-nerds, I, too, have lived the life he describes. In addition to being whaled on at every recess break I can remember, I also waged a two-pronged war on popular culture, boning up on my "Welcome Back Kotter" episodes so I could chime in on the playground discussions the next day, while also staying up late to watch the then-cutting edge "Saturday Night Live" and air-drumming along to "Paint It Black" by the Rolling Stones, as well as the Sex Pistols, Clash, Buzzcocks and the Damned, all of whom I fervently loved in '77-78 and forsook for old-school country music in '79 after I decided that pop songs about abortions were kind of tasteless and gross. (I later regained my sense of humor, only to lose it again later, in an ongoing pendulum of anal retention...) Naturally, growing up in the Midwest at the time, I had next-to-no-one to talk about any of this stuff with, and if anything I look at King Dork's protagonist, Tom Henderson with a bit of envy.. at least he had one friend at school, and he came of age well after the glory years of Barry Manilow, Pablo Cruise and Kiki Dee...
But enough about me. Suffice it to say that this witty, hilarious portrait of geekiness and irony-shrouded alienation rings true, even for an old fart like me. It's also great that the book's narrator is SO far out of the social mainstream of his school that he is able to view all of the various cliques and niches with equal amusement and dispassion. The observation that the metalheads could actually be kind of nice people, relatively speaking, is the sort of thing that only a true loser could say -- the point being, that as self-defined outsiders, at least they weren't highschool bullies the way the jocks and "normals" were. It's also nice that the author -- a pop-punk pioneer who now has enough perspective to poke fun at punk rock, too, champions early '70s bubblegum and hard rock without having to resort to facile or apologetic irony. This is a pop culture excursion that has depth and soul... Plus, it's funny as hell. If half of this rambling "review" makes sense or rings a bell, or if you're already a Dr. Frank fan, then you will love this book.
---
Recent rock reviews index
---



Indiepop Indiedex
Recent Pop Archives





---