! MP3 00/00/00 > <! update 00/00/00 > <! outside 00/00/00 > <! pix 00/00/00 >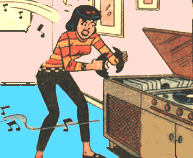 ---
TOPPERMOST OF THE POPPERMOST
Joe Sixpack Looks at
Some Reasonably New Music
---
Well, there's been a lot of water under the bridge sing my last set of reviews was posted in February... They keep making rock and pop records, and I keep getting confronted with how incredibly out of touch I am... It all goes by so fast!
Reviewed on this page: Jeff Buckley, Richard Buckner, El Chicano, Robyn Hitchcock, David Kilgour, Kings Of Convenience, Les Sans Culottes, Octet
---
My Latest Pop Conquests: October, 2004
---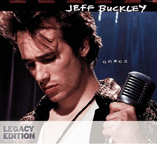 Jeff Buckley "Grace" (Sony Legacy, 1994/2004)


I remember when this album originally came out... It was deemed too mainstream to make much traction at my ever-so-indie college station, but I recall being dimly aware that Buckley was attracting what is quaintly known as a cult following. It didn't hurt, of course, that he was the scion of a well-known, cult-beloved folkie space-rocker from the 'Sixties -- Tim Buckley -- who died young and left a beautiful memory. Then, Jeff Buckely also died young, and the legend was set. Still, he never made it that high on my radar, and when I got ahold of this super-dooper, extra-special reissue edition -- which includes an extra album's worth of rarities and a third DVD disc with official videos and "making of" footage -- it took me a while to focus on it... I had forgotten how yowly and perilously Led Zeppish Buckley sounded, and how little of his dad's, well, grace seemed to be in his music. I know that there's a bunch of moody, broody poetry involved, but he's so enmeshed in torturous vocal acrobatics that it's difficult for a melody-lover like me to dig in and see what all the fuss was about. Still, for Buckley fans, this set is undoubtedly an ultimate package, with lots of extra goodies and plenty of angst and emotion to spare...
Richard Buckner "Dents And Shells" (Merge, 2004)


Dour alt-country crooner Richard Buckner is clearly a musician who has found his groove; his new album picks up where his last one, '02's Impasse, left off, melding an irresistible melodic bounce with his own odd, rumbling vocal drone, a vestige of his old alt-country persona infusing his work with a somber, mumbling gravitas... It's hard to know what the heck he's songing about, but it sure sounds nice. This album is at least as listenable as his last, packed with fine melodies and mysterious introspective musings... If anything, this surpasses Impasse, in that it doesn't have the on-again/off-again feel of that album, where the songs flipped back and forth in a slow-song/fast-song rhythm that made it feel predictable after a while. Here, the pacing is much more subtle, and the record that much more captivating. Recommended!

El Chicano "The Millennium Collection" (Universal, 2004)


One of East LA's hottest and most commerically successful Latin rock bands of the early 1970s, El Chicano fused rock, funk and jazz with deep latino roots, sounding at times like contemporary bands such as Santana and War, while also incorporating overtly jazz influences. On this 12-song disc alone, they covered songs by Tito Puente, Van Morrison, Ray Bryant, Herbie Hancock and -- I kid you not -- Wendy Waldman. The band's eclecticism was backed by a strong musical base, and these tunes are uniformly strong. This is a nice summary of their career, and a good example of the amazing creative ferment of the time. Recommended!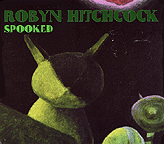 Robyn Hitchcock "Spooked" (Merge, 2004)


The combination of avant-indie trickster Robyn Hitchcock and alt-folkies Gillian Welch and David Rawlings seemed a bit unlikely, considering how much of a goofball Hitchcock can seem, and how resolutely serious both Rawlings and Welch are. Still, it the match may be appropriate, as this album is one of Hitchcock's more serious record... As ever, his songs appear to be packed with non-sequiturs and absurdist flights of folly. Underneath, though, there seems to be a streak of horror (hence the album title), with resigned references to war, and even a "Condoleeza" sighting towards the end. Like many of his rock contemporaries, loathe to announce themselves politically, Hitchcock slips into escapism, sometimes consciously and facetiously, as on "We're Gonna Live In The Trees," and other times through force of habit, as on "English Girl." But to the degree this is a politically overt record, its observations are welcome -- the anti-TV song, "Television," literally personalizes the boob tube and makes its point in a way that may be more effective than a warehouse full of old Jerry Manders tomes, and while musing about the drive towards war, Hitchcock scores a bullseye with the observation that it can pit "good people against Good." For their part, Rawlings and Welch are largely in the background -- the album gives them a chance to indulge their rocker side, and to provide some of their Appalachian Gothic mystique in a few key places... Some of the riffs that drift up are lifted directly from their own albums, and seem a little out of place, but for the most part it works just fine... It's not the quirky Americana gem I'd anticipated, but it is another fine Robyn Hitchcock album, one that -- like his many others -- will grow on you, sometimes in ways you'd least expect. Worth checking out!
David Kilgour "Frozen Orange" (Merge, 2004)


Another winning sleeper album by New Zealabd kiwipop legend David Kilgour. In some ways, Kilgour's lyrics seem as distant and detached as his nation: while thousands of miles away the world falls apart, he sings of obscure emotional issues that have their own odd logic. Usually he's singing directly to the listener, with a mild reproach in his voice... but what the issue is, or what incident spurred his gentle chiding is almost impossible to decipher through the lyrics. In the world of indie rock, this brand of non sequitur-heavy obliqueness and self-absorption is hardly unique to Kilgour; what is striking, though, is the particular dreamy, resigned, forgiving tone of his delivery... His albums often seem like one big, good-natured shoulder shrug, as if he were saying, well, that's cool man, if that's what you wanna do. You still get the feeling that mistakes were made, but no one's gonna give you a hard time about it. Meanwhile, the melodies and textures drift by, recalling the waves that slap on New Zealand's shores... Surf's up, and David's going to ride the next song, straight into your earlobes. This isn't, perhaps, Kilgour's strongest or most striking album, but it's way better than 91.2% of anything else you're gonna hear out there these days... It's a keeper, as far as I'm concerned.

Kings Of Convenience "Riot On An Empty Street" (Astralwerks, 2004)


There's a gal pictured on the cover of this Norwegian duo's album, but apparently she isn't actually part of the band, which is comprised of bandmates Erlend Oye and Eirik Glambeck Boe.. With their whispery dual male vocals and softly plucked guitars, these folks draw an easy comparison to old, early Simon & Garfunkel records... This is a nice, quiet record that invites itself into contemplative moments... There's not a wide variety of tone or tempo, but it's sweet, in a fey, vaguely Everything But The Girl/Belle & Sebastian-ish way.
Les Sans Culottes "Fixation Orale" (Aeronaut, 2004)


If the Bay City Rollers had been French instead of Scottish, and fell into the thrall of some dadaist garage rock scene run by Esperanto cultists... Well, they might have sounded a bit like this gleefully tongue-in-cheek "French" rock band from Los Angeles, who giddily skip from rock genre to rock genre as easily and breezily as they slide between languages. Cracking jokes in pidgin French, broken English, and whatever random syllables seem to be laying around at hand, these folks make no sense, but they sure have fun. The crunchier guitar riffs may be a little hard-rocking for your average frog-pop fans, but folks who liked April March's collaborations with The Makers may find kindred spirits here. I haven't seen them live, but I imagine they are a lot of fun.

Octet "Cash And Carry Songs" (Plain Recordings, 2004)


Laid-back blipping and blooping electro-pop with some clever editing on the opening tracks (a vocal refrain is sampled and slid out of synch with itself, messing with our expectations of the linearity of "pop" music... that kinda stuff...) This French duo -- Francois Goujon and Benjamin Morando -- bends the trappings of electronica into a distinctly "indie" vibe, then they coast back into a more anonymous, mostly instrumental, mode, with broken beats and mellow melodies worthy of their European forebearers. It's a pretty playful set, easy on the ears and kinda fun. Wish they sang in French, though.
---
Recent rock reviews index
---



Indiepop Indiedex
Recent Pop Archives





---