! MP3 00/00/00 > <! update 00/00/00 > <! outside 00/00/00 > <! pix 00/00/00 >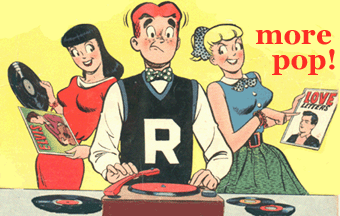 ---
TOPPERMOST OF THE POPPERMOST
Joe Sixpack Looks at
Some Reasonably New Music
---
Welcome to my "pop" pages! Y'know, there is so much great music out there, that this section could hardly hope to be definitive or authoritative, much less (god forbid!) cool. If perhaps you can only bear to read the writers who run most swiftly on the hampster wheels of hipness, then this might not be the place for you. Still, I like well-written songs, with strong pop hooks, vigor, langour, abrasion, subtlety, depth, frivolity, straightforward production, and a minimum of artistic posturing, pandering or ego. Plus, I've got good pop "ears" and a fairly wide palatte. If that sounds okay to you, then welcome on board!
Reviewed in 2003: Acid House Kings, Ryan Adams, Atomic 7, The Beatifics, The Blasters, Blue States, Grace Braun/DQE, Cafe Tacuba, David Clement, Death Cab For Cutie, Deerhoof, The Donnas, Firecracker, The Gay, Gigolo Aunts, The Greenhornes, Guided By Voices, The Hylozoists, David Kilgour.... (with more reviews on the second page...!)
NOTE: I'm finding myself with less unstructured playtime these days, so now I'm starting to make my Indiepop reviews shorter and more to the point. I thought I was getting too long-winded anyway, so it's probably better this way. Older "new review" pages are now archived elsewhere on the site.
---
My Latest Conquests
---
Acid House Kings "Mondays Are Like Tuesdays And Tuesdays Are Like Wednesdays" (Hidden Agenda, 2002)


Pleasant but admittedly unchallenging, soft-toned, folk-tinged twee, with blithe, chirpy lyrics about sunshine, lost love, favorite colors and sleeping in on Sunday morning. With the breathy vocals and sweet, simple melodies, it's tempting to trace the roots of these Swedish soft-poppers back to bands like the Softies or the early '90s Sarah label roster, but the overwhelming and nakedly unhidden to Scotland's Belle & Sebastian is too obvious to ignore. Sounds pretty, but it sure is derivative.
Ryan Adams "Demolition" (Lost Highway, 2002)


Although this disc is billed as an odds-and-ends demo collection, it's actually much more cohesive (and satisfying) than his last album, Gold... (At least Adams isn't still trying to remake Sticky Fingers on this one...) One catchy, moody song after another, evenly balancing his country and poppy-melodic tendencies... There are a few stylistic surprises, such as the Cars-like introduction to the modern-rock "Starting To Hurt" and a strong streak of U2-ishness throughout, but nothing that should cause his loyal fans any real dismay. Lyrically, numerous fire-and-smoke references suggest the spiritual aftermath of September 11th weighed heavily on Adams, but he approaches the subject elliptically and skillfully, and it the metaphysics don't get in the way of the music. All in all, this is a very nice record, alluring and well worth checking out.
Atomic 7 "...Gowns By Edith Head" (Mint/Eleganza, 2002)


Extra points for the classic film reference in the album title. A post-surfy spinoff of Shadowy Men that will not disappoint fans from that there Shadowy Planet. Kinda clangy, kinda twangy, and very full of pep. (PS - I fully expect a follow-up EP dedicated to Cedric Gibbons!!)
The Beatifics "The Way We Never Were" (Bus Stop, 2002)
Super-fun jangly, guitar heavy, power-ish pop with lots of bright melodic hooks and a nice upbeat energy. Good-natured and engaging... recommended!
The Blasters "Trouble Bound: Live 2002" (HighTone, 2002)


You can bet your booty that any Blasters fan lucky enough to have skunked their way into these fab reunion concerts was as happy as can be -- before, during and after the shows. This is a great live album, showcasing the Alvin brothers at their full strength. Sounds a lot better than most concert records, with fiery guitars, a powerful rhythm section and none of the sluggishness that often accompanies this type of just-one-more-time get-togethers. If you're a Blasters aficianado, you definitely won't be disappointed.
Blue States "Man Mountain" (Eighteenth Street Lounge, 2002)


Spacey, lounge-a-delic, swirly splendor, composed, arranged, programmed and performed by one Andy Dragazis, who's got a major psychedelic-orchestral Morricone/Gainsbourg/Hazelwood/etc. jones, and talent to burn. I thought this record was okay, pretty-sounding and bubblegummy for the most part, intentionally excessive, yet not onerously pretentious. I think I may be too square or too crabby or too un-drugged-up to really appreciate this album properly, but I have friends who went completely ga-ga over this disc, so y'all might wanna check it our for yourself.
Grace Braun/DQE "I'm Your Girl" (Dark Beloved Cloud, 2002)


When Grace Braun and her band DQE first showed up... (gosh, when was that? In the early '90s?) she was billed as one of those "mentally disturbed" artists, ala Daniel Johnston... But more notable, I thought, was her way with an unusual melody, and her ability to craft some pretty catchy hooks. This 2-CD set highlights her both "solo," in a more private mode, and with the DQE ensemble... Some interesting, challenging, even difficult stuff. But if you're looking for something truly off the beaten track, then this might be for you!
Cafe Tacuba "Vale Callampa" (MCA, 2002)


A four-song EP from this Mexican supergroup's latest rock en espanol outing. The music is more textured and less aggro than some of their earlier albums, although I have to confess that I found the impassioned, straining-to-show-intensity, emo-rific vocals to be a bit irritating after more than a couple of songs.
David Clement "Your Free Gift" (Show Dog Tunes, 2002)


This guy may be Liz Phair's best buddy, and (perhaps) an amazing lyricist, but I still found this album to be irritating and unpleasant to listen to... The driving rock guitars are too shrill and too aggro for my tastes; it's like he's trying to beat us over the head with how friggin' rawk'n'roll he is, and melodies be damned. Phair fans are obliged to check this one out... "Sit this one out" is more how I feel about it.
Death Cab For Cutie "You Can Play These Songs With Chords + 10" (Barsuk, 2002)


A welcome reissue compilation for Death Cab's first, cassette-only album and subsequent B-sides and rarities. Pretty strong stuff for a band's juvenelia, with plenty of strong melodies and bright, boldly realized production ideas. After a while, the debt to Elliott Smith becomes overly obvious, but this is still a swell collection. Check it out!
Deerhoof "Revillie" (Kill Rock Stars, 2002)


You call that crap "music"...!?!! I'm pretty sure that's at least part of the reaction these folks are looking for, with their latest set of provocative rock and noise, which ranges from brilliantly camouflaged melodic hooks (as on the Who-like clamor of the opening "Sound The Alarm") to the irratibility-inducing clatter of practically everything else on the album. Anti-pop enthusiasts have a new banner to rally around!
The Donnas "Spend The Night" (Atlantic, 2002)


Demonstrating, indisputably, that chicks can steal pop-punk power-chord formulae just as well as boys can, these would-be femme fatales stomp along at the helm of an unstoppable pop onslaught. Tightly crafted, remorselessly efficient, explosive, ridiculously theatrical rawk'n'roll songs, all about getting high, getting laid, and making monkeys out of the legions of dumb guys who think with their dicks. Maybe if I was hornier or a little more middle-aged skeezy, I'd be more into this band; as it is, they still strike me as a one-trick pony.
Firecracker "Certain Things Last" (Self-Released, 2003)


Nice, melodic alt.country, very much in the Wilco/Whiskeytown/Jackson Browne mode. These San Francisco citybillies may not be plowing any new ground, but they've got the style down, and it sounds purty nice.
The Gay "Fishin' Jim" (EP) (Mint, 2002)
Cute, cheerfully sloppy, jangly guitar rock, with some nice, catchy melodic hooks and plenty of that just-plain folks charm I find so compelling. A mostly-gal band, with some shaggy, bearded guy on drums. A nice, fun 3-song EP... I played the song "Vacation" on my radio show, and thought it sounded just swell.
Gigolo Aunts "Pacific Ocean Blues" (QDivision, 2003)


Hey... it's their first album in, like, three years! (Almost as long as my last update of this "new reviews" page...) These Boston-based power-poppers are in fine form here... The first few songs are a little too aggro, at least taken one after another, but then things mellow out a bit and a more subtle melodic feel starts to creep in. More good guitar rock, with their trademark jangly edge and lyrical density. Fans'll want to check this out.

The Greenhornes "Dual Mono" (Telstar, 2002)


Upholding their state's reputation as a bastion of hard, no-nonsense rawk'n'roll, Cincinnati, Ohio's Greenhornes have emerged as one of the most powerful, accomplished, butt-kicking garage rock outfits in the world today. Oh, sure, you've got the Strokes and Hives vying for headlines and MTV airtime, but the Greenhornes sound like a band that would be content to play at the local college bar for the next ten years, as long as the management lets them crank their amps to 11. On their second album, the highly-touted 'Hornes reveal a quantum leap in their artistic growth, moving from the sledgehammer sonic attack of their self-titled 2001 debut, into an infinitely richer, reverb drenched soundscape that recalls the best work of '60s progenitors such as the Standells and '80s revivalists like the Lyres. Each track on this album is a standout, a resonant, well-sculpted sonic gem, with glittering, slinky melodies backed by a muscular, sweaty beat. British garage diva Holly Golightly recently namedropped the band as one of her faves, and provides quest vocals on this album -- it's a hookup that makes perfect sense, and bodes well for a band that renews our faith in the healing power of noise. Recommended!
Guided By Voices "Universal Truths And Cycles" (Matador, 2002)


I have, in the past, been counted among those in the indie world who would mumble under their breath (so no publicists or label reps would hear us) something vague about how Guided By Voices are kind of scattershot and hit-or-miss. Talent to burn, and all that, sure... but couldn't they just put out a good, solid record and not be so darn clever all the time. Well, praise be, hallelujah & all that... our prayers have been answered! This is perhaps the most tightly focused and "pop" of all the GBV albums, with heavy debts to shrill '70s prog and power-pop. This is a very good record... definitely worth checking out.

The Hylozoists "La Nouvelle Gauche" (Brobdingnagian, 2002)


This theremin-alicious instrumental album is a boon for anyone who may feel that Stereolab or the High Llamas have long since lost their edge. Some of the riffs are a bit irritating, but others are luxuriant and delicious. Nice stuff from Nova Scotia -- definitely recommended!!
David Kilgour "A Feather In The Engine" (Merge, 2002)


In recent years, this kiwi indie icon has perfected a lush, mesmerizing minimalism -- gorgeous guitars strummed in open tunings with lots of warm reverb. Apparently he's the restless type, because while this disc is as alluring as anything he's ever done, it also branches off into a new direction, where his droning rhythms are split up with disjointed, unpredictably angular guitar riffs... The trick is to be able to replicate the hypnotic effect of past records while doing even weirder things with the melody. Of course, it completely works. This guy is a genius of mood, even though his technique seems deceptively simple. Recommended.
---
New Pop Reviews Index
---



Indiepop Indiedex
Recent Pop Archives





---