! MP3 00/00/00 > <! update 00/00/00 > <! outside 00/00/00 > <! pix 00/00/00 >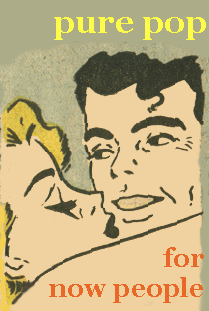 ---
ROCK REVIEW ARCHIVES: 1999-2000

---
Reviewed in 1999 & 2000: Beachwood Sparks, Francoiz Breut, Dolly Varden, Eels, Future Pilot AKA, Holly Golightly, Damien Jurado, Aimee Mann, Barbara Manning, The New Pornographers, Portastatic, Sleater-Kinney, Slumber Party, Elliott Smith, Teen Age Fanclub, Rocky Votolato, Whistler; Various Artists "O SILENCIO DO GALAXIE: CAUSAS E CONSEQUENCIAS"
---
Beachwood Sparks "Beachwood Sparks" (SubPop, 2000)


Comparisons are rife between these Southern California space cowboys and good old Gram Parsons... A more apt parallel might be to the non-Parsons Byrds, say, around the time of the Notorious Byrd Brothers album. They've got a lot of the same elements: their thin, tortured vocal harmonies strike the right balance between folksy and flawed, and then there's the same herky-jerky rhythmic approach to the pedal steel (not unlike hippie-billy icon, Sneaky Pete Kleinow)... Of course the Beachwoods do this all with a nod and a wink -- earlier countrybilly pioneers like Greezy Wheels and the New Riders already made the real mistakes, oh, those many years ago -- these guys are merely looking back with affection. The occasional Stereolabby bleep-bloop or Pink Floyd-y shooting-star keyboard riff remind us that a lot of water has gone under the rocknroll bridge since the days when Gram strode the earth, and this album proves itself a perfect extension of the psychedelic country music made way back when. It may seem erratic and sketchy, but actually the band put a lot of cunning and craft into this album, and the payoff is pretty nice. If you're like me, you'll find yourself pleasantly surprised to be humming a tune or two of theirs at unexpected times during the day. Check it out.
Francoiz Breut "Vingt A Trente Mille Jours" (Labels/Virgin France, 2000)


Though not as foreboding as her previous album, this latest release shares much of the brooding grace that endeared France's most downcast mademoiselle to listeners in the late 1990s. Aided once again by her longtime partner, Dominique A, Breut has also enlisted many of France's most illustrious indiepoppers, including folks such as Phillipe Katarine and members of Autour de Lucie. The result is a lighter-sounding album which sheds the murky, mystical gravity of her earlier Tom Waits-y leanings in favor of a muted, slightly xylophonic orchestral pop, ala Tindersticks. Although not as immediately striking and unique, this is still a powerful and poetic album, one that hopefully will draw even more listeners into her orbit. If you haven't heard Breut before, take the time to track this (and her last album!) down... you won't regret it!

Dolly Varden "The Dumbest Magnets" (Evil Teen, 2000)


The first third of this album is pretty nice; imagine a sort of more-indie version Cowboy Junkies -- dreamy, languid, purposefully slow and country-tinged. Male and female vocals trade off amid sleepy musical landscapes... The album slowly becomes thicker and more self-consciously arty -- listening to it all the way through your attention may start to wander -- but comes back to a simpler style by the end of the disc. OK, I know that sounds disparaging, but on the whole I'd say this is definitely worth checking out. They start off with an undeniable and appealling magic; I just wish they'd been able to maintain it throughout.

Eels "Daisies Of The Galaxy" (Dreamworks, 2000)


Ever since that song several years ago about the LA River, I've been a fan of "the man called E"... If you've been to LA and seen the River --a bottle-strewn rivulet encased in a huge concrete culvert -- you'll know that myth and reality can have widely divergent stories to tell. But even though it was denuded of its power by endless upstream agricultural diversions and flood abatement projects, the LA River still manages to sweep a few kids away every year, and I think that's the same general plan that E has in mind -- sweep a few kids away when no one is looking. His official "band", The Eels, is a pure popster's secret pleasure, and thier latest album, with assistance by Peter Buck and other luminaries, combines the oddball novelty sensibilities of They Might Be Giants with a more linear presentation, and unusual folk-tinged arrangements. The highlight track is "Flyswatter," which has cute but icky lyrics about all things creepy-crawly, combined with an irresistable, tinkly musicbox melody. As ever, E's Steve Forbert-on-a-bender vocals sound inexplicably unique, and compel you to pay attention to whatever goofy thing he's writing about now. It may take repeated listenings to get into this disc, but it holds up to the scrutiny.
Future Pilot AKA "Tiny Waves, Mighty Sea" (Domino, 2000)


I suppose this ragtag group could simplistically -- though not uncharitably -- be characterized as Glasgow's version of Cornershop... Project mastermind Sushil K. Dade mixes bits of East Indian spiritualism in with all the meandering, spacey, indiepop, in an amorphous jam-session mix. Along for the ride are significant percentages of the lineups of various Scottish bands such as Belle & Sebastian, Teenage Fan Club, BMX Bandits, the Pastels, and doubtless dozens of others I'm just not hip enough to know about. I wouldn't say the result ia a classic and undying album, but it certainly is pleasant. The instrumental numbers are especially nice and dreamy. (Here's a link to the band's website...)

Holly Golightly "God Don't Like It" (Damaged Goods, 2000)


Yummy! Holly's previous album, Serial Girlfriend is a pretty hard act to follow, but this disc is yet another fabulously Stones-y, groovy chunk 'o' fun. There's plenty more of the luxuriantly wicked guitar playing Holly's been working at on her solo, non-Headcoatees albums, with plenty of wah-wah reverb in the Jimmy Reed/Stones/Standells garage blues vein... Highlights include the catchy "Second Chance" and a wonderfully aggressive cover of Bill Withers' "Use Me"... the only disappointment is that she doesn't actually cover the famous '50s anti-rock gospel tune that the album's title comes from... but maybe there's a 7" floating around out there or something. Hey, if you've been loving Holly thus far, you owe it to youself to check this disc out, too.

Damien Jurado "Ghost Of David" (SubPop, 2000)


Although SubPop has been broadening its scope for much the better part of the last decade, few of their post-grunge popsters have been as captivating as the moody, mystically morose Damien Jurado. His 1997 debut, Waters Ave. S. struck a perfect balance between unsettling autobiographical tunes and bouncy pop hooks, a mix which continued into his next two records. Musically speaking, this album is his most stark, full of beautiful, bare-boned melodies played on piano and guitar, as well as eerie, waveringly shrill keyboards, and Jurado's distinctively hushed, stream-of-consciousness storytelling. The lyrical content is unusually harrowing, ranging from a childhood tale of electroshock and institutionalization ("Medication") to the cheerfully funereal, Carter Family-styled folk ballad, "Rosewood Casket," that signals the coming end. How much of Jurado's work draws from real life and how much is literary pales in comparison to its emotional impact. His whispering, abjectly human, voice suggests an all-knowing narrator, emotionally scarred yet psychically insulated from the bleakness he relates. Sounds grim, but Jurado's quiet musical grace carries the day, distracting and comforting the listener with a skillful, Nick Drake-like softness, one-two punched with canny pop hooks. You may find after a while that you've been listening to these songs again and again and again, and even if the point of his stories remains elusive, it's doubtful that you'll mind. Recommended!

Aimee Mann "Bachelor No. 2 (or The Last Remains of The Dodo)" (Super Ego, 1999)


Mann's new self-released, self-distributed album is heartening in that it's great to see something of this caliber getting released outside of the confines of major label-land (a point which isn't lost on Mann herself, who devotes more than a few stanzas to the subject...) There's plenty of lush, wildly over-the-top, power pop harmonization and multi-tracking going on here, bringing to mind Matthew Sweet or Michael Penn (who, not coincidentally, plays guitar throughout) In its quieter moments, Bachelor No. 2 brings to mind Elliott Smith, with more than a touch of Carole King woven in throughout. Mann's lyrics are as deliberate as her arrangements, which suits the material well. Her weak point, though, is not knowing when to rein things in musically -- swooping pop movements that enter exultantly later overstay their welcome, then exit laboriously. It's an unfortunate side effect of an otherwise literate and engaging record, and makes it difficult to sit with the album from end to end (track by track, it's quite nice though...) Definitely worth checking out, though, especially if you enjoyed the Magnolias soundtrack.

Barbara Manning "Under One Roof: Singles and Odditites" (Innerstate, 2000)


In her own odd way, Barbara Manning is, and always will be, San Francisco's ultimate indie superhero. She moved here from Sacramento in the late 1980s at a time when not a lot was happening around town, and ever since she has personified the low-rent, relaxed persistence of all the bands in a scruffy scene which has, frankly, just never taken off with same sort of success other towns seemed to attain so easily. Maybe it's the weird folkie, post-punk eclecticism that San Franciscans bring to the table that holds them back. Or perhaps we're all just too comfortable ordering lattes and awesome pastries at local cafes to be able to summon the will to hit the road and conquer the world. At any rate, Manning has a lot of friends who remain local legends only, and who have helped her make a lot of great records over the years. This disc collects many of her best one-off recordings, culled from a variety of singles, EPs and compilation albums, and it's a nice travelogue of her varied interests, from Beatles and country covers to various kiwi pop tunes from folks such as the Verlaines. Manning fans owe it to themselves to snag this disc while they can -- it'd take you forever to find all the original records, and the album itself is a very nice reminder of why we have always loved her work.
The New Pornographers "Mass Romantic" (Mint, 2000)


Holy cow. Boy, do I love it when a new record comes along that completely floors me... and I've had this disc on "repeat" for so long now that I figured I'd better review it quick before I burn out. So... three big cheers for Canada's New Pornographers!! These Vancouverites blissfully sidestep the polished image-building of the music industry fame factory as well as the cred-obsessed emotional reserve of the more-indie-than-thou scene. Here's a band - at last! - that just knows how to rock out and have fun! Shamelessly copping licks from glam bands like Bowie, T-Rex, The Sweet and the Bay City Rollers, the Pornographers play big, loud, bright, irresistible pop... the kind of music that clears your head for a moment and sweeps you away with its sheer exuberence and physicality. What they don't do is fuck around with pointless meter changes, arty obliqueness or the other musical digressions which have become the staples of today's overly-cerebral indie scene, which at times seems almost pathologically divorced from the visceral roots of rock'n'roll... It's not just a hipster retro-nostalgia trip, though: the undercurrent of the album is decidely modern, and packs in plenty of irony-laden, uber-clever lyrics that remind us that we are, after all, still in the 21st Century. You have to work hard to pick the words out, though -- they're purposefully obscured by a layer or two of production, introducing an old-school listener participation element to what is already a rather pleasant pop-rock experience. Alterna-country icon Neko Case is part of the band, and it's fun to hear her back in her rock roots, sounding for all the world like Poly Styrene of X-Ray Spex, suddenly able to stay in tune for once. What can I say? This is one of the best records to come our way in a long, long time.

Portastatic "De Mel, De Melao" (Merge, 2000)


It seems that Merge's main man, Mac McCaughy, has been on a big Brazilian rock kick for a while and, after taking a trip down south, finally worked up the gumption to put out a tribute disc. This five-song EP is great: I'd love to hear a full-length follow up, maybe with some tropicalia-inspired original material as well as the classics... As it is, though, this is pretty engaging, with freshly translated versions of oldies by Caetano Veloso, Gilberto Gil, and other tropicalia legends, along with a nice ballad from bossa-jazz chanteuse, Joyce. These are heartfelt, sonically rich and musically perceptive. Check it out!

Sleater-Kinney "All Hands On The Bad One" (Kill Rock Stars, 2000)


I'm gonna go out on a limb here, and say that these gals rock... I'm not sure how much more than that they do, but they certainly do rock. S-K may currently be the single most important proponents of plain old, simple banging away, getting loud and venting your feelings punk-derived, we-got-indie-cred rocknroll out there today. Their shows are attended with an almost evangelical fervor -- those lucky enough to have been in attendance often walk around in a post-orgasmic state for days on end... That being said, this isn't exactly the kind of record that I, personally, would listen to recreationally, or even more than a couple of times. While I can appreciate the appeal, I still have a little trouble with the vocals (which too often remind me of Mecca Normal... ewww...) and the songwriting requires a bit of mental burrowing and active listening before it yields its payoff... (At least that's how it seems to a lazy listener like me.) Plus, rock songs about touring and performing and being in a rock band only go so far for me... Sure, there's plenty of confessional/emotional songwriting here too, and some intriguing issue-oriented lyrics (particularly about the politics of pop culture), but it seems a bit forced and stagey... a bit too self-conscious of the importance of the band, etc. Still, if you wanna let of some steam and get in a bit of mental stimulation as well, you could do a lot worse than this.

Slumber Party "Slumber Party" (Kill Rock Stars, 2000)


It's difficult to put my finger on all the things about this record that make it so appealling, but I can say this is one of the most seductive albums I've heard in a long, long time. First off, even though this all-gal outfit is from Detroit, they could just as easily be from Duneidin, New Zealand -- Slumber Party's soft, insistently rhythmic approach to melody reminds me quite a bit of great kiwi pop bands such as the Bats, the Chills and the Clean. Cloaked in a deceptively amatuerish sound, Slumber Party's lyrics are more elusive than their music; taken together this is one of the most alluring, comforting, records I've heard in a while... Gentle, subtly hypnotic and dreamy, like many of their kiwipop forbearers this group has carved out a stillness in the musical landscape that allows their a personal presence to come through with surprising strength. Everything just clicks into place, and this is an album that holds up well to repeated listening... Recommended!

Elliott Smith "Figure 8" (Dreamworks, 2000)


The backlash against Elliott on this one was so completely predictable that you could have timed a lunar eclipse by it. Friends of mine who used to worship Smith as some sort of holy indie-rock Jerry Garcia/Bob Dylan/John Lennon composite started walking around in a daze, shaking their heads, muttering about how he'd "lost it" and how he was trying to be a one-man Beatles (etc., etc...) That's how I knew I was gonna like this record. I'll agree that it doesn't have the mindblowingly well-formed pop songcraft of his last two albums... But that's not the point. Elliott's just having fun! He's rocking out and enjoying being let loose in a big studio... Lyrically, the rueful, soul-shuddering bitterness of his older songs has been displaced by simple, jaundiced scorn: here Elliott isn't plagued by demons so much as by rock critics and website know-it-alls... So who can blame him for blowing off a little steam? I wish I could say there was more to the criticisms than a bunch of people who still mythologize the misery of the tortured artist, or indie cred snobbery, but really, what else could it be? This is a fine record, certainly better than most anything else you'll hear in "modern rock"-ville. So why hold back? It's just Elliot; he's not going to bite.

Teenage Fan Club "Howdy!" (Sony, 2000)


Why the new TFC album still didn't have US distribution after having been out for almost a year now is a bit of a mystery, but at least it gives us all something to talk about. Predictability may be a factor: the Glasgow lads don't go off the deep end, they don't get all skittery-skee with the drum'n'bass or start screaming about social oppression or political values... They just stick to what they know and love -- pretty melodies and catchy guitar riffs, paired with oblique, vaguely rah-rah-reflective lyrics. There's a heavy Byrdsy influence throughout, and an elegance and economy of style that you can't help but admire. I suppose one could see why the marketing wing of a multinational conglomerate like Sony wouldn't go ape over an album like this, but there's no reason why we fans won't. Another nice, uncomplicated album... guitar rock heaven, and well worth the search!

Rocky Votolato "A Brief History" (Your Best Guess, 2000)


It's nice to find that, in a post-Elliott Smith-as-indie-icon universe, that folk-flavored lo-fi pop is alive and well in the Pacific Northwest. Votalato, who regularly hangs his hat in the band Waxwing, shares the same sense of elegant insularity as Smith and fellow Seattlite Damian Jurado, but unlike those two, he doesn't come off all angst-ridden and overwrought. Votolato achieves dreaminess without lapsing into either sugary vacuuity or angry detachment. Oh, to be sure, this is a pretty dark album... it just doesn't feel as dark as they do... Rather, this is a nice, straightforward album which will grow on you with repeated listenings. And with an opening verse as strong as "Here it comes again/I'm watching myself through everybody else's eyes/Same old shit again/If this is my heart, why is it still beating, 'cause I'm dead inside?", this is an album that offers -- and lives up to -- great promise. (PS- don't worry. I've never heard of Waxwing before, either, but now I'm going to go check them out...)

Whistler "Faith In The Morning" (Wiiija, 2000)


Keeping the faith with the whole early-'90s Sarah-label acousto-twee sound, this British trio has hit a state of grace, musically speaking, particularly on viola-based tunes such as "You And Me," which remind me of some of Leonard Cohen's best stuff. Admittedly, the lyrics are of the emotional navelgazing, schoolgirl diary variety, an impression that's enhanced by Kerry Shaw's wispy, blase, English-girl-singing-off-key vocals. Still, this is all in keeping with a grand indiepop tradition, and if you're looking for something mellow to have on during a rainy day, this is an album that stands up to repeated play. Nice stuff.
Various Artists "O SILENCIO DO GALAXIE: CAUSAS E CONSEQUENCIAS" (Midsummer Madness, 2000)
A couple of years back I wrote a letter to a teeny Brazilian indie label I caught wind of, saying "hey! hi! send me your records and I would love to review them...!" Well, I hadn't necessarily expected a response, so what was a surprise it was when the label got in touch with me ages later and sent a copy of this lovely CD compilation, wrapped in construction paper and featuring over a dozen swell Brazilian indie bands that are certainly below the radar for folks here in the old EU. Fans of the Spanish label, Siesta Records, might want to notice of Midsummer Madness -- it's another earnest, genuinely independent label (and fanzine) that follows its own heart and issues music that it loves. This CD (Volume Two in a series) collects tracks from several 7" singles by bands such as The Gilbertos, Grenade, Stellar and Vibrosensores, presumably the cream of the Brazilian indie scene. It's mostly recognizable, charmingly derivative guitar rock, with hints of old Sonic Youth, Sarah label and new romantic haircut bands from years gone by... and it easily holds its own with similar fare from across the world. This is stuff you won't be able to find anywhere else -- other than possibly on Brazil's online station, Trama Radio -- and it's all pretty nice. I especially like the opening track by Feedback Club, which has a pleasantly Sonic Youth/Jesus And Mary Chain feel to it. Several songs are sung in English, some are bilingual, and some (my faves) are in Portuguese... The rock revolution is alive and well in Rio de Janeiro, and now you can check it out for yourself.
---



Indiepop Indiedex
Favorite Rock Records
Slipcue Main Index




---