<! MP3 03/18/10 > <! update 03/18/10 - partial > <! pix 03/18/10 - partial > <! icons 01/31/11 >
---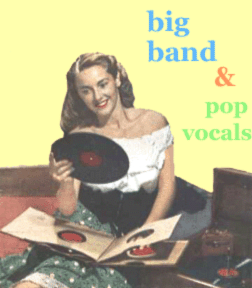 Hi -- welcome to my Jazz and Swing music section. This page includes reviews or records by artist under the letter "J". More reviews and artist profiles can be found at the Main Jazz Index
---
A | B | C | D | E | F | G | H | I | J | K | L | M | N | O | P | Q | R | S | T | U | V | W | X, Y & Z | Comps | Main Jazz Index | Jazz Books & Music Guides
---
Harry James "22 Original Big Band Recordings" (Hindsight, 1994)



Harry James "Trumpet Blues: The Best Of Harry James" (Capitol, 1999)



I picked this CD up because of the lure of Helen Forrest, one of my favorite songbirds from the big band era. She only sings on a trio of tunes (including a reprise of James' big wartime hit, "It's Been A Long, Long Time"), but it doesn't really matter. The vocal numbers are swell, and Forrest fans will be pleased to hear them. Still, these latter-day swing sessions (from 1955-'58) lack the fresh, light feel of James's classic 'Forties hits... Instead, the arrangements are too brash and punchy, with a muscularity that more often than not simply overpowers the melody. OK for the Eisenhower-era crowd who may have enjoyed these tracks the first time around, though younger fans might want to look to the older material first.
Harry James "I've Heard That Song Before" (Jasmine, 2001)


A 2-CD best-of...
Harry James "The Complete Harry James In Hi-Fi" (Lonehill Jazz, 2008)

Buddy & Ella Johnson - see artist profile
Isham Jones - see artist profile
Norah Jones "Feels Like Home" (Blue Note, 2004)



Following the amazing commercial success of her debut album, Come Away With Me, the sultry Ms. Jones drew the fire of many sniffy, snobby jazz fans who grumbled that her vocals simply were not up to snuff, and that, perhaps, she shouldn't be called a "jazz" singer at all. Well, boo-hoo. Then maybe we of the "Americana" camp should claim her instead. Her second album, Feels Like Home, certainly supports this theory, and as a certified, board-approved Americana know-it-all, I feel compelled to comment on what I think is, quite simply, a gem. Echoing Phoebe Snow, Seventies-era Bonnie Raitt, and hinting ever so slightly at the sharper, sardonic attack of Mose Allison, Jones presents as fine, subtle and eclectic a set of roots-jazz music as you're ever likely to hear, one which draws on the inventive, introspective spirit of the early '70s singer-songwriter and acoustic rock scenes... Slipping fluidly between reference points and influences, she seamlessly melds the styles, with an air of effortless authority and joyfulness... The album's musical tone is downbeat, but the undercurrent is ecstatic, and much of this is due, I think, to the obvious self-knowledge that what she's doing is very good, and that this far-ranging, boundary defying music -- which would have been far, far off the radar had it not been for her success on the prior record -- has finally found a wider audience. This album came after several tantalizing country-related one-offs, in particular a couple of fine live duets with Willie Nelson that really made me sit up and take notice (I would love it if those two did a whole album together!). Willie didn't make it onto this album, but Jones does duet with Dolly Parton, on the bouncy "Creepin' In," which was a minor hit on the Americana radio scene. I wouldn't argue that this album is more, or less "jazz" than the last, but it certainly shows a growing confidence and comfortablity on Jones's part, and steady growth as an artist. I'll also be interested in her future efforts... and I'm very much hoping that there really will be a Norah Jones-Willie Nelson duets album, someday soon.
Norah Jones "Not Too Late" (Blue Note, 2007)



Norah Jones is a hard act to follow... especially when you are Norah Jones. The vast, universal commercial success of her first album set Jones up for endless sniping from the too-cool set, the would-be giantkillers of indiedom whose sworn duty is to find fault with anything successful or sellout-y... Yet, despite the obligatory sniping and second-guessing, Jones continues to rise above the flood and do what she does best: make good music. Not Too Late is another fine, narcotically alluring album, with a few rough edges thrown in to keep folks on their toes. On several songs Jones displays a strong I-wanna-be-Tom-Waits, Kurt Wiell-ish streak, including the softly apocalyptic "Sinkin' Soon" and the politically-themed "My Dear Country." She also takes nods towards classic rock, lifting phrases from Neil Young's "Helpless" and Steely Dan's "Dirty Work," along with her own trademark mellow mix of jazz, country and soul. It's this kind of cheerful, unapologetic acknowledgement of the past that makes Jones so special: while the American entertainment industry continues to pump out endless die-stamped, personality deficient overnight stars, Jones is a throwback to a time when musicians studied music. If you can believe her press, she hangs out with friends, goes to bars, jams a lot, and (obviously) listens to a lot of cool old stuff from a lot of different genres. It shows in her music, and Jones -- no matter what her detractors may say -- remains one of the most substantive performers of our time. Once again, she has crafted an album that lulls listeners into a trance... After the first couple of tunes, it grows soft and fuzzy around the edges and suddenly ends before you've realized the time has gone by. This speaks, I think, to her ability to craft a fine album, rather than a few salable singles. Not Too Late may not have the snuggly universal appeal of its predecessors, but it is a very good record, one that will hold up over the years and shows continued growth from one of America's best, most intelligent young artists.

Spike Jones "(Not) Your Standard Spike Jones Collection" (Collector's Choice, 2002)



Spike Jones was the king of the novelty song performers, with loony tunes like "Der Fuehrer's Face" and his parody version of "Sheik of Araby" becoming huge hits during World War II. This is a swell 3-CD set, gathering a full eighty-one of Jones' best tracks from his 1940s heyday, drawn from an extensive archive of radio broadcasts made for the Standard Transcription service. The tightness of his City Slickers band is amply demonstrated in these manic, kookily orchestrated performances. Toots, squonks, blatts and bleats whiz by at lightning speed, as one daffy song after another will delight devoted fans. Amazingly, Jones had the unusual, almost unique ability to perform a repertoire almost entirely made up of comedic material, and yet still be quite listenable and engaging. His jazz chops were hardly in question, and from time to time Jones would dash off a non-novelty ballad or two, just to give the rubes something to think about. Of course, just as often he would perform a song that sounded like a straight ballad, but would turn out to be another goof. (One great example of this is the sultry "Serenade To A Jerk," sung in slinky, burlesque tones by Myrtle Horwin.) This collection may seem a little overwhelming, but like his studio recordings, these radio performances -- which include many songs not recorded in the studio -- have a certain zany brilliance and joie de vivre about them that will leave you enchanted. Definitely worth checking out!

Louis Jordan "...And His Tympany Five: 1943-1945" (Classics, 1996)



Like many artists during World War Two, Jordan got around the wartime recording ban by making transcription discs for broadcast on the radio and for troops abroad. This disc has several fine examples cut for V-Disc, as well as entries from his ongoing triumphal run on Decca. There's a lot of repetition -- the radio shows often used an artist's best know tunes -- but it's all good fun. This also includes the first studio version of "Caledonia," which is a real humdinger!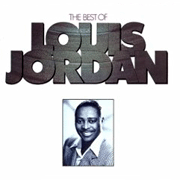 Louis Jordan "The Best Of Louis Jordan" (MCA, 1975)


The longtime standard-issue best-of collection for this energetic, hard-rocking jump blues/jazz/R&B legend. Originally a 2-LP set, this features Jordan's biggest hits of the late 1940s, including "Choo Choo Ch'Boogie," "Caldonia," "There Ain't Nobody Here But Us Chickens," "What's The Use Of Gettin' Sober" and "I Want You To Be My Baby." Affable, but hard-rockin', Jordan proved one of the most durable musicians of the 20th Century, particularly for people who are into "researching" the roots of rock'n'roll... Several of these songs also found their way into the repertoire of the country swing band, Asleep At The Wheel, reaffirming the close ties between postwar country and blues. Great stuff! For an official, major-label release, the sound quality is surprisingly iffy at times (occasionally including scratches from the vinyl source material!), but the music kicks ass! Highly recommended -- the more you listen, the more you'll dig it!

Louis Jordan "Rock 'N' Roll" (Mercury/PolyGram, 1989)


The title realy does say it all on this one... These are actually later recordings but the jump blues king, stuff recorded for Mercury Records in the late '50s (1956-57), about a decade after the original versions of songs such as "Choo Choo Ch'Boogie," "Caldonia" and "There Ain't Nobody Here But Us Chickens" were first laid down. This disc includes remakes of those and other tunes, as well as other pepped-up, hep tunes. Many of the arrangements are given a slightly square major-label "rock" treatment, in an obvious attempt to co-opt the booming teen scene. Lots of major talent was involved: Quincy Jones arranged and produced the first sessions, and Mickie Baker played some mean, old electric guitar.

John Jorgenson "Ultraspontane" (J2 Records, 2007)



A veteran session picker with a solid country and pop pedigree, guitarist John Jorgenson also has a long and abiding love for the gypsy jazz style of Django Reinhardt and Serane Ferrat... Here he indulges that passion in a lively acoustic set featuring a strong instrumental quintet and even a guest appearance by Beryl Davis, a grand dame of the British big band era who once worked with violinist Stephane Grappelli. All the songs are Jorgenson originals, and they match the playful, dynamic glory of the classic gypsy jazz of the 1930s... A nice surprise!

Dick Jurgens "Here's That Band Again" (Collector's Choice, 1999)


Now, see, I like the cornball aspect of the big band era as much as anybody else does, but even I have to admit when I'm licked. California-born trumpet player Dick Jurgens led one of the top second-string bands in the early '40s, and had a strong sweep of hits before World War Two swept him (and most of his players) into the armed services. Be that as it may, Jurgens arrangements are too just too darn staid and sleepy for me -- it's like getting all the squareness of the Glenn Miller approach, but without any of the pep. Eddy Howard, who was Jurgens' big star vocalist, was never a big favorite of mine, and unfortunately after Howard left the orchestra, Jurgens kept hiring guys who stuck to the same leaden style. Devoted big band fans (among whom I can be counted) may find this disc a blessing -- it certainly has all the hits -- but I can't say that it really wowed me.
Dick Jurgens "The Uncollected Dick Jurgens & His Orchestra: 1937-1939" (Hindsight, 1977)



With vocals by Eddy Howard and Ronnie Kemper...
Dick Jurgens "Radio Years: 1937-1939 Broadcasts" (1997)


Live performances taken from various late-1930s radio "airshots."
---
More Jazz Reviews -- Letter "K"
---



Main Jazz Index
Pop Music Index



---