<! MP3 03/17/10, 01/31/11 > <! update 00/00/00 > <! pix 03/17/10 > <! icons 01/31/11 >
---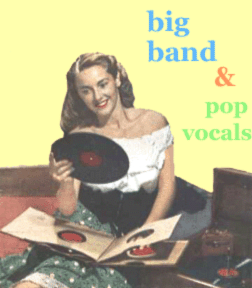 My taste in jazz is, as they say, strictly from Squaresville. The stuff I love -- "sweet" dance band music and crooner tunes -- doesn't get a lot of respect in "real" jazz circles. Only recently have the jazz purists reluctantly and begrudgingly admitted that some of the big bands actually had it going on... For the most part, the hep cat crowd would prefer to believe that real jazz music began with Dizzy Gillespie, and only really picked up steam in the smoky confines of the 1950s. I, on the other hand, adore the softer stuff, and love delving into the corny but well-crafted sentimentality of the Tin Pan Alley tradition. And, frankly, I prefer listening to something I can hum along to, rather than some squonky improvisation that requires concerted effort to really "get." Hard jazz is just too damn cerebral for my tastes.. so here is my celebration of good old-fashioned corny, simple love songs, backed by perky little melodies.
That being said, this section is a work in progress and there are lots of additional records I'd like to review, as time and resources permit. Keep checking back with me... I'll be adding to the site as often as I am able.
---
A | B | C | D | E | F | G | H | I | J | K | L | M | N | O | P | Q | R | S | T | U | V | W | X, Y & Z | Comps
Main Jazz Index | Jazz Books & Music Guides
---
Henry 'Red' Allen "The Chronological Henry 'Red' Allen: 1929-1933" (Classics, 1990)


Henry 'Red' Allen "The Chronological Henry 'Red' Allen: 1933-1935" (Classics, 1990)

Henry 'Red' Allen "The Chronological Henry 'Red' Allen: 1935-1936" (Classics, 1996)

Henry 'Red' Allen "The Chronological Henry 'Red' Allen: 1936-1937" (Classics, 1996)

Henry 'Red' Allen "The Chronological Henry 'Red' Allen: 1937-1941" (Classics, 1996)

Henry 'Red' Allen "The Chronological Henry 'Red' Allen: 1944-1947" (Classics, 1999)


Ambrose And His Orchestra "Volume 1: The Continental" (Dutton Vocalion, 1997)


Ambrose And His Orchestra "Volume 2: Power House" (Dutton Vocalion, 1999)


Ambrose And His Orchestra "Volume 3: Big Ben Is Saying Goodnight -- The HMV Years, Part 1" (Dutton Vocalion, 2000)


Ambrose And His Orchestra "Volume 4: Just One More Chance -- The HMV Years, Part 2 (1930-32)" (Dutton Vocalion, 2000)


British bandleader Bert Ambrose led one of the most popular British "sweet bands" of the pre-war era, and fielded an impressive array of talent, vocal and otherwise... Still, this may be a bit too prissy and delicate, even for folks like me, who love to listen to antiquated, genteel old Jazz Age pop. The vocal numbers are fun (especially those featuring Sam Browne), but the instrumental end of this has a ring-a-ding-ding, mechanical feel to it that is a bit too brisk for me, and often neglects to include some of the sexy slinkiness that made American jazz so popular to begin with... It's fine historical stuff, but sometimes a bit clunky and stiff. Still, this series on the Dutton label is one of the best and most comprehensive looks back at this famed bandleader... Worth checking out, though you might find your toes tapping a bit more if you check out some old Lew Stone instead...
Ambrose And His Orchestra "The Hottest of the Decca "M" Series: 1929-1930" (Retrieval, 1999)


Ambrose And His Orchestra "The Very Best Of..." (Master Classics, 2009)


A generously-programmed 49-song, digital-only best-of collection...
Ambrose And His Orchestra "The Very Thought Of You: Ambrose Plays Cole Porter" (American Songbook, 2009)


Ivie Anderson "Duke Ellington Presents..." (Columbia, 1973)


Duke Ellington's vocalist on pop numbers during the 1930s and early 'Forties, Ivie Anderson was a classy dame with a sassy voice, and a singer who really knew how to swing. Not as flashy as Ella Fitzgerald or as moody as Billy Holiday, Anderson gets short shrift in jazz circles, but those of us who are fans know to treasure the few of her recordings that made it into print after the swing era came to a halt. This double LP is simply fabulous, but it's rather hard to find. If you see it, snap it up, as it has superior sound and song selection to any other collection in print on CD...in all its glorious monophonic splendor! (This just in: looks like Sony finally re-released this collection on CD!!! Yay.)

Ivie Anderson "With Duke Ellington & His Famous Orchestra" (EPM Jazz Archives, 1991)


In the CD era, this is the disc to aim for... A lot of the same material as the Columbia LP, but not all of it, and with slightly dulled sound quality. Still, if you see it, don't hesitate. It's all pure gold. The tail end of Anderson's story is that she was forced to retire in 1942, due to chronic asthma which made touring and singing in clubs and hotel venues increasingly difficult. And as the big band era gave way to softer pop vocals, Anderson's memory was consigned to the past... Until now, that is!
Ivie Anderson "Cocktail Hour" (Allegro, 2001)


A cheapie budget edition -- no artwork or liner notes to speak of, but two CDs worth of great music, for a very affordable price. Nice option!
Ivie Anderson & Duke Ellington "Raisin' The Rent" (Hep Records, 2000)






<! 03/2010: a few other MP3-only collections. too fly-by-night? >

The Andrews Sisters "All-Time Greatest Hits" (MCA, 1994)


Highly recommended. I totally dig the Andrews Sisters, and you should too. LaVerne, Patty and Maxine were not the first gals to pioneer this type of tight, perky swing vocals... for that, you can credit others such as the Boswell Sisters and the Barry Sisters (who recorded "Bei Mir Bist Du Schoen" first, and kept it more Jewish...) But the Andrews gals perfected the style, and parlayed it into a dazzling top-of-the-pops commercial smash during the late '30s and all through the wartime era. This 2-CD set is probably the best Andrews set you can get, pretty much duplicating the content of their (also highly recommended) double-LP sets from the '70s, which gathered the best of their original Decca recordings from the 1930s and '40s. FYI, that's a lot of really, really wonderful music gathered together in one place at one time, classic tunes like "Boogie Woogie Bugle Boy," "Hold Tight," "Rum And Coca-Cola," and "Beat Me Daddy, Eight to the Bar." Really, it's just fabulous. Sure, they were "pop" through and through, but in the magical, irresistible way that the best big band-era artists were: great artists having fun performing slick, catchy, well-crafted songs. This is a nice trip down memory lane, but yummy music as well.
The Andrews Sisters "20th Century Masters -- The Millennium Collection" (Universal, 2000)



An all-too-brief budget line package, which nonetheless can serve as a handy introduction to this fabulous pop trio.
The Andrews Sisters "The Andrews Sisters" (ASV, 1992)


Another fine overview of their best recordings, concentrating on early stuff from 1937-1940. Like other ASV releases, this features great song selection and good sound quality, and actually has very little overlap with various American-issued "best-of" collections. A perfect compliment to the All-Time Greatest Hits set listed above.
The Andrews Sisters "Apple Blossom Time" (ASV, 2000)


Plenty of hits on here as well...!!

The Andrews Sisters & Bing Crosby "Their Complete Recordings Together" (Columbia, 1996)



Now, see, you'd think that the way I love both Der Bingle and Der Sisters, that this would be a favorite of mine. Sadly, it's not quite the case. For some reason these two acts don't quite click together the way they should, at least not to my way of listening to things. I think part of the problem is that it was just too much of a show-biz "event"... Both acts were so clearly defined and so keenly accomplished that in order to mesh them together it took an immense amount of calculated professionalism; it just sounds a bit too stiff and self-conscious to me, as well as a bit like the sound of -- ka-ching! a cash register ringing up another sale. I dunno... these recordings aren't necessarily bad, they just seem to lack the soulfulness and spark that made the Sisters and Der Bingle so much fun. Anyway, lots of other folks disagree with me on this one, and this 2-CD set is a boon to those fans, and for the undecided among us, an easy way to settle the issue, one way or another.
The Andrews Sisters & Glenn Miller "The Chesterfield Broadcasts, v.1" (BMG/RCA Victor, 1998)



These live radio broadcasts, made in 1939-40 with the Glenn Miller Orchestra backing them up, document the brief, four-month association between two of the greatest pop acts of the WWII era. The collision between Miller's muscular, monolithic big band music machine and the Andrews's deft vocals is overall a bit brusque and edgy, with a juggernaut-like quality that may be surprising to fans of both acts... Still, what a combo! Big band fans will definitely want to check this out.
The Andrews Sisters "Capitol Collector's Series" (Capitol, 1991)



The thing to keep in mind here is that these are mostly late-'50s re-recordings (on Capitol), of songs that the Sisters originally recorded as hits in the '30s and '40s for Decca Records. A little more formal sounding perhaps, and less peppy than their early years, but still... it's the gals. They still swing! There are also a few tracks on here that were prevously unreleased, so it may be owrth checking out just for those tracks alone...

Fred Astaire "Top Hat: Hits From Hollywood" (Sony Legacy, 1994)



The ultimate '30s tap-dancin' smoothie, Fred Astaire projected an unaffected everyman charm with his modest vocal talents. It's all about phrasing and his considerable personal charm -- that, and the fact that his movies were showcases for some of the best material by the upper eschelon of American pop songwriting: Irving Berlin and Cole Porter, to name a few. This particular collection is heavy on Berlin, the Gershwins, and Jerome Kern... fancy stuff, and packed with pep. Astaire's voice invariably led to fairly brisk versions of songs that later became lush standards -- there's a certain unique appeal to his approach; while he seems to be zipping through the tune and doesn't linger on the sentiments, he always manages to capture and convey the meaning. It's a nice twist on Jazz Era crooning, and certainly evocative of the times. This is a nice collection, with a little tapping on a few tunes, but generally little of the intrusions of film dialog which are sometimes so distracting in these movie music collections. Recommended.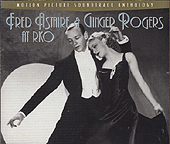 Fred Astaire & Ginger Rogers "...At RKO" (Rhino/Turner Movie Classics, 1998)



After years of success on the Broadway stage, Fred & Ginger started off their movie careers in 1933 with the frothy comedy, Flying Down To Rio, and went on to make ten films for the RKO studio, each of which, naturally, included plenty of high-class hoofing and Tim Pan Alley songsmithing. This generous 2-CD set gathers nearly all the musical numbers from these films -- Top Hat, Gay Divorcee and others -- along with some incidental dialogue and even extended passages with the ratatatat-tarrrump!! of Astaire's tapdancing. It's classic material, with lively versions of some of the biggest standards of the 'Thirties (Astaire's films were often used as vehicles to introduce pop hits to a mass audience...) There's also a roughness and informality to these recordings that many folks might find appealing, as the music is lifted straight from the actual films, and that's part of the charm... Okay, so maybe we have to admit that Ginger Rogers was a terrible singer, but Astaire's gentle crooning more than makes up for it, and all of these old tracks are tremendously entertaining, as well as historically rich. Recommended!

Fred Astaire "Top Hat, White Tie And Tails" (ASV Living Era, 2003)


This 2-CD set combines two earlier ASV releases, spanning recordings made in the late 1920s, before he hit Hollywood, through 1950 when he was working in the Technicolor era. Many of the earlier recordings, including some made with his sister Estelle when they were headling various Broadway revues, aren't as fun or overtly enjoyable as his better-known recordings from his musical films. The sound quality isn't as good, and ofen the songs are still being worked out. Thus the first disc works better as an historical document than as a fun collection of Astaire oldies. But as a sweeping overview of the musical side of Astaire's career, this is a great set. Just depends on what you're looking for...

Lovie Austin "The Chronological Lovie Austin: 1924-1926" (Classics, 1994)



Paving the path for Marylou Williams and all the female jazz & blues pianists in decades to come, bandleader Lovie Ausin was one of the handful of women pianists in the golden age of the blues. This disc collects all her recordings from the 1920s, with Austin and her bands accompanying obscure vocalists such as Edmonia Henderson, Viola Bartlette, Henry Williams and Priscilla Stewart. Her sidemen include such notables as Kid Ory, Johnny Dodds, Jimmy Bryant and Tommy Ladnier -- a powerful set of early jazz virtuosi, each contributing to the haunting, raunchy blues within. As with other Classics releases, the sound quality of this disc is top-notch, although the old-fashioned, brittle sound of the source material adds to its other-worldly feel. Nice stuff, and an important missing link for anyone studying the history of women in jazz.
---
More Jazz Reviews -- Letter "B"
---



Main Jazz Index
Pop Music Index



---