<! MP3 04/01/10 > <! update 07/18/09 > <! outside 00/00/00 > <! pix 00/00/00 >
---
This is the first page of my African-American gospel reviews (with more reviews to follow, as time allows...) I also have a more thorough section devoted to country and bluegrass gospel that may be of interest as well.
---
American Gospel - A-Z | Compilations | Country & Bluegrass Gospel
---


<! Clara Ward >

The Angelic Gospel Singers "Touch Me Lord Jesus: 1949-1955" (Heritage, 1992) <! date? >





<! all-female group; solid, confident sound and strong, clear production. >
Blind Boys Of Alabama "Take The High Road" (Saguaro Road, 2011)



(Produced by Jamey Johnson, Chris Goldsmith, Kevin Grantt & Chad Cromwell)
A really nice set from one of the longest-lived African-American gospel groups, joined here by several country/Americana luminaries such as Vince Gill, Willie Nelson, Hank Williams Jr., Lee Ann Womack and album co-producer Jamey Johnson, all of whom add their talents while respecting the integrity of the Blind Boys' classic sound. The Oak Ridge Boys are on the album's opener, chiming in with the deep, robust harmonies that are their trademark, creating a surprising synergy with their black counterparts in a related but divergent gospel tradition. The songs that the Blind Boys "solo" on are similarly rich and energetic -- the production is a little slick, but not too much, and there's a soulfulness and organic feel that keeps the music true to its roots. If you like traditional gospel music -- white or black -- this disc is highly recommended.

The Charioteers "The Best Of The Charioteers" (Collector's Choice, 2003)


A delightful collection of vocal tunes recorded between 1937-1948 by a gospel group gone pop, following very much in the footsteps of the Mills Brothers and Ink Spots. There's also a trace of hipster jive, ala Slim & Slam, on nonsense numbers such as "Calliope Jane," "The Mumble Song," and the hepcat novelty number, "Open, The Door Richard." The group excelled at slicked-up, sweetened versions of cover tunes, and had a big hit in 1940 with "So Long," one of many fine oldies included in this 24-song set, including '40s pop standards such as "We'll Meet Again," "I Got It Bad," and the like. It may take a while to settle in on this band's wavelength, which is closer to the corny sentiment of the sweet band era than to the postwar R&B scene which eventually displaced them. But for nostalgia fans, whether you like tricky harmonies or vocalese, or just dig the corniness of old-school showbiz, this is a really fun record.


<! Dorothy Love Coates >

The Davis Sisters "1949-1952" (Heritage, 2002) <! date? >


Arizona Dranes "Complete Recorded Works: 1926-1929" (Document, 1994)



A raspy-voiced, energetic piano plunker, blind Pentecostal gospel singer Arizona Dranes was one of the first African-American recording artists, and one of the first to add accompaniment to the once-primarily vocal style. While exuberant and joyful, her music is also haunting and other-worldly, a raw, unfiltered glimpse into the old gospel styles that predated the recording industry. While Dranes adds profane, bluesy rhythms from the gin-halls and bars (barrelhouse blues and ragtime piano) she still represents a bedrock, fundamentalist religion, pure and unfettered by the concerns of the earthly world. This disc also includes tracks by the Texas Jubilee Singers and the shouting preacher Rev. Joe Lenley, which delve even deeper into the gospel styles of the 19th Century. Pretty cool stuff -- it might be inaccessible to many modern listeners, but for those who do get into it, this is a very rewarding record.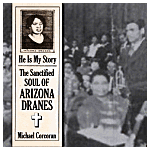 Arizona Dranes "He Is My Story: The Sanctified Soul Of Arizona Dranes" (Tompkins Square, 2012)


Her entire recorded output was only 16 songs, so pretty much every Arizona Dranes record on earth is going to cover it all... This deluxe edition takes things up a notch with the addition of a 50-page booklet of scholarship by music critic Michael Corcoran, delving into the life of this obscure but arresting artist.


<! Arizona Dranes "He Is My Story: The Sanctified Soul Of Arizona Dranes" (Tompkins Square, 2012) B008DL3YJC - with 50-page booklet - Arizona Dranes "Complete Recorded Works: 1926-1929" (Document) B000000J7A B000UWR1LE Arizona Dranes "1926-1929" (Herwin) (LP) B005H5TDME >

Five Blind Boys Of Alabama "1948-1951" (Flyright, LP 1987/CD 1997)


Rough-edged, ripsnortin' postwar gospel from one of the era's most popular groups.
The Flying Clouds Of Detroit "1942-1950" (Heritage, 2002) <! date? >

The Harmonizing Four "1945-1950" (Heritage, 2005) <! date? >


Reverend J. M. Gates "Are You Bound For Heaven Or Hell? The Best Of Reverend J. M. Gates" (Columbia Legacy, 2004)



Old-fashioned, fire-and-brimstone shouting-style preaching by this renowned Atlanta preacher... These old recordings from the 1920s and '30s first appeared on the Okeh label and were wildly popular at the time. They cover a variety of hot topics, many of which may seem distant or quaint to listeners several decades after the fact... (For example, the disc opens with a two-part sermon about the evils of chain stores... Other titles include "The Hell Bound Express Train," "Kinky Hair Is No Disgrace," the anti-feminist "Mannish Women," "Things That You Can Move, Don't Ask God To Move," and the racy, sexually frank "Scat To The Cat And Suie To The Hog," which was a surprisingly salacious novelty track about marital and extra-marital sex... ) There's little singing and no instruments used on these recordings, so this set is really for the most devoted gospel fan, or the most diehard cultural scholar. But the passion is definitely there... Yell out, hallelujah!

The Golden Gate Quartet "Complete Recorded Works, v.1: 1937-1938" (Document, 2000)



The Golden Gate Quartet "Complete Recorded Works, v.2: 1938-1939" (Document, 2000)



The Golden Gate Quartet "Complete Recorded Works, v.3: 1938-1939" (Document, 2000)



The Golden Gate Quartet "Complete Recorded Works, v.4: 1939-1943" (Document, 2000)



The Golden Gate Quartet "Complete Recorded Works, v.5: 1945-1949" (Document, 2000)



The Golden Gate Quartet "Complete Recorded Works, v.6: 1949-1952" (Document, 1999)



No two ways around it, the Golden Gate Quartet were one of the sweetest gospel groups ever... as well as one of the most successful. They took their smooth, harmony-rich version of the old jubilee style into the heart of American popular culture, performing with many of the most famous popular singers of the radio era of the 1930s and '40s. This is a fine series reissuing their best studio work from a fifteen year period spanning both sides of World War Two... Once you hear the GGQ style, you will be hooked. Trust me.
The Golden Gate Quartet "Radio Transcriptions: 1941-1944" (Document, 1997)

Bessie Griffin "Even Me: Four Decades Of Bessie Griffin" (Shanachie, 2000)


A nice single-disc career retrospective of one of the great old-school gospel divas... This collection leans a little too heavily on her later recordings, but since it ends with an earth-shattering oldie, her live recording of "Too Close," one of the most spectral, gripping and evocative gospel tracks ever recorded, maybe we won't quibble just this once...
The Harmonizing Four "1950-1955" (Heritage, 1995) <! date? >





<! Jackson Southernaires >

The Jubalaires "The Singing Waiters: 1947-1948" (Heritage, 2004)


The Florida-born Jubalaires, led by Caleb Nathaniel Ginyard, Jr., were an a capella group that followed very closely in the footsteps of the Golden Gate Quartet, mimicking the GGQ's sleek, buoyant jubilee style down to a "T..." Indeed, most of the group's professional recordings were covers of material already recorded by the Golden Gaters, with arrangements that were pretty durn close to the originals. Still, this isn't to say that the Jubalaires were sub-par or even mediocre -- they were aiming for a glorious style and sound pretty sweet to me! This disc is a pretty nice collection of gospel material, drawn from a series of postwar radio transcription discs they did for the World and Standard Transcription services, along with some secular R&B material at the end that's also quite nice. The sound quality is excellent, too. An interesting postscript to the group's story is that Ginyard -- who had quit the group by the time these sessions were recorded -- wound up singing in a later edition of the Golden Gate Quartet, performing with them for the duration of the 1960s, after having spent years leading one of their rival bands. If you like the Gates, you oughtta like this as well.

The Lee Boys "Say Yes!" (Arhoolie, 2005)



Another entry in the "Sacred Steel" series, wth a six-piece family band pursuing the romping, stomping, exhuberant, ecstatic frenzy of the style. If you like the original SACRED STEEL collection, you'll definitely dig this disc as well.

Sister Gertrude Morgan "Let's Make A Record" (Preservation Hall, 2004)



The real, true Holy Spirit courses through this simple, heartfelt album... It's just Ms. Morgan singing a capella her tambourine, as she stamps and chants her way through a series of songs that are elegant in their raw simplicity... Each song is more or less just a chorus, repeated over and over with increasing fervor; occasionally there's an introductory verse or, if the mood strikes her, Morgan may stop to shout out a little sermon or cite some scriptures. This description doesn't really do the record justice, though -- the music may be bare-bones, but there's a lot of sincere feeling and authenticity here... Even though the music never varied, I was able to listen to all fourteen songs in one sitting, and my attention never wandered. Cool stuff!

King Louis H. Narcisse "It's So Nice To Be Nice" (Gospel Treasures, 2003)


A really sweet set of soulful, impassioned gospel shouting from the 1950s, by the charismatic leader of the Mount Zion Spiritual Temple in Oakland, California. Narcisse was a Louisiana transplant who founded and led the quirky Mount Zion sect, which featured an elaborate "royal" pagentry of church members who attained various hierarchical ranks (queens, kings, etc.) and paid dues or tithings to maintain their positions. Narcisse presided over the congregation, and was known for his flashy, flambouyant sermons and, as this disc amply demonstrates, his wild, uninhibited musical style. There's a hefty dose of old soul and classic R&B here, as well as plenty of feverish call-and-response from the temple members... Nice stuff, if you're into the wild and wooly side of urban gospel. Recommended! (For more info on the Gospel Treasures label, check out this link...)
The Radio Four "1952-1954" (Heritage, 1999) <! date? >


The Soul Stirrers, With Sam Cooke "The Complete Specialty Sessions" (Specialty, 2004)


In 1957, the gospel music world was rent asunder with the revelation that Sam Cooke, 26-year-old lead vocalist of the renowned Soul Stirrers, had sold out and gone pop. Big Chill-identified pop fans may be mystified to learn of the ancient uproar caused by innocuous teenybopper hits like "You Send Me," and "Cupid," but to gospel fans in the 'Fifties, it meant the loss of one of their biggest and brightest stars. The razor-sharp division between sacred and secular was no mystery to Cooke, a preacher's son who had been called upon seven years earlier to replace Rebert H. Harris, a giant in the gospel field, who left the group to pursue his own career. Cooke was also keenly aware of the tremendous reputation of the Soul Stirrers, a long-lived and powerfully influential band that had lifted gospel music out of the old-fashioned group harmonies of the "jubilee" style into a more modern sound emphasizing vocal solos and inspired improvisations. Cooke, afire with raw talent, excelled at the style, so much so that he quickly usurped the group that had mentored him, making it sound even more sensuous and dynamic. This 3-CD set gathers the bulk of Cooke's work with the Soul Stirrers, charting his phenomenal growth as a lead singer, and the tectonic shift as the trend-setting ensemble adopted electric guitars and championed new tunes by a younger generation of pop-oriented gospel composers such as Alex Bradford. This collection comes as a blessing to fans of classic shout-and-holler gospel, and for Cooke aficionados who will go ga-ga over the little-known handful of pop tunes that Specialty Records allowed him to record, in a desperate effort to forestall Cooke's defection to mainstream pop. All these decades later, both styles sound simply heavenly.





Sister Rosetta Tharpe -- see artist profile



<! Albertina Walker http://www.nytimes.com/2010/10/09/arts/music/09walker.html?hpw > <! Clara Ward >

Clarence Williams "1937-1941" (Classics, 1998)


This CD gathers 20 later recordings from blues-jazz bandleader Clarence Williams, whose career dated back to the early dawn of the recording industry, in the early 1920s. This is one volume in a superb series from the now-defunct Classics label that presents all of Williams' studio work in chronological order. On this disc, Williams is firmly in the big band era, and while he retains his early roots in Dixieland and the blues, the sound is definitely punched up and often features larger, more muscular arrangements. Also of interest is the preponderance of religious material -- most of the songs are blues-swing reworkings of gospel standards such as "Jericho" and "Go Down Moses," with vocals by Babe Matthews. There are a handful of secular tunes as well, including a couple with Williams' wife, Eva Taylor. Mostly, though, it's gospel material, given a big band twist. Secular-minded music fans might be turned off by all the preachifying, but if you like Sister Rosetta Tharpe's recordings of the same era, you might want to check this disc out.

The Zion Travelers "The Dootone Masters" (Ace, 2004)



Nice, upbeat harmony vocals from an LA-based quintet that kept together for over two decades in the 1940s, '50s and '60s. These early-'Sixties recordings were made for the pop-oriented Dootone label (which made its mint on some early doo-wop hits...) The influence of Sam Cooke and the Soul Stirrers is pretty clear on many of these tracks, with a robust, emotive lead vocals and a smooth harmony backdrop that bespeaks of a familiarity with some of the more modern pop styles... Nice stuff... recommended if you like Cooke and his sweet, soulful sounds.
---
---



Hillbilly Gospel



---
Copyright 1998-2010 Slipcue.Com. All Rights Reserved.
Unauthorized use, reproduction or translation is prohibited.
---
<! cd=11/15/04; update 07/09 >